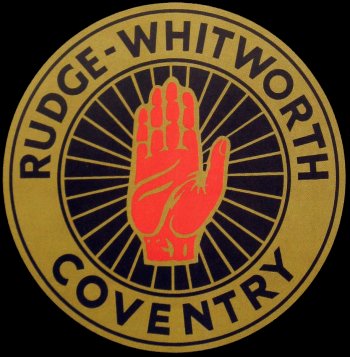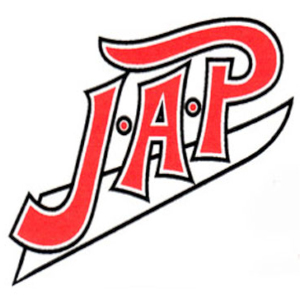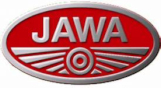 ---
Miscellaneous
Part 1
Lee Richardson
Norrie Isbister
Digging at the Starting Gate
Early Americans
NZ Smokey Stratton
Speedway Toy Riders
The 2 Stroke Scott Machine
Scott's Red Devil Frank Varey
Billy Lamont
Harley Davidsons
American Board Tracks
Oldest Riders
Lady Riders
Ice Speedway
Slider Shuttleworth
Swindon's Red Devil Mike Broadbanks
The History of the Sport
Cec Warren's 1928 Scrapbook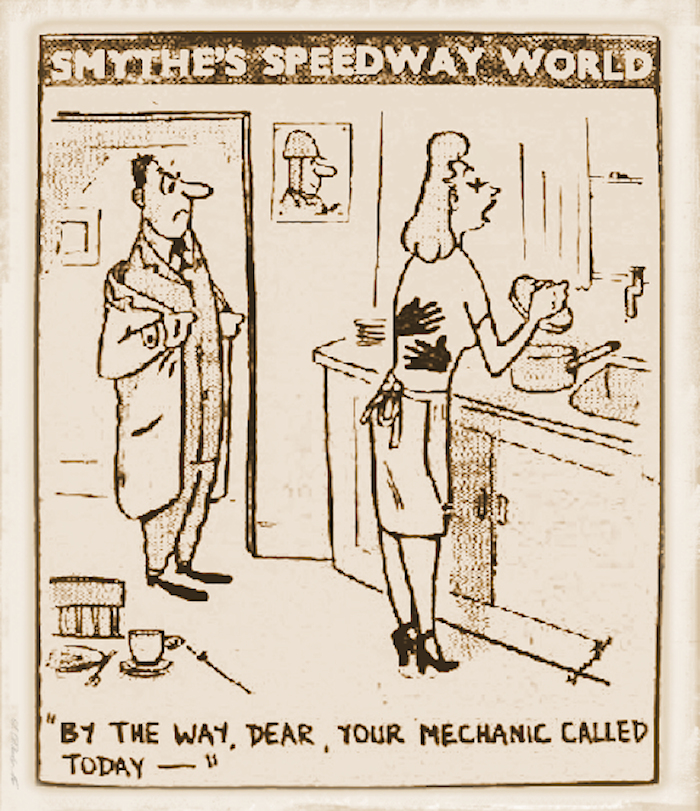 ---
History of
Dirt Track Speedway
A Short History
By Jeffrey Stafford.
Speedway racing is a sport with an extraordinary history. According to Tom Stenner, speedway correspondent of the London Daily Mail, the first speedway meeting on a dirt track was held at Pietermaritzburg, in South Africa, in 1907. But it can be shown beyond a question of doubt that the United States should be recognized as the birth place of motor cycle racing. One of the principal features of the Butte Athletic Associations meet in July 1901, were motor cycle tandem races featuring Clem and Charles Turville, Gust Lawson, and John Chapman. The track was constructed of board and designed on the saucer principle by Captain T.O. Angel who had successfully used the same design on cycle tracks in Salt Lake and Los Angeles.
At Indianapolis, on Saturday August 14 1909, two accidents, one of them serious, marred the national motor cycle races. In the team mile professional race, which Jake de Pozier, of Springfield, Mass, was going at a terrific speed, the front tyre of his motor cycle tore off, throwing him heavily to the ground. His injuries were not fatal and he recovered later.
Nevertheless, there can be little doubt that the evolution of Speedway as we know it today took place in Australia. The sport of motor cycle racing that had been popularized in America during the early part of the nineteenth century featured a considerably variety of variations - which were subsequently improved and standardized by a number of Australian promoter's to give us what is probably the most exciting of all automotive sports.
A dirt track meeting was held on Saturday, October 11 1913, under the auspices of the Victorian Motor Cycle Club. The meeting was marred by the death of Harold M'Coll who collided with a fence and was killed instantly. Another rider, A.W.Maplestone had one of his shoulders dislocated. Twenty seven riders competed in six events. As far as I can ascertain Harold M'Coll was the first victim of a Speedway race in Australia.
Nine out of ten speedway historians credit Maitland showground in New South Wales as being the birth place of speedway racing. However, the first Speedway event, the one that perhaps marks the beginning of Speedway proper, predates the Maitland event by eight years. Here is an extract taken from the Saturday Referee, 6 February 1915:
Big Easter Carnival, which should provide motor cycling enthusiasts with some fine sport. The events ; 100 miles open state Championship; 600 c.c. State Championship 66 miles ; open handicap 33 miles; and the club handicap 33 miles. The meeting will take place at Gouldburn on Easter Saturday, 3 April, 1915. Nor was the meeting just a one off event, there was a very large attendance for the second motor cycling meeting at Gouldburn held on Easter Saturday, 22 April, 1916. The big event of the 1916 Easter meeting was for machines of all powers, over 100 miles. Of the twelve motor cycles which started, six were Indians, four Excelsior's, and two Harley Davidsons. L. Frank, astride a 7 h.p. Harley Davidson, proved victorious covering the 100 miles in 2 h 8 min 55 sec.
The Sale Easter Carnival, held on Saturday, 19 March, 1921, represented the greatest attempt that had then been made in Australia to put motor cycling on a solid footing. The choice of Sale as the site for the meeting was made for a variety of reasons.
When the sport began many difficulties were placed in the way of those promoting it. In and about the Metropolitan area of Melbourne and the outlying areas the civic authorities refused to allow motor and motor cycling on roads and the owners of the racecourses refused to allow them to be used for motor cycle racing.
Sale offered sanctuary to motor cycle enthusiasts. Its racecourse and roads were offered, and the support that was forthcoming made the choice easy. The Sale authorities not only recognized the sport, but officially invited the Victoria Motor Club to hold its carnival in the town. For motor cycle racing the only rival was the motordrome at the amateur Sports ground, which in 1921 was not in site of completion. One of the main features of the Sale Easter Carnival was the appearance of two motor cycles that had been built entirely in Australia.
There was never a more successful motor cyclist in Australia than Charles "Daredevil" Disney of Melbourne, known throughout Australia as the most fearless motor cycle rider, he was able to win contest after contest without losing what is commonly termed as "nerve control."
He was the son of one of the Ministers in the 1924 Labour Government in Victoria. He started his riding career in 1915, by winning a seven mile road race gaining first and fastest time.
He started life as a furniture maker, but when his brother returned from the war they became partners in a motor cycle business. As a member of the South Yarra Cycling Club, he achieved varied success over distances ranging from 10 to 20 miles.
From the start of his career Daredevil Disney only utilized Indian motor cycles due to the speed and reliability for which the machines were famous. He knew no fear. He was often accused of being a reckless rider, but he never injured anyone or put anyone's life in danger.
He won his first motor cycle race in 1919 - a five mile side car event. In the same year at the Sale Easter Carnival he established himself as one of Australia's best motor cycle riders by winning in the fastest time the Blue Ribbon event for the road over 200 miles. Then came the Hopkins Cup open race, and after that success on the Aspendale track, reliability trials and jumping records. He held the Australian long distance jumping motor cycle record, covering a distance of 54ft 6in in the leap. He became well known on the speed track as the "Wizard of the Track," and "Daredevil Disney."
In March 1922, he lowered the Adelaide to Melbourne motor cycle solo record on an "Indian" Scout, by registering 16 hours and 14 minutes, breaking the recent record set by Jack Quigley.
On Saturday February 21, 1925, he sustained an injury to his knee while taking part in a preliminary run at the Geelong racecourse, prior to racing against the American Paul Anderson. He was hospitalized for some weeks at Geelong before surgeons give up hope of saving his leg. Disney in the end resigned himself philosophically to losing his left leg to save his life. But that did not dismay him, after leaving hospital he entered cycle races with an artificial limb strapped to the foot rest.
Charles "Daredevil" Disney" died on 5 July 1954, aged 77. He was cremated and his remains were scattered at the Springfield Botanical Cemetery, Melbourne.
In 1922, John S. Hoskins, later known as the prince of speedway promoters, was appointed Secretary of the West Maitland Agricultural Society. At this time the organization was in a bad way. Its membership over the years had plummeted to about 300.
Hoskins tried all manner of attractions - boxing, rodeos, and cycling - but nothing seemed to grasp the attention of the public. Being a motor cycle rider himself, with a number of riders, he approached the committee of the Agricultural Society to ask permission to run a number of motor cycle trials.
The members thought it was pure madness, and told Hoskins he was taking a short cut to death. No amount of persuasion could convince them that it would prove to be a success and a good investment. Eventually, however, Hoskins got his own way and with a rider named Billy Crampton, who was the only one with an actual racing machine in N. S. W., a Norton, he was allowed to give his idea a try out.
One member of the committee, who was actually taken with Hogkins idea, watched over the fence when Hoskins and Crampton were speeding around the track, and later it was mainly through his imput that Speedway eventually opened at Maitland. Construction of the speedway track at Maitland commenced in October 1923, and the first Maitland Speedway meeting was held on Saturday, November 1, 1924, for a double bill of motor cycle and push bike racing. It was not a success. The push bikes showed up the speed failings of the powered bikes they even recorded better times. The track was very small, and of grass. Under half a mile in circumference and thirty feet broad.
There was much hype for the official opening of the first Maitland Speedway meeting held on Saturday, October 17, 1925, when L. B. Meville, mounted on an h.p. Harley Davidson, succeeded in winning the £100 Motor Cycle Handicap. A princely sum in 1925. The attendance was estimated at around 1300, and the number of riders in the motor cycle handicap was a record, 77 starting. Since the close of 1924 the track had been considerably reconstructed. Instead of two straight and four bad turns where many falls had occurred in 1924, the track was oval with a straight run in front of the main grandstand. The track had also been widened from 30ft to 45ft, the banks at both ends had been made very much higher, and a slight smaller embankment had been built all-round the half mile track. There were 28 races -- 23 for motor cycles and five for push bikes.
Apart from the normal speedway meetings at Maitland, Speedway Carnivals were held throughout the year to raise money for local charities. A speedway meeting was held at the Maitland Speedway Carnival on Saturday, 21 February, 1925. In the final of the Championship race, a serious accident occurred. George Kirkwood hit a fence, and another rider E. Buck crashed into him. Buck escaped injury, but Kirkwood sustained a compound fracture of the right leg, which was later amputated. He also sustained many injuries to his head and body. As a consequence of the terrible injuries received by Kirkwood a safety rail, similar to the one at Speedway Royal was erected.
George Kirkwood was 18 at the time of his accident at Maitland; he was born on 22 April, 1907. He passed away in NSW on 2 March, 1991, the month before his 84th birthday.
A letter from Mr. E. B. Harkness, Under Secretary to the Chief Secretary of NSW to the management of the Hunter River Agricultural and Horticultural Association, criticizing the condition of Maitland Speedway track, was published in the Maitland Daily Mercury, 15 May, 1925. The following is a short extract from the letter:-
"It has been reported to the department, Mr.Harkness stated, "that the speedway on the society's ground is, in its present condition dangerous to riders. It had been presented, moreover, that since motor cycle racing commenced there in 1924, 33 more or less serious accidents have occurred, resulting in riders receiving, in several instances, injuries necessitating surgical treatment."
There can now be little doubt that the case for the start of dirt track racing at Maitland in 1923 cannot be maintained, and that dirt track racing on the Maitland track did not commence until 1924.
In 1924 a number of Speedway enthusiast held a number of private races on the Brisbane paddock. In the course of time the grass surface became worn, but the process was so gradual that the change from grass to dirt was scarcely noticed. Then, when the riders learned to slide the corners on the dirt surface speedway racing became more spectacular. In 1925 - two brothers, A.J. and Frank Hunting, saw the possibilities in dirt track racing, and engaged the paddock riders from Brisbane to appear at the Exhibition Grounds, on Saturday, 16 October, 1926. Brisbane. The five riders were Vic Huxley, Frank Authur, Frank Pearce, Dick Smythe and Charlie Spinks.
Speaking of the above, the following extract is taken from a letter written by A. J. Hunter, and published in "The Referee," 23 December 1937. His reminiscences of the early days of dirt track racing are interesting.
He states categorically that the first grass track speedway was at West Maitland, but the first genuine dirt track for speedway was laid down and constructed by him at Davies Park, Brisbane in 1927 -- this track brought out the rider's ability and daring.
When the track in Brisbane was nearly completed Hunter advertised the opening of the meeting although he still didn't have any riders. All the well-known motor cycle riders were skeptical, not one appeared willing enough to give Hunter's dirt track riding idea a try. In despair, Hunter took his idea to the Brisbane Motor Cycling Club and asked for volunteer riders. A young man stepped forward called Frank Pearce, and told Hunter he was willing to give it a go. Charles Spinks, then a bricklayer, was the next to volunteer, and after him Vic Huxley. Nine other riders soon followed -- but then the supply of volunteers dried up. All the riders put in an appearance at the opening of the Exhibition Grounds Brisbane, on Saturday 16 October, 1926.
The visit of the American rider Cecil Brown, a fist class rider on any surface, raised the standard in Australia considerably. He arrived in Australia with a reputation as a great dirt track rider, but at Penrith he was repeatedly beaten by Gus Clifton and Billy Conoulty. However he soon mastered the tracks and developed into one of the best riders in Australia.
The public began to flock to Speedway meetings and new tracks began to spring up everywhere. A track opened at Cessnock, and a year later Newcastle followed suit. The first concrete track in New South Wales at Maroubra was opened on Saturday, 5 December, 1925. Much interest was taken in the Golden Helmet race with a prize of £30 and £10 per week until the winner was defeated at a subsequent meeting. Cecil Brown was crowned with the Golden Helmet and carried off the track shoulder high. He won the Golden Helmet for the fifth time at the Olympia Speedway track on Friday 2 April, 1926. His fastest lap was 93 m.p.h.
It could be argued that the very first speedway meeting took place in New Zealand on 22 October 1923, at the Canterbury Racecourse, Christchurch. The competition included the leading riders from all parts of New Zealand. The races were run on a grass track, and very fast times were recorded. The most successful rider was the well-known New Zealand champion Percy Coleman, who made excellent time in winning the all Powers Championship of 12 miles on his Harley Davidson. On 9 March, 1929, dirt track racing was commenced at the Kibirnie Stadium, Wellington.
Many speedway historians have written about the history of the sport in England. Nine out of ten credit High Beech in Essex as the birth place of English Speedway. But there can be no getting away from the fact that the Moorside dirt track at Droylsden predates the High Beech track by eight months. Many youngsters in the North West got their first taste of dirt track racing at Droylsden, it also paved the way for other dirt tracks in the in the Manchester area like Audenshaw, Stalybridge, New Mills ,Salford Albion, White City and Belle Vue. According to the Australian speedway promoter A.J.Hunting (Sydney Referee Dec 23 1937), he helped lay down the track at High Beech. Mr. Hill Bailey, then secretary of the Ilford Motor Cycle Club, introduced Hunting to Mr. W.S.Cearns who asked Hunting if he would lay down a proper track. The famous Australian Speedway promoter agreed and assisted with the construction of the track. Two other Australians, Keith McKay and Billy Galloway, helped to organize and participate in the High Beech meeting.
Droylsden, unlike High Beech, was an entirely local venture without any assistance from outside sources. The meeting was organized by the South Manchester Motor Club and local motor cycle dealer Fred Fearnley, on land owned by George Dodd, a farmer from nearby Ashton Moss. The event was given a license by the ACU for track racing, and the meeting went off as planned on 25 July 1927. There is absolutely no doubt that the Droylesden meeting was the pioneer of Dirt track racing in England. The ground where the event took place should be recognized by Tameside Council as a site of historical importance Blue Plaque commemorating the site as the birthplace of speedway racing in the UK. The plaque should be positioned as close to the original site of the track as possible. If you agree, please take the time to write to:- Arts and Events, Tameside MBC, Dukinfield Town Hall, King Street, Dukinfield.
---
6 Riders USA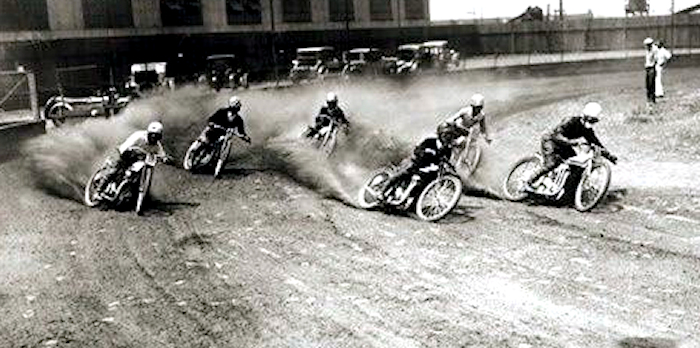 Courtesy of John Spoor
---
1939

Book Cover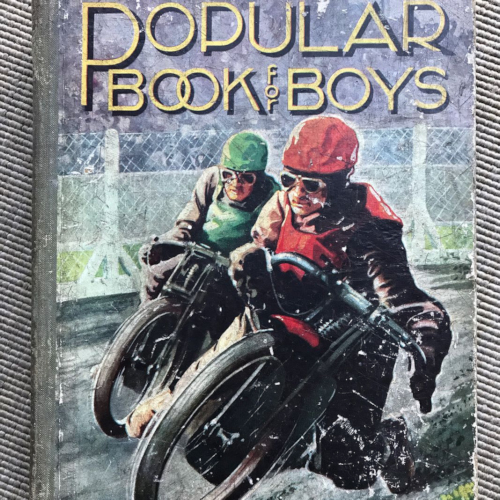 Courtesy of Lyndsey Skinner
---
1938 Test Match At Harringay
England & Australia
v
America & Canada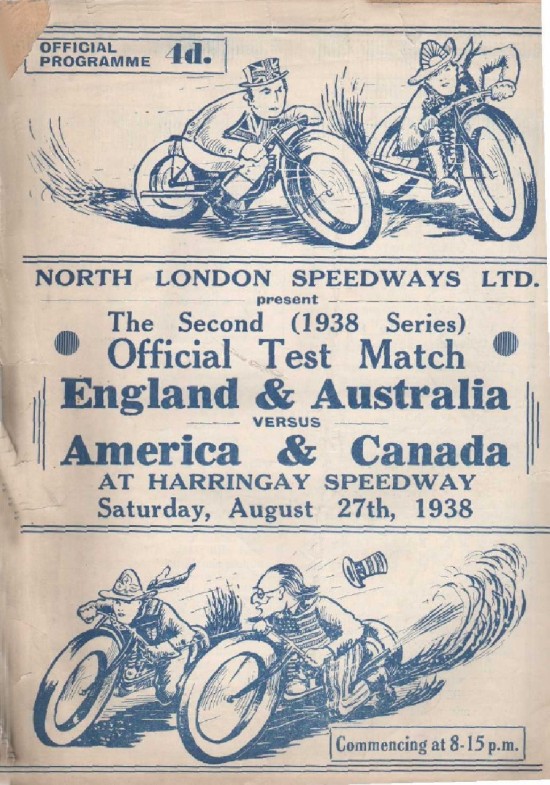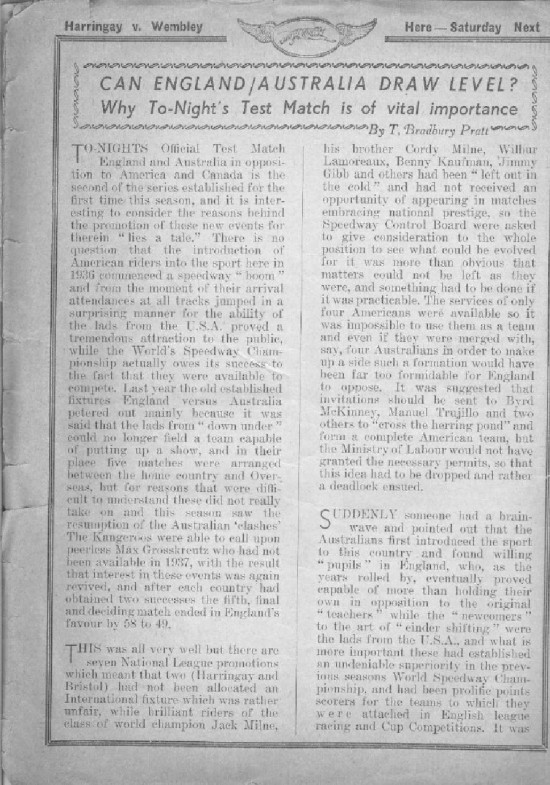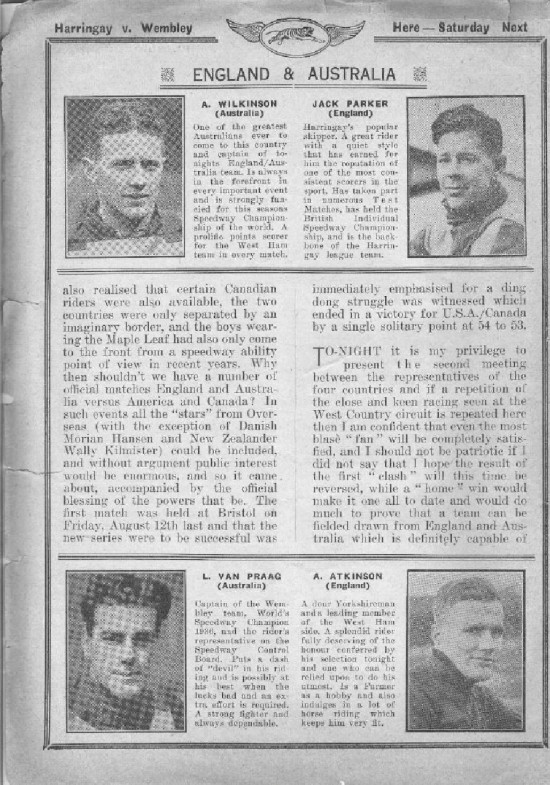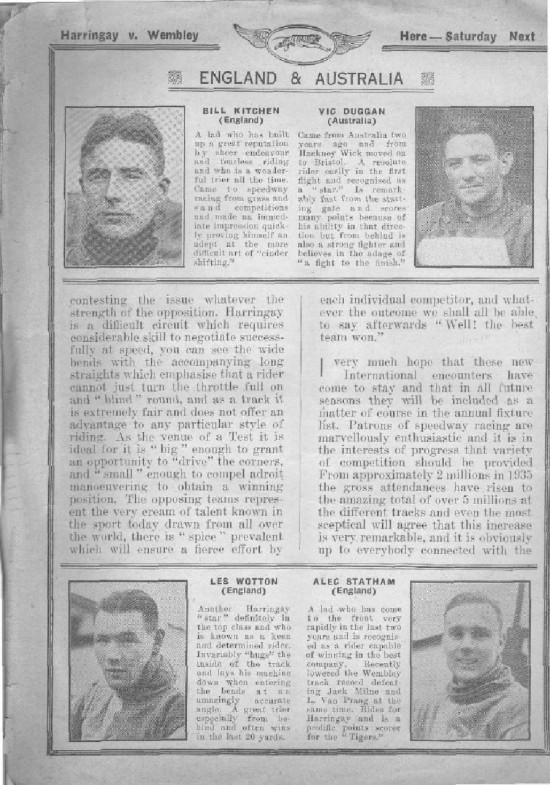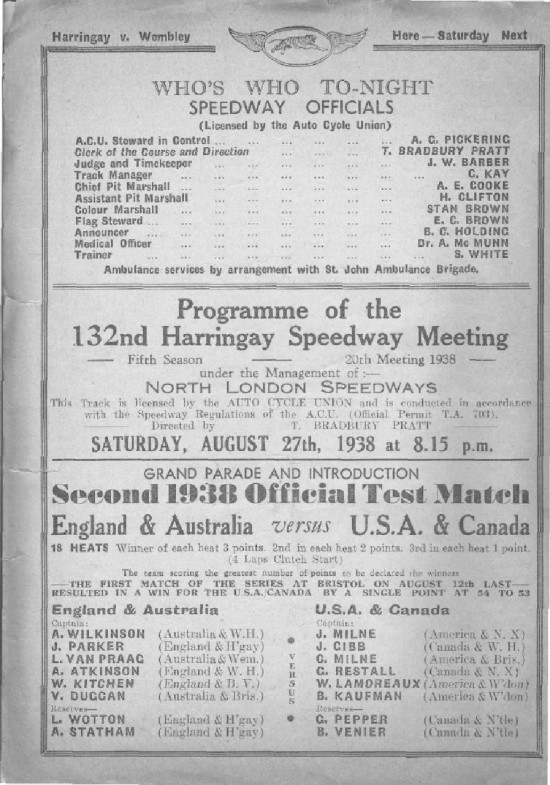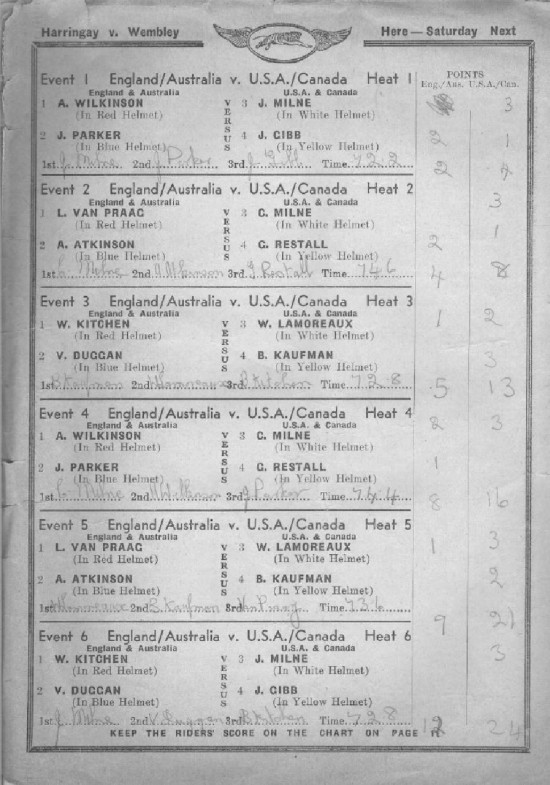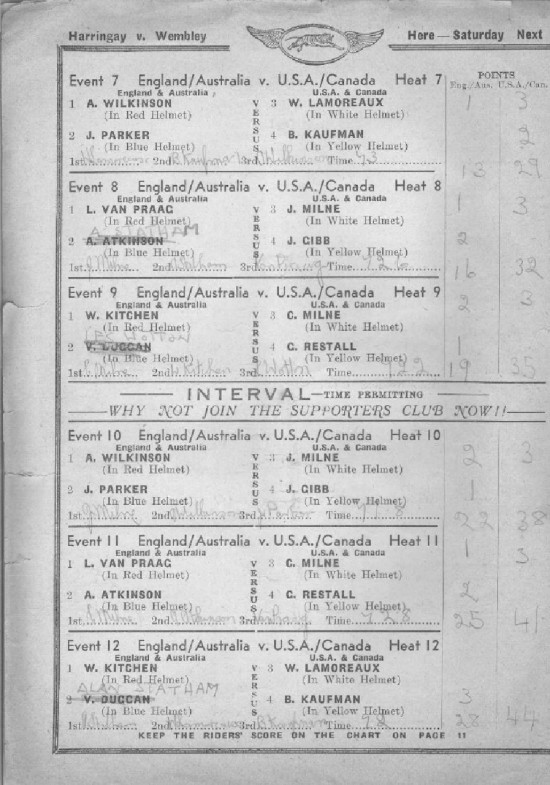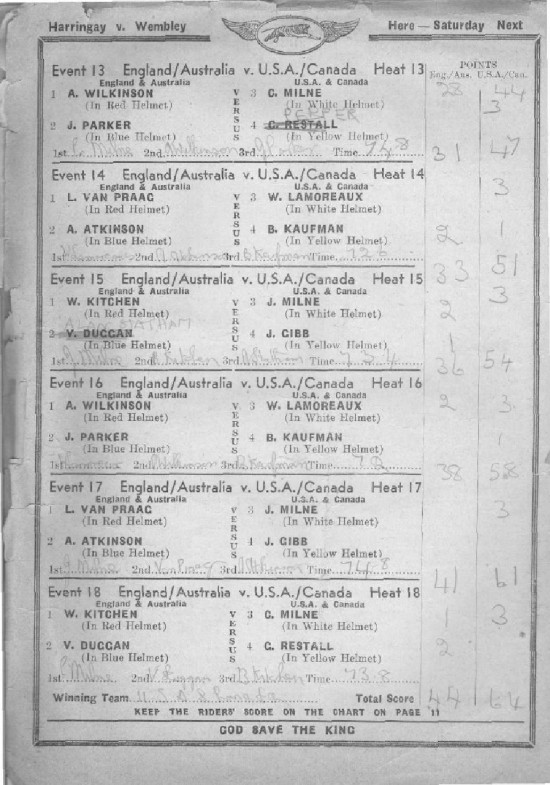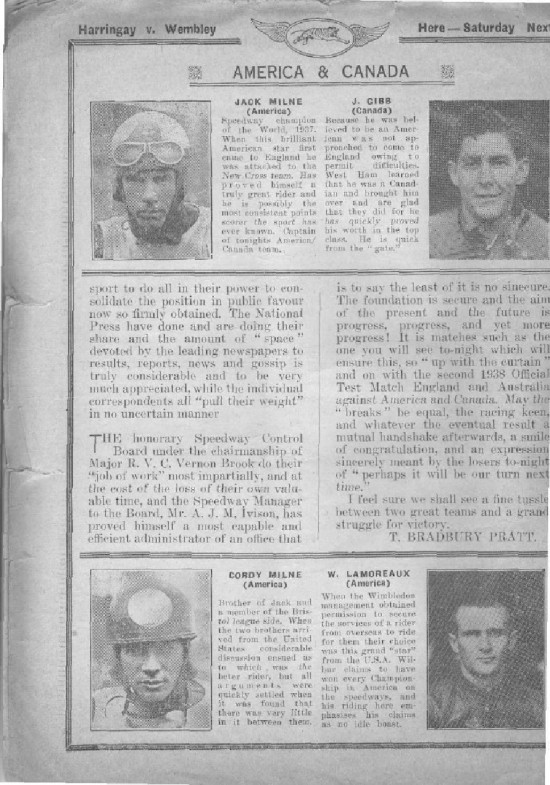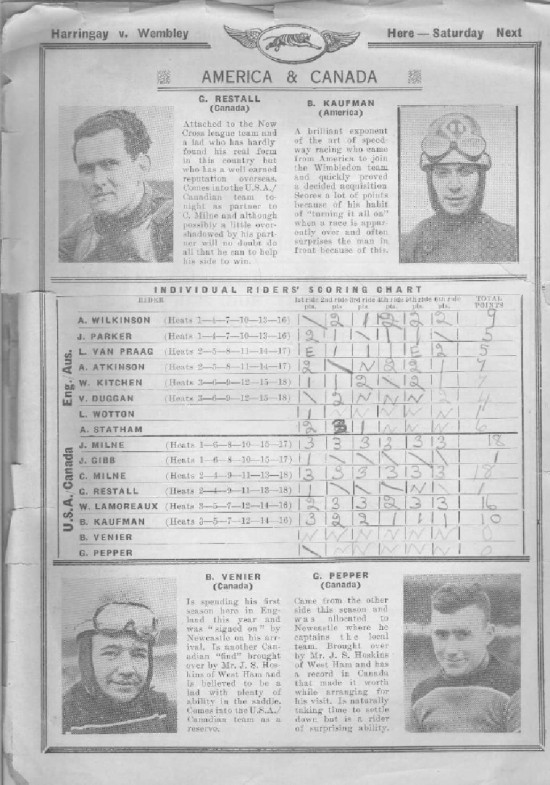 This meeting was dominated by the USA's Milne Brothers who both notched 6 ride 18 point maximums. The England/ Australia side had no-one to trouble the Milnes or Wilbur Lamoreaux who notched 16 points
---
Letter From The BBC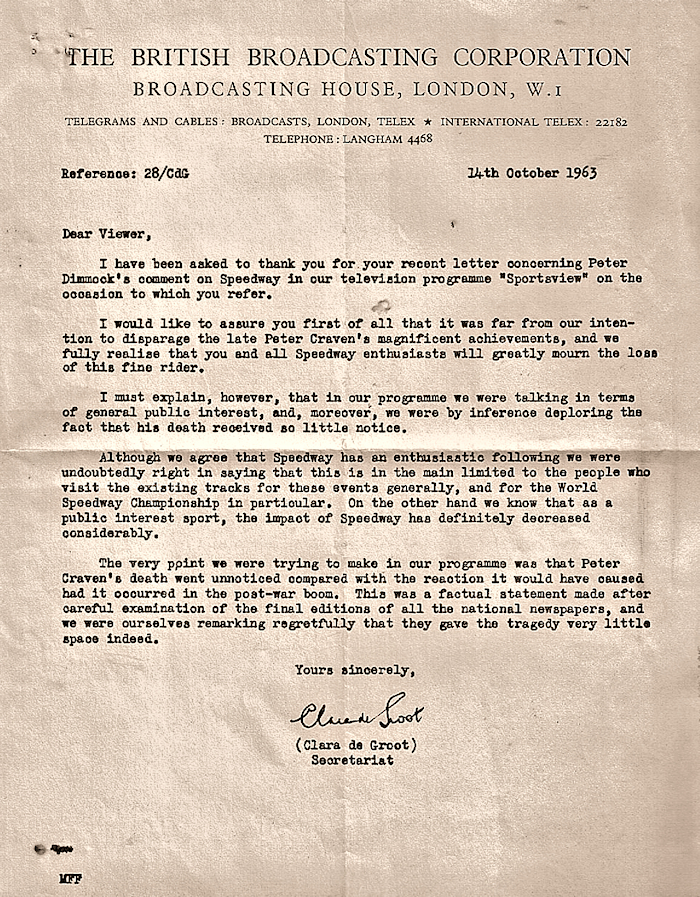 Courtesy of Tom Roe
---
Tasmanian
Reginald Aldgate West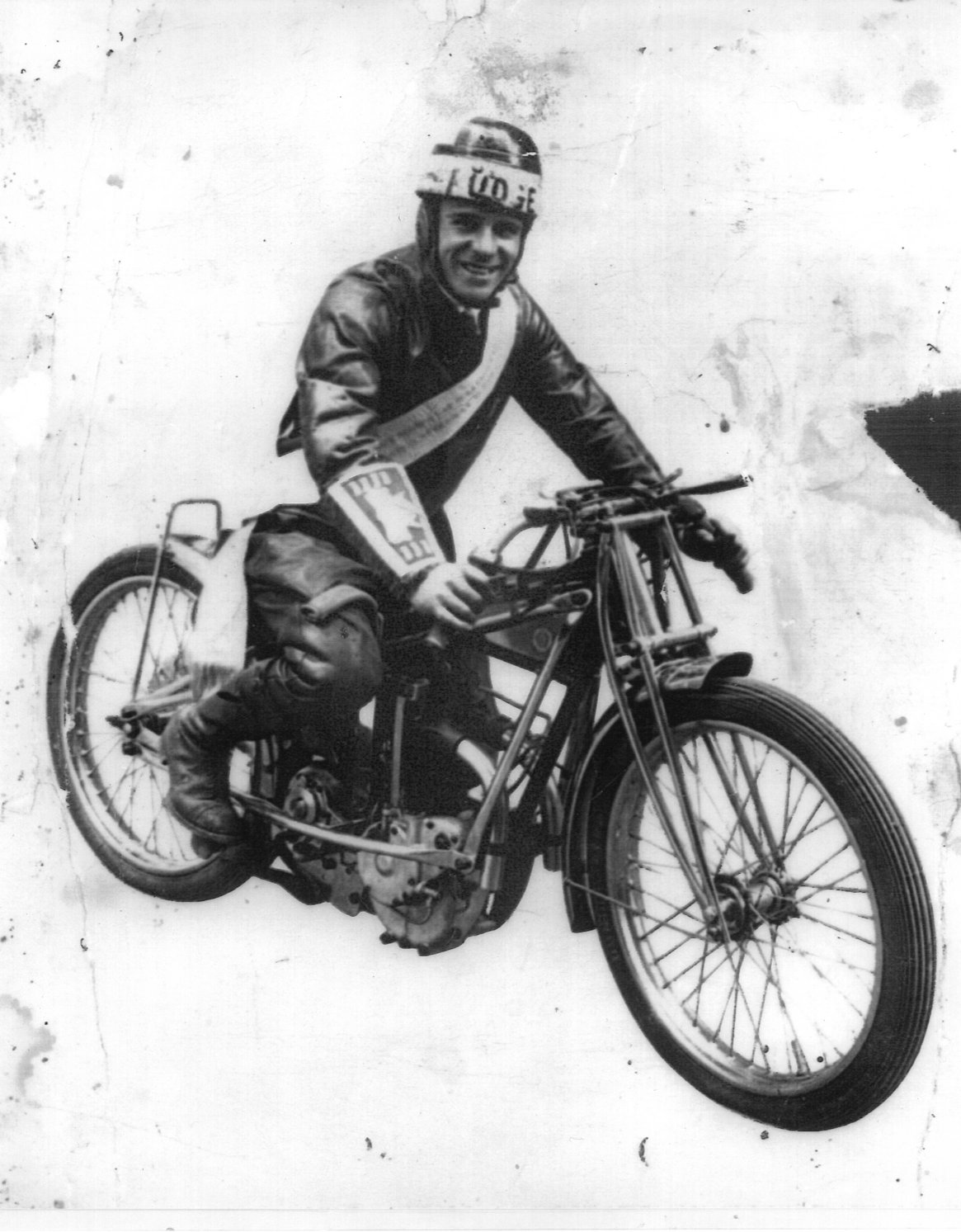 Courtesy of Colleen Thorne
Reg on his Rudge. The Rudge Co had come up with a strong engine which could compete with the Douglas and Harley Davidson's Peashooter. The Rudge frame however was inherently weak hence the strengthening struts on this one
The rider pictured above is Reg West. His daughter Colleen has been in touch as follows: -
Would someone be able to help us find out anything more on my father, Reginald Aldgate West. He was born in Tasmania but the family moved from there to Melbourne. He travelled all over Australia racing he was also known to have done some wrestling in his time.
I have a Photo of him having won a race on his motorbike wearing his winners sash.
He was my father-in-law. We know very little of his racing career.
He travelled over to the UK with the Australian team to race at the Isle of Man/Wight in the early 1930's. We believe he raced all over the UK. He never went back to Australia. Seems he stopped racing at the start of the war. Could have been from serious injury?
Any info would be great. Thanks Colleen Thorne
John says: The bike is a Rudge so I would put the picture at around 1928/1931? Can anyone supply info on Colleen's father?
Bryan Tungate has been in touch. He has "found" a Reg West in a 1939 Norwich programme
3 June 1939 Norwich v Middlesbrough ...... 2nd half races show .....
Reserve Race - Alex Lewis, Bert Hutson, Sid Hipperson, Reg West, 81.0
Hellesdon Trophy Heat 4 - Reg West was replaced by Fred Belliveau the 'borough reserve in this race.
Stuart Towner says : -The picture of Reg West would be 1928, well the bike is. Rudge dropped the struts on the frame as they made the bike too stiff. Best wishes. Stuart Towner - Editor of the Rudge Enthusiasts Club magazine, the Radial.
John says: So let us accept that Reg was sitting on an early Rudge possibly 1928 although it is possible that Reg fitted the struts himself to a slightly later model. Who knows!
Colin Jewes says: Probably is a 1928 Rudge: Reg West rode at the Melbourne Exhibition track, Victoria in 1928, where he won the Golden Helmet there at least 3 times in Oct. & Nov. '28.
He also won the 2-Mile Australian Dirt Track championship at Melbourne Exhibition, (possibly the same year, – unsure.) The above photo was used in a press report of the day on his 2-Mile win.
---
Lee
Richardson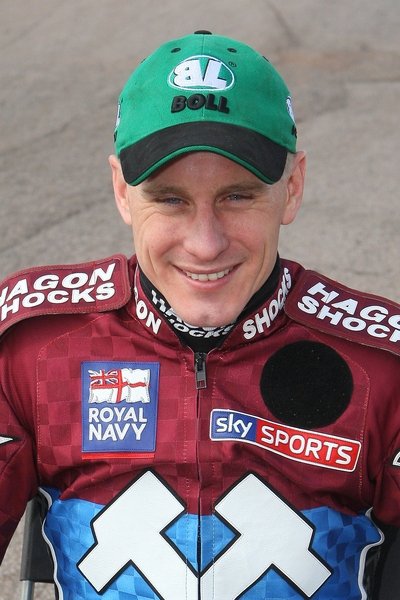 This picture and report are courtesy of the Reading Chronicle: READING speedway fans have been stunned by the death of former rider Lee Richardson. The 33-year-old crashed while riding for PGE Marma Rzeszow against Betard Sparta Wroclaw in Poland on Sunday 13th May 2012.The father-of-three was rushed to hospital but died of his injuries.
His death has sent shockwaves throughout the sport and a minute's silence was held before last night's televised Elite League meeting between Belle Vue Aces and Birmingham Brummies. Hastings-born Richardson was fondly remembered by supports of the Reading Racers, having started his career at Smallmead as a 15-year-old.
Former Chronicle speedway correspondent Nick Dyer said: "I felt really close to Lee having been with him in his earliest rookie season with Tim Sugar (ex-Racers manager) at Reading. I remember travelling to his debut meeting in Tim's van."I also worked with Lee's mum on the TV commentaries that used to run on local cable and I can't even think what his wife is going through."
Richardson made his debut for the Racers in 1995 and was part of the team that won league and cup honours the following year. He was crowned World Under 21 Champion in 1999 and rode for a variety of clubs after Reading including Peterborough, Swindon, Eastbourne and Poole. He was the current captain of Lakeside Hammers when he died.
Hammers owner Stuart Douglas said: "Lee's death is a truly shocking piece of news. Sometimes the dangers the riders face in this sport are sidelined in the competitive spirit, but this proves just how brave speedway riders are."Lee is a magnificent rider, and our club, and the speedway family around the world, are left totally bereft by this tragedy."The news is a second blow for Racers fans following the death of ex-rider and co-promoter Malcolm Holloway from a heart attack last week.
The following pictures and sentiments were sent to me by Reg Fearman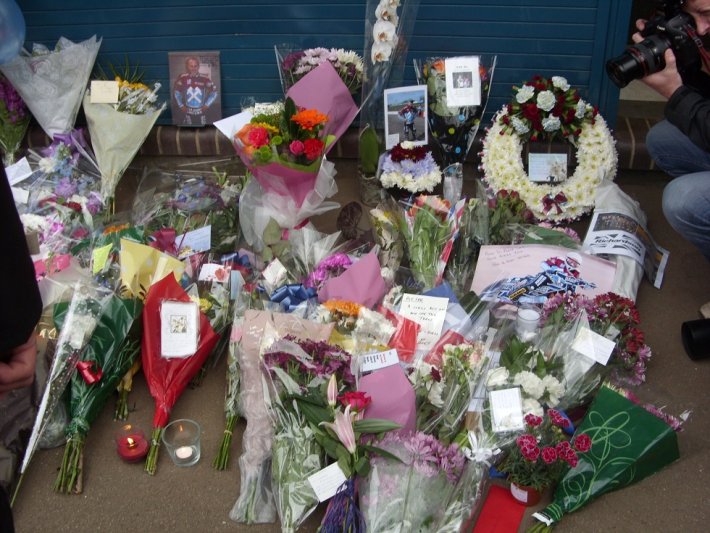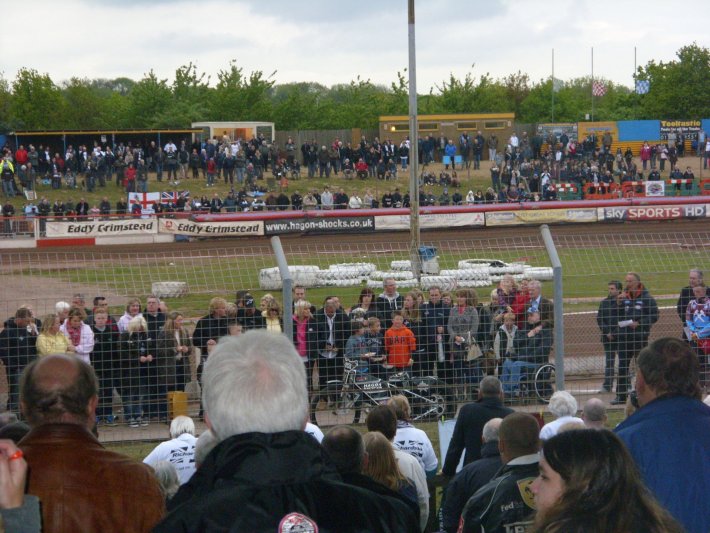 Robert Rogers says: A strange place was Arena Essex tonight, it was nearly 19.45 pm and the normally noisy mad house that is the pits was strangely quite, the bikes stood in rows in silent homage. Riders, Staff and Officials stood in little groups quietly chatting, whilst some found a quite corner for their thoughts.
On the terraces, some fans could not believe it, some would not believe it. They threw their couple of

bob and £10 notes in to the collecting bins ably organised by Linda and George, although there was some happiness, the latest Member of the Barclays clan could not believe, so made the most of, all the fuss they were receiving. Some fans laid flowers at the corner of the Tavern, some gave in sympathy cards, all seemed to want to sign the remembrance book, many bought a Rico Tee-shirt, all the more money for the collection.
Most stood in groups, still shocked, but remembering the good times, one fan said `He stood with my boy last week to have his photo taken, he was a good guy like that, must get it framed now`. The normal start time of the match saw, insisted of 14 noisy bikes, a silent procession coming out of the pits, and along the concrete road that is the Banger track, headed by Lakeside Manager pushing a Speedway bike, followed by Riders, Family, Friends and Officials, and marching in a group the St Johns Ambulance Brigade in their brightly coloured jackets, they walk around to the starting tapes, where a wreath in Lakeside colours was placed on the bike.
Oh no! It was true, Lee had ridden his last race. Brave words from the manager trying to hold back the tears, also the fans, although for some it was too much. But by fare the bravest of all Emma, and her boys. A minutes silence, ended by the warning Klaxon, then a minutes applauds, Speedway had paid its respect to a Racing Legend, Lee Richardson, Lakeside Captain, killed while racing in Poland last Sunday . RIP Lee the Hammers will NEVER forget you, the show must go on, and Lakeside beat Swindon 50-40, but a little bit of our hearts will never be the same again.
---
Claire Nielson (Nee Isbister) says: My uncle, Norrie Isbister, was one of Scotland's greats from the early years of the sport in the UK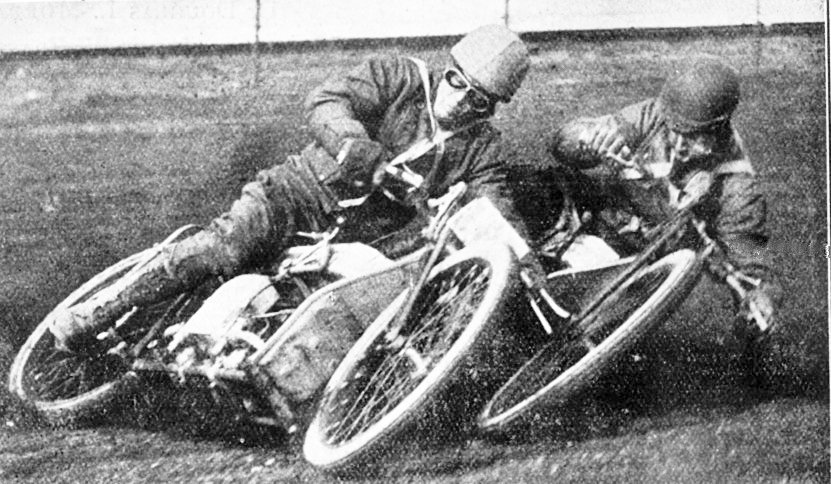 John Says: The above photo is one of my favourites out of the many thousands of images on my websites
Norrie Isbister and Drew McQueen. The crazy cornering angles were due to the Douglas Dirt Track bikes they are racing. The bikes had a long wheel base to accommodate the longitudal flat twin engine and a very low centre of gravity because of the engines weight slung along the bottom of the bikes frame, this resulted in spectacular "leg trailing"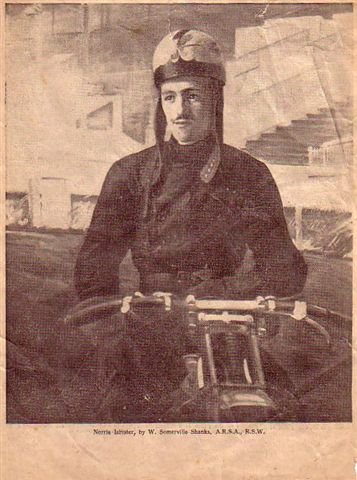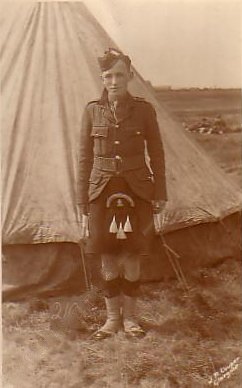 Above left is a painting by Sir Somerville Shanks, of my uncle Norrie, (says Claire) at the height of his popularity and above right is him in 1917 at an army training camp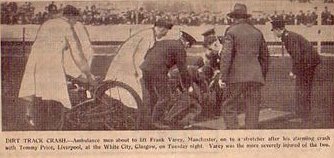 Claire continues: The man in the homburg hat 2nd from right is my father, Jack Isbister who was the doctor at the Speedway then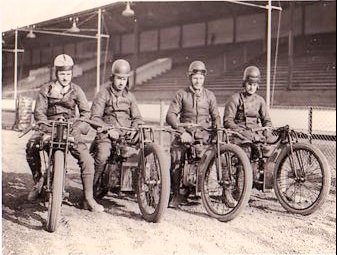 Claire says: A line-up of riders with my uncle Norrie at extreme left.
Norrie With Other Veterans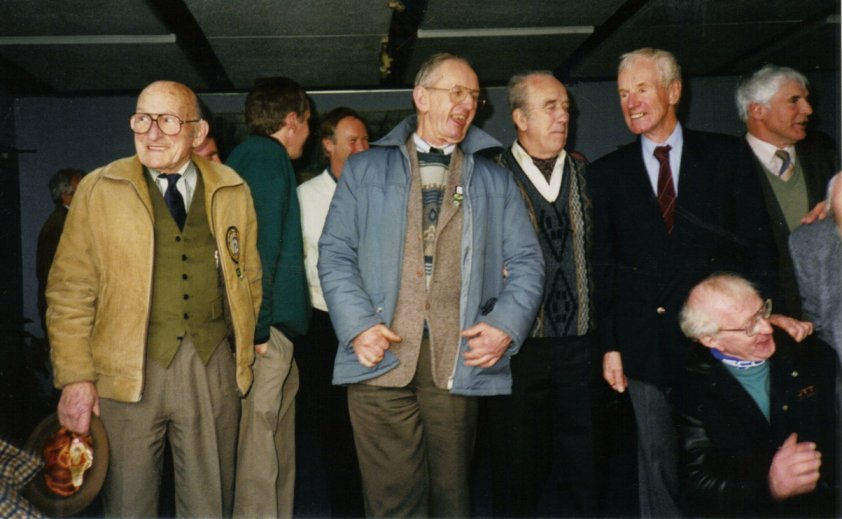 Norrie Isbister, Fred Rogers, Merv Hannam, Ove Fundin, Willie Templeton and Bert Harkins.
Alan Charles says: Hello John,
Sorry long time no hear! I am always having a sniff around your wonderful website, and the other night noticed a photo of Norrie Isbister laying a Douglas almost flat. Terrific photo, but what caught my eye was the fact that a comment had been made by a Claire Nielson. Now, my wife is a nurse and over 20 years ago cared for a Doctor Jack Isbister at a home in Stratford upon Avon. I commented on the name being that of a rider turned promoter but obviously never mentioned it to him which is a huge shame as I see Claire Nielson herself identifies her father in one of the photos as the track doctor. I would have loved to have met with the fellow but sadly never did.
There was another reason Claire Nielson is firmly and fondly stuck in my mind. That is because the place my wife worked at, did an Easter bonnet parade one year for the amusement of the residents and Miss Nielson came along to add a touch of glamour and judge the entries. The lady excelled herself as she awarded first prize in both age groups to my two daughters!!!
You may wonder why I say glamour, well as well as being extremely attractive
.
Claire Nielson is a hugely accomplished actress. If you ever saw Fawlty Towers I need only mention Waldorf Salad. The striking blonde lady who accompanied the American gent who was rightly outraged at Basil's standards
?

She has also appeared in numerous dramas such as Taggart where she turned Jim down on the offer of a date preferring as she said "the company of her own sex"!!! I think she did a Rab C Nesbitt too. My wife met her many times as she was a very regular visitor along with her husband fellow actor Paul Greenwood, and she always said she was a lovely woman. How much more the lovely for her to share her knowledge of such an illustrious figure from Scottish speedway with you. I wonder how she found your site?
Kindest regards
, Alan
---
Many riders go through what looks like little more than ritual digging and stamping with their boots before coming under starters orders. I presume they are looking to create extra grip!, but does it work? There is also the kick aimed with the heel of the right foot towards the engine, what does that achieve? If you are/were a rider could you please throw some light on these matters.
John
My mate giffy says: Things are ok here, well sort of Ok, I had a bloody heart attack a couple of months ago and the place I worked for closed down, so now I am full time old person.
I only rode at one track that had a concrete starting pad and that was Middlesbrough and I think that was 1965 in a non league side.
Regarding the digging at the gate. I always looked for a bit of the gate that had not been used before and had no ruts in it but if that was not possible I looked for a straight rut to use. The idea of using a rut that is already there is that the sides of the tyre will pick up a bit of grip on the sides of the rut too. I have no idea why riders mess about as much as they do. I think if they were honest they wouldn't know either, they just do it because they have seen someone else do it!!!
I always thought the best way was to drop the clutch before the other blokes!!!!.
My best wishes to you, mate, giffy
John says: Take it easy giffy mate. I dunno why your heart decided to "attack you" :-( I am a full time old and infirm person too. Great isn't it?

Any more riders eye views of starting techniques?

John
Col Greenwell says:
Hi John
, I was looking through M

iscellaneous

1 and you have an item from Dave Gifford...Digging At The Gate. He says the only track he rode at with a concrete start was at

Middlesbrough

in 1965..!!!...M

aybe

Dave means 1966 when we had open meetings.....There were only 3 meetings at

Middlesbrough

in 1965. I just cannot remember what the start was like..
..
John says: Ah well giffy may have got it wrong but it was 47 yrs ago. Bloody hell! I cannot remember what I had for tea yesterday!
---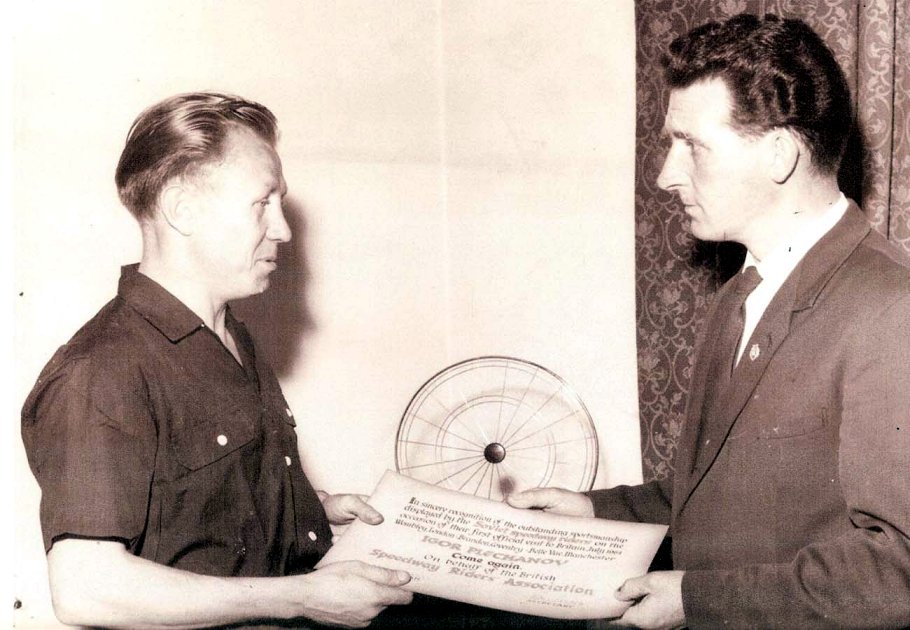 Danny Dunton (right), Chairman of SRA presents a greeting to Igor Plechanov 1964
---
Danny Is A Dutchman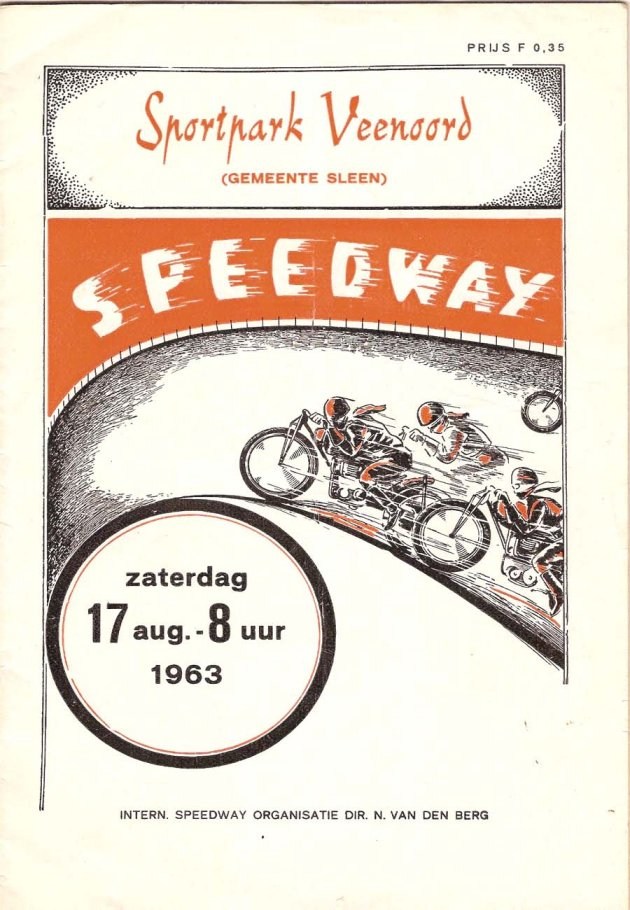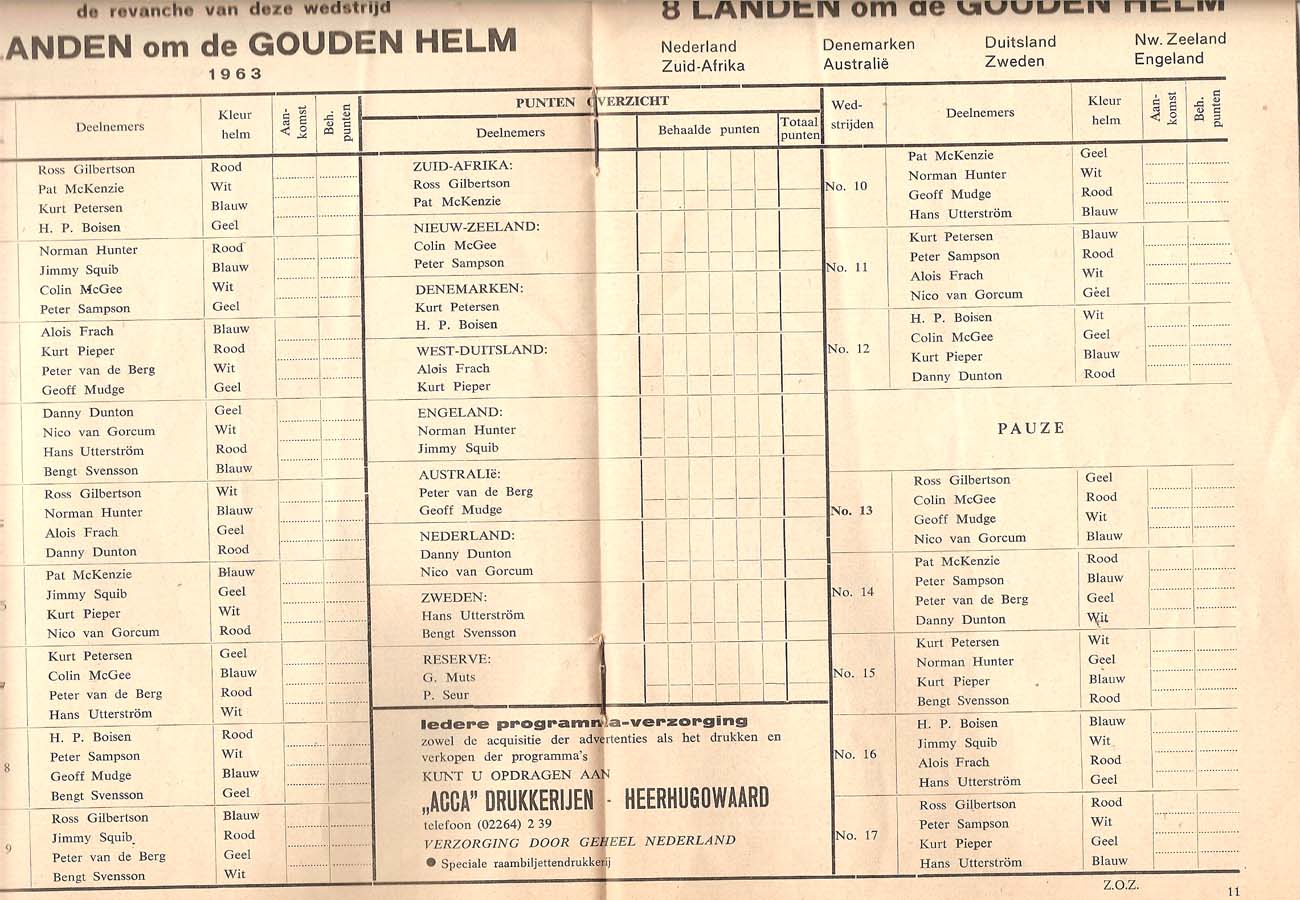 Dutch Programme from 1963 Danny was Captain of Holland, he won the Golden Hemet which he still has at home.
Ok I will ask Lee "How come your dad, Danny was riding for Holland"
John says: Ah well Lee may not have seen the above request from me
---
Speedway In Brazil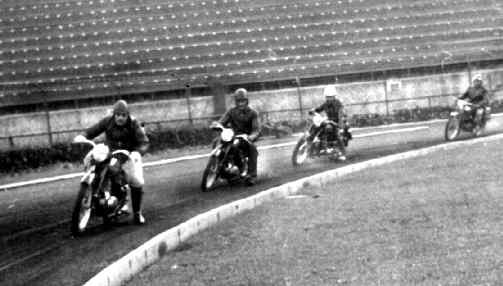 Rafael Bem from Brazil says:
Y
eah, I did a little research and found this picture from the first speedway race on Brazil happen in 1940 on Pacaembu Stadium at São Paulo
John Says: 4 bikes going around an oval track. Yes I would call that Speedway. The bikes are heavy looking road machines but that was common in 1928 in Australia and Europe. Pity speedway is not a popular form of motor sport in Brazil, well let's face it speedway isn't that popular anywhere!
---
1929 Motor Cycling Magazine Speedway Advert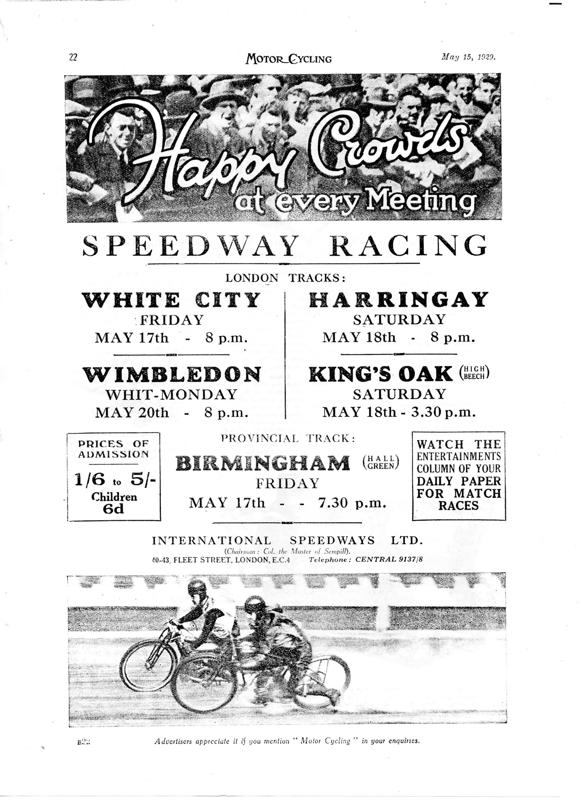 Courtesy of Jim Henry
---
England Team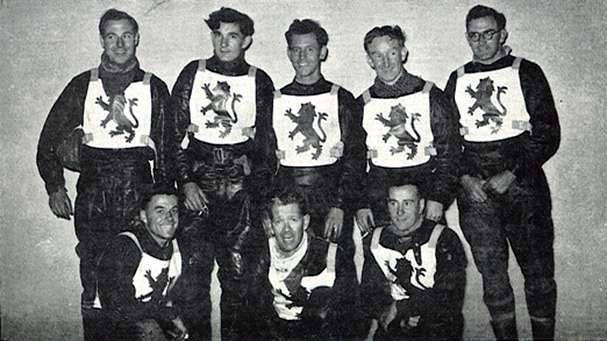 Courtesy of the Eric Williams Collection
John says: The eight smiling Englishmen are (standing from left to right) Derrick Tailby, My Mate Reg Fearman, Eddie Rigg, Bob Fletcher, Fred Yates. Kneeling (from left to right) are Eric Williams, Jack Parker and Tommy Miller.
---
Motorcycle Football
& Sidecar Polo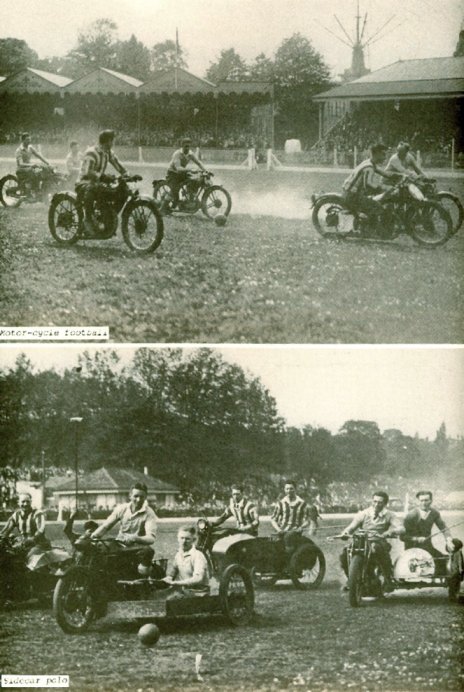 From Crystal Palace. Motorcycle Football (Top) and Sidecar Polo below. looks like a lot of fun
---
Lloyd "Sprouts" Elder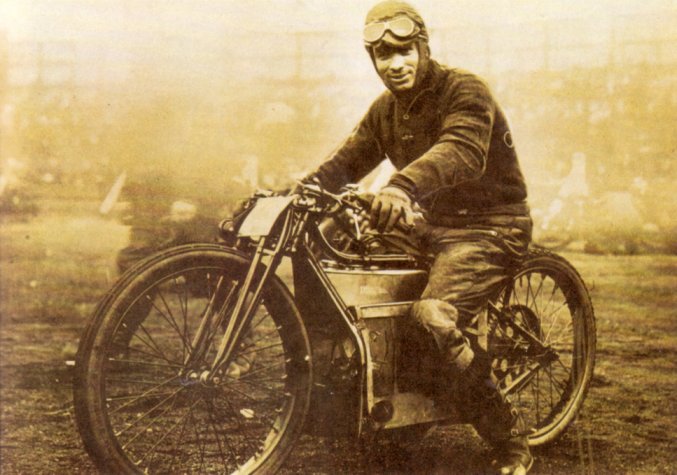 1929 Sprouts Elder, at 6ft 3ins the American's left leg had to trail when he rode on the low slung Douglas machine. He wasn't hampered at all by his height. I have read that he could earn an appearance fee of £500.00. I have my doubts as that seems a colossal sum for the first era 1929 to 1930!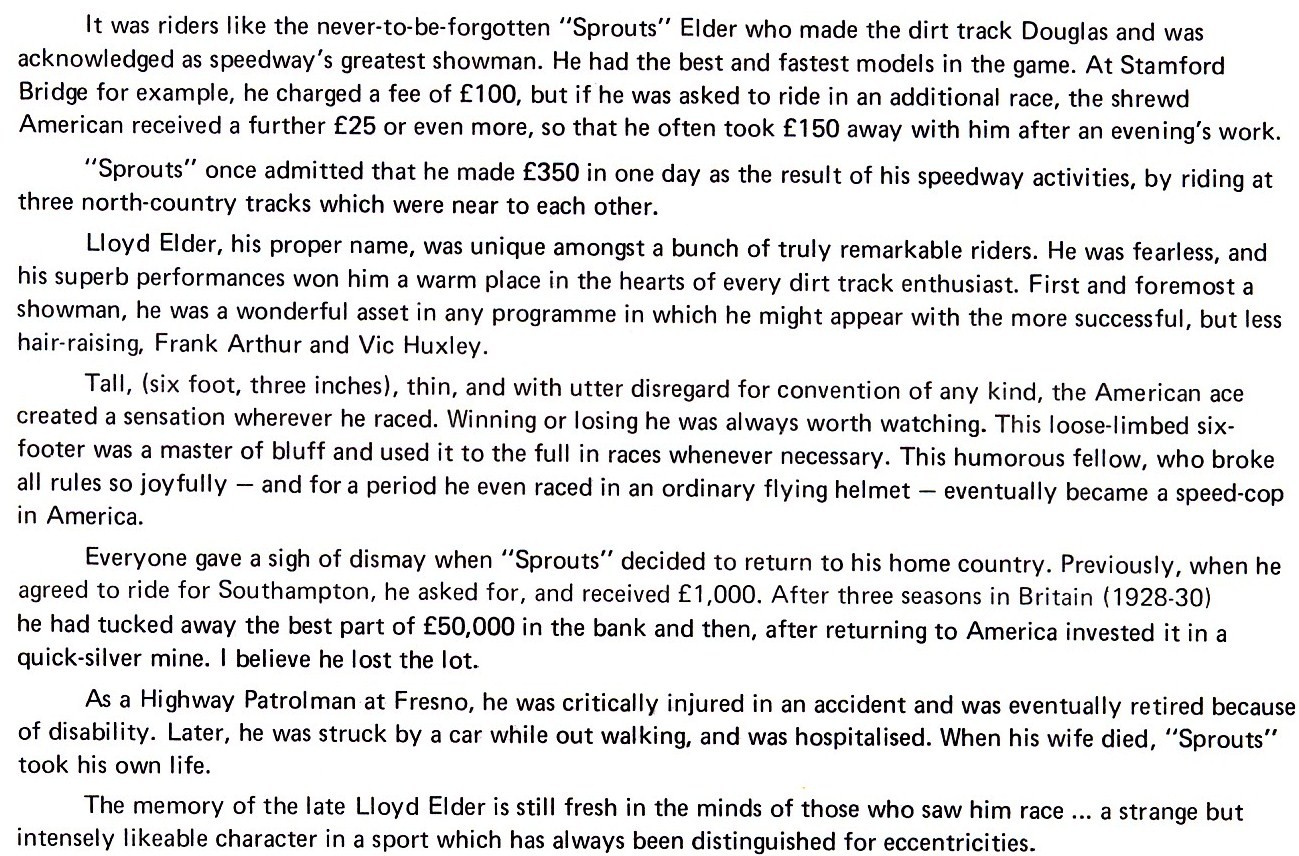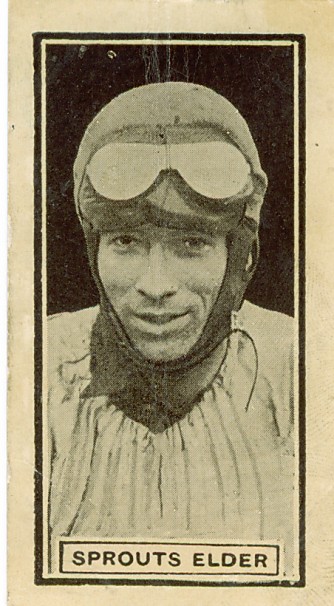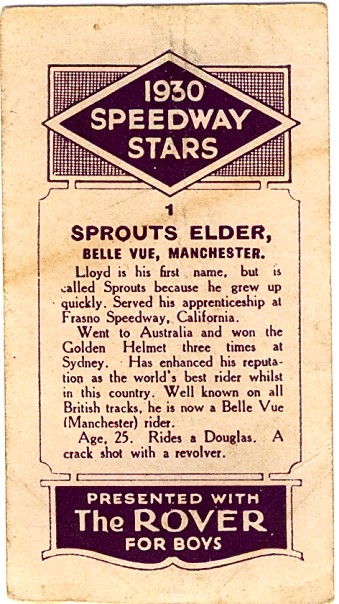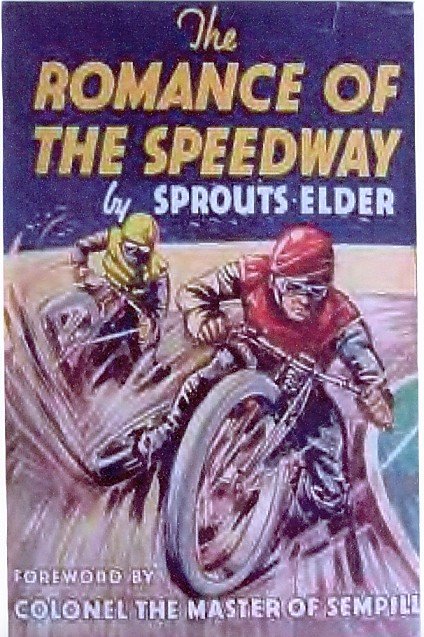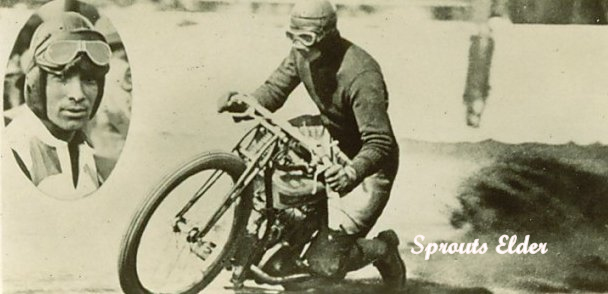 Sprouts Elder on a Douglas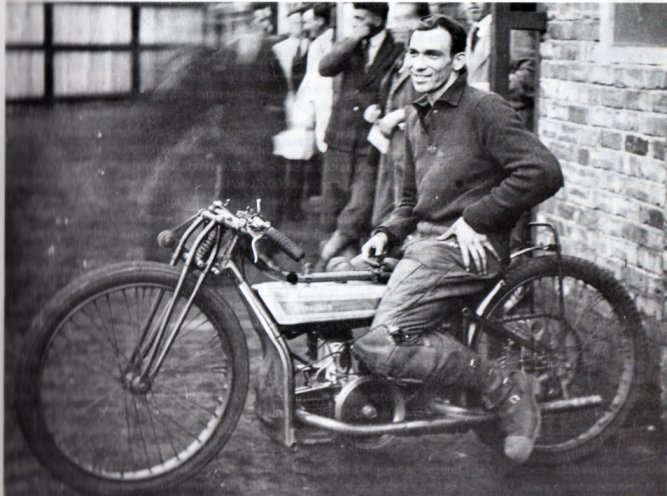 Sprouts Elder, late 1920's mister speedway. He was speedways greatest showman and had there been a world championship he would likely have won it.
---
Early USA Riders
Byrd McKinney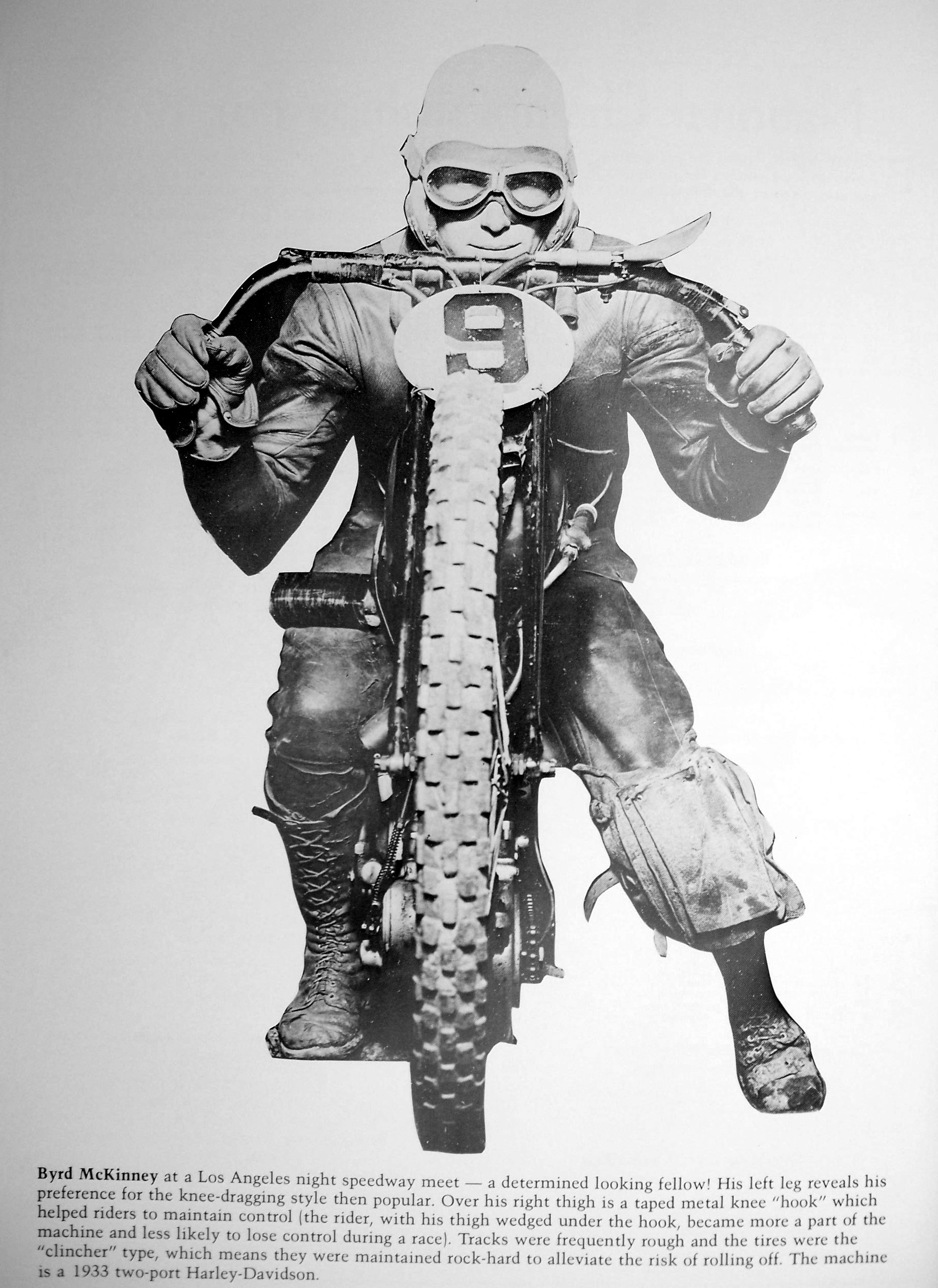 John says: One of the best photographs on my website and there are many great pictures. Here is Byrd McKinney in 1933. A USA rider mounted on a Twin Port Harley Davidson. Byrd was obviously a leg trailer as his left leg shows padding to help him ride the bends. He was a Los Angeles rider. The photographer must have been lying down to capture this shot.
---
Harley Davidson
Purpose Made & Rare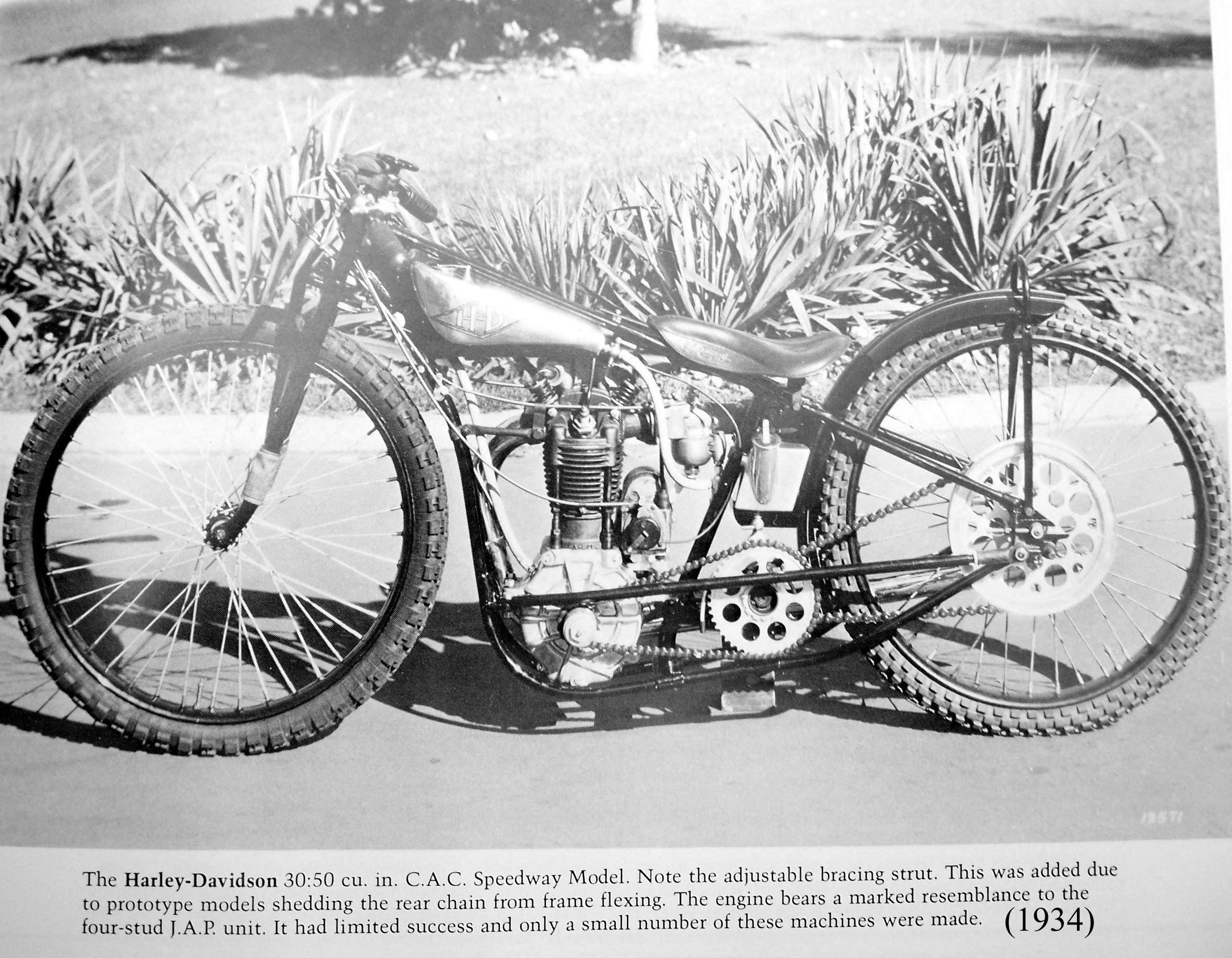 A potent looking Harley Davidson. The picture shows the exposed Primary and rear chains, no front mudguard and a small rear mudguard. The bike looks as lightened as possible with even the clutch and rear sprocket drilled out to lighten the load. In 1934 this bike was state of the art but it wasn't capable of competing with the British JAP machine. Perhaps American speedway needed Harley Davidson to seriously compete with the JAPS and at that stage they could have easily done so, but decided to pull out of being a speedway bike manufacturer. The British Bike maker JAP continued most successfully, from that point alone until the mid 1960's.
---
Sig Schlam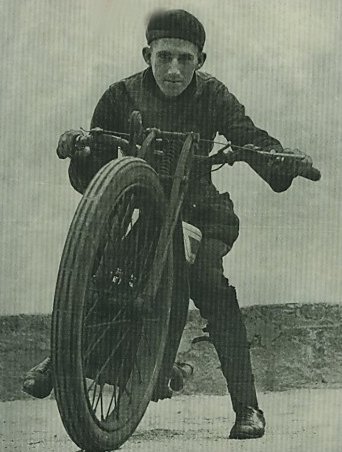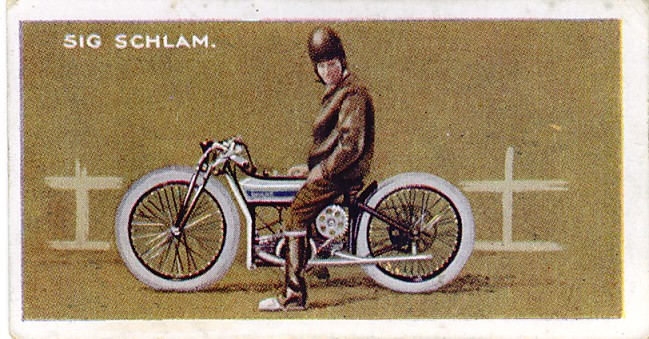 ---
Jack Sharp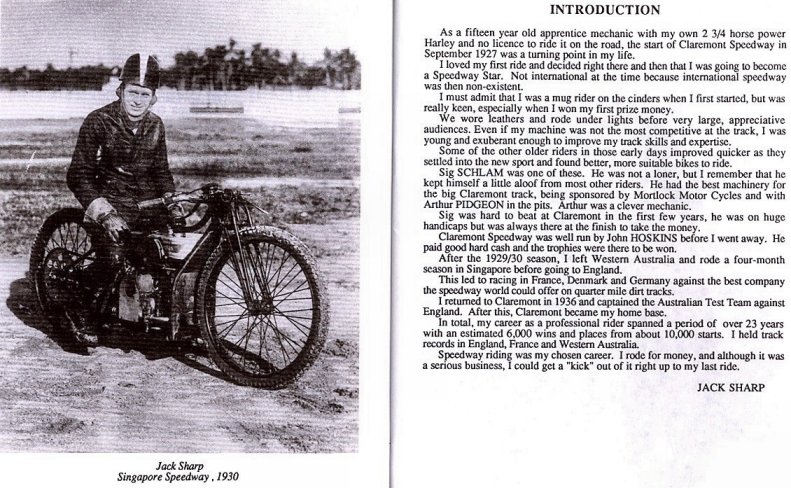 Courtesy of Colin Greenwell
---
Courtesy of Susan Webb, a relative of Spencer
My mate, Dave Gifford has been in touch and has supplied the following text about Smokey:
New Zealander Smokey Stratton was a pioneer in the truest sense of the word, a free spirit forever looking for new challenges and new horizons. He left his homeland to race on the grass, dirt and concrete tracks in Australia at the age of nineteen in 1923, the following year he travelled to the USA to try his luck on the American tracks and returned to Australia later the same year.
At this stage of his career Smokey had a pair of Indians, one a 350cc and the other a 990cc. He survived an horrific crash at the Hamilton Speedway in Newcastle NSW, promoted incidentally by our old friend Johnny Hoskins. Spencer recovered and resumed his riding career setting track records at a number of venues in Australia with the odd visit home to race in NZ. In 1926 it was back to the United States to ride as a member of the official Indian Works team, with several meetings on the incredible board tracks at Altoona, Rockingham and Fresno.
After that he returned to Australia but when Johnny Hoskins travelled to the UK in 1928 Smokey was a fellow passenger as the flood of Aussie riders began to make their way to Britain. He switched to Dirt Track Douglas bikes when he rode in the UK and in 1931 was a partner in the company that built the Sheffield Speedway at Owlerton.
During his time in Britain he continued to look for new challenges and made several trips to the Continent to race. He made a brief visit to New Zealand in 1933 but it appears he never actually rode on a New Zealand speedway at any time in his career.
1938

Tragedy
In 1938 Smokey was appointed Manager at Newcastle Brough Park Speedway. He was tragically killed in a car crash at Cockermouth when returning from a Newcastle league match at Workington.
Susan Webb
Dave Gifford says: This is only a very condensed summary of a fascinating character and a great Kiwi. If anyone can help with information on the life and career of Spencer Stratton I would love to hear from them, particularly regarding his trips to Germany, Austria etc.
Giffy.


giffords@xtra.co.nz
The following info about Smokey comes via my Newcastle History Website
An Indian With A BSA
In The Background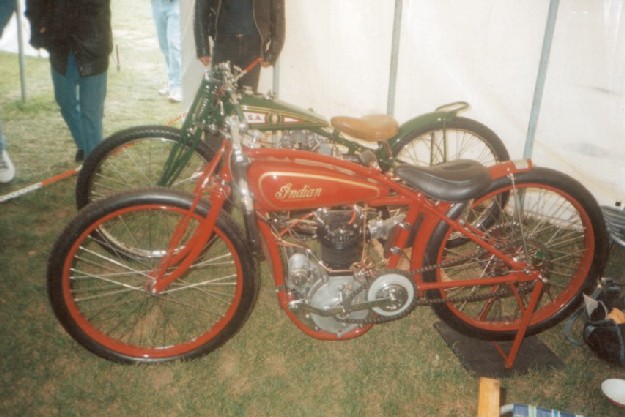 Dave Gifford has been in touch about the Indian shown above he says: Now on page 4 of your Bikes site is a picture of a 20's Indian and is it the bike once used by Kiwi Spencer "Smokey" Stratton? I understand that Stratton became Promoter or team manager at Newcastle after he quit riding and was killed in a road crash coming back from a meeting at Workington? Can you verify or give me any additional info? So! can anyone shed any light email me
John
Smokey, along with Stewie St George were probably our very first riders, they rode for Johnnie Hoskins at West Maitland where it all started and I have an idea they came to England with Johnnie but we know very little about them. Cheers The Noo Giffy
I will ask around Giffy and let you know if we come up with anything John
An Unamed Writer says: There was an obituary in The Speedway News of 11th June 1938. Basically confirms what you have written but doesn't specify the town where he crashed. He was team manager of Johnnie Hoskins Newcastle Diamonds Div 2 track. Before coming to England in 1928 he had crashed at Newcastle NSW and been unconscious for 23 days. The article mentions his love of "Indian" Bikes. Unknown writer says: I have a newspaper report from Monday 6th June 1938 which says that Spencer Charles Stratton, aged 33, was killed in a head-on collision between two cars at Brigham, near Cockermouth (Cumberland) on Saturday night (4th June 1938). Unknown writer says: Three companions, Canadian riders were travelling with Stratton, were seriously injured, as were the occupants of the other car (John Roan, of Cockermouth, and G.O Smith, of Whitehaven), Stratton's injured companions were Ellwood Stillwell (28) Bruce Venier (21) and Robert Sparks (23), The five injured men were taken to Cockermouth hospital with severe head and face wounds.
John says: Yes Canadians Ellwood Stilwell, Bruce Venier and Bob Sparks all rode for Spencer "Smokey" Stratton at Newcastle in 1938.
---
Speedway Models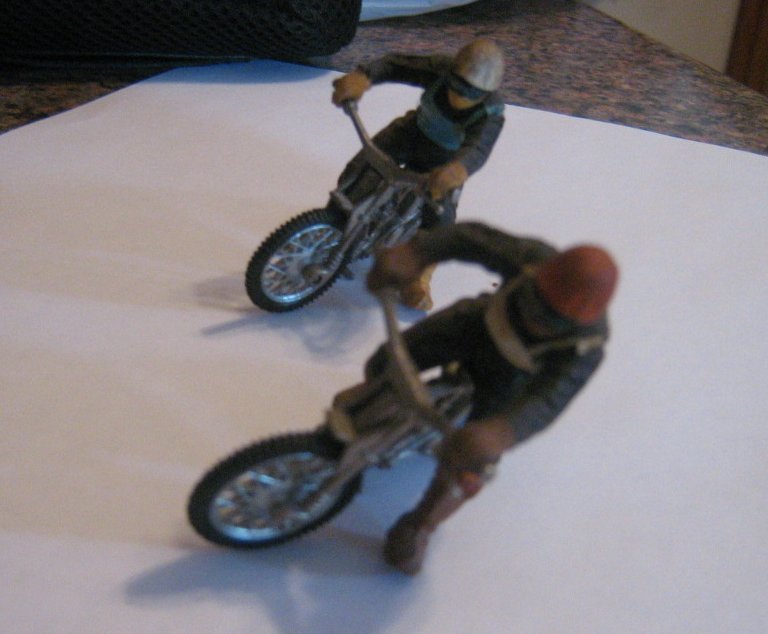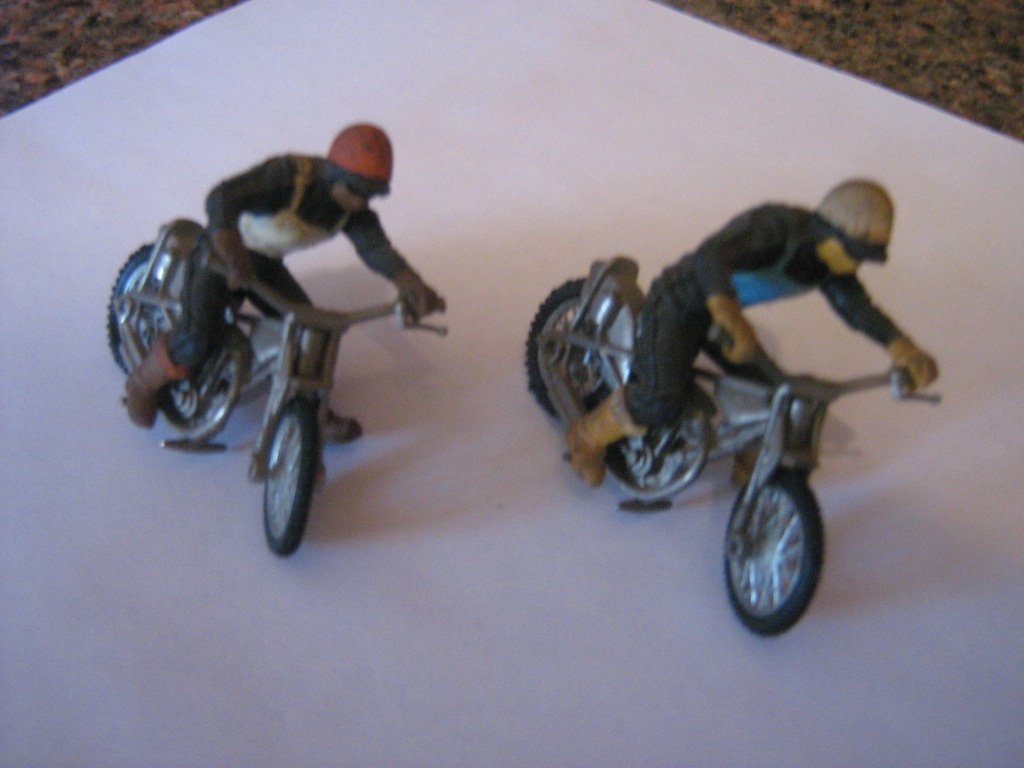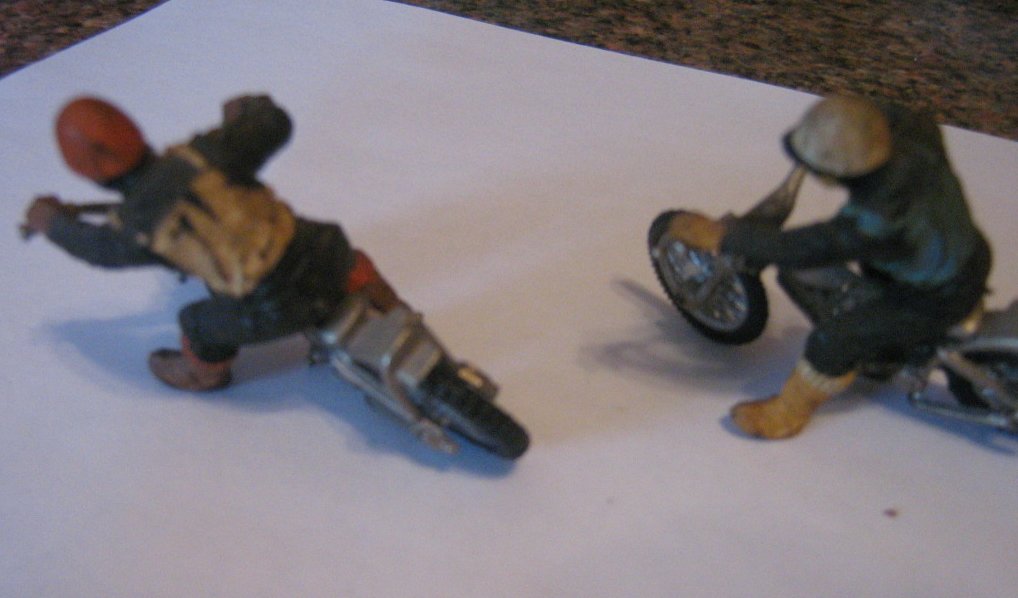 These 3 pictures are from Bill. He bought these for around 20p each in Ireland during the 1960's. Bill says the engines on the models are all JAP and the detail is quite good. Thought!! have you any model speedway rider that is worthy of showing on the website.
John
Cary Cotteman's "Toys"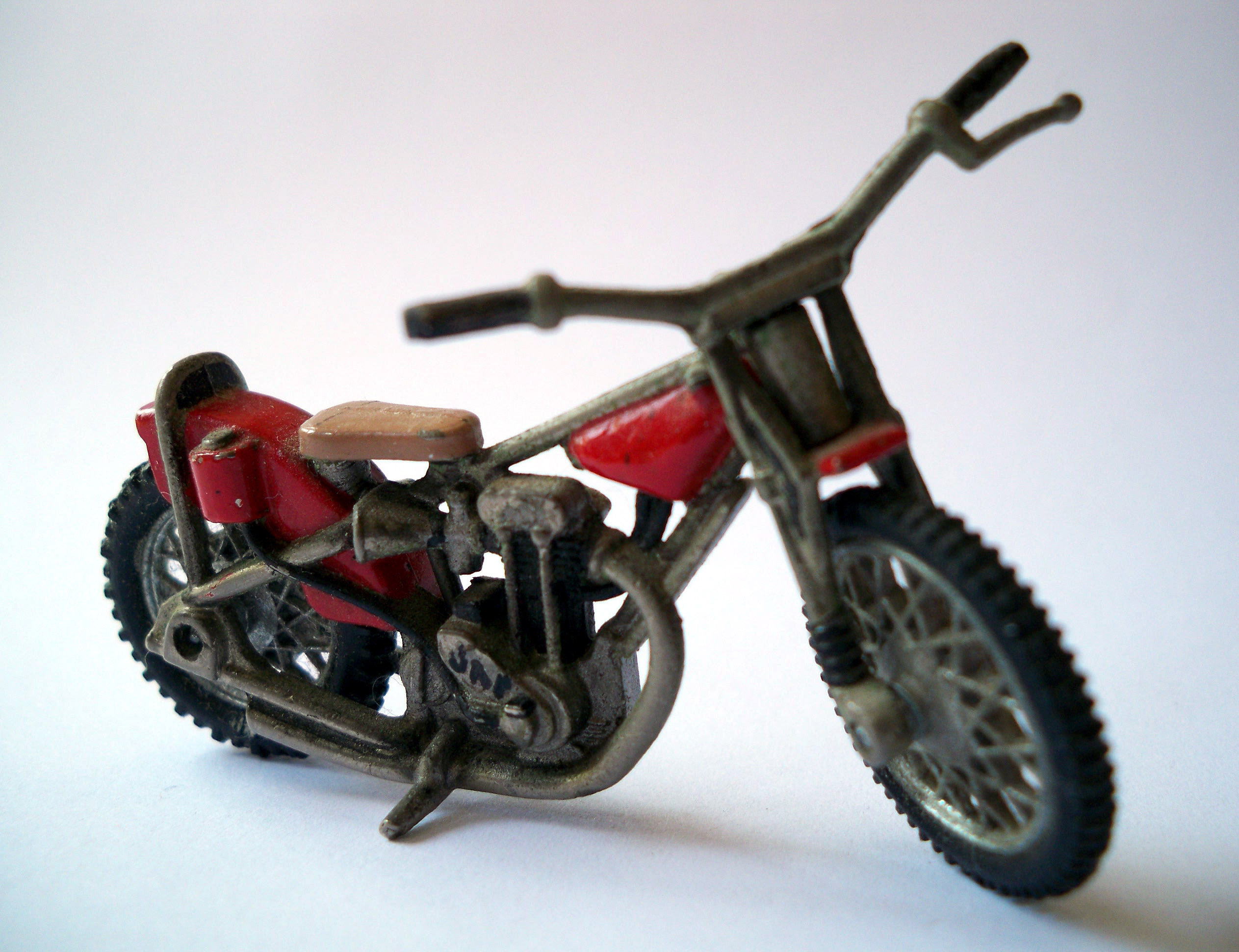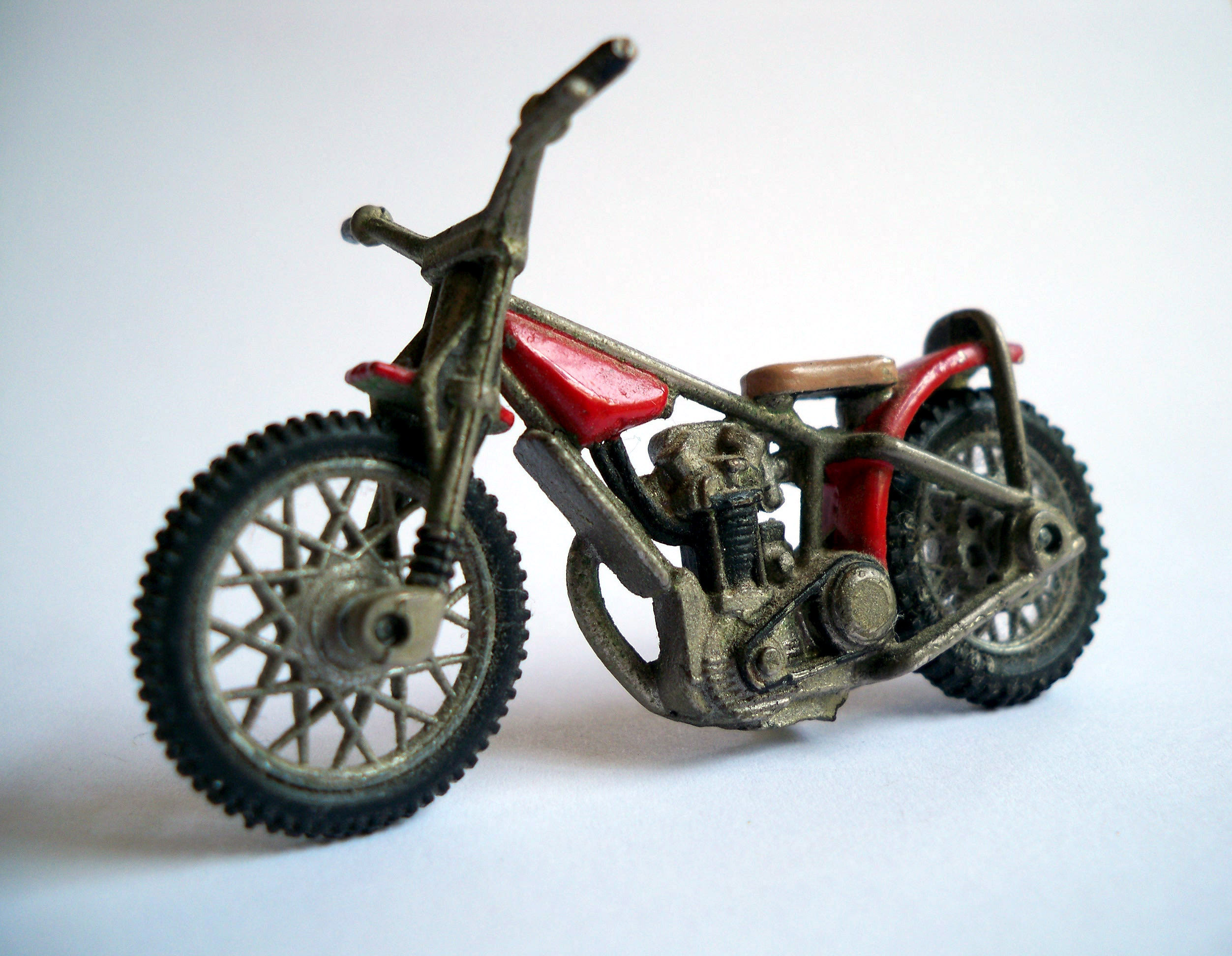 Pics of "Toy" bikes. From Cary Cotteman (USA)
As I was looking at your 'Miscellaneous' page I saw some photos of toy speedway riders that were sent to you by 'Bill'. I happen to have had that same set, which I bought in 1970. There were originally four bikes and four riders with different helmet colours. The set came with a sheet of tiny stickers that could be peeled off and stuck on the riders' race jackets. You could choose from all of the British League Division One teams, or a national body colour of England, Australia, New Zealand, Poland, etc. I have attached two photos of the one remaining bike I still have (I don't know what ever happened to the little riders--retired, I suppose). It has an amazing amount of accuracy for something that is only 2.5 inches (6 cm) long. You can make out the pushrod and valve covers, oil pump, girder forks, the shallow horizontal fins on the JAP crank case, and many other details. The tyres are rubber, and the rear one has 'BRITAINS LTD." and 'ENGLAND" written on the sides. The bikes came plain silver metal, but at some point in my youth I painted this one.
John says: Great stuff Cary, the JAP bikes are really excellent reproductions of the real thing. Keep them safe and some antique dealer may one day, pay you big dollars for them, or maybe they will gather dust in your house until your grandchildren chuck them out. Who knows? Wish I had them though.
And just when I thought it safe to get back to the full size stuff, along came Bob Andrews with "his" toy bikes:-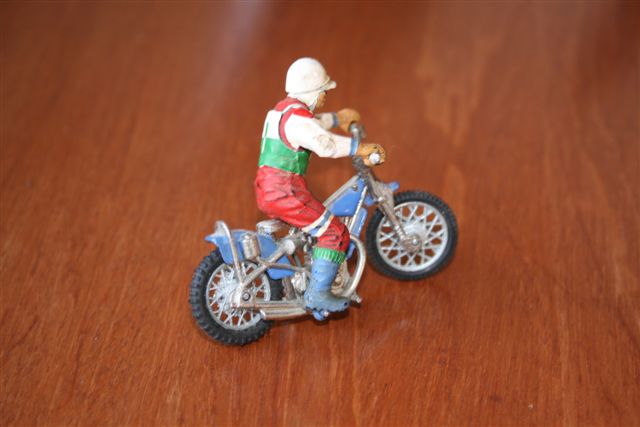 Courtesy of Bob Andrews
Detail is pretty good, the oil tank and air intake look right but the race track looks very slick!! So it cannot be Brough Park!!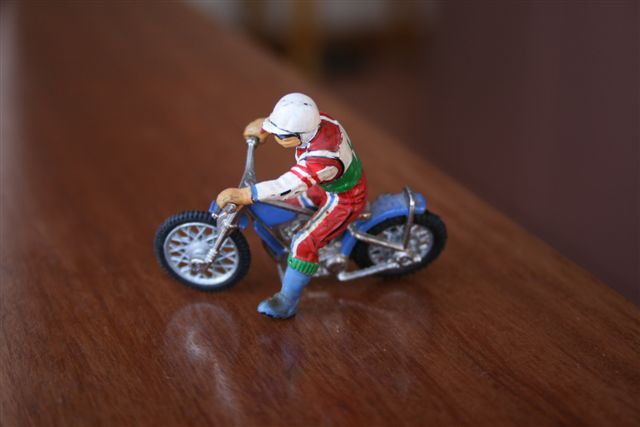 Courtesy of Bob Andrews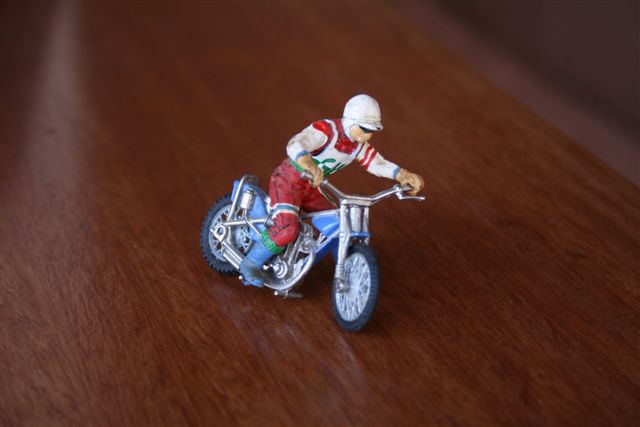 Courtesy of Bob Andrews
This rider looks like Berwick's Rob Grant! Was Granty a body double for the little chap!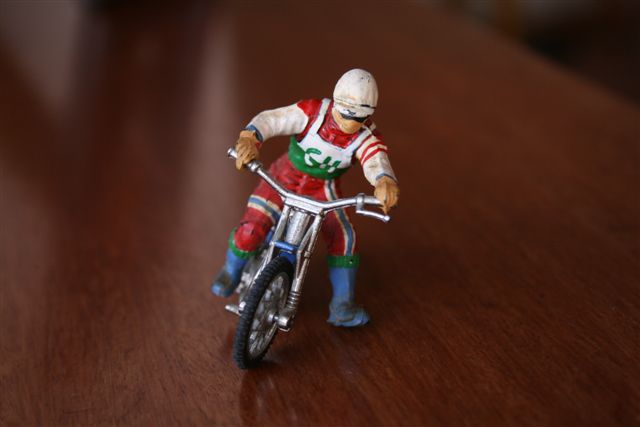 Courtesy of Bob Andrews
This one is obviously of Bob Andrews leading by a mile. Bob knows how to burn the mahogany, although his right wrist looks a little limp on the throttle!
---
Bob Andrews &
Ole Olsen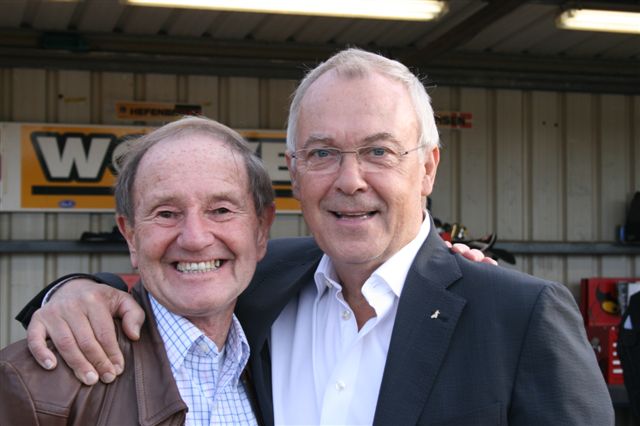 Courtesy of Bob Andrews
Toy riders aside, these two did it for real, Bob couldn't match Ole for world championship success but he was a gritty racer who was hard to predict. Ole was my hero at Newcastle after Ivan Mauger left. Ivan? What a hard act to follow eh Mr Olsen?
---
The Star Championship 1933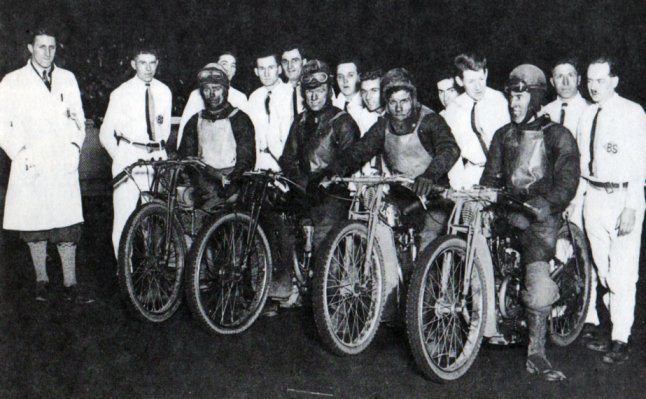 1933 Star Championship riders lining up for a heat. L-R Norman Parker, Tom Farndon, Al Wilkinson and Stan Greatorex. This is considered by speedway historians as the unofficial start of speedways world championship.
---
Frank Arthur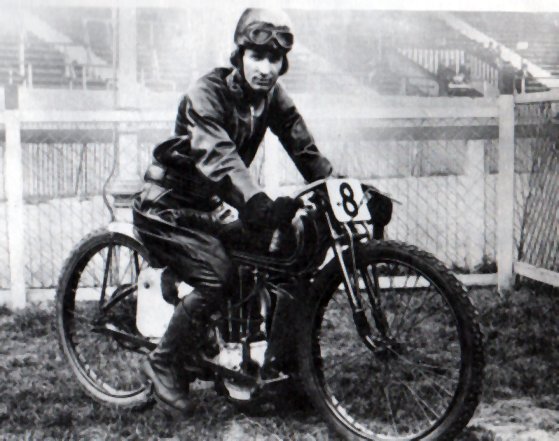 Frank Arthur 1929: Before the world championships proper started in 1936, we had the Star Championships and Australian Frank Arthur was up there at the top of the Overseas Riders. Frank was the Star 1929 overseas champion. Do you know what track he belonged to in 1929
John
This picture shows the bigger wheels in use at the time. I don't know why the wheel diameters were reduced in the 1950s do you?
John
Roger Frogley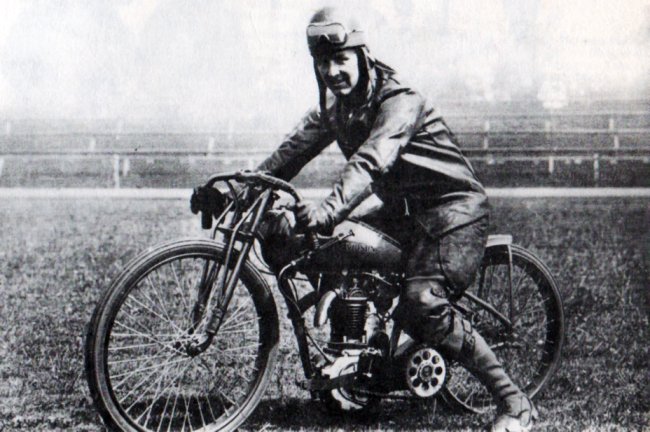 Frank Arthur was the Star 1929 overseas champion and the rider shown above Roger Frogley, won the British rider of the Star Championship. Roger is shown aboard a Harley Peashooter. Do you know what track he was attached to in 1929.

John
Jerry Willmott says: I believe Roger Frogley was attached to High Beech in 1929. He moved to Crystal Palace in 1930.
---
John "Slider" Shuttleworth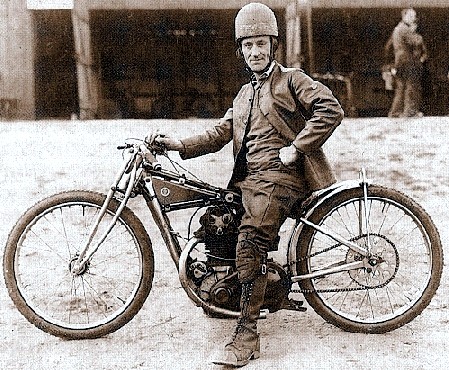 John "Slider" Shuttleworth mounted on a Rudge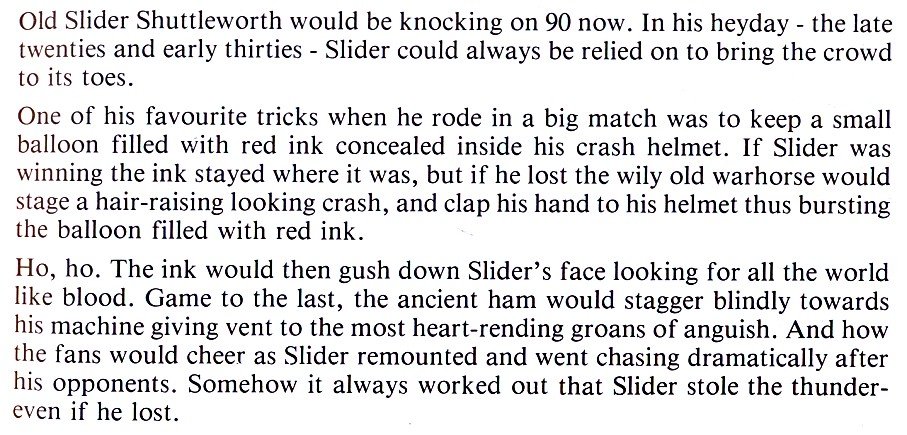 Text scan is from a John Chaplin book......from 1990....John Chaplin's Speedway Special. Is the story true? I hope so!
Mike Willig says: John Starkey Shuttleworth was my Grandad, so it's good to see that there's stuff on the web about him he'd be chuffed, always loved being the centre of attention. He used to stand in Stockport's Merseyway precinct and play his accordion, happily collecting any contributions in his cowboy hat (which he often wore) As far as I'm aware, the story about him and the red ink is true.
---
Alan Hodkinson's Collection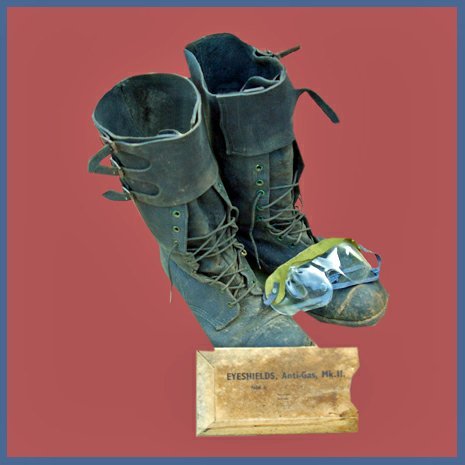 Courtesy of Alan Hodkinson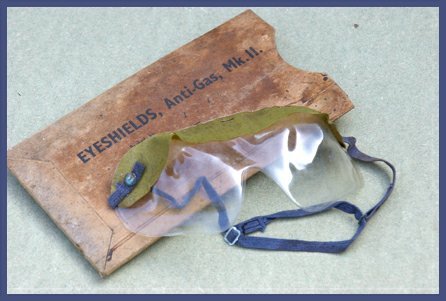 Courtesy of Alan Hodkinson
Alan Hodkinson says: Ex Army Dispatch Riders boots, Just after the war Riders could pick these up in Army Surplus stores for about 7 Shillings and 6 pence (35p), And the Gas Goggles were popular too, these would be about 9d for a pack of 10 (about 4p) these items were top quality, good value, those are my boots and are still going strong
---
The

2

Stroke Scott
500cc

Watercooled
Tommy Hatch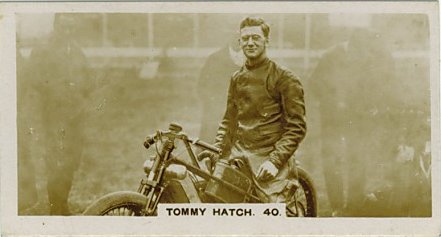 Not much of the bike is visible but Tommy is mounted on a 2 stroke 500cc Scott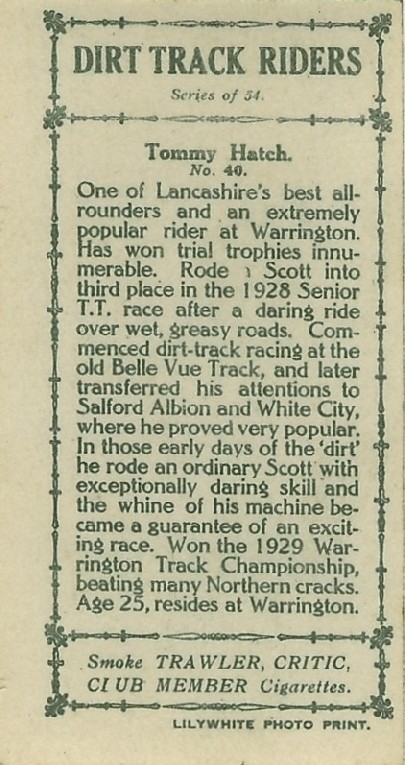 Scott Rider
Frank Varey
The technologically advanced Scott had it's champion of it's cause in Frank Varey, the Red Devil. Sadly the Scott, made in Britain, was not to become a speedway success along with all of the other British bikes but British Engine makers JAP took up the baton in the early 1930s Such a pity that Scott, Norton, Triumph, Velocette, Royal Enfield and BSA etc., didn't follow JAP, as speedway would have been so much better with a variety of manufacturers involved.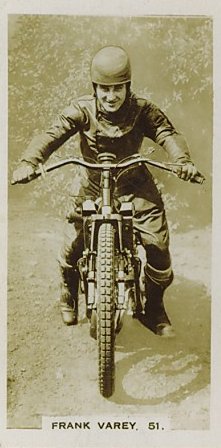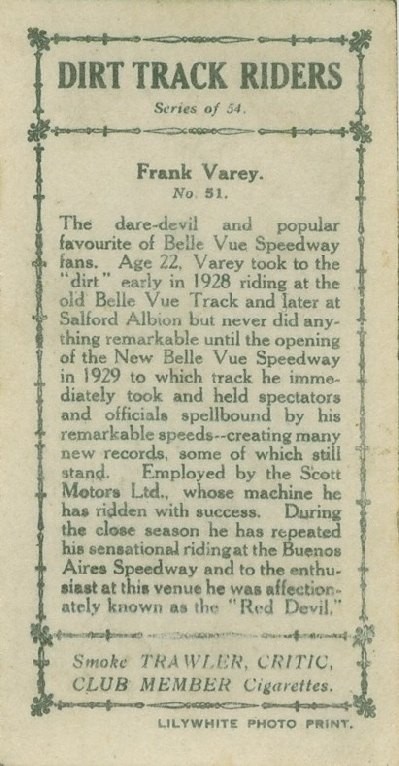 Frank Varey was the most well known Scott rider and the red parts of the bike gained Frank the name The Red Devil. His showmanship came out and he started wearing red too! Frank moved on to other bikes to be competitive
The Red Devil
Frank Varey
Frank rode in South America where he gained the nickname

El Diablo Rojo (The Red Devil)

in Argentina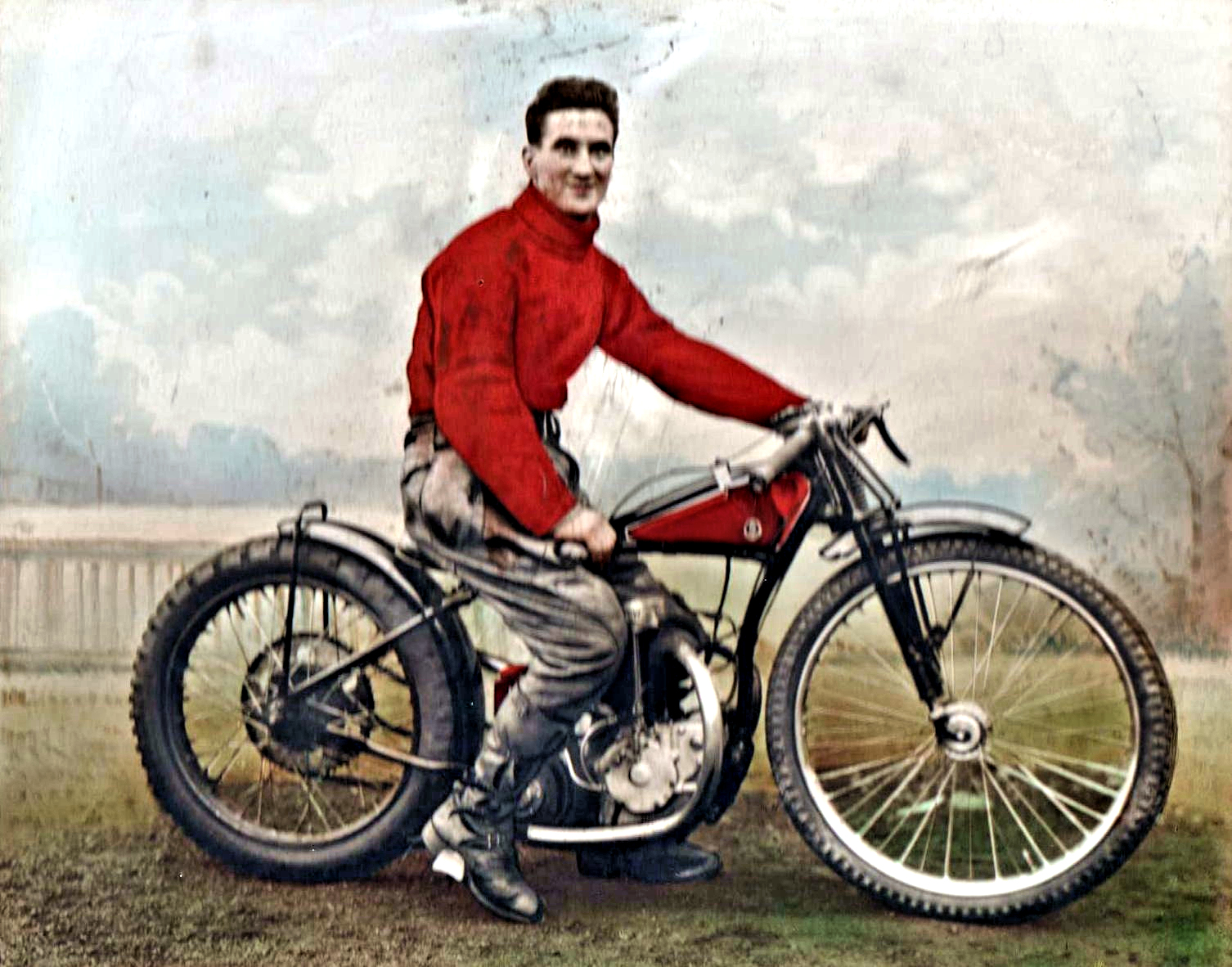 Courtesy of John Whitaker
Here is the Red Devil, (Frank Varey El Diablo Rojo.) on board a Rudge, Frank was no longer a Scott rider as he strove to be competitive. The Rudge was a potent machine and compared to the Scott and Douglas it was a leap forward until JAP's speedway engine was developed around 1931
---
Cyclone Billy Lamont On A Harley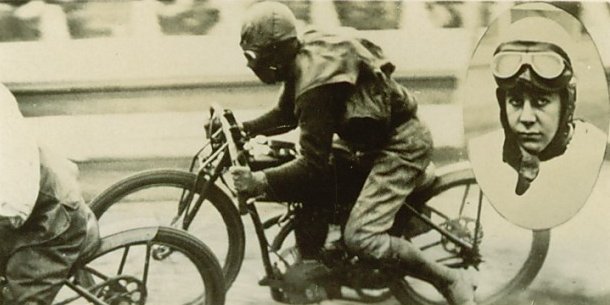 Early American Speedway Bike makers Harley Davidson and Indian were recognisable by their dropped handlebars, modelled here by Billy Lamont. You will notice that Billy is racing his Harley Peashooter without gloves or a proper crash hat. he appears to be wearing a leather head cover not much good if he comes to grief! But that is the way it was around the beginning in 1929.
"Cyclone"
Billy Lamont
On An
AJS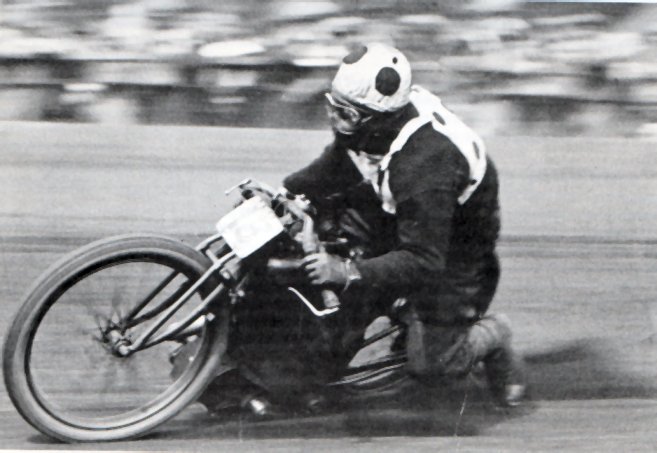 The "Cyclone" aboard the British made AJS big port
---
Colin Watson

1932

(I Think?)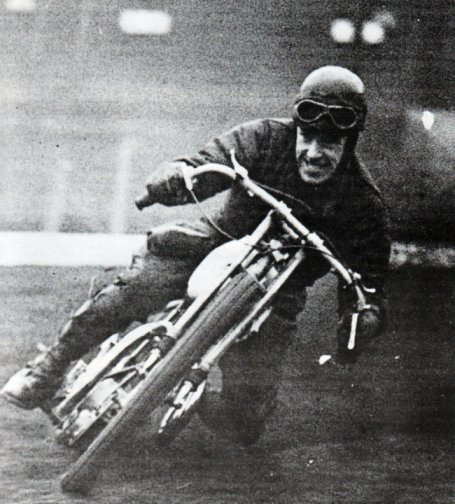 This is Colin Watson in, I think, 1932. The photo is great by anyone's standards. I assume the photographer wasn't about to be run down by Colin! I can picture the camera man squatted down on the track, clicked his camera and then dived off to his right onto the centre green!
---
Charlie Pashley On A Sunbeam At Southport Sands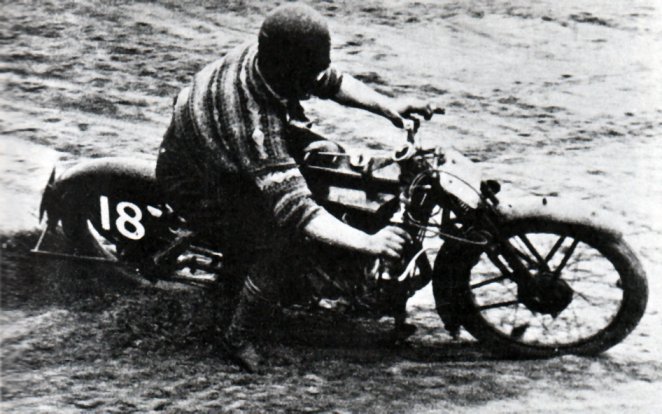 Not sure what is going on here! Charlie Pashley on a Sunbeam, apparently going the wrong way!. He won the first ever UK dirtrack meeting at Droylesden in 1927. His Sunbeam was a stripped down roadster and as can be seen here it had a front brake. Charlie would have disabled the brakes for the racing as that was a golden rule in the early days.
David Spencer says: One thing I did notice was the photo of Charlie Pashley apparently broad sliding the "wrong way". I asked his son about that and it turns out he raced on the sand at Ainsdale and they competed clockwise and that is where the photo is from.
Rod Pashley says:

Hi, I am delighted to see you have a photo of my Dad (Charlie Pashley), and thought you might like the attached scan to go with it. He also rode at Belle Vue (Hyde Rd) first meeting, it seems that literally hundreds of riders turned up, to have a go, but none seem to have been recorded You may also like to know that the photo you have was taken on Southport sands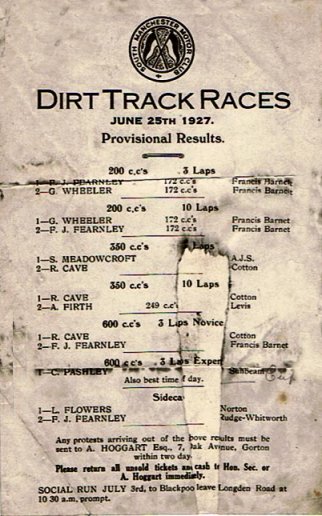 Courtesy of Rod Pashley
This racecard shows C Pashley 600cc So we can assume that the Sunbeam he is pictured riding above is a 600cc bike.
Rod Pashley says: Charlie went on to captain Belle Vue's Midget car team in the thirties
---
Harley Davidson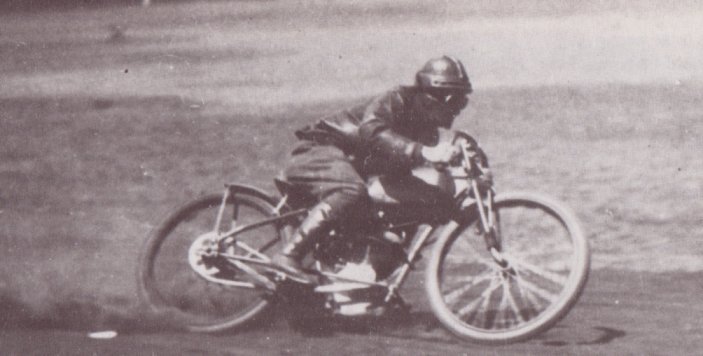 The Harley Peashooter in action in 1926 at Claremont Australia, ridden by Charlie Datsun. Australia had been staging dirt track racing for approximately 3 years and the sport would not be arriving in the UK until 1928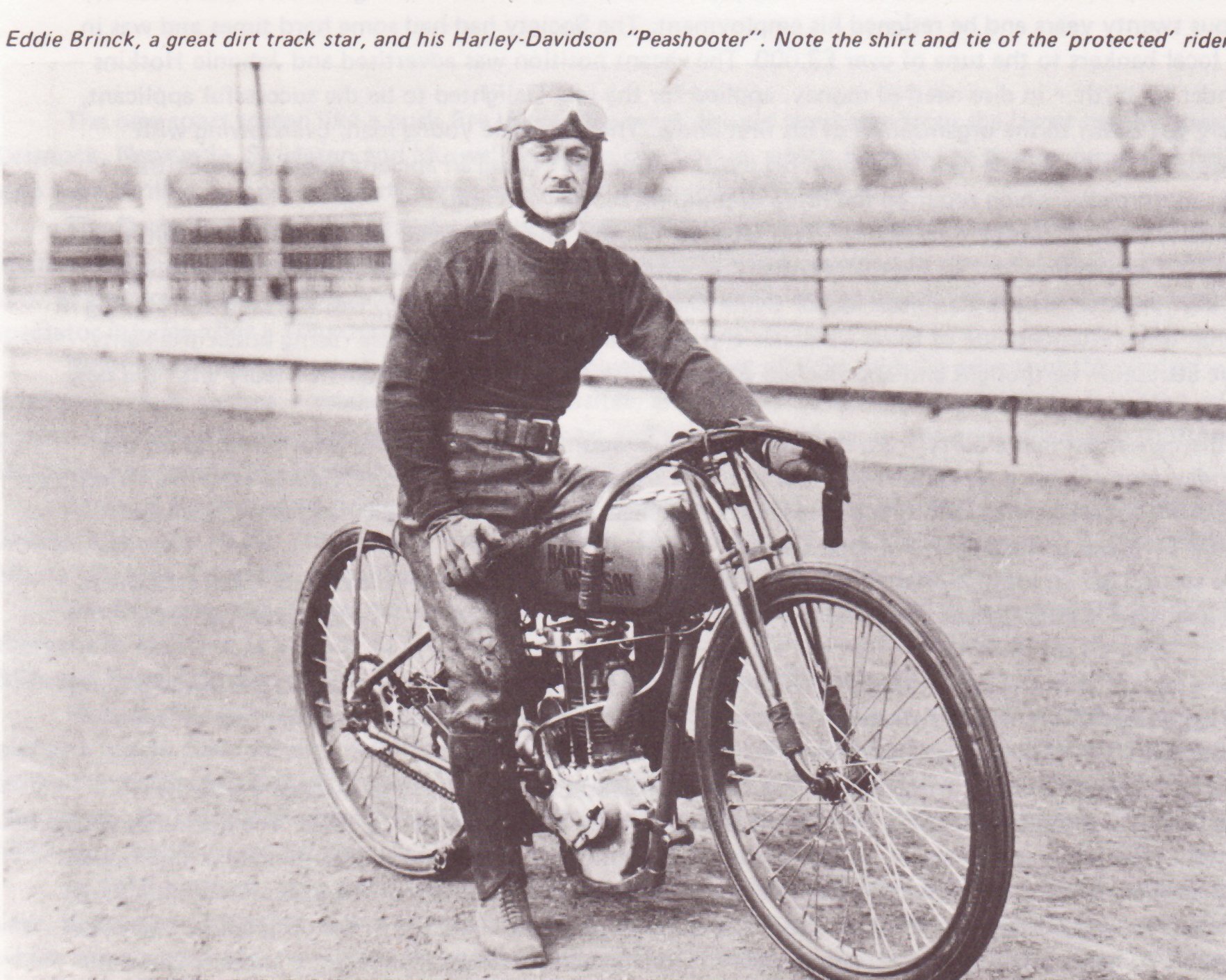 The Harley Peashooter had distinctive drop handlebars. The machine was the most successful of the 1920's bikes until the Douglas Dirt Track machine came along in approx. 1928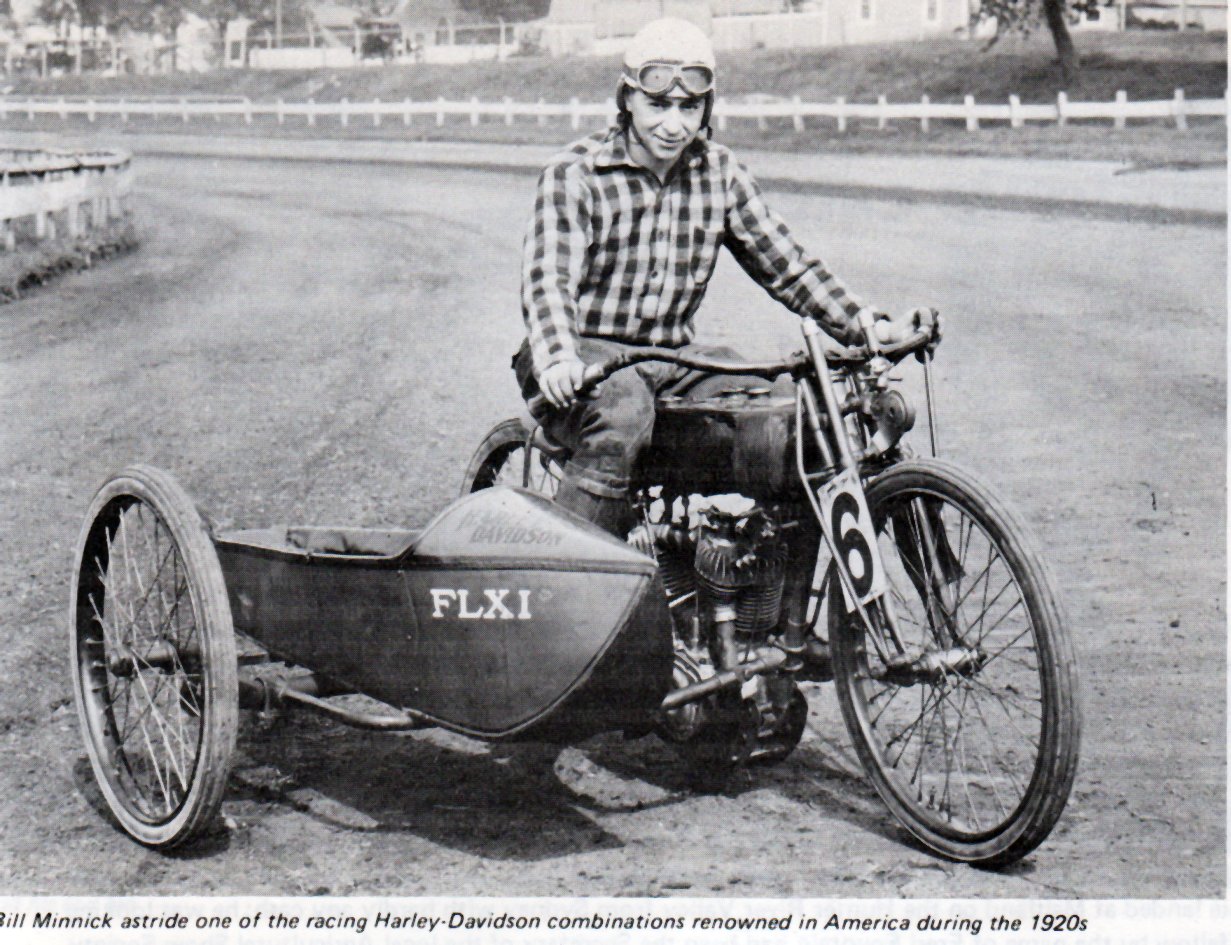 Harley Davidson and most British Bike makers had a brief interest in speedway in the early days, and soon turned their back on the sport. The bike companies could have developed machines that could have appeared on world wide speedway tracks but they didn't. So well done JAP of Tottenham England for building speedway engines/bikes and for producing the engines for the Rotrax JAP. The best ever speedway bike in my opinion.
---
Paddy Dean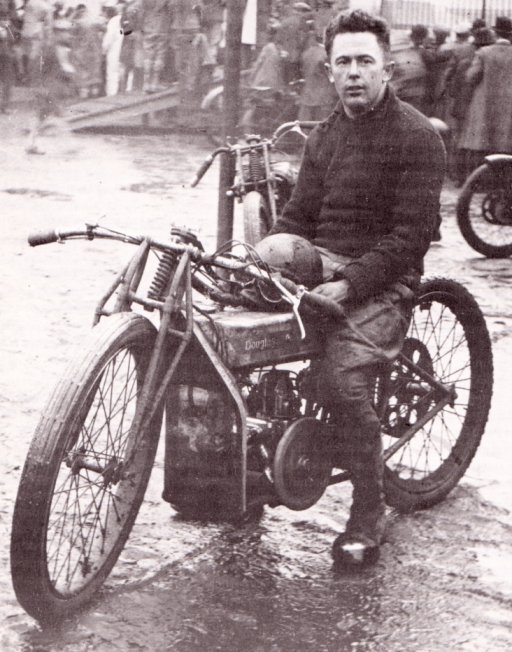 Paddy Dean 1929 Claremont Speedway Australia
---
The Hoskins Family
The Hoskins, probably the most influential speedway family of all time Ian, Audrey and Johnnie
---
We are used to seeing cyclists racing around Velodromes. A Velodrome is usually a wooden, banked oval race track, for cycles, but not suitable for high powered motorcycles. In years gone by USA's motorcycle fans could watch stripped down motorcycles racing around Board Tracks which were similar to the Velodrome but larger and outdoors.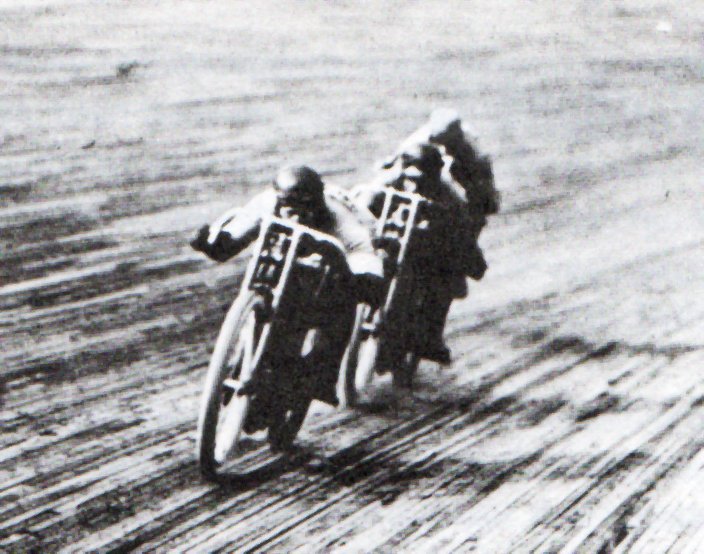 Board
Racing started in the USA in the early1900's. The bikes were mainly Indian and Harley Davidson. Like speedway they had no brakes and a fixed gear so it is a close cousin to speedway.
The bikes have been stripped down in much the same manner that Dirt Track bikes were a few years later.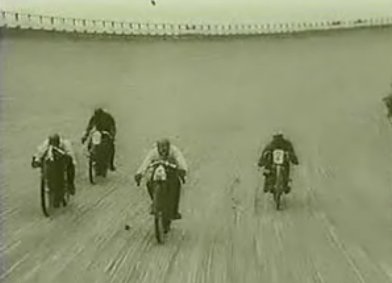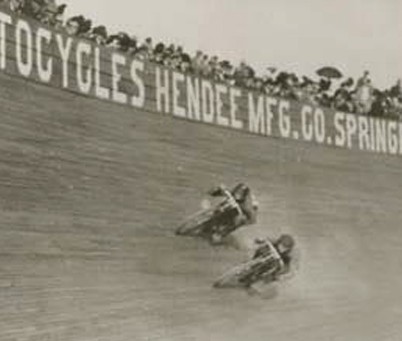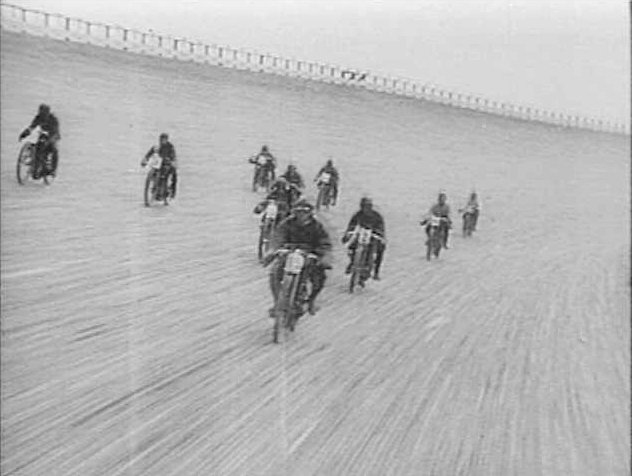 Outdoor board tracks needed the wooden boards replacing after only 4 or 5 years and the high costs involved signaled the end. This form of motorcycle racing only lasted from the 1910s until the 1920s and was an American only spectacular.
---
Kansas
USA 1920

At Dodge City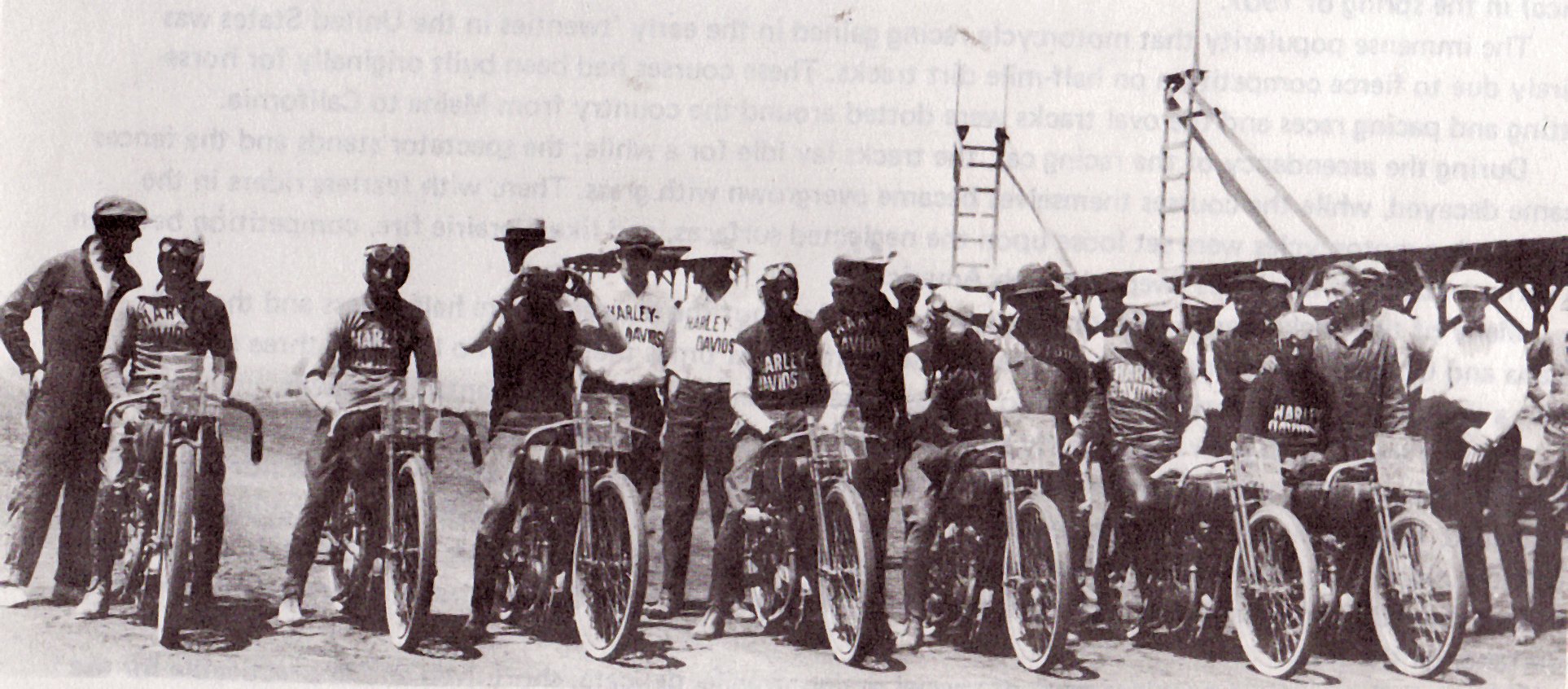 USA 1920. at Dodge City
Maldwyn Jones, Fred Ludlow, Ralph Hepburn, Jim Davis, Ray Weishaar, OttoWalker, Walter Higley
Maldwyn Jones is said by some to have been the first rider to master the art of broadsiding, if so then he must have had a massive advantage over his rivals
---
Harold
"Tiger" Stevenson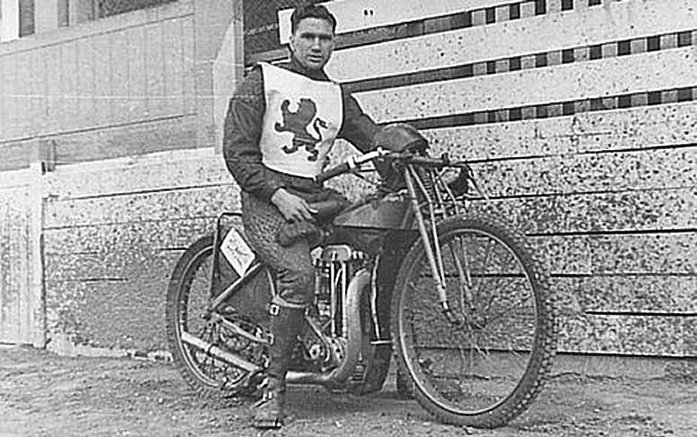 ---
1981 Ventura Programme
(California USA)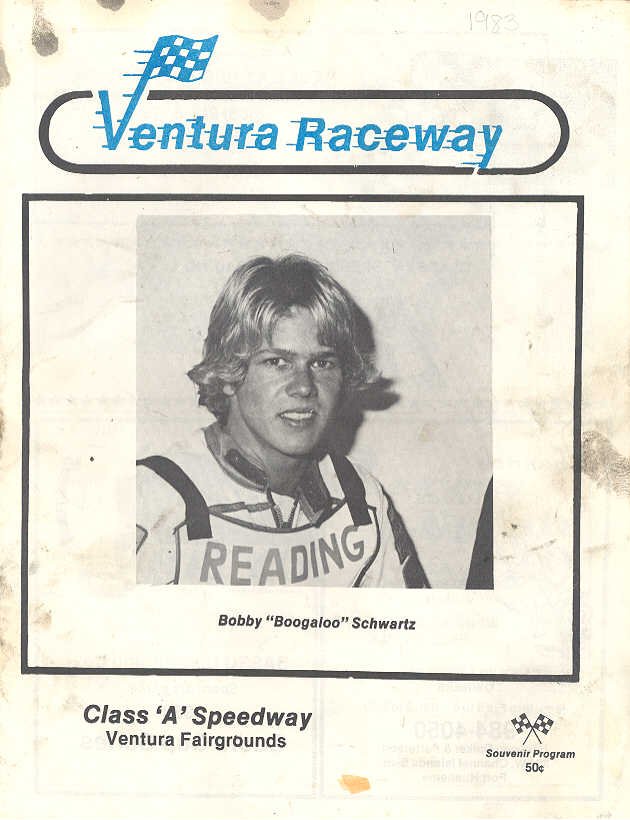 ---
Two Of England's All Time Best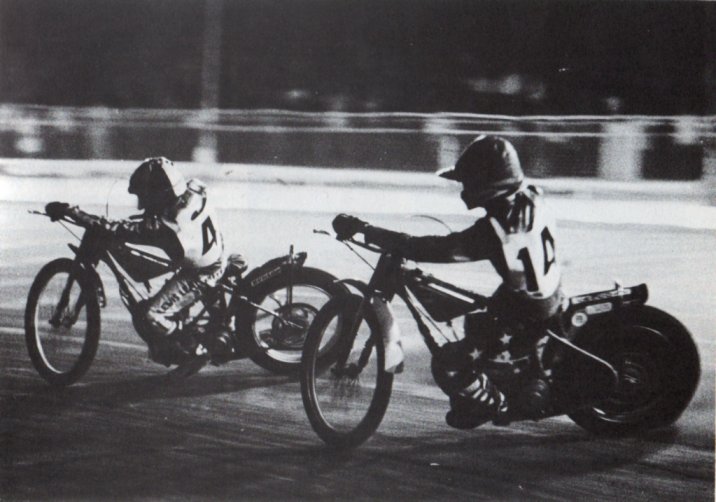 Dave Jessup leads Michael Lee at the Coventry British Final. I have included this photo as I think it is a great action picture
---
Barnet Bypass

1930s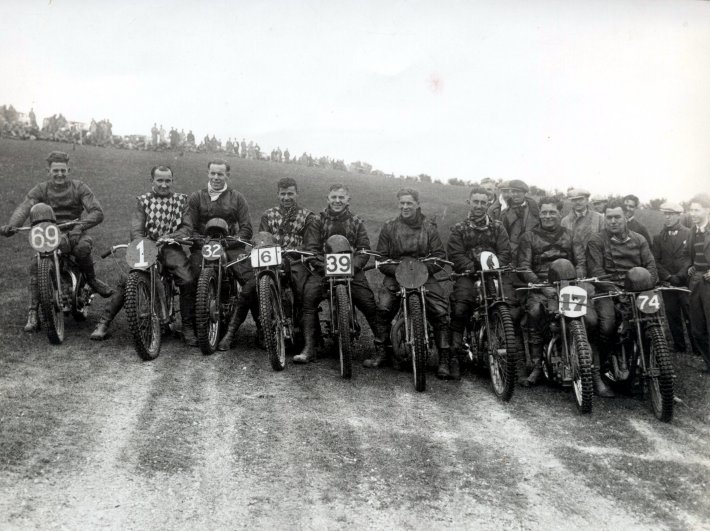 This photo is from my
Barnet Bypass
webpage. An early 1930s photo from Ann Bellingham (nee Scott).. her dad Roland Scott is no 69, far left. The track appears to be on a slope or was the photographer drunk! Does anyone recognise the other riders
John
Ann says her dad won many trophies 1930-1932 at this Barnet Bypass circut.

---
Australia 1950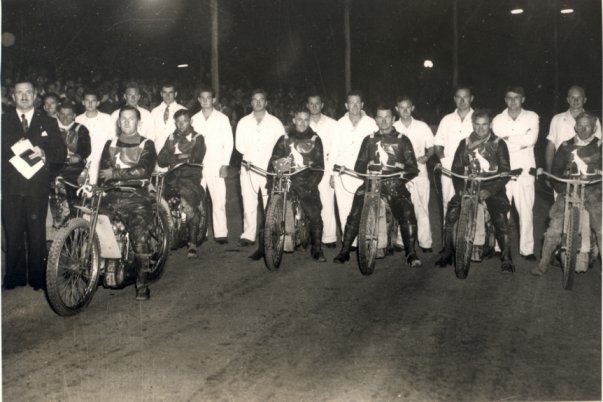 1950 Australian team at Kilburn Speedway in Adelaide- (track long since gone.)
The line up from L to R is Bob Leverenz, Bill Bryden, Jack Young, Aub Lawson, Merv Harding, Lindsay Mitchell & Frank Young
---
Anglian Angels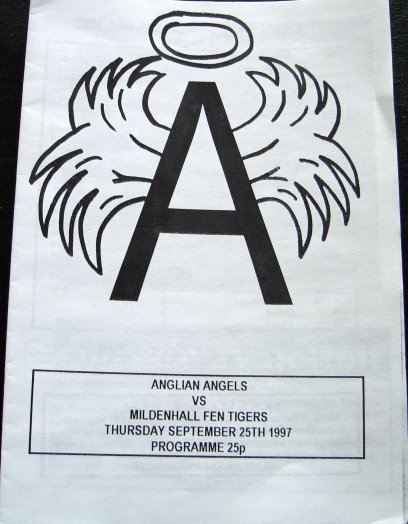 I am reminded by Mike Moseley that the Angels staged their home matches at Kings Lynn and Ipswich
---
Northside Arena Workington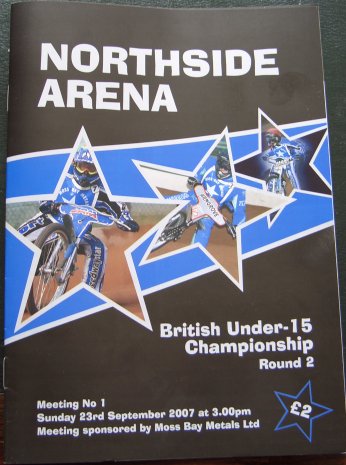 Mike Moseley says there has only been one meeting under the Northside banner at Workington. So what's gone wrong there, anyone know? This programme has to be quite rare then?

---
Boris Samorodov's

ESO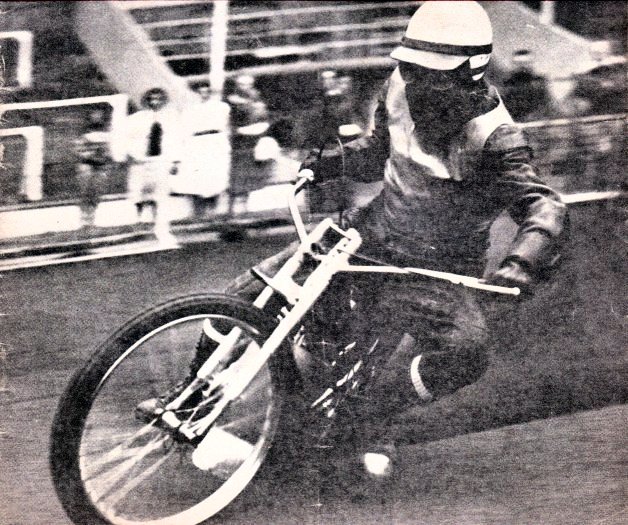 Top 1960's Russian Boris Samorodov, ESO mounted, leaving England's best in his wake
---
Mike Broadbanks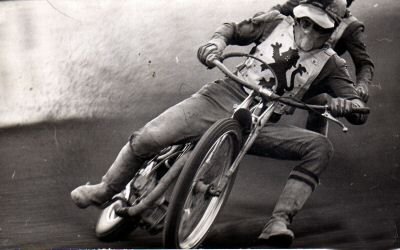 This is Mike Broadbanks, the Red Devil! An Englishman who could match the mighty Russians in the 1960's Mike's unusual riding style came about by him sitting well forward and gripping the handlebars well away from the ends. He was great to watch.
---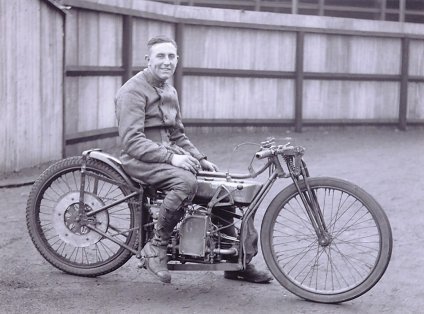 Presently the oldest living rider is Newcastle's Gordon Byers he is 96 years young at the time of writing (April 2008). Gordon still lives in the city, he won the first ever race at Newcastle's Brough Park, way back on 17th May 1929. He started his Career at Middlesbrough in 1928 and Newcastle 1929 then he moved south, Leeds first then Wembley.
After Gordon there appears to be quite an age gap which it appears can be measured in terms of was a rider riding Pre war because the only other pre war rider alive today is Riskit Riley shown below
Update: Sadly, Gordon died just before Christmas 2008
Is Riskit Still With Us?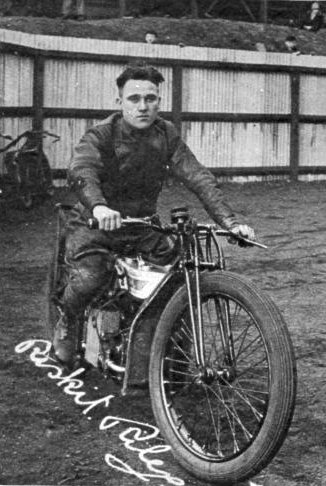 Douglas mounted Riskit Riley. I don't know how old Riskit is now. If you can help please email me

John
Jack Tidbury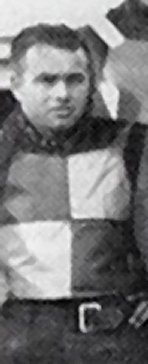 Norman Jacobs has been in touch he says: There is another pre war rider who is still alive. He is Jack Tidbury who rode for Hackney in 1938
John says: Many thanks Norman, Jack was also a Middlesbrough Bear in 1939. here's a picture of Jack (see above).
---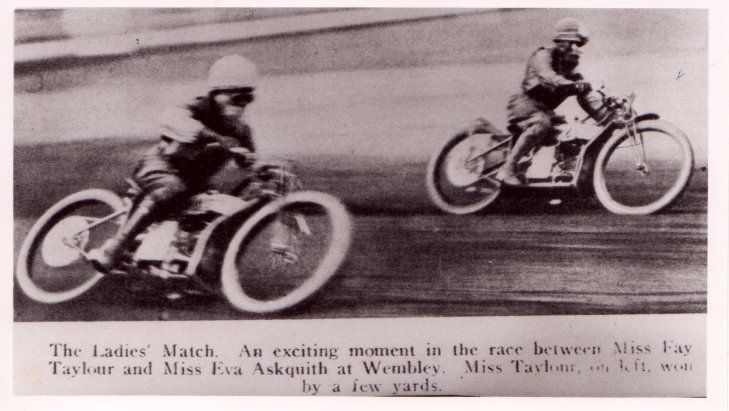 Well before the days of women's lib, 1929, here we have 2 ladies mounted on Douglas DT's and below not only a lady rider but a lady wielding a spanner too.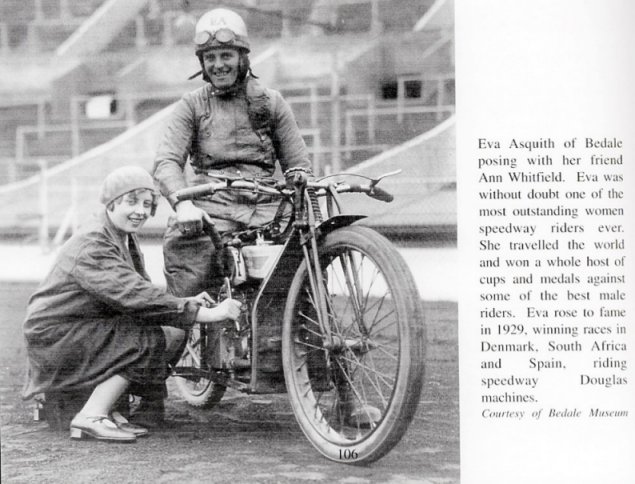 From Ernie Crusts book "At The Drop Of The Flag." The spanner wielding Anne Whitfield is the sister of Harry Whitfield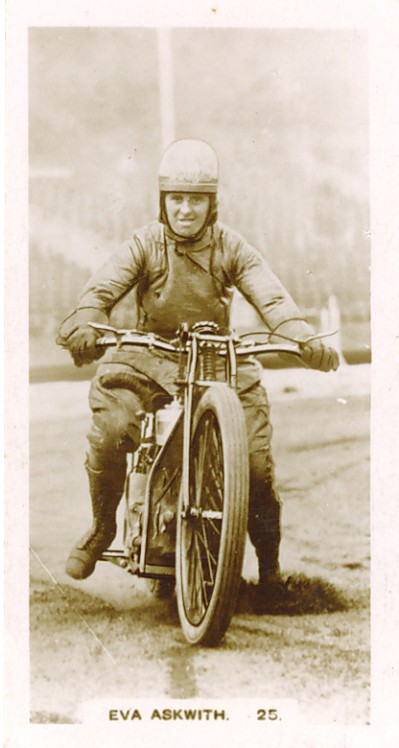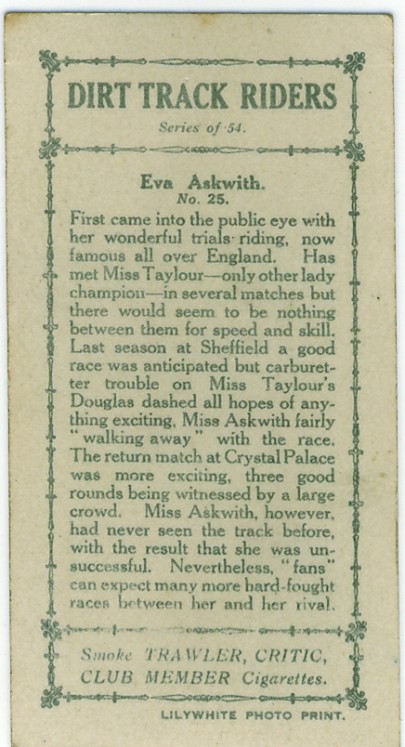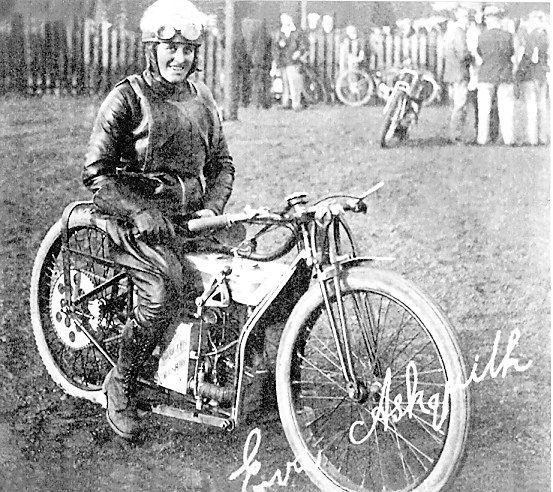 This is Eva Askquith who came from Bedale in north Yorkshire
Col Greenwell says:

I have a book that says Eva rode against Gordon Byers in match races at Brough Park, Newcastle. Eva won the first, Gordon the second but before the decider Eva was involved in a triple crash and had to withdraw from the meeting. She did ride at Gosforth the next night against the likes of Charlie Barrett and Smiling Jim Kempster. At West Ham she beat Tiger Stevenson 2-1 in match races. She rode as a reserve for Leeds at Sheffield and got a second place.
They should write a book about her. She rode point to point, played cricket for the local cricket team, not sure if that was a ladies team, she was a dispatch rider for the national fire service during the war and was also a fire engine driver
Col
Fay Taylour
At The
Douglas Factory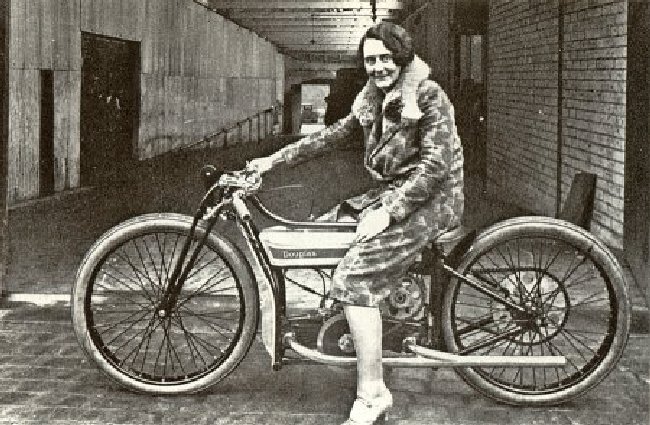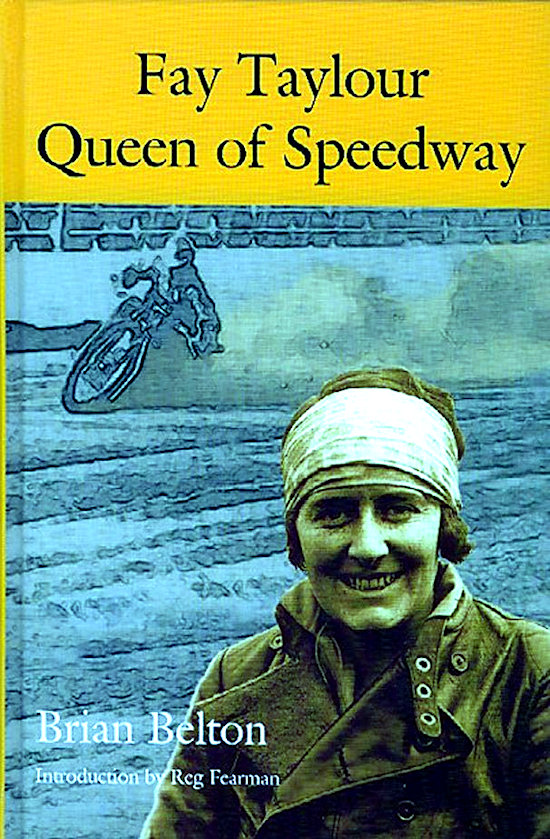 Fay v Eva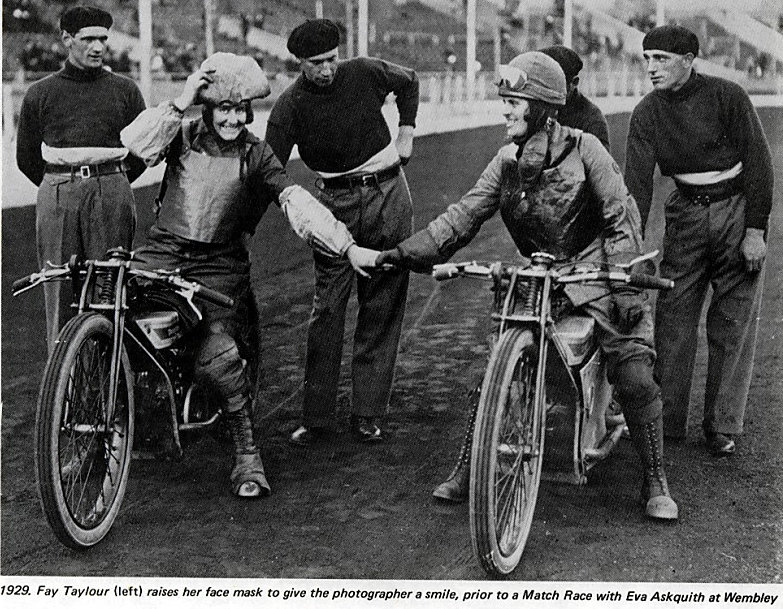 Other Ladies Of The Early Dirt Tracks
Babs Neild & Dot Cowley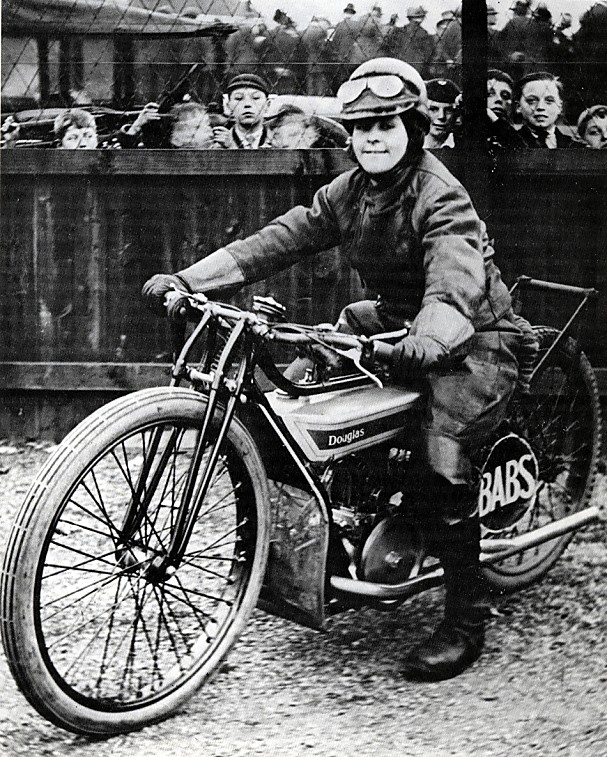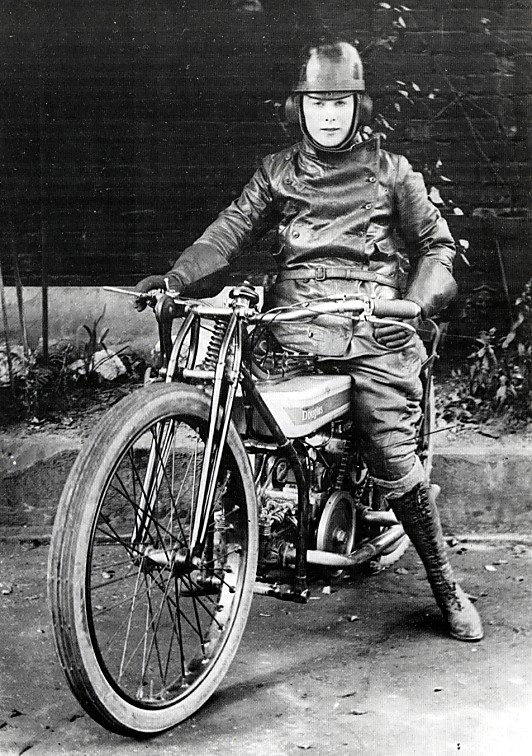 ---
1929
Ron Johnson
& Jack Parker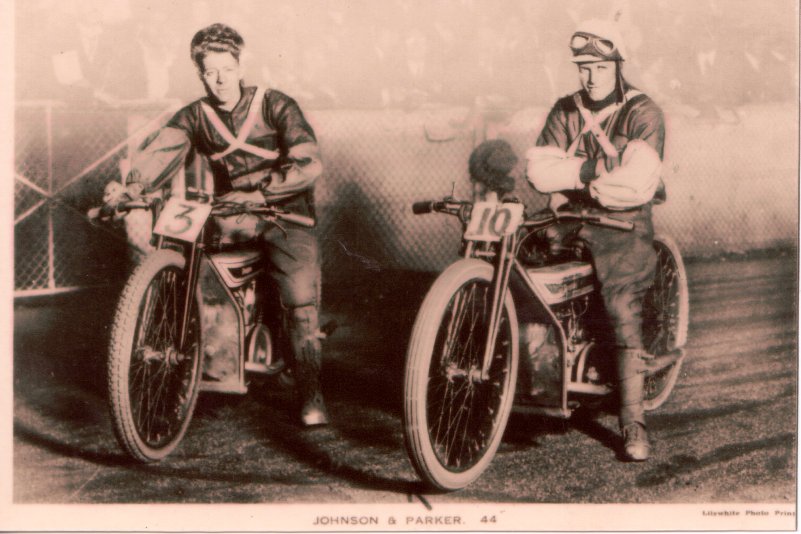 1929 Ron Johnson & Jack Parker mounted on Douglas machines. Can anyone say what track?
---
1929 Squib Burton
On His Douglas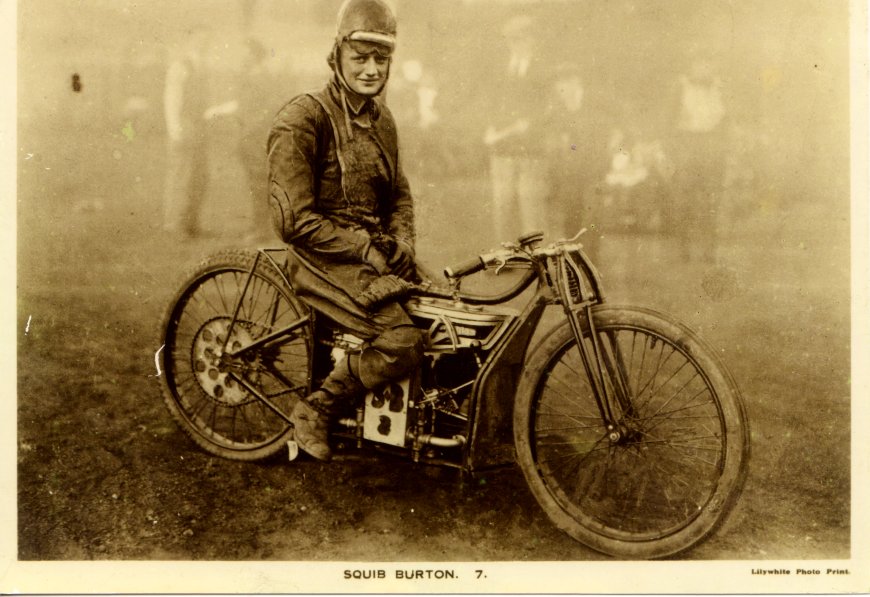 ---
Ice Speedway
Gerrit Schukken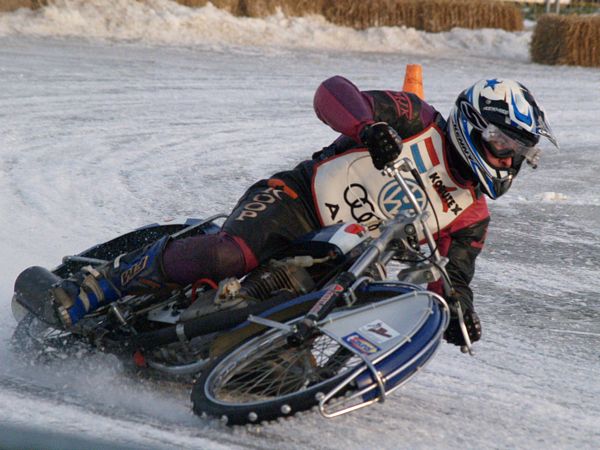 Gerrit's crazy angle is commonplace, no! he is not falling off!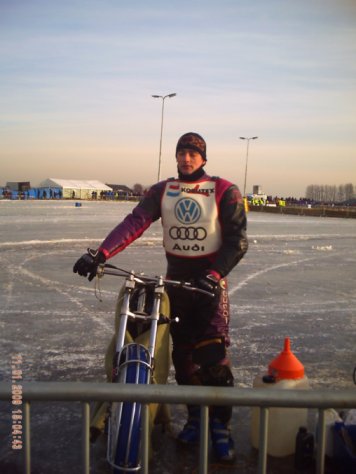 Gerrit Schukken
John says: Ice Speedway racing takes place in Russia, Scandinavia and Holland (Not sure why Holland?). If you can add to this shortlist and/or say why Holland has the weather conditions suitable for ice speedway please let me know.
John
Gerrit Schukken (pictured above) says: Hi John, I'm from Holland. in the north. Comparing the speedway bike with an ice bike: I think only the wheel hubs and transmission are the same ( maybe accept the ratio ). the frame is special, wheels are front 23" rear 21"
M

y ice bike has no rear suspension. engine is 500cc 4stroke 2 valve Jawa, 2 valve is max in ice race methanol powered about 55 ps, no titanium allowed on bike. and the minimum weight is 115 kg ( changes sometimes a bit ) interesting to know in about 1990 my friend Tjitte Bootsma, Dutch GP rider than started to improve the java frames. he than came with a own frame with rear suspension, every one laugh at him. but soon they learn that it was the new evolution of ice racing.
J

ava also came with a rear suspension but it was not perfect. A few years later they copied his frame ( almost exact ) but still it wasn't super. This "tibo" frame also was copied by Russian mechanic due to lower quality steel and poor welding also this frames aren't very good. I think 90% of the drivers now in GP drive on this frames, and if there would be ( like F1 GP) a constructors title he would have it for many years now. This is a bit advertising :) the most used engine is still the Jawa 4 stroke 2 valve methanol powered engine.
But still, I just started ( I hope to improve ) ice racing last year. Set to learn it on an "oldtimer" Jawa. it is a money issue. I think its a super interesting sport and hope to continue it. Don't know if your interest goes to the sport or only to the bikes but anyway mine is both!
Well if you want to learn more about it I can help you I think, maybe ask some specific questions, if I don't forget I will send you some pictures of my bike, the pics i sent is me on Tjittes old competition bike on which he started.
Greetings Gerrit Schukken Holland
John says: Hi Gerrit, I am fascinated by Ice Racing and would love to see your pictures. The sport looks much faster than dirt track speedway despite the older engines

John

. If I was wealthier I would make frequent winter trips to watch the sport.
Gerrit says:
Maybe this will attract some sponsors for me! You want to know why Holland has ice racing. Well in early days there was bit more strong winters and we have a lot of lakes, you do the math! and of course we have a lot of crazy ( read fanatic ) speedway riders. there not a lot of riders left, now about 3 of 4 active riders, if we get more winters it will be more. Assen, ( place from TT) has a organisation who organizes a world championship every year still, and the riders who are active are very driven to ride it.
Also check
www.renestellingwerf.nl
site of friend of me who, has a good chance qualifying for GP this year
greets Gerrit
John says: Ok Gerrit, I would be pleased to hear you have a sponsor after putting this on the website. Best wishes to your friend on reaching the GP...John
1960's


Ice Racing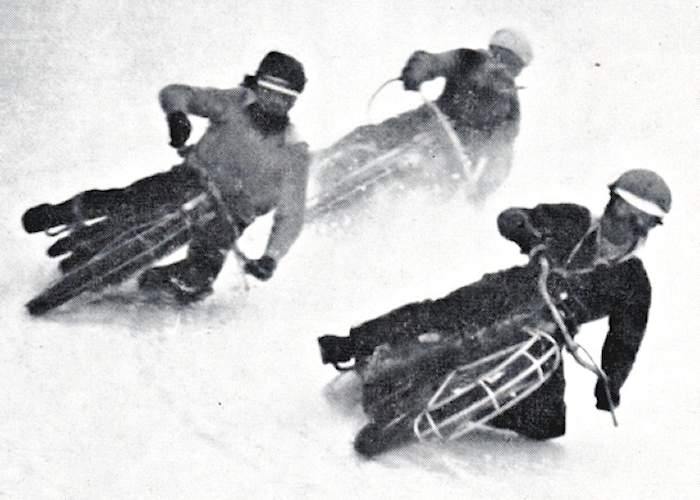 Courtesy of John Spoor
Assen
Ice Speedway
World Championship
Possibly The Last Ever Race Meeting at Assen!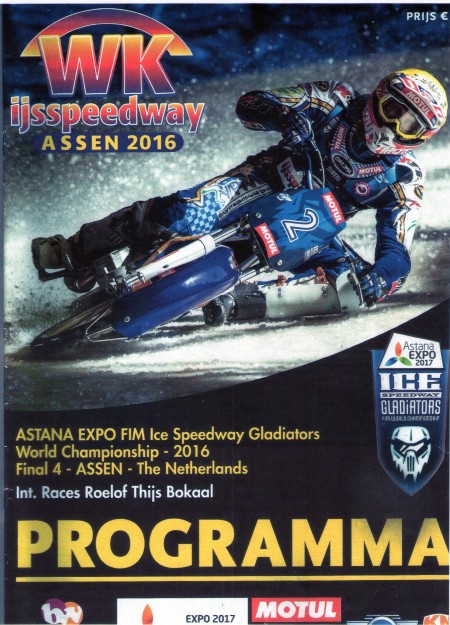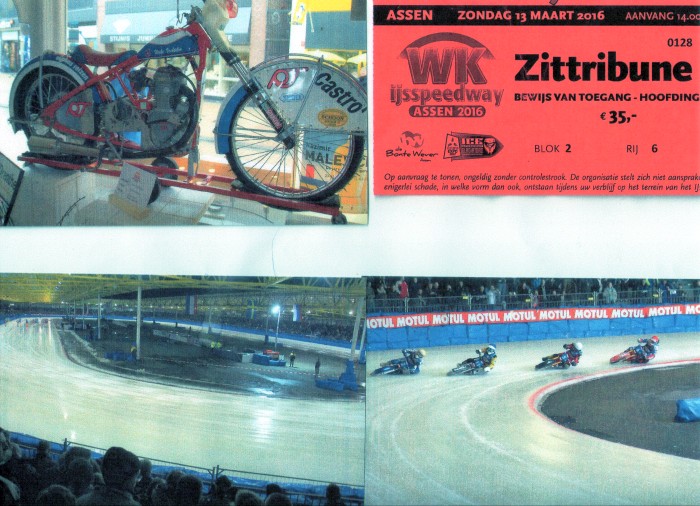 ---
---
The contents of the site are © and should not be reproduced elsewhere for financial gain. The contributors to this site gave the pictures and information on that understanding. If anyone has any issue or objections to any items on the site please
e-mail
and I will amend or remove the item. Where possible credit has been given to the owner of each item.