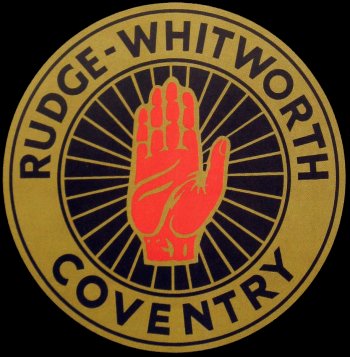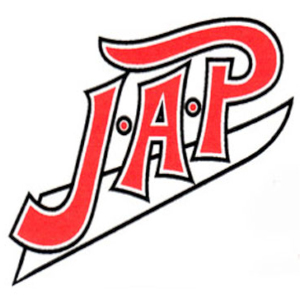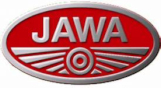 ---
Name The Rider

Part 1
John says: I get pictures and questions sent to me where the sender doesn't know the name of the rider or wants information concerning our sports past and I don't have the answers! Any help is appreciated because it would be wrong not to include historical items just because we have no idea who the rider photographed is or what the subject is about!
Please look at each photo and see if you can name the tracks, the year and rider(s) shown in the following photos? If you can, then send me an email to
John
if you can supply an answer or want to make any points. When a rider has been named, the picture will eventually be transferred to the appropriate A-Z team page along with your name and comment. Its a good game isn't it and I am not charging a penny to play the game.
---
The Bogy Man!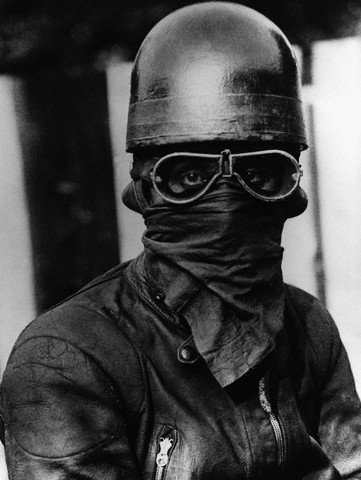 Courtesy of J Spoor
John says: Don't you recognise the rider's face. No? Nor do I! Happily, the following photos on my Name The Rider pages are nowhere near as difficult as this one so please scroll down and email me if you can help.
The man in black. George Charlton says: Hello John, I came across this photo on your Defunct Tracks website and found it very interesting I have a good pal Ivan Stevenson who has some of his photos on your website, we came across this topic, the man in black! Ivan has a large collection of photos from the 1920 era, he found a one very similar and thinks it is of Les Blakebrough who rode for Stamford Bridge and Coventry in the 1930s he died in 1933 I hope this helps on this matter.
John says: I don't know the identity of the man in black. When I put this picture on my name the rider pages, I never thought anyone would name him or even hazard a guess! You and Ivan could be right but I would like to see Ivan's photo of Les Blakebrough send me an image by email please John
The Bogy Man is:-
Les Blakebrough!

David Pipes has supplied "proof" of the identity of the man in black he is Les Blakebrough.
David Pipes says: The rider on the Name the Rider section on your website is named as Les Blakebrough. I was looking through the old issues of the Daily Mirror and came across a picture of Les headed "The Bogy Man" in the paper dated 18 May 1928. I am attaching a photo from the paper (see above) and I think that you will agree that this does confirm that the mystery rider is indeed Les Blakebrough (1907-1978) although the paper did misspell his surname.
I am also enclosing a photo (see below) of Les in action and another (see below) with Les and his Douglas with "ball tyre" – probably good on deep cinder tracks but not a very useful tyre on present day slick track surfaces !!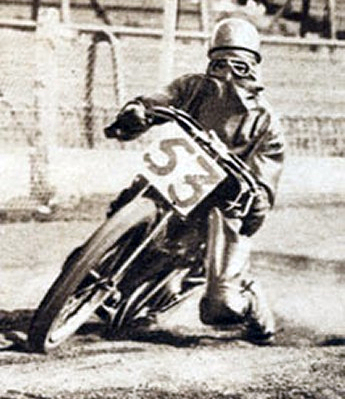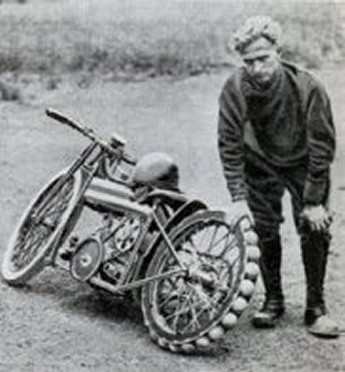 Photo's courtesy of David Pipes
---
Name The Riders!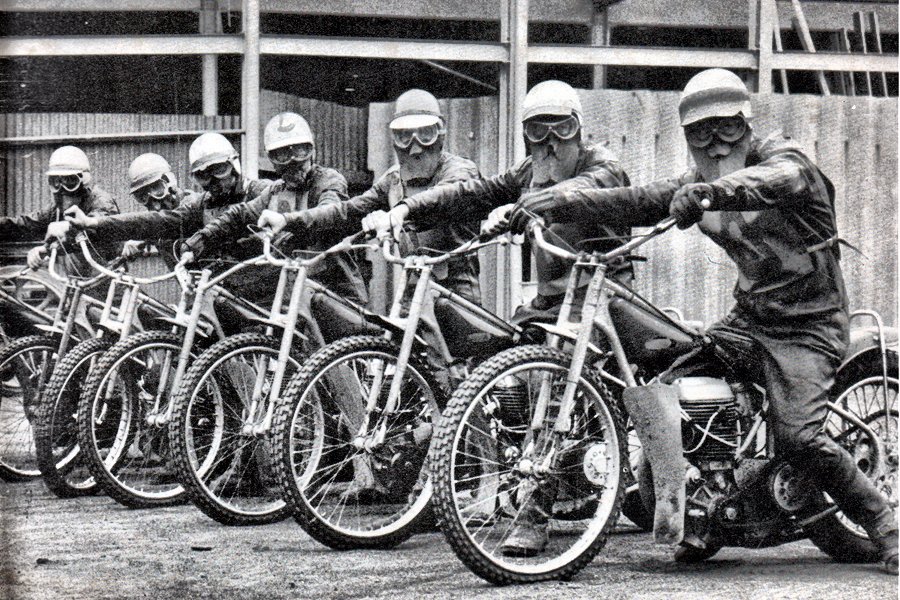 Courtesy of J Spoor
If the first photo is too easy then name the team/riders in above shot! No I don't expect you to name anyone in these two pictures but I am sure you will be able to help me with the "Proper Name The Riders" photos that follow below: -
Doug Neath says: Hi John

,

Can't help you with the single rider, but I believe the team photo was taken at Belle Vue in 1968 and is of the Russian side Leningrad Auto Club who rode there in a challenge match on 27th July. Their team consisted of: Ivan Andeev, Yuri Lomdotski, Gennardy Vyonov, Anatoli Belkin, Viktor Katyuzanski, Genrikh Lemberg and Vladimir Kannunikov, though I have no idea who is who in the picture. Hope this helps

Doug
John says: Well Doug you weren't supposed to be able to identify either the single rider in black or the Russians behind the masks but thank you for the names of the Leningrad team
---
Another
Bogy Man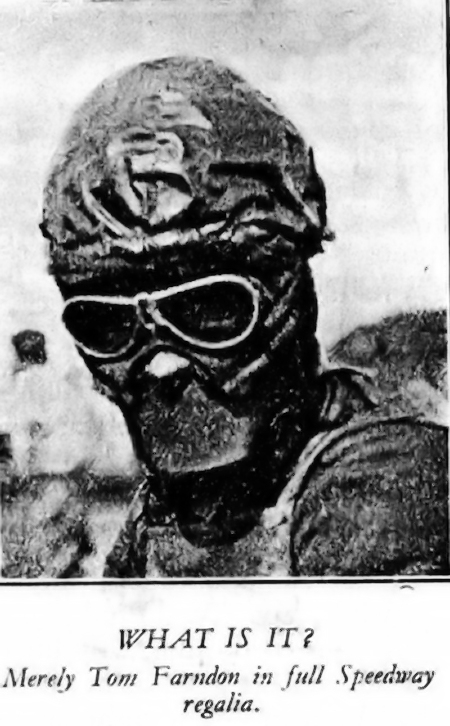 Courtesy of John Spoor
Another almost impossible to name rider, unless you recognise the tip of his nose that is! if you can name him please send me an email John
It was Tom Farndon! in speedway regalia as revealed above
---
Another Bogy Man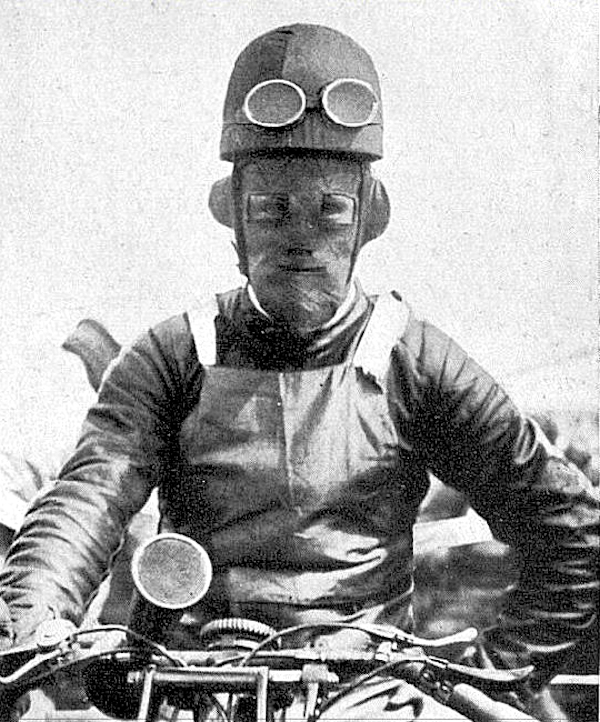 Courtesy of David Pipes
David Pipes says: Hello John, I recently came across this picture of a speedway rider and thought that you might like to include it in your "Name the rider" section of your website.
So can anyone id this rider John
---
Bill (Smiler) Henstock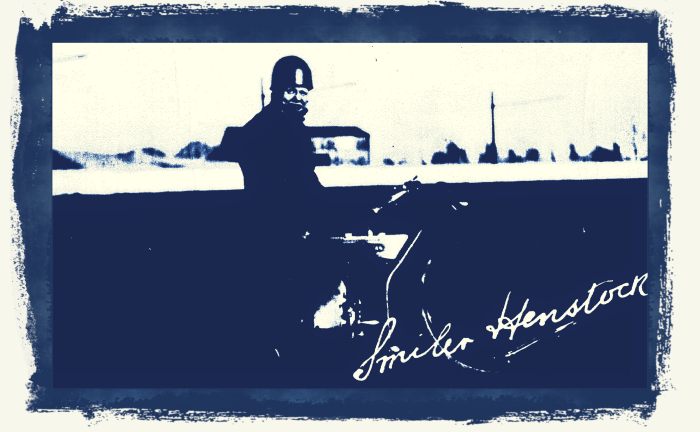 Courtesy of Graham Gleave
Graham Gleave says: This is a picture of a Nottingham rider Smiler Henstock, his real name was Bill & was supposed to have had a m/c shop in Nottingham. The person who gave me this photo copy was a friend who bought it many years ago as his name is also Henstock & says his family came from the Nottingham area. He was wondering if anyone else knows any more details of this rider.
John says: So can anyone shine a light on Bill Smiler Henstock, if so please email me here John
---
Unkown Rider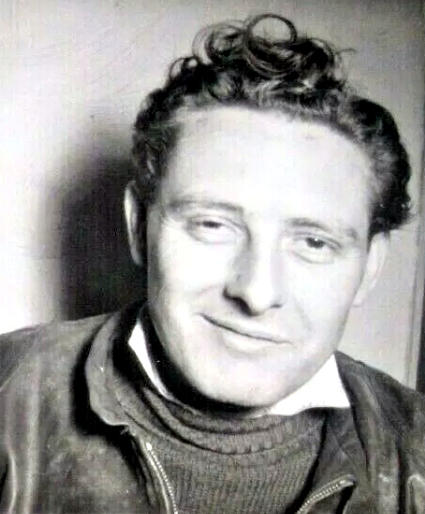 If you know who the above chap is send me an email John
---
Unknown Wimbledon Rider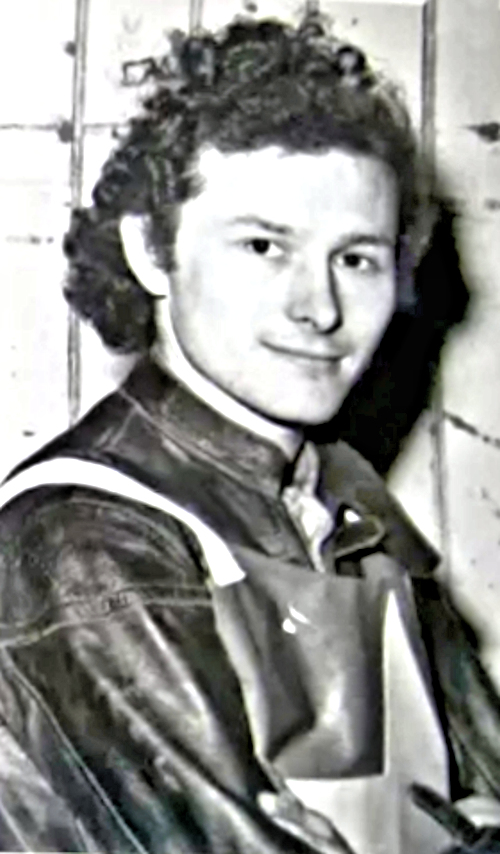 John Barter says: Hello John, You have helped me before, and I hope you can again, trying to ID this Wimbledon Don's Rider, Regards John
John Skinner says: If you know who this Don is please send me an email John
---
Unknown No1 Rider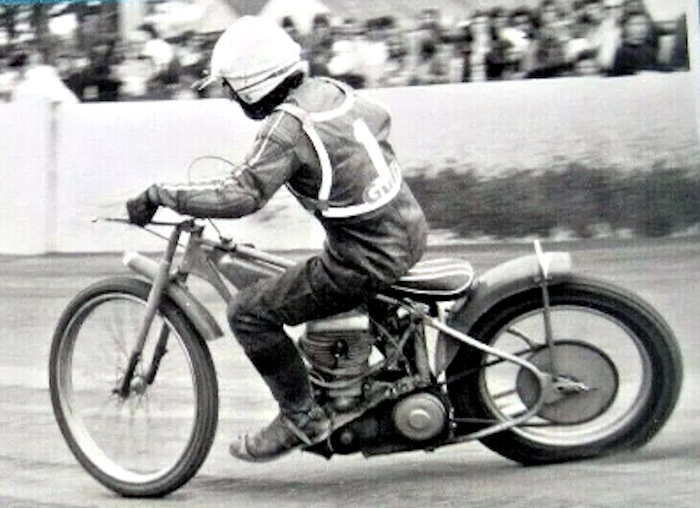 Struggling to name the rider, can you help, Regards John
Hi John, hope you are well. Just a quick note, the unknown no 1 rider pic on the 'name the rider part 1' is Rick France of Halifax in 1975. Cheers, Steve.
---
Unknown Weymouth Rider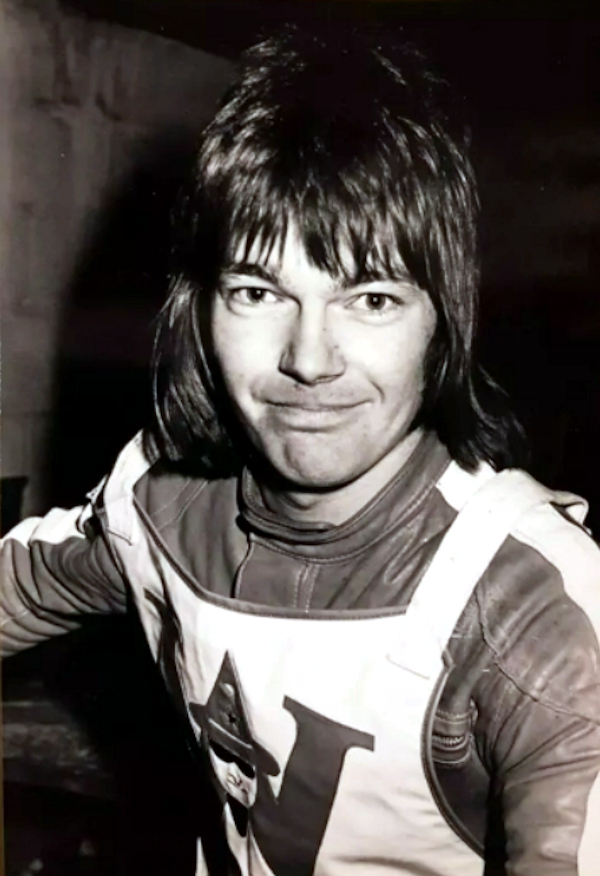 Struggling to name the rider, can you help, Regards John
Steve Baker says: The pictured Weymouth rider is Ricky Owen who broke into the team in 1975 and did reasonably well. He got injured early in 1976 and never managed to get his team place back. Rode a further seven meetings for Weymouth in 1977 and then disappeared from the scene, I presume he retired although he was only 24 at the time.
---
Unknown Coventry Rider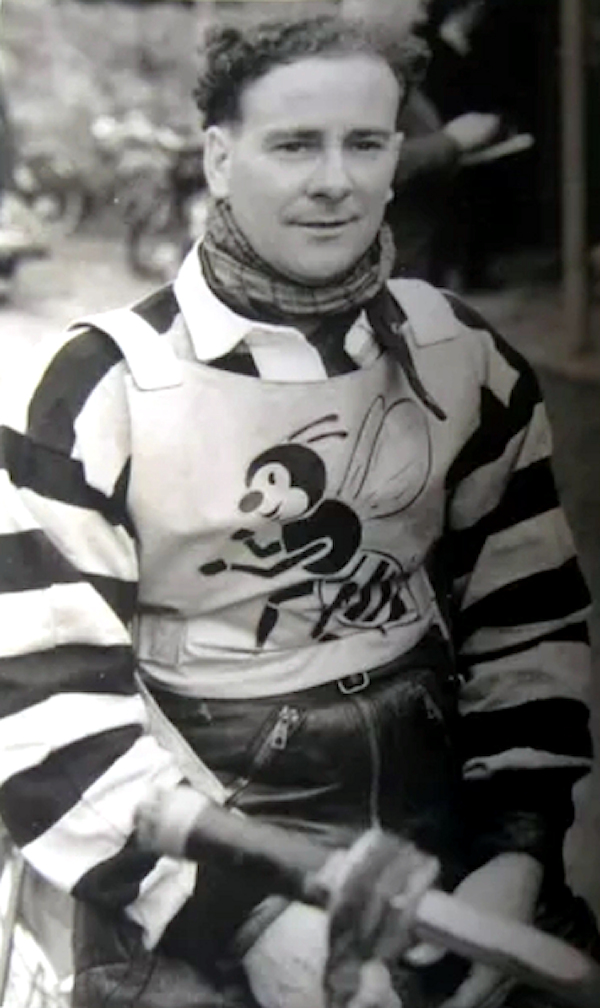 Courtesy of John Barter
John Barter says: Please can you help ID this photo, I think maybe it's Tommy Miller ? not totally sure. Regards John.
Steve Baker says: there is a picture on the 'name the rider' part of the web site I can help with, the picture you think is of Tommy Miller I can confirm it is definitely him
---
Unknown Rider
Could be Weymouth?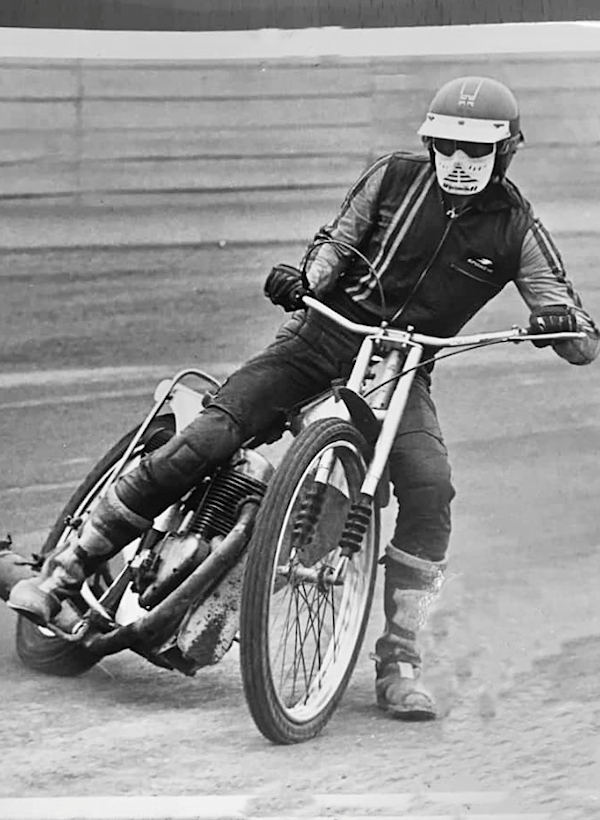 Courtesy of Norman Johns
Please email me John If you know whom the above rider is
Steve Baker says: "The unknown rider could be Weymouth", is grasstracker Clayton Williams. Clayton had a dabble with speedway in the late 70's although nothing came of it and he went back to the grass. The picture is taken at Weymouth and my guess is it was taken at one of Lew Coffins training schools. All the best, Steve
---
Name The Russians &
The Track
Courtesy of Nigel
Can you name anyone on this photo and say which track is featured. All I can add is that they are obviously USSR citizens touring the UK in the 1960s. John
Steve Baker says: Hi John, I have some info on the picture featuring the Russians, this is 1964, Great Britain v Soviet Union at Coventry. The riders are Boris Samorodov and Gab Kadirov. The guy in the foreground is Yuri Brianski, the guy in sunglasses and hat is Aleksi Patenko both of whom were the Russian management. Just behind Brianski is GB manager Tommy Price. I don't know who the tall guy is.
---
Name The Track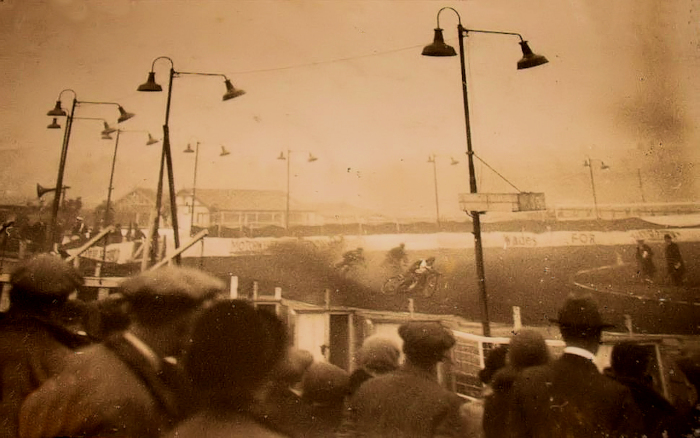 Courtesy of Nigel
Please name the track and the year John
---
1950

Wembley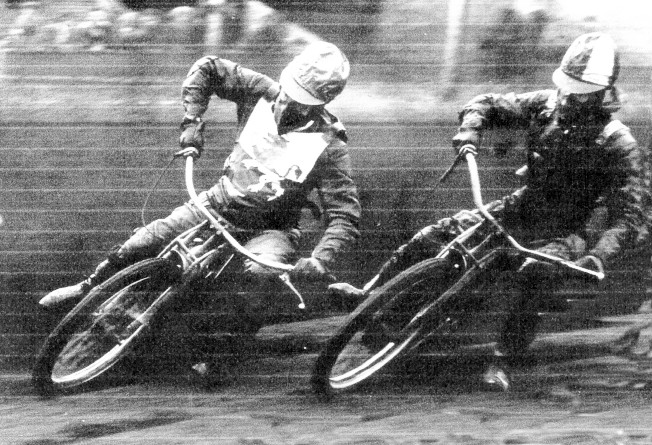 Courtesy of Graham Gleave
Track may be Wembley? Can you name the riders and say the year John
---
Name the Rocket
Rayleigh or
Rye House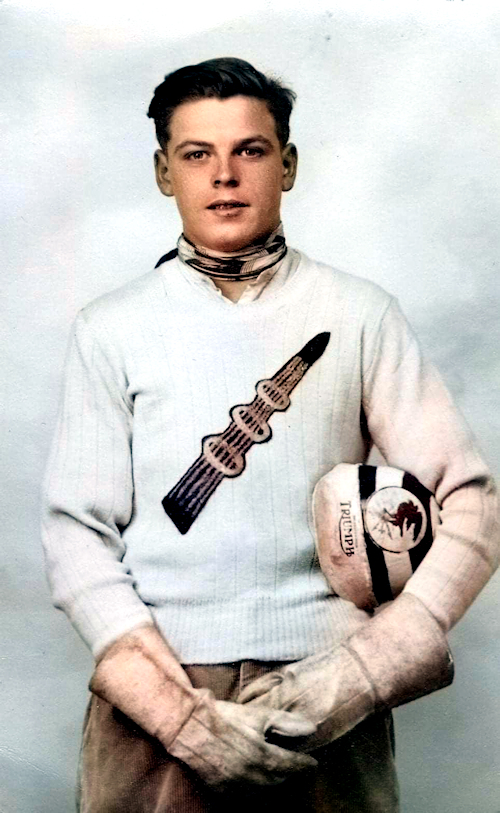 Courtesy of The General, who says: Hi John, I found this photo in my grandad's photos years ago.
Not sure who he is, my grandparents were from areas around Coventry, the back of the photo is from a Coventry photo studio.
John says: I haven't a clue regarding the ID of the rider shown above. If you know who he is please email me John
---
Name These Doncaster Riders
Sports Journalist: Paul Goodwin of Doncaster Free Press is looking for some information, mainly the names of the riders depicted in the Doncaster Team pic. So if you can help, please email me with the riders names. I am sure Paul would welcome some memories from Doncaster fans so please email to me and I will pass it on to Paul
John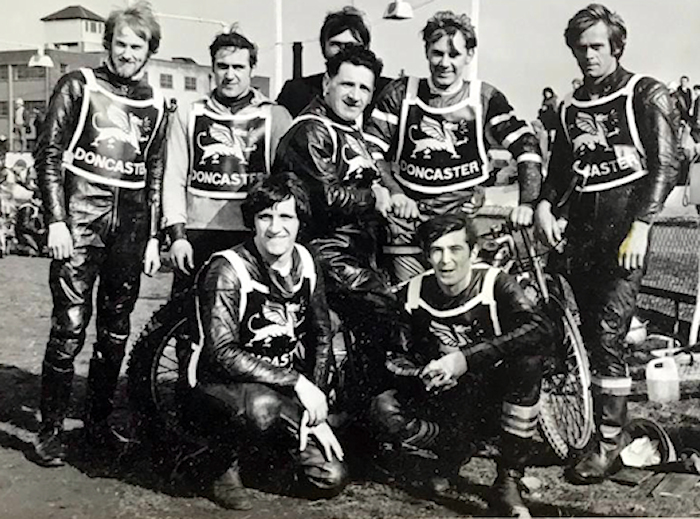 Courtesy of Rob Phinn
Doncaster Pic: 1 John says: I think Gordon McGregor, Cliff Emms, Chris Harrison and Ian Wilson are in this photo can you confirm and supply names for the rest John


Steve Baker says 1970 team, Cliff Emms, Mike Holmes, manager Joe Thurley, Chris Harrison, Hec Haslinger, kneeling Dennis Wasden, Ian Wilson, on bike Gordon McGregor. If you look closely behind Cliff Emms you can see some of the opposition team and I would suggest, looking at their race jackets, that this picture was taken at the first match of the season, 29th March, a challenge match against the Sheffield Cubs.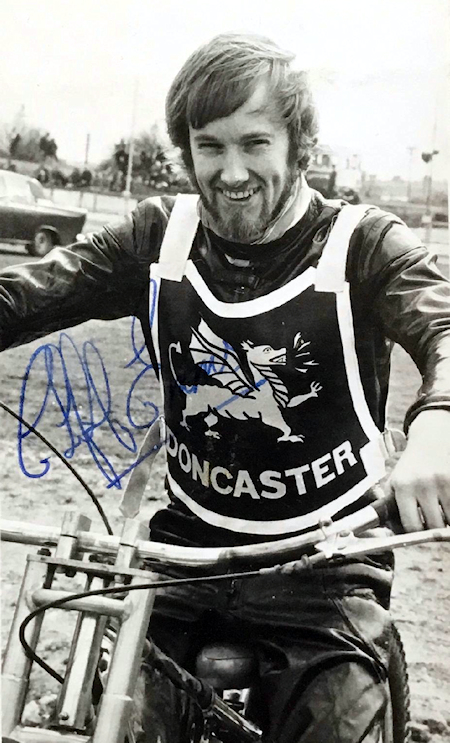 Courtesy of Rob Phinn
Doncaster Pic 2: This is Cliff Emms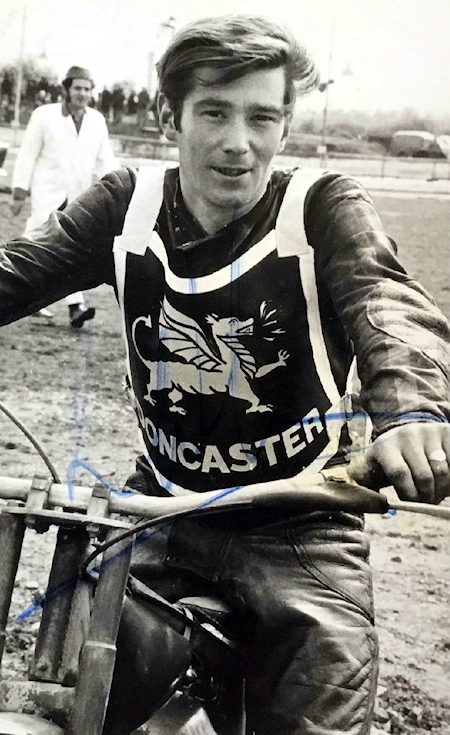 Courtesy of Rob Phinn
Doncaster Pic 3: This is Ian Wilson I think, but if you disagree please email me here John
Steve Baker says: I can confirm that this is Ian Wilson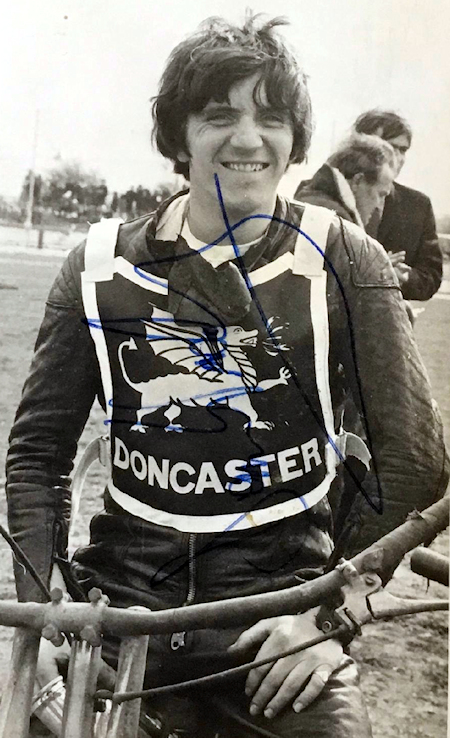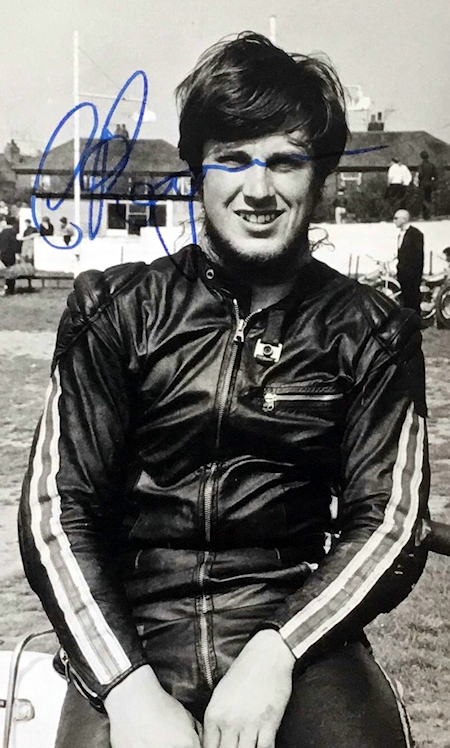 Courtesy of Rob Phinn
Doncaster Pics 4: This maybe Chris Roynon, but if you disagree please email me here John
Steve Baker says: This is Dennis Wasden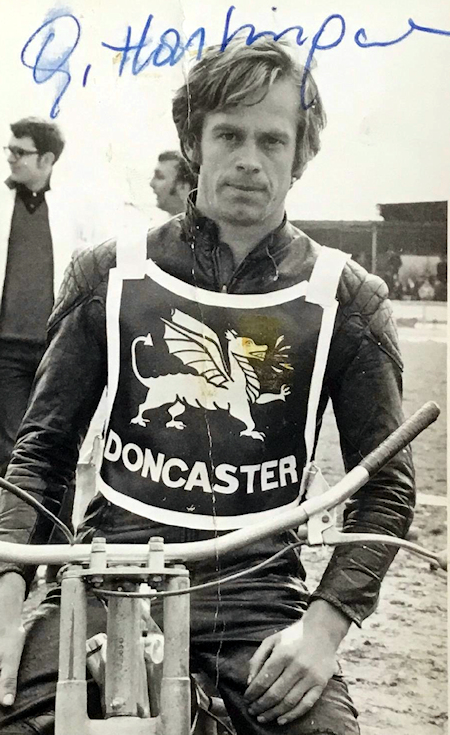 Courtesy of Rob Phinn
Doncaster Pic 5: This is Chris Harrison
Steve Baker says: Hec Haslinger
Doncaster Rosettes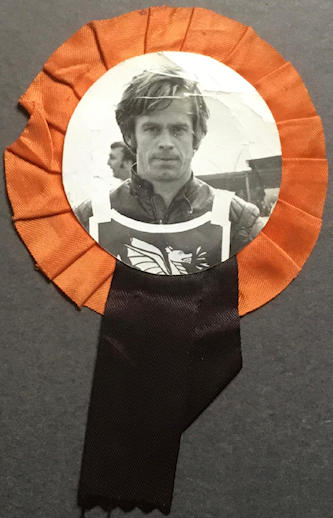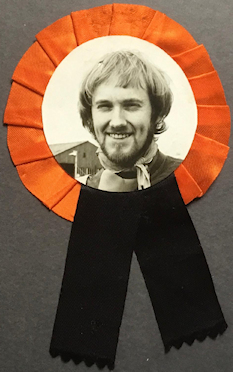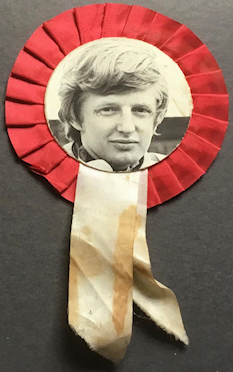 Courtesy of Rob Phinn
Hec Haslinger, Cliff Emms & Terry Shearer
---
1936

Crayford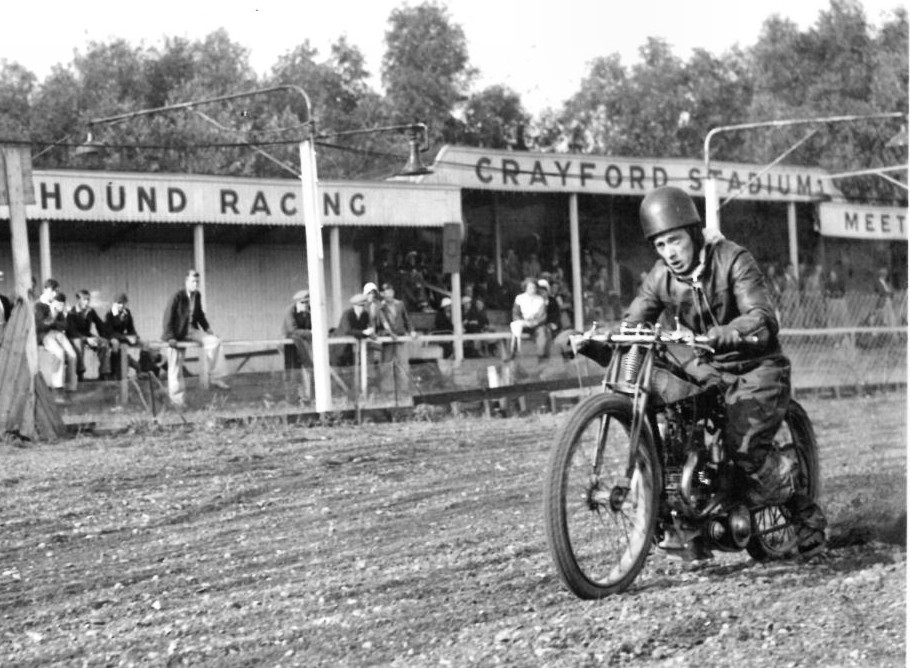 Matt Minch has sent me the above photo. He thinks the year will be 1936. Can you name the rider and confirm the year John
---
Riders Dates Of Birth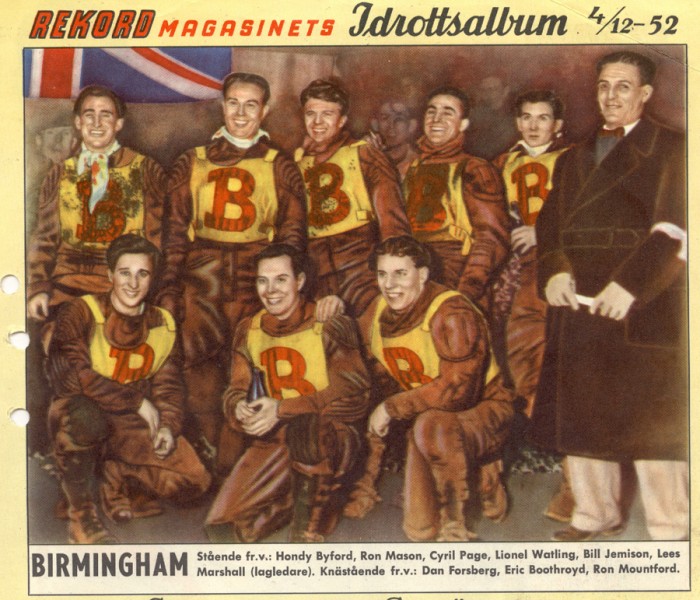 The above picture of a Birmingham team appeared in a Swedish magazine. I like the artistic enhancements of the photo assuming it was an enhanced photo and not simply an artwork.
Swede Tomas Junglander says: I was recommended by a friend of mine here in Sweden to contact you. I am interested in the date of birth (year/month/day) for an number of former English riders competing for Birmingham in 1952
The riders are: -
Bill Jamieson
Do you think you can help me with some of them. Best regards Tomas
John says: If you can supply the dates of birth I will forward them to Tomas John
Colin Jewes says: Name the Rider, pt.1. - Brummies in Sweden, 1952,


I'll leave someone else dig out the d.o.b's of the Brummies squad in the touched-up colour photo, but advise that the chap in the civvies isn't promoter Les Marshall but is Team Manager Phil 'Tiger' Hart.

---
Mystery Rider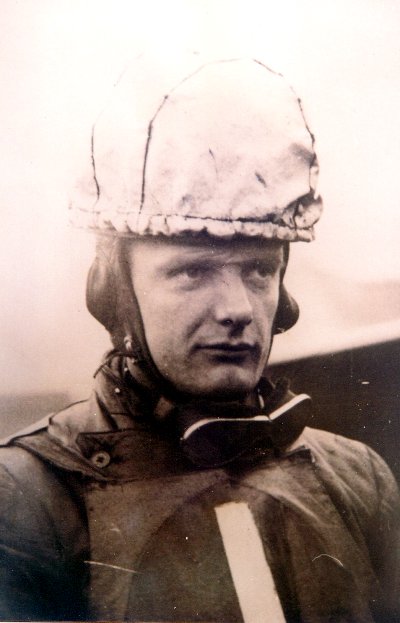 Mireille says: Hi John, I've been looking through your site about speedway and thought you might be able to work out who the mystery rider is. From some photos on your website, I wonder if he might be wearing the number 1 Sheffield tabbard. This picture was found in Chesterfield. I bought a picture frame today at a jumble sale in a Catholic Church. It contained a photo which I have attached. I searched the net and decided the man pictured must be from speedway racing. I wonder if you may assist me in discovering his identity.
Can you help? If so send me an email John
Col Greenwell says: This is Sheffield's George Wigfield. Scanned from the book "Roar Of The Tigers.70 Years of Sheffield Speedway."
Dave Gifford says: Hi old mate, the rider depicted on your web page wearing an early Sheffield racejacket and a white helmet cover is George Wigfield who rode for Sheffield in 1929. here is another picture of George. giffy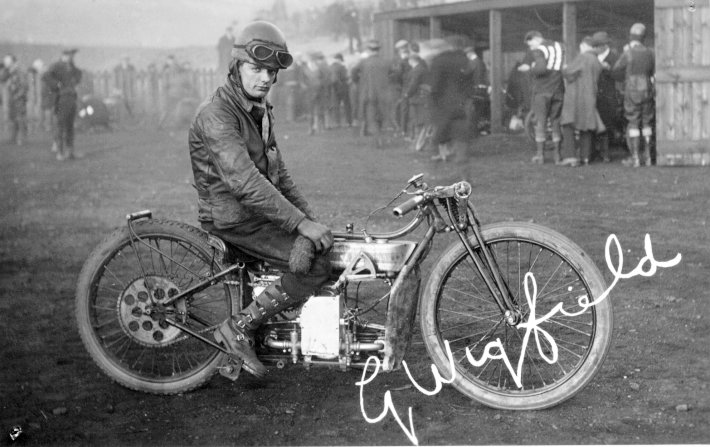 Picture of George Wigfield, courtesy of Dave Gifford
---
1932
Syd Edmonds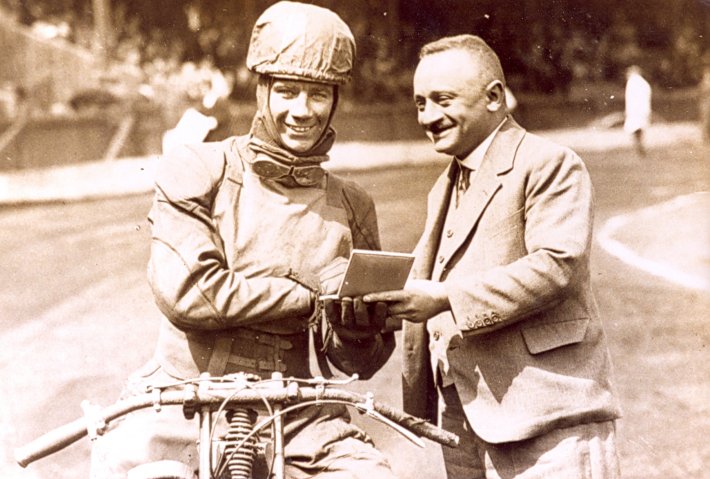 Picture courtesy of Vestry House Museum, London Borough of Waltham Forest.
Can you name the other guy, in the suit and hazard a guess at the year and track John
Peter Edmonds says: Hi John, I have just gone through your website re Defunct UK Speedways and the Name the Rider Page Part 1. Syd Edmonds was my uncle and his brother, my father Dick Edmonds was I believe his mechanic. I will go through some old family photos and see if I can find any other photos. I have a copy of the photo on your website and on the back is the notation " Being presented with the 'Star Newspaper Bronze Trophy as 'Track Champion' at High Beech speedway in 1932." There is no record of the presenter. Eventually Syd went to live in Verwood, Dorset and had a break-in and his mementos, trophies etc were stolen and never recovered. He passed away in Verwood circa 1990.
Peter Edmonds.
---
Alexander, Mac, Or Is It
Barry Briggs?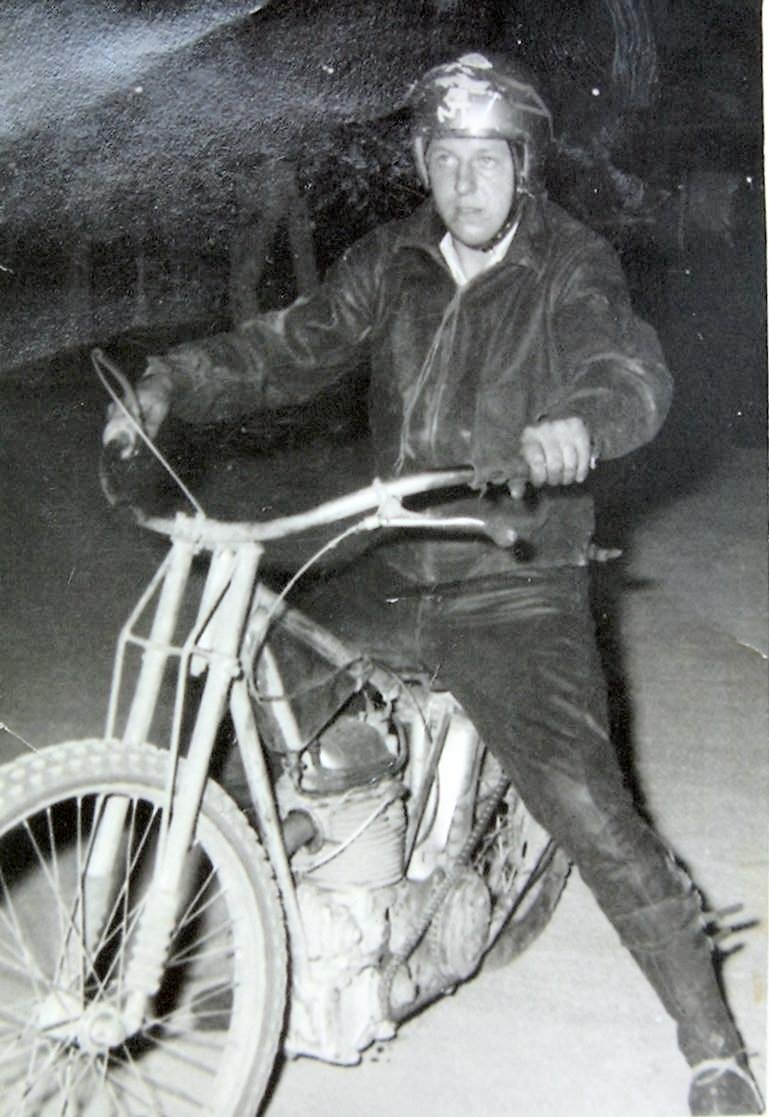 Alan Ribbons says: Hello John, I am trying to find the name of the attached speedway rider, and if possible what club he rode for, and wondered if you could possibly help? or suggest another source. There seems to be some form of emblem on his helmet, but I can't identify it. He must have rode for one of the London clubs, as the picture was given to my mother in law who lived in Clapham Common at the time, and other than public transport, she didn't travel much. I guess the picture was taken in the early 60's, and we think his name was Alexander, but was known as "Mac"
Many thanks, Alan
Alan Ribbons says: Hi, I contacted you a while ago about a speedway photo we had, and you kindly posted it on your "Name the rider" page under Alexander or Mac? I have got some more information, and apparently the photo was taken in Australia. approx 1964-1965.
Michael Roll says: Hi John, The person I think is Barry Briggs is in Name the Rider Part 1. The heading is Alexander or Mac? Your excellent site has brought back some very happy memories. I hardly missed a meeting at Bristol between 1949 and 1955. I do hope we get speedway back in Bristol. Michael
---
Petula Clark &
Bob Oakley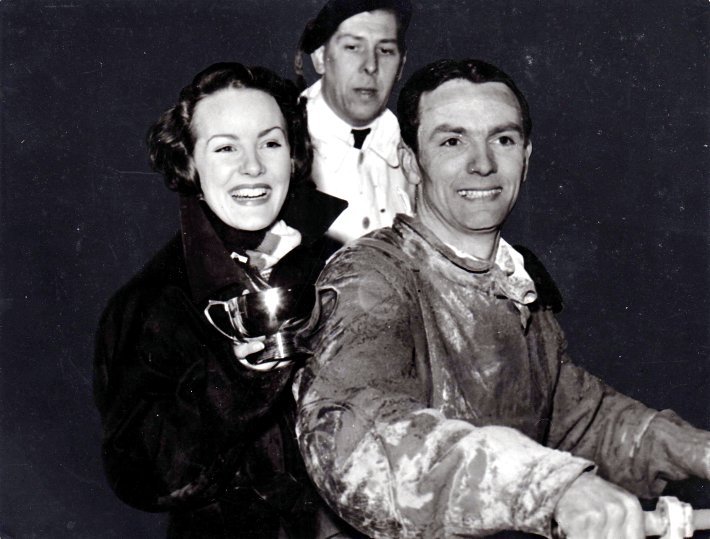 Photo Courtesy of Alf Stradling
I know its Petula Clark famous song "Downtown" on the back but who is the rider John
John Somerville tells me it is Bob Oakley. (Southampton , Wembley,) He came 3rd in the 1952 World Final.
---
Mystery Men, MysteryTrack,
Year Unknown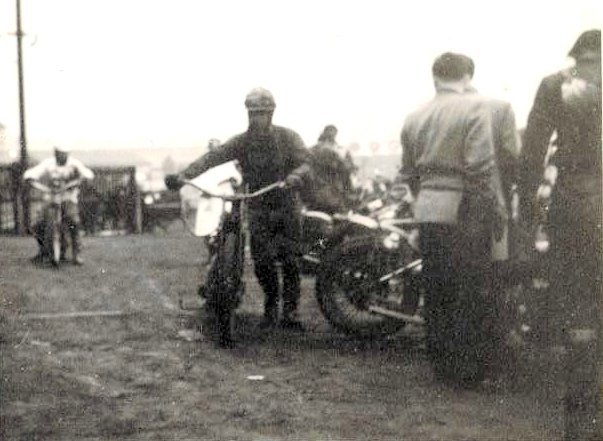 Courtesy of George Winstanley
John says: Can you add any comment for this photo. I doubt it, but you never know? Which track and who are the riders and what was the year?
Mike Willis says: Hi John. The rider on the left I think is Ivor Brown who always rode in a white jersey. Ivor moved from Yarmouth to Cradley Heath when Yarmouth closed and did not ride for any other club. His race jacket looks like the green and white Cradley heath CH and his helmet cover looks like white so the track won't be Dudley Wood (Cradley's home until 1995). Regards, Mike.
Steve Baker says: On name the rider 1 the pic you have as Mystery Man Mystery Track is I believe Wolverhampton. The rider already identified is indeed Ivor Brown of Cradley and I think the other guy is Eric Hockaday. Before Monmore Green was re developed by Ladbrokes there used to be a back straight stand across the front of which was a totalizer board and if you look closely just above the rear wheel of the bike in the foreground you can just make it out in the distance. The pits have always been on the first bend at Monmore and as the pic is obviously taken from there it all seems to fit. So, checking through results from the sixties I reckon this pic was taken just after heat 1 of the BL match between Wolves and Cradley on 4th June 1965, a race won by Ivor, so he is clean and Eric was last, so he is covered in shale! That's my bit of Sherlock Holmes deduction done for now! All the best Steve
John says: My thanks for the comments from Mike Willis and Steve Baker and to George Winstanley for sending me the pic
Dear John, you have a photo in mystery rider no 1 that Steve Baker says is Ivor Brown at Wolverhampton.I believe this to be incorrect. He states that the pits have always been on the first bend. This is correct but when Ivor Brown rode at Wolverhampton the pits were between the dog track and the safety fence of the speedway track and the riders were by the dog track for safety reasons. Now to where the track might be,it could actually be at Cradley as the riders came off the track on the third bend, and up a ramp .The gates behind Ivor Brown are the pit gates from the back straight riders car-park. The images in the background that are referred to could be the houses in Dudley Wood Road.
yours faithfully, Les Burden
---
Fred Fearnley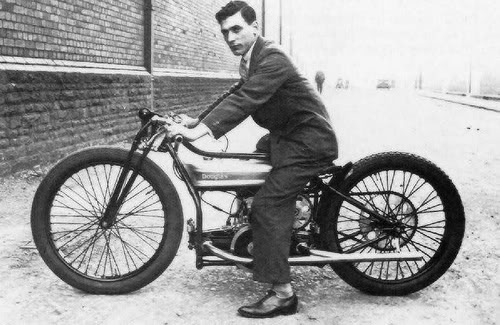 Courtesy of Adrian Pavey
Fred Fearnley, astride a Douglas DT machine. The bike says this is 1929 - 1933 ish can you help me with any info about Fred. I assume he had a UK team place somewhere. Do you know his team(s)? John
---
Name The Team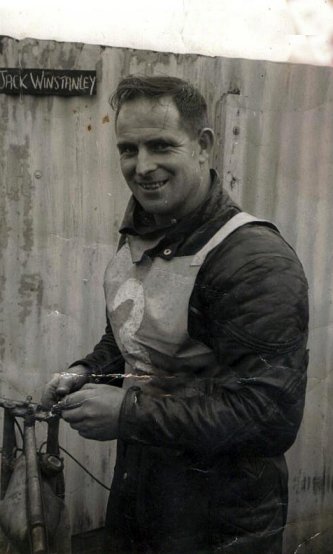 Courtesy of George Winstanley
John says: This is Jack Winstanley. What team race jacket is this and what year? John
Colin Jewes says: The picture of Jack Winstanley, is of him in the Sheffield Tigers race jacket of 1961 & '62. They were the only team with numbers on the front of their race jackets
David Beecroft says: Reference the photograph of Jack Winstanley under "Name the Team" in the "Name the Rider" section. Colin Jewes says it is Sheffield as they were the only team with numbers on the front of their jackets. This is not true as Bradford Panthers also rode sometimes like this and other times in yellow and blue quarters. In fact I have never seen a photograph of them wearing the jackets always on the front of their programmes with a panthers head. Did these jackets actually exist? Also Jack Winstanley rode for Panthers in their open season of 1961 although he started it at Sheffield and was back there in 1962. The plot thickens.
Regards Dave
John says: Well Dave, We hope for further clarification. If anyone else can help send me an email John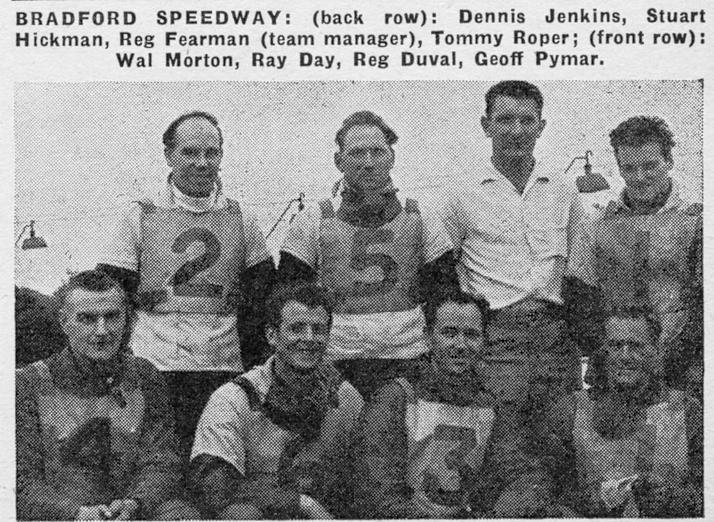 Courtesy of Colin Greenwell
More Numbers
On The Front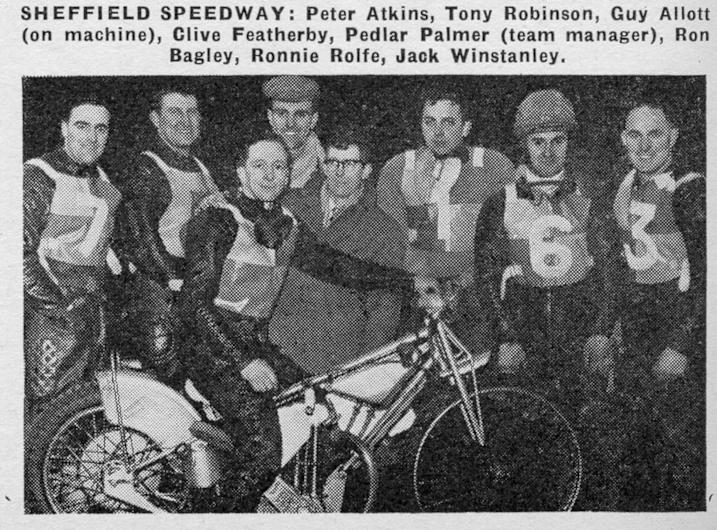 Courtesy of Colin Greenwell
John says: Looks like at least two teams had race-jackets showing numbers on the front. Sheffield and Bradford
---
Bill James?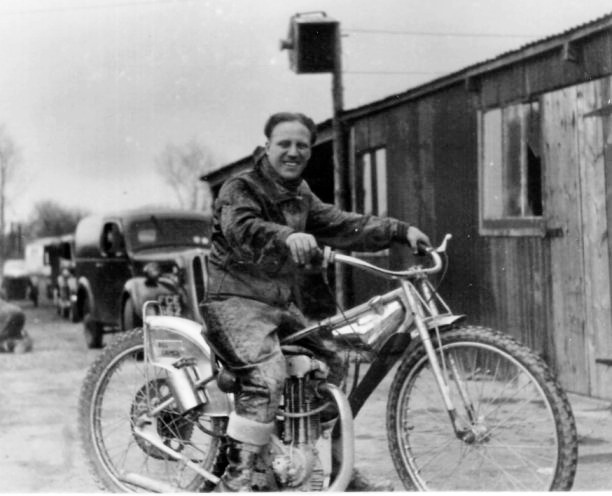 Picture Courtesy of Mike Kemp
Can you identify, the rider, the track and the year John
Jim Henry says: If you look at the back mudguard you'll see the guy's name on the plate - looks like Bill James to me
John says: I cannot make the name out on the mudguard Jim must have better than 20-20 vision.
---
Mystery Man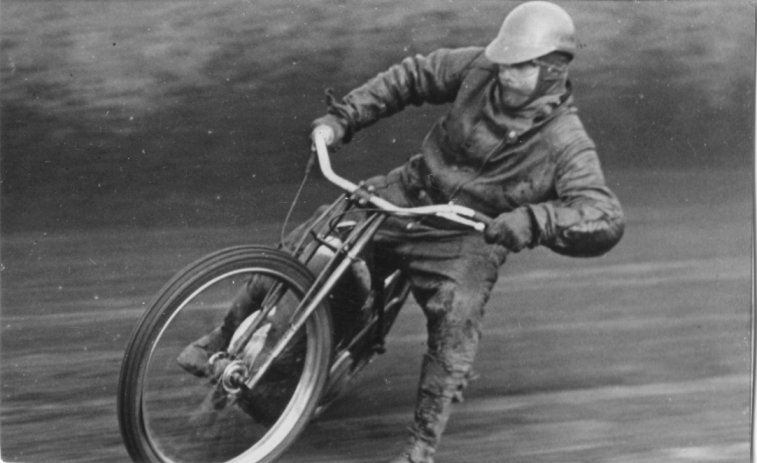 Picture Courtesy of Mike Kemp
Can you identify, the rider, the track and the year John
---
Lee Dunton's Photo 1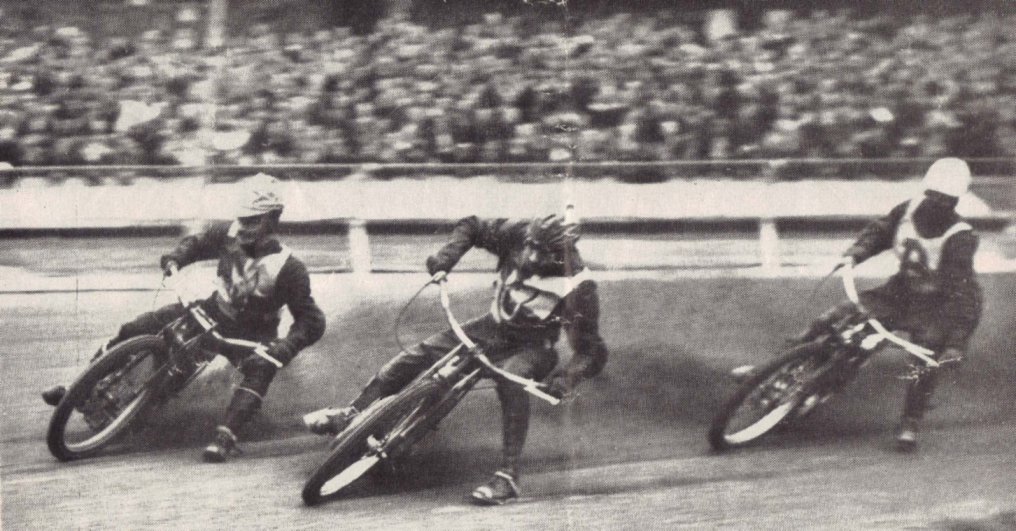 John says: Danny Dunton's son Lee Dunton has sent me the above photo. It is Harringay 1950. Lee says: The two Racers are Nobby Stock and Vic Duggan but we need the Birmingham rider's name John
---
Lee Dunton's Photo 2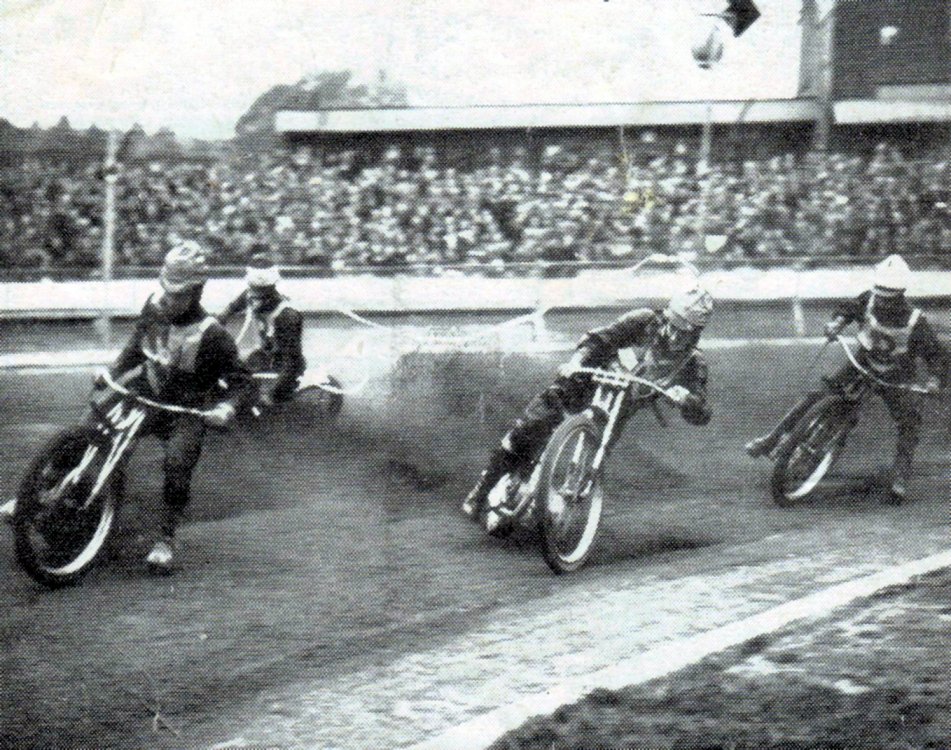 Courtesy of Lee Dunton
Lee Dunton has sent this photo of his dad Danny Dunton so with one name start, can you name all four riders John
---
The contents of the site are © and should not be reproduced elsewhere for financial gain. The contributors to this site gave the pictures and information on that understanding. If anyone has any issue or objections to any items on the site please
e-mail
and I will amend or remove the item. Where possible credit has been given to the owner of each item.