Miscellaneous

Part

6
/
Frenchman Leon Boulard
Wooden Legged Murderer!
Stars of Speedway
GB v USSR
USSR
More Russian Riders
Jim Henry's Items
England v Australia 1947-1953
Crazy Doug Hutchins
Wembley Speedway Postage Stamps
Munich World Final
Two World Champions From Down Under
Charlie Spinks 1938 Badge
Ken McKinlay
Ernie Odlum 1917
Scotlands Best Riders
5-1 Heat Maximums
A Tough Aussie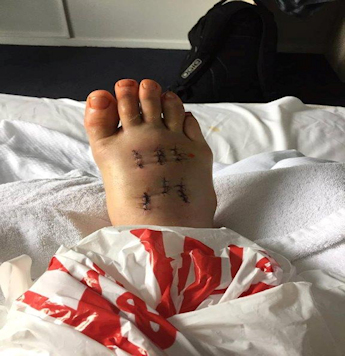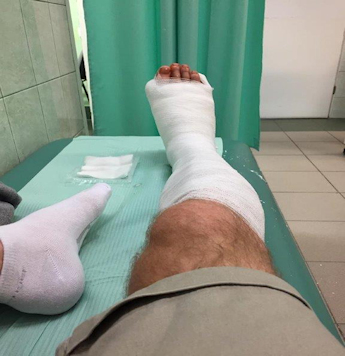 Photos courtesy of Bob Andrews
Reg Fearman says: 2017. On Monday Jason Doyle had 14 screws inserted into his right foot in Poland. Five days later he was racing in the GP in Denmark and scored 15 points - he has been in every final - and leads the GP with 65 points. He was robbed last season of the World Title when injury struck near the end of the competition, he was streets ahead on points.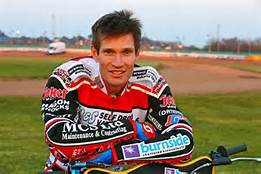 ---
Argentine Bound British Riders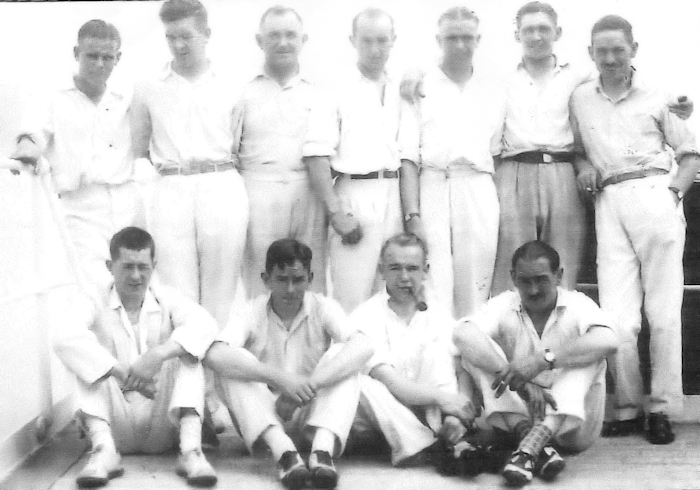 Courtesy of Graham Gleave
This touring party were photographed on their ship the Asturias en route to the Argentine in 1929.
I can only name 2nd from left standing Eric Langton and Arthur Westwood at far right standing. If you can name the others please email me John
Tom Roe's Photo Postcards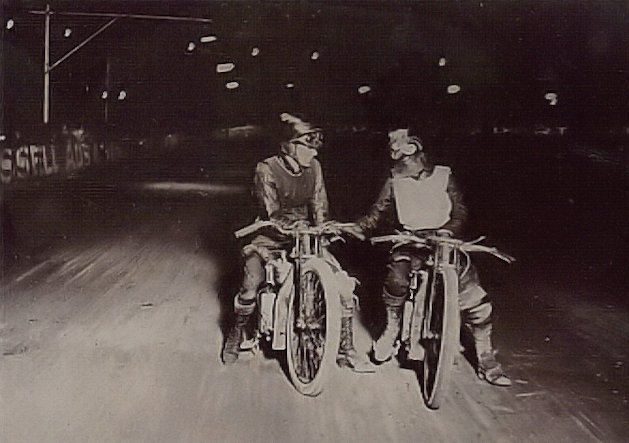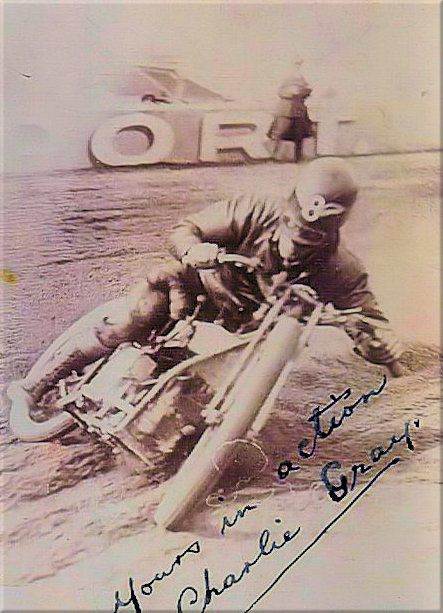 Tom says: Good Evening John, These two postcards came out of a job lot in Sheffield, One is autographed " yours in action, Charlie Gray" the other one, no idea! They are postcards. Regards, Tom Roe.
---
Ken McKinlay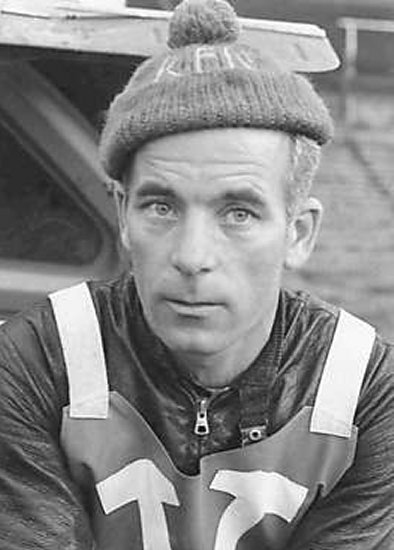 Courtesy of J Spoor
John Robert Vickers (Ken) McKinlay borne 7th June 1928 in Blantyre, Scotland. Passed away on 9th February 2003. His nickname Hurri-Ken was given to him by Johnnie Hoskins.

Courtesy of Adrian McKinlay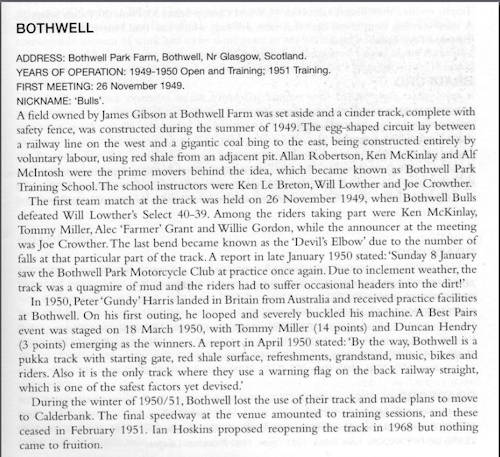 Courtesy of Adrian McKinlay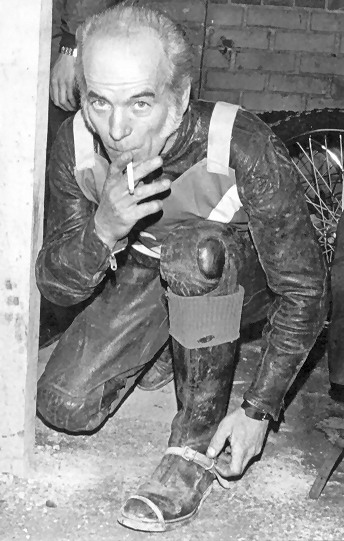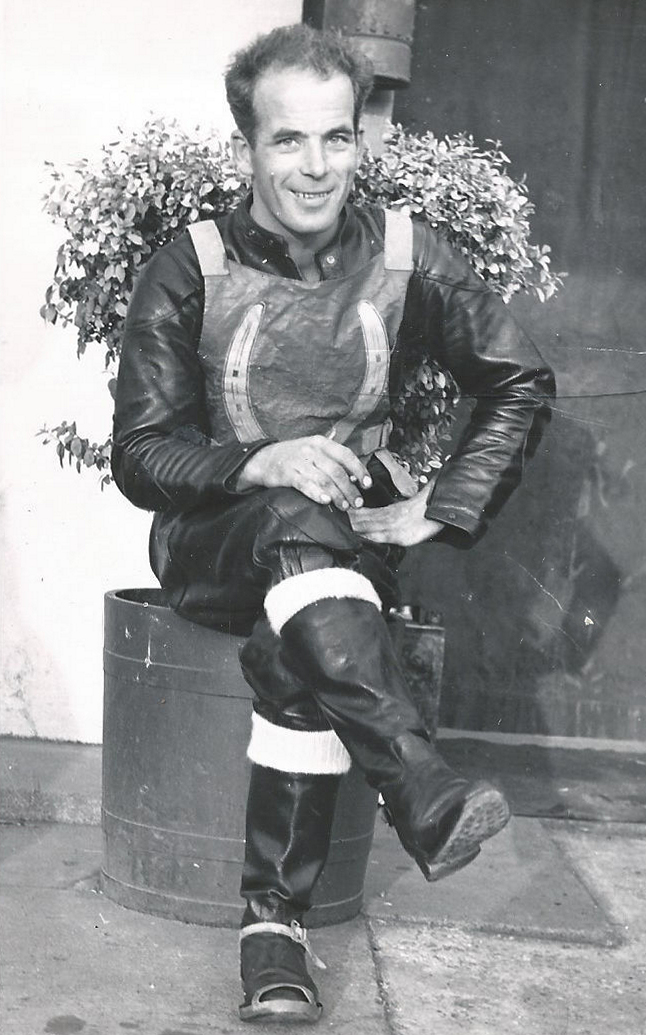 Courtesy of Adrian McKinlay
Ken The Hunter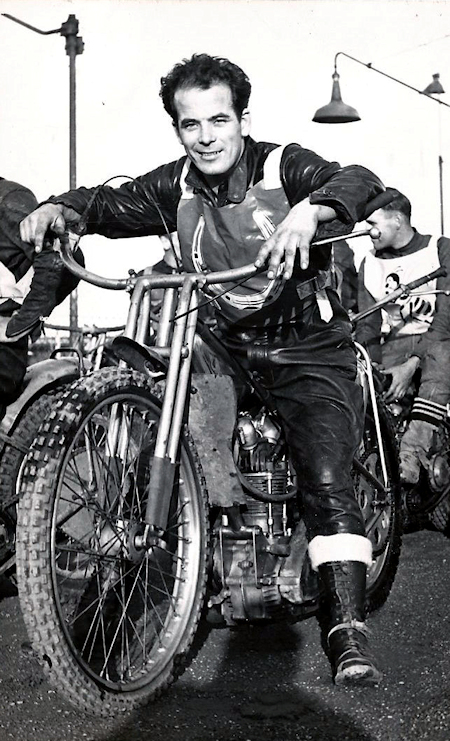 Courtesy of Adrian McKinlay
Ken With His
1967
British Lion Teamates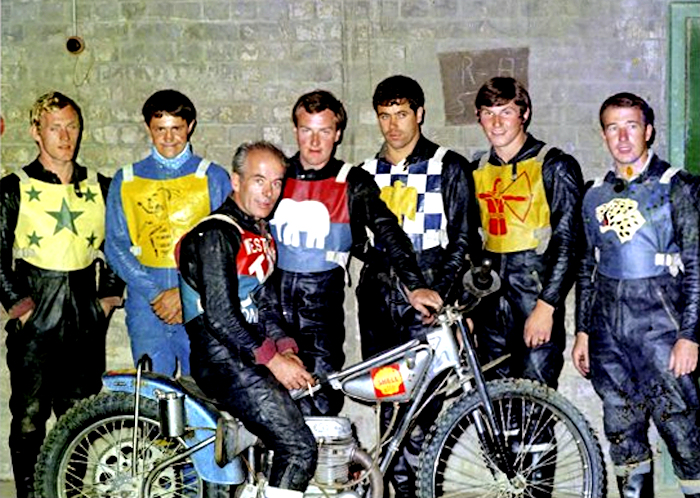 Courtesy of Adrian McKinlay
Ken sitting in front of his 1967 British teamates. Off the top of my head they are: Terry Betts, Nigel Boocock, Eric Boocock, Colin Pratt, Ray Wilson & Roy Trigg
Ken At The
1967
BLRC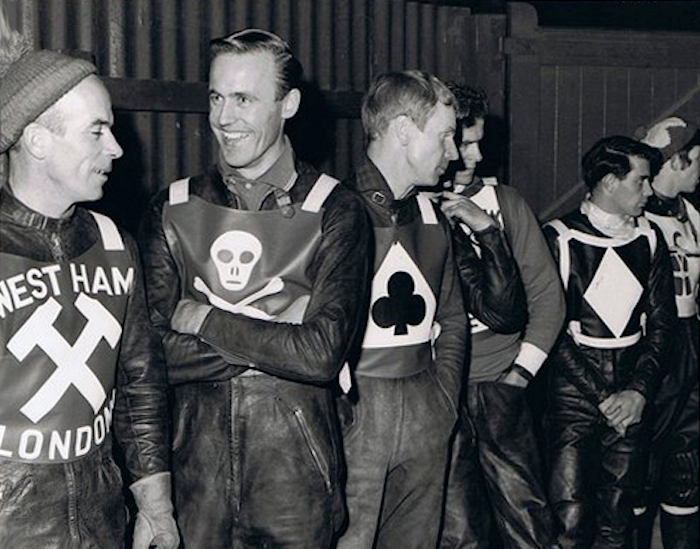 Courtesy of Adrian McKinlay
Adrian says: This photo of riders at the 1967 BLRC features Dad, Gote Nordin, Ove Fundin, Charlie Monk, Ivan Mauger and Ray Wilson.
Hurri-Ken & Ove Fundin Also At The

1967

BLRC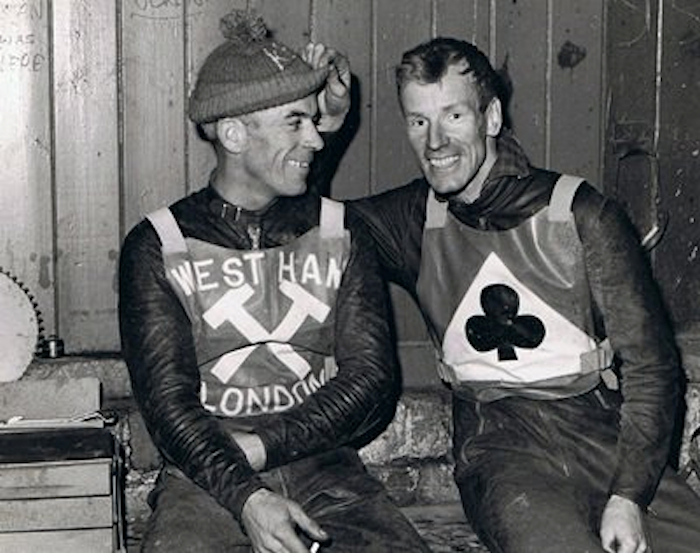 Courtesy of Adrian McKinlay
Ken Left Leicester & Right Ken A Coventry Bee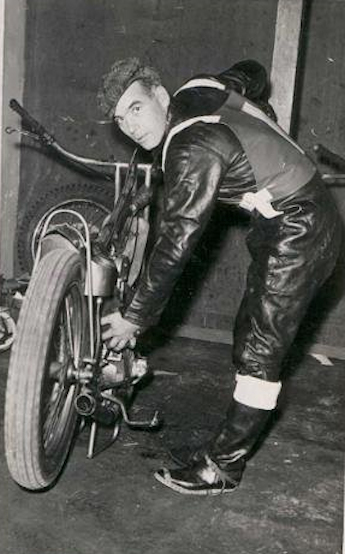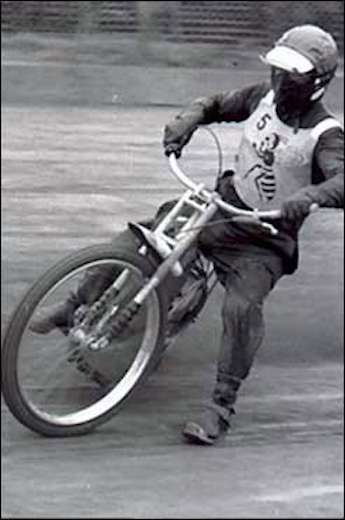 Courtesy of Adrian McKinlay
1956

World Final
Programme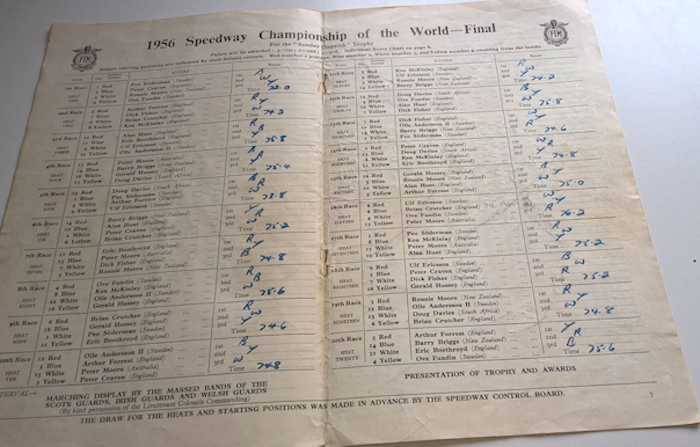 Courtesy of Adrian McKinlay
---
Speedway Chariot Racing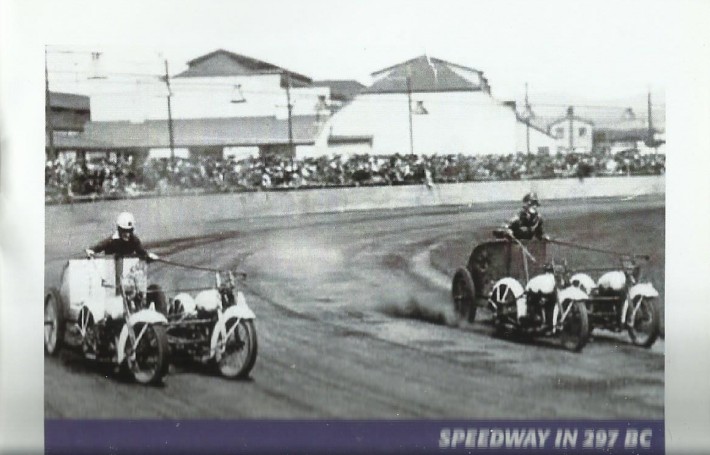 My mate Keith "Jack O Diamonds" Dyer doesn't send me much for the website but when he does they are usually real gems like the above picture.

Keith says:

Hi John, I found this in a 2012 Rye House programme. No idea of date or track. Certainly seen nothing like it before.
John says: My thanks to Rye House for the chariot picture [ if you don't want me to put it on the website just say so and I will remove it]
The bikes /horses appear to be Harleys and I think the rider in white is Charlton Heston better known as Ben Hur!
---
Ian Hoskins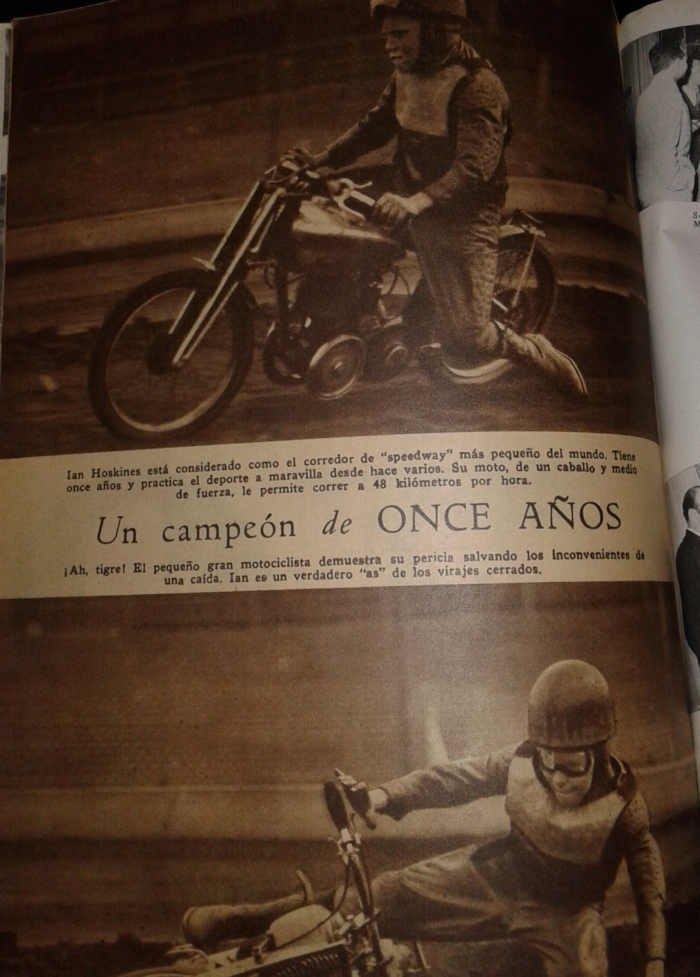 Courtesy of Martin Fasola
---
Scottish Riders
Norrie Isbister & Drew McQueen

1929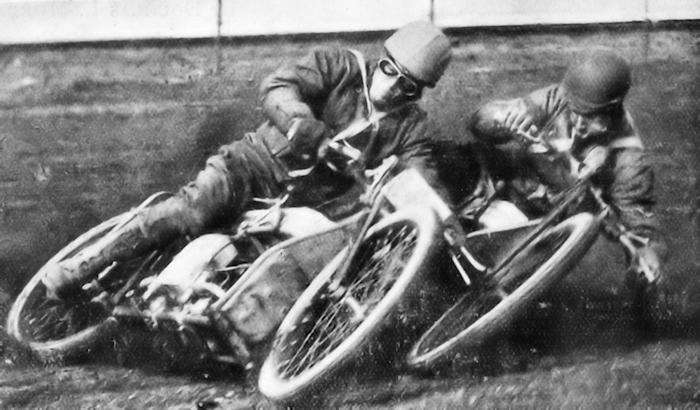 Is this the best photo on my entire website? Well maybe not, but it is in my top twenty, there are many excellent photos dotted around the many pages making up the website. Norrie and Drew laid their Douglas machines low and I will bet both riders kept upright after this corner and continued to race.
The Hurri-Ken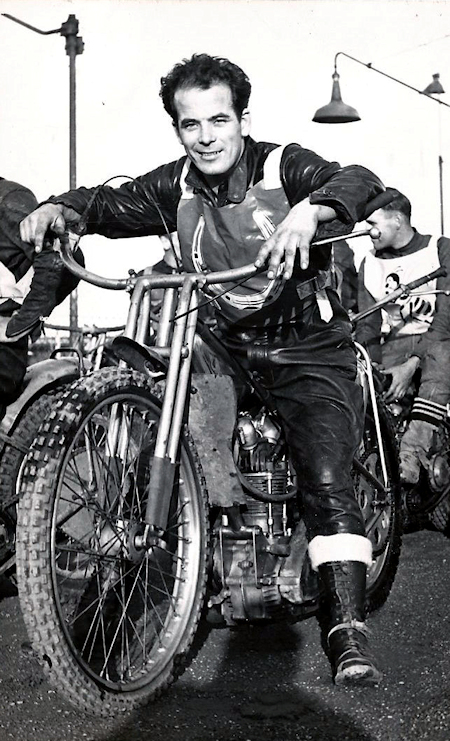 The Templetons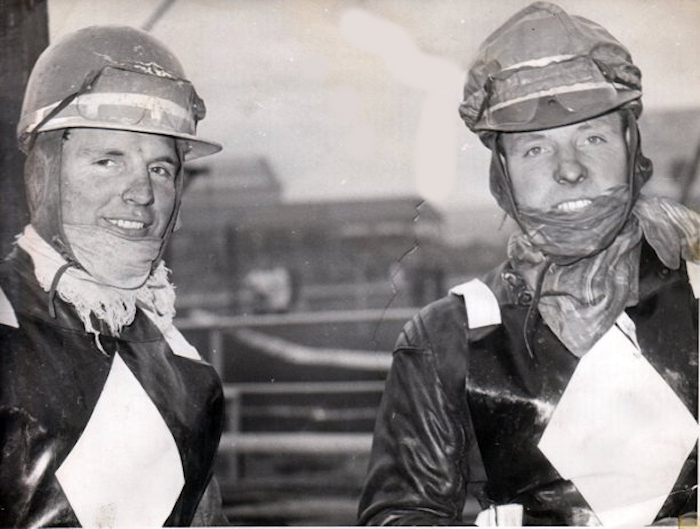 The Fife Flyers Doug & Willie are shown guesting in Newcastle kit in 1961. The Templeton brothers kept Scottish Speedway going for a number of years.
George Hunter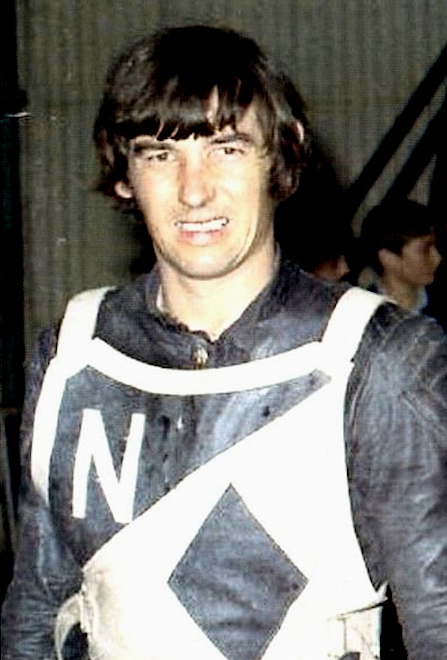 George Hunter joined Newcastle in 1970
Bert Harkins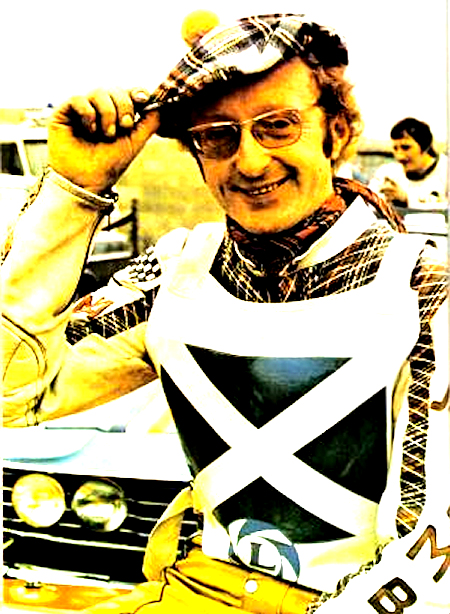 Jim McMillan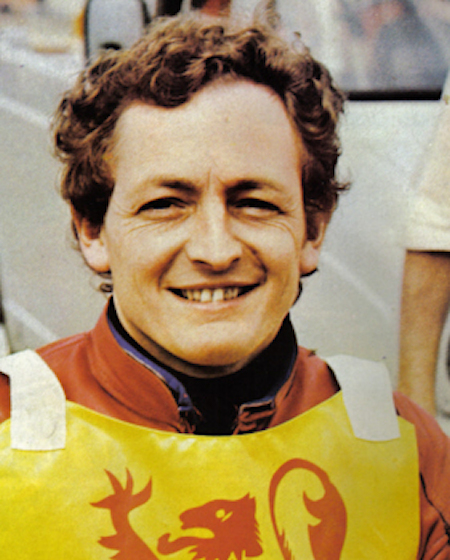 Doug Templeton Jim McMillan & Willie Templeton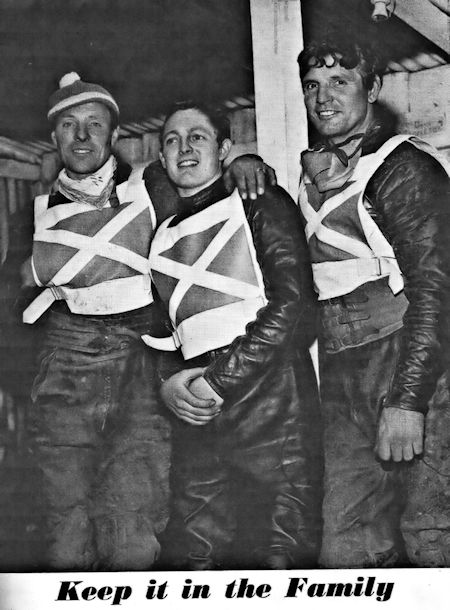 Courtesy of Graham Gleave
Kenny McKinna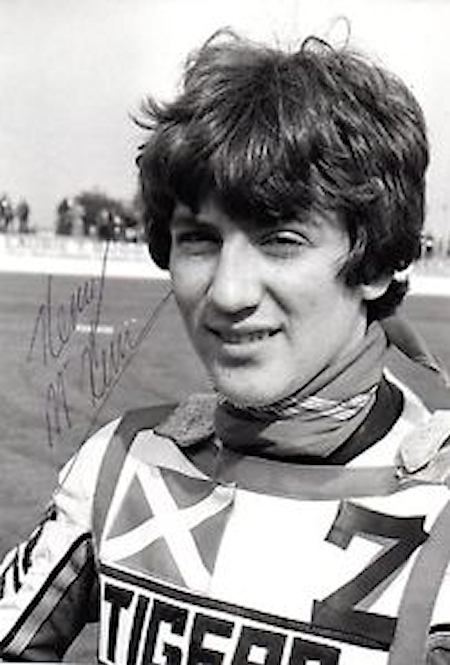 Courtesy of J Spoor
I have supplied pics above, for in my opinion, Scotlands best riders. If you can come up with better riders please email me here John and no! Charlie Monk was not a Scot! or Reider Eide either!
---
World Under 21 Programme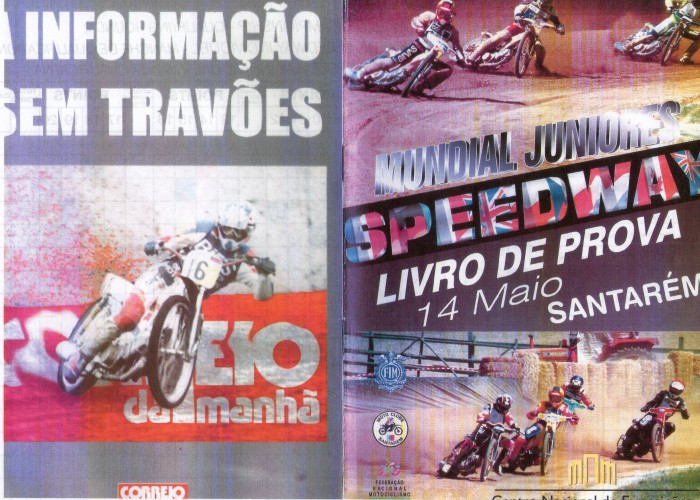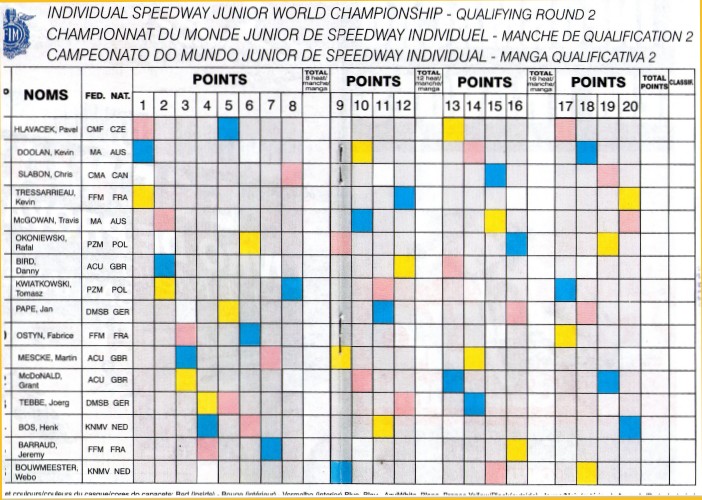 Courtesy of Graham Gleave
---
Rye House Programmes
1954 & 1962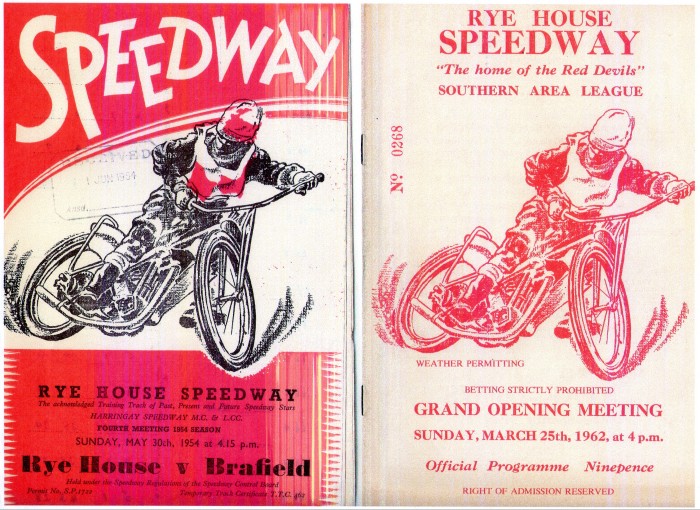 Courtesy of Graham Gleave
The Rockets were previously known as the Red Devils
---
Rowley Park South Australia Poster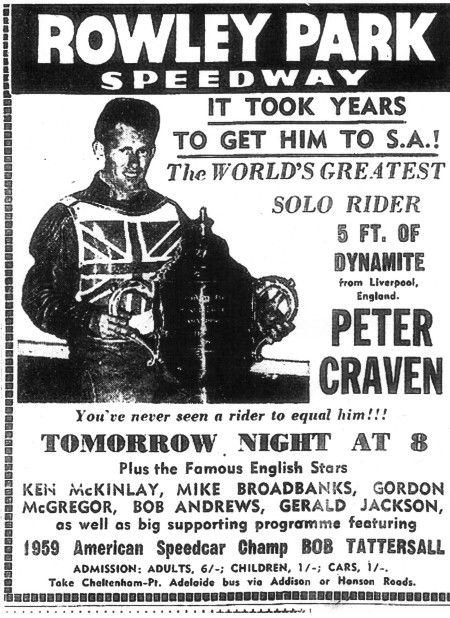 Courtesy of Graham Gleave
Two World Champions From
Down Under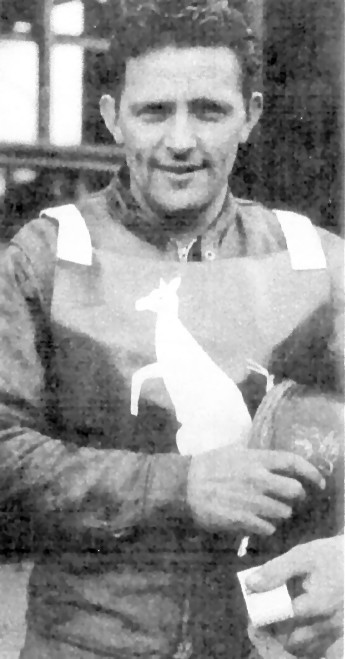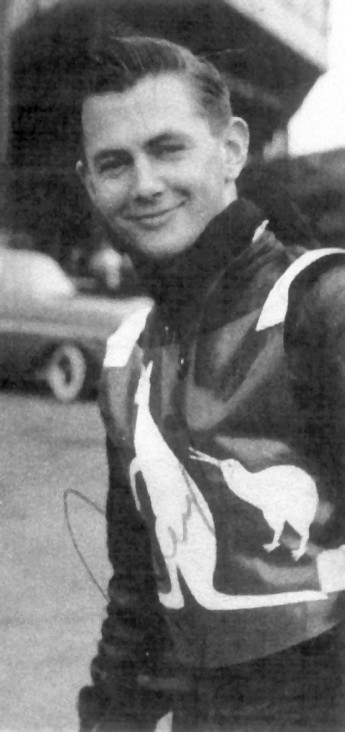 Photos courtesy of Graham Gleave
Above Left: Jack Ellis Young (born - 31 January 1925 in Adelaide, South Australia died 28 August 1987 in Adelaide) was a world champion in 1951 and 1952. By winning the 1951 and 1952 World Championships, Jack became the first Australian to win two World Championships in any form of motorsport. He attracted as a fan young Ivan Mauger before Ivan started winning titles himself.
Above Right:
Ronald Leslie Moore
MBE (born 8 March 1933) is a former New Zealand international rider. He twice won the Individual World Speedway Championship, in 1954 and 1959 he paved the way for his Kiwi countrymen Barry Briggs and Ivan Mauger.
---
Munich
World Final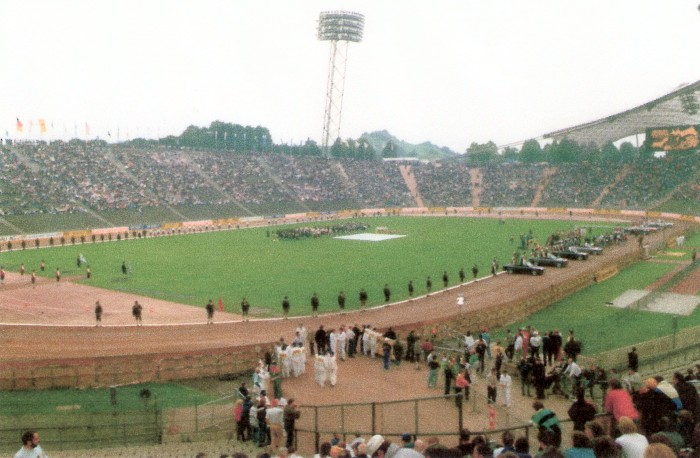 Graham Gleave has sent the two Munich World Championship Final pictures. Thank you Graham
---
Czech Golden Helmet Winner
Tony Rickardsson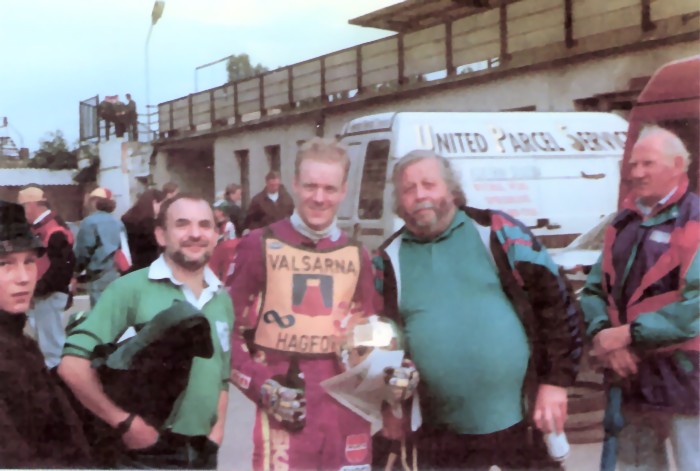 Courtesy of Graham Gleave
Graham Gleave With Tony Rickardsson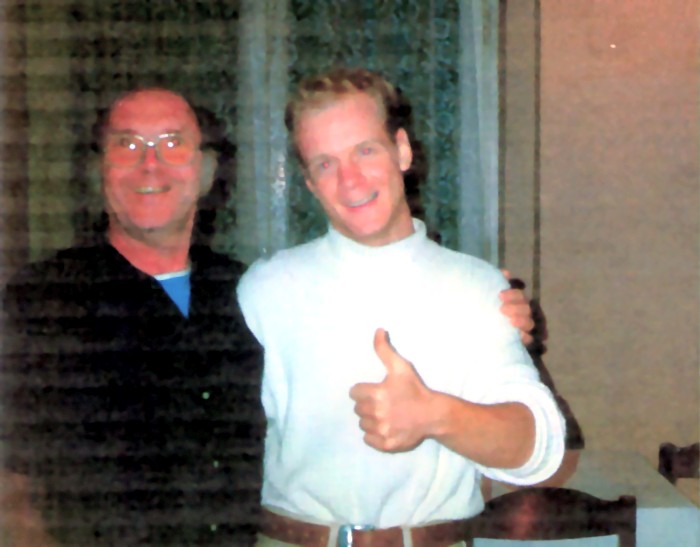 ---
Action From Birmingham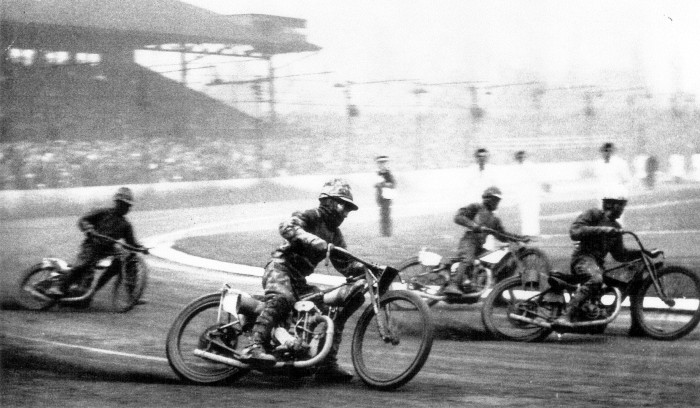 A fantastic picture Cyril Roger (Norwich) Eric Boothroyd (Birmingham) Phil Clarke (Norwich) Ron Mountford (Birmingham)
---
Douglas May Hutchins
aka
"Crazy" Hutchins
Hello John, I am Avalon Eastman and I am looking into my father's speedway record and wonder if you have any information at all you can share.
His name was Douglas May Hutchins, know as "Crazy Hutchins" and rode in the 1930s for Manchester Belle Vue, Preston, Poole Pirates and was a "Star Signing" for Southampton Saints. He had to give up when he broke his left ankle and this coincided with the outbreak of WW2 when he joined the Royal Signals. He had a Radio shop in Parkstone, Poole. I used to have some programmes with his photo on the front but some time ago gave these to his old school for their archives. I do have one or two photos.
Any clues will be welcome, thank you
If you have any information please email his daughter here
Avalon Eastman
Pardubice
Czech Republic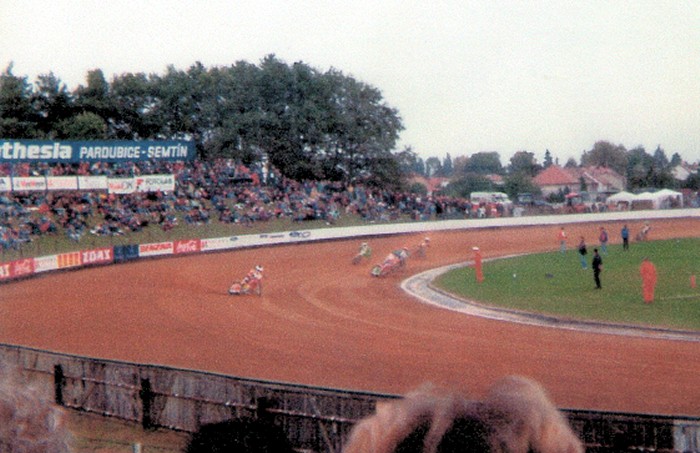 Courtesy of Graham Gleave
A big fast track. The scene of many a drama in international speedway. If you have any info/pictures or programmes please email me

John

I cannot help but compare this track to my home track Newcastle's Brough Park which I think would fit into the Pardubice centre green!
---
Wembley Speedway
Postage Stamps
Hans de Kloet of the Netherlands has sent the following image of British Postage Stamps. Hans is looking for information on the smaller 1936 pictures supposedly of Lionel Van Praag winning his world title at Wembley.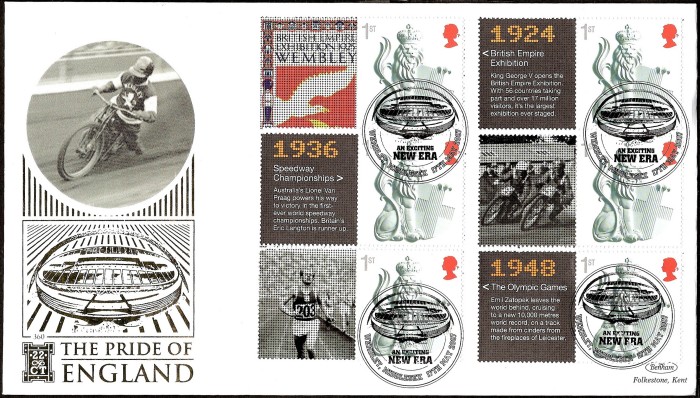 I am showing below 2 enlarged extracts from the sheet pictured above, featuring the 1936 Wembley world champion Australian Lionel Van Praag. The dotted matrix is how the stamp was printed so I could not remove the dots. Hans doubts the picture and he may well be right to doubt it! I don't know if the photo is Lionel at Wembley but I think not as there appears to be a roof low down unlike Wembley and the bikes were not numbered for speedway in 1936.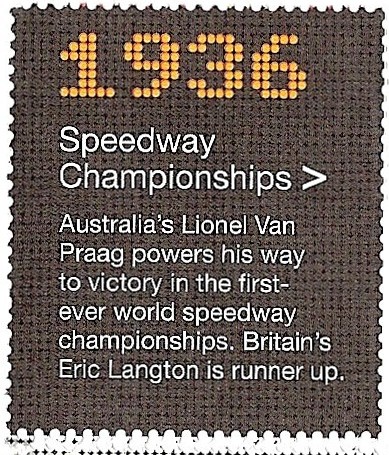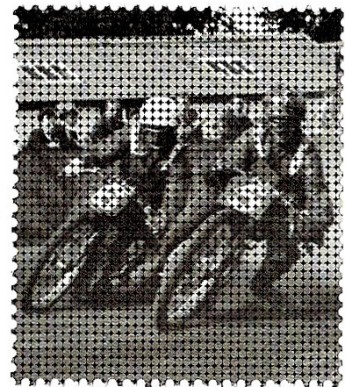 John says: I, like Hans doubt the stamps and I think it isn't Wembley in 1936 but is it Lionel Van Praag? I cannot tell that! It is maybe a picture of him riding elsewhere. If you can supply any information on this please email me
John
---
Ernie Odlum
1917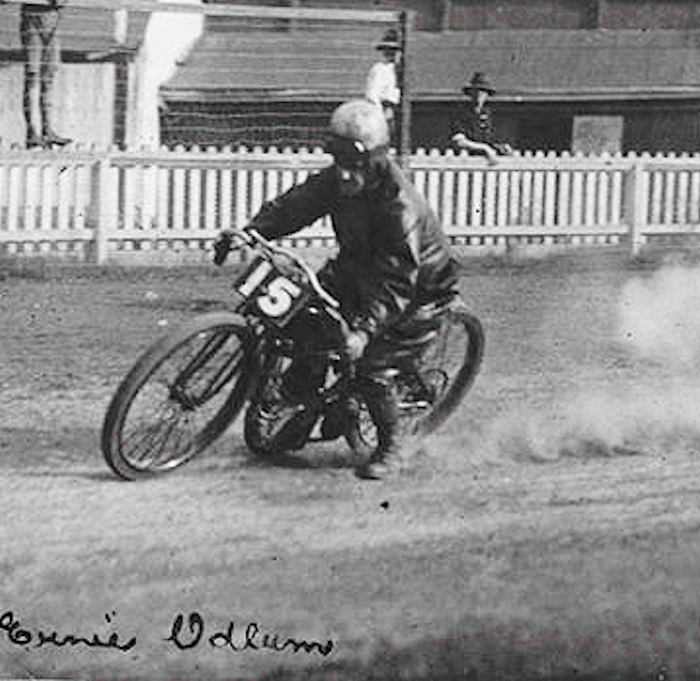 Courtesy of Tony Webb
Ernie Odlum Story
Ernie Odlum 1917! Was he the "first" Speedway Rider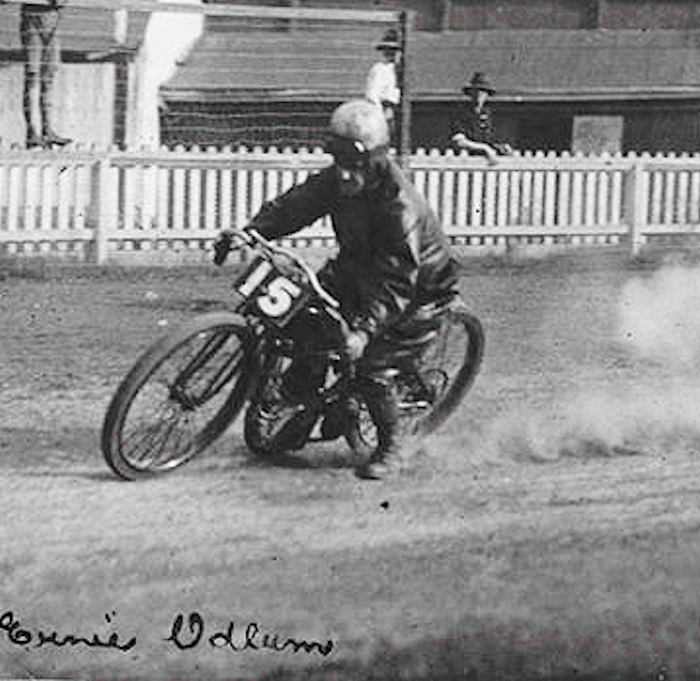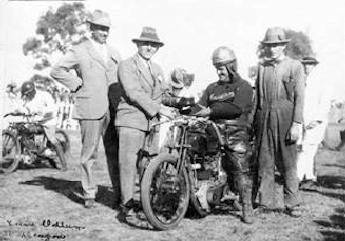 <![if !vml]> <![endif]>Tony Webb says: Ernie Odlum a great story
!
Queensland Speedcar Champion Barrie Watt gave me a newspaper cutting from August 13 1917.some information that will upset speedway history!!! Old time speedway rider Ernie Odlum, advertised as coming from Toowoomba, won the motorcycle handicap at Brisbane Cricket ground riding an Indian machine! The event was advertised as a Motor Gymkhana
Ernie then won the Queensland 3 and 20 mile Champion Deagon 5/11/1921 Queensland 10 mile sidecar champion 1/8/1925 Australian 6 mile Champion 1928 and Deagon 5 mile Champion 1928 and two Queensland titles at Deagon on November 5 1921 He also rode in the first meeting at the Ekka on October 16 1926.
1930 found him penniless living in a tent

at Amity point North Stradbroke Island, he survived for a number of years by breeding Angorah rabbits and fishing

he then

smoked and sold them. An upturn in his fortunes came when he won 100 pound in the Golden Casket. He then purchased a truck and started a delivery service. built a house and took a bride. He was a major influence in the building of the original Amity Point Community Centre

Truly a forgotten hero and could be Queensland's first speedway rider!
On a visit to Stradbroke island l I came up with some more info on the life of Mr Odlum, a rags to riches. journey that was repeated twice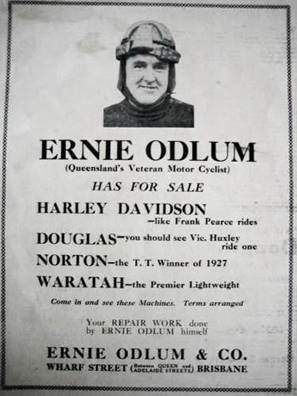 The above is courtesy of Tony Webb
---
North Arm Speedway

(Australia)
North Arm Speedway
was the first dedicated
motorcycle speedway
ever built in
Adelaide
,
South Australia
and was located in the
industrial suburb
of
Gillman
. It was run by the Speedway Riders' Association of South Australia and ran from 1981 until its forced closure in 1997.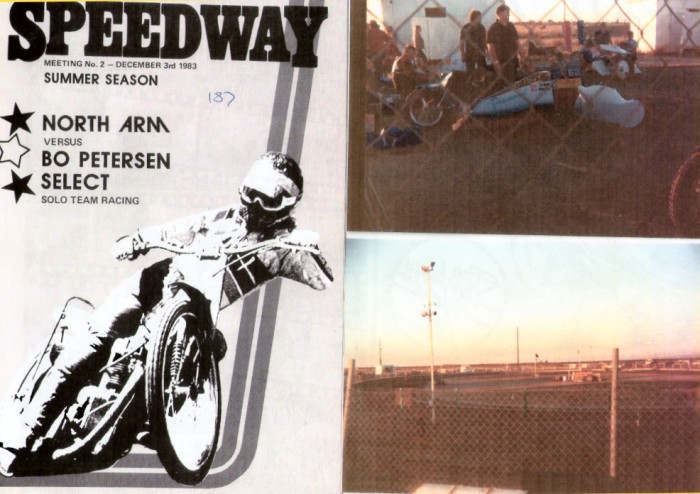 International Action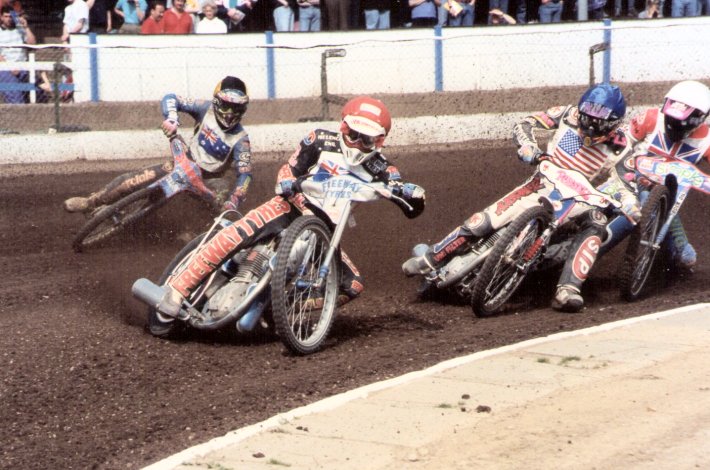 Leigh Adams, Craig Boyce, Josh Larsen and Joe Screen
---
The Late
Kelly Moran

RIP


& Ronnie Correy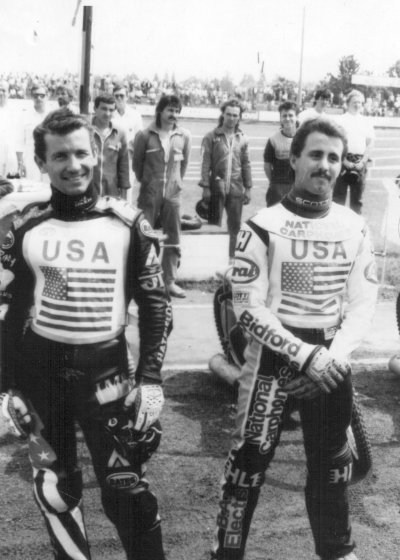 ---
GB v USSR
GB v USSR matches 1964/65 were great adverts for speedway and we turned out at various tracks around the UK in droves to witness Russians racing in Western Europe for the first time. I saw one of the USSR meetings held at Newcastle's Brough Park. I believe the crowd topped 12,000,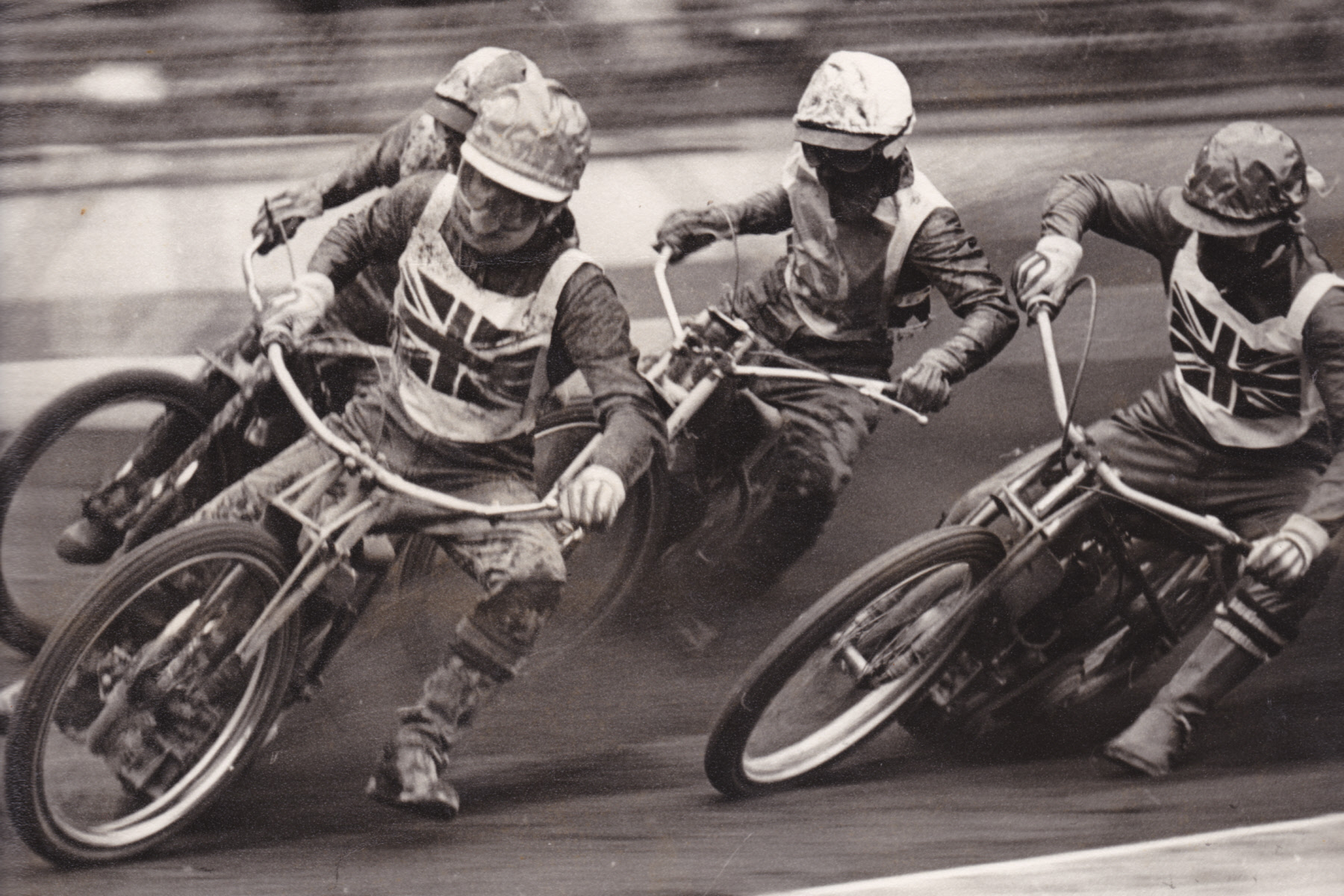 Courtesy of Steve Magro
John says: GB v USSR in the 1960s
Aussie Steve Magro sends this picture of GB versus USSR, asking :-
Is this Ivan on the left? Nigel Booey on right.

John says: I think so Steve. I would say yes to Nigel Boocock on the right but Ivan on left? just a maybe. I am amazed that I cannot be definite about Ivan. He was my childhood hero at Newcastle. The handlebars made speedway bikes what they were in the 60's. Perhaps modern day bikes need to revert to these old style bars to make our sport more attractive to spectators. I particularly like the bars on the Russian's bike clipped onto the top of the front forks. The JAP bikes used old style forks that you couldn't clip the JAWA/ESO bars onto.
So can you confirm the 2 GB riders as Ivan and Nigel, if so send me an email here
John
Dave Gifford says: Hi John mate. The photo of Booey and Ivan. I would say it is definitely not Ivan and that it could be Brian Brett. good to see the Toon back in business. giffy
John says: Thanks Giffy. Yes I can see that this could be Brian (Pommy) Brett. You and I should be able to spot Brian. Anyone else want to comment? Yes the Toon are doing well, both Toons are, Speedway and Football. The Diamonds riding high and Newcastle United back in the Premiership, winning 6-0 last week
John
Lee Dunton says: Hi, came across the photo on the website and it's definitely Booey but I think the other English rider is Trevor Hedge, however, could be wrong....
Great website. Lee
Mike Page says: I believe the identity of riders in the photo headed "Ivan and Booey" in the Name the Rider section of your website is solved. Brian Brett is leading with Nigel Boocock behind him, Vitaly Shilo (Y & B) on the outside and Boris Samorodov just outside Booey. The race is Heat 5 of the GB Vs Russia Test at Wembley on 4/7/64. The photo was in Speedway Star a week or so after the match. Shilo was badly hurt in a later race in the same match. Ivan did not ride in any of the matches against Russia in 1964 and 1965. Trust this resolves the issue.
Mike Page again, he says:
The shot was in Speedway Star dated 10 July 1964 and Speedway Post dated December 1964. Both agreed the English pair were Nigel Boocock and Brian Brett, but the Star said the Russians were Samorodov and Shilo whereas the Post said they were Kurilenko and Kadirov. I believe the Star was correct.
---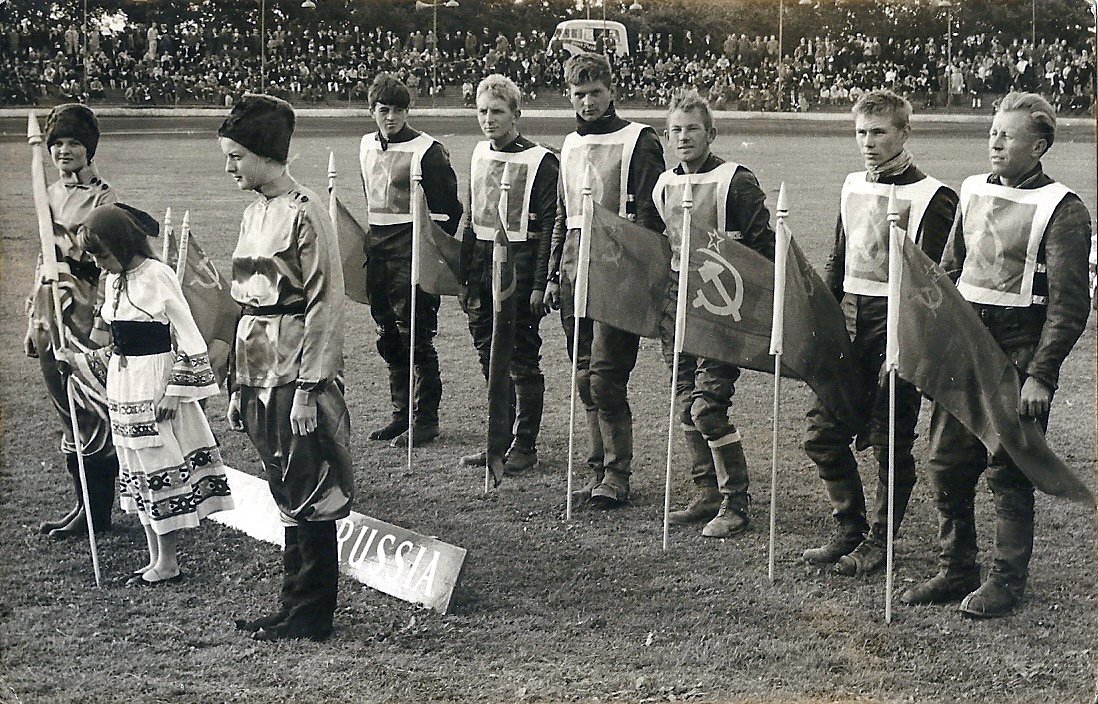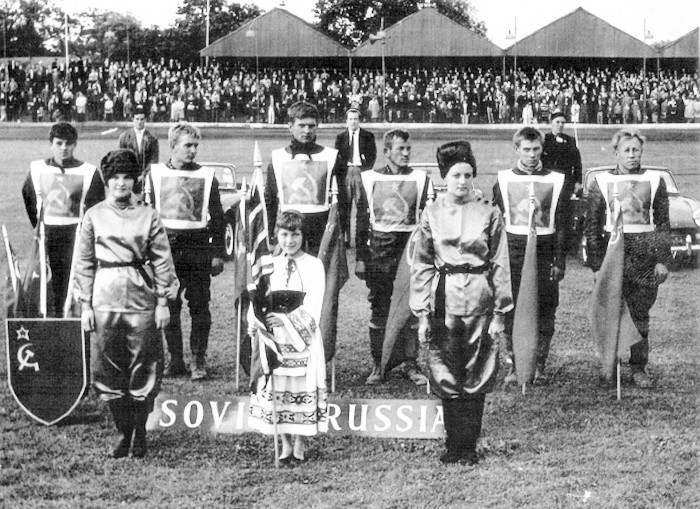 John says: We called them "The Russians" but officially they were Soviets from the USSR or as they called themselves the CCCP. Whatever the name they went under they were a fantastic touring side in the cold war era that was the 1960's. I can identify Gab Kadirov and Igor Plechanov the rest are a mystery to me so help me please with their names and the track
John
Lee Dunton says:

The Russians, 2nd from the left I think is Gennady Kurilenko, (forgive the spelling) 4th from the left is definitely Boris Samorodov.
Nick Short says: Gabdrakhman Kadirov, Gennady Kurilenko, Anayoly Gruzintsev, Boris Samorodov, Yuri Chekranov, Igor Plechanov.
Alan Charles says: Hi John that pic of the "Russians" was taken at Coventry in 1964 and it was the first time they'd ever been to GB. The D. Di Mascio ice cream van was always parked on the "Coventry" bend, how much more charming than turns three & four. The other, pits end of the track was the Rugby bend.
Note the nice touch of the national costume. That is down to the super showmanship of Charles Ochiltree who also had a fleet of brand new Triumph Spitfires (Coventry-made) to parade both teams around the track in pairs. The Russian guys seemed very happy to be here and contrary to what the cold war might have you believe they were friendly, handsome and sporting opponents. You can see the crowd was a good one, they are stood right the way down the terracing.
At the time Coventry was Sky Blue mad, the football team were doing well so to raise the profile of this unique event, for weeks before stickers proliferated around the city saying "the Russians are coming!". Our headmaster got a bit peeved about it so he made an announcement in assembly one morning by way of promoting the event in the hope that the stickers would stop appearing in the classroom windows!
The meeting was very close with GB running out winners 56-52 I think. The GB power team was Ron Mountford & Ken McKinley who both rode for the Bees I'll root the programme out sometime. Anyone who was there will never forget Gab Kadirov who caught a footrest in the fence and bounced half the length of the back straight only for him to remount and get a third on account of another rider having an EF!
The Russian bikes all arrived in a team coach and we all marveled at the fold back handlebars and extra long saddles on the Jawa Eso bikes
Fabulous warm sunny night with red ants swarming all over the concrete terraces ruining anyone's ice-blue jeans if they sat on them. The GB guys were all immaculately turned out, Ron How wore a white hankie instead of a leather face mask which looked so smart against his black leathers. Briggo looks a bit dusty! Booey & Broady looked fantastic in their Blue and Red leathers respectively. Kindest regards, Alan Charles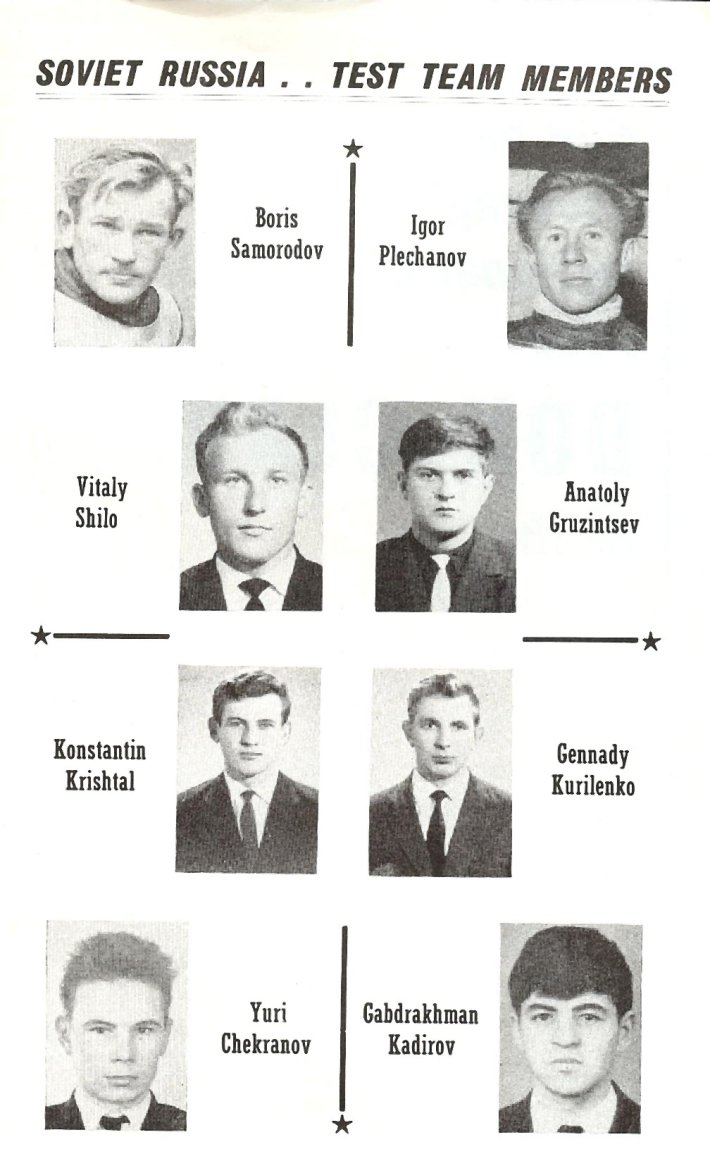 Chris Sweetman has sent the above programme scan which names most of the Russians. Gab Kadirov sticks in my mind as he had a Beatles hair do!
---
Leningrad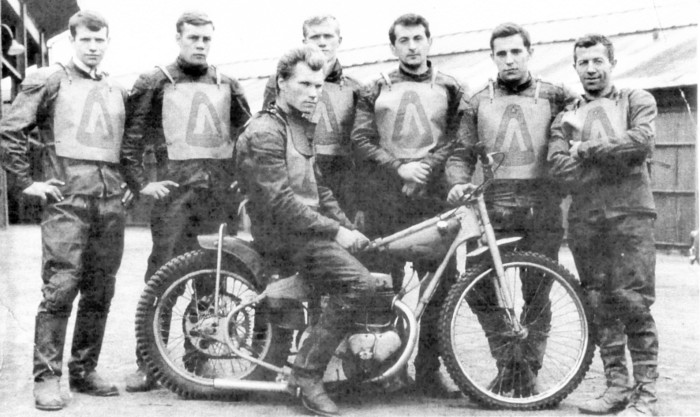 Courtesy of Graham Gleave
Graham Gleave has sent me this team photo which he says is the Leningrad team. The race jacket is one I haven't seen before, perhaps it means something to Russians?
Leningrad's
Ivan Andreev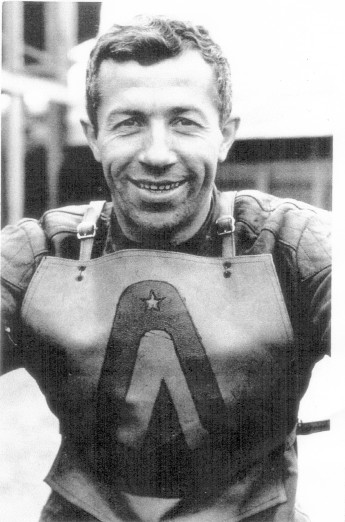 Courtesy of Graham Gleave
Ivan appears at far right in the Leningrad team photo shown above
More Images Of
Soviet Riders
Igor Plechanov &
Viktor Trofimov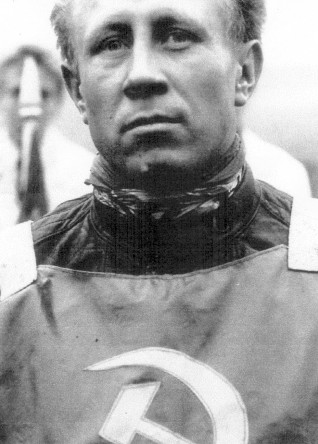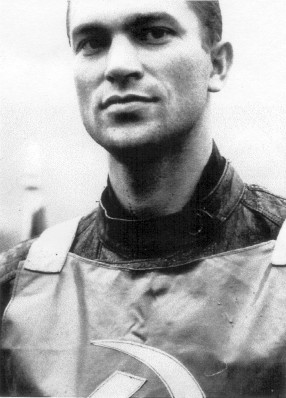 Courtesy of Graham Gleave
Gennadij Kurilenko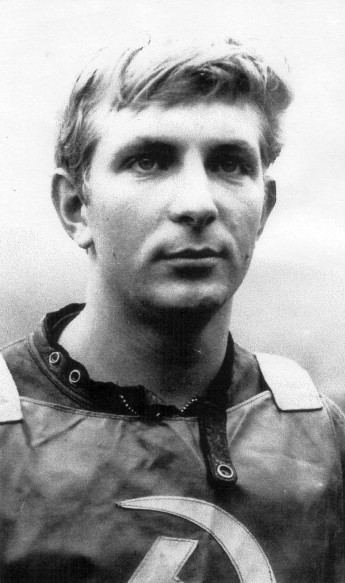 Courtesy of Graham Gleave
---
Speedway Researcher
Jim Henry's Items On Speedway's Pioneers
Scotsman Jim Henry often sends me items he has uncovered. Usually Scottish items but occasionally general items. I am pleased to display the following pictures, newspaper items etc. Jim uncovered the following items from the archives of the "Sunday Post", to whom I am very grateful as without the interest shown by our newspapers like the Post much of the sports past, names and events etc would have been lost to us.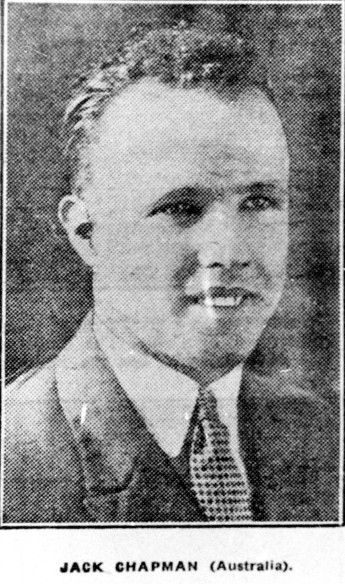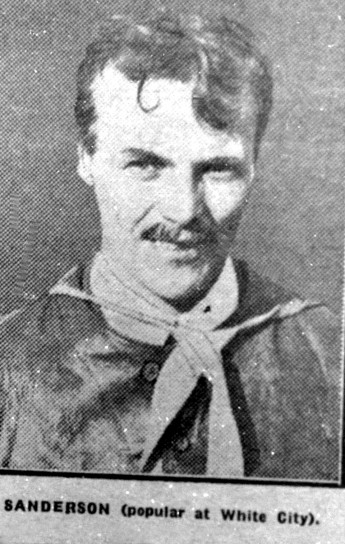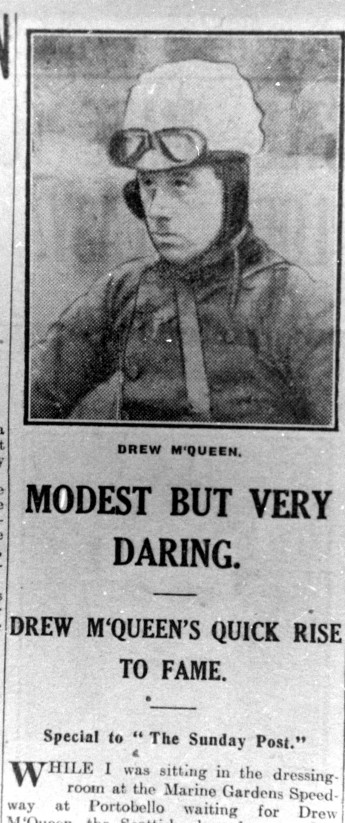 The above items relate to pre second world war, Glasgow White City and Edinburgh Marine Gardens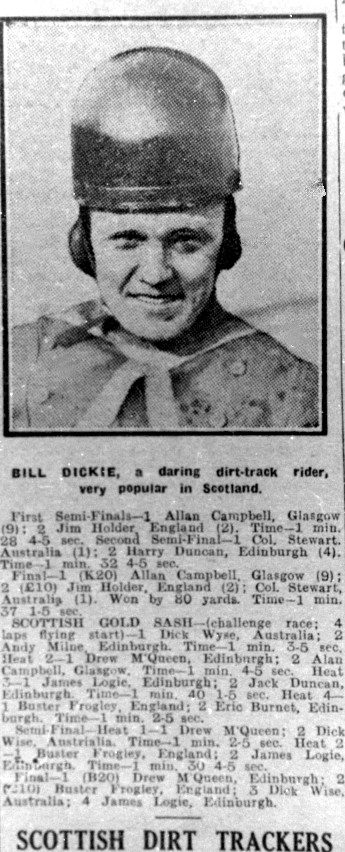 John says: Bill Dickie shown above, sporting the typical crash helmet of the era! The high crown served no useful purpose in the event of a crash. These early helmets were made of cork and did not protect the riders face or jaw. I had Kid Curtis' helmet loaned to me for a while. It was just like Bills, shown above and I tried it on. It was very uncomfortable and as I was used to riding a Royal Enfield on the roads late 1960s/70s with a modern helmet I wondered just how protective the old cork pudding basin helmets were! There were many head injuries in speedways early era and a few deaths from head injuries so I guess the old cork helmets were no real protection in a high speed impact.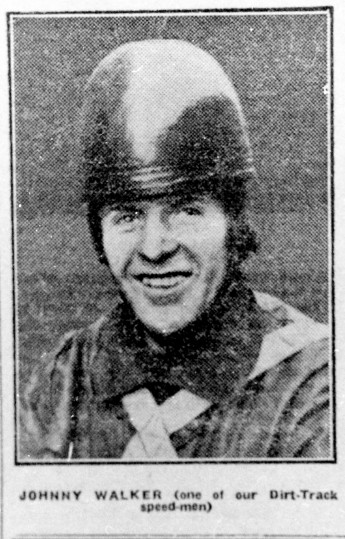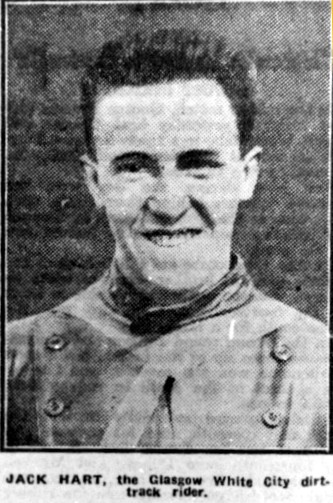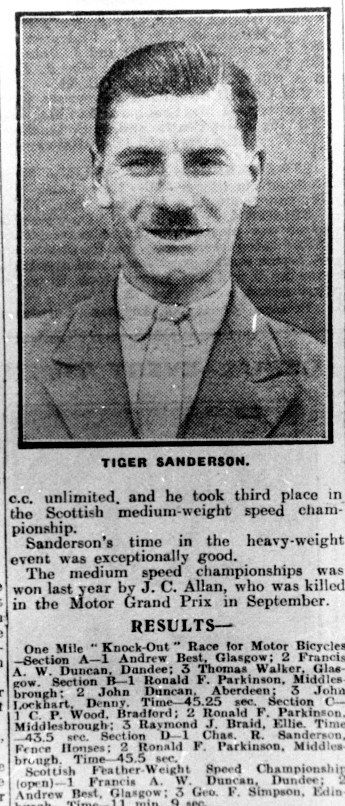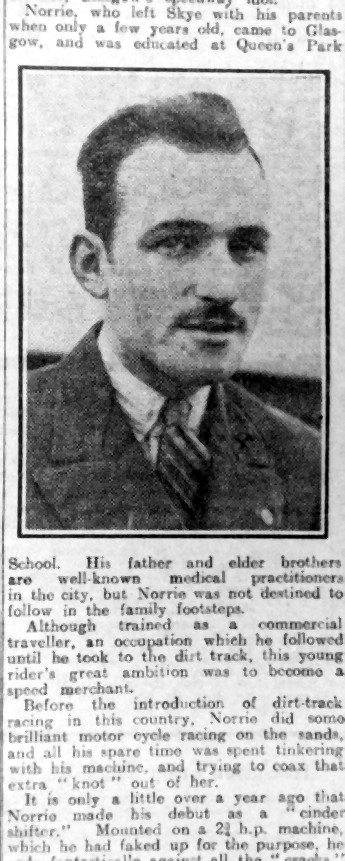 John says: Jim sent me this clipping re Tiger Sanderson. Tiger rode regularly in my home town, Newcastle but not at the famous Brough Park track, home of the modern day Newcastle Diamonds. He concentrated on Newcastle's other track Gosforth Park where he was the big name. Newcastle Gosforth lasted 1929-1931. I don't understand the clippings references to Medium Weight and Heavy Weight etc but obviously Heavy Weight referred to the better riders? The other rider (above right) Is Scotsman Norrie Isbister, who with Drew McQueen was a leading light of early Scottish Speedway.
Jim Henry says: Hi John, you comment you have no idea what this means (re Charles Sanderson). This was two of the classes in the Scottish Championships staged at St Andrews beach in the late 1920s. Not really studied in detail but I'm sure heavyweight was the larger capacity machines whilst lightweight was smaller capacity machines. The annual events were reported in Scottish press and specialist motorcycle magazines. When I've time I'll see what I can dig up. Sanderson was a regular competitor in motorcycle events in Scotland before and after is dirt track days.
---
Jack Parker On A Douglas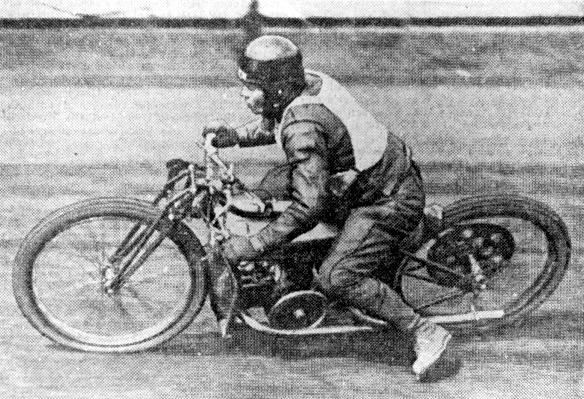 English superstar Jack Parker was well known to speedway fans of the Scottish tracks. Jack is shown here riding a Douglas Dirt Track bike. Douglas machines dominated in the late 1920s but by 1930 they faced a stiff challenge by Rudge and then the JAP machines.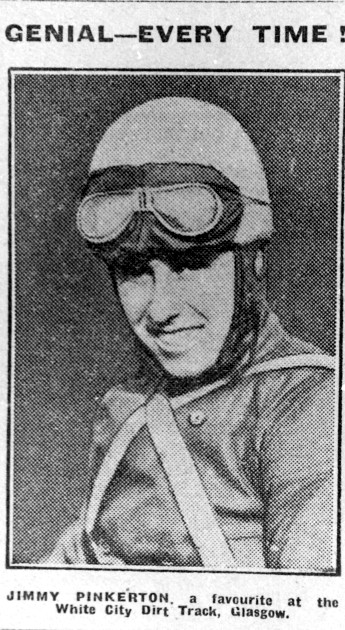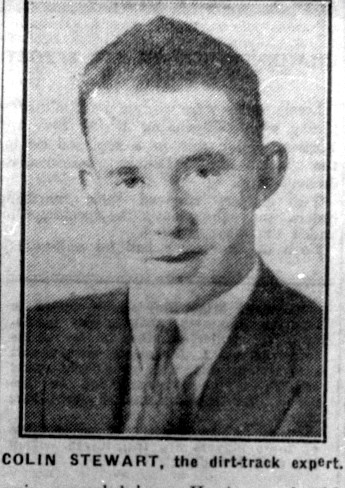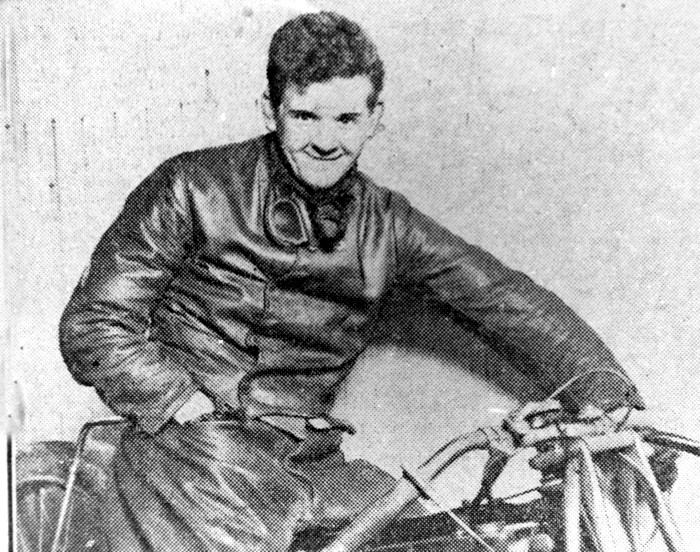 John says: I think the above picture is of Eric Langton. Correct me if I am wrong
John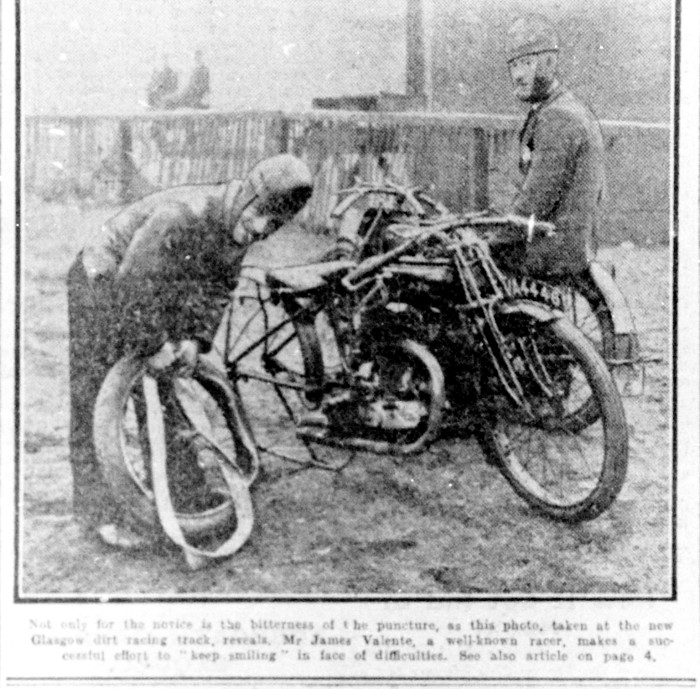 James Valente fixing a puncture on his AJS machine. British bike AJS was quite successful on the 1920s tracks until Douglas, Rudge and JAP swept the AJ's aside
---
1930

England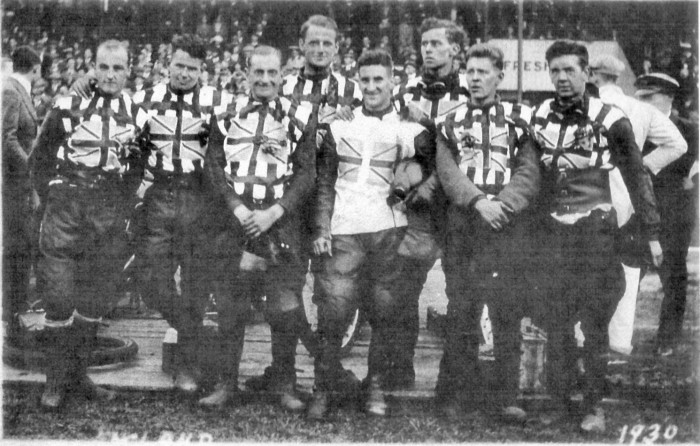 Courtesy of Graham Gleave
1931

England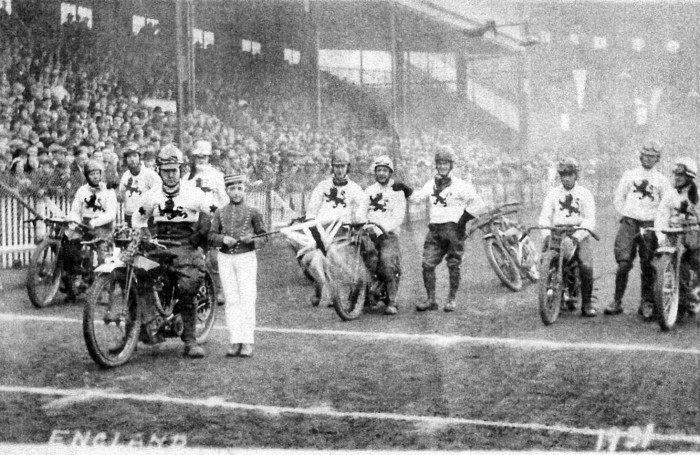 England v
Australia Riders
1947 To 1953
I believe the following images from Don Price are relevant to riders who took part in the England/Austrailian internationals in that period. Can you help with riders names, tracks and years, or any other info
John
Les "Smiler" Wotton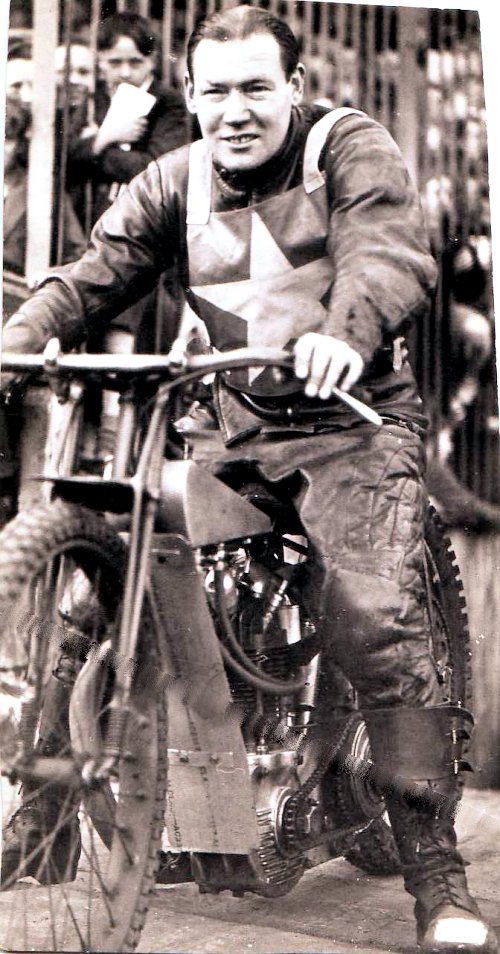 Steve Baker says: Hello John, hope you are keeping well. I see you have some new photo's from Don Price, which no one seems to have named yet, so I thought I would have a go, though I am not so hot on pics from this period. Firstly, I would say they are all from circa 1947/48
Steve Baker says: This is Les Wotton of Wimbledon
Col Greenwell agrees:
Les "Smiler" Wotton. (Wimbledon race jacket). (Rode for them 1947-49)
John says: Would the "Smiler" nickname have anything to do with Les' gappy teeth?
---
Archie Windmill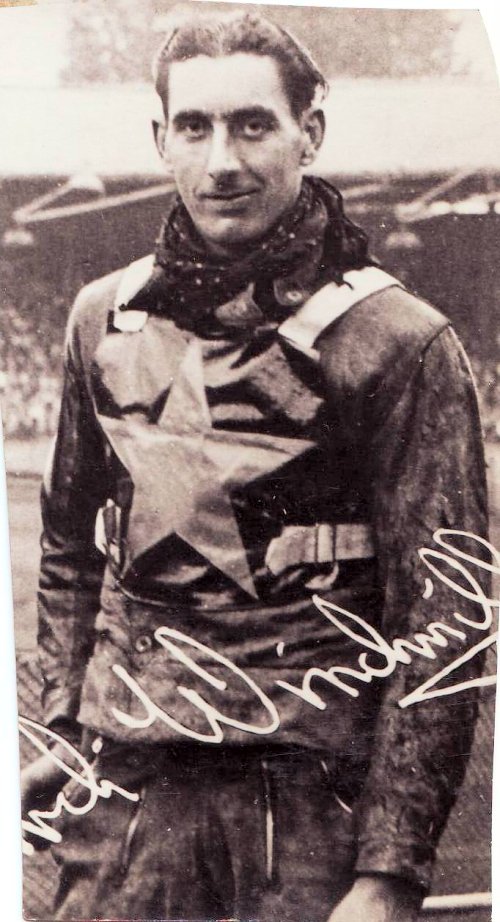 DP2: John says: The scan has an autograph apparently Archie Windmill can anyone substantiate this
John
Steve Baker says: This is definitely Archie Windmill of Wimbledon
Col Greenwell says: Arch Windmill. Rode for Wimbledon 1946-49.
---
Heat Maximums
Rowan Watt has sent an image of a Crayford v Berwick and Workington programme 15th July 1980. The meeting was a double header, perhaps Berwick did a lot better than Workington? Crayford are in a select club of teams that have scored a 5-1 in every heat, in fact in this match they also had a 5-0 in heat 2.
Crayford 65 Workington 12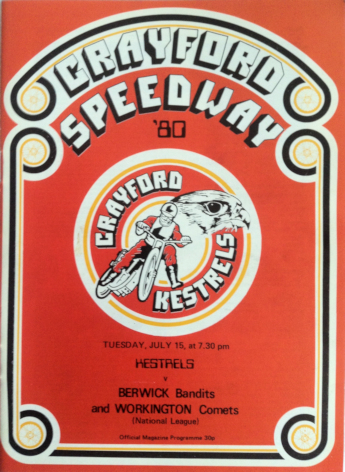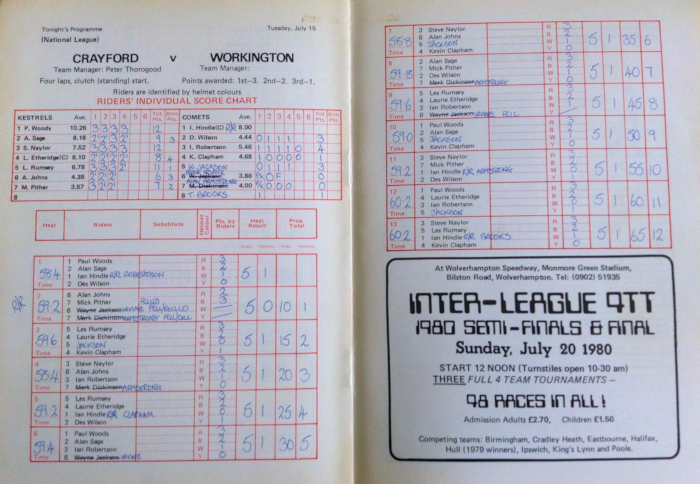 All 7 Crayford riders were on full or paid maximums and Workington's Ian Robertson top scored with 4 points, I will not embarress the rest of the comets! In 1980 we had 13 heat matches which would have returned a perfect score of 65-13 but this match finished 65-12 due to both Workington's riders in heat 2 falling and neither remounted to finish the heat. If you know of any other whitewashes please scan the programmes for me John
---
Harry Saunders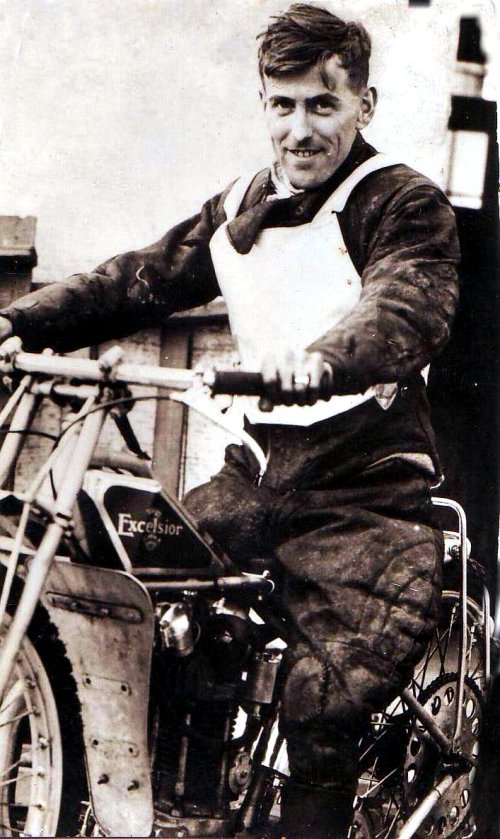 DP3: A great picture showing Excelsior on the fuel tank. Excelsior made road bikes and speedway frames. This bike would have housed a JAP engine.
Steve Baker says: This is Harry Saunders
Col Greenwell says: .???....Annoying... I have seen the pic before...can't give the name..!!!
---
George Wilks Left
& Charlie May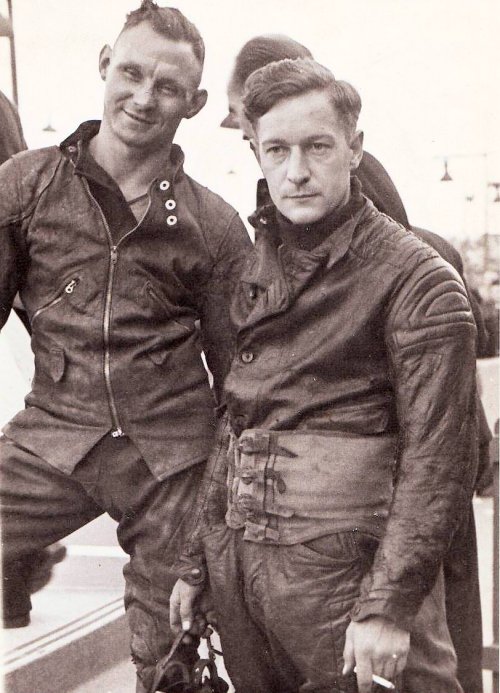 DP 4: A great pose in menswear circa 1946/48.
Steve Baker says: George Wilks and George Saunder
Col Greenwell says: Looks like George Wilks on the left. Have a look on your
Wembley
page in the A-Z. He rode for Wembley 1946-54. Missed 1949 when he was at West Ham
Fred Pallett says: George Wilks is on the left and Charlie May on the right. They were both riding for Wembley in 1946-47, so the photo was probably taken during that period. By 1948, May had moved to Walthamstow. Wilks remained with Wembley until his retirement in 1952, except for the 1949 season when he was loaned to West Ham to cover for the injured Eric Chitty.
---
Bill Matthews Left
& Unknown On The Right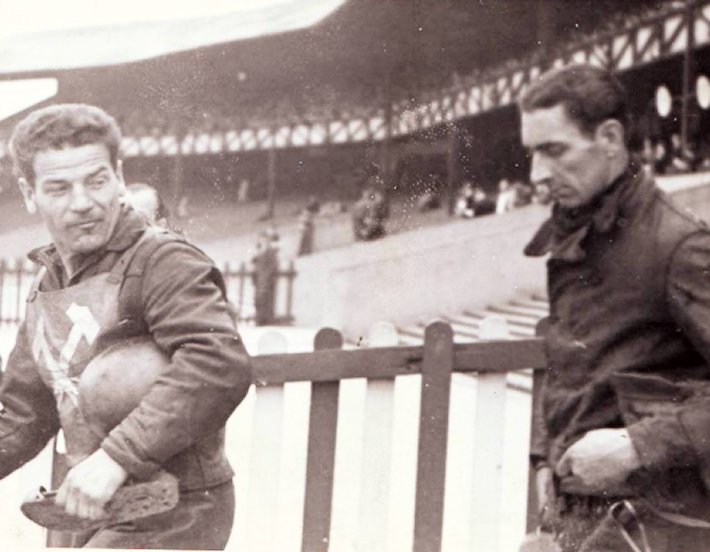 DP5: A great pic for what is the rider on the left saying! Did he suffer from flatulence, I wonder!
Steve Baker says: Picture taken at Custom House, West Ham, the guy wearing the Hammers jacket is Bill Matthews, though I am not sure about the other chap. Perhaps Archie Windmill again?
Col Greenwell says:
On the right looks like Arch Windmill again to me.
The above photo's owner Don Price says: "My dad was a speedway fanatic. He had a poster and sign writing business and supplied most of the posters plus the visiting riders name boards for the pits. He became good friends with the owner Les Marshall.. I think his favourite rider was Graham Warren ( a real superstar then) and later Alan "Wacker" Hunt. I could write a book on this era alone!! Hope you enjoy the pics." Don Price
John says: These 5 photos are 60 + years old. My thanks to "DP" Don Price for sharing them with us.
Don Price has sent us some further photos, which I have added to the Harringay and West Ham pages in the websites A-Z. He sent one more photo for naming It is from an England v Australia test match, have a look below and let me know if you can name the riders and the track
England v Australia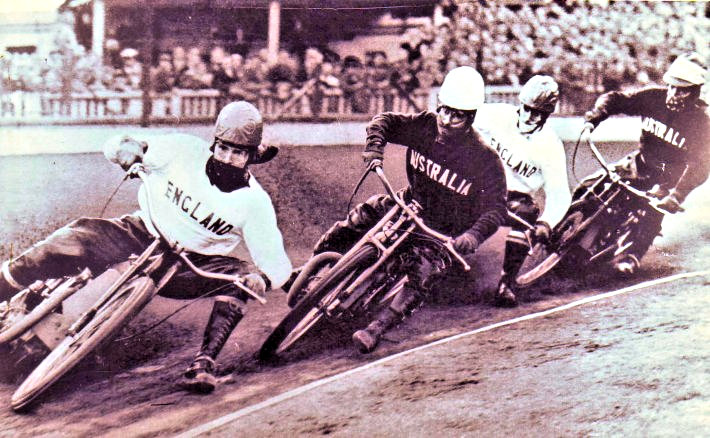 DP6: Steve Baker says: I think this is New Cross 1950 and the riders are Cyril Roger, Bill Longley, Tommy Price and Aub Lawson
John says: These riders are queuing along the white line. I would say they were very skillful to ride so close or maybe the photo was taken a split second before they came to grief
---
1935

Australian Team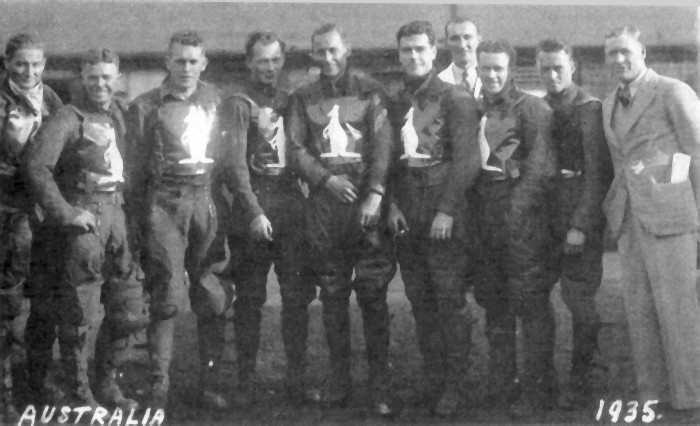 Courtesy of Graham Gleave
1948

Australian Team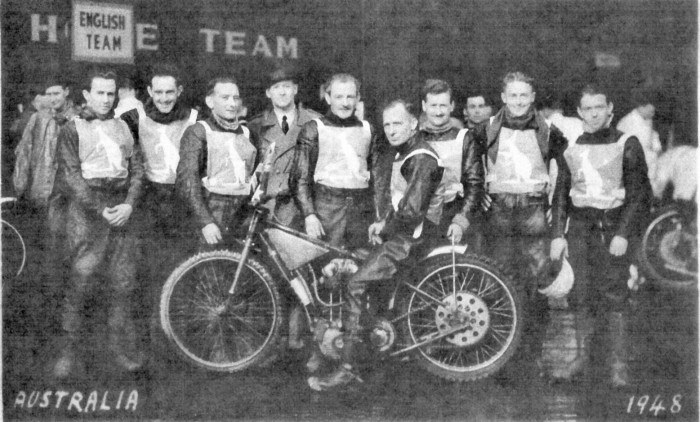 Courtesy of Graham Gleave
---
Grass Tracking Photo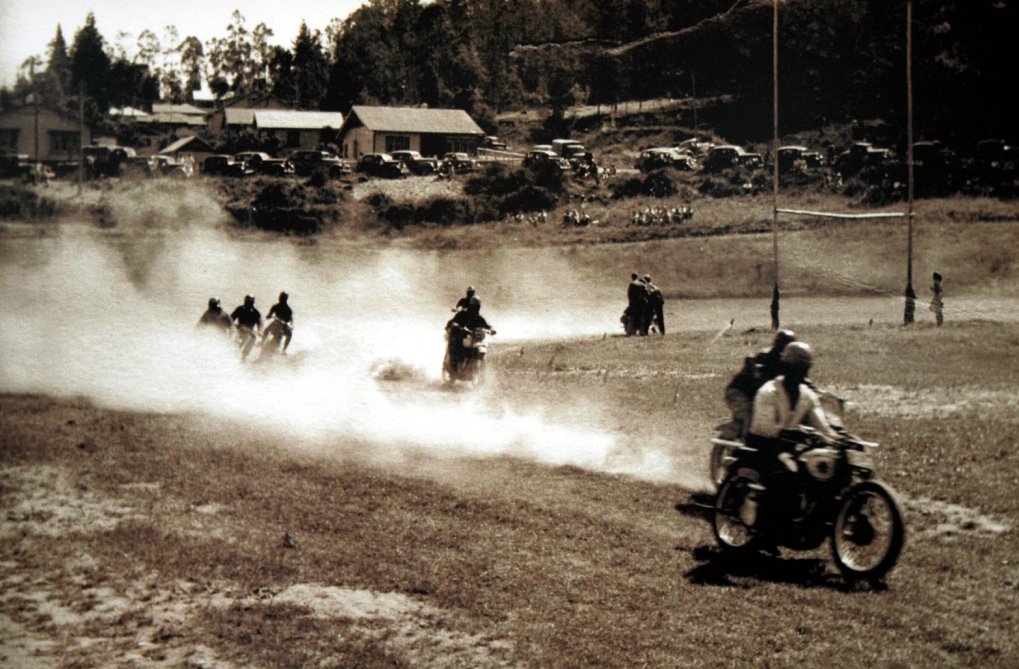 Courtesy of Steve Cummins
Steve says: This photo features Queenstown New Zealand I guess about 1940's 8 riders around the rugby pitch. Does anyone else have the photo and can you supply more info. The bike in front could have the BSA emblem on its petrol tank
---
1953

Amsterdam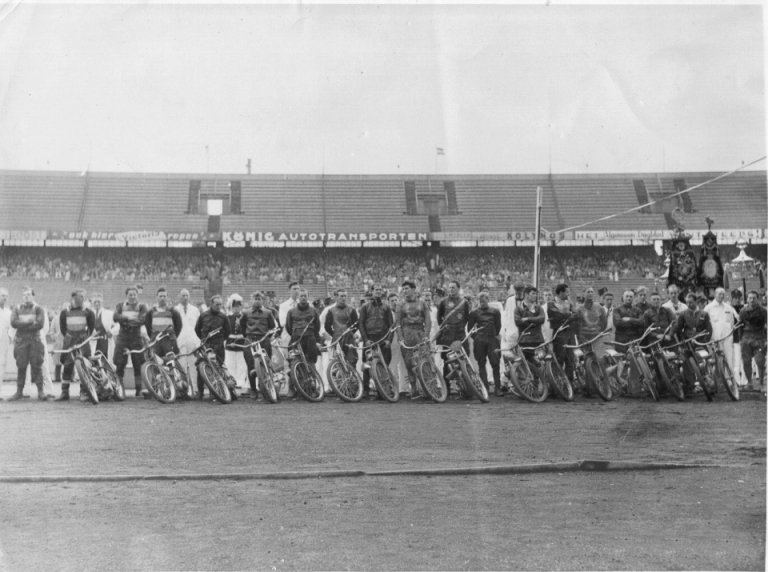 Courtesy of Reg Fearman
Amsterdam 1953 can you name anyone in the line up?
John
I can see Reg Fearman in the centre
Bob Bath says: The only one I can pick out is good old Reg Fearman, he's the tall guy in the middle with the Leicester Hunters race jacket. Cheers Bob Bath
Reg has become a friend of mine we exchange emails all the time.
So Reg Fearman says: Some of the stars of the day in the photo are from the right Phil Bishop, Roy Craighead, Jock Grierson, Fritz Dirtl, Josef Hofmeister, me, and Henny Kroeze's father. When I get home I shall look at the original and see if there is any more I can identify.
Henny Kroeze says: About the picture from Amsterdam: I am not sure it is Amsterdam,could be Rotterdam! It is not 1953, it is 1954. The Result from 1953 on the 10th of august was as follows: Tonny Kroeze17 points Kiehn Bertelsen 16 points This was after a runn off.#th was Jonker 13 Andersson11 Howdy Byford 11 Josef Hoffmeister 9 Albin Siegl8 Ronny Ganz7Fransdon6 Molef6 Wilf Plant6 Phil Bishop5 Stabirk4 Mytchel2 Newton2 Laudrum1.
Results Rottredam 1954 Andersson13 TonnyKroeze13 Kiehn BertelsenJack Grierson12 JimmyCooch Seidl10 Kesselmans9 Murphy6 Hoffmeister4 Erhardt 3. Searman 2. These are the results that i found out. Searman was riding for New Zealand. You must have ridden under a false name and a false nationality. He Reg I think you were blackriding hahaha.Hope you likei t ,if you want to know more we have a nice speedway museum in Holland so if you come over i could take you there. Bye for now and regards!!
---
Great Britain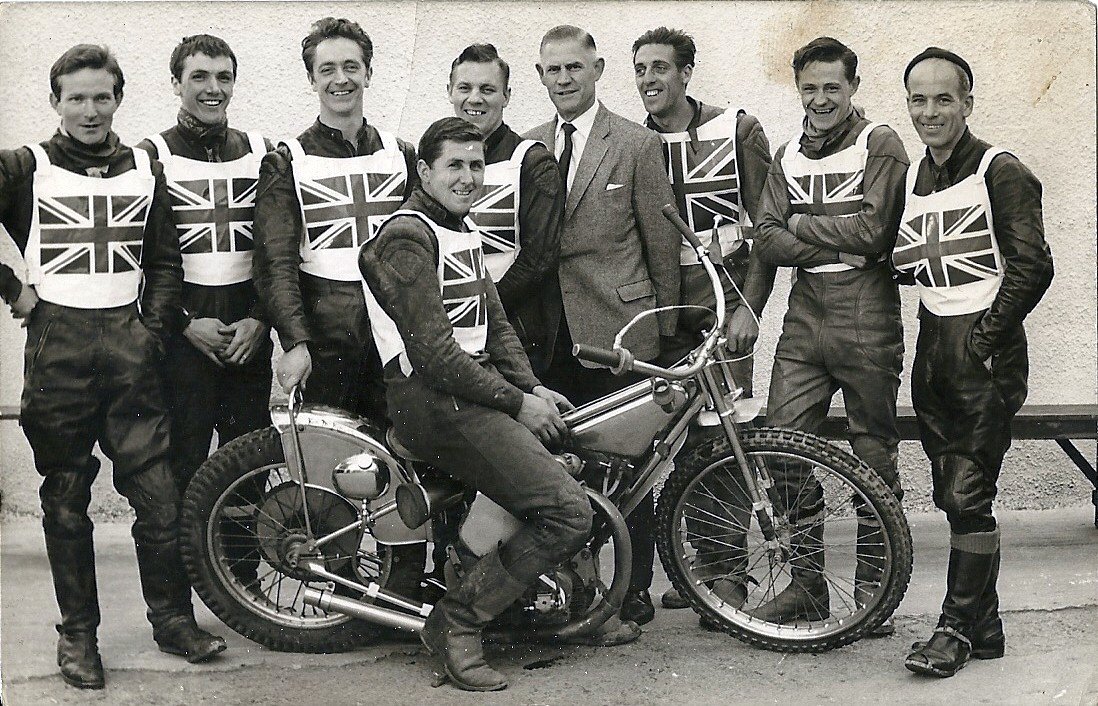 Courtesy of Nick Short
I can see Brian Brett, Mike Broadbanks, Nigel Boocock, Ken McKinley and Barry Briggs wearing the union flag so that is 4 to name
John
When I look at the old Japs with Cow Horn handlebars I wonder about modern bikes and their short bars. Why did they change? Bring back the old bars on modern bikes, I suspect the racing would be more spectacular. I will ask a couple of riders from the 60's about this.
Ivan Mauger says: Hi John. The Bars were big on the JAPS as there was a lot of dirt on the tracks those days going into the corners. Now not so much, Briggo called me Spouts in 1958 as I had my bars low. It has taken the modern riders 50 years to catch up with me! Cheers Ivan
Ian Jaycocks says:
Dick Fisher, Brian Brett, Ron How, Ron Mountford, Tommy Price, Mike Broadbanks, Nigel Boocock, and the wonderful Ken Mckinlay, Barry Briggs on bike, looks like Kens bike, Briggo never had a JAP that was that good looking.
Nick Short Says: L to R – Dick Fisher, Brian Brett, Ron How, Barry Briggs on bike, Ron Mountford, Tommy Price (manager), Mike Broadbanks, Nigel Boocock, Ken McKinley.
Lee Dunton says: Dick Fisher (Belle Vue), Brian Brett (Swindon), Ron How (Wimbledon/Oxford), Ron Mountford (Coventry), Tommy Price, Mike Broadbanks (Swindon), Nigel Boocock (Coventry), Ken McKinlay (West Ham), Barry Briggs (Southampton/Swindon) on bike, only a guess where they were riding at that time.
Lee Dunton says: My feel on the handlebars was that Renthal made some shorter straighter bars for the longer tracks, less wind resistant, they took off in Aussieland then everyone bought them. this was around the early mid seventies. Personally it made identifying riders harder, when they had their own distictive shaped bars when coming to the tapes you didn't need a programme to know who was lining up where.
Colin Jewes says: I acknowledge the cowhorn handlebars on a Jap look great, as for many of us they were of the time of our formative speedway years. However, they just didn't sit right within a Jawa frame.
In 1971 when Brum re-opened I was dope-&-oiling for skipper George Major who was pretty much king pin around Perry Barr, (but not the Perry Barr track of today, 2014.) George was still riding a Jap, and took a lot of friendly stick from other riders when they saw his machine. With his success he was able to a buy a brand new bike, a Jawa, understandably, but to which he transferred his cowhorns. His scoring went right off and he was struggling! After several meetings he re-fitted the bars that had come with the Jawa and his scoring was back into double figures. The riding position of cowhorns in a Jawa just isn't the same as when in a Rotrax-type frame.
---
Young England v Scotland


1972 Or 1973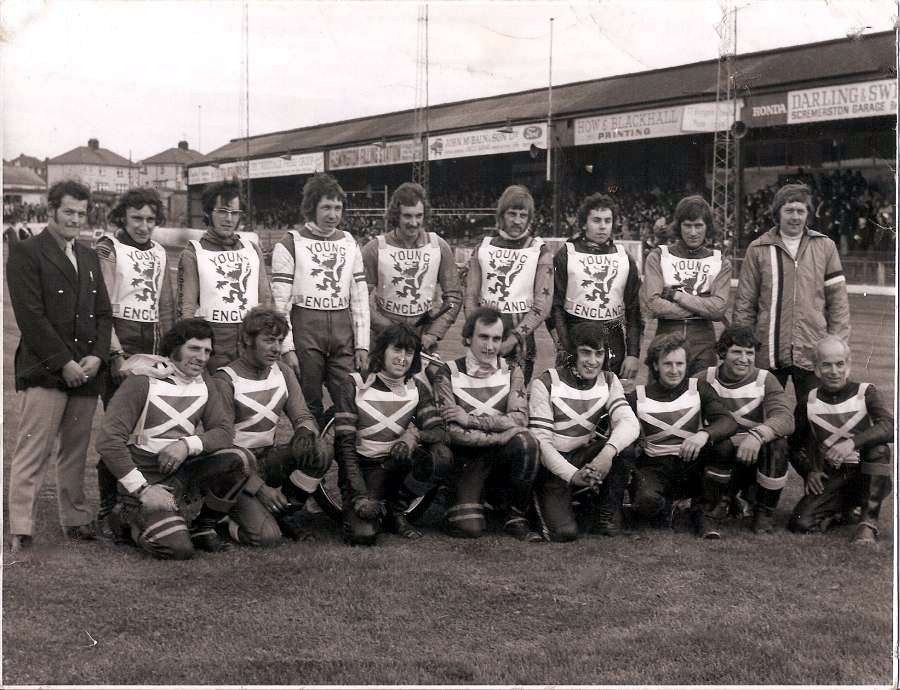 Courtesy of John Wilson
This picture was taken at a test match at Berwick in 1972 I think. "Young England" v Scotland but not a "young Scottish side" the considerably older Hurri-Ken McKinley is crouching at the far right and the evergreen Templeton brothers also not young were riding for Scotland.
Steve Brown says: This was actually held on June 5th, 1973, and was the first of a three-match series. Scotland won 3-0, by scores of 60-48 (Berwick), 70-38 (Sunderland), and 66-42 (Teesside). From L to R Young England : Peter Reading, Frank Auffret, Bruce Forrester, Mitch Graham, Graham Jones, Geoff Davies, Dave Gatenby. Scotland : Doug Templeton, Wattie Robertson, John Wilson, Andy Meldrum, Mick Beaton, Jimmy Gallacher, Willie Templeton, Ken McKinlay.
John Wilson (pictured) says: Wattie is between Andy Meldrum and Jimmy Gallacher
Grant Crawford says: I daresay you have already been given corrected details of the photo but in case you have not the rider next to Dougie Templeton (2nd left) is Ally Brady. His son Ross rode for Edinburgh, Glasgow, Kings Lynn & Peterboro' a few years back until injuries took their toll. Love the site Regards, Grant
Bob Ferry says: Hi John, On your defunct tracks site, name that rider section, someone states that in the England v Scotland series, Scotland won 3-0. Well I don't know about the other results but at Sunderland England won 70-38, and I think England were too strong for Scotland at that time. Wouldn't be surprised if it was England winning the series 3-0 and not Scotland.
Best Wishes, Bob
S

teve Cummins says: Dave Younghusband is on far right standing
---
Australia v England Test
Late 1940's Or Early 1950's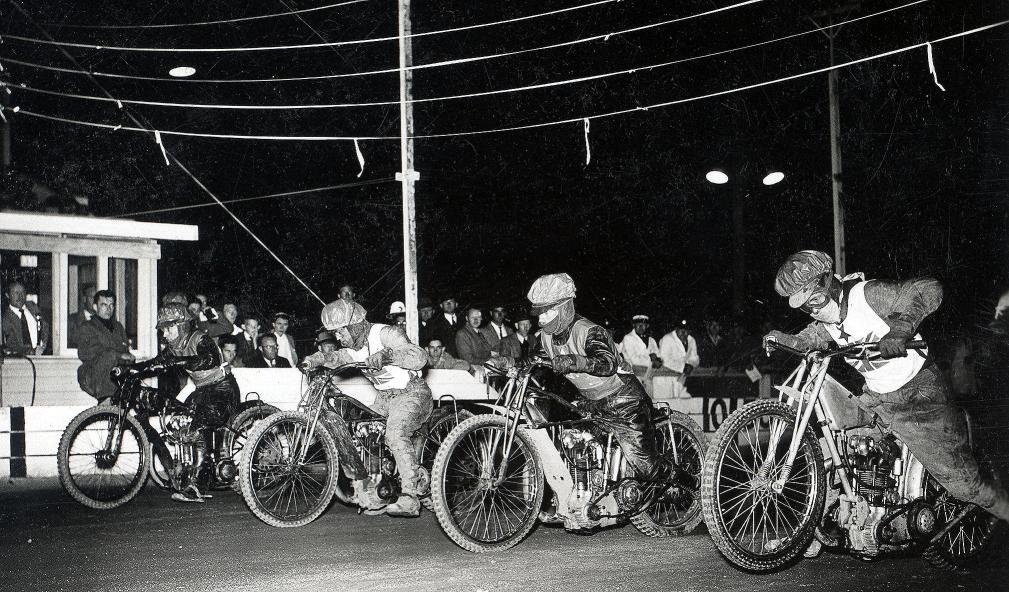 John says: Can anyone help with names/track/year for this photo please
John

Reg Fearman says:
From the outside. Aub Lawson, Dent Oliver, Bill Longley, ?

Mike Kemp says:
the rider on the inside is Jack Parker

John says: can anyone name the track?
John
---
Stars of Speedway
Circa 1949 ish!
Scans of a booklet from around 1949 received. I am showing this excellent little publication in all of it's glory below:-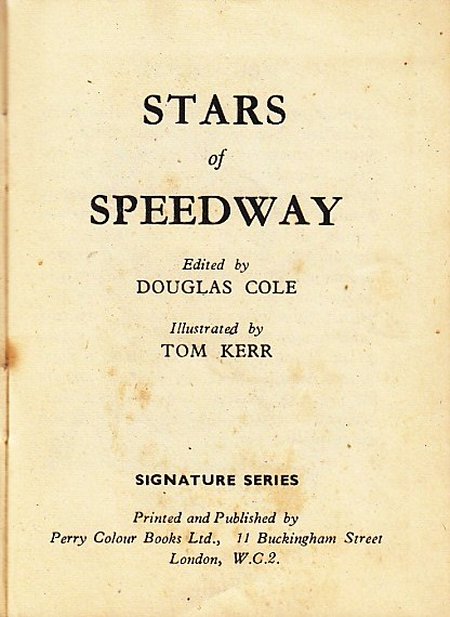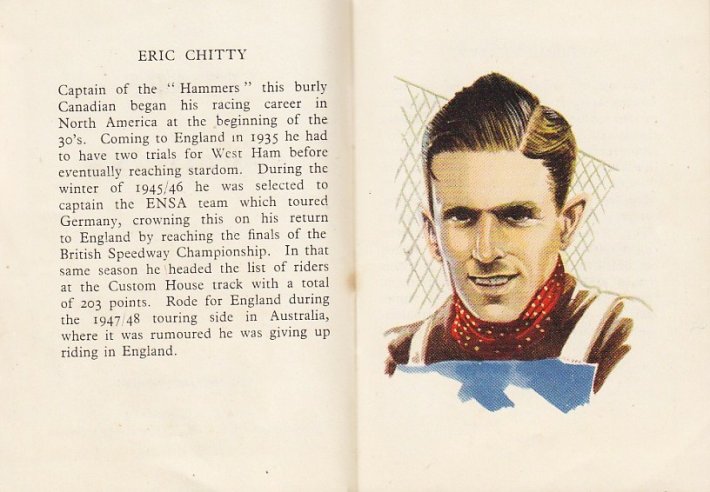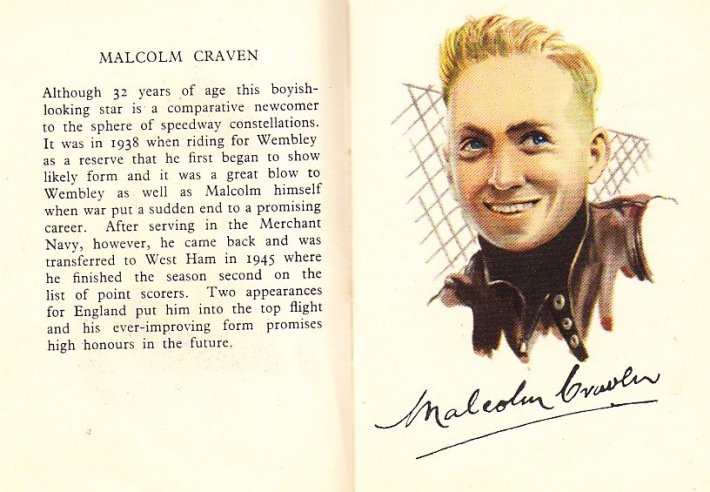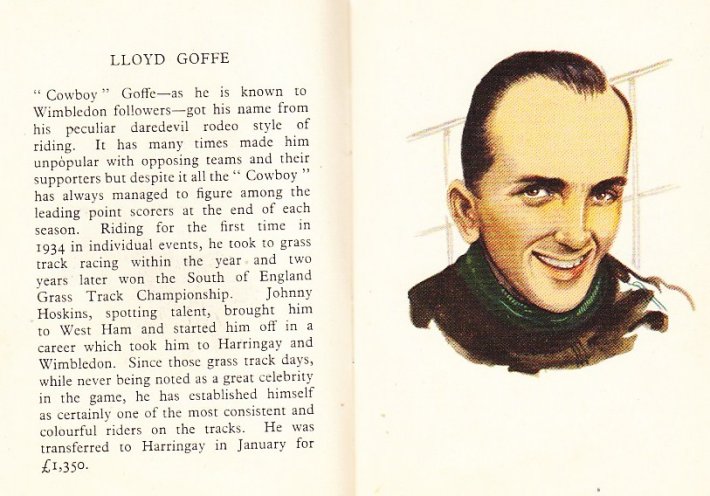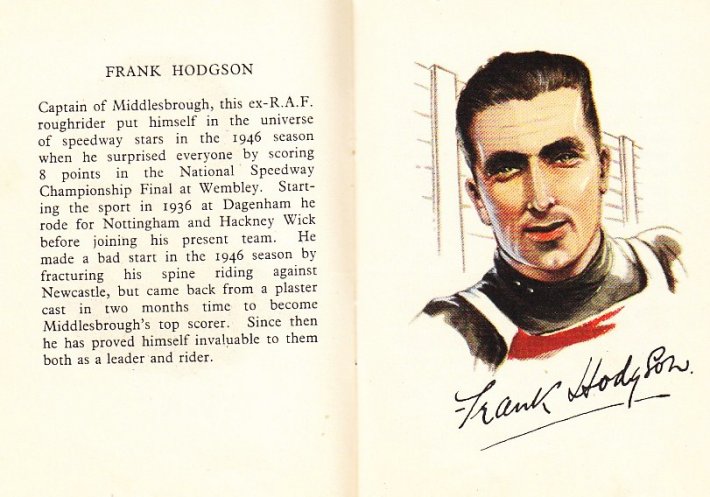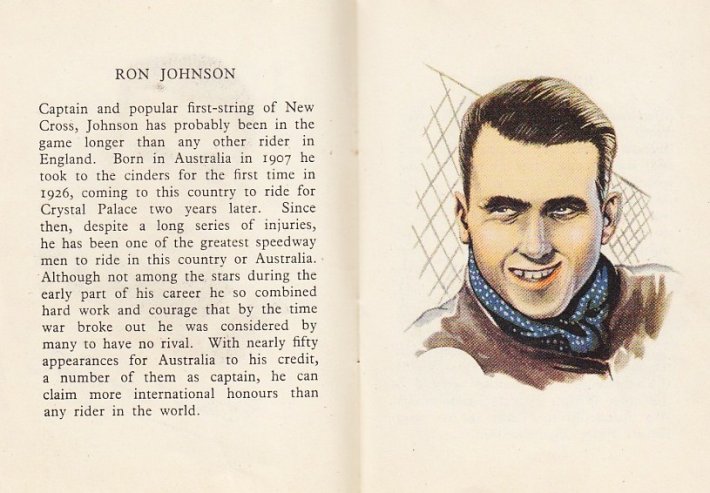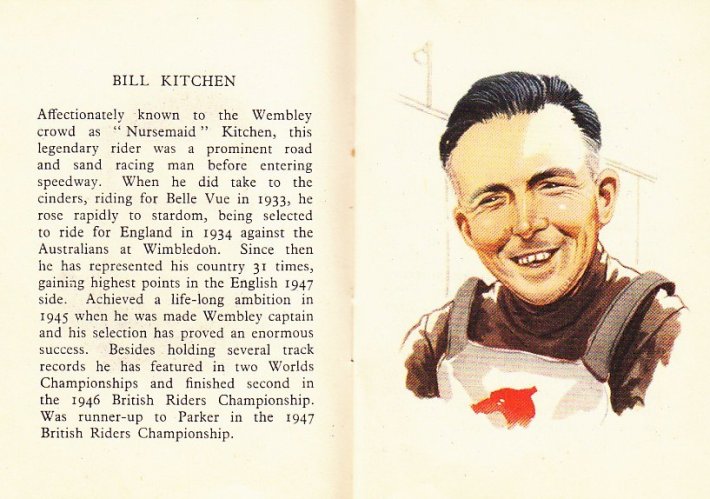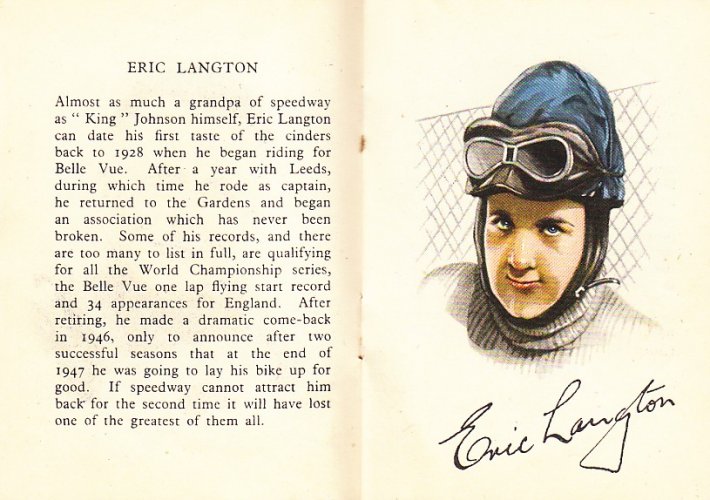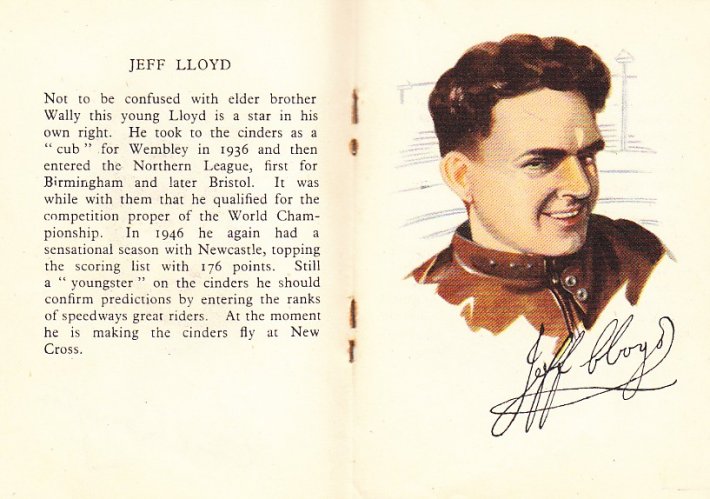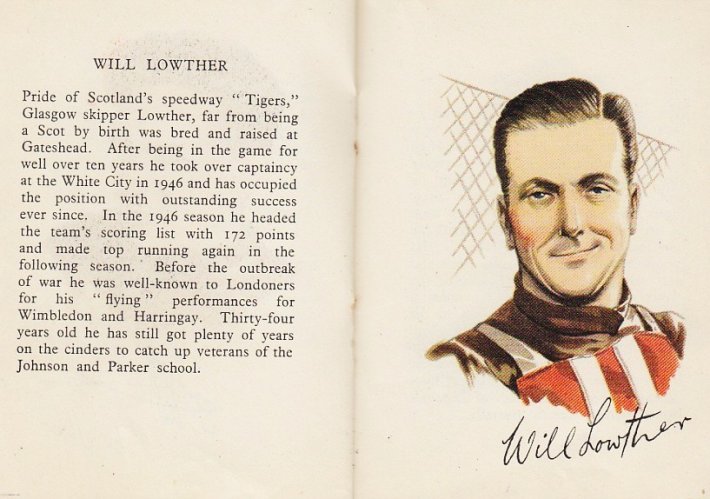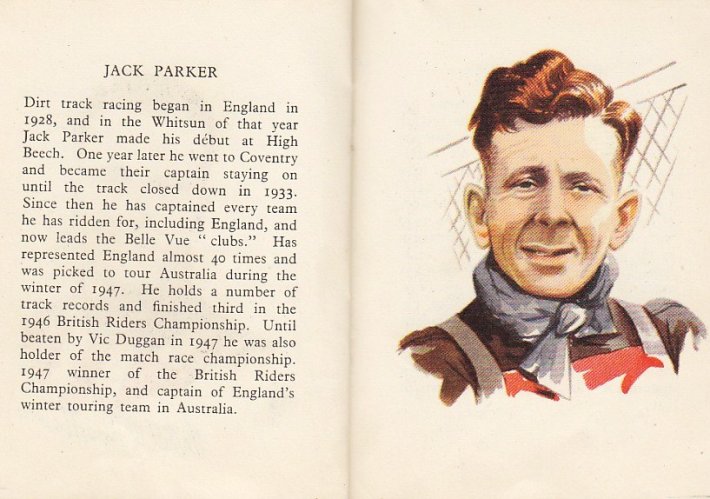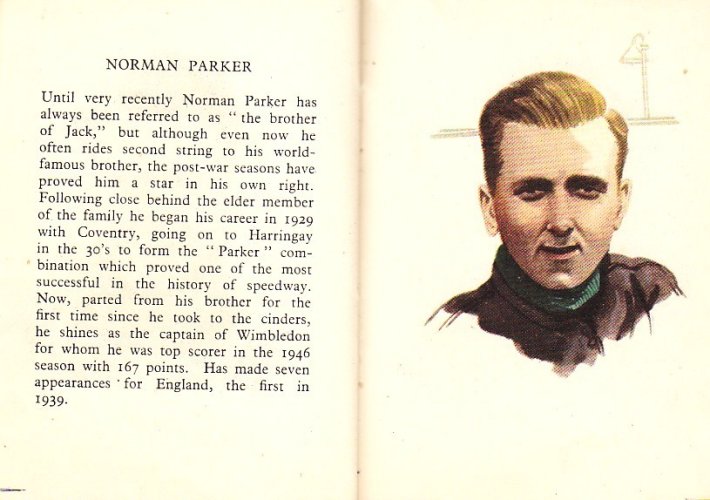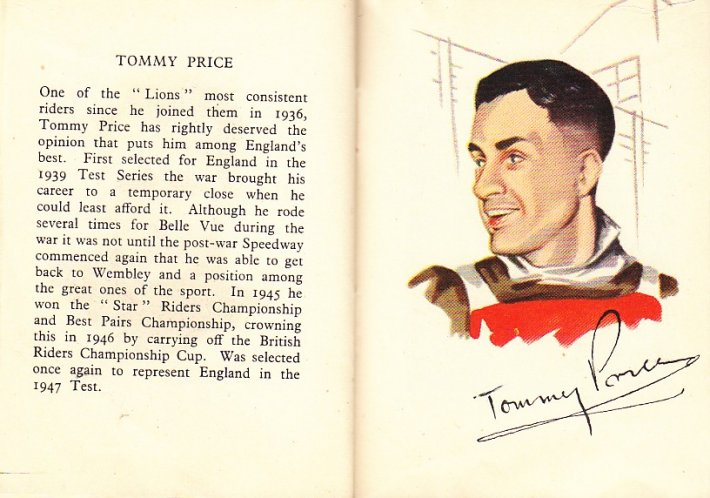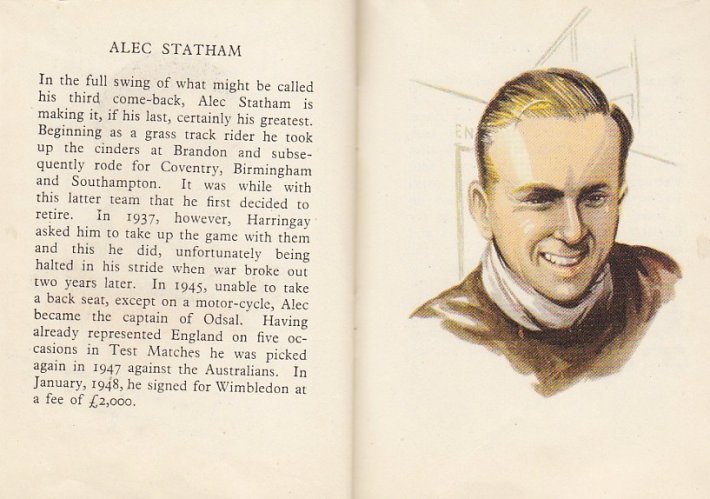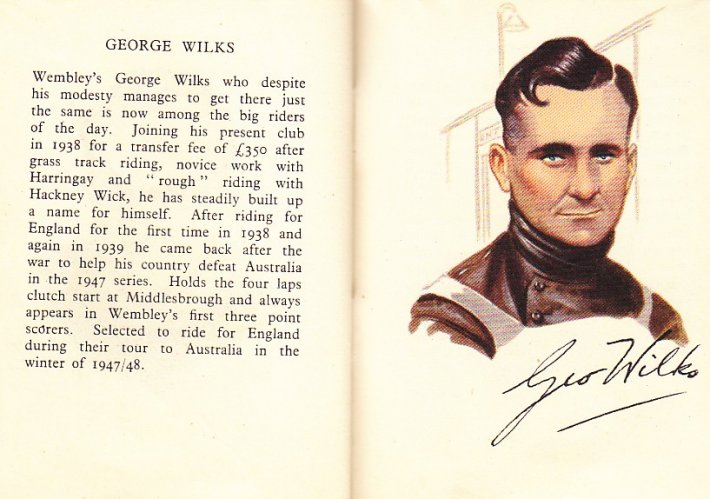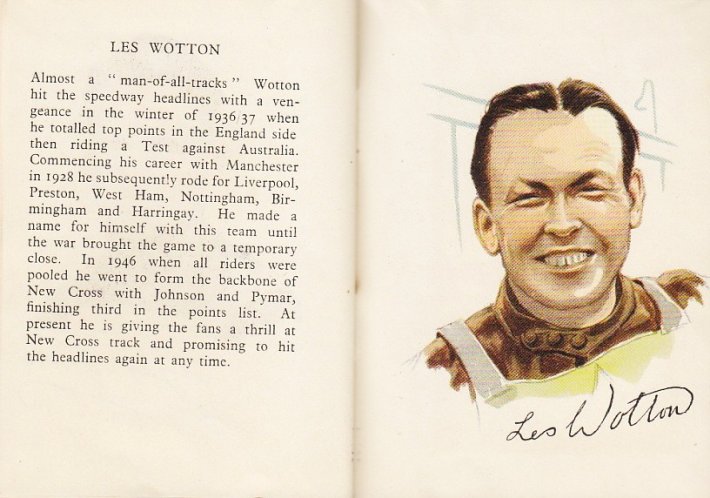 The booklet only measures five 5" by 3.1/2" . I
hope
you like it. It is a little different.
---
Leon Boulard
Champion Of France

1934 & 1935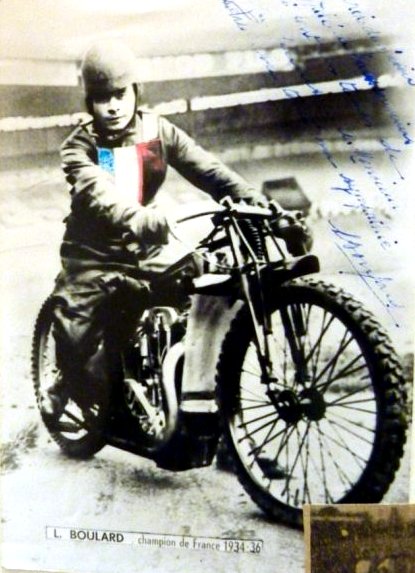 I have been corresponding with Jean

Boulard

. It is a bit difficult as he only speaks French and I only speak English, (yes ok! I know, I am a Geordie so it is debatable that I actually speak English!). Anyway, I used "Google Translate" and have ended up with Jean's words translated into English. Allo Allo! Listen carefully I will say this only once!
Jean Boulard says:
Hello
John
,
I only
speak
French
!
Photos
of my
father.
T
he
name
Leon
Boulard
speedway
driver
of 1933
at
1939.
After the
war in
1945
the
last
stage
competition
montrouge
Buffalo
(Paris)
.
French
Champion of
1934,
1935
.
He
raced
in England
,
stadium
of
Wembley,
Deutchland, Belgium,
Czech
Républic
France
(city
Le Havre
and
Paris)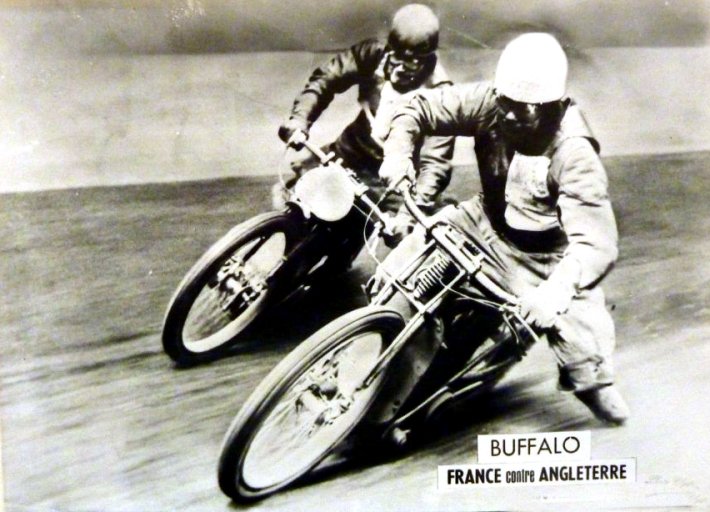 Jean Boulard says:
The English "pilot" on right Westwood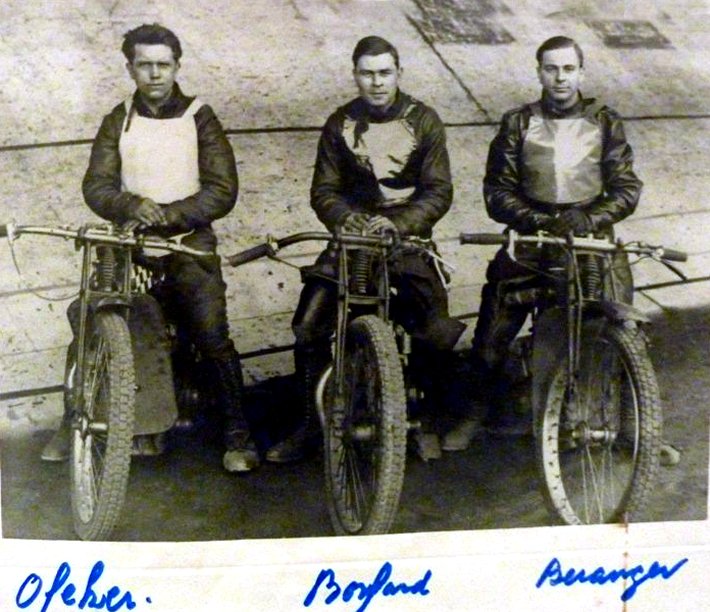 Jean Boulard says:
Above, in center my father Leon Boulard
with 2 other pilots Ofeker and Béranger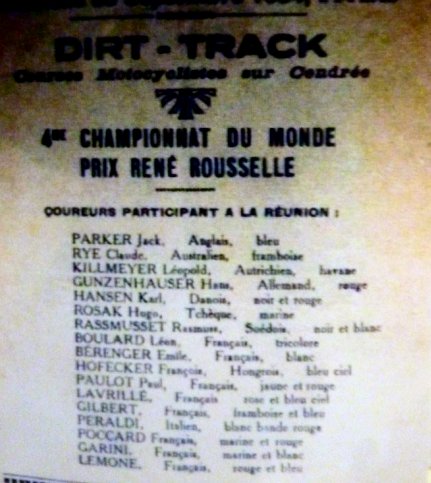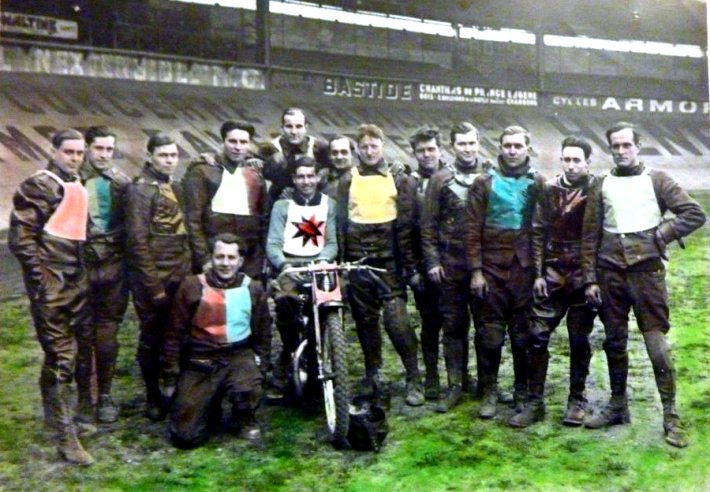 Jean Boulard says:

My father

Leon
in
3rd
from left
with
English
and
A
ustralian
Team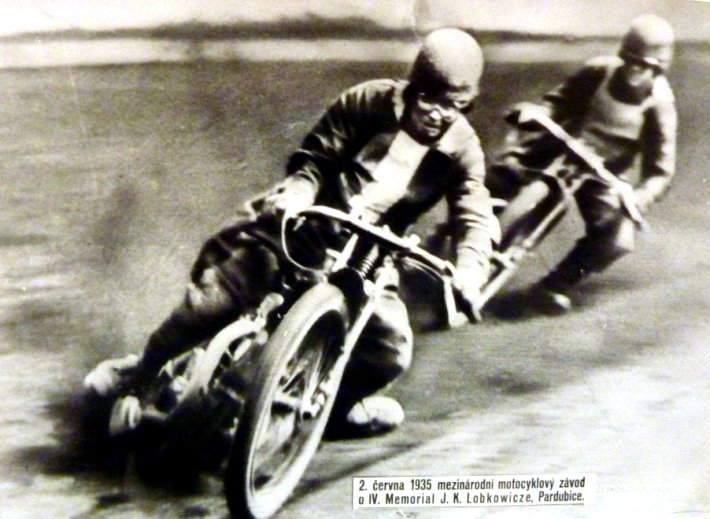 Jean Boulard says: VIVE LA MOTO !!!!!!!!!!!!!!!!!!!!!!!!!!
My thanks to Jean. The website is all the better for the colour tinted photographs featuring his father Leon Boulard.
Jean's
Matchless CSR 650cc Cafe Racer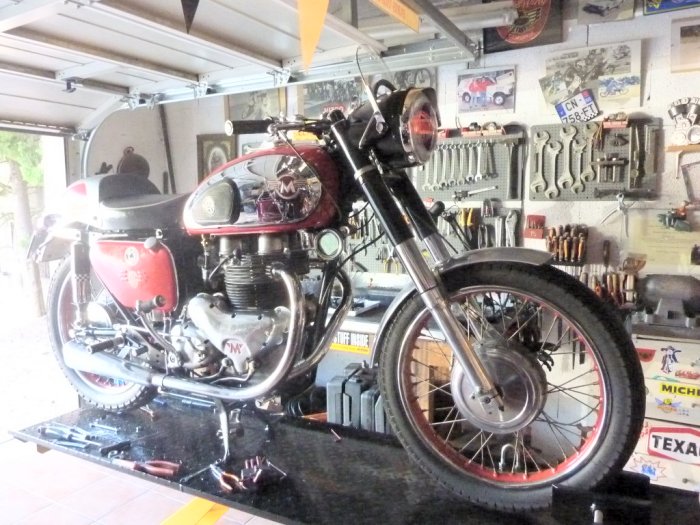 Jean Boulard says:
This tribute
I
owe you
John Skinner
,
I will have
't
like
my father
is present.
Again
thank you,
to
review
your site
which is best on internet
.
The
England
country
that
Papa
loved
so much.
I ride
today
a British
Matchless.
This was my
first bike
at the age
of 16 years
today
to 75 years,
I found my
childhood memory!!!!!
All my
Friendship
Jean
---
Wooden Legged Murderer Allegedly!
Dave de Temple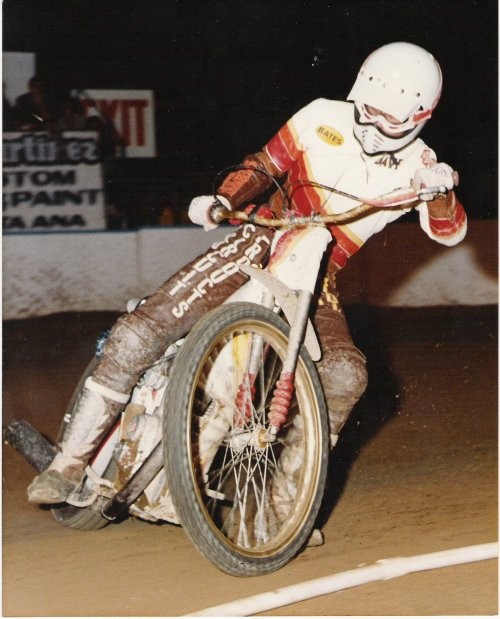 Who is this and can you tell me anything about the venue and the rider?
John
Paul Brassell says: This is Dave de Temple who is American
US rider Jim Painter says: Hi John, You want to know more about Dave De temple? Well He use to ride with me and our other friends at a little mini bike track called Atlantis Park. Dave, Shawn Mc Connell, Shawn and Kelly Moran, Louis Kossuth, Myself and others races the national Mini Cycle series in California USA. he rode a Honda xr 75 cc until he was 16 years old. He then started riding speedway with us. Did you also know that he has a wooden right leg? Yep That's true a wooden leg. He did pretty good for a peg leg. last I heard he was in prison for murder. I do not know if it is true but that is what I heard.
Jim Painter
John says: Thanks Jim and if it turns out that Dave wasn't/isn't in prison I will remove the offending item
Graeme Frost says: I see on your website there is mention of Dave De Temple being in jail for murder. I don't know if this is true or not, but I don't think it should be on the website unless there is some verification.
Anyway (Did he mean "Anyone") can say anything about anybody without verification. How many people would have read the website and assumed it is true, and repeated it, when it may well be wrong. A quick Google search shows there is a Dave Temple in jail for murdering his wife but that certainly isn't the former speedway rider. Regards Graeme Frost
John says: Hi Graeme, It isn't I whom is saying Dave de Temple is in prison, it is Jim Painter who thinks he is. Please don't shoot the messenger (Me!)
---
Charlie Spinks

1938

Badge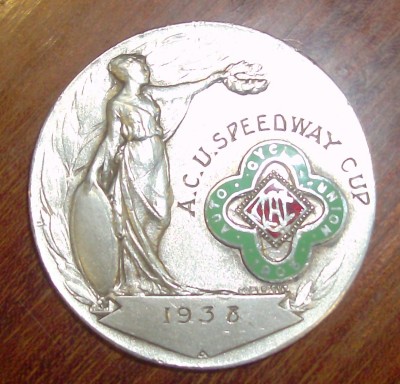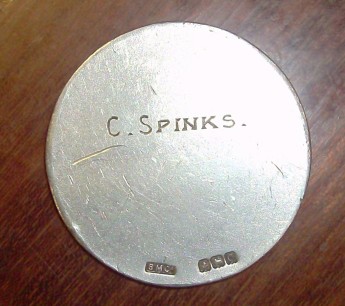 John says: A Spanish Antique Dealer has been in touch. He is Miguel A Gallardo and he says: -
Dear skinner: My name is Miguel Angel, Im from Spain and I know about your internet publications of speedway cup history en England. I have and antique shop in Spain and last year I buyed a beautifull silver medal. This object it was for one of the champions of this cup in 1938 mr Charles Spinks.
I only wish said you if this piece could have interest for any people or museum in England, because here in Spain the speedway cup is anything nowhere and its not usual.
Im sorry for my english.
Thank you for your atention.
Sincerely:
Miguel A Gallardo.
John says: Miguel is in antiques to make his living so if you want to buy this badge send the guy an email: his address is as follows: -
gallardorestauraciondearte@gmail.com
The rear of the badge is hallmarked. If it is silver it could be worth a few Euros!
---
---
The contents of the site are © and should not be reproduced elsewhere for financial gain. The contributors to this site gave the pictures and information on that understanding. If anyone has any issue or objections to any items on the site please
e-mail
and I will amend or remove the item. Where possible credit has been given to the owner of each item.