---
Reg Fearman
Part 8
Stoke's 80th Birthday The Speedway Farm Swedes in the Aussie Sun (Ouch!)
Reg at a Grass Track Event
Dave Norcott's Van and Trailer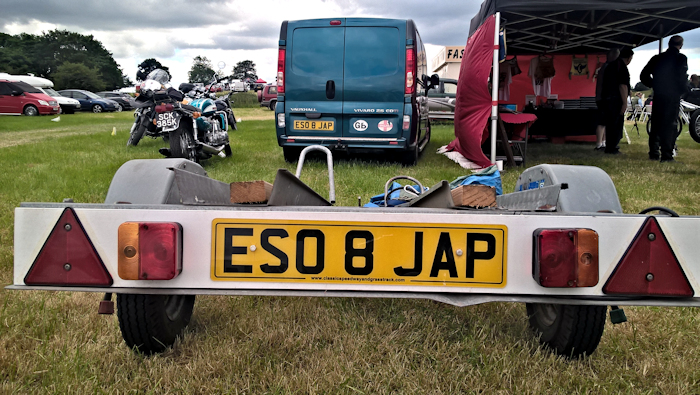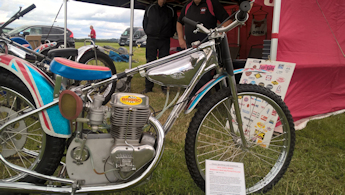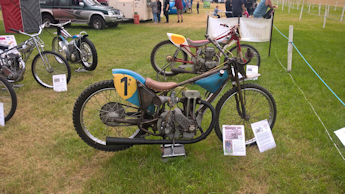 Reg says: Eileen and I went to a Grass Track meeting last Sunday, Peter Collins is the President. A number of machines were on display, the Jawa is an ex Peter Collins World Final machine and the one he used against Anders Michanek in the historic match race for the Belle Vue v Reading KO cup final in the 1970s, Anders was on Bernie Leigh's machine and Peter had a hand injury which meant he had his clutch lever on the same side as his throttle -twist grip - the lead changed many times with Peter winning by a fraction. The trailer with the 'very special number plate is owned by Peter's cousin Dave Norcott along with several speedway machines including the ones in the photos. Cheers Reg
---
Reg Fearman's Pictures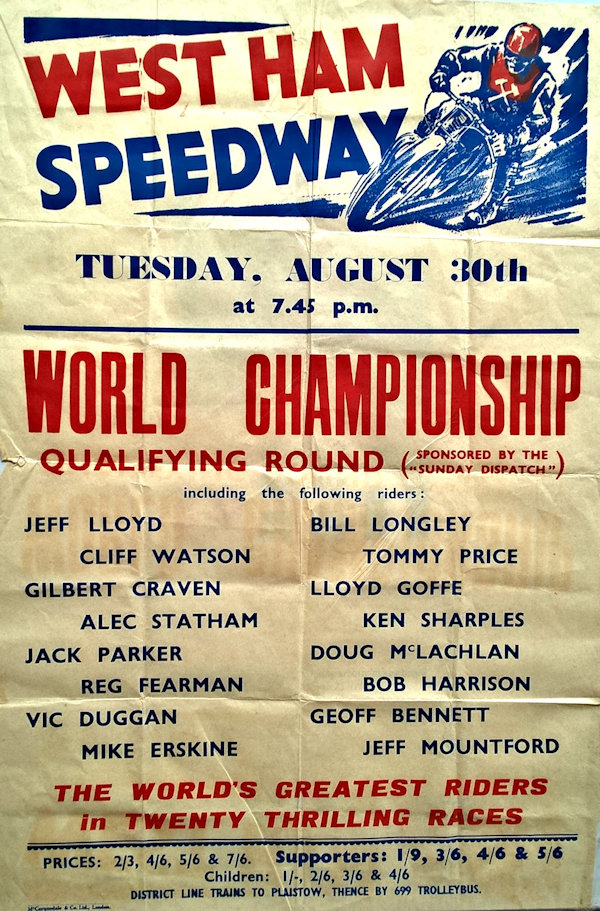 Reg Fearman says: Good morning John, The above poster is from 1949 and has been hanging on my different garage walls for 70 years. You will see the admission prices at the bottom of the poster. My name is sandwiched between two legends, Vic Duggan and Jack Parker. For matches other than Test and W.C. the money was £1.15 shillings a start and £2 a point. In those days and for many years afterwards every contracted rider was entered for the World Title, the Rounds starting in the Third Division with the top riders progressing through to the Second division and so on. I wonder how much the poster is worth to a collector today? I guess some of the names will mean very little to most of you and some of you were not yet born in 1949!!!
Attached below are some photos from the late 1940s and one J.P. in action in 1953. All the names are under the photos. Cheers, Reg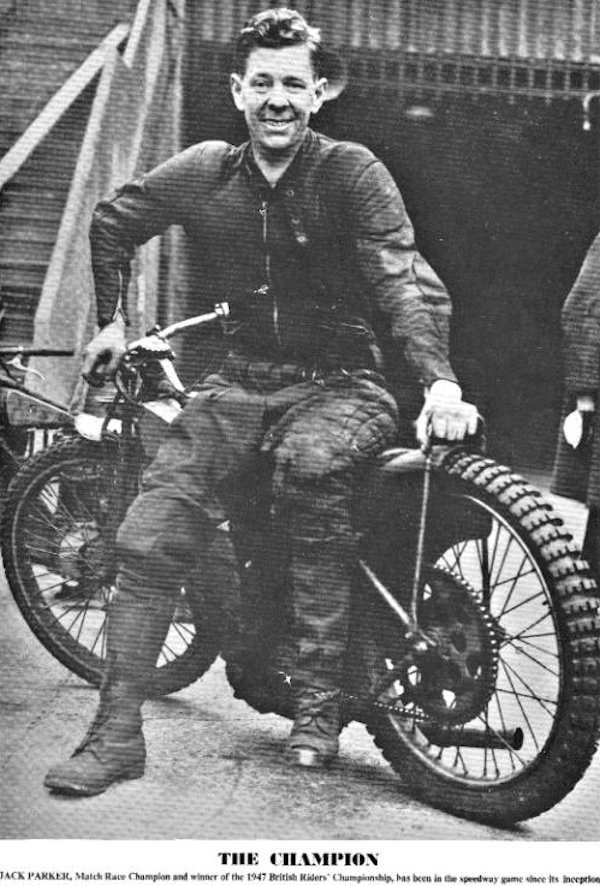 Jack Parker 1947 British Match Race Champion
---
Reg &
Split Waterman
2016
Reg says: Last week Eileen and I flew out to Malaga for three days. The temperature hovered around 38c - far too hot for us. It was the 93rd birthday on 27th July of Split Waterman. We had arranged a few weeks ago to take Squire and Avril out for a Birthday Lunch at his favourite fish restaurant on the beach. We had two good days with them before flying home. They have lived in Nerja for 33 years.
Squire is still driving and has all his 'marbles' he is still looking to do a 'little business'. Unfortunately his knees are pretty bad and he is on two sticks, I am sure his weight of 15 stone doesn't help. Nevertheless he and Avril do get out and about to some of their favourite spots on a regular basis. Cheers, Reg
Split Waterman
2016
An Ex-Pat Brit Living In Malaga, Spain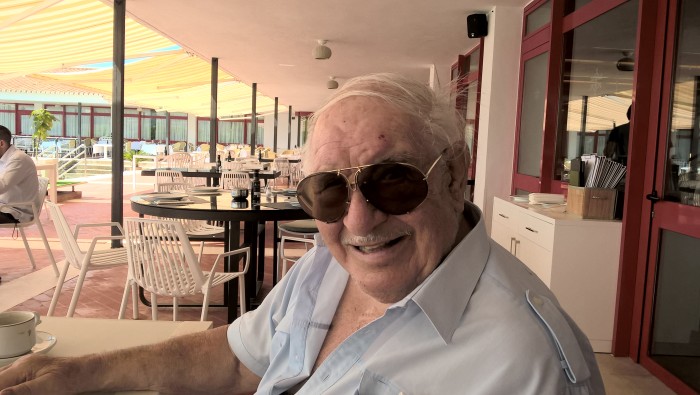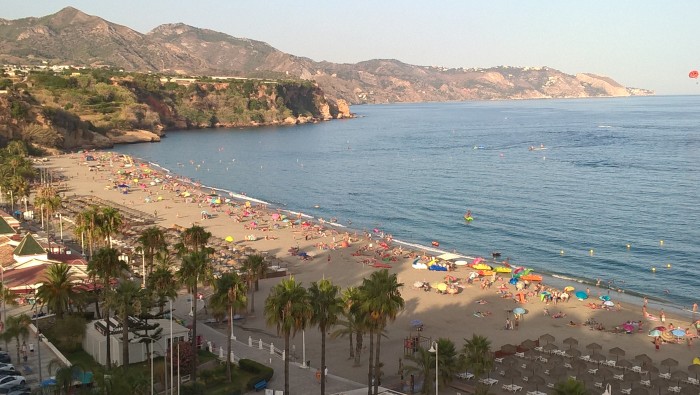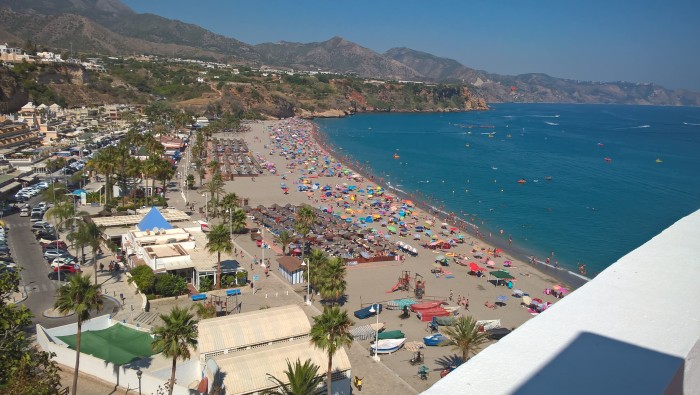 ---
BSPA AGM Meetings Photographs (3)
Picture 1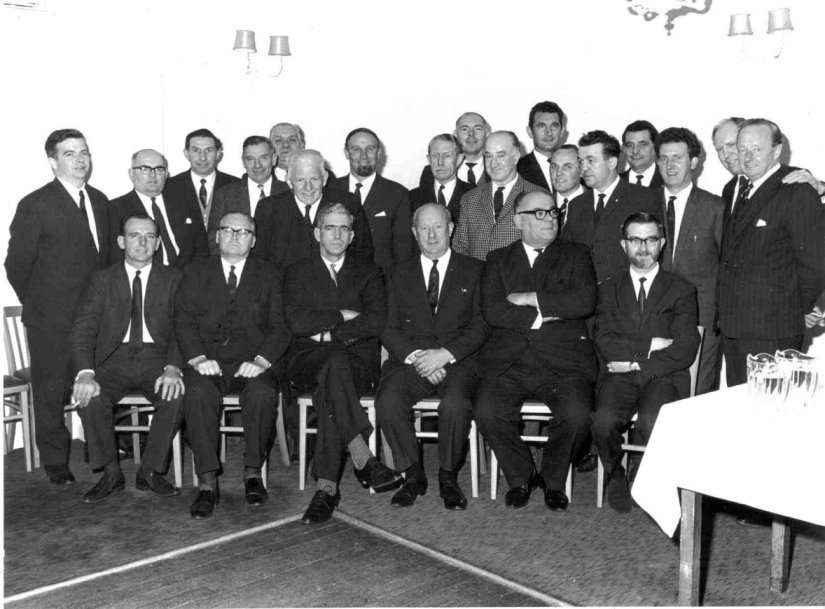 Speedway Promoters' AGM Manchester 1967
Colin Jewes says
:
Picture 1 standing: Eddie Glennon, Ron Wilson, Pete Lansdale, Alan Martin, JS Hoskins, Bill Bridgett, ?, Ian Hoskins, Frank Varey, Reg Fearman, Len Silver, Dent Oliver, ?, Danny Dunton, Maury Littlechild, Jack Knott.
Front: Wally Mawdsley, Chas. Ochiltree, Mike Parker, Ronnie Greene, Chas Foot, Dave Stevens.
Reg Fearman says:
Next to Eddie Glennon is Danny Taylor. Between Dent Oliver and Danny Dunton is Ted Nelson, Jack Knott is actually Charles Knott Jnr. The last unnamed gentleman was a Belle Vue Director or at least a Director of Trust House Forte and had a grace and favour apartment in the grounds of Belle Vue Gardens. I do know his name. When I remember it I will let you know.
Hi John: I am Trevor Hay from East Lothian and my only claim to fame in the speedway world was as the co-promoter of Ice Racing/Speedway around Scotland in 1972.
One of my contacts then was the unknown guy in the photo of the above. He is the one standing in front and slightly right of Ian Hoskins and his name was Morris Marshall and as you say from Belle Vue at that time. I met him after he contacted me about taking the Ice racing to Aviemore Ice Rink which we did in April '72. He had the position then of General Manager of the Aviemore Centre which Stakis had a big share of so it seems to tie in to the info you already had about him. He then became an advertising client of mine for many years and each time we met to talk business, he veered of to talk about speedway from his past and our mutual interest of bikes in general.
I am still a big fan of the Edinburgh Monarchs and might well be going to watch the Glasgow Edinburgh final on Saturday. I am friends with Harry McLean, Brian Collins and a number of other former worthies of the Speedway scene up here in Scotland.
I wish you well continuing with this great piece of work on the web... it gives many happy hours to so many!
Kind Regards, Trevor Hay
Picture 2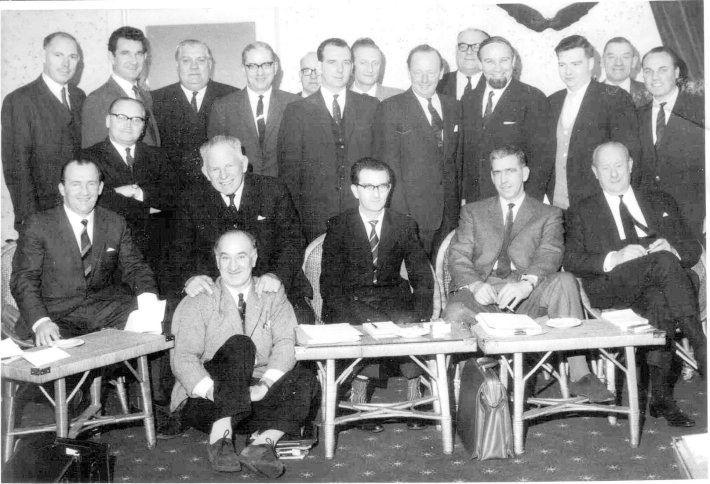 Speedway Promoters' AGM Bournemouth
Colin Jewes says: Picture2 standing: Ian Hoskins, Reg Fearman, Alan Martin, Norman Parker, ?, Wally Mawdsley, ?, ?, Chas Foot, Bill Bridgett, Eddie Glenn, Pete Lansdale, Len Silver.
Front Trevor Redmond, Chas Ochiltree, JS Hoskins, Frank Varey, Dave Stevens, Mike Parker, Ronnie Greene
Reg Fearman says: Promoters AGM Photo 2 The man behind Norman Parker is Danny Taylor. In front of Charles Foot and next to Bill Bridgett is Charles Knott jnr. It only leaves the mystery friend of Frank Varey next to Danny Taylor and behind Wally Mawdsley. Such a shame that Gladys Varey wife of Frank died just a few weeks ago. Who else can we ask ?
Arnie Gibbons says: This is the cover photo of Speedway Star 29.1.65, from the very first BSPA meeting on 15 January (at Harbour Hotel, Poole).
The missing names are Harold Jackson [BV] (behind Wally Mawdsley's right shoulder) and Les Clarke [Sheffield] (behind Mawdsley's left shoulder). Interesting to note that there are no representatives from Oxford (undergoing a change of ownership) and West Ham (but Charles Ochiltree was presumably representing their interests).
John says: Apparently Count Dracula was at this meeting too and he even posed with the promoters for the above photo! Look out Eddie Glennon you're the nearest.
Picture 3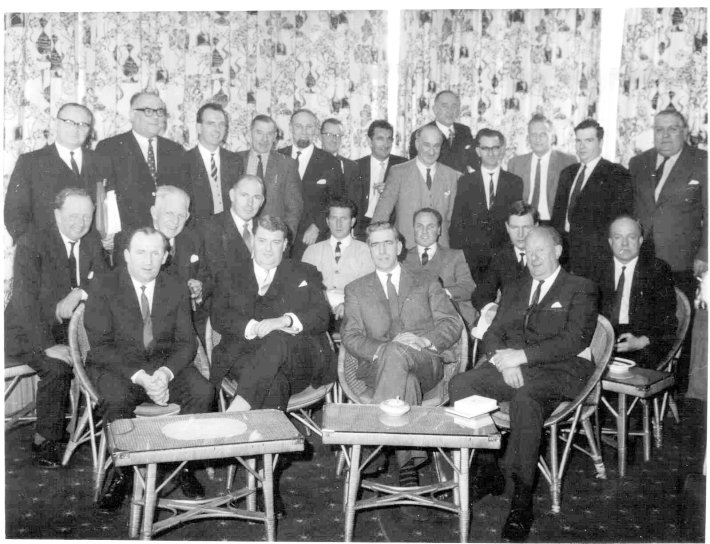 Col Greenwell says:
Hi John, Promoters not my strong point but I can name a few in your Photo's. Photo 2.....Johnnie Hoskins is leaning on Frank Vareys shoulders. These two in all three pics. Can see your mate Reg Fearman in all three. Len Silver in all three. Mike Parker in all three.
The guy with the paint brush on his chin..(don't print that!!!..lol ) Is Bill Bridgett who is also in all three pics. Cheers...Col
Colin Jewes says
Picture 3 standing: Chas Ochiltree, Chas Foot, Wally Mawdsley, Pete Lansdale, Bill Bridgett, ?, Reg Fearman, Frank Varey, ?, Dave Stevens, ?, Eddie Glenn, Alan Martin.
Middle row: Foot, JS Hoskins, Ian Hoskins, Danny Duntton, Len Silver, ?, ?, Front: Trevor Redmond, Nelson Mills Baldwin (SCB), Mike Parker, Ronnie Greene. (I may have the Foot & Knott combo crossed, – or totally wrong. – ?)
Bob Bath says:
Hi John, re the promoters picture 3-Colin is right in that Charles Foote is in the back next to Ochiltree. Guy on left in the middle is Bill (?) Knott. Guy at very back behind Frank Varey is Ken Sharples who looked after Newport in 1966 along with Eddie Glennon (not Glenn).Both Sharples and Glennon were killed in road accidents at different times – I think 67 and 68 respectively. I think in both cases they were travelling back from Newport to the north after a meeting-Ken Sharples certainly was .Cheers bob
Back Row. Charles Ochiltree, Charles Foot, Wally Mawdsley, Pete Lansdale, Bill Bridgett, Jack Knott, Reg Fearman, Frank Varey, Ken Sharples, Dave Stevens, Frank Varey's friend, Eddie Glennon, Alan Martin. Middle Row. Charles Knott jnr, Johnnie Hoskins M.B.E., Ian Hoskins, Danny Dunton, Len Silver, Bill Chandler, another ?
Front Row. Trevor Redmond, Nelson Mills Baldwin, Mike Parker, Ronnie Greene M.B.E.
Eddie Glennon died at night on the way from Newport to Manchester. Ken Sharples died in Manchester where he was involved in an accident with a bus.
Only survivors of that photo are Len Silver, Danny Dunton, Ian Hoskins and me R F, all now in their 80s.
---
WSRA L

unch At Bulphan Essex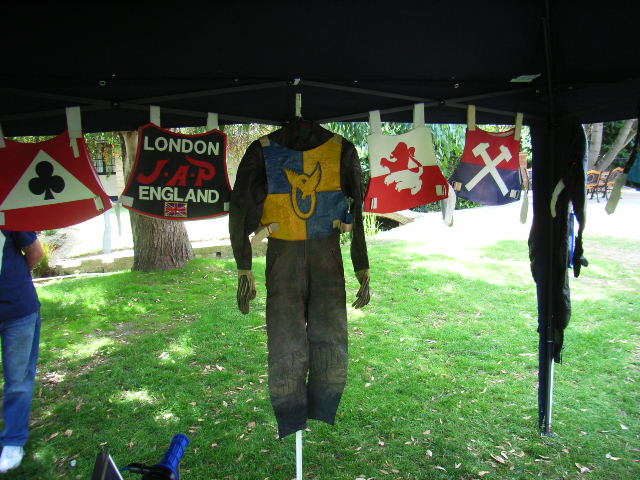 Danny Dunton's leathers he used in the late 1940s complete with the Harringay race jacket.
Billy Sanders' Equipment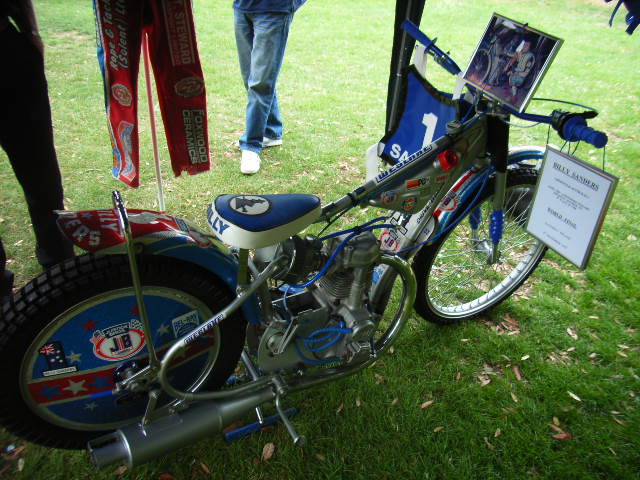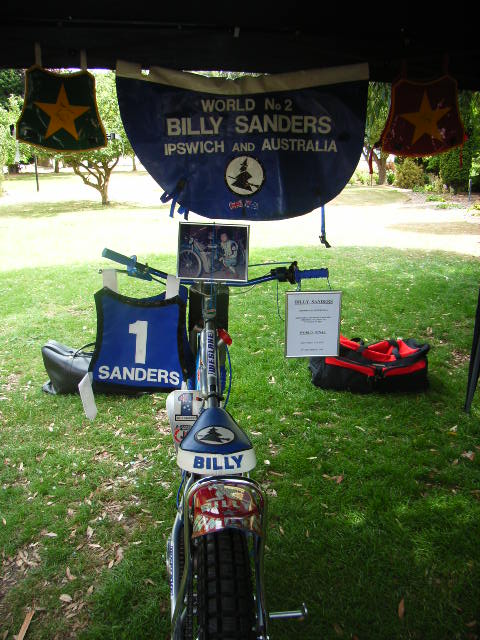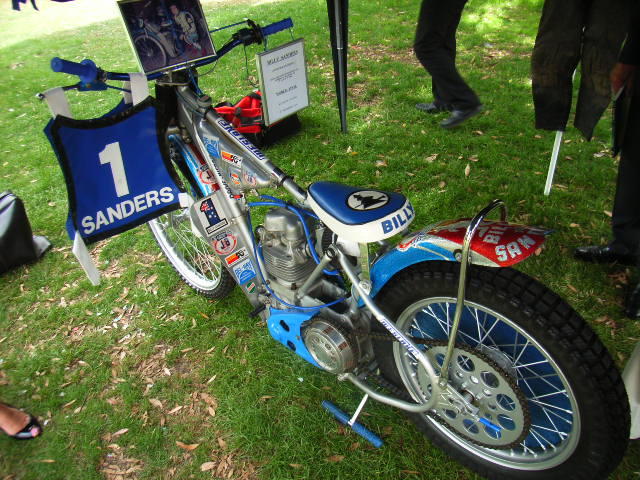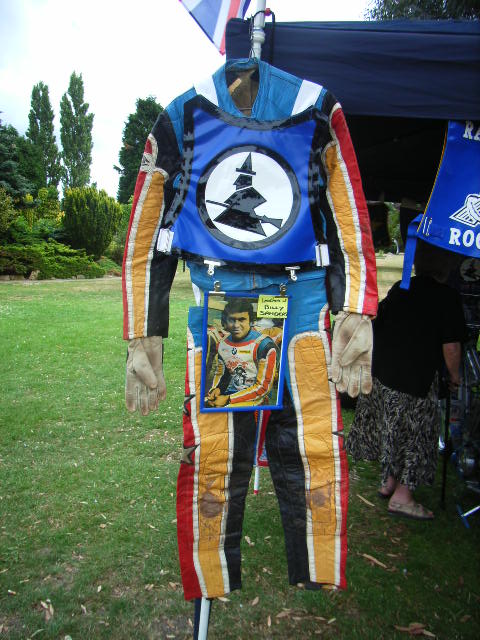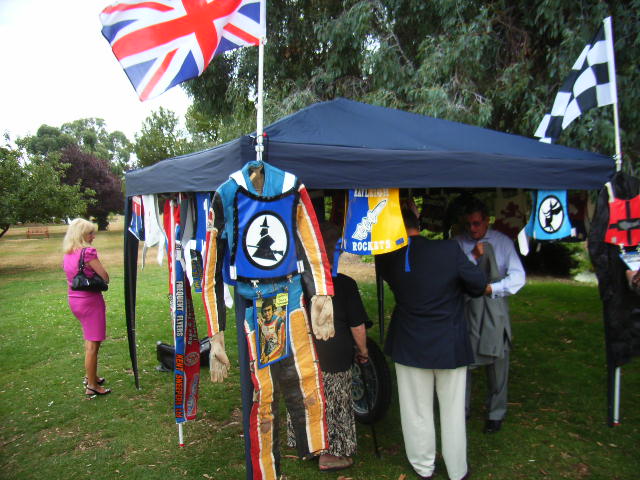 William Robert "Billy" Sanders (Born: 9 September 1955 - Died: 23 April 1985). Sanders committed suicide at his home in Ipswich. At the time he was suffering serious financial difficulties and had recently split from his wife (who would later cut all ties with the Sanders family and would marry Gary Guglielmi). His body was identified by Ipswich promoter John Berry.
---
Stoke's 80th Birthday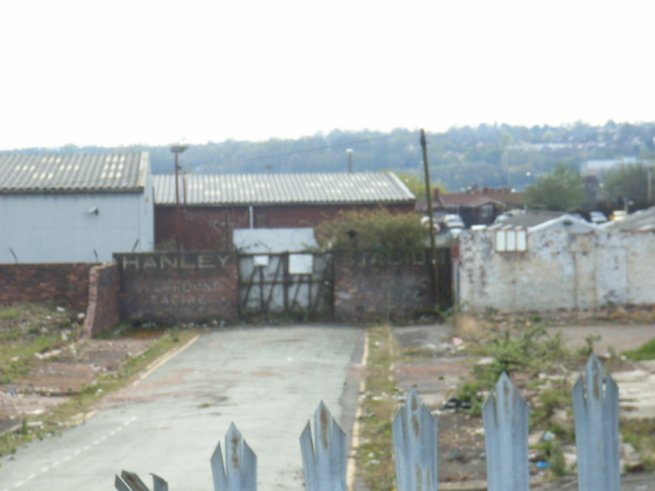 This grim sight is courtesy of Reg Fearman. About all that is left of Sun Street the main gate as was with the fast decaying wall advertising Hanley Stadium
Reg says: Eileen and I were invited to attend on April 11, 2009 the Chesterton Stadium (Stoke) to celebrate the 80th anniversary of the first speedway meeting in the Potteries that took place at Hanley Stadium, Sun Street in April 1929.
It was a very pleasant evening - with Rye House as the visitors - we were made most welcome by promoter Dave Tattum and Howard Jones.
Of course a lot of races have taken place in those 80 years and a lot of men have worn the famous "Potters" emblem of the Five stars representing the Five Towns that make up Stoke on Trent. The "Potteries" is actually made up of Six Towns. It was in 1910 that Stoke on Trent was born with the federation of the six towns namely :- Hanley, Burslem, Longton, Stoke, Tunstall and Fenton. It was the" Potteries" own most famous novelist and playwright Arnold Bennett, 1867 - 1931, who wrote about the Five Towns and thereafter it has been accepted as such - but not in truth.
Speedway racing was a rather hit and miss affair at Sun Street with the sport being tried several times between 1929 and 1939. Two of those early day speedway riders became friends of mine in later years. Len Blunt who went on to own butchers shops in the "Potteries" and "Chun" Walter Moore. Both were local lads at the time. "Chun" went on to race at Belle Vue and you will find him on some of the "Aces" team photos. When he retired from racing he went into the Fireplace Surround manufacturing business in the "Potteries" . The most continuous run at Sun Street was from 1947 to 1953. It was in October 1963 that Sun Street staged their last meeting after four succesful seasons under my promotion. The Stadium was sold - like so many others - for building development
It was most pleasant to meet up with two members of my old team of 48 years ago - Colin Pratt and Eric Hockaday -and meet with some of the boys who raced at Loomer Road. Tom Owen, Eric Monaghan, Paul Thorpe and Nigel Crabtree. We were introduced to the crowd during the interval and received a very warm reception. We all had plenty to talk over in between the races. The evening went just too quickly and suddenly it was time to say goodbye until next time.
Ex Stoke Riders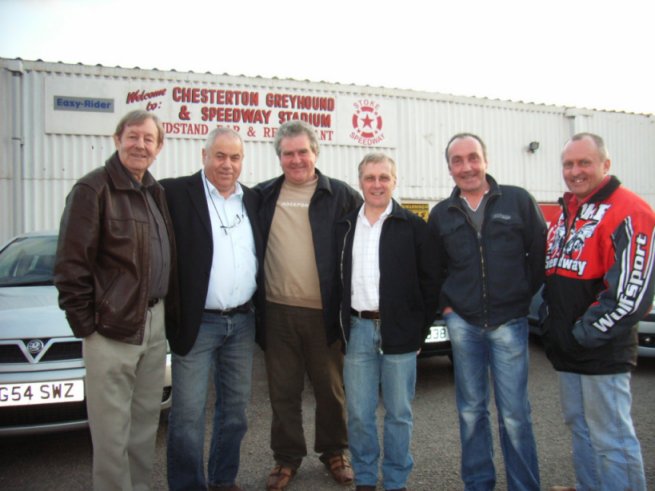 Courtesy of Reg Fearman
All ex Stoke riders. Eric Hockaday, Colin Pratt from Stoke Sun Street days, Tom Owen, Eric Monaghan, Paul Thorpe and Nigel Crabtree from Chesterton Loomer Road.
Reg Fearman,
Eric Hockaday
& Colin Pratt

All Rode For Stoke At Sun Street
Courtesy of Reg Fearman
---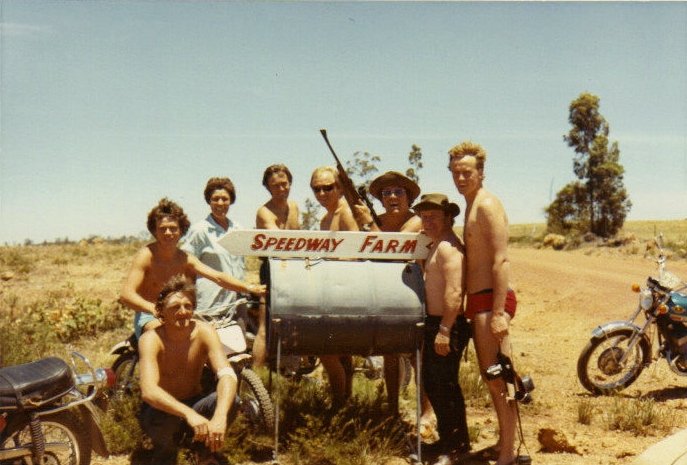 Courtesy Reg Fearman
The Swedish Team at Speedway Farm West Australia. Is that Olle Nygren with the rifle? If so DUCK!
Claremont Speedway In Perth
West Australia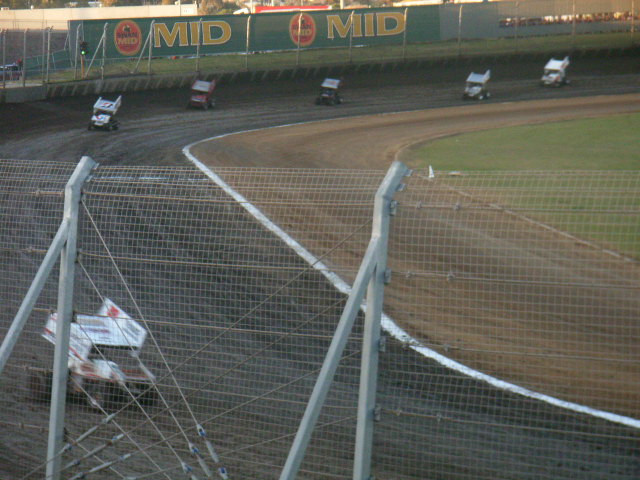 Courtesy of Reg Fearman
The first bend of the car race track. The speedway track as we know it is on the inside.
Claremont Speedway
in Perth West Australia was speedway's longest running venue. The doors opened for speedway in 1927 and closed in April 2000 - 73 continuous years. Their pledge - " Our mission is to provide high quality and good value entertainment, recreation and service to Western Australia motorsport, the general public and business communities ". - Eventually the lease expired at the Agriculture Showground and was not renewed. A new site was found some miles south of the city and after protracted negotiations with the usual authorities permission was granted to build a new purpose built stadium at Kwinana. The driving force behind this operation was Con Migro and it is he who the people have to thank for his sterling efforts to save speedway in the area.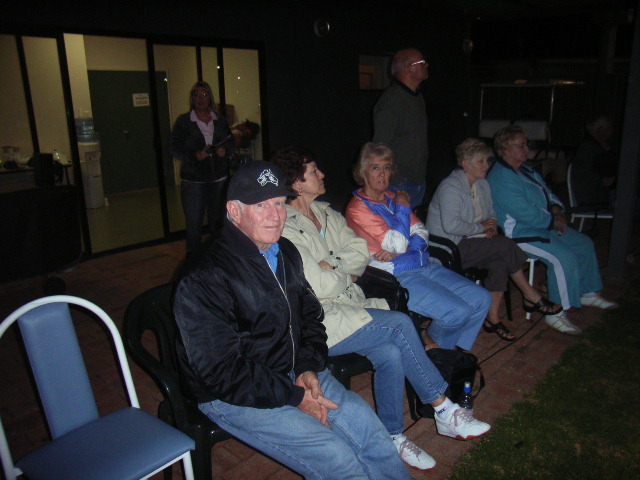 Courtesy of Reg Fearman
Colin and Trish McKee and Eileen Fearman watching the first bend at Kwinana
Aub Lawson was Con's mentor and it was he who took Con on full time at the Claremont Speedway office in 1973. It was a labour of love that Con carried out for 27 years. You will find no one in the whole wide world more enthusiastic about all forms of speedway racing than Con Migro.
Aub Lawson started his speedway career in Sydney in the late 1930s and raced for Middlesbrough and Wembley prior to the outbreak of war. In 1947 he joined West Ham and after a short spell transferred to Norwich.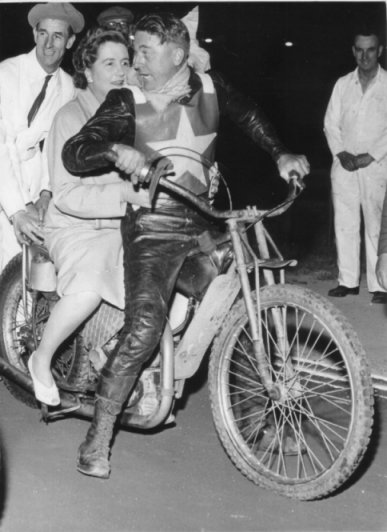 Aub had always been interested in farming and it was while with Norwich that he gained much farming experience from Jack Norton who had a very large farm in Norfolk. Jack was also a keen speedway supporter.
Aub put his newly gained knowledge into a farm at Quirindi in New South Wales which he purchased in the mid 1950s. This did not work out too well for him or his family and eventually the farm was sold. During this time, Aub continued to race in England. Each year he had racing commitments at Claremont and had a very good relationship with the directors Mick Tilby and George Milne who also owned the Brisbane Hotel in a Perth suburb. It was in 1960 that Aub was asked to "come on board" with the promotion at Claremont and it was he who developed both Claremont Speedway and the Speedway Farm in W.A. The profits from the speedway operation were ploughed into the farm which proved a great success. Many speedway riders from around the world who were racing at Claremont or passing through were entertained at the Speedway Farm which, like most farms in Australia, covered many square miles.
Picture courtesy of Mike Kemp
Aub With Mrs Jack Thompson at Norwich Speedway
Aub, having made such a success of the Speedway Farm, decided to buy a farm for himself at Northam, some 50 miles from Perth. It was there that he died in January 1977 from a heart attack. He had previously strained and damaged his heart through lifting a sheep during sheep shearing. He was just 63 years of age.
Aub Lawson On The Tractor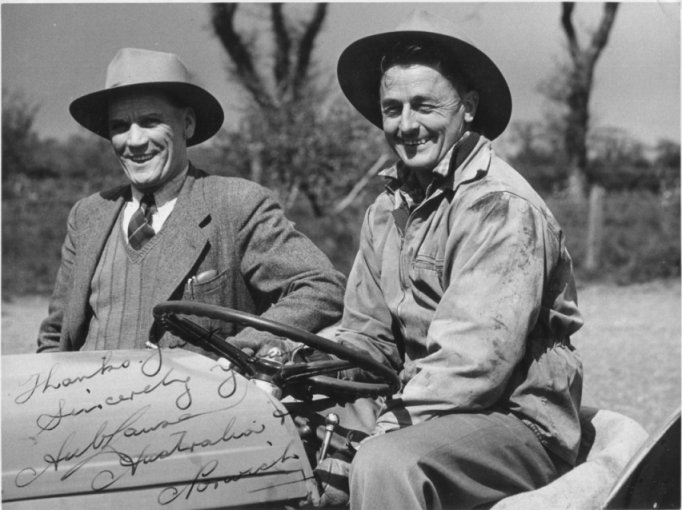 Courtesy of Mike Kemp
Aub Lawson on the tractor with his farming mentor Jack Norton
The Swedish Team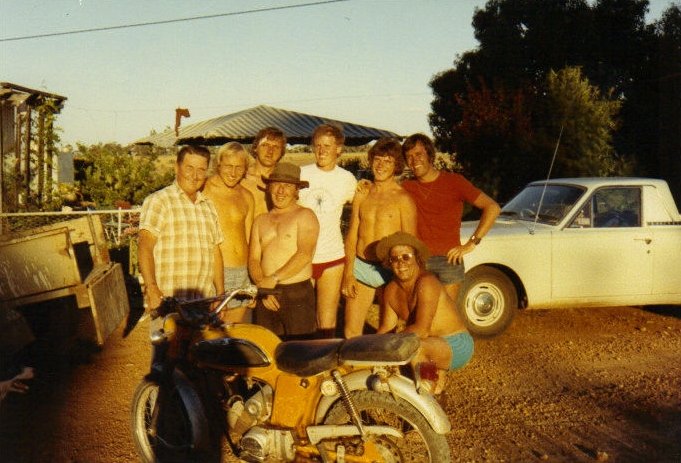 Courtesy Reg Fearman
The Swedish Team Prior To Going Hunting Speedway Farm W.A..Can you name them John
Olle Nygren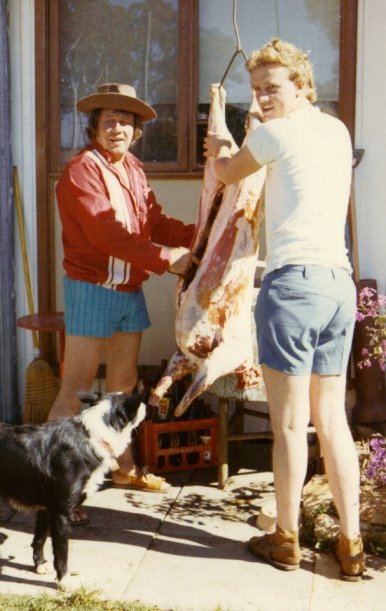 Courtesy Reg Fearman
A picture from Perth South Australia, taken during a Swedish tour of Oz. That's Olle Nygren in the red jacket and a hungry looking dog in black n white! Who is the other guy and what year was it? A special bonus point for anyone recognising the barbecue meal being prepared, Kangaroo or sheep?
John
Soren Sjosten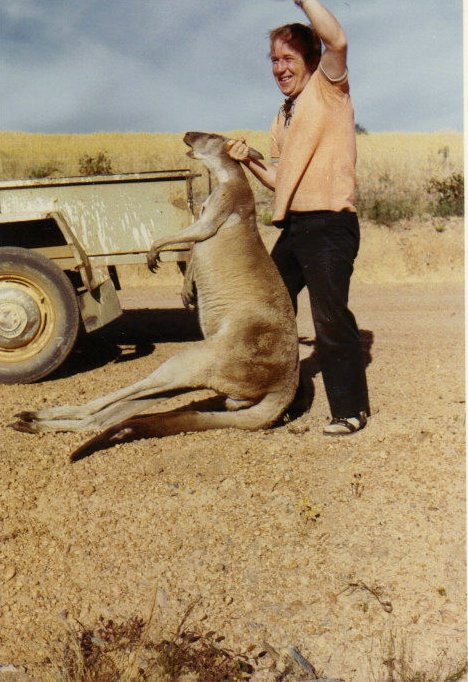 Courtesy of Reg Fearman
Speedway Farm W.A. So It Was A Kangaroo Being Skinned. Soren Sjosten With The Spoils. Go on Soren pick on someone your own size!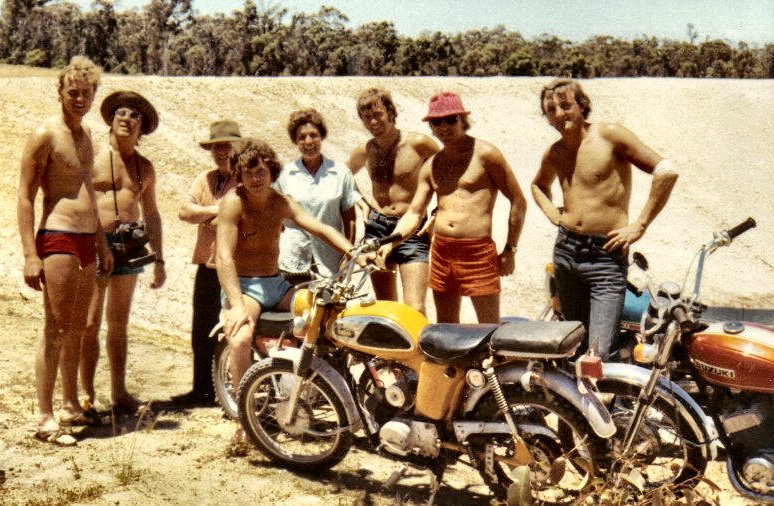 Courtesy Reg Fearman
A picture from Perth South Australia, taken during a Swedish tour of Oz. Swedes in the sun! Spot the Bernt Persson! I can make out Olle Nygren 2nd from left and possibly Bernt Persson sitting on bike. What? I don't know why he didn't use sun tan lotion! The lady is Aub Lawson's second wife Roma Can you name these riders
John
Reg Fearman says: I see you have the pictures of the Swedes in Perth. I should have said that at that time through the sixties and well into the seventies the Directors cum Shareholders of Claremont Speedway had invested in a huge farm outside of Perth and that is where the photos were taken. Aub Lawson was the manager of the Speedway and a shareholder through that period. It was when Aub had his first heart attack that Con Migro took over.
Colin Jewes says: The rider on the right is Jan Simensson, one-time Cradley. Is the chap to the right of the lady Anders Michanek ?
John says: Well it could be Anders? At the risk of being racist, Swedes all look alike to me

.
Colin says: Perth, Nov. 1971. Left - right: Bengt Larsson; Olle Nygren; -?- (short, in hat,); Bernt Persson; (female, Mrs Lawson,); Anders Michanek; Bengt Jansson; Jan Simensson. Missing, - on the camera maybe? - , Soren Sjosten. (There is a short chap wearing a hat, BUT as he's also the only chap fully dressed wearing a shirt, long trousers and a hat he MUST be an Aussie ! )
Colin Jewes says:
Further to my earlier response, - With the add'l photo of the kangaroo and Soren Sjosten on this page we can now see that the chap with the Swedish team is indeed Soren S., - despite the 'winter' wear of hat, shirt and long trousers!
The Swedish Team Pre Match Practice
At Claremont, Perth W.A.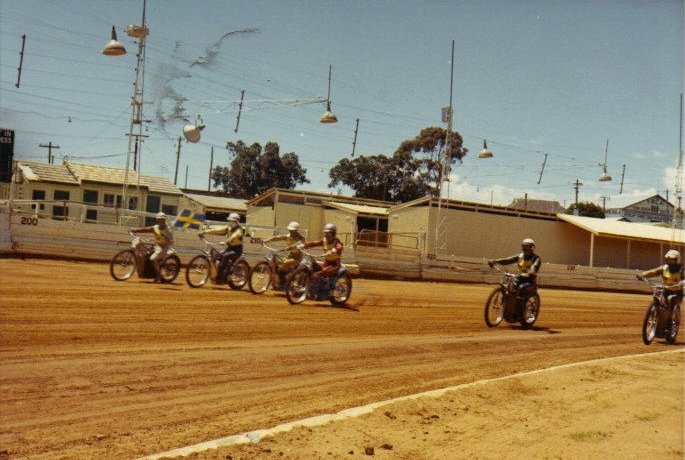 Courtesy of Reg Fearman
The Swedish Team
At Claremont, Perth,
West Australia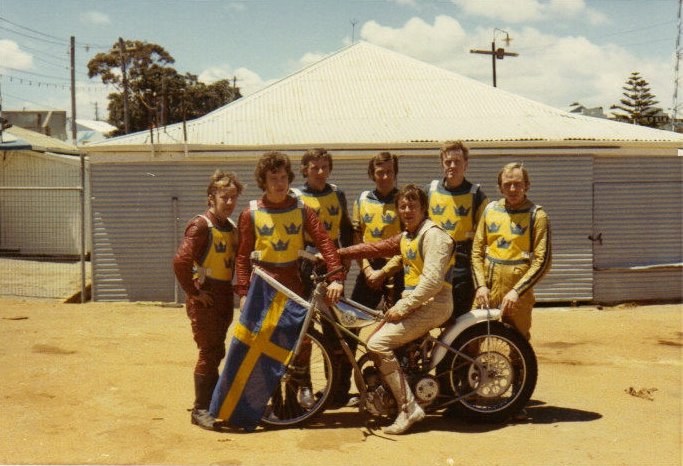 Courtesy of Reg Fearman
The Swedish Team at Claremont Perth West Australia. Can you name them
John
Brian Stevenson says: Soren Sjosten, Bernie Persson, don't know, Anders Michanek, don't know, Bengt Janssen. Olle Nygren on bike
Bob Bath says: Hi John, I agree with the riders that Brian Stevenson has named -I think the one he missed-between Anders and Bengt Jannson is Bengt Larsson (Sheffield) Cheers Bob Bath
---
Reg In

NZ 2018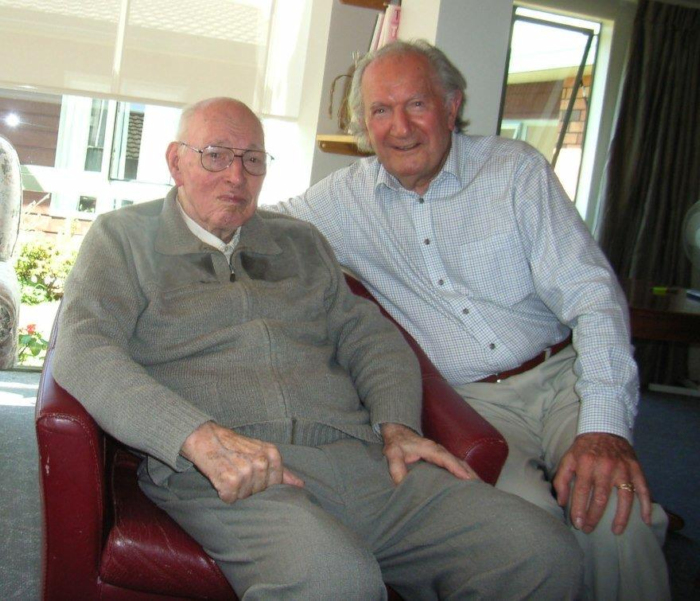 Courtesy of Reg via Bob Andrews
Reg with Ian Hoskins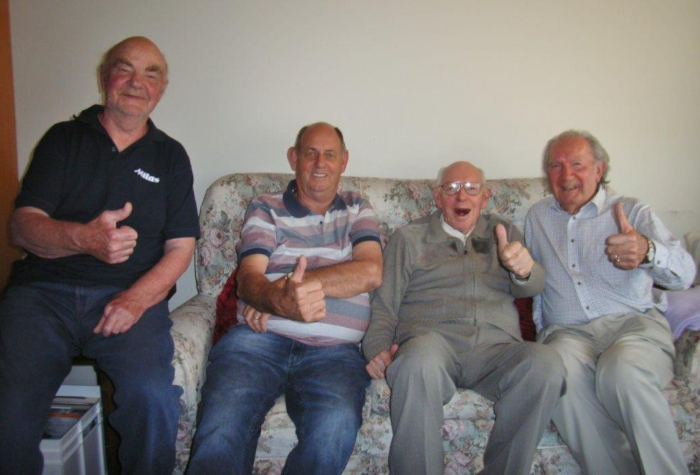 Courtesy of Reg via Bob Andrews
Dave Gifford ? Ian Hoskins and Reg Fearman during 2018. Disproving the myth that Giffy never smiles when a camera is pointed at him! I am sorry I don't know whom the gent 2nd from left is, so if you know send me an email John
My thanks to Bob Andrews for sending me these images.
---
The contents of the site are © and should not be reproduced elsewhere for financial gain. The contributors to this site gave the pictures and information on that understanding. If anyone has any issue or objections to any items on the site please
e-mail
and I will amend or remove the item. Where possible credit has been given to the owner of each item.