I have had so many unknown rider photos sent to me that I am now running this, a third name the rider page.
I get pictures and questions sent to me where the sender doesn't know the name of the rider or wants information concerning the past and I don't have the answers! Any help is appreciated because it would be wrong not to include historical items just because we have no idea of the personnel or event.
Can you name these tracks, year and rider's? send me an email if you can supply an answer or want to make any points. John When a rider has been named the picture will be transferred to the appropriate team page in the A-Z along with your name and comment.
John says: The photos in the name the rider pages come from private collections and others from actual photographers. There is nothing more annoying to own photos where the name of the rider is a mystery, so continue to send me images and I will fit them into my "Name The Rider" pages, BUT please don't attempt to copy any images on my websites to sell on! That is theft ok? If any picture shown on my website has copyright issues etc that I am unaware of please send me an email and I will remove the item(s) or give credit where it is due.
---
Name The Track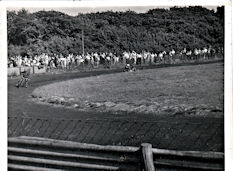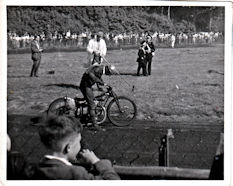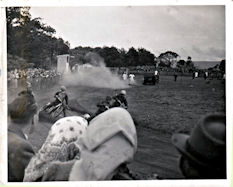 Hi John. Referring to the three attached scans, I think it`s most likely that a training track is depicted ? Could it be California nr Wokingham ? Or Brafield ? Hope you and readers find these pics [ c1950 ? ] of interest . Regards, Nigel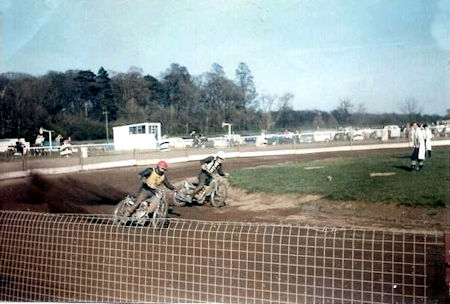 Hi John. Referring to the three " mystery " snapshots just sent to you, this photo of Brafield track [ which I`ve just found on the internet ] confirms the location. Cheers, Nigel ...confirms the location – or does it ? Cheers, Nigel
---
Mystery Man
Steve Baker says: Hi John, The mystery man is Zdenek Majstr, The meeting is Young England v Young Czechoslavakia at Bradford, August 11 1971. All the best, Steve
John says: Astonishing Steve. I don't know how you do it!
---
Is It Ove?
Nigel says: Hello there ! Are you able to identify the riders in this pair of 1960s photographs ? My guess is that Ove Fundin is on at least one of them ! " Hell had no fury like Fundin behind " ! Hope you enjoy seeing these photos and to hear from you soon, Best wishes Nigel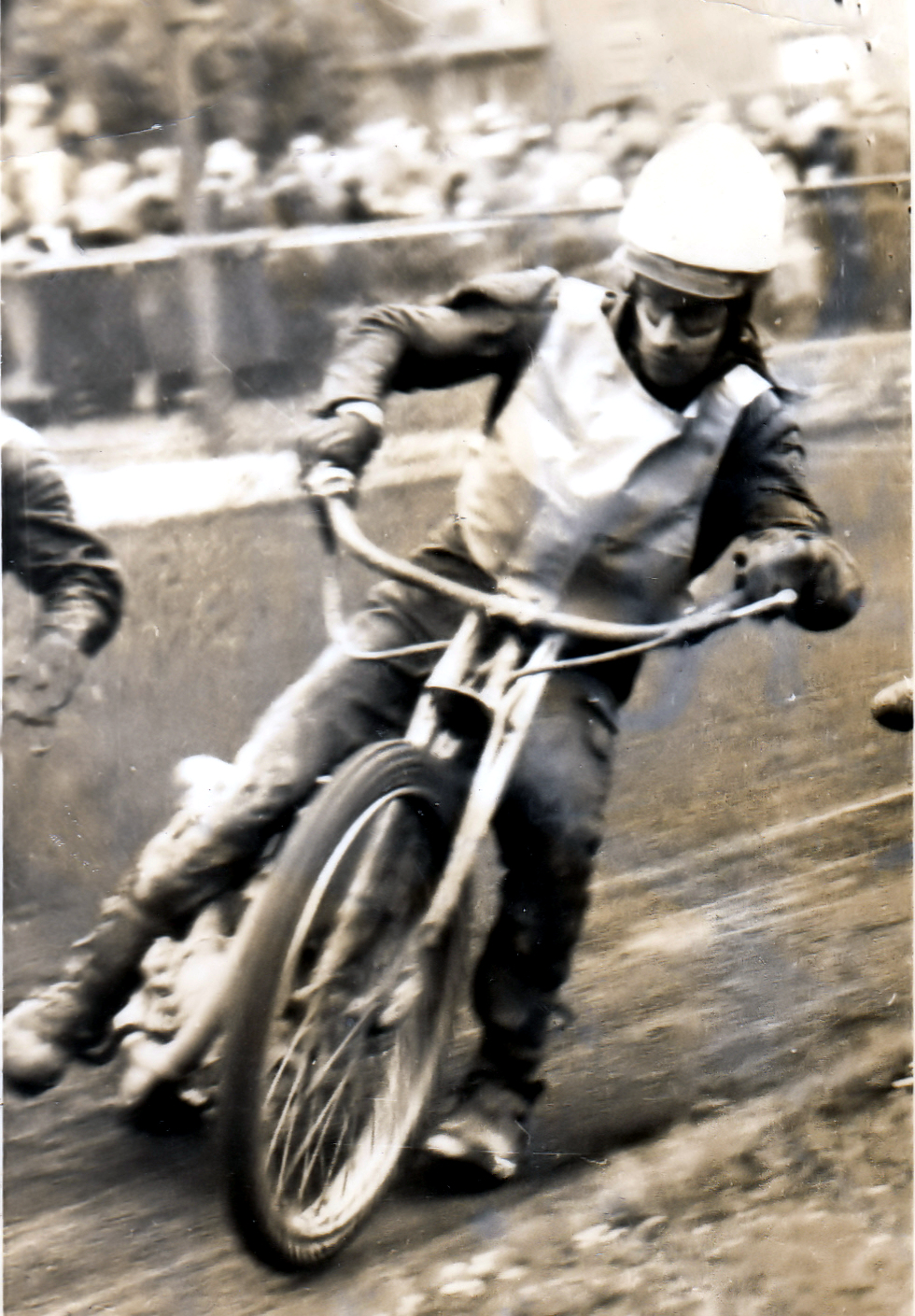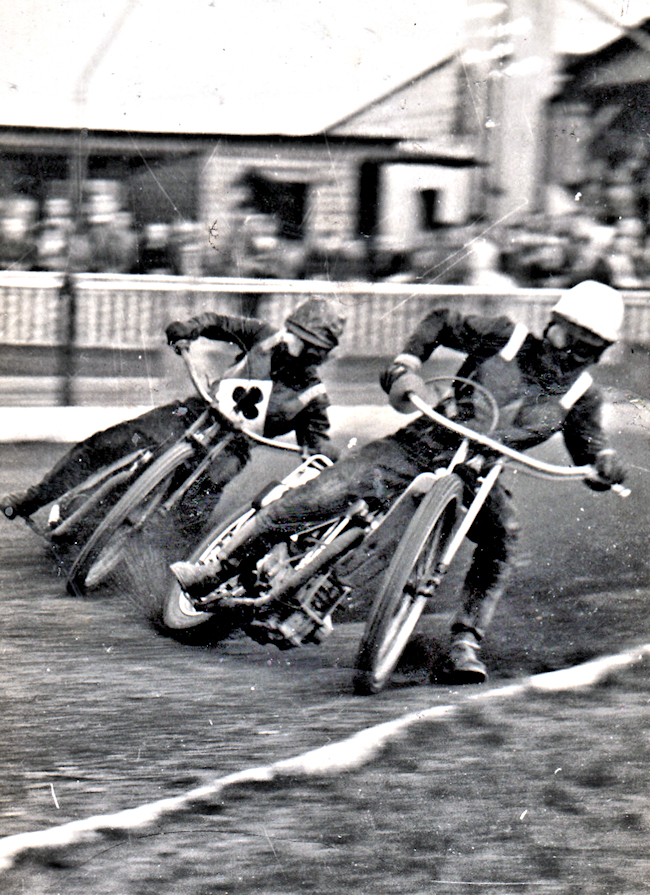 John says: It certainly looks like Ove Fundin in both pics. The Belle Vue rider could be Peter Craven. Please confirm John
---
Argentina

1929/30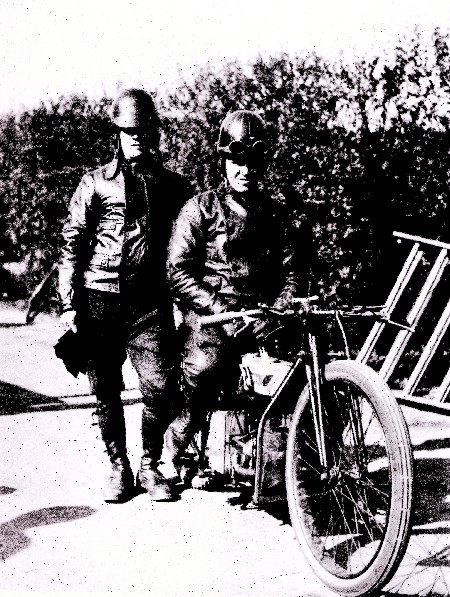 Can you name these two riders John
---
Argentina

1929/30

Line Up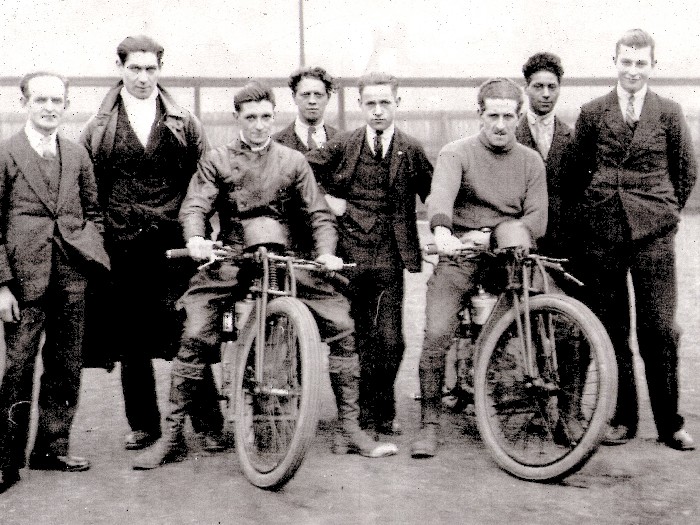 Can you name these riders or the other gents John
---
Hackney Wick

1938

Incident
Anne-Marie Paulin says: Hi John, I am trying to find information on a William Lennon who died in Nov 1938 age 34 from burns due to a petrol tank fire. I can find no information on this in the newspapers but saw this in the Hansard for the time.


"Mr. Thorne asked the Home Secretary whether he can give any information in connection with an explosion at the Hackney Wick Stadium on Tuesday, 15th November; how many people were injured; and what was the cause of the explosion?"
"Mr. Lloyd, I understand that this explosion occurred in connection with the demolition an old petrol-storage tank. Three men were seriously injured, and I much regret that two of them subsequently died from their injuries. The inquest has been adjourned for further inquiries, and it is not possible at present for any statement to be made as to the cause of the explosion."


Anne-Marie says: I am wondering if my grandfather William Lennon was working at the Hackney Wick Stadium as this is very coincidental? Would you have any further information on the explosion and whether my grandfather was involved?


John says: if you have any information regarding an explosion please send me an email John
---
Maurice John Murdoch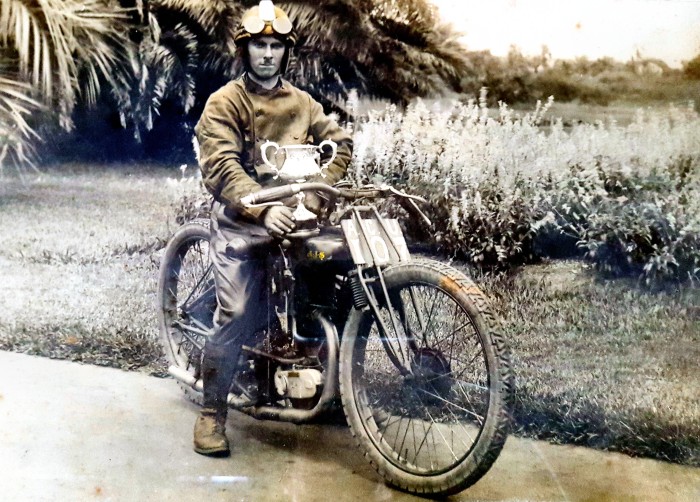 Courtesy of
Luke Eaton
I believe Maurice John Murdoch , pictured above on an AJS machine was an Aussie contemporary of Lionel van Praag and was all set to come to the UK with the 1936 world champion Van Praag but Maurice did not travel to Britain with Lionel due to family commitments.
Luke Eaton says: Would you have any information on my grandfather ( Maurice John Murdoch). Apparently he raced alongside Van Praag and Jack Patman. Regards Luke Eaton
John says: If you can help please email me here
---
Birmingham Bulldogs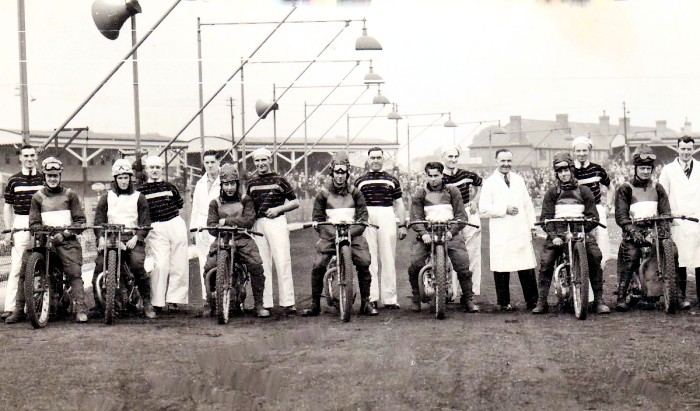 The Brummies supported the pre war Bulldogs at Hall Green. I think Les Bowden is at far right. If you can name anyone in this photo please send me an email John
---
Yarmouth Team,

(Year & Riders Unknown)
Courtesy of Graham Gleave
John says: Can you say the year and name the riders, if so send me an email John
Steve Baker says: Yarmouth from, I think, 1948, and a few names I'm not 100% on, perhaps someone can confirm or rectify! back row, Dick Wise, manager, Reg Morgan and Bill Carruthers. Middle row, Paddy Hammond(?), Bert Rawlinson(?), Billy Bales and Ted Rawlinson(?). front, Roy Duke(?) and Sid Hipperson.
"W"

Race Jacket!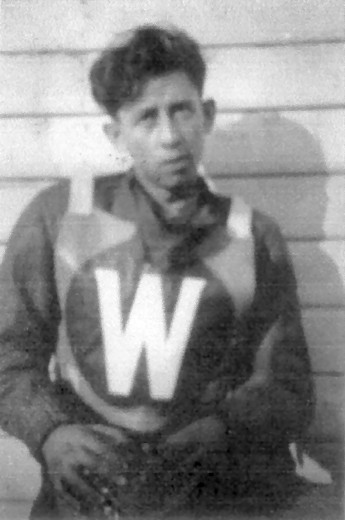 John says: Welshman Ivor Davies modelling a W race jacket can you tell me what the W was for! John
The race jacket Ivor Davies is wearing is Wolverhampton Wasps from 1953, the year Wolverhampton and Cradley merged, a very ill advised move! Imagine Newcastle merging with Sunderland and you will understand what I mean!
John says: As a NUFC fan I would slash my wrists if we even suggested merging with the Mackems!
Col Greenwell says: The large W is for Wolverhampton Wasps...early 1950's
John says: When your town/city is called Wolverhampton you would think the only nickname would be "Wolves" but here we have Wolverhampton calling themselves The Wasps!
---
Willie Wilson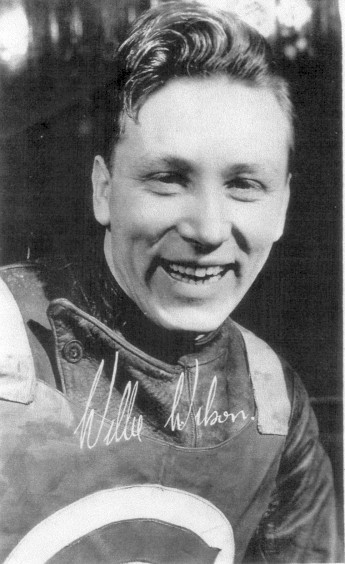 Courtesy of Graham Gleave
Graham Gleave sent me this photo of Willie Wilson. I have to confess I have never heard of him. Can you supply any info on him. I want at least the team he was riding for, I cannot place the small amount of his race jacket and would like the year too John
Steve Baker says: Willie Wilson is pictured wearing an Ashfield Giants race jacket from 1950
Nigel says: Hi John. Referring to the identification of Willie Wilson , I was only a boy at the time he was piling up the points for Ashfield. However I do remember reading in a speedway magazine that a snapped chain once caused him to miss a place amongst the qualifiers for a World Final at Wembley c1952. So he must`ve been pretty good in his day ! Cheers, Nigel B
John says: My thanks to Steve and Nigel for their comments
---
Johnnie Hoskins
With 2 Others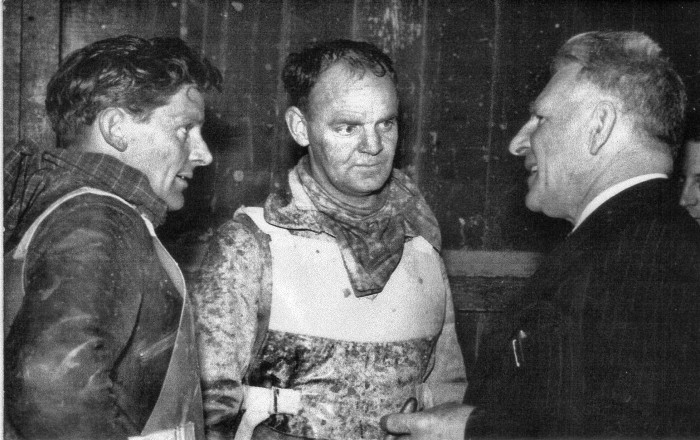 Courtesy of Graham Gleave
Can you name the riders, the year and the track John
Col Greenwell says: Johnnie Hoskin pic. Dick Campbell (Edinburgh) in centre. I still remember races between him and Eric Boothroyd. at Cleveland Park. That would be in er... er.. 1961. Where does time go ?
Steve Baker says: The other rider with Johnnie Hoskins is Jack Young and I think the year is 1951
John says: So if it is Jack Young, Dick Campbell and Johnnie Hoskins in possibly 1951 where would this be? Old Meadowbank? John
---
Unknown Riders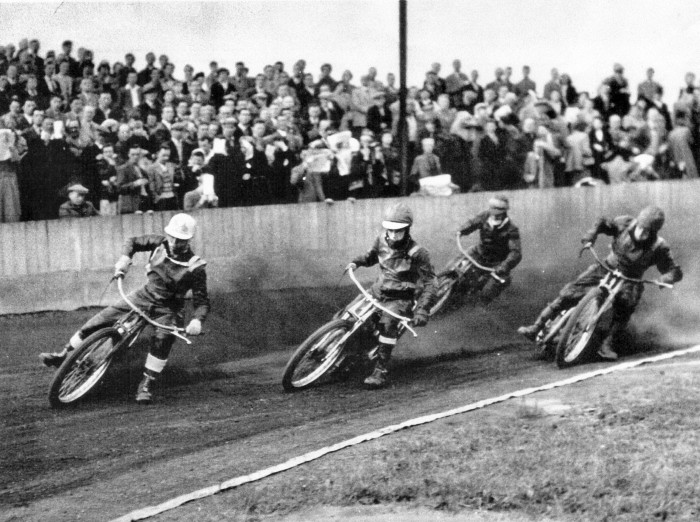 Courtesy of Graham Gleave
Possibly One Of The Glasgow Tracks? Can you name the riders, the year and the track John
---
2 Photos
Same Race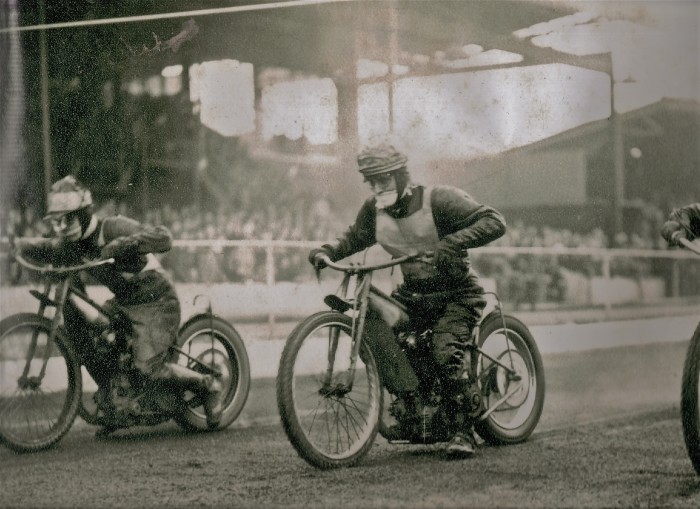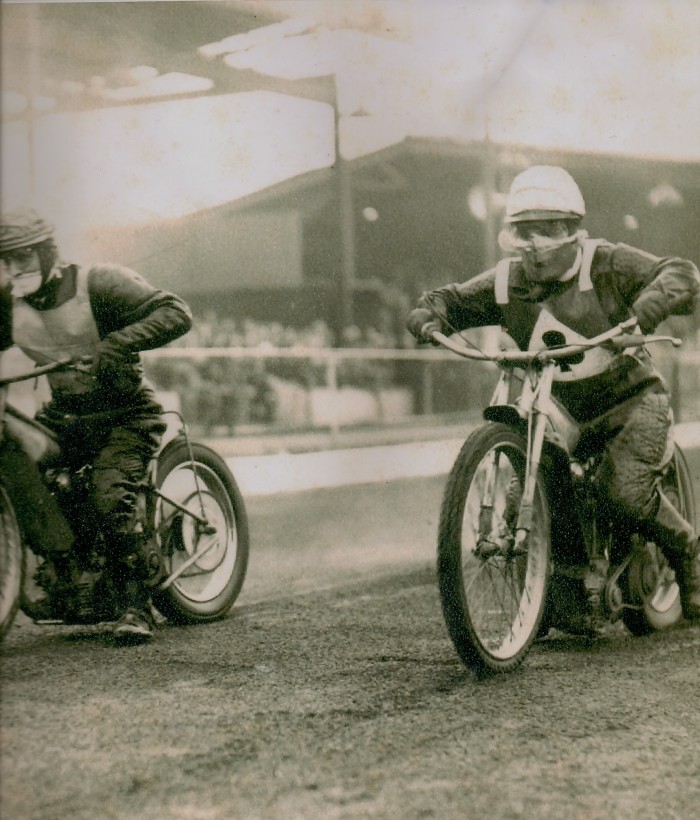 One of these may be Jack Winstanley? The two pictures shown above are of the same race can you name the riders, the track and the year?
John
---
Name The Badge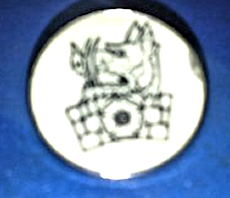 Linsey says: I found your website and thought it was a great source of information on old speedway teams. My grandad passed away a few years ago and left a collection of badges, some of which are speedway ones. We have managed to identify most of them but aren't sure about this one (photo attached). I am guessing that it may be a Hackney Wick Wolves one, as there is another Hackney Wick badge in the collection, but any suggestions you have on which club this relates to would be gratefully received.
John says: Thank you Linsey. You will have to be patient but if anyone contacts me identifying your badge I will post details on here
Gareth Clough says: Hiya John, just looking through your website of all things great on speedway, and was loving the name the rider pages, and then came across the name the badge, now I may be very wrong on this as I was only born in 1982 but the image looked very familiar and I believe it to be from between 1970 and 1973 when the Bradford team went under the name of 'Bradford Northern' the same as the rugby league team who they shared a ground and also the same hogs head logo on their shirts, hope this helps, Gareth from Bradford
Colin Jewes says: Hi John, Re. Name the Badge, (in 'Name the Rider Pt.3'), There may be something in what Gareth says, re that badge and Bradford Northern, for that's certainly a Tudor rose in the centre,
but perhaps the real question is, Is it a speedway badge?
John says: Well of course it may not be a speedway badge. It stays on my Name the Rider (badge) and is interesting is it not?
---
High Beech Team

Can you say what year this team rode together and their names? send me an email John
---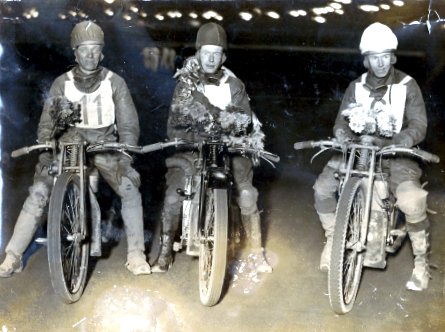 I assume this is Belle Vue and Len
Myerscough is one of these? If you can supply names email me please
John
---
Ken Last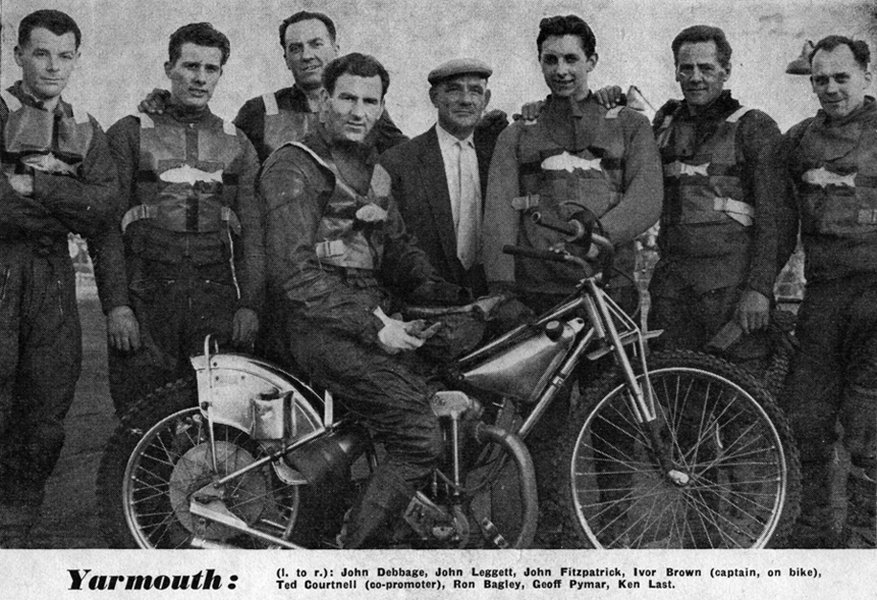 John says: This request is a little different from my normal requests for names of unnamed riders in pictures I get sent to me. 1960 Yarmouth rider. Ken Last, is at far right in the above speedway star scan. Please see the following email from a relation of Ken: -
Hello John, I am writing to you to ask whether you have any information or photographs of Ken Last, I have found one on your site 1960 Yarmouth team. (John says: see above picture). Luke continues: Ken is my great uncle and he has been telling me about his speedway days. I thought I'd investigate further as he doesn't have many photos. I believe he rode for Great Yarmouth 1960, rode for Ipswich in 50's and Kings Lynn sometime after 1960. Regards Luke Manning.
John says: Of the 3 tracks Ken rode for, only Yarmouth is defunct! So my site has nothing on Ipswich or Coventry. Luke would love some info/pictures of Great Uncle Ken. Perhaps you have pics of Ken Last at any of his clubs or info that you would like me to pass on to Luke? If so get scanning and send me an email.
John
Steve Brown says: Ken Last also rode for Norwich
Colonel Green says: I have some info on Ken Last, please see the following information: -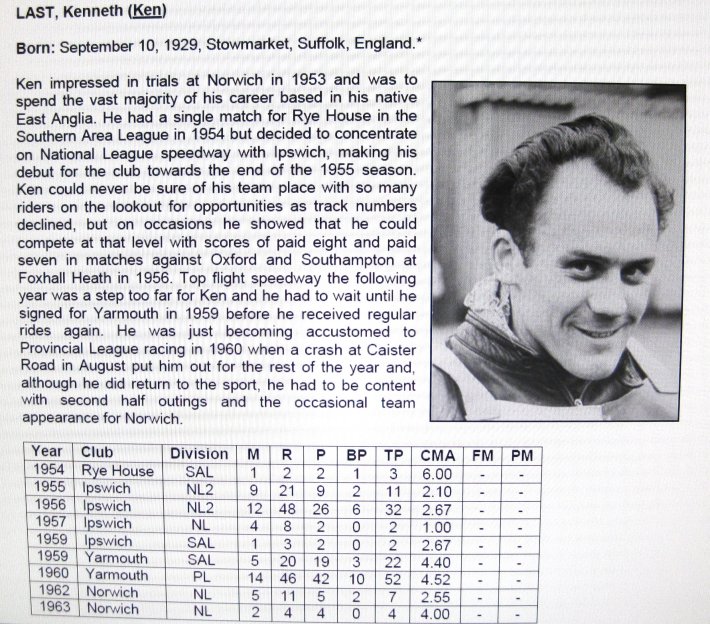 John says: Hi Luke, I hope this section is a help on your search for information on your Great Uncle, Ken Last