Halifax Speedway
(The Shay)
The Shay Grounds, Shaw Hill, Halifax, West Yorkshire, HX1 2YS Action began in 1949 and lasted until 1986
Prior to action from 1949 at the Shay, Halifax was introduced to Dirt Track racing at
Thrum Hall
between 1928-1930
Dave Younghusband
Eric Boocock
Halifax Badges
Kenny Carter
---
The Shay From The Air

1970s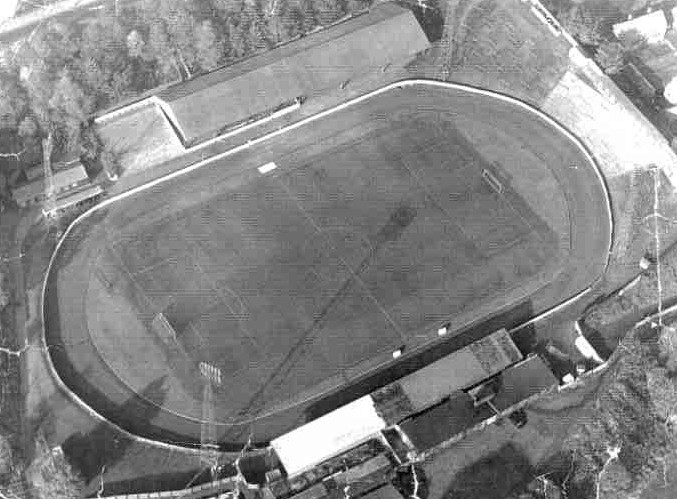 Ex- Halifax promoter Reg Fearman sent me this pic of the Shay taken when he was there in the 1970s. Halifax had a big fast track the envy of lots of other teams but sadly Halifax Speedway did not have a long history.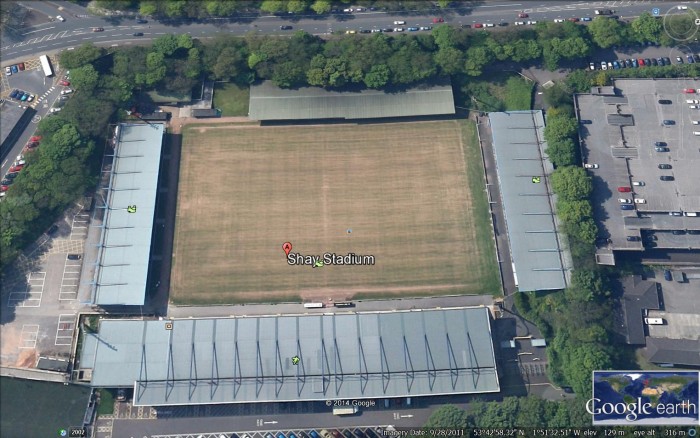 The Shay 2011.
Reg Fearman says: Hi John. On the latest items on your website in the A-Z under Halifax, someone suggests resurrecting Halifax, I think not, at least not at The Shay. The old pits are in the left hand corner and the speedway office behind . The first corner now has a stand as does the top bend.
John says: No chance for speedway around this pitch. Halifax devotees need to look elsewhere for a new speedway venue in or around the town, mores the pity as the Shay was a great asset to British Speedway. Thank you Reg and it must be hard for you that none of your many tracks are operating today.
---
Halifax 62 Yarmouth 21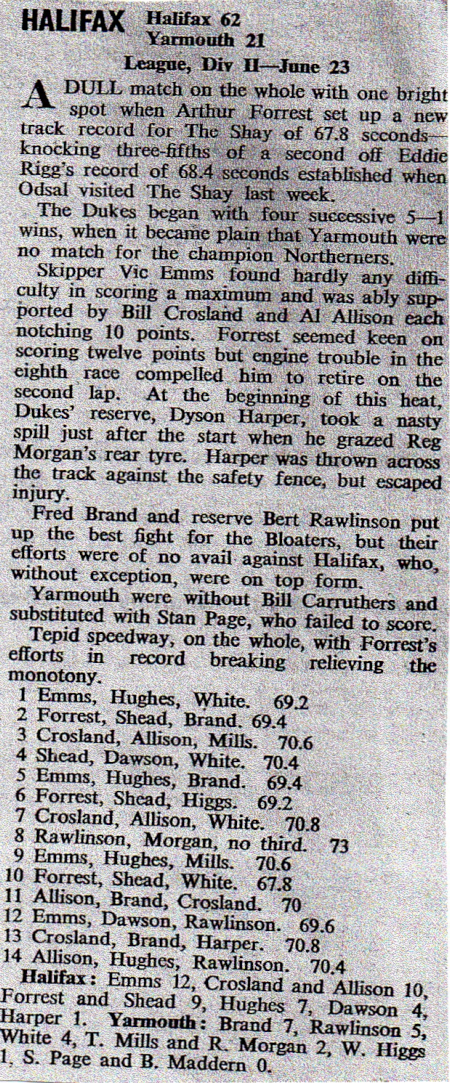 Courtesy of Graham Gleave
---
1949


Halifax Bulletin
The following scans are from a bulletin/booklet commemorating the birth of speedway at the Shay which opened it's doors for the first time on 6th April 1949. The "bulletin" was sent to me by Les Brewer when he and his partner were going through his partners fathers effects. I thank Les for sending it and I have reproduced it here for all to see.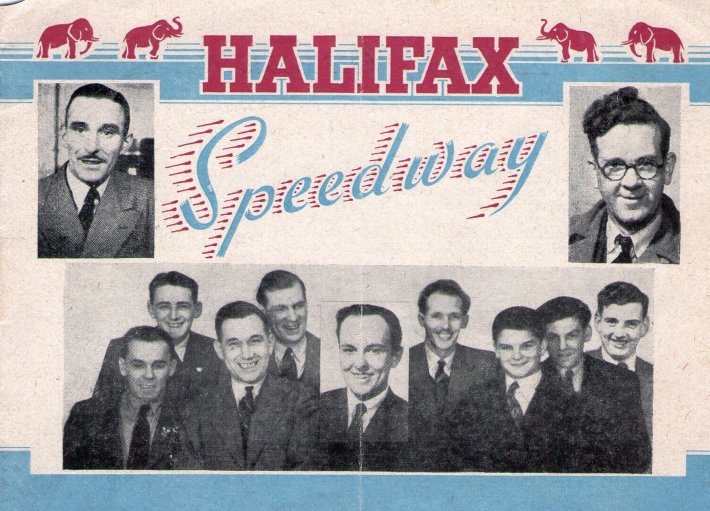 So! 1949 Halifax personnel in the above image can you name them for me please?
John
Colin Greenwell says: The guy with the specs is Eric Langton (Team manager) Rode a lot for Belle Vue pre war.
The one guy I know for certain is Arthur Forrest..(third one in from the right). I would say that is captain Vic Emms in the centre. Now will do some thinking. The guys look so much different in suits etc..!!
John says: I suppose those pictured will be the 1949 team? However, I may have seen their names but I cannot put the names to the picture. Hopefully someone can. My mate Reg Fearman is away in Florida right now so he is not at the end of me emailing him. I suspect as it is 1949 when Reg was riding he would know these guys.
So can you help before Reg comes back from holiday? By the way Reg Fearman is now 80
John
Steve Baker says: Hi John, I have some names for the Halifax 1949 bulletin. The two inset pics are Bruce Booth (promoter) and Eric Langton. The main pic, left to right, Al Allison, Eric Smith, Eric Mason, Bill Crossland, Vic Emms, Jack Dawson, Arthur Forrest, Jackie Hughes and Jock Sheard.
The rest of the bulletin/booklet follows in it's entirety below: -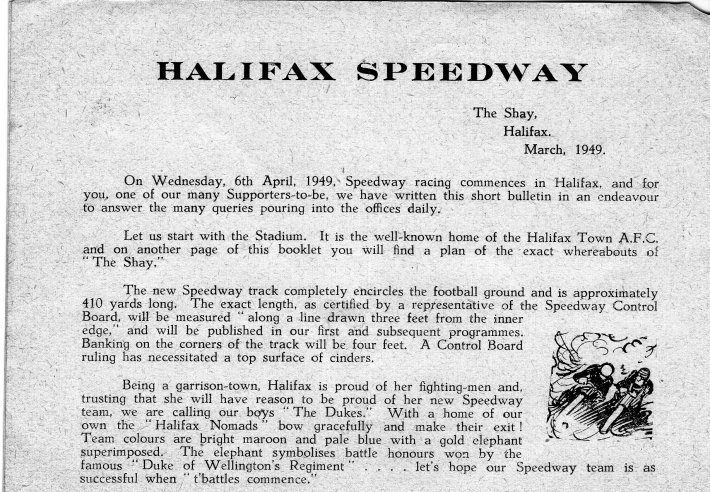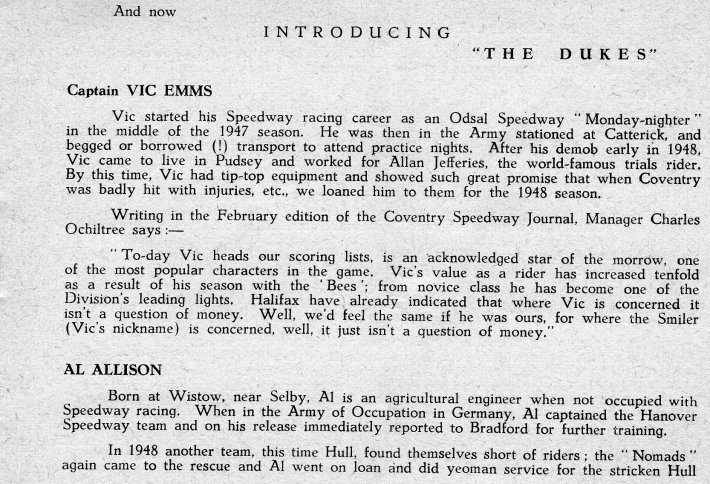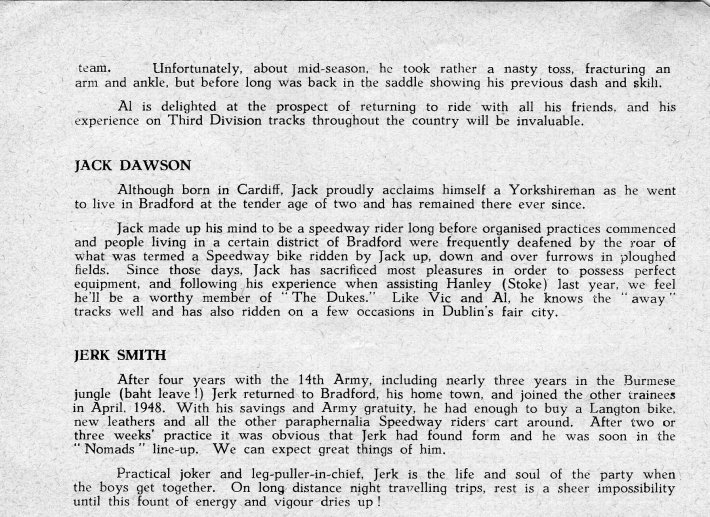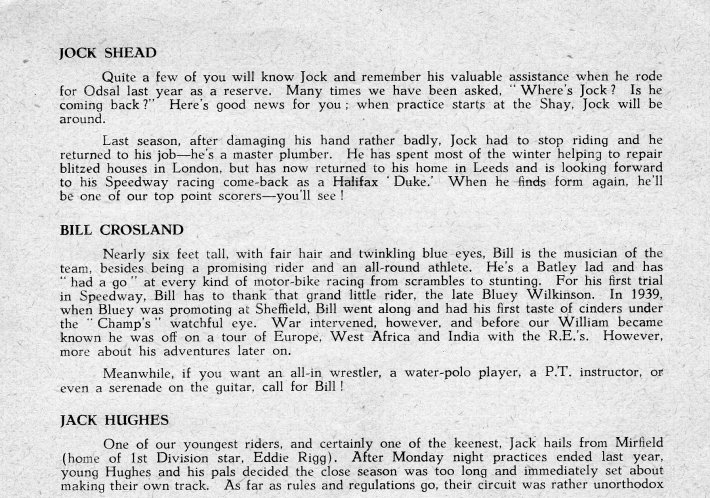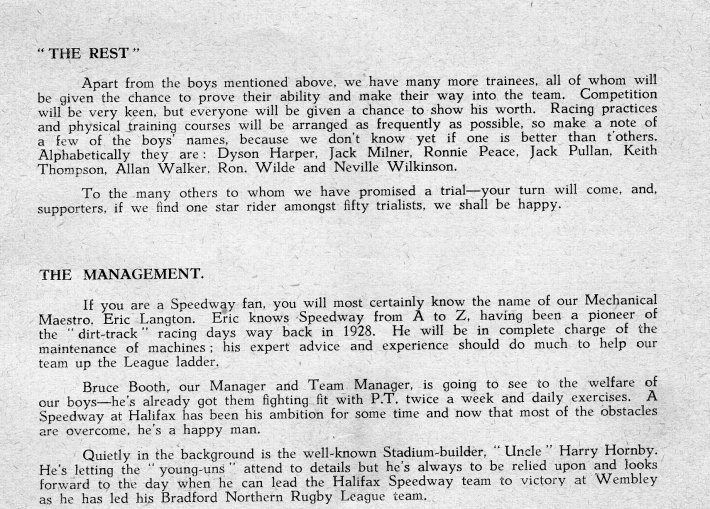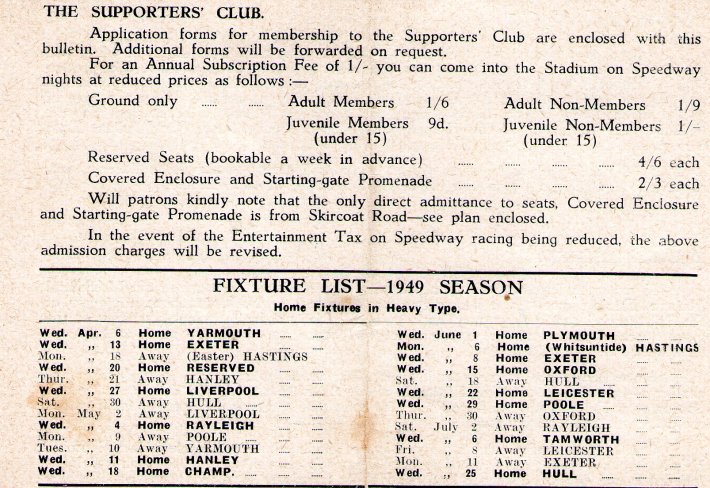 All Halifax fans will be pleased to see this bulletin. An early bit of Dukes memorabilia and below is the programme from the first ever match at the Shay.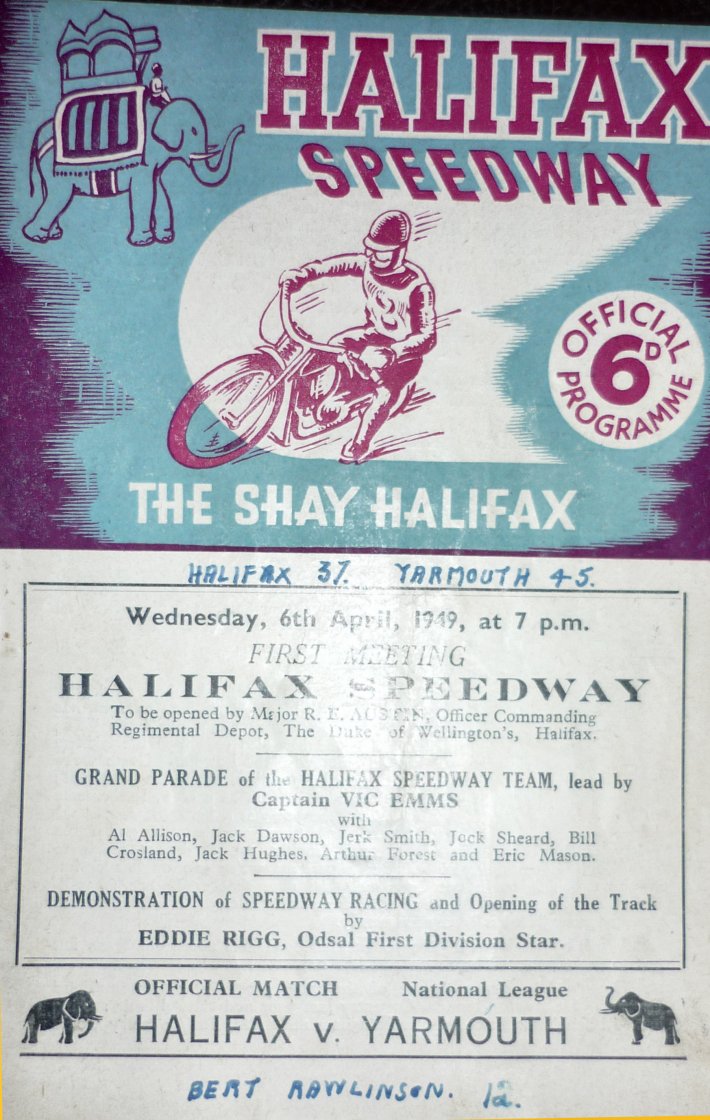 Courtesy of Marcus Stokes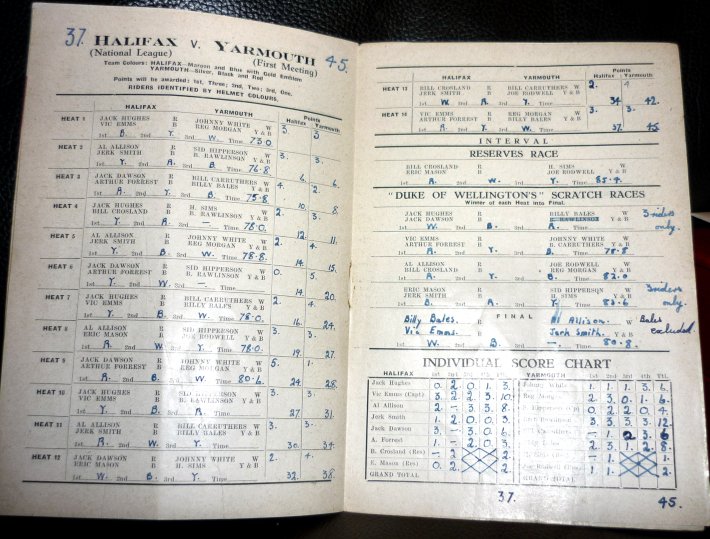 Halifax Book





Courtesy of Colin Greenwell






Colin says: T

his is a scan of a paperback book I have on Halifax.

John says: The book must cover the earlier Halifax track at

Thrum Hall

which ran 1928 to 1930 as well as The Shay from 1949, which is covered on this webpage. The book cover is a reproduction of The Shay's first meeting programme and doesn't it look great?






---



Halifax Badges
1949
1969
1970
1971
Year Unknown
Year Unknown
Year Unknown
Wattie Dunlop's Badges
1974
1974
1976
1977
1978
1979
1980
1981
1982
1983

---

Arthur Forest



Arthur Forest, or Forrest (I have seen his name spelled both ways) rode, age 17 for Halifax in their opening season 1949. He stayed with Halifax (1949-51), Bradford (1952-57) and Coventry (1958-59). Forest started his career with the

Halifax Dukes in the National League Division Three. In his opening season aged just seventeen he scored nineteen maximums (unbeaten by an opponent) from fifty meetings. The following season the Dukes rode in National League Division Two, but Forrest carried on from the previous season, actually raising his average. Whilst with the Dukes he was called up to ride for England at only eighteen years of age. After a third season with the Dukes in 1951 he joined hometown club, the Bradford Tudors in 1952






---

1965

Halifax
This side was transferred from the recently closed down Middlesborough when Reg Fearman moved his operations from Middlesbrough to Halifax

---

1966

Halifax
1966: Dave Younghusnand, Bob Jameson, Maurice Morely (Team Mananger), Tommy Roper, Eric Boocock. Kneeling, Bert Kingston, Eric Boothroyd and Denis Gavros.

---

The Shay Grounds

---

Dave Younghusband

Dave Younghusband was born in Weardale, County Durham on the 4th May 1938. Dave could have gone to either Newcastle or Middlesbrough, his two local tracks. Newcastle lost out and Dave joined the Bears. he stayed at Middlesbrough until Reg Fearman pulled out at the end of 1964. Reg moved his entire Middlesbrough side to Halifax and Dave went with Reg.

Dairy Festival Winner Dave Younghusband flanked by close rivals Newcastle Diamonds Ole Olsen and Ivan Mauger




England 1967




England 1968




Dave riding the high line around the Shay, look at the packed crowd




Dave Younghusband England v Sweden 1971




Dave Younghusband 1971

---

1970 Halifax Dukes

John says: I can see Dave Younghusband, Eric Boothroyd, Colin McKee and Eric Boocock. Help please with the rest

John

Phil Masters (Weymouth) says: Dave Younghusband, Les Sharpe, Eric Boothroyd team manager, Alan Jay, Terry Lee, Colin McKee, Greg Kentwell, and on bike Eric Boocock, captain.

---

Belle Vue v Halifax

Belle Vue v Halifax, Dave Younghusband leading

---

Halifax v Glasgow

Halifax v Glasgow 1968, Dave Younghusband leads

---

Halifax Badges
Scans from Russell Earl

---

Bert Kingston

---

Bert Kingston
& Bob Jameson

---

Eric Boothroyd Arne Pander Dennis Gavros Alan Jay Dave Younghusband Greg Kentwell Les Sharpe with Eric Boocock (capt) on machine

---

1968

Halifax

1968 Saved from a Speedway Star, courtesy of Nigel Robinson

---

Alan Jay



Alan Jay son of a famous father Wilf Jay

---

Eric Boocock

Courtesy of Steve Cummins

Eric Boocock was born in 1945 in Dewsbury, Yorkshire. He started his career in speedway with Middlesbrough Bears in 1961 remaining at Middlesbrough until 1964 when their track closed moving with Reg Fearman to Halifax for 1965. He stayed with the Dukes until retiring in 1974 at the ripe old age of 29!

Steve Magro says: When Eric Boocock started out riding with Middlesborough in 1961 who was to know he'd be one of speedway's most astute administrators (at the time of writing this in 2011) 50 years later?

Today Boocock is team manager and co-promoter for the Sheffield 'Tigers' in the British Premier League; he's had national positions too, guiding England to World Team Cup championships.

A former world finalist and British Lion, Boocock was British Champion in 1974. He is perhaps best known as captain for the Halifax 'Dukes', where he stayed for most of his career.

Since then he's managed speedway teams such as Belle Vue, Long Eaton and Hull. In 1976 he also helped Peter Collins win the Speedway World Championship by stripping, cleaning and rebuilding his clutch between heats in the final, and by keeping away an attempt by the Polish contingent to put off Collins in making irrational protests over his fuel.

Happy 50 years Eric!

---

Kenny Carter
Kenneth Malcolm Carter (born Halifax 28 March 1961 – died 21 May 1986), was a world class English rider. He rode for Newcastle Diamonds (1978), Halifax Dukes (1979–85) and Bradford Dukes (1986)
In the lower league riding for Newcastle in 1978 he was a sensation at 17 years old. He rode in a number of world finals and was much better than his fifth places in the finals suggest. Kenny was a volatile character and fiercely patriotic. His sometimes on camera feud with the much cooler tempered American Bruce Penhall was a popular talking point. Kenny's death in 1986 was a major shock when the news broke. He had fatally injured his wife Pam and then turned his gun on himself.
Glyn Morriss sent the above picture. He says: Kenny Carter leads from Hans Nielsen, I think Neil Collins? not sure of other Dane at the Shay 80's
John says: Looks like an International England v Denmark in front of a big crowd at the Shay Halifax
Photo from Glyn Morriss he says: Lada Classic indoor meeting at Wembley arena early 80's Kenny Carter and Hans Nielsen
Kenny Carter
In Vojens Denmark
Glyn Morriss says: Here are two photos of Kenny on July 25th 1981 Vojens, Denmark, Inter- Continental Final
Kenny in the pits area before the start of the meeting finishing in fourth place and securing his World Final debut at Wembley.
Kenny Carter Models

Glyn Morriss says: Regarding my models of Kenny Carter, hours went in to constructing them, trying my best to capture his brilliance. I gave the entire collection to the late great Ian Thomas who was going to auction them off on behalf of the Speedway Riders Benevolent Fund. I hope they found good homes

John says: I have seen a few model speedway riders but none with the professional look of Glyn's, Kenny Carter set. I like the 2 Union Jack action figures and the Bruce Penhall & Kenny Carter standing figures. Thank you Glyn for sending them and yes I hope Ian Thomas manged to get them auctioned before his untimely death.

---

Halifax Pits
Courtesy of Glyn Morriss
Glyn Morriss says: Ian Cartwright at far left, Kenny Carter centre and Chris Morton No 6

---

Name The Rider

This photo was taken by Helen Jobson in 1984, can you identify the rider

John




Paul Burton says: The Dukes rider from 1984 is Doug Wyer.




Steve Baker says: Hi John, the Dukes rider picture sent in by Helen Jobson is Doug Wyer.

---

The End!
The speedway promotion and the football club landlords had financial differences culminating in a parting of company. The Dukes pulled out at the end of 1985, they relocated to Bradford. Halifax should be a team that someone should invest in and bring back.
Three Photographs of the Shay follow, taken by Andy Green in 1987 at a Grasstrack club meeting: -

The track was still there and rideable by the looks of it. Has anyone been there more recently than 1987 email me if you have any photos or information

John

---

If you have photographs programmes or badges and are able to scan them please get in touch

John

---

The contents of the site are © and should not be reproduced elsewhere for financial gain. The contributors to this site gave the pictures and information on that understanding. If anyone has any issue or objections to any items on the site please

e-mail

and I will amend or remove the item. Where possible credit has been given to the owner of each item