Halifax Speedway

(Thrum Hall)
Thrum Hall Cricket Ground, Spring Hall Lane, Halifax, West Yorkshire staged speedway between 1928-1930
. Much later, in 1949, Halifax was served by it's better known track
The Shay Grounds.
---
Thrum Hall Programme Cover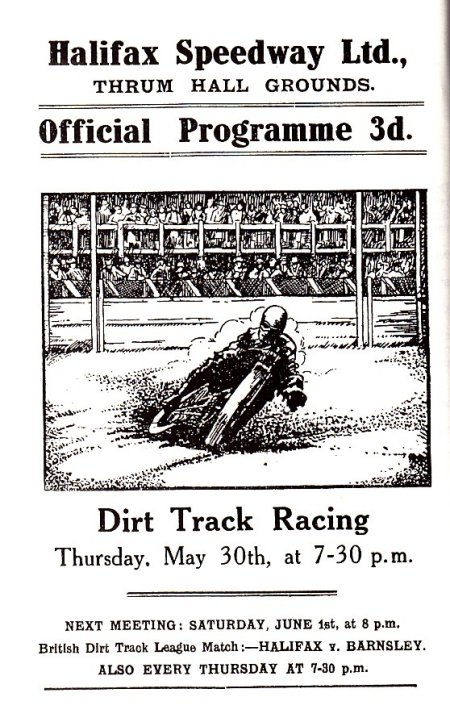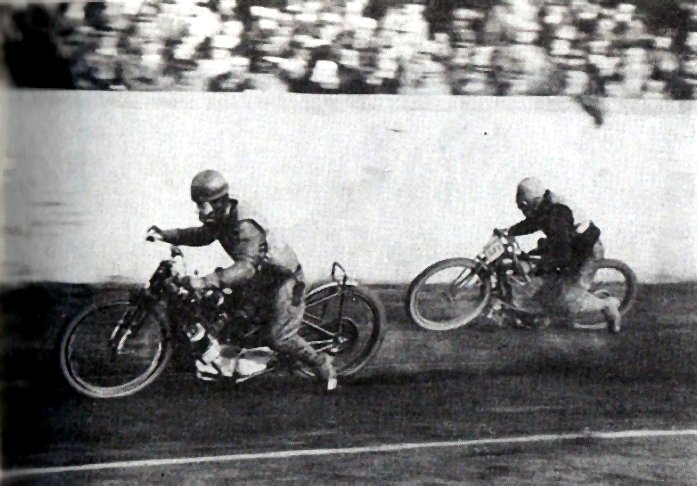 Incredible action from Thrum Hall Halifax 1929 Frank Varey (Scott) leads Billy Lamont (AJS, unless you know better?) The Scott was a two stroke so it must have made a much different noise to the rest of the speedway machines which were 4 strokes. A 500cc two stroke would have been very loud and in modern times it would have brought huge claims from local residents to get the sport banned
Newspaper Report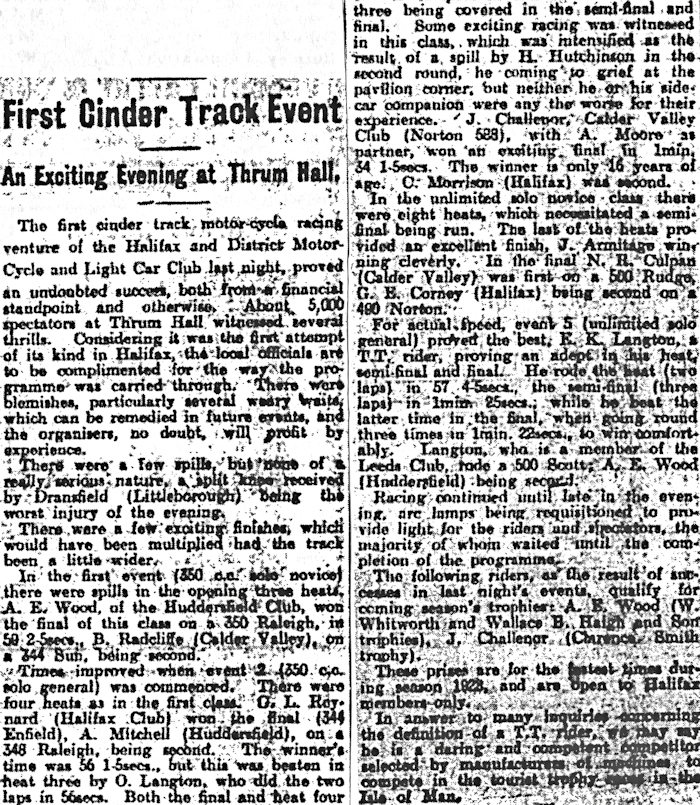 Courtesy of Graham Gleave
Thrum Hall Team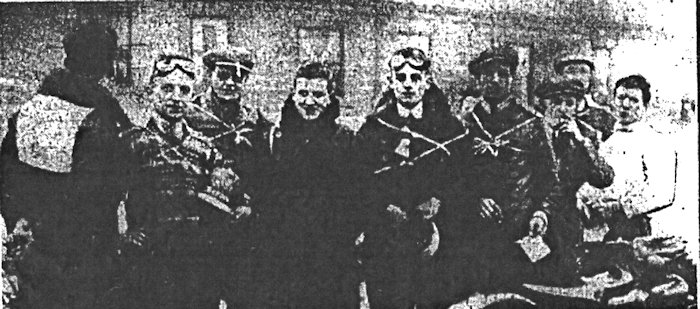 Courtesy of Graham Gleave
Starting Area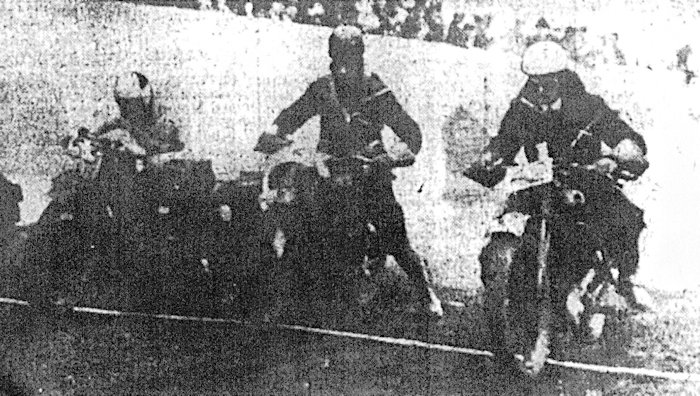 Courtesy of Graham Gleave
G Corney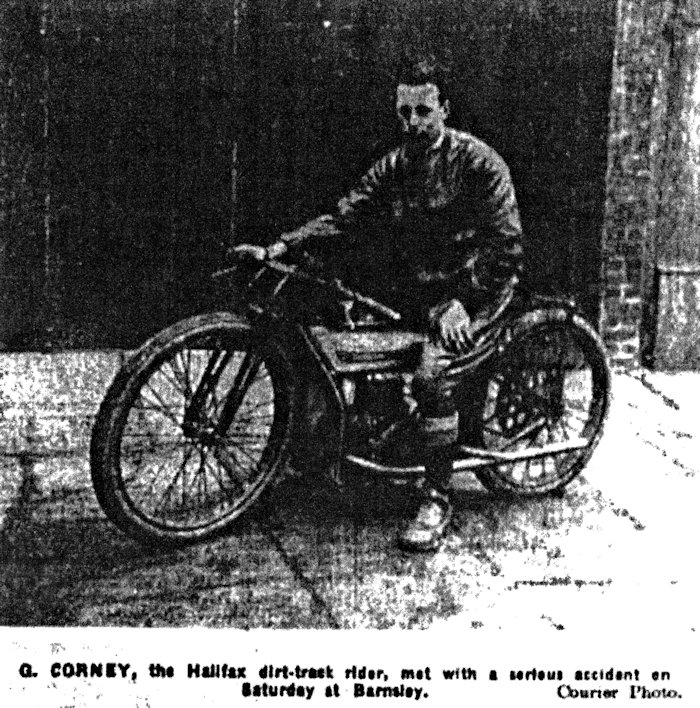 Courtesy of Graham Gleave
---
Thrum Hall
Cricket Ground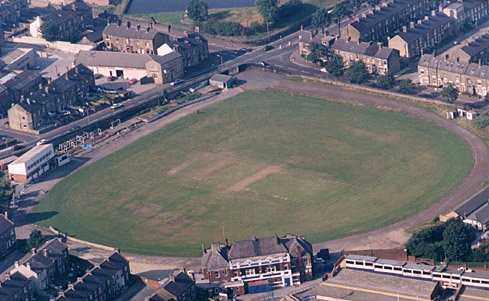 No! This is not a photo of a D shaped speedway track!
Dave Beecroft says: Hi John, me again. Scouring through local history websites, I came across this aerial photograph of the Thrum Hall cricket ground (see above), which was the home of the first Halifax Speedway. Sadly it is all no more as it was razed to the ground along with the famous rugby league ground which was the home of Halifax RLFC. The Blue Sox, as they are called share the new, squared off (shame) Shay with FC Halifax Town. All for a new Asda. I believe, although I am guessing, that the path was probably part of the track. Also included is a picture of "Cyclone" Billy Lamont, taken at Thrum Hall in 1930.
By the bye. Department of interesting but useless information. The definition of the word thrum indicates the textile background of the West Riding of Yorkshire:- (in weaving) An unwoven end of a warp thread, or a fringe of such ends, left in the loom when the finished cloth is cut away.
All the best
Dave
John Skinner says: Thanks for the local history lesson Dave. Now I will win Who Wants to be a Millionaire when the question "What is a Thrum" comes up.
---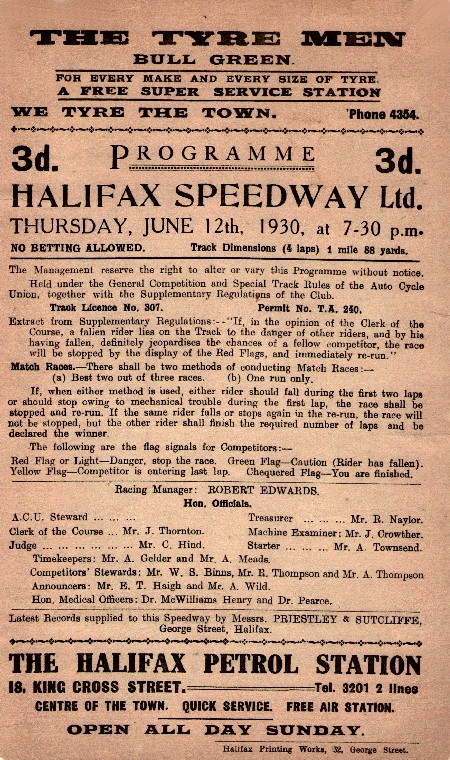 ---
Thrum Hall Action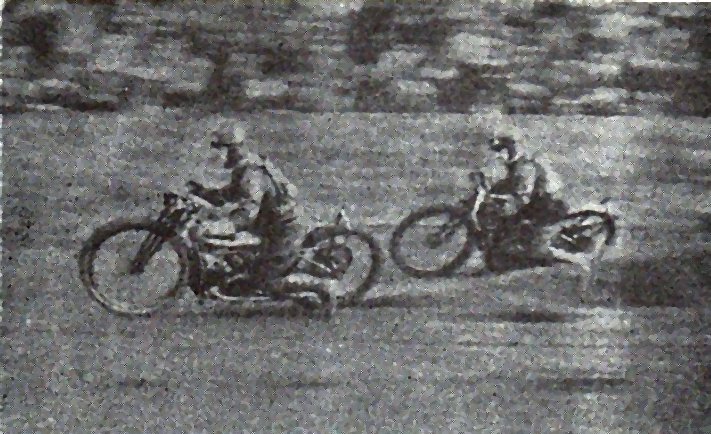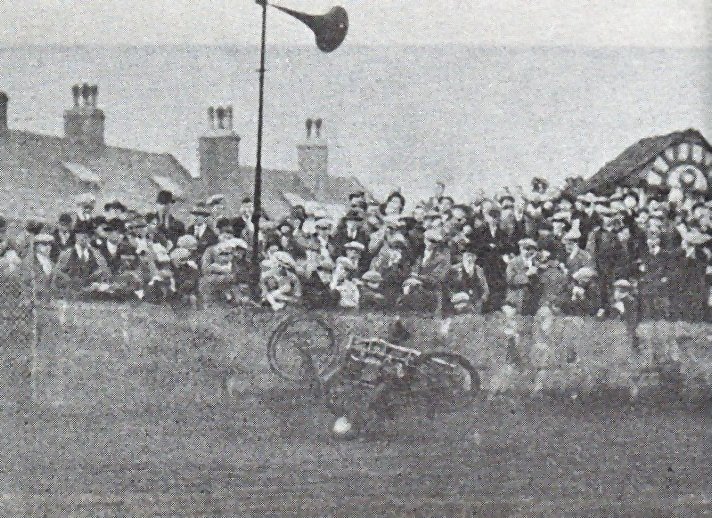 Two very grainy pics of action at Thrum Hall. Looks like a bad crash. I hope the early cork crash helmet saved this guy some serious injury
---
If you have photographs programmes or badges and are able to scan them please get in touch John
---
The contents of the site are © and should not be reproduced elsewhere for financial gain. The contributors to this site gave the pictures and information on that understanding. If anyone has any issue or objections to any items on the site please
e-mail
and I will amend or remove the item. Where possible credit has been given to the owner of each item.