Barrow

Speedway
(

Holker Street)
Barrow have had 4 speedway homes but are best remembered at Holker Street stadium, Barrow in Furness, Cumbria where they first staged racing in 1930 and again between 1972-1974, 1978 The stadium belongs to Barrow FC. Does anyone know why it cannot be used for speedway today*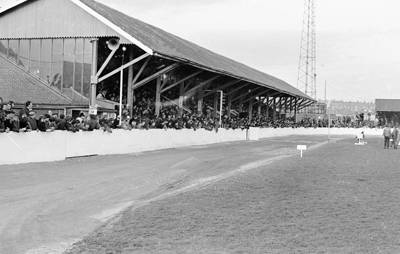 Courtesy of John Coulston
*Richard Ryan has been in touch he says: Hi John , I am a Leicester Lions fan since 1968 been in Canada for 27 years now. There will never be Speedway at Holker street again as the football club redeveloped the ground squaring off the ends. I saw a game from the F A cup last year (2007) and you would never know that Speedway ever took place, but it did because I saw it there myself,
regards Richard Ryan .
---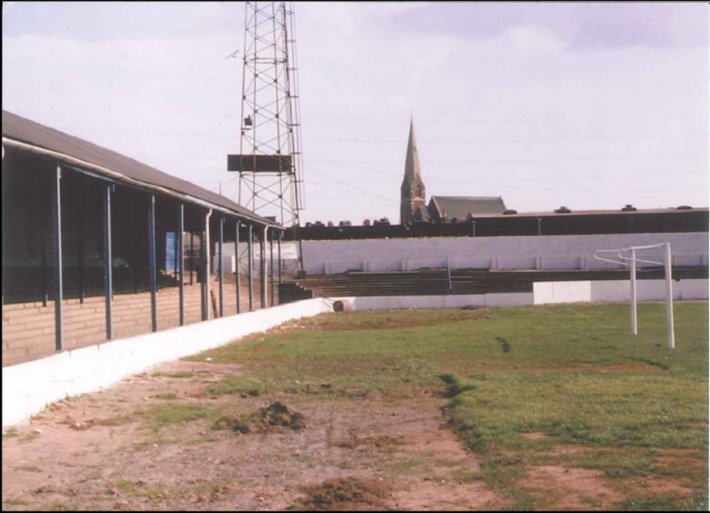 Courtesy of John Coulston
John Coulston says: Here is a photo of Holker Street a couple of years after the speedway had been thrown out. Also There is a Barrow Speedway facebook page with lots of great photos on it.
---
John Coulston says: Hi John, I've Been looking at your superb site of defunct tracks. I'm from Barrow and don't think I missed a meeting for the 3 years at Holker Street and I don't think I missed any at Park Road either. Holker Street was closed to speedway due to ongoing problems with the landlords Barrow Football Club,to accommodate the speedway track the corners of the football pitch had to have turf to be placed on boards and put down for football and removed for speedway which led to a number of complaints from the football authorities and visiting teams. The
only answer would have been to move the whole track and pitch using land at the back of the ground but that would have entailed moving the floodlight pylons which in the end I think proved insurmountable (that and the increase in rent!!!).The stadium is still the football ground.
John Skinner says: John Coulston has sent us many pics of Barrow, Holker Street. I have captioned his pics "Courtesy of John Coulston" He has also allowed me to start a Barrow Park Road page by sending some pics of that venue. Check out
Barrow, Park Road
in the sites A-Z section and see if you can add to that page.
Adrian Pavey says: Hello again John. I will get some info together on Whalley soon but first a bit of background to the various Barrow ventures. Your Barrow page says that there have been 4 venues for speedway in Barrow, but there has only been 3. Holker Street (twice), Little Park and Park Road.
[Webmaster: the 4th was a training track used in 1952]
Holker Street, the home of Barrow AFC, was first used for speedway in 1930. Northern Motor Sports Club hosted 7 meetings from June 12th until July 28th. The season was cut short as the football club needed to relay the turf in preparation for the new season. Speedway returned again in 1931 but at a new venue, Little Park, the home of Barrow Rugby League Club, around 3 miles out of Barrow at Roose (ironically just over the road from Frank Charles' house!). The venture was primarily to help fund the rugby club while their brand new Craven Park stadium was being built in Barrow itself. Once again, the speedway was short lived. The track opened on June 1st before the 4th meeting on June 22nd was postponed. Meantime there was a fall out between the ACU and the promoters and only 1 more meeting was ever held on August 24th 1931, where the outstanding rider of the night was a certain William Kitchen!
Speedway eventually returned to Holker Street in 1972 under the promotion of Wally Mawdsley, with assistance from Peter Oakes and Ivan Mauger and Peter White as speedway manager. The relationship between the landlord and tenant was always a tenuous one and after 3 entertaining seasons Holker Street held its final speedway meeting on 24th Sept 1974.
Park Road became the third venue to host speedway in Barrow when Cliff Hindle opened his purpose built 300yd track in August 1977. Once again though, it was a short lived venture and Cliff cut his losses and closed the track down at the end of the 1978 season. Berwick then used the Park Road circuit for 5 "home" league matches and 1 KO cup match whilst waiting for their new circuit to open, a further 2 matches were rained off.
Chris Roynon then purchased Park Road and introduced stock cars and speedway training sessions in 1983. 7 "open" speedway meetings featuring the Barrow Blackawks were held in 1984 and possibly the weakest team to ever grace the league started the 1985 season before they were expelled in May. Barrow continued with open meetings and Intermediate challenge matches before speedway finally died in Barrow for good on Sept 24th 1985. Stock cars continued use the Park Road track in 1986 but Roynon replaced the track with a greyhound circuit for 1987. Park Road was finally demolished and the site was cleared in 1994 for the construction of a candle factory.
There is also a web site http://home.clara.net/barrowfan/BarrowSpeedway.htm that has photos and scores etc on Barrow meetings.
---
Holker Street Stadium
Andrew Gallon says: Hello John, Five pics of Holker Street, Barrow, as it was in 2015. Most of the stadium has been rebuilt since speedway departed in the mid-Seventies. Given the existing layout, it is hard to imagine how an oval track was shoehorned into this venue! Kind regards, Andrew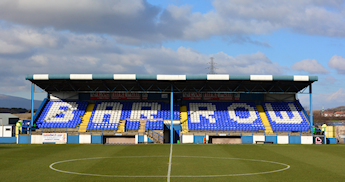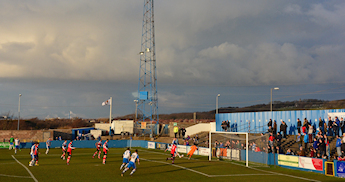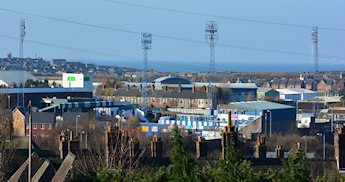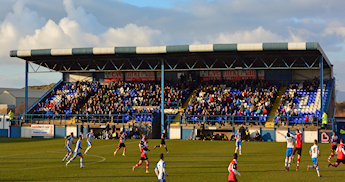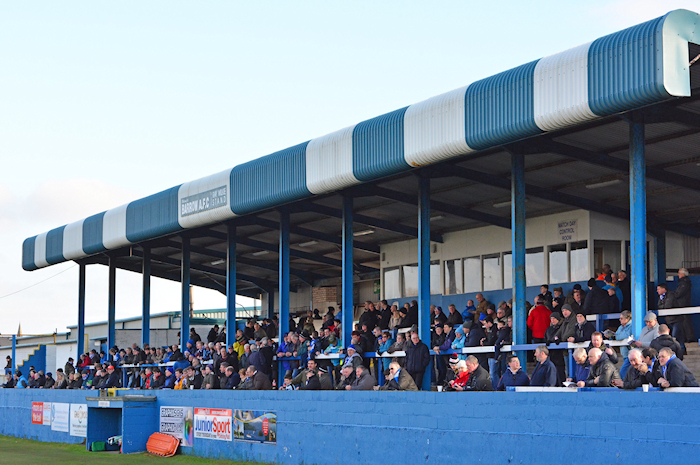 Pictures courtesy of Andrew Gallon
---
Barrow Badges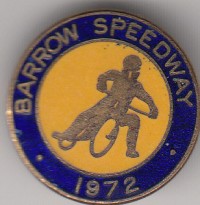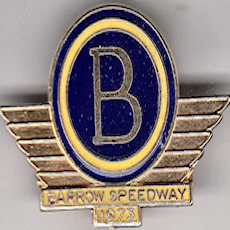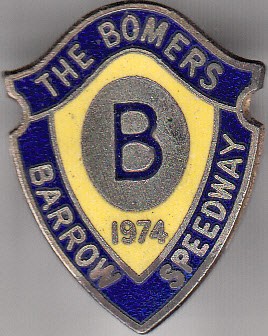 1972, 1973 & 1974 Badge's
The designer of the 1974 badge needed to go back to school to learn how to spell or was the 1974 team called the Barrow
Bomers
It is a good looking badge despite getting the nickname wrong!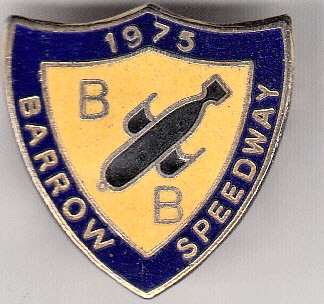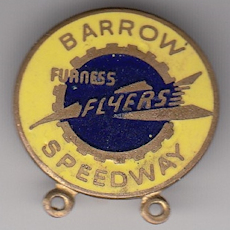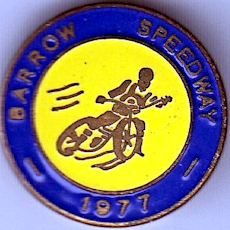 The above left badge indicates someone connected with Barrow Speedway in 1975 had seen a blue-print for a cruise missile before designing the speedway badge!
---
1972 Team Photo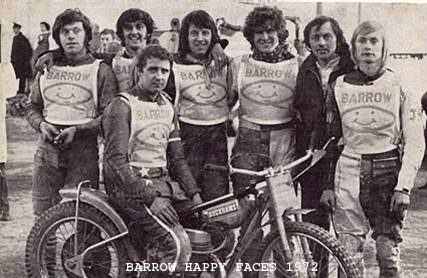 Courtesy of John Coulston
Bob Coles Mike Sampson Alan Mackie?? Tom Owen Bobby Campbell Ian Hindle. On bike Mike Watkin
John Wilson says: Hi John, Great and interesting web site. The photo of the 1972 team names Alan Mackie??It is in fact me. I was on loan for a short period from Glasgow Tigers.
Alan was a good friend of mine and we were both Glasgow Tigers juniors at that time, I went on to ride for Glasgow and he retired. This Brings back great memories Kind Regards, John Wilson.
Barrow v Birmingham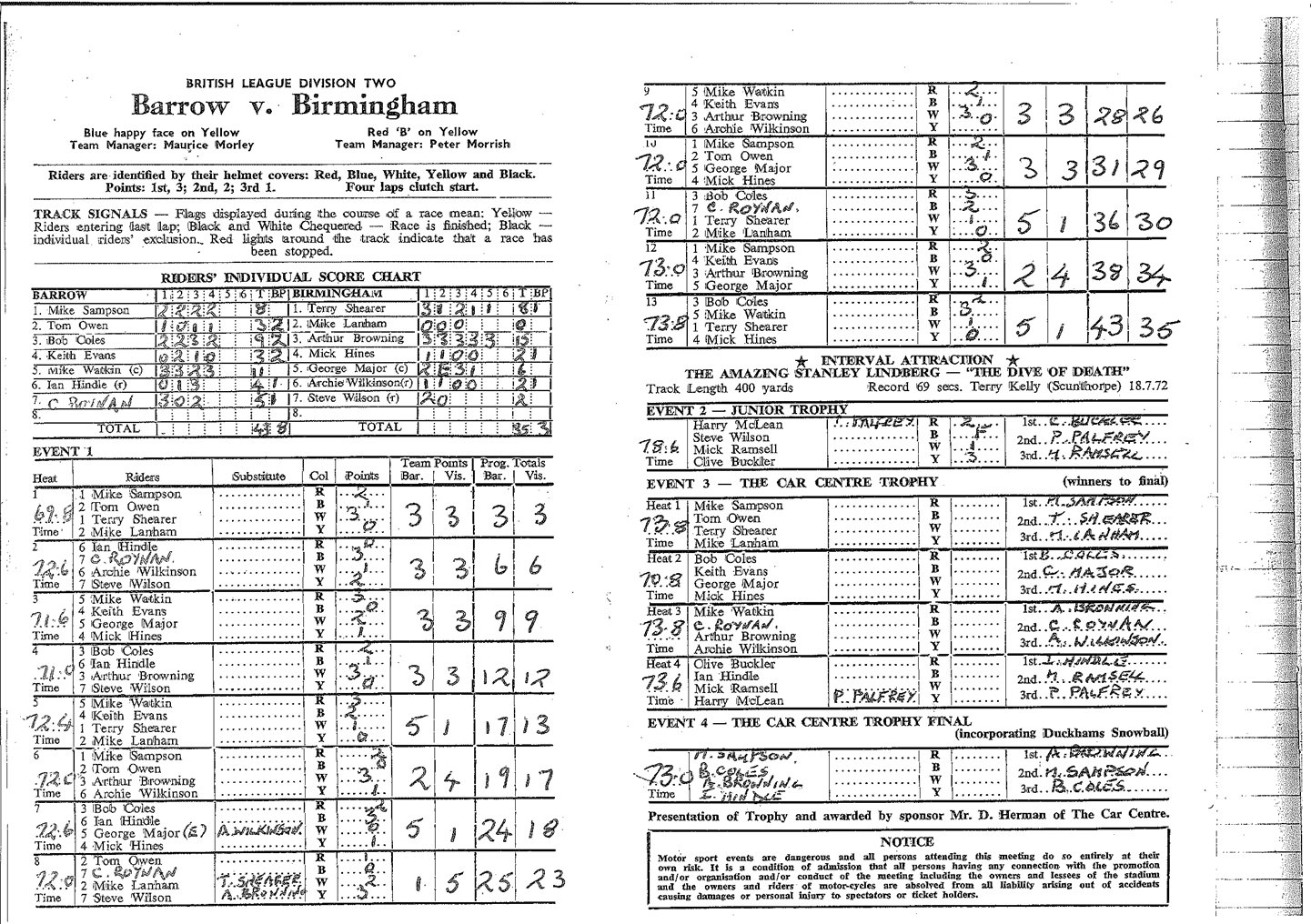 Courtesy of John Coulston
---
Bob Coles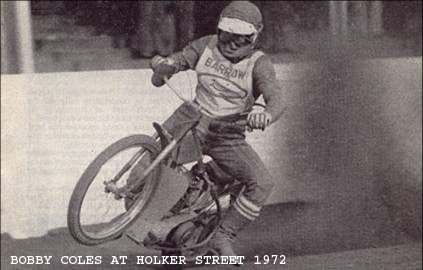 Courtesy of John Coulston
---
Owen Brothers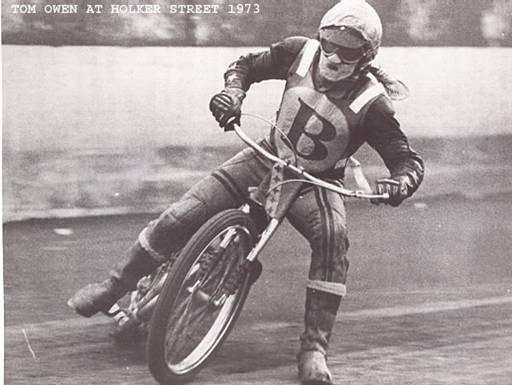 Courtesy of John Coulston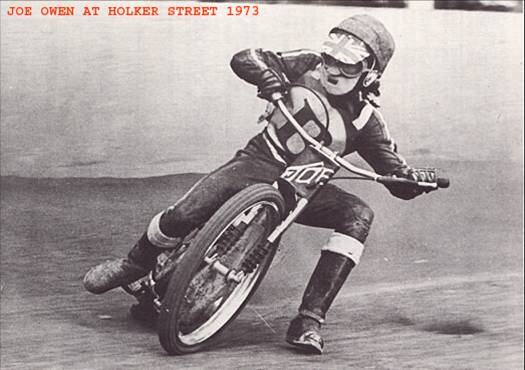 Courtesy of John Coulston
The Owens, Tom and Joe hailed from Ormskirk in Lancashire. The brothers rode for Barrow 1973/74 and when the Cumbrian side closed down at the end of 1974. Promoter Ian Thomas signed both of them for his gamble on restarting Newcastle Diamonds in 1975. The Owens moved eastwards to Newcastle and dominated the Newcastle sides for a number of years. As a Newcastle fan I have never forgotten that Tom and Joe owed lots to Barrow Speedway.
---
1973

Barrow Team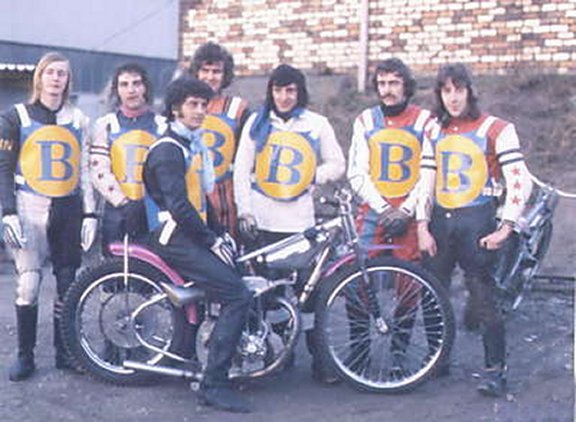 Barrow 1973 can you name the team
John
Paul Redmond says: Left to right - Ian Hindle, not known, Tom Owen, Sid Sheldrick, not known, not known, Mike Sampson (on bike).
Peter Quin Says:
The rider to the left of Ian Hindle is Terry Kelly, the other unnamed rider is (I think) Chris Bailey.
Gavin Davis says: I think the rider on the extreme right is Keith Evans.
---
Graham Tattersall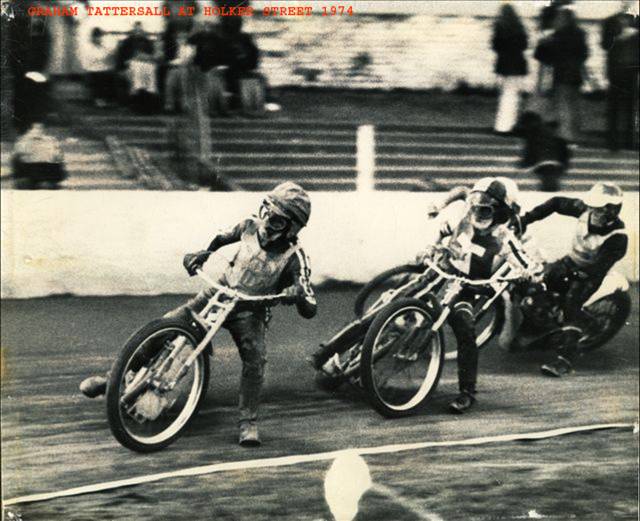 Courtesy of John Coulston
---
1974

Barrow Bombers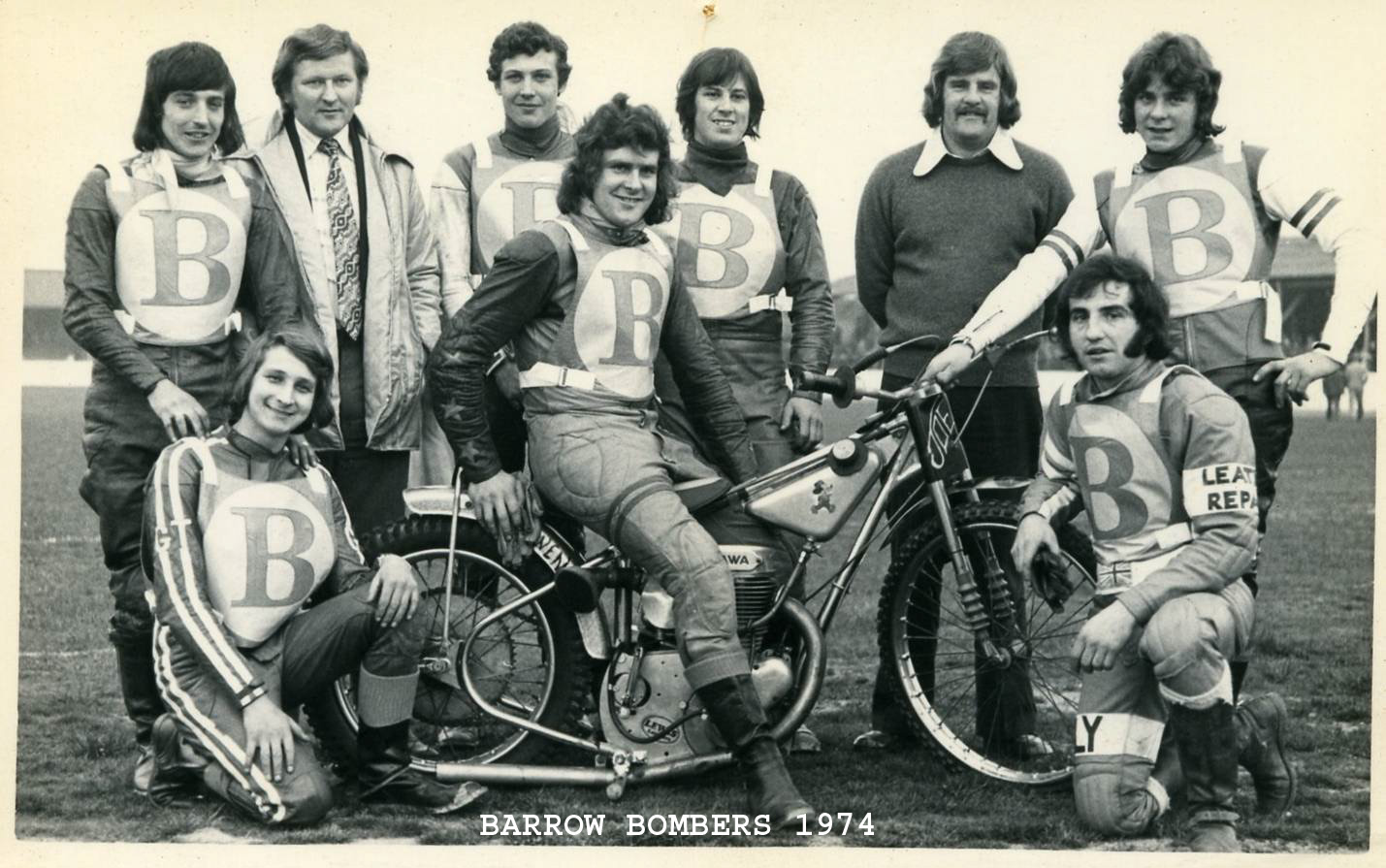 Courtesy of John Coulston
I find that for me
the Owen Brothers dominate this photo. Tom on the Bike and Joe standing far right. The brothers went on to great things with Newcastle but Barrow is where they learnt their trade. 1974 Team photo: Sid Sheldrick George Graham (Promoter) Mick Sheldrick Chris Roynon *Unknown (Team Manager) Joe Owen. Kneeling Left, Graham Tattersall Kneeling Right Terry Kelly on Bike Tom Owen
John Wilson says: Also in the Barrow 1974 team photo, the team manager is Alan Wilkinson. He was also team manager for Sunderland for a while around 1971
Bob (Mr Sunderland) Ferry says: Hi John, Just been browsing the defunct tracks. On the Barrow 1974 photograph, I believe the team manager to be *Alan Middleton, who was at Sunderland in 1971 (Put my shirt on it!)
John says: So what was the team manager's name? Alan Wilkinson or Alan Middleton?
Bob ferry gets my vote I am happy to say the team manager was Alan Middleton. John Wilson may be confusing rider Alan Wilkinson with team manager Middleton
.
Marion Simon MBE says: Just been perusing this site. Just to confirm the Barrow Speedway Manager in the photograph was Alan Middleton.
I was his fiancé. Alan managed in turn, Belle Vue Colts, Barrow, Sunderland and finally Workington.
Alan died in 1978, aged 39 years. He died of a very aggressive form of Multiple Sclerosis.
Marion says: Hi John, Just remembered, I missed out Rochdale Speedway. Alan Middleton managed Rochdale Hornets between Belle Vue Colts and Barrow.
John says: Thank you Marion for the info on Alan's short life, rest in peace Alan
---
History Of Barrow At Holker Street
By Jamie Hill
The modern Barrow Speedway opened in 1972, under the joint promotion of Peter Oakes, Wally Mawdsley, Maurice Morley (and would you believe, Ivan Mauger somewhere in the background). Peter White was drafted in from Australia to manage the team which, it was planned, would feature in a series of Open Meetings that year. The view was to get a team into the National League the following season if the promotion was a success.
The first meeting was a World Championship Qualifying Round and a massive crowd (by today's standards) of 5 - 6,000 witnessed its first speedway meeting. It was certainly was a challenge for the new promotion as the tannoy packed in and very few spectators knew what the heck was going on.
The Barrow team came together, led by captain Mike Watkin and became known as 'The Happy Faces'. This was as a result of Barrow being sponsored (the first ever Speedway ream to be sponsored?) by Duckhams Oils with the logo incorporating the Duckhams 'Q'. This could well have been down to the Ivan Mauger connection.
Within a short time and following the demise of West Ham/Romford where Mawdsley was involved, the licence was transferred to Holker Street and Barrow joined the league, somewhat ahead of schedule.
---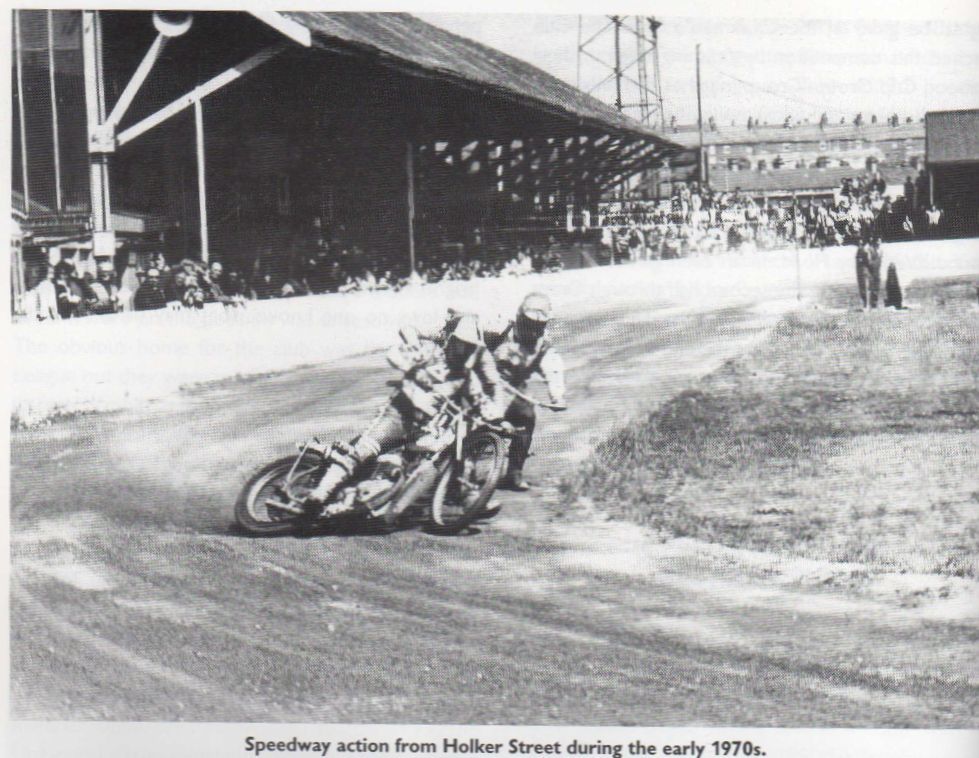 ---
Ian Hindle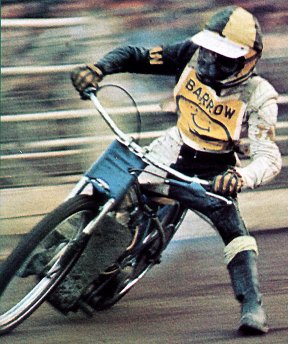 As a Newcastle fan I feel an affinity with Barrow as their closure in 1974 meant Tom and Joe Owen were available to ride for Newcastle. Long time Newcastle born diamond Mike Watkin also rode for Barrow.
I

n 1972 Barrow were known as the "Happy Faces" which makes them candidates for the oddest name in speedway award. Other candidates are Liverpool "Chads" California in England "Poppies" and Yarmouth "Bloaters".