Warrington Speedway
Arpley Motordrome, Slutcher's Lane, Warrington, Cheshire.
John says: I liked the address of the track so I Googled Slutchers. Well the good people of Warrington had been saddled with a dodgy street name: Google says: 'Slutcher means filth, dirtbag and whore' – deputy council leader calls for lane to be renamed! So the speedway team could have been "Warrington Whores" just a thought
The circuit has been described as D shaped. A crowd of 10,000 watched the first ever meeting on 29th March 1929. Racing was also staged in 1930 but the promoters made a couple of political decisions which didn't work out and then at the end of 1930 the Liquidators were called in.
No activity until 1949 when noise tests were made during speedway demonstration laps. No objections were made so the Warrington comeback should have just been a formality. There was trouble with the financial backers pulling out and as no other promotion came forward to save the day, speedway was lost to the town.
---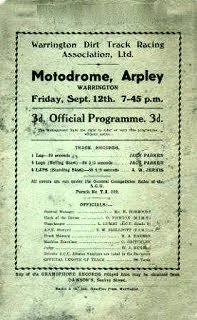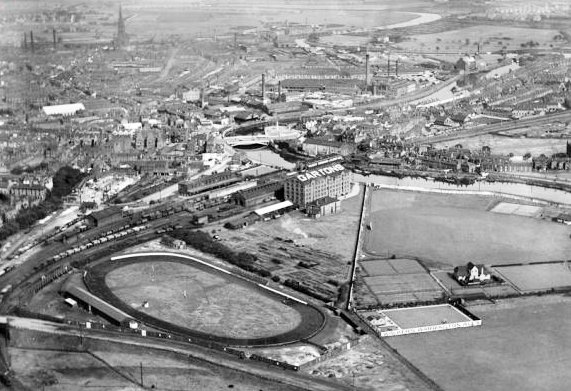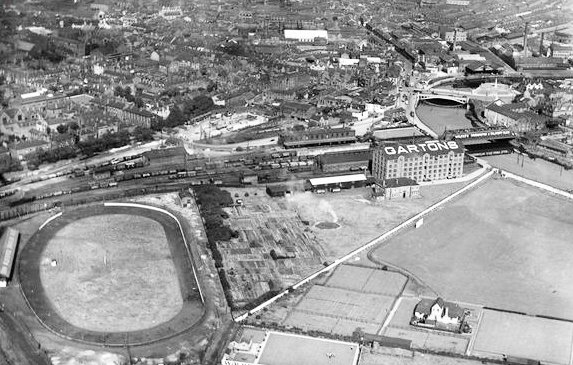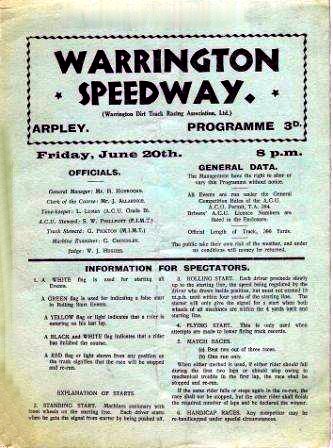 John Hough has sent the 4 scans shown above. The Aerial photos show the peculiar D shape track. John Hough says: It is likely that Jimmy Rawlinson used to race at this track (He became a sponsor of many young riders from around here including Peter Collins & Chris Morton)..
John Hough adds the following: Hi John, I found this today on the British speedway website http://www.speedwayatoz.co.uk/page5.html

COXHEAD, J. (Crasher Coxhead) Based in the north-west in 1929, 'Crasher' rode for Warrington in a handful of mid-season matches before moving the short distance to Liverpool where he was handed more regular opportunities. He was not a high scorer in the Liverpool team and did not appear again after the end of the season. I have no idea who researched this I only stumbled across it. Crasher Coxhead rode for Warrington before moving across to Liverpool. I thought you may like to add this to the Warrington page you have created
John Skinner says: I trust the Speedway A-Z people will be ok with me using this item about Warrington if not just send me an email and I will change the item or remove it altogether!
---
Warrington's
Tommy Hatch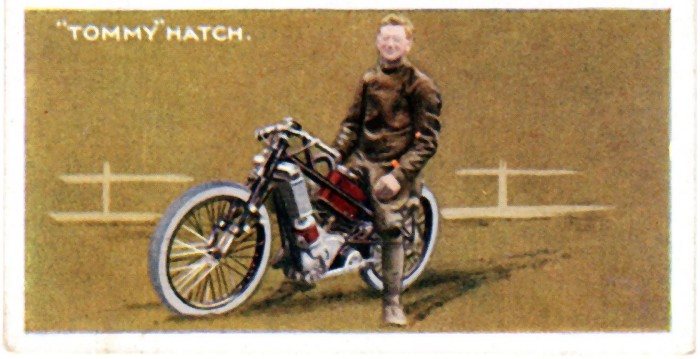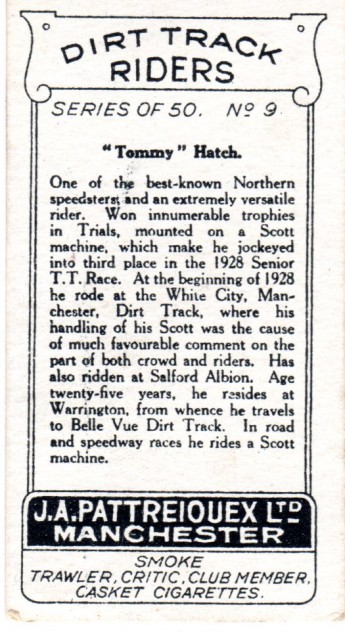 Courtesy of John Spoor
John Skinner says: Tommy was one of Warrington's own. This cigarette card shows Tommy aboard a Scott, an innovative machine for its time. It had a 500cc Two Stroke, Water Cooled Engine. Frank Varey was another speedway rider who used a Scott with some success.
Ashley Wright says: I now have a new research project that you may be able to help me with. I have recently found out that a work college is the great grand daughter of Tommy Hatch who used to ride at the Warrington track on a Scott and also came 3rd in the 1928 IOM TT also finishing in 1929 and 1933. I suspect he may have entered other TT's but not finished although Scott were going though rough patch around then and the 1933 bike as a Scott-Reynolds Special so not official works machine. He raced Scott's at the speedway and he was also a trials rider and from what I gather he was a works rider.
John Skinner says: If Tommy Hatch rode speedway I am interested but not so if he did only road races on the IOM please email if you have info on Tommy. John
Mike Terran says: Hi John, I hope everything is fine with you. I was just reading your Warrington page and there were some notes about Tommy Hatch. T.L. "Tommy" Hatch rode for Warrington 1929 EDTL I only show him riding in the last 2 EDTL matches (my records for both seasons are incomplete) (the 1929 late start was probably due to his TT involvement) 1930 No. Lg. he was a regular team member. He rode in the Senior TT three times 1928 he was placed 3rd 1929 and 1933 in 1928 and 1929 he rode a Scott in 1933 he rode a Scott-Reynolds Special. The Warrington track photos were superb, they really show the D.
Best regards, Mike Terran
---
Not much received yet on the Warrington track, so If you can scan any pictures, programmes or badges send me an email
John
---
The contents of the site are © and should not be reproduced elsewhere for financial gain. The contributors to this site gave the pictures and information on that understanding. If anyone has any issue or objections to any items on the site please
e-mail
and I will amend or remove the item. Where possible credit has been given to the owner of each item.