---
Middlesbrough Speedway
Cleveland Park, Stockton Rd., Middlesbrough Cleveland operated 1928 to 1996
---
Programmes for sale: - Ad placed 1st October 2013


I have hundreds of programmes, fanzines and mags to sell. I live in the north east so my items for sale are mainly Middlesbrough/Teeside and Newcastle
If you are interested get in touch with me by email

JOHN
and we can arrange a bargain price. You will be amazed at how little I want for such a huge collection. I just want my collection to go to a good home.
---
---

Cleveland Park 1928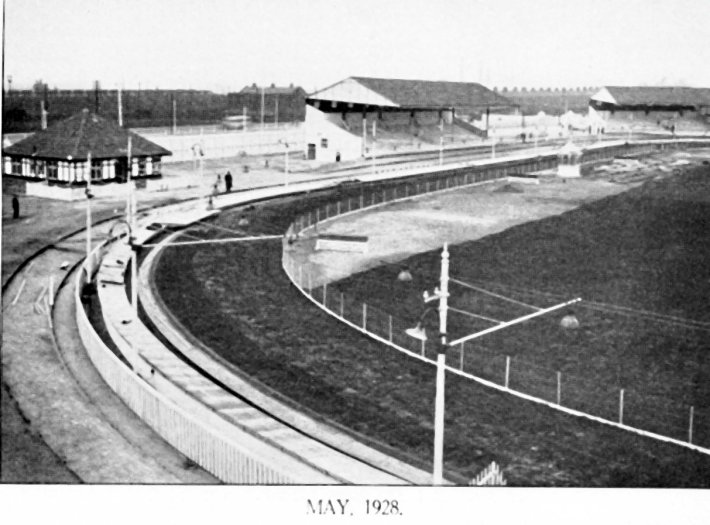 ---
1929 Middlesbrough Team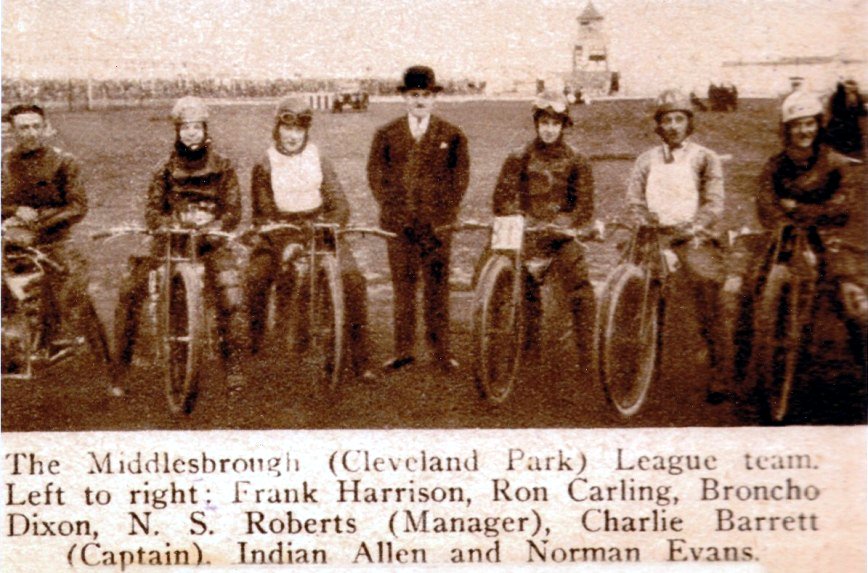 Hi John,
I sent this to you before but I don't know if you ever got it. (see above picture).
John Somerville found the pic in an old AUTO magazine. He scanned it for me and it is okay for you to put it on your website....No problem. Its not a very clear pic ,but nice to see a team photo from that era. Its the first I have ever seen. I did manage to get it into a Redcar programme near the end of last season....
Hope it is of some interest.
Col

Col supplied the following pen pictures:
Frank Harrison. Began riding speedway at Middlesbrough in 1928.Also called himself "Yank" Harrison and it is believed he also captained Middlesbrough later in the 1929 season. Frank was well known post war for his garage at Tunstall in Richmondshire and his F.H.N special (racing car) which he raced with some success at Croft, Catterick, Hartlepool, Redcar and St Andrews. The Yank Harrison Trophy is awarded yearly at the Darlington and District Motor Cub.
Ron Carling. Born, Middlesbrough. Gave up his job as a GPO technician to ride speedway and also had a sideline job of electrical maintenance at Cleveland Park. Ron rode in the first ever meeting at Cleveland Park in 1928, having 3 rides, coming 2nd in all three. He became a team member in 1929. In later life he helped with the lighting system at the towns Empire Theatre .He died aged 53 in 1961.
Jack "Broncho" Dixon. Jack began his speedway career at Middlesbrough in 1929 but made no further official appearances until racing for Sheffield in 1931.Jack began the 1932 season with Sheffield but moved to Belle Vue part way into the season. He joined Wembley in 1934 but left for West Ham later that year. Jack was back at Wembley in 1935 and Hackney Wick in 1936 only to return to West Ham later in the year. In 1939 Jack was again with Sheffield.

Charlie Barrett. Charlie came from West Hartlepool. A member of Middlesbrough Motor Club he appeared in local events in the late 1920's such as sand racing at Saltburn. Charlie appeared in the first ever speedway meeting at Cleveland Park in 1928.Middlesbrough joined the league in 1929 and Charlie was the first Middlesbrough captain. Charlie left for Wembley later in the season. In 1932 Charlie could be found riding the bull rings in Spain along with fellow Teessider Cliff Parkinson and the famous lady rider, Eva Askquith from Bedale .In later life Charlie ran a pub, the King William IV, in the Lake District in the small village of Kirksanton.
James "Indian" Allen. James was from Thornaby on Tees, born in 1896.It is thought his nickname came from the fact that in his early speedway career he rode an Indian machine. Rode at Middlesbrough in 1928 and 1929.After Middlesbrough had withdrawn from the league and reverted to open meetings in 1930, James moved on to Belle Vue. Sadly he lost his life after a track accident at Belle Vue on September 9th 1931.He died on September 12th 1931.James is buried at Stillington near Stockton on Tees.

Norman "Pansy" Evans. Norman was from Middlesbrough, born in 1904.He began his speedway career at Middlesbrough in 1928. It is thought Norman also captained Middlesbrough at some time in 1929. After riding for Middlesbrough in 1929 Norman moved on to Wembley in 1930. It was that year he won the Wembley supporters trophy. Johnnie Hoskins was promoter at Wembley and liked to give his riders nicknames. Norman was given "Pansy". This was to remain with Norman throughout his career as was his trademark of always wearing a beret! Norman was with Wembley 1930-33 and 1935.He also rode for New Cross, Harringay and Wimbledon. After world war two Norman captained the Newcastle Diamonds from 1946-48. He moved up to Glasgow Ashfield, but his career ended there after a bad track accident.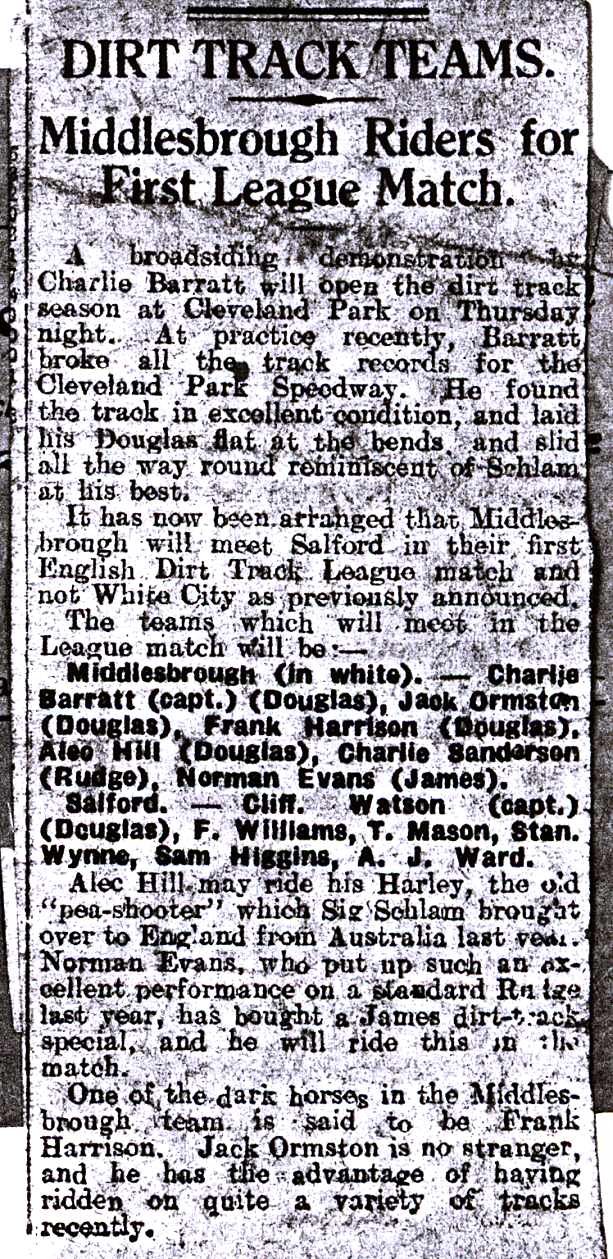 ---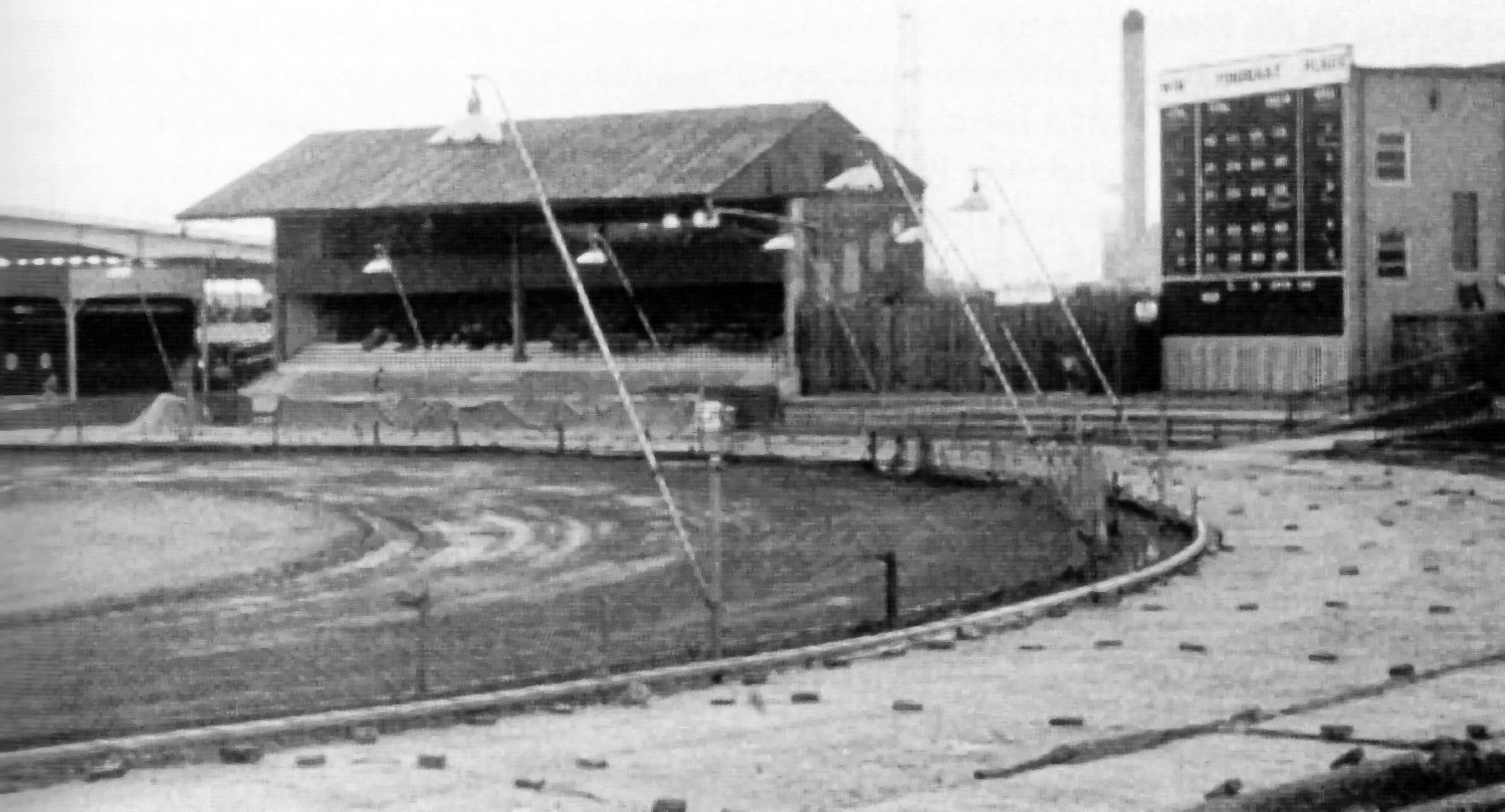 Cleveland Park showing the A19 flyover at top left hand corner.
---
Middlesbrough Programmes
I have hundreds of Middlesbrough Programmes to sell. If you are interested please email me John
---

Middlesbrough's opening meeting 23rd August 1928 which means Middlesbrough introduced speedway to the North East of England, rivals Newcastle did not get underway until 1929. Local Butcher, Fred Creasor won the first ever race at Cleveland Park in a time of 95.00 seconds and received £5.00 for doing so. Fred was also a member of the Middlesbrough Motorcycle Football Team.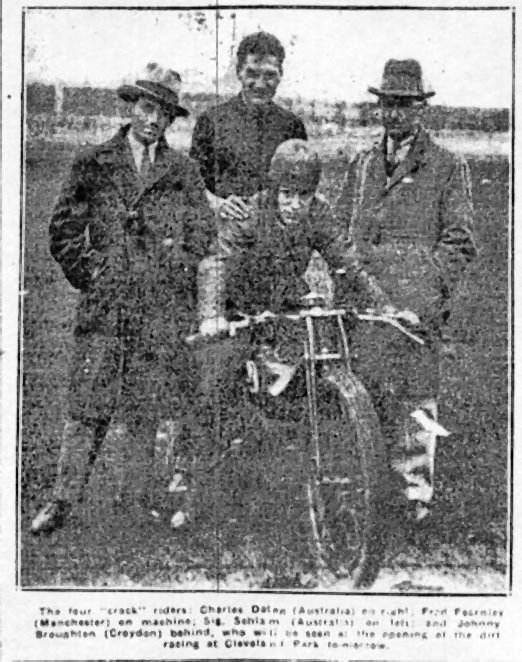 ---
Jack Ormston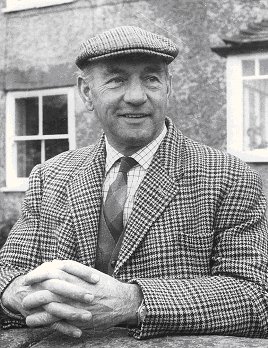 Jack in 1970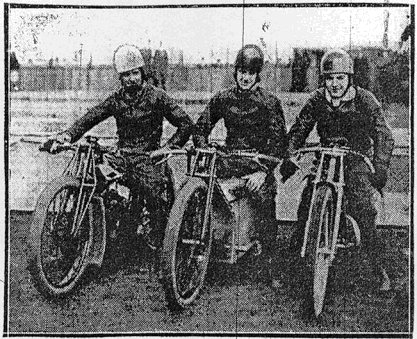 Norman Evans, Charlie Barrett and Jack Ormston. Practice day at Cleveland Park, Middlesbrough May 15th 1929.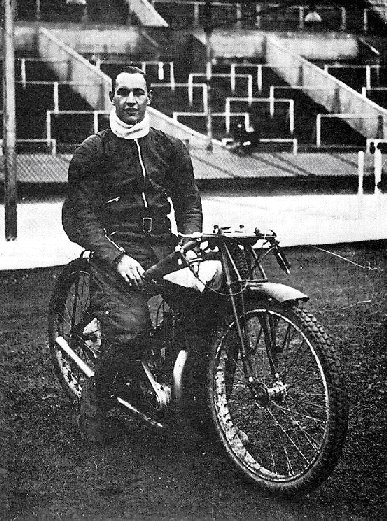 Jack Ormston at Wembley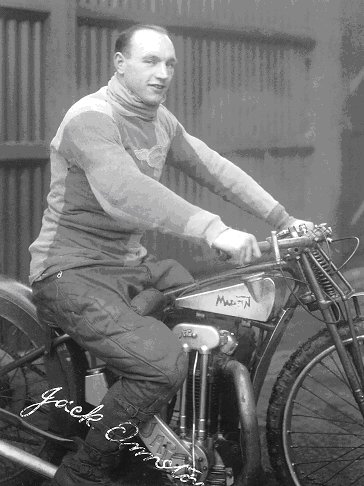 Jack Ormston in Harringay colours

JACK ORMSTON. 1909-2007

Middlesbrough Dirt Track Rider. 1929.
Jack Ormston has died at the age of 97. Born on October 30th 1909 at West Cornforth, County Durham, he was the son of a wealthy farming family. After leaving school in 1926 he bought his first motorcycle and began grass track racing in the Middlesbrough area. He became a member of Middlesbrough Motor Club in 1929. Jack turned his hand to speedway and was a member of the very first Middlesbrough speedway team in 1929.The Middlesbrough team for that very first league meeting was, Charlie Barrett (captain), Jack Ormston, Frank Harrison, Alec Hill, Charlie Sanderson and Norman Evans. Jack had also been appearing at North East tracks Gosforth and Whitley Bay where he ended up receiving £100 appearance money and £40 a match race.
Jack soon moved on to Wembley after being recommended by Wembley rider Harry Whitfield who in 1928 was the Cleveland Park champion. In these early days of speedway Wembley had a large contingent of riders from the Middlesbrough area including, Harry Whitfield, Charlie Barrett, Norman Evans, Cliff Parkinson and Bert Fairweather. Jack was a success, being top of the Wembley averages in 1929 and 1930. He was so successful and with earnings of £15,000 a year, (The average wage at this time was £200 a year!) he owned a two-seater Tiger Moth aeroplane and bought himself a Bugatti car. (His hobby was flying and he twice competed in the famous Kings Cup air race.) In 1929 Jack was one of the first English riders to ride in Australia.
It was in 1930 Jack represented England in the first ever Speedway test series against Australia. It was in this year that Jack won the London Riders Championship at Crystal Palace. Jack was made Wembley captain in 1932 and it was a very successful season for Wembley, winning the National League, the National Trophy and the London Cup.
Jack didn't ride in the 1933 season as he was attending to the family butchers business. He returned to speedway in 1934 riding for Hall Green (Birmingham). Hall Green was not a success and closed at the end of the season. 1935 would find Jack riding for Harringay who were managed by Tom Bradbury Pratt*. Jack rode for Harringay for four years .It was during this period Jack was runner up to Frank Charles in the "Star" Championship (the forerunner of the World Championship). In 1936 Jack appeared in the first official World Championship scoring 8 points and in 1938 he was reserve in the World Championship scoring 5 points from 2 rides. He took 2 of Frank Vareys rides. (*Bradbury Pratt ran open meetings at Middlesbrough in 1936-37-38 until his untimely death in December 1938 at the age of 39. Jack appeared as a Middlesbrough rider in some of these meetings, such as Middlesbrough v The Australians. Middlesbrough v The Americans. The North v USA, Australia & Canada. The North v The World.)
Jack retired from Speedway in September 1938 and moved to a farm near Richmond in Yorkshire. He married in 1940. He was then to become a successful racehorse trainer before retiring in 1976.He went to live in Spain for a decade before returning to live near Darlington where he spent the remainder of his life… Died June 22nd 2007.
---

MIDDLESBROUGH SPEEDWAY. 1928-1996
CLEVELAND PARK STADIUM.
Acknowledgement : All of the items on this page were sent to me by Colin Greenwell. I know Colin collaborated with Steve Harland on some of the work, so my thanks go to both of them. I wouldn't have much of a page for Cleveland Park without your help.

Courtesy of Colin Greenwell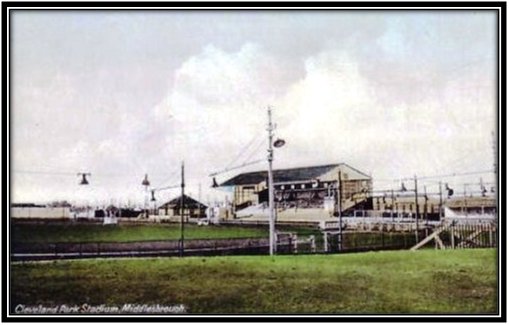 Courtesy of Colin Greenwell
Cleveland Park Stadium was opened as a greyhound stadium in May 1928, but it was on Thursday August 23rd 1928 that dirt track racing began after Johnnie Hoskins constructed a track. Some of the local riders who appeared in that very first meeting were, Harry Whitfield, Charlie Barrett, Charlie Sanderson, Alec Peel, Ron Carling, Fred and Walter Creasor and Phil Blake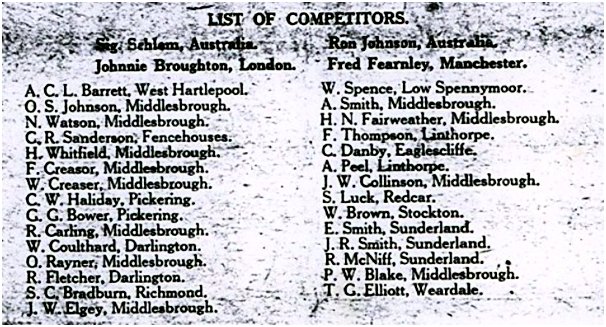 After the first season of open meetings Middlesbrough joined the English Dirt track league for 1929.

The teams competing alongside Middlesbrough in this league were, Barnsley, (who have the distinction of holding the first ever league meeting in Britain, losing 26-36 to Leeds), Belle Vue, Bolton, Burnley, Halifax, Hanley, Leeds, Leicester, Liverpool, Newcastle, Preston, Rochdale, Salford, Sheffield, Warrington and White City (Manchester). Among the riders who appeared for Middlesbrough were, Charlie Barrett, Jack Ormston, Norman Evans, James "Indian" Allen, Frank Harrison, (who also called himself "Yank" Harrison), Alec Hill, Dick Bailey, Alec Peel, Eddie Crenston, Ron Carling, Jack "Broncho" Dixon, Dan Buck, Billy Blincoe, R.C.Pick, W. Brown, E. Johnston, G. Bower, Arthur Moore and Charlie "Tiger" Sanderson.1929 was a year of recession and teams had to close down. The league ended in somewhat of a farce with teams withdrawing from the league during the season and their results expunged. This meant Middlesbrough finished second from bottom in the final league placing having won 6 and lost

13 of their league meetings

.

Middlesbrough reverted to open meetings for seasons 1930-31 and then closed down until opening again in 1936 for more open meetings. These open meetings were such as Middlesbrough v The Australians, Middlesbrough v The Americans, and The North v The World. Local riders such as Jack Ormston, Cliff Parkinson, Jack Dixon, Harry Whitfield, Norman Evans, Frank Hodgson and Gordon Byers were some who appeared in the Middlesbrough colours (White with Union Jack).

After several years of the open meetings run by promoter Tom Bradbury Pratt who died at a very early age in December 1938, Middlesbrough were to join the National League Division 2 for the 1939 season under the guidance of promoter Vic Wealand. It was Vic who gave the Middlesbrough team the nickname of the Bears for Middlesbrough's ill-fated season of 1939 that was cut short by poor attendances. The Bears colours in the 1939 season were Red and White horizontal stripes. The first man ever to captain a Bears team was Yorkshireman George Greenwood. George had appeared at Cleveland Park in 1929 riding for the Leeds team. George was with Wembley in 1930-1932 and 1934-1937.He also rode for Nottingham and Hackney Wick before joining the Bears. Other riders who rode in 1939 for the Bears, who were a very successful team despite the low crowds were, Phil Bishop, Wilf Plant, Will Lowther, Jack Hyland, Bob Wells, Aub Lawson, Geoff Godwin, Jack Tidbury, Tommy Bateman, Alec Peel, and Fred Belliveau. Teams taking part in the league were, Middlesbrough, Newcastle, Hackney Wick, Sheffield, Norwich, Bristol, Crystal Palace, and Stoke. Middlesbrough and Crystal Palace withdrew from the league after 8 and 10 league matches respectively and their records expunged. Stoke also withdrew after 8 meetings and their fixtures were taken over by Belle Vue Reserves.

Middlesbrough once more re-opened on Sept 25th 1945. Four open meetings were held.

In 1946 Middlesbrough were Northern League champions fielding a strong team including Frank and Jack Hodgson, Wilf Plant, Fred "Kid" Curtis and Geof Godwin.

1947 would see Middlesbrough as National League division 2 champions, fielding very much the same team as 1946 with the addition of Herby King.

In 1948 it was deemed Middlesbrough were too strong a team and this was keeping spectators away! Kid Curtis left for West Ham; Wilf Plant was sold to Fleetwood. The Bears finished 3rd in the league and surprisingly closed at the end of the season. Other riders who appeared for Middlesbrough during this era were, Jack Gordon, Eddie "Crusty" Pye, Len Tupling, Tip Mills, Doug Mclachlan, Sam Marsland, Alec Peel, Benny King, Derek Close, *Billy Wilson, George Farmer, Joe Arthur, Dick Tolley.

*Billy Wilson lost his life in a track accident at Norwich on July 3rd 1948.

Middlesbrough Bears 1947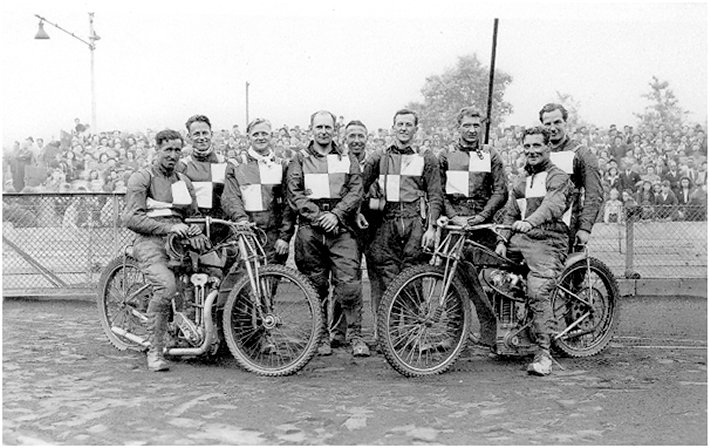 Courtesy of Colin Greenwell

Jack Hodgson. Herby King. Bill Wilson. Wilf Plant. Tip Mills. Geoff Godwin. Fred "Kid" Curtis. Frank Hodgson. Ed "Crusty" Pye.
In the 1950's Middlesbrough Motor Club ran seven Speedway meetings of a kind at Cleveland Park. One in 1953, three in 1954 and three in 1955. According to the Speedway Star (March 25th 1961) the track operated on an A.C.U. centre permit as a grass track and all competitors were members of the club. Machines had brakes fitted but the riders never bothered to use them. It was the nearest they could get to speedway under the conditions of the permit.
Among those who rode in these open meetings were Jack Hodgson, Peter Lloyd, Jack Watts, Fred Fewsdale, Norman Johnson, Bob Fox and Bill Dale.
1961, and the Cleveland Park gates opened once again when Middlesbrough joined the Provincial League. They were to run for four seasons before withdrawing from the league. Among the riders who appeared for the Bears in that very popular period were, Wal Morton, Geof Pymar, Eric Boothroyd, Don Wilkinson (on loan from Newcastle), Eric Boocock, Dave Younghusband, Brian McKeown, Clive Hitch, John Fitzpatrick, Tommy Roper, Vic Lonsdale, Rick France, Freddie Greenwell, Bluey Scott, Alan Butterfield, Slant Payling, and Ray Day.
1965 would see three open meetings only at Cleveland Park. In 1966 Eric Boothroyd promoted a series of open meetings, but these were not too successful and once again Middlesbrough closed.
1968 and Middlesbrough bounced back as the Teessiders under Ron Wilson in the newly formed British League Division 2 and Teessiders Graham Plant (son of 1940's Bears star Wilf Plant) won the Second Division Riders Championship. This was the start of an unbroken run until the end of the 1996 season when Cleveland Park was sold for re-development by the owners to the neighbouring Macmillan College. During this period Middlesbrough had several name changes. Teessiders, Middlesbrough Tigers and then reverting back to Middlesbrough Bears.
Highlight of this long period was the winning of the League Championship in 1981.Other highlights were Steve Wilcock and Mark Courtney winning the National League pairs in 1980, The National Fours Championship in 1985 and Paul Bentley won the Second Division riders championship in 1994.
In 1985 the main grandstand was destroyed in a fire and was never replaced. Attendances gradually dropped from that instance until the closure.
The last meeting at Cleveland Park took place on September 19th 1996. The Bears defeated Bradford. The last race winner at Cleveland Park was Bradford's Bobby Ott with Bears captain Shane Parker 2nd.
Among the notable riders of this period was Steve Wilcock who is known as Mr Middlesbrough speedway with the most appearances for the team and Gary Havelock who went on to become World champion.
It was five years from the closure of Cleveland Park before redevelopment actually started to take place.
---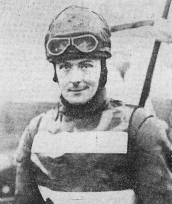 Will Lowther in the red and white bands of 1939 Middlesbrough
---
The following is from Colin Greenwell. Col helps the site frequently and I really appreciate his assistance.
MIDDLESBROUGH V CRYSTAL PALACE 1939.
This was the first year Middlesbrough were known as the "Bears", named by promoter Vic Wieland. The Middlesbrough race jacket was red with white horizontal stripes.
The season began on April 14th and ended on June 13th for Middlesbrough after an away meeting at Bristol. It was a successful team but Middlesbrough had to close because of poor attendances.
Not many details to be found but I have found scores from two meetings against Crystal Palace and some photographs from the Crystal Palace meeting. (National League Division Two.)
May 6th 1939 at Crystal Palace. Crystal Palace 39.Vic Weir 12, Keith Harvey 9, Les Trim 7,George Liddle 4, Ernie Pawson 4, Charlie Challis 2, Broncho Slade 1, Mick Mitchell 0. Middlesbrough 43. George Greenwood 11, Aub Lawson 8, Will Lowther 7 , Jack Hyland 7, Wilf Plant 4, Jack Tidbury 4, Bob Wells 2.
May 12th 1939 at Cleveland Park. Middlesbrough 61. George Greenwood 12, Jack Hyland 11, Aub Lawson 10, Tommy Bateman 10, Will Lowther 9, Jack Tidbury 5, Wilf Plant 2, Bob Wells 2.Crystal Palace 23. Mick Mitchell 7, Ernie Pawson 4, Les Trim 4,Vic Weir 3, Charlie Challis 2, Charlie Page 2, Austin Humphries 1, Keith Harvey 0.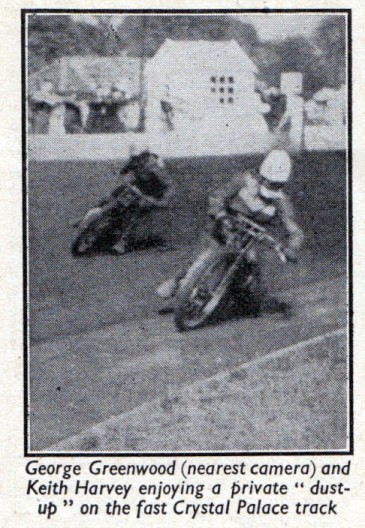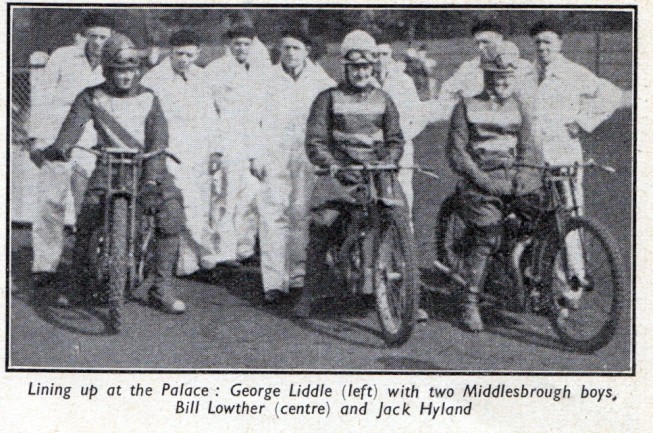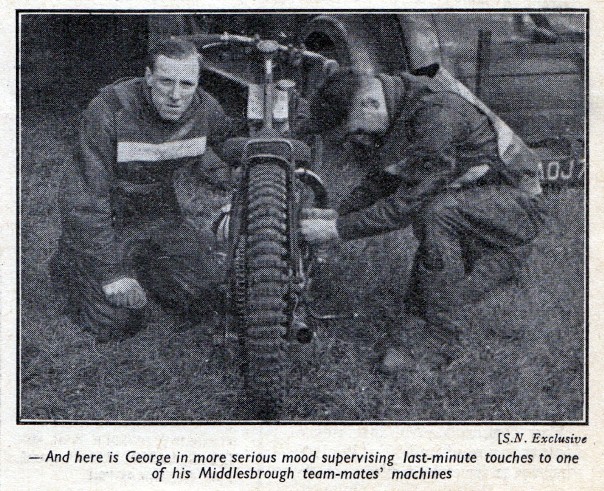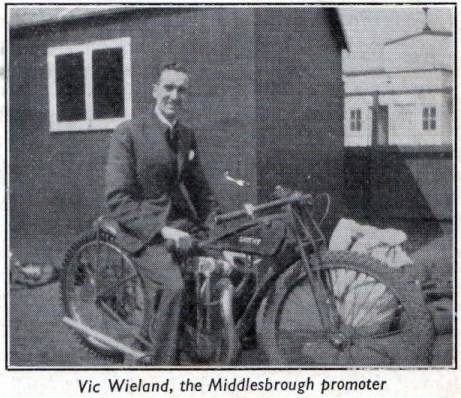 ---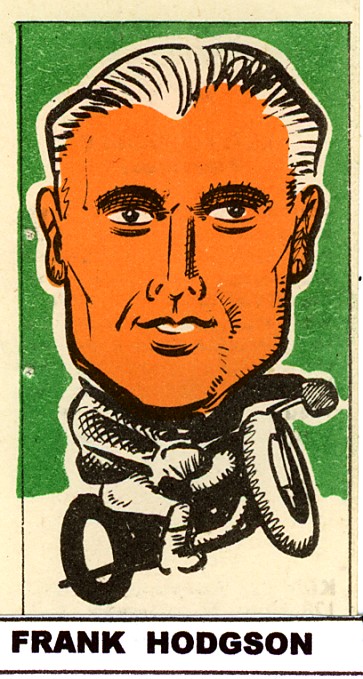 ---
1946 Team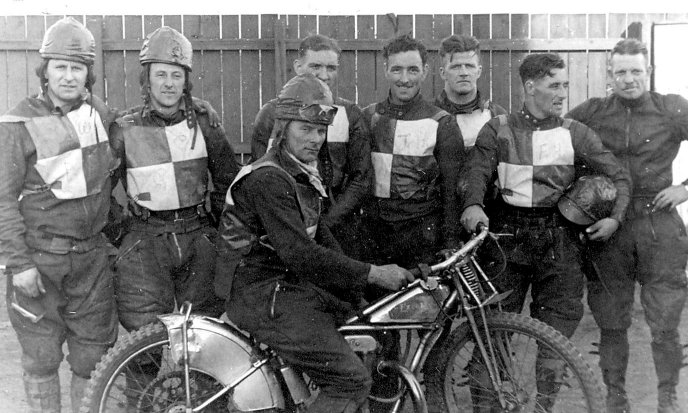 Middlesbrough Bears 1946 L to R
Wilf Plant, Geoff Godwin, Jack Gordon (on bike), Fred "Kid" Curtis, Jack Hodgson, Len Tupling, Frank Hodgson...and.........I think..???....Alec Peel.
Trevor Peel says: It is Alec Peel at RHS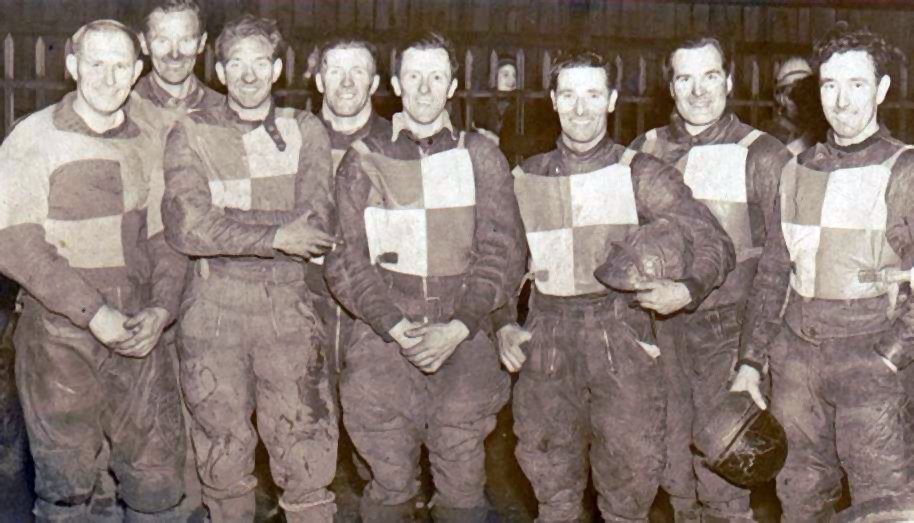 Another 1946 photo
L to R: Wilf Plant, Jack Gordon, Fred "Kid" Curtis, Len Tupling, Geoff Godwin, Frank Hodgson, Eddie "Crusty" Pye, Jack Hodgson.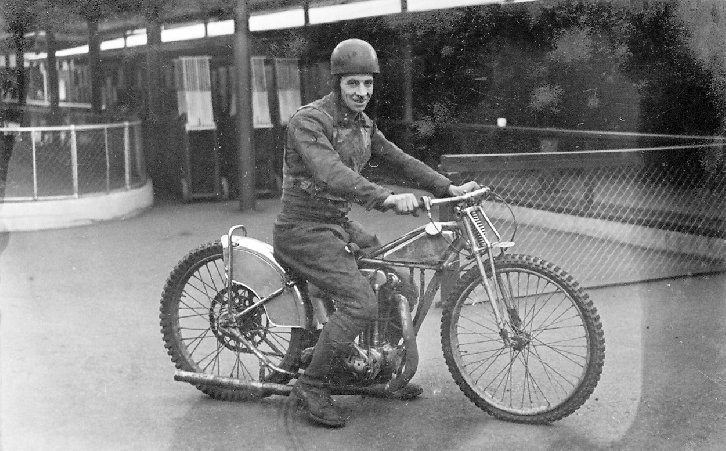 Tommy Bateman
---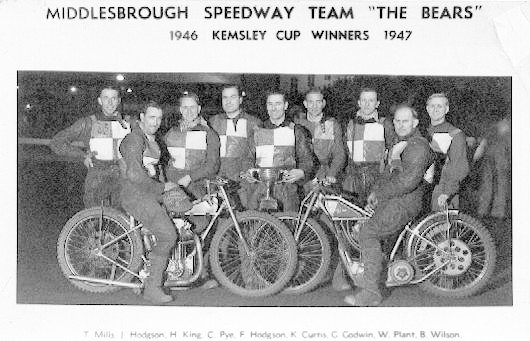 Courtesy of Jim Henry
---
Norman Evans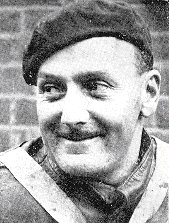 1928-1929
Born in 1904, Norman Evans was from Middlesbrough. Norman was one of the pioneers of speedway in the North East. He began his speedway career at Cleveland Park, Middlesbrough in 1928.
A member of the 1929 Middlesbrough league team, he was to become captain when Charlie Barrett left for Wembley. Middlesbrough's season ended early as they withdrew from the league because of declining attendances.
1930 found Norman also with Wembley and it was in that year he won the Wembley supporters trophy. It was at Wembley where Johnnie Hoskins liked to give his riders a nickname and he named Norman, "Pansy". This was to remain with Norman throughout his career, as was his other trademark of always wearing a beret!
Norman was with Wembley 1930-1933 and also 1935. He also rode for New Cross, Harringay and Wimbledon. After world war two Norman could be found at Newcastle where he was captain of the Diamonds 1946-47-48.
Along with most of the Newcastle team Norman moved up to Glasgow Ashfield for the 1949 season. Middlesbrough had closed at the end of the 1948 season and most of the Middlesbrough team, Frank and Jack Hodgson included moved to Brough Park, Newcastle, where they became the Magpies!
Normans career was ended at Glasgow after a track accident in which he badly broke his leg. A very dapper chap, Norman often attended at Cleveland Park up until his death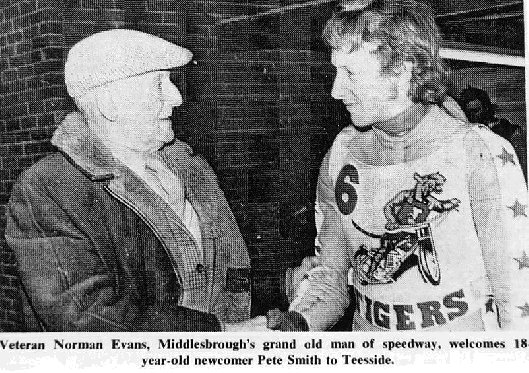 Dapper until the end, Norman (no Pansy) Evans at Cleveland Park
---
Middlesbrough Bears 1948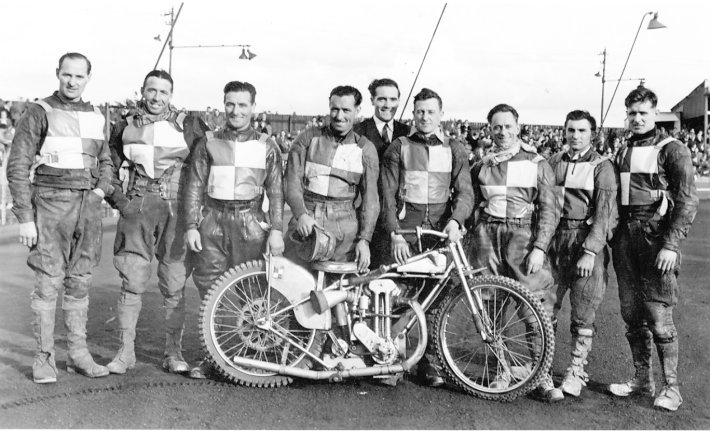 Courtesy of Colin Greenwell

The following shows the autographs of the above team. Good luck if you are into identity theft!
Col has now supplied the riders names as follows: Riders names for 1948 Bears. Left to Right: Dick Tolley, Tip Mills, Frank Hodgson, Jack Hodgson,Benny King, Geoff Godwin, Herby King, Derek Close and Frank Bettis
John says: Benny King! wasn't he famous for singing Stand By Me :-)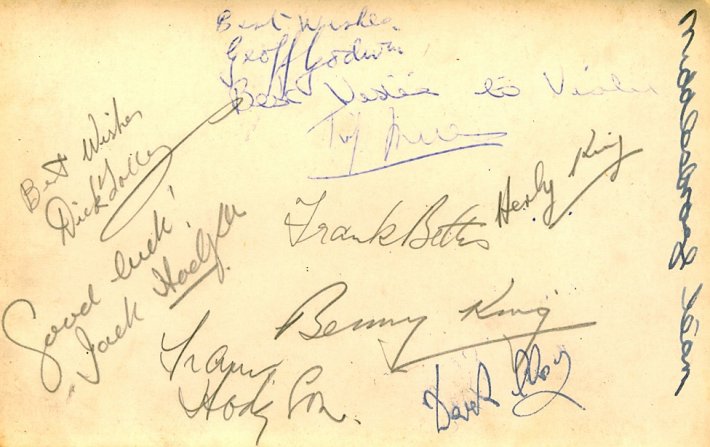 ---
Cleveland Park 1953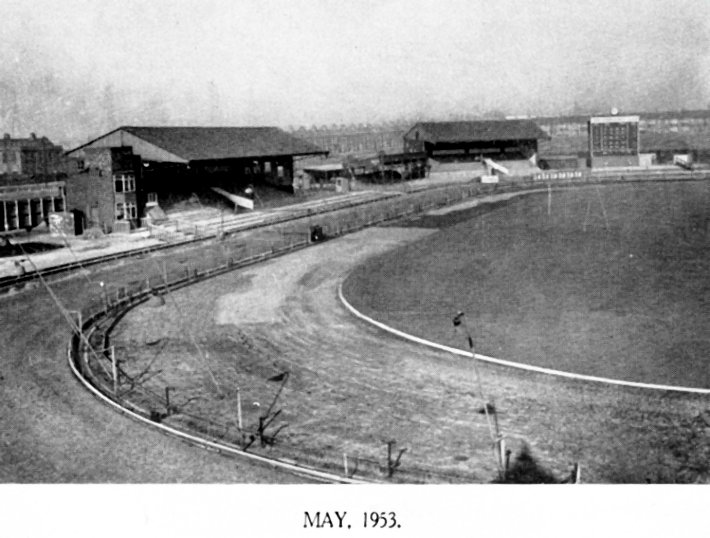 ---
Bears 1961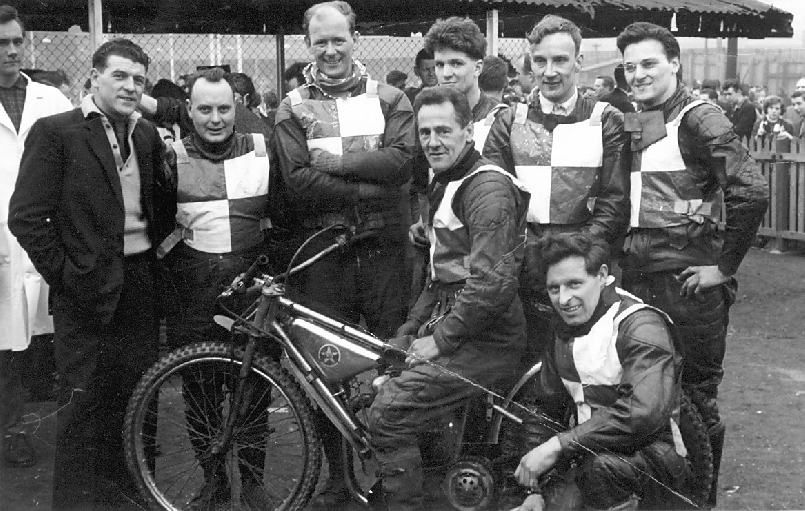 L to R (on bike), Freddie Greenwell. (kneeling). This must have been taken after a few weeks into the season,( if my memory hasn't gone completely.) Wal Morton was captain, but broke his leg in the first heat of the opening meeting!!!. I seem to remember that Wal Morton and Geoff Pymar were or nearing 50 years of age!
---
Re-opener 1961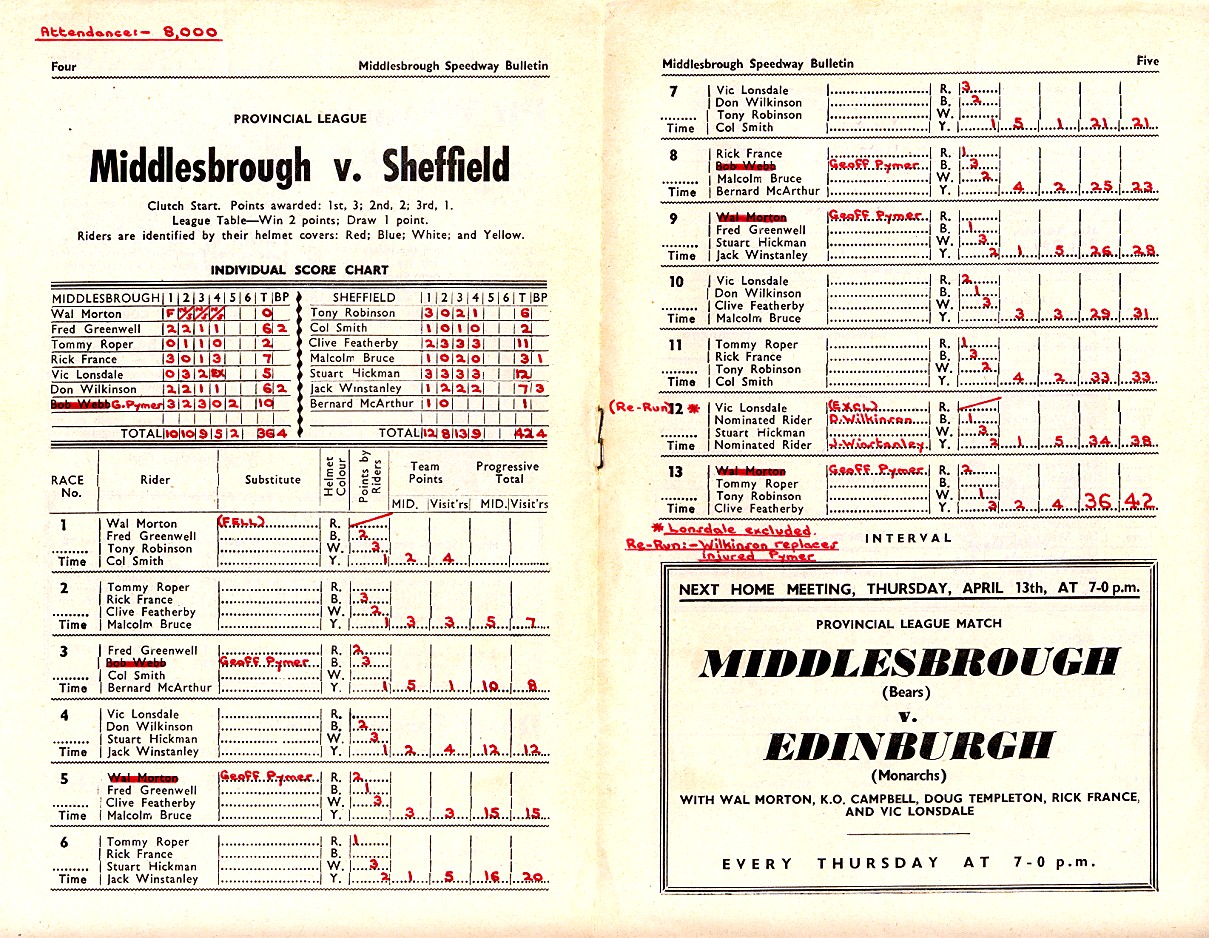 This programme has a remark "Attendance 8000" which by modern standards is fantastic
---
Wal Morton
The above programme scan shows Wal Morton riding at number 1 for the Bears. He had a long career, the following comes from my friend and Middlesbrough historian Colin Greenwell.
I know a little bit about Wal... In 1961 he was in the first live speedway race I ever saw. (I had seen speedway on television...May have been on Peter Dimmocks Sportsview....A World Championship maybe,yes it would be.....I was impressed with the first three riding on the bonnet of the tractor. Living on a farm at the time ...I had to do this..!!....)
Anyway Wal. He was captain of the Bears when we opened in 1961.First meeting..first heat..Wal came off and was hurt. He was missing for quite a spell..He was only around 49 years old at the time.! Bears made Geoff Pymar captain....yes, he was around the same age as Wal.!!
Some tracks Wal rode for...(Wal was known as Wandering Wal of the Raceways)
Wal was born January 17th 1911. Birmingham and died April 21st 1995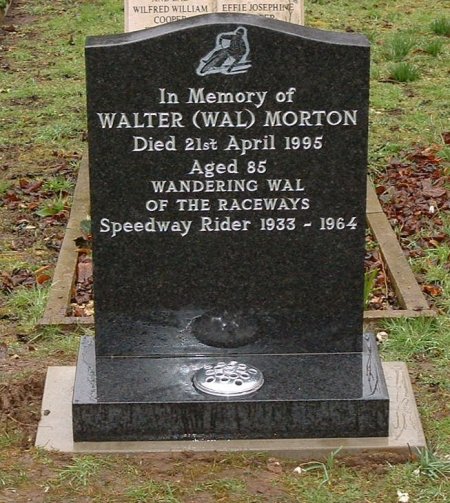 Courtesy of Mike Kemp
---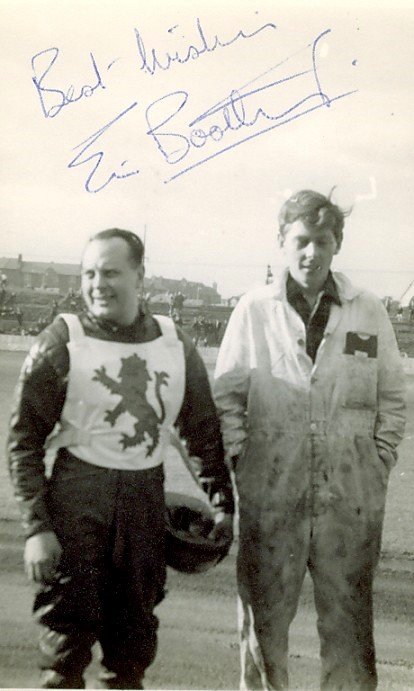 Eric Boothroyd riding for England at what looks like Old Meadowbank. Eric is aided here by Overall wearing Dave Younghusband
---
Reg Fearman's Middlesbrough Team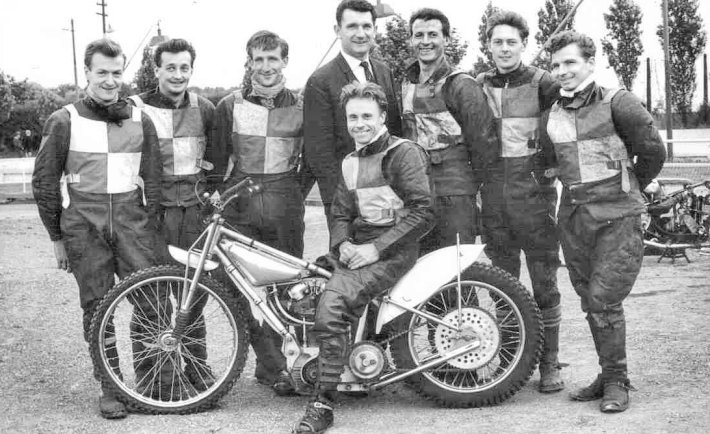 Courtesy of Reg Fearman
---
Teesside v Nelson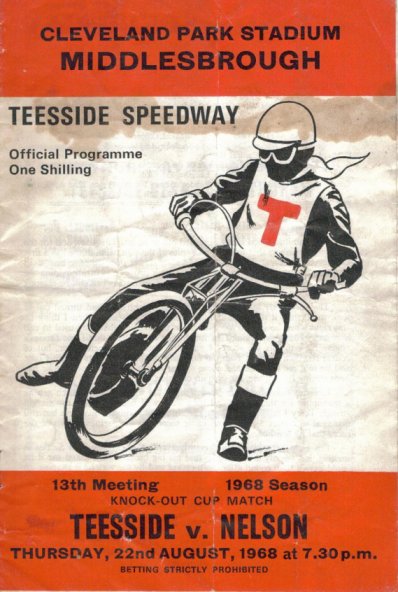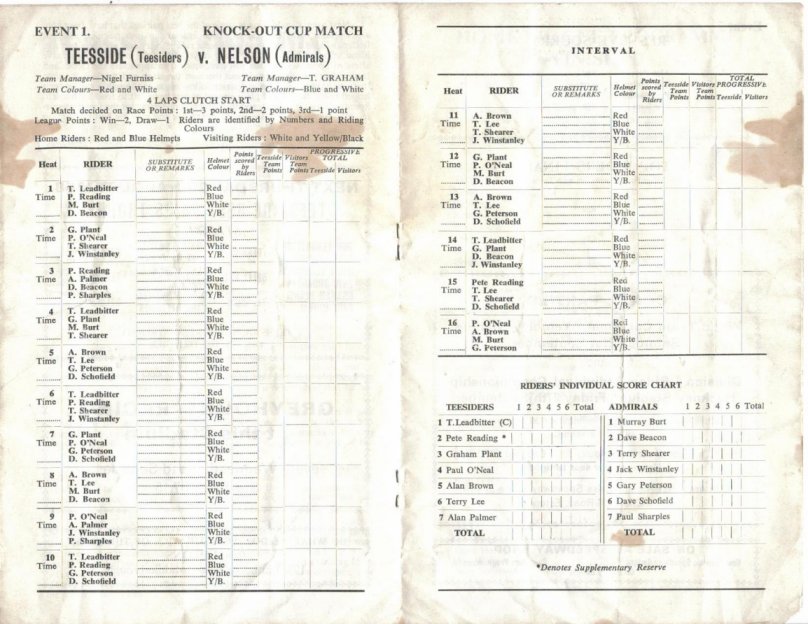 ---
Early 1960's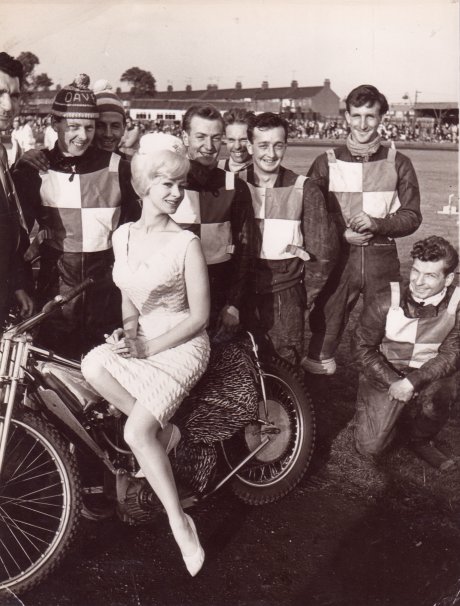 Reg Fearman, Dave Younghusband, Ray Day, Eric Boocock, Bluey Scott, Alan Butterfield, Clive Hitch, Slant Payling with Sabrina, she's the one in the dress.
---
Dave Younghusband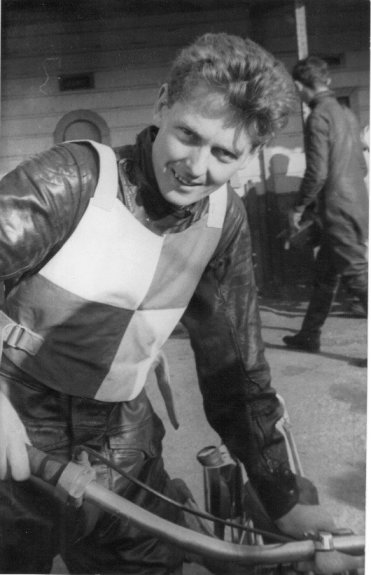 Courtesy of Reg Fearman
1963: Dave Younghusband
Col Greenwell says: The Dave Younghusband pic from Reg Fearman...marked as 1963...I am disagreeing with Reg....It's 1964. The red quarter was moved to the right hand top in that season.....So any pics you see with the red at the top right...1964.(even in black and white!!!)
---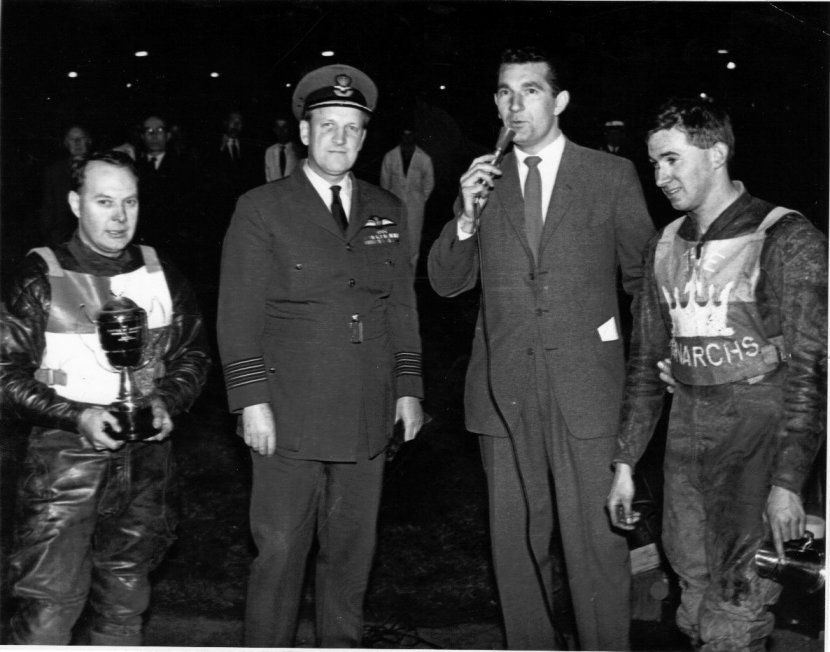 Courtesy of Reg Fearman
1963 Middlesbrough Battle of Britain Trophy. Eric Boothroyd, RAF officer, Reg Fearman and Edinburgh's Wayne Briggs
---
Middlesbrough 1963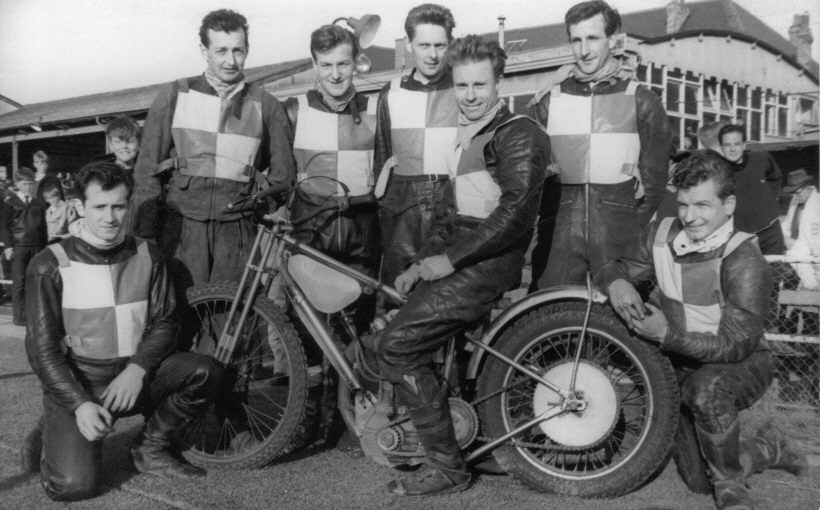 Courtesy of Reg Fearman
1963 Middlesbrough team, interesting front forks on this bike? I say rear: Alan Butterfield, Eric Boocock, Dave Younghusband, keeling at right hand side Slant Payling. That makes three I cannot name, please help John
Update: Jack Hides says: Guy on the bike is Bluey Scott and standing behind him is Clive Hitch, no help on the other guy kneeling.
Update Col Greenwell says: Middlesbrough photo. Pic is 1964. Notice the red/white quarters were reversed for that year. I agree with all those named. I believe the only unnamed guy. kneeling on the left to be Ken Handscombe
Middlesbrough 1964. I seem to remember they tried running on a Friday night and captain Eric Boothroyd couldn't ride regularly on a Friday, so they swapped Long Eaton for Bluey Scott. Eric was a greengrocer and Friday night was a busy night for orders etc. Hi John. Certainly Clive Hitch. (one of my first speedway heroes)....Clive saw gaps inside that no one else would see.....you can imagine the result sometimes..!!. He ended up as number 2 to Barry Briggs at Swindon and I think he was the top bonus point scorer one season....
More from Col. I found the bit about Eric Boothroyd in the new magazine Classic Speedway...No 2.
Eric says he had bought 2 greengrocers shops, one in Halifax and one in Elland. Mike Parker had said Middlesbrough were going to run on a Friday Evening. Eric said it was not possible to ride on a Friday as he had lots of deliveries to make that night of the week, so he went to Long Eaton and Bluey Scott came to Middlesbrough. Its not like nowadays when you can pop into Tesco day and night. How times change!
As a regular visitor to late night shopping I agree
---
Rosettes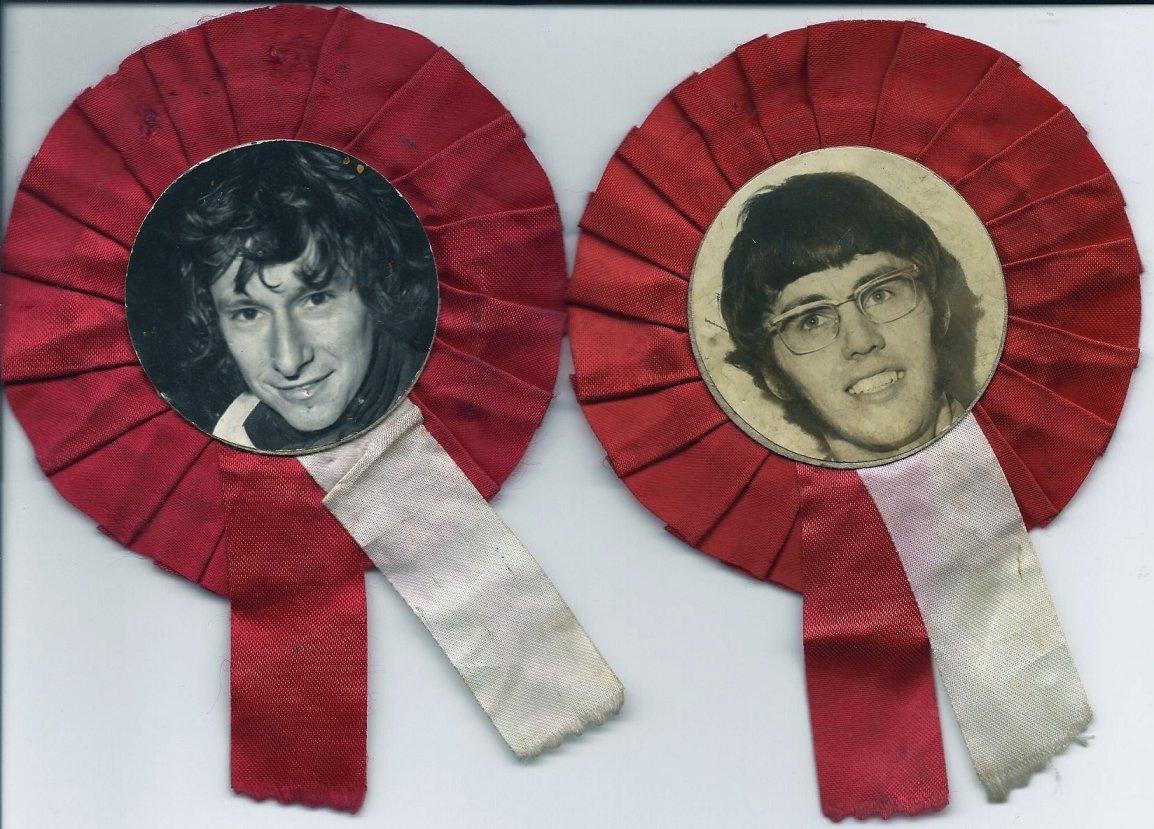 Courtesy of Steve Cummins
Pete Reading and Frank Aufrett
---
Barrie Heward's Photographs 1968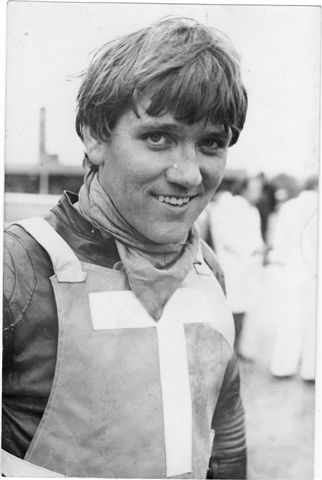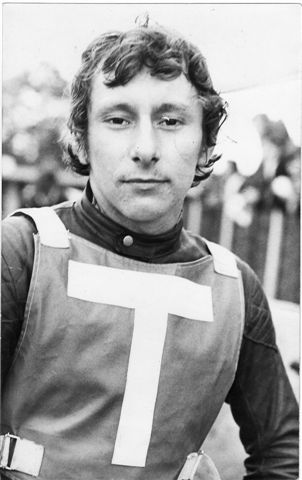 Tom Leadbitter Pete Reading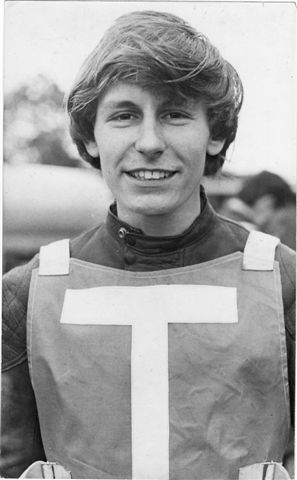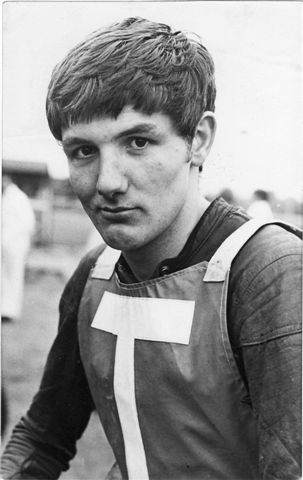 Graham Plant Terry Lee
Col Greewell says: 4 Teesside Riders from 1968 Teesside photographs...Tom, Terry, Pete and Graham. The year is 1968. 1968 is the only year Graham Plant rode for us. He won the Division Two League Riders Championship as well....Then moved on..
---
---
Steve Cummins' Photos of the late 70's/early 1980's
Steve says the majority of his photo's are of the 1981 league winning side.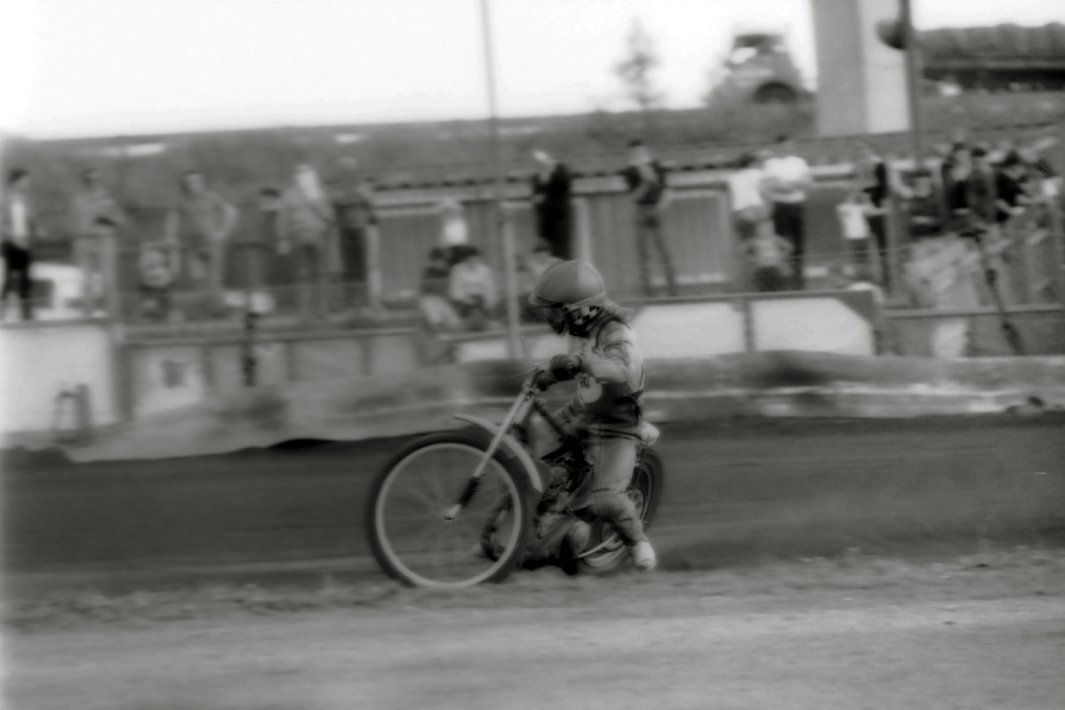 Mid 1: Mark Courtney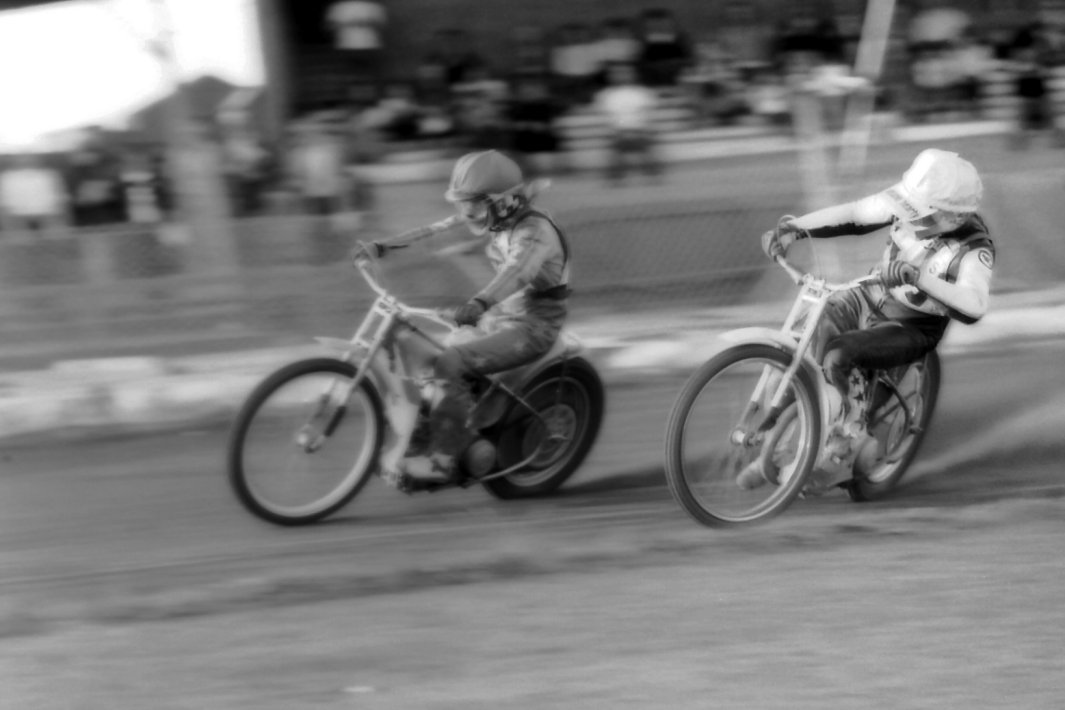 Mid 2: Left Mark Courtney

Steve Cummins says: I think the Glasgow rider in white is Andy Reid


Steve Baker says: Middlesbrough page, picture MID2, rider on the inside is not Andy Reid of Glasgow it is Bruce Cribb of Berwick.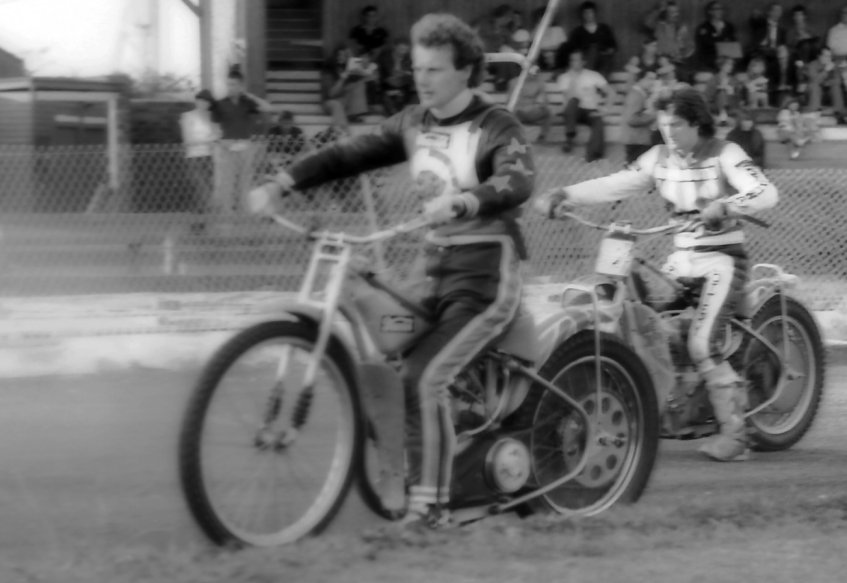 Mid 3: Steve Wilcock & Weymouth's Martin Yeates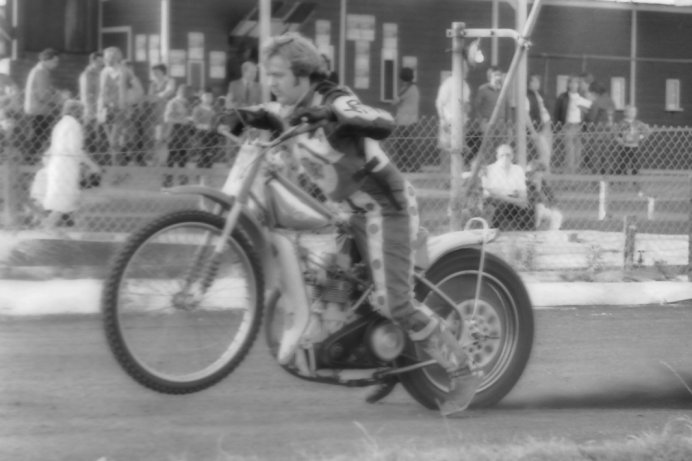 Mid 4 Geoff Pusey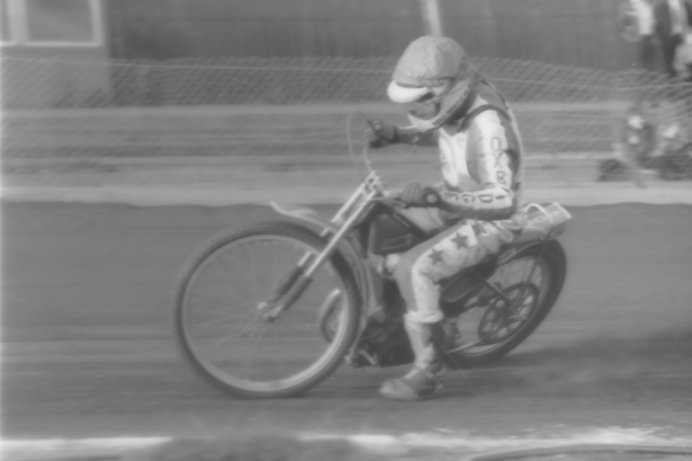 Mid 5: Brian Havelock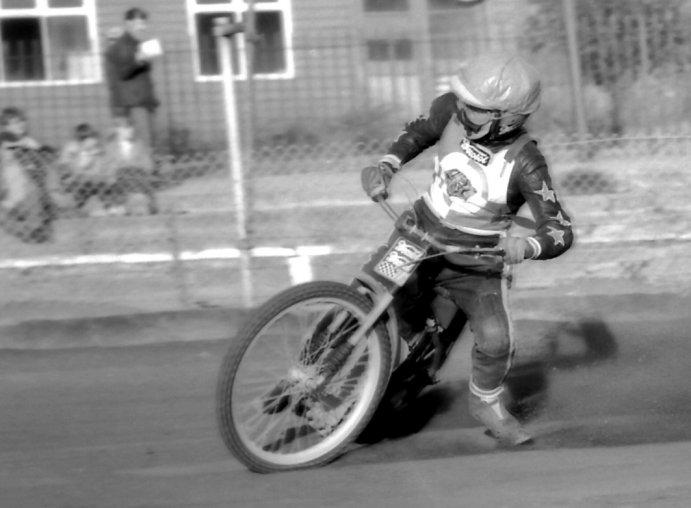 Mid 6: Steve Wilcock
Mid 7: Steve Wilcock
Mid 8: Left Mike Sampson

Stoke are the visitors and I wonder where the Boro boys are? Steve Cummins says our boys were way out in front! dust to left of picture a give away!!!!!

Mid 9: Geoff Pusey

Mid 10: Mark Courtney

Mid 11: Promoter Wally Martin with Martin Dixon

Mid 12: Mark Courtney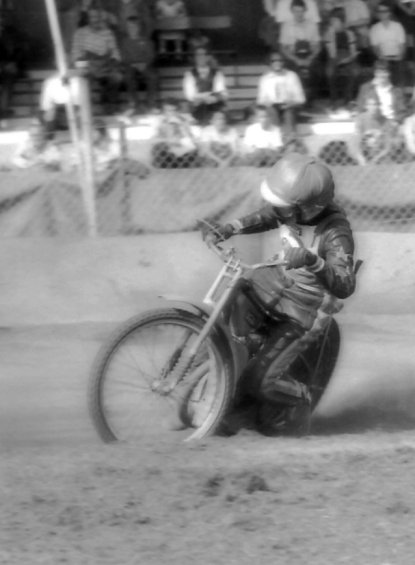 Mid 13: Steve Wilcock

Mid 14: Kelly Moran (inter league match with Eastbourne).

Mid 15: Geoff Pusey leading Mike Spink

Mid 16 Martin Dixon

Mid 17 Mike Spink

Mid 18: Mark Courtney

Mid 19: Mark Courtney far left and Mike Spink (far right)

Mid 20: Geoff Pusey

Mid 21: Steve Wilcock

Mid 22: Steve Wilcock leads Brian Havelock on their way to a 5-1

Mid 23: Steve Wilcock

Mid 24: Steve Wilcock

Mid 25: Steve Wilcock

Mid 26 rider on right is Wayne Brown (Berwick) guesting

Mid 27: Steve Wilcock

Mid 28: Inside Geoff Pusey

Mid 29: Geoff Pusey

Mid 30

Mid 31 Arthur Browning leads Martin Dixon.
I seem to remember Arthur stood at 6 feet plus? He was a great rider even though he was much too tall compared to the "blue print" for a successful speedway rider. I believe he was also a top Motor Cross (scrambler) rider

Mid 32: Mike Spink

Mid 33: Steve Wilcock

Mid 34: Inter League match: Eastbourne Eagle Paul Woods, leading Geoff Pusey
---
Teesside Tigers 1981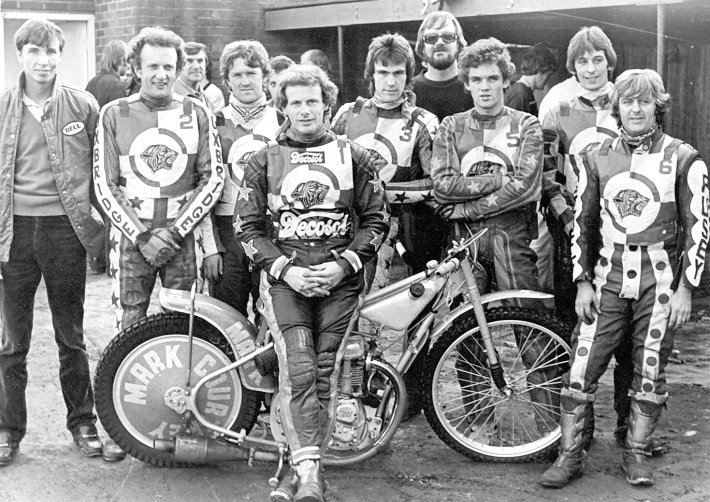 Courtesy of Colin Greenwell
Col says the line up was: Left to Right. 1981 N.L. Champions. Bernie Collier, Brian Havelock, Alan Armstrong, Steve Wilcock, Martin Dixon, Tony Coupland (Team manager), Mark Courtney, Mike Spink, Geoff Pusey.
---
Middlesbrough Badges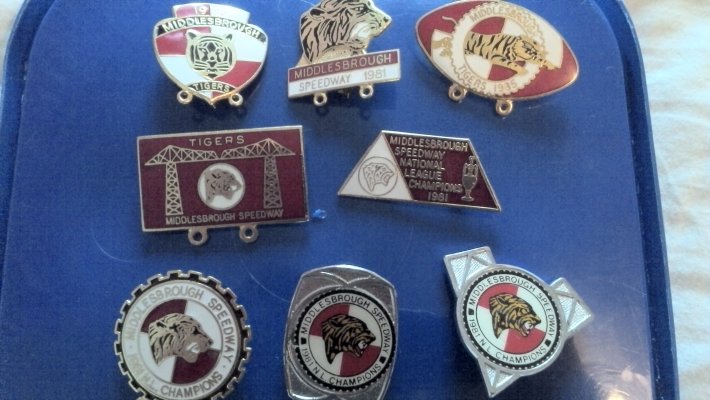 Russell Earl says: Hi John, More badges from my dad, Frank Earl's collection, this time, Middlesbrough where his younger sister lives in Stockton and followed both Middlesbrough and Teeside even walking in a rally to save the old stadium before Redcar opened.
---
Really Fierce Bear from 1989 racejacket


The bear logo appeared on the 1989 Middlesbrough racejacket coloured brown of course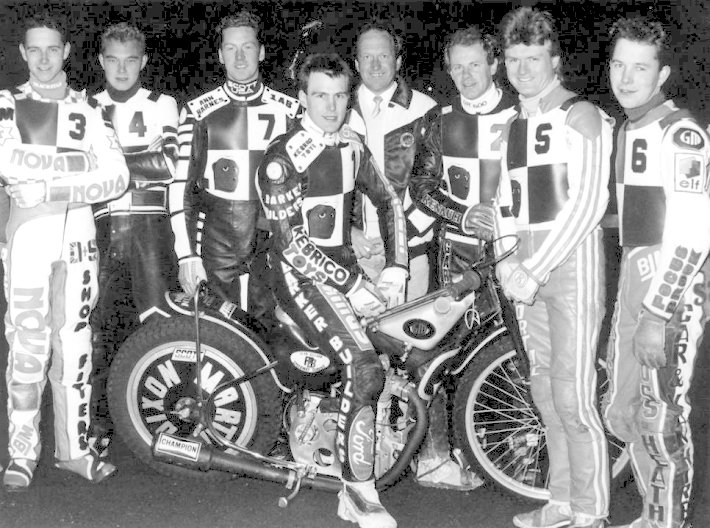 1989 team with that bear

---
Last Ever Middlesbrough Programme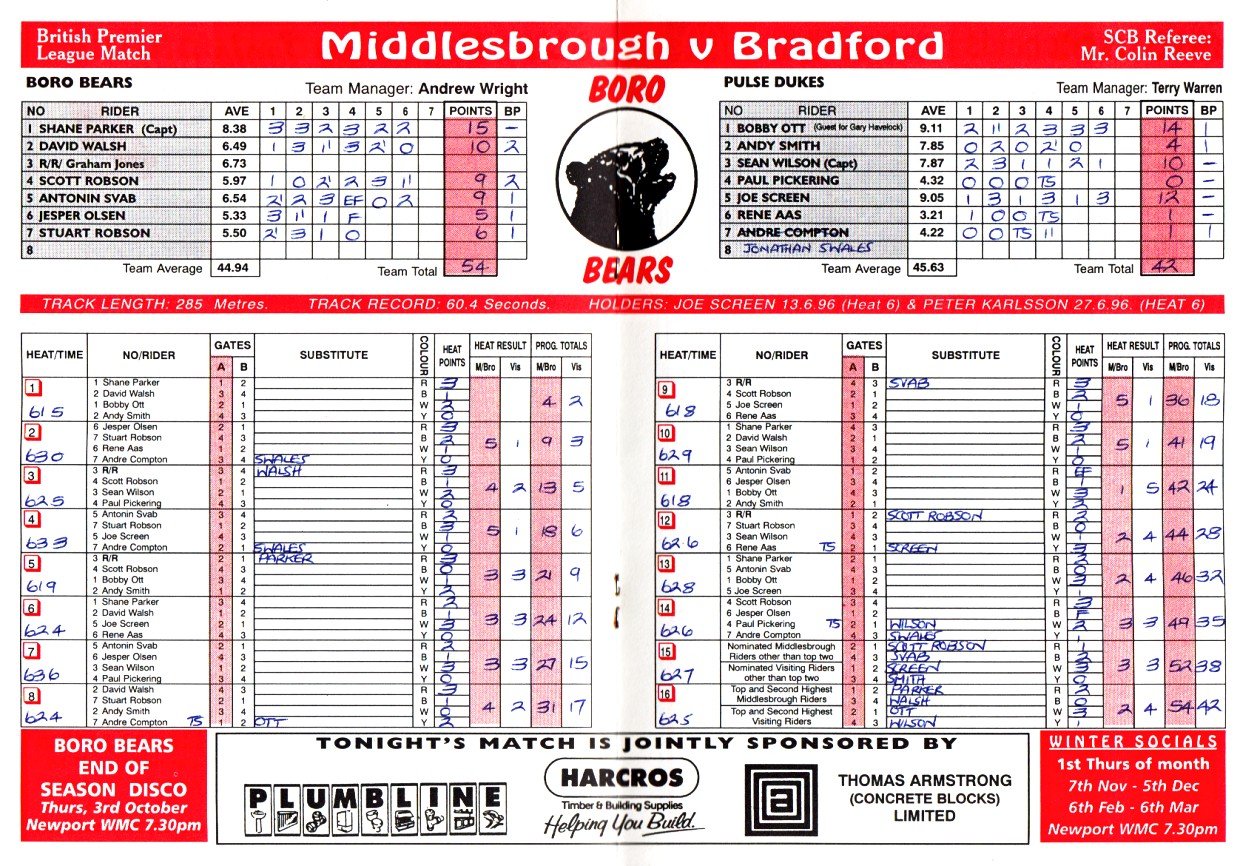 Courtesy of Col Greenwell
The rider who won the last ever race there was Bobby Ott.

---
Have you any photos of Middlesbrough/Teesside if so please scan them and send to me by email JOHN