Manchester
White City
White City Greyhound Stadium, Old Trafford, Manchester operated between 1928 - 1958 off and on and more off, than on.
Very Much A Defunct Venue!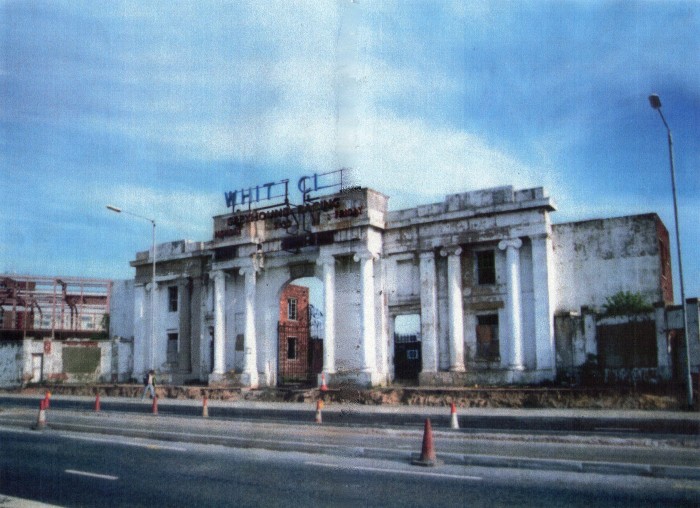 Courtesy of George Carrswell
John says: I don't know when this picture was taken. I would have expected the local council to have decreed the frontage as a listed structure. White City ceased speedway in 1958 and the site now has a shopping precinct behind where this Grecian / Art Deco frontage was. Shame on you Manchester City Council.
But Look At Me Now!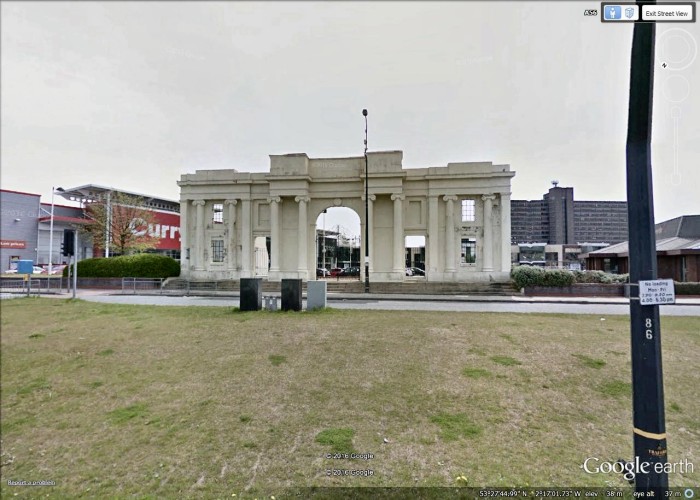 Jack Babrovskie says: The webpage shows the rather grand columns and arches that used to front the place and the text suggests that it was all pulled down when the track was removed, and it's true that the picture shows it in a right mess. However, as you will see from the recent attached Google Earth photo, [Now shown above] someone did in fact save the arches before they could be removed completely. Thanks go to whoever made the decision to preserve that bit of speedway Manchester.
John says: So there you have it Manchester citizens. Can you say who saved White City Entrance? Was it the council, a company or an individual? Anyway well done whomever you were/are and why is that lampost bent!
---
1928

White City
Dirt Track Racing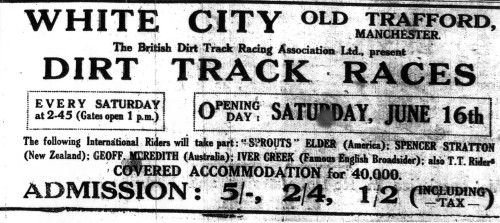 Courtesy of Graham Gleave

Courtesy of Graham Gleave
Ernest Greenall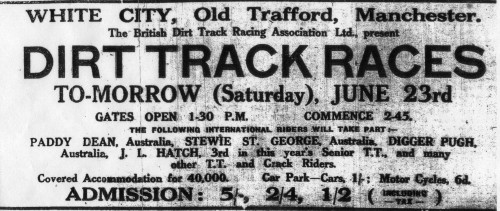 Courtesy of Graham Gleave
White City
1929
Programme Cover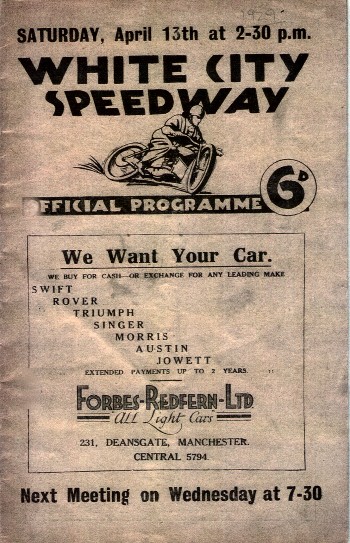 Courtesy of George Carrswell
---
Jervis Beats Sprouts Elder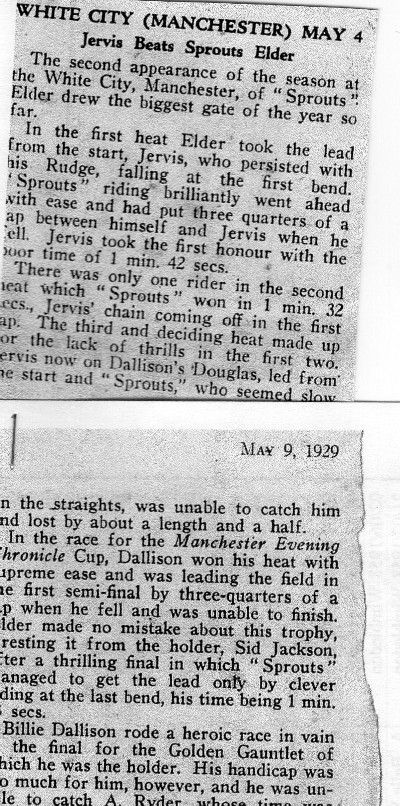 Courtesy of Graham Gleave
---
Clem Beckett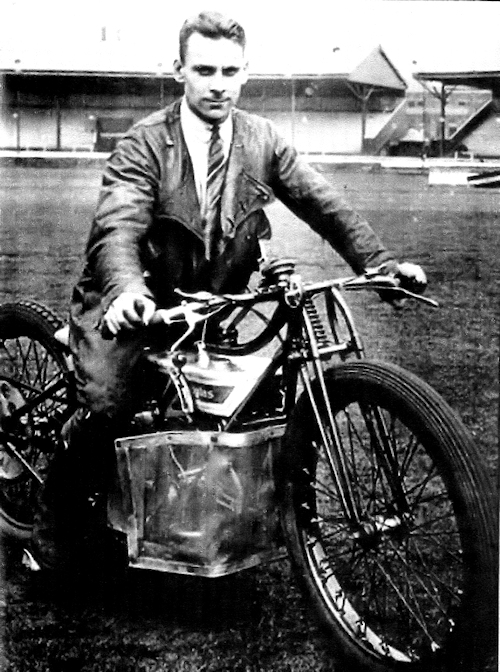 Courtesy of Graham Gleave
---
Broadside /Squib Burton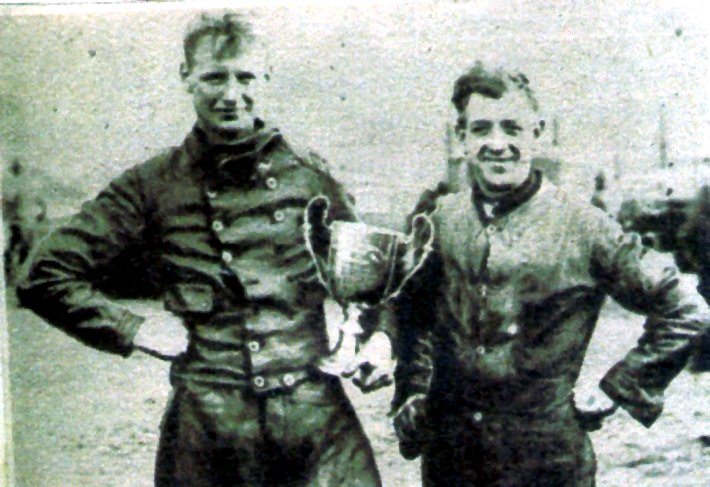 Courtesy of Stuart Whittaker
I think the above picture shows Squib Burton left and possibly Frank Varey right but would like confirmation please. Also was Squib also known as "Broadside" Burton?
John
Paul Wild says: Hi John, In your photo; Broadside Burton is the guy on the left holding the cup, He'd just won the "Hat Trick" at Manchester White City, winning the "Evening Chronicle" Cup outright, the Golden Gauntlet, and the Handicap, I'm not sure but the other chap might be Billy Dallison who was one of the Belle Vue riders. I don't know if 'Squib' and 'Broadside' Burton are the same person.
John says: Colin Greenwell tells me Squib and Broadside Burton is the same person, Col found this (see cig card below) on my "Cigarette Cards set 3" page of this site. Thank you Col for gentle reminder that my website actually had the answer all along. Col also says: that he doesn't think the other rider in the above picture is Frank Varey so we still need to know who he is.
John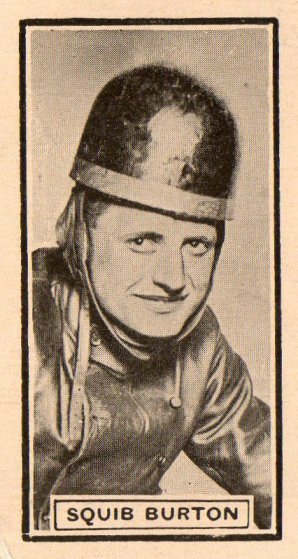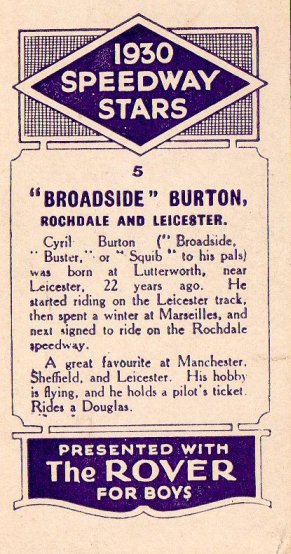 Another Picture Of Squib Burton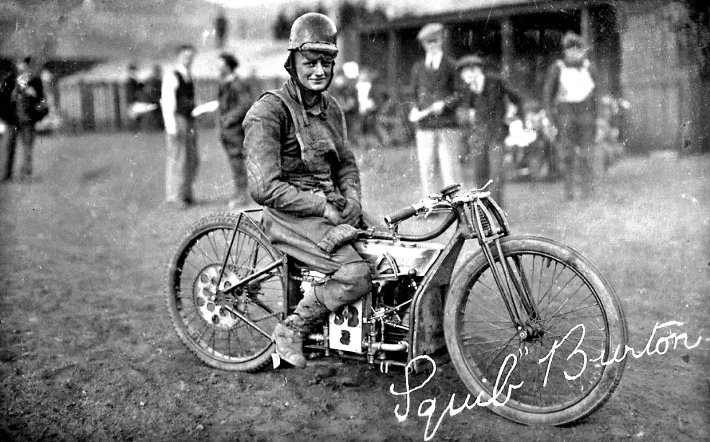 Courtesy of Paul Wild
---
Syd Newiss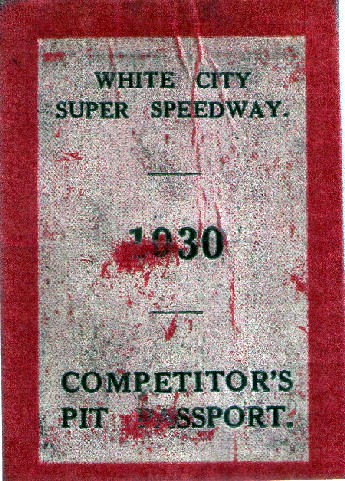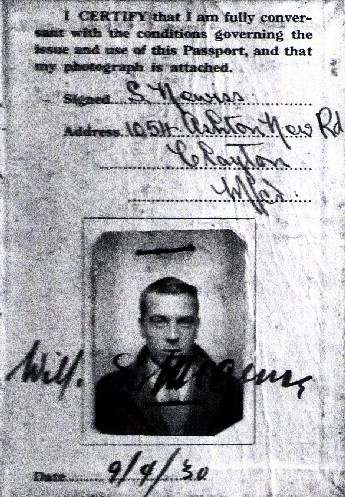 Syd's Pits Passport from 9th September 1930
---
1929

Crash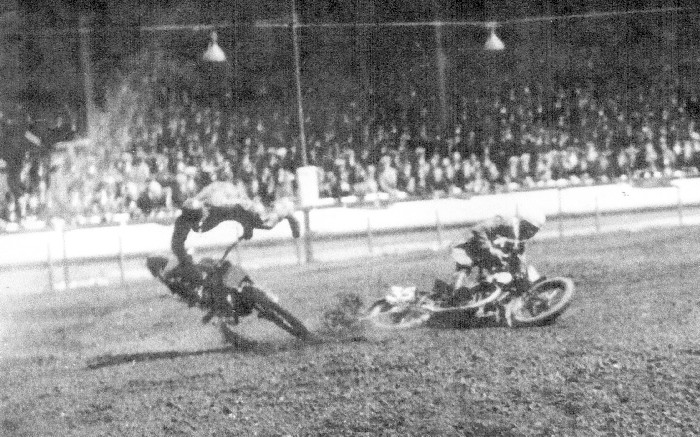 A spectacular picture from 1929. I believe Syd Newiss is the rider escaping the accident. I don't know who the airborne rider was, hopefully he wasn't hurt!
---
Manchester
White City Track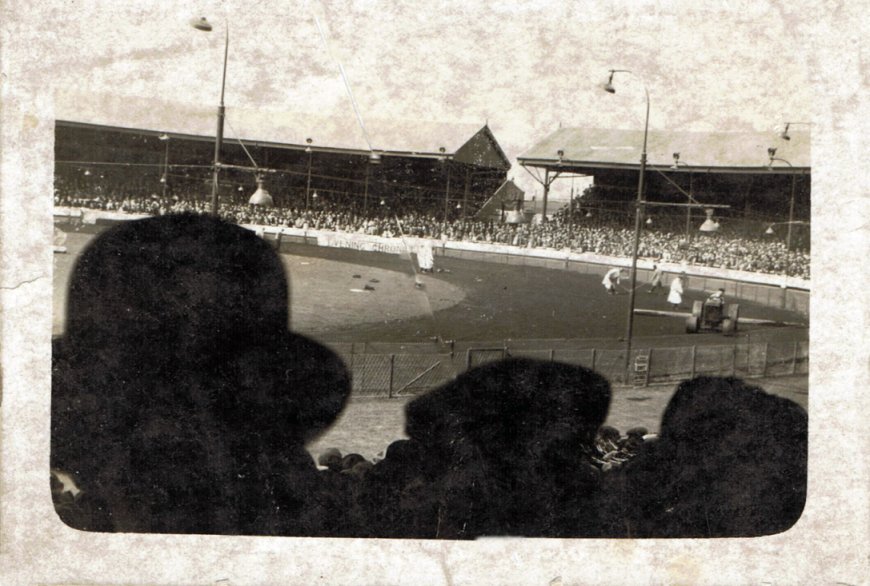 Courtesy of Rod Pashley
Rod Pashley (Son of rider Charlie Pashley) says: Manchester White City. Only the entrance gates remain now, they are part of a shopping precinct) My dad, Charlie is driving the tractor, which had cast iron wheels.
---
Trevor James' Photographs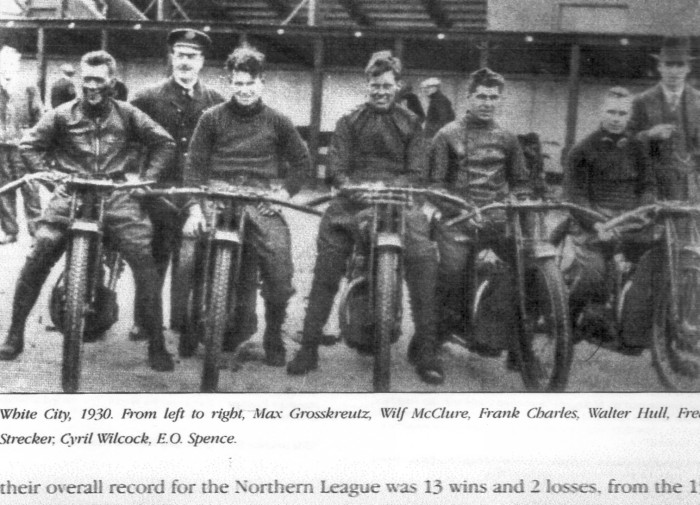 White City
Old Trafford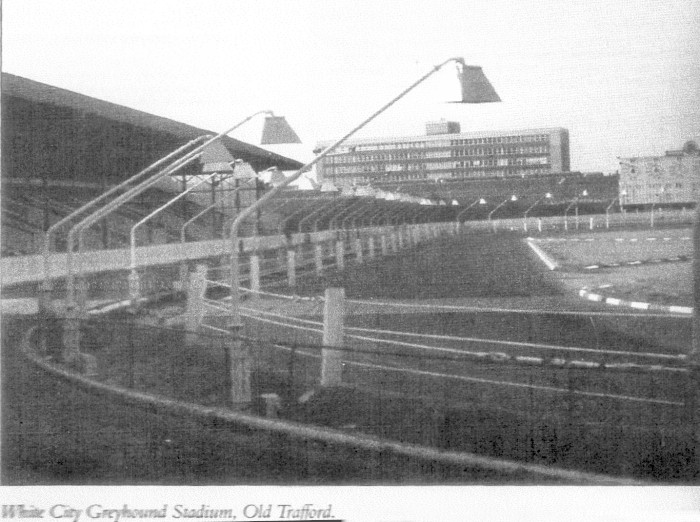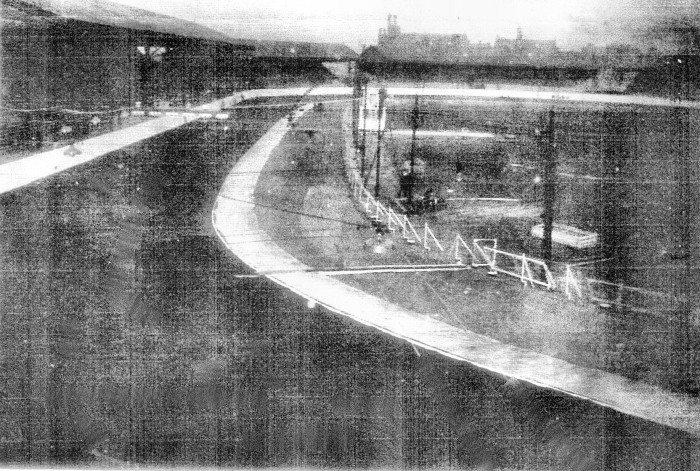 Paddy Dean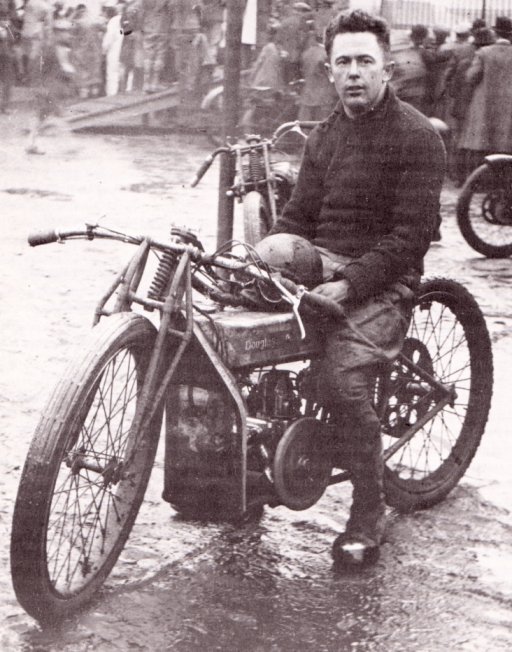 White City Sidecars

1930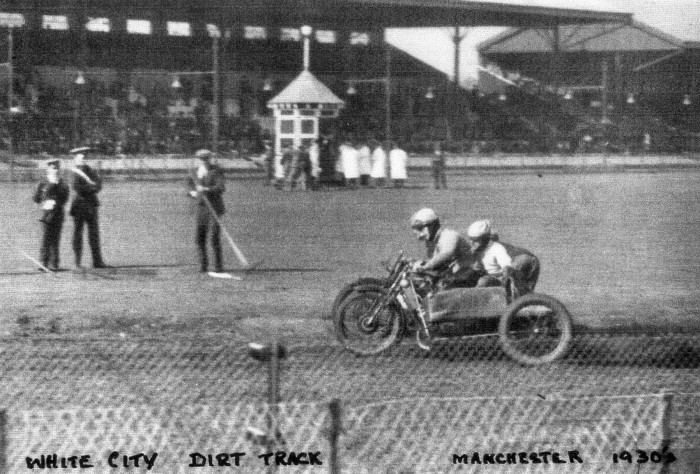 John says: My thanks to Trevor James and Graham Gleave for the 5 photos shown above. The sidecar picture is actually of 2 combinations with one almost completely hidden by the other
---
Jack Owen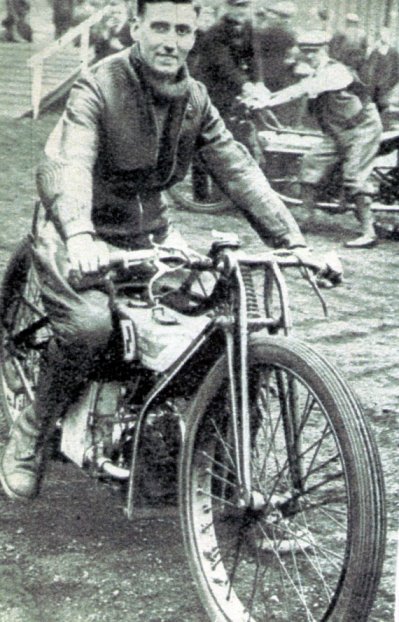 Courtesy of Stuart Whittaker
The two bikes in this photo are Douglas's which would date the photo at around 1929/1930
This is John (Jack) Owen a member of the Manchester White City Team, I am looking for info on him for his daughter who knows very little about his days as a rider. If you can help with any info his daughter Gillian would be very grateful.
John/Jack Owen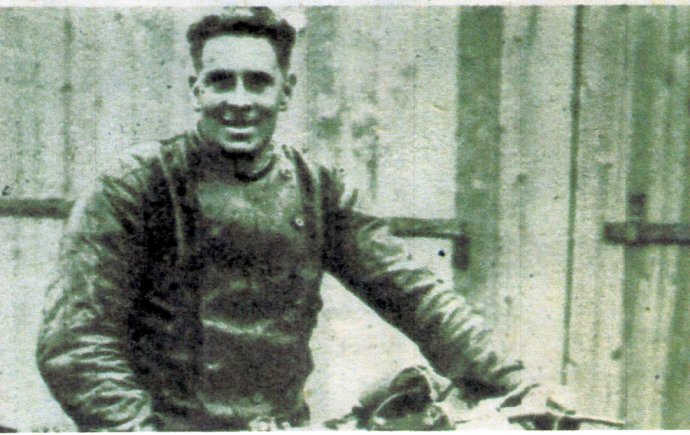 Courtesy of Stuart Whittaker
---
Manchester
White City Team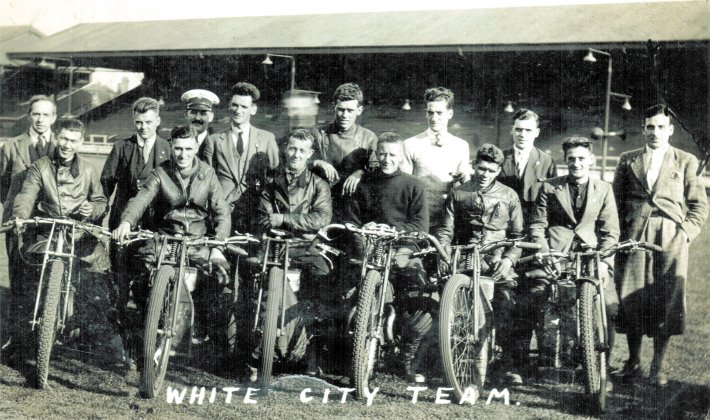 A fine team photo from Jack Owens daughter Gillian, It has to be pre war as the bikes look like Douglasses, I like the style of the guy at far right wearing the baggy plus fours. Can anyone supply anything at all about these pictures, if so, email me here please
John
Colin Greenwell says: On the bikes, left to right, Les Wotton, John or Jack Owen, H. Gresty, Arthur Jervis, Skid Skinner and Billy Dallison. Back row......If I have got this correct....guy in the very centre leaning on two riders is
Wally Hull. There seems to be a ghost in the back row as well..!!!
John Skinner (Defunct Speedway webmaster) says: I have heard of my namesake Skid Skinner before but thought someone was taking the "p", but there he is, Skid Skinner looking mean and moody on his Douglas back in 1929. He is no relation to me but I am pleased nethertheless! Thank you Colin for identifying Mr Skid Skinner, maybe I should change my forename from John to Skid by deed poll eh :-) Yes there is a gremlin in the back row. His Blurry face must have meant he moved when the pic was taken? or maybe he is really a ghost! 1929 is too early for Ken Le Breton the White Ghost who rode for Newcastle in 1947/48 so its not The White Ghost. Our blurry faced person will likely be unknown forever unless you know better!
Skid Skinner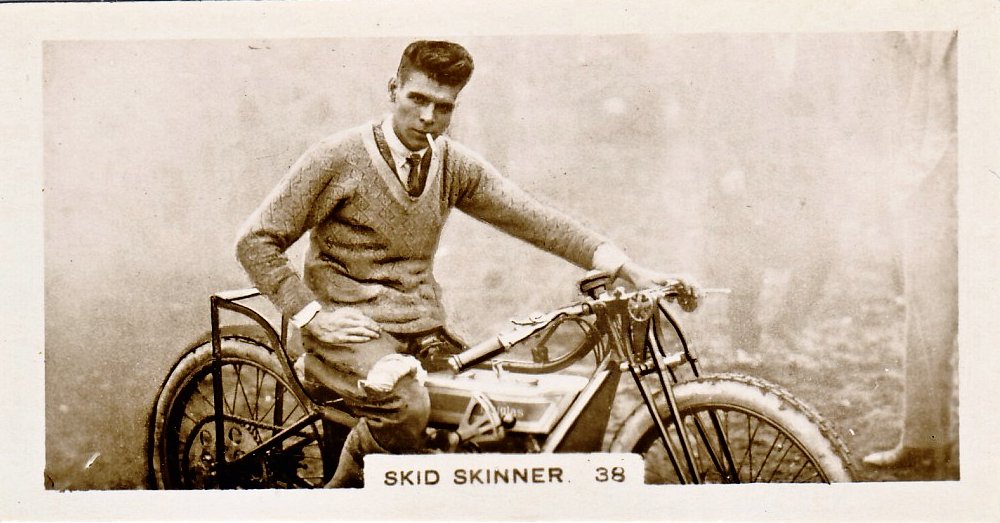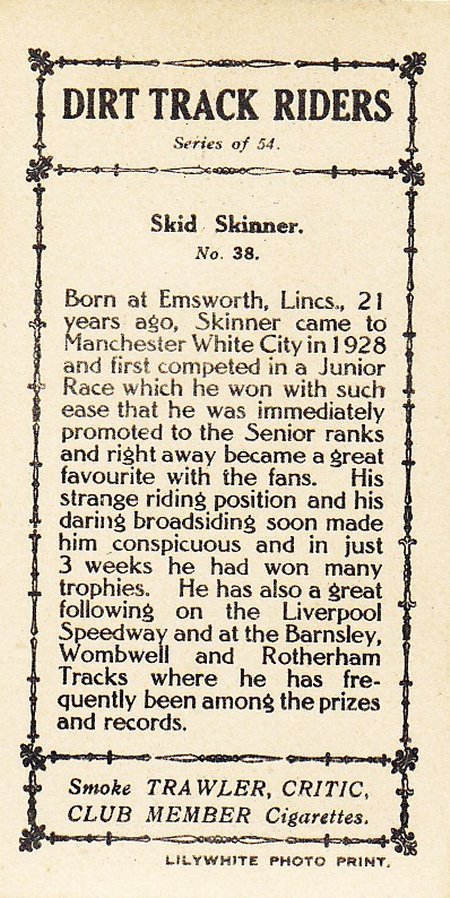 Colin Greenwell sent the cigarette card scans. Col goes on to say:
Skid died in 1944 after a shooting accident whilst out rabbiting on a farm near Gainsborough. He was 39 (Info from the book...Roar of the Tigers...70 Years of Sheffield Speedway ).
John Skinner says: I am told that Skid Skinners actual name was Hector Skinner, and no, he wasn't me dad!.
After reading the above reverse of the card, I can only wonder what "his strange riding position" was?
The name Skid reminds me of a novel I read in my childhood (early 1960s). The book was "Skid Wild-Speedway Rider" don't know who the author was. I just wonder did anyone else read that book? If so email me here
John
---
Arthur Franklyn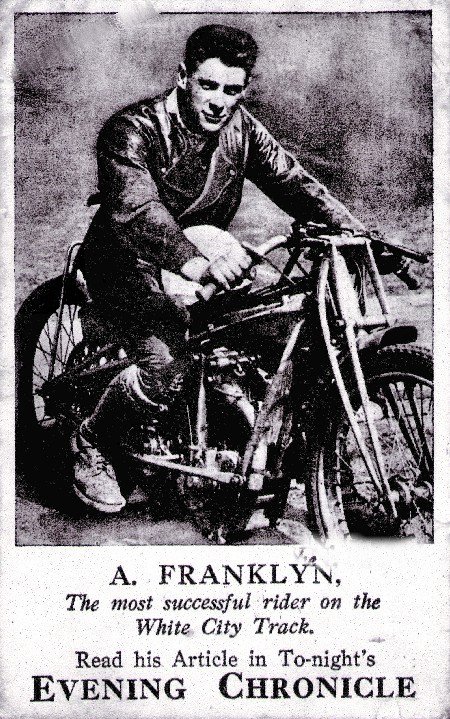 Courtesy of Graham Gleave
---
Manchester
White City Stadium
No Speedway, Just Stock Cars In Later Years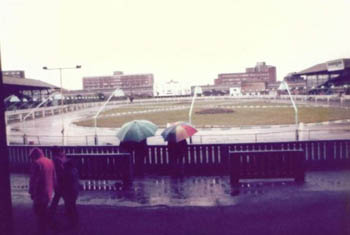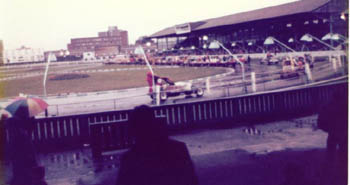 ---
If you can supply any stories, scan any pictures, programmes or badges send me an email John
---
The contents of the site are © and should not be reproduced elsewhere for financial gain. The contributors to this site gave the pictures and information on that understanding. If anyone has any issue or objections to any items on the site please
e-mail
and I will amend or remove the item. Where possible credit has been given to the owner of each item.