Wigan Speedway
Poolstock Stadium, Wigan, Lancs. This Wigan track operated in 1947 and 1960. The venue was redeveloped in the 1970's.
Poolstock Stadium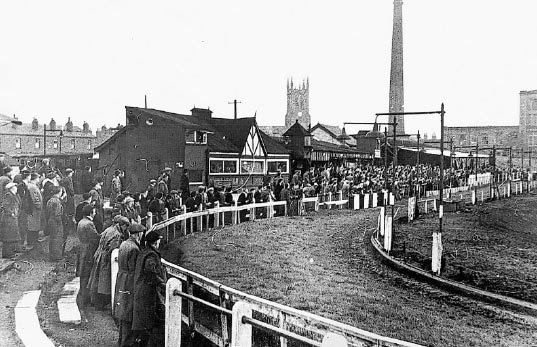 Poolstock Stadium showing the greyhound track with the speedway track inside
---
Poolstock in 1947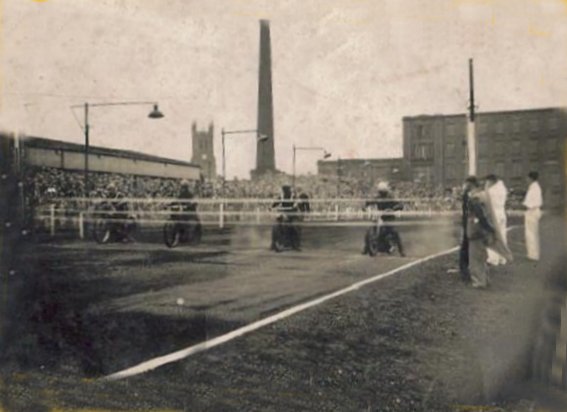 Courtesy of George Winstanley
One of these riders lining up at Poolstock in 1947 was Jack Winstanley. George Winstanley thinks his dad Jack will be one of the riders John
John Coombs: says this is Wigan and George says it is 1947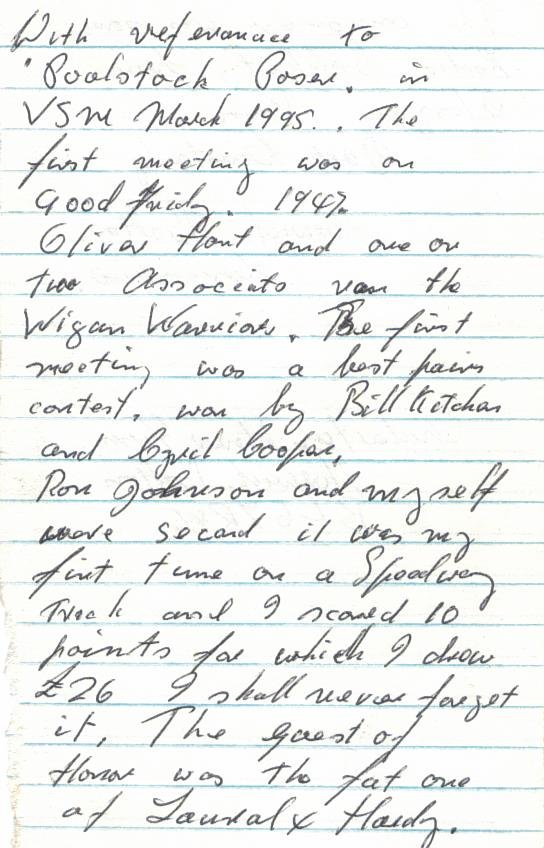 Courtesy of George Winstanley
Handwritten memories of 1947 from Jack Winstanley
Laurel and Hardy
The following programme scans were sent to me by Malcolm Hill and by coincidence it mentions Laurel & Hardy as does Jack Winstanley's letter shown above. Does anyone know if they were speedway fans?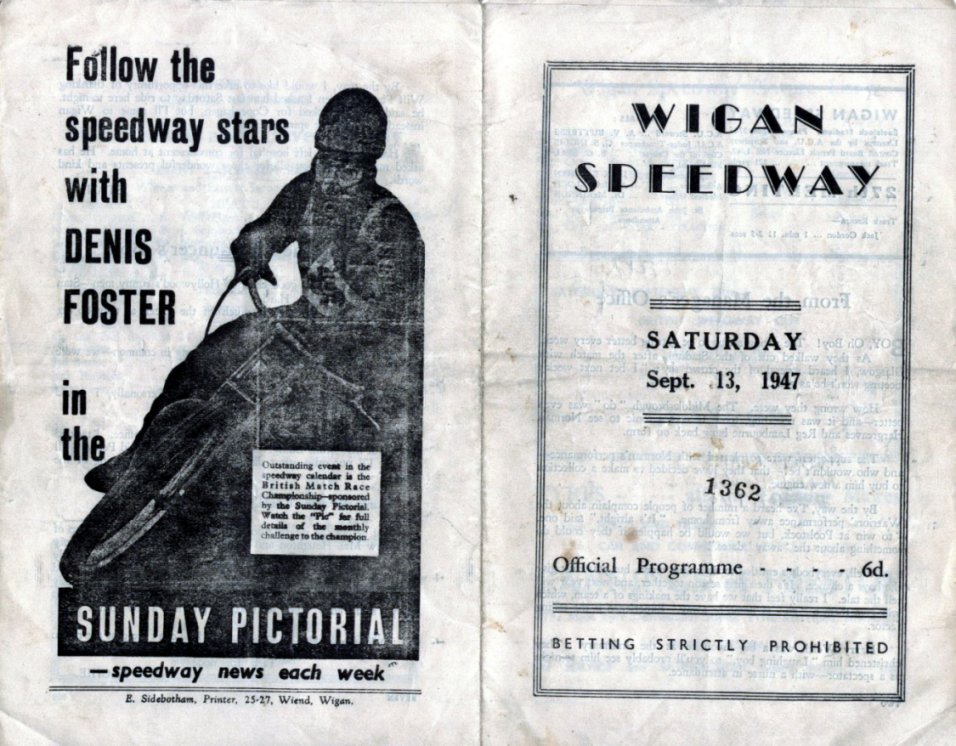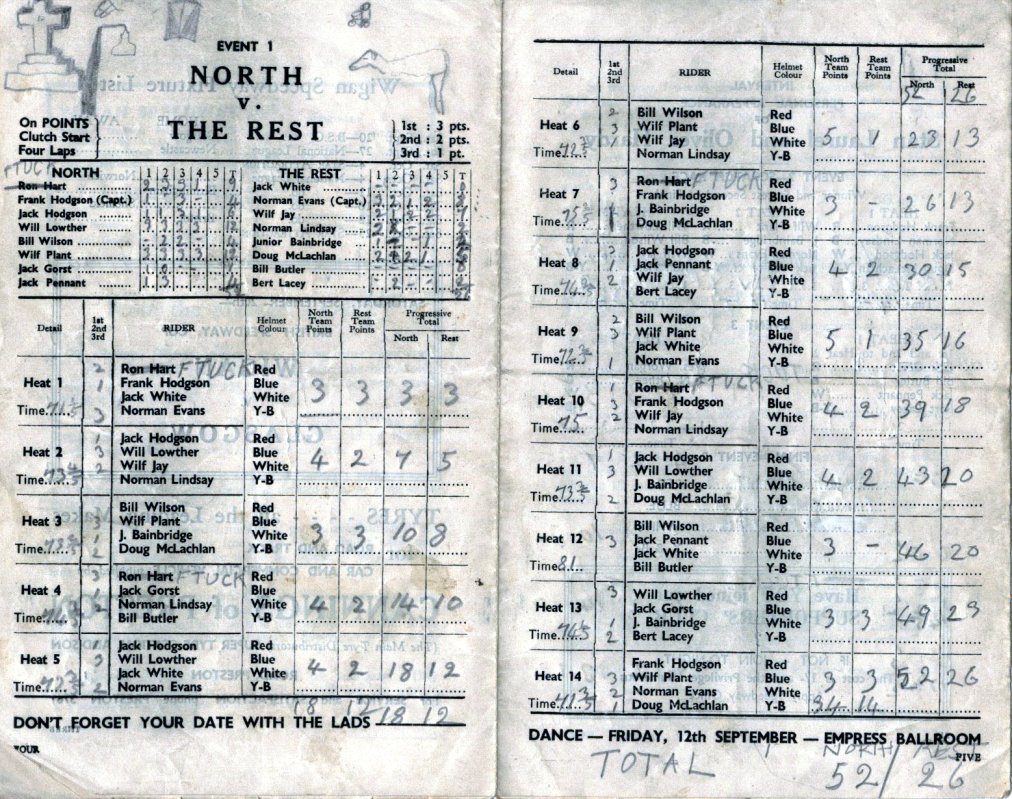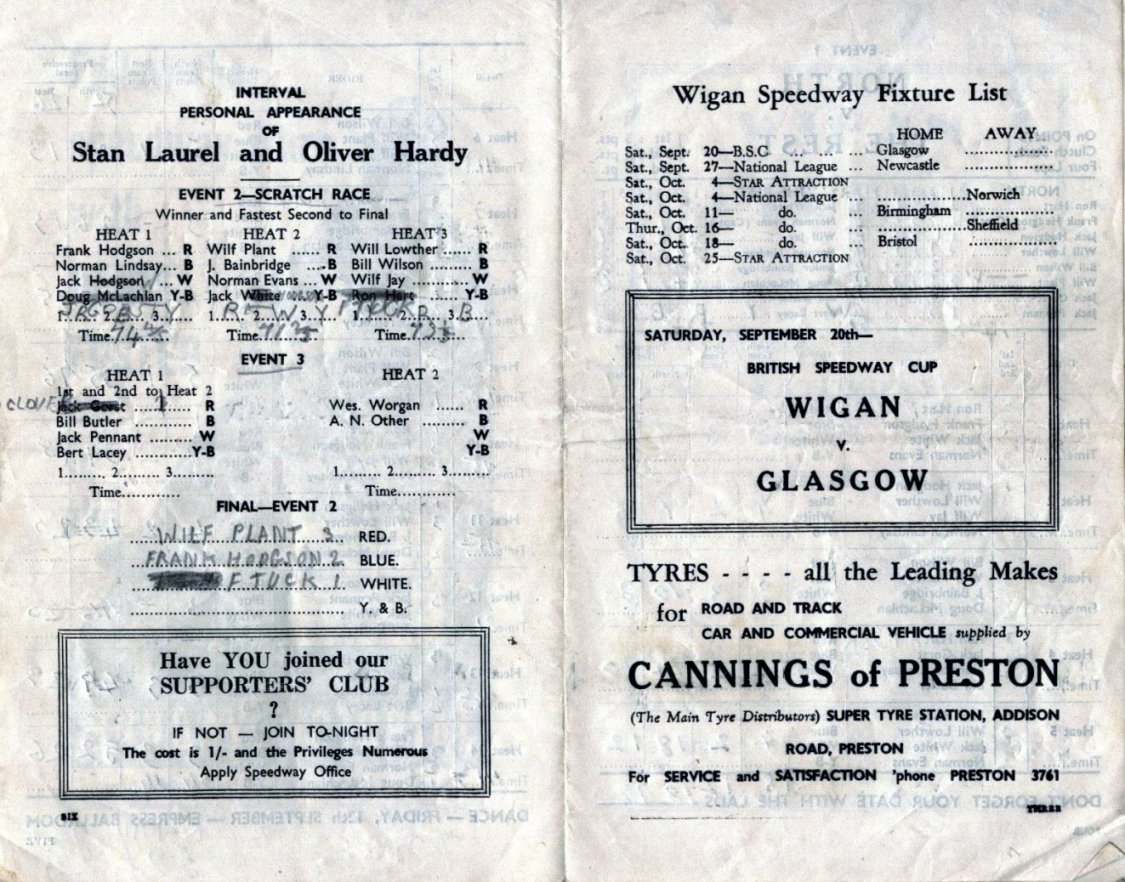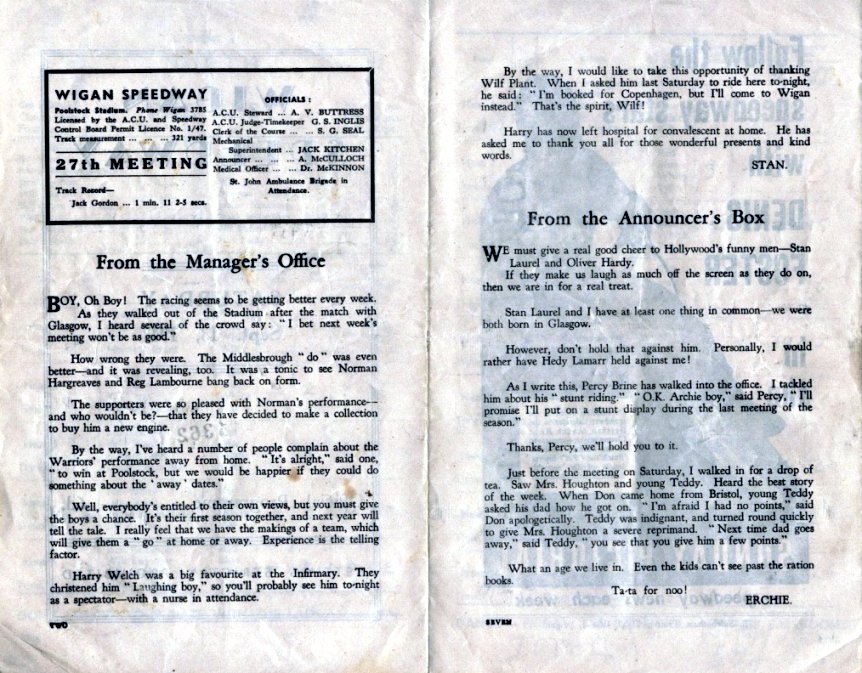 ---
1947 Race Jacket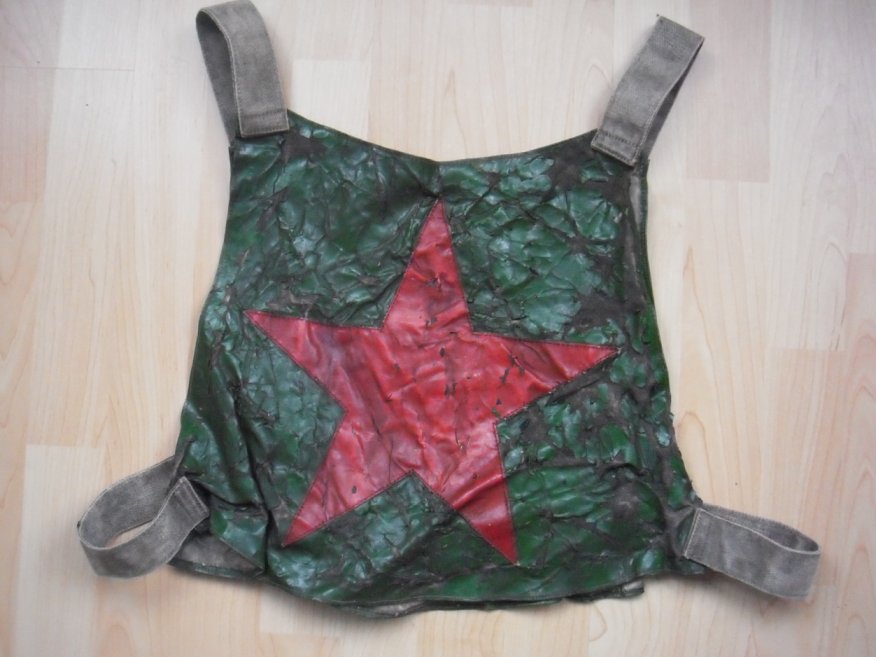 This Jacket belonged to Jack Winstanley
---
John and Keith Rylance
St. John Rylance has been in touch. He is the son of John Rylance. John and older brother Keith Rylance both rode for Wigan. St. John has supplied the following items and some text too.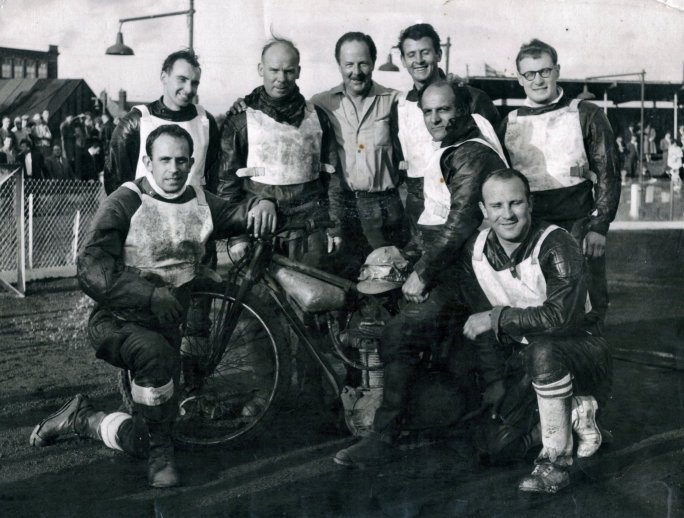 1960 Wigan Warriors
Back Johnny James, Dave Anderson, Don Potter (Promoter), ray Day and Keith Rylance
Front Gordon Mitchell, Frank Malouf (Captain on bike), Bill Bridgett
St.John Rylance says: 1960 Wigan Warriors team pictured at Poolstock stadium Captain Frank Malouf on bike, my uncle Keith Rylance standing far right, promoter Don Potter standing in the middle. Wigan Warriors has also run at Poolstock in 1947. My dad, John Allen Rylance (known mostly as Allen) went to all those meetings as an 11/12 year-old. But the promoters were from Blackpool and wanted a team in that town. Although unable to find a site in Blackpool the team was moved to Fleetwood the following year. In 1952 Wigan had another team (the Panthers) at Woodhouse Lane stadium. My father raced at Woodhouse Lane aged 16. My dad and uncle were very much involved in bringing speedway back to Wigan in 1960, doing a lot of work on the track etc.
St.John Rylance
1960 John Rylance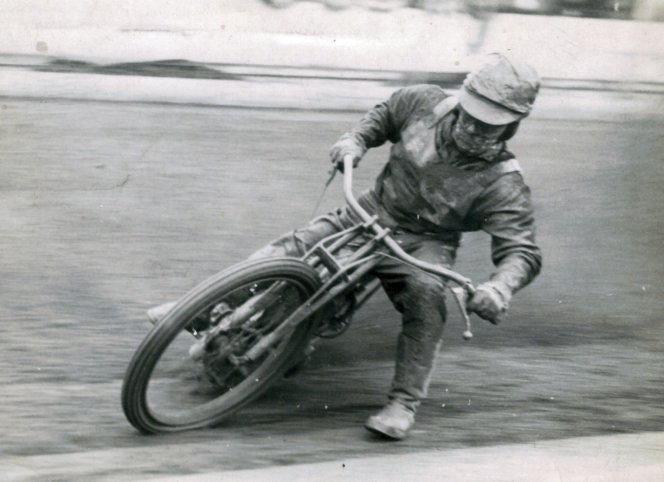 1960 Keith Rylance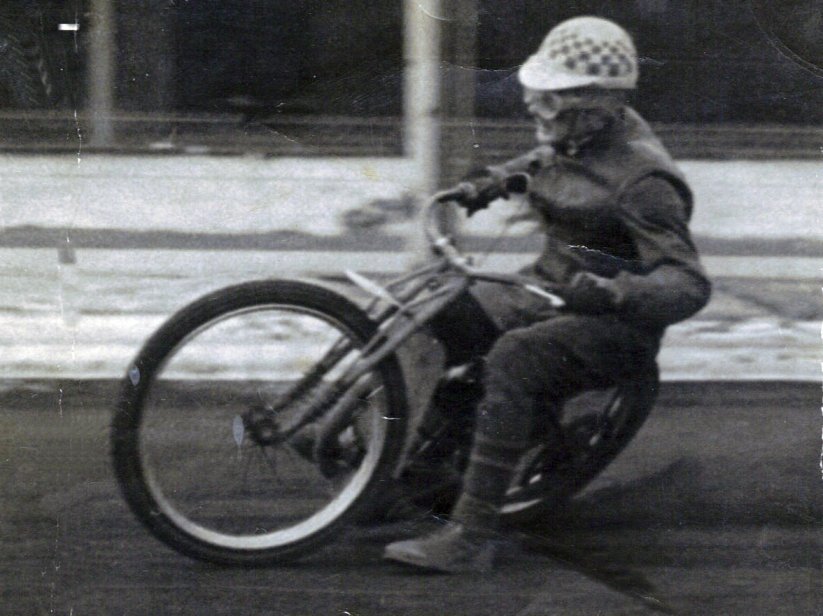 ---
Wigan v Norwich 1960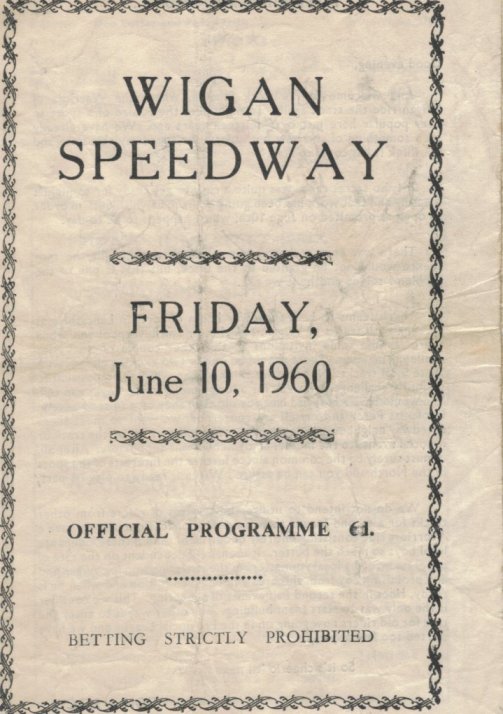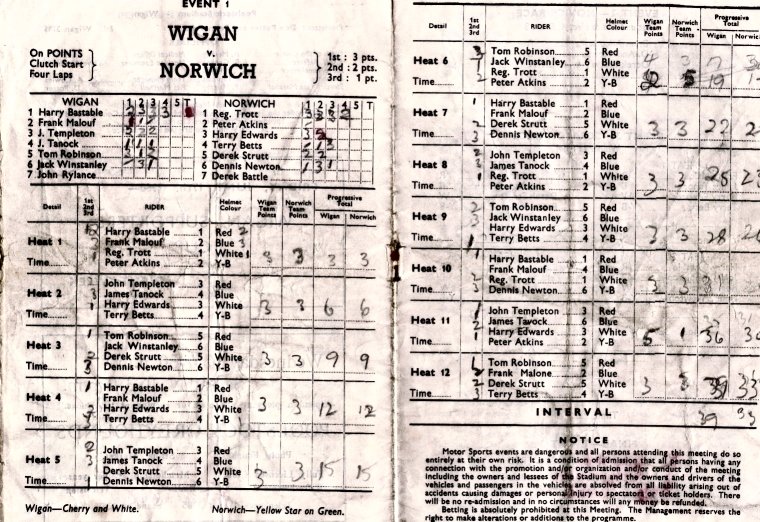 ---
Bryan Tungate says: Hi John
Interesting to see the Wigan v Norwich item from 10 June 1960 on the site. This was the opening meeting for the season. I note that no replacements are shown in heat details. My records show John Rylance rode in heat 10 in place of Frank Malouf among replacements.
In the second half John had a second & a third placing in his two races.
A report on the match says the crowd was 2000. After it was over there was a big sit down meal, in the changing room, prepared by a chef who came from Blackpool for the occasion. All riders & officials were in attendance for this event. Must have been a big changing room.
Every local child who attended the meeting got a stick of "Warriors" rock with the name through it. The report stated that "any promoter who thought that up will not be beaten for a very long time".
Mike Parker and Ken Sharples objected to a licence for Don Potter to open the track and this delayed work preparing for the opening meeting against Norwich. The track was layed and prepared in three weeks. The report said it was cinder surfaced but would need plenty more work before it could be described as smooth.
All the best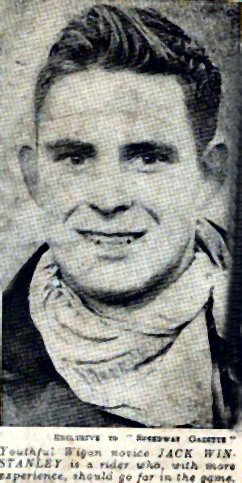 ---
Dave Anderson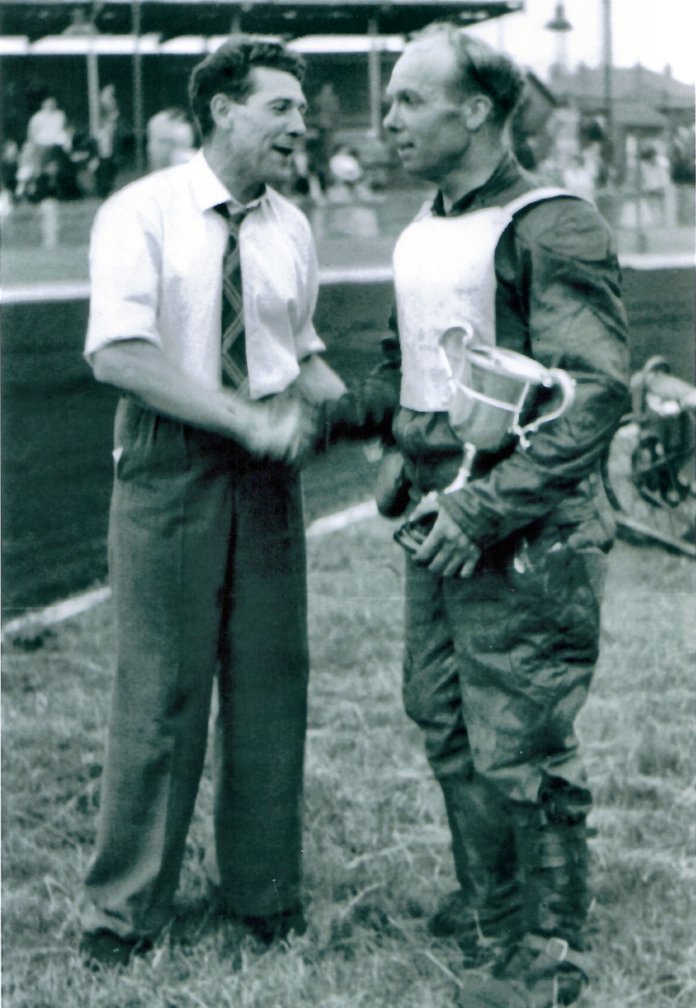 St John Rylance has been in touch and sent this photo.
St John Rylance says: Hi John, I've done some research on the photo shown above. It's of Dave Anderson receiving the Wigan Promoter's Trophy on June 24th 1960. A note on the rear of the photo (which I bought quite recently) says that Don Potter (the promoter) is giving him the trophy, but I'm pretty sure it's not Potter. Do you have any idea who it is?
John says: Email if you know who the guy in the shirt and tie is
John
Andy Reid suggests it could be the Co promoter Percy Firth)
Terry Stone says: The white shirt looks like Maurice Morley
Peter Kearns says: I think the guy in the shirt presenting the trophy at Wigan could be Maurice Morley who was involved in most of the Northern tracks in the 60's. He worked for Mike Parker at Newcastle at one stage as team manager. I could be wrong!
Cheers, Peter Kearns.
St John Rylance says: The Promoter's Trophy was the third meeting of the season. Twelve riders had four races each, the top eight then had semi finals and a final. Tony Robinson (of Sheffield) won the first semi final from Ray Day. My uncle Keith Rylance was third and last was Vic Lonsdale. Terry Betts (aged 16) won the second semi from Dave Anderson. Frank Malouf was excluded and Bill Bridgett fell in the re-run.
For some reason Ray Day didn't make the final and was replaced by Keith Rylance. Tony Robinson had won all his five races that evening but he fell and was excluded. In the re-run Terry Betts also fell and Dave Anderson won from Keith Rylance. There was a second half after the main event. Jim Yacobi won the novice race with John Rylance 2nd. Frank Malouf won the final of the Poolstock Scurry. More to follow as time permits. St John
Thanks St John, we are looking forward to future installments John
Reg Fearman says: It is Maurice Morley presenting the Trophy, Maurice popped up everywhere and just about worked for every speedway management, be it part time or full time in the circa 1960s /1970s. Don Potter came to the opening of Stoke on the 15th April 1960 and a number of meetings afterwards - we were good pals from being team partners at Stoke in 1952/53 - Don saw what tremendous crowds we had at Sun Street and decided he would 'have some of that'. He lived in Blackpool and had a big car hire business, at one time he was on the Council and I believe Mayor. Unfortunately Wigan was not a success story, aka Liverpool. There are some places that speedway racing has never really taken off. Don retired to Tenerife and went home to Blackpool very poorly to die in about 2000.
Maurice Morley is very much alive and living in Essex at the last 'count'.
Thanks Reg. Maurice was involved at my track, Newcastle and I can confirm that it is him
---
Have you any pictures of either Wigan track, programmes or badges if so please email me John
---
The contents of the site are © and should not be reproduced elsewhere for financial gain. The contributors to this site gave the pictures and information on that understanding. If anyone has any issue or objections to any items on the site please
e-mail
and I will amend or remove the item. Where possible credit has been given to the owner of each item.