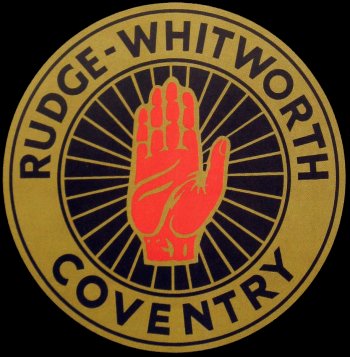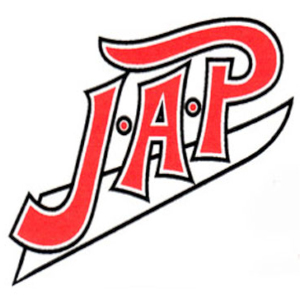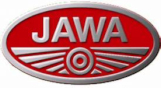 ---
Stamford Bridge Speedway
Stamford Bridge, Chelsea FC, Stamford Bridge Stadium, Fulham Road, London, SW6 1HS operated between 1928 and 1932. The team was known as The Pensioners and later the Brigands.
1928
Stamford Bridge Stadium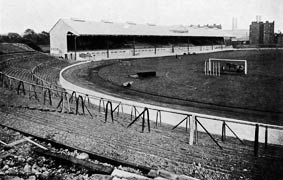 Stamford Bridge. This photograph appears to be from 1928 as the track was widened for 1929.
---
Gus Kuhn
Bert Bolt
Wal Phillips &
Art Pechar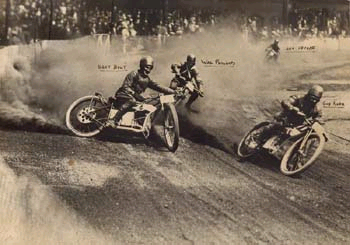 John says: Bert Bolt is pulling a locker on his Douglas but what entertainment for the fans back in 1928. The first two riders are mounted on Douglas machines. The picture is courtesy of Niall Strudwick who names the riders as Gus Kuhn leading from Bert Bolt, Wal Phillips and Art Pechar.
---
Stamford Bridge Programme
28th July 1928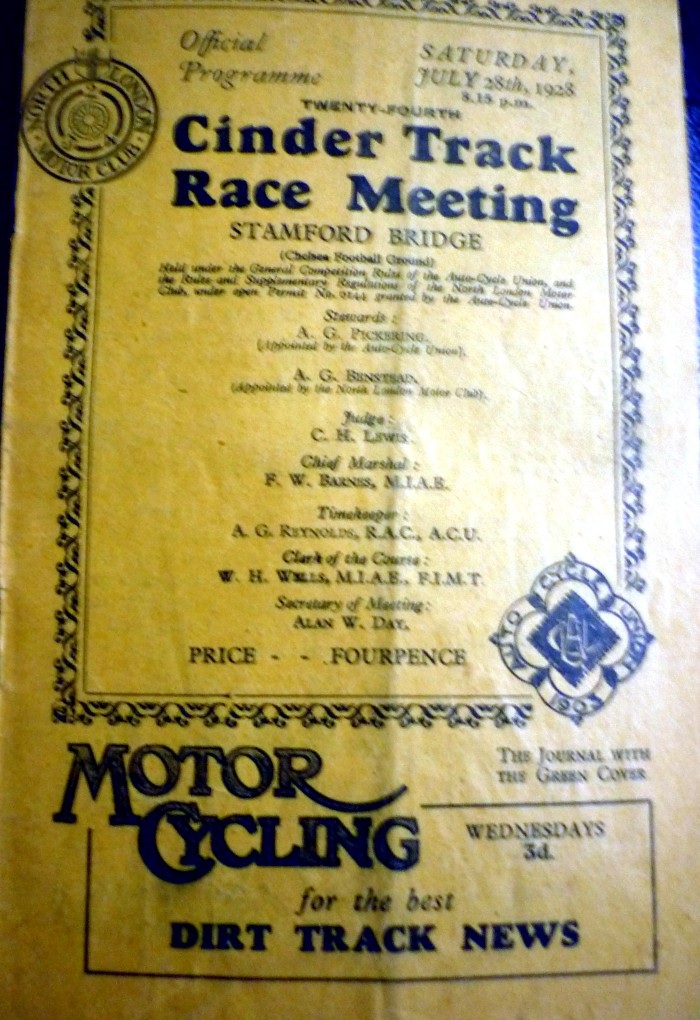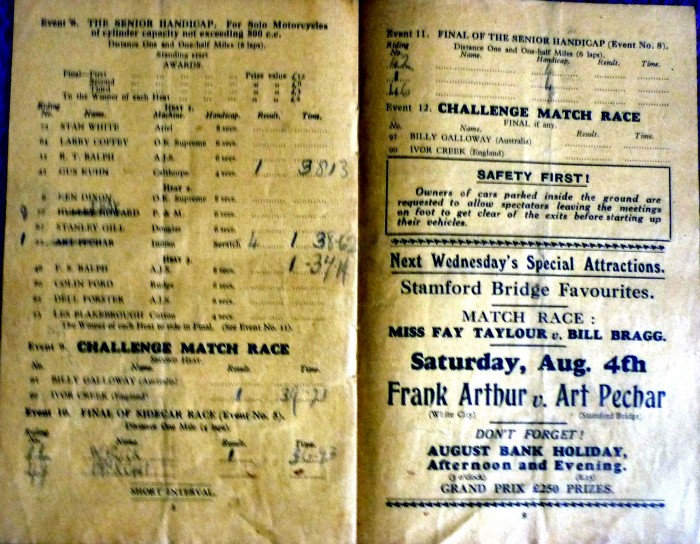 Programme Image courtesy of Marcus Stokes
---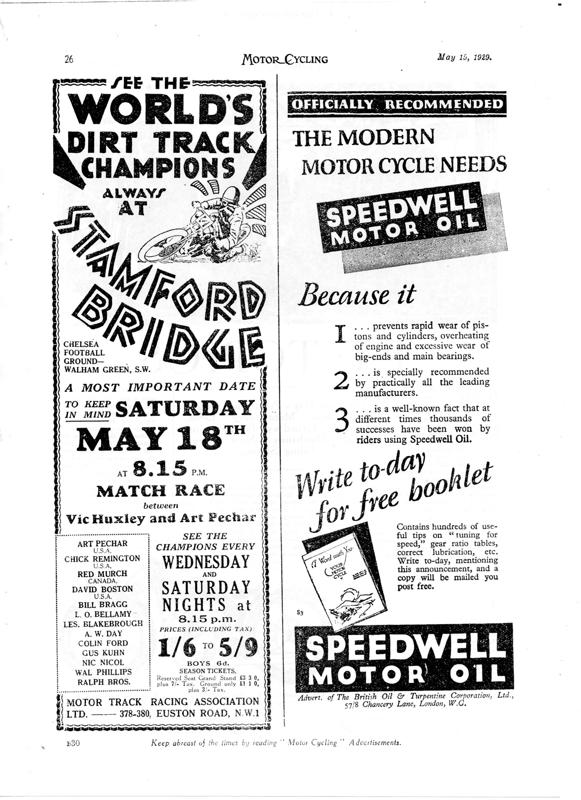 Courtesy of Jim Henry
---
1929

Southern Speedways
League Champions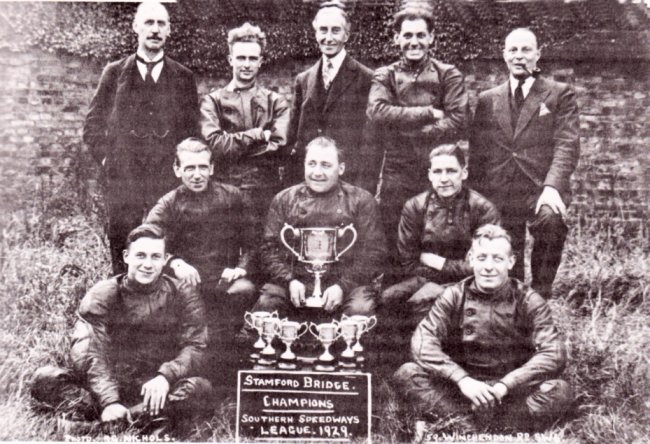 I only know Gus Kuhn was the captain of this team of Southern League riders, If you can name the rest send me an email John
Spencer Mayne says: In the above photo my Grandad is Ernest (Ernie) Mayne bottom right. He is also in the Stamford Bridge 1929 photo (see picture below) he is on the far left.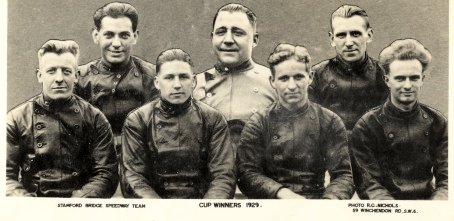 ---
Frank Arthur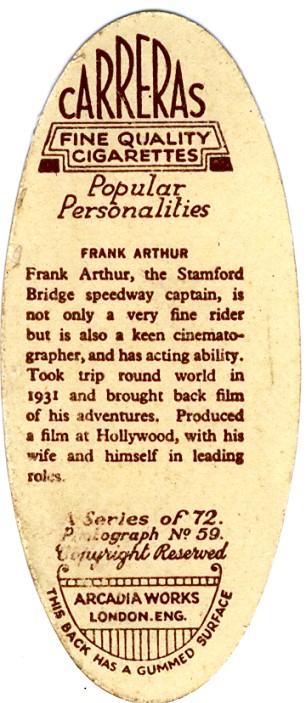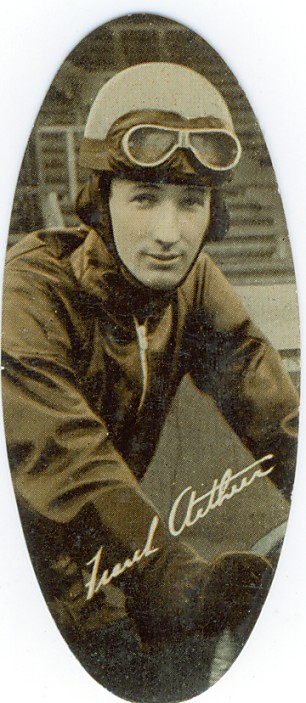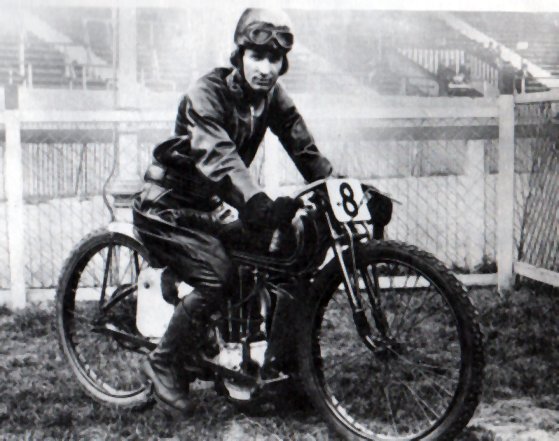 Frank Arthur 1929: Before the world championships started we had the Star Championships and Australian Arthur was up there at the top of the Overseas Riders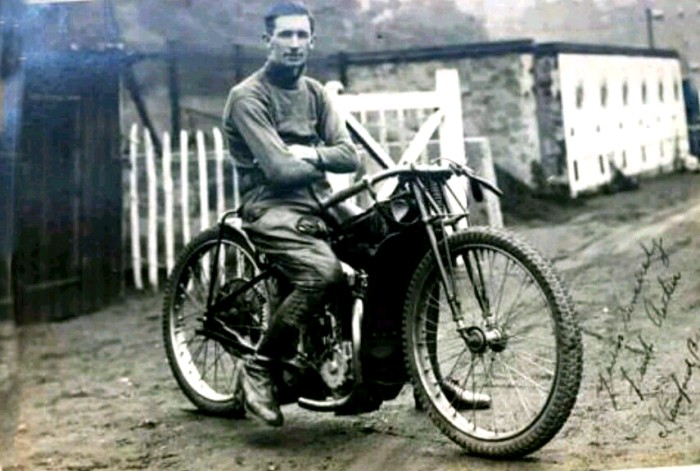 Another posed shot of Frank Arthur. I cannot be sure of his bike but I think it could be a Rudge.
Most notable from this picture is the large diameter wheels. I think they are 22 inches in diameter whereas off the top of my head modern bikes have 18 inch wheels
---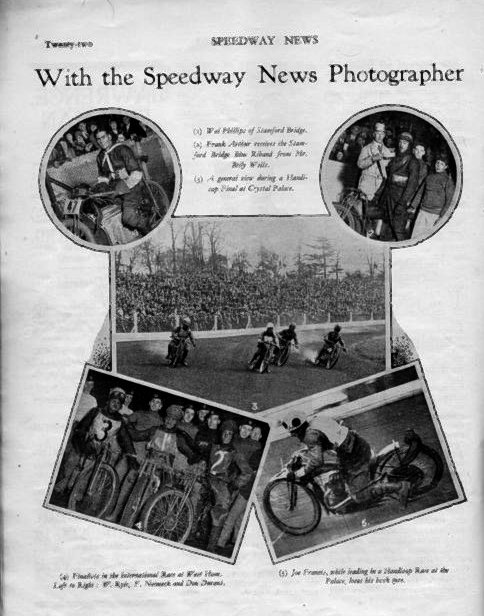 ---
John Chaplin's Photos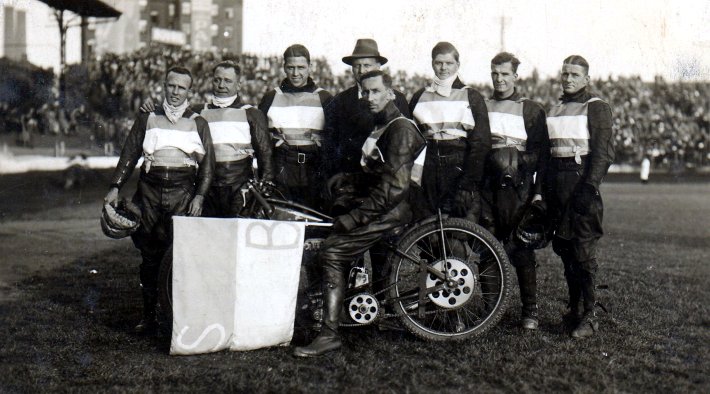 John Chaplin says:
They are from the left: Jack Chapman, Gus Kuhn, Wal Phillips, Frank Arthur, Arthur Warwick (this is the rider I can't be sure about but I think it is Bill Stanley), Dicky Smythe. This would be the 1932 team. The man in the hat I believe to be a gentleman by the name of Brooks who also managed the England team in Australia before the war.
John Skinner says: Can anyone name the rider second from the right? John
Col Greenwell says: The Stamford Bridge team photo you have, is in the Speedway League Tables book, Volume 2. A History by Maurice Jones. The rider second from the right is listed as Bill Stanley as John Chaplin has stated Frank Arthur's bike is a Rudge.......well that is what is in the book..!!
---
A Great Crowd At
Stamford Bridge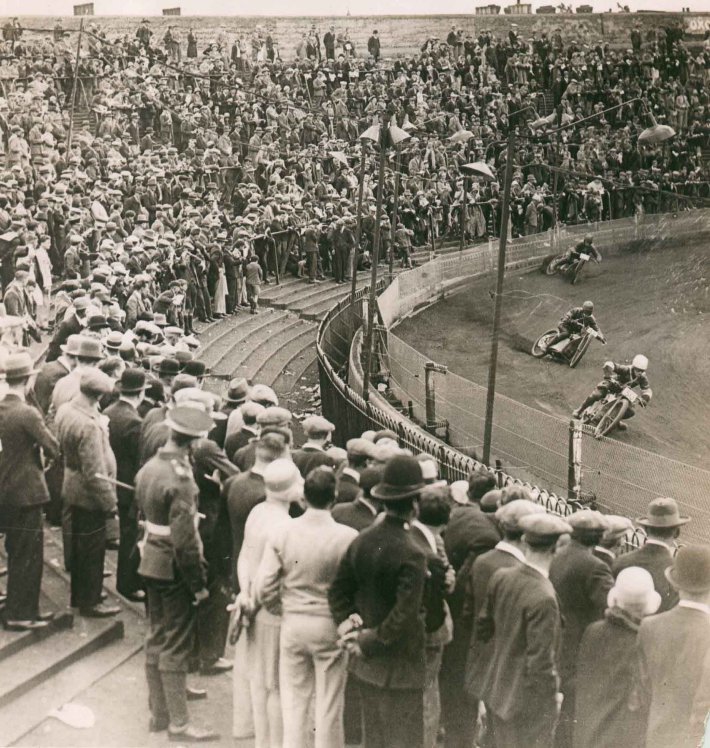 Courtesy of John Chaplin
A great crowd at Stamford Bridge. 1929-1932. Almost everyone is wearing a hat of some kind. Is that a policeman in the foreground and an army captain with a stick under his arm to the policeman's left. The track action shows the third place rider way out wide almost hitting the fence.
---
Stamford Bridge

1930

Badge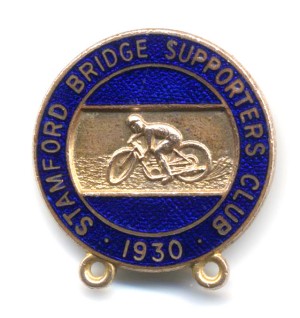 Courtesy of David Turner
---
Who Was
Arthur Warwick?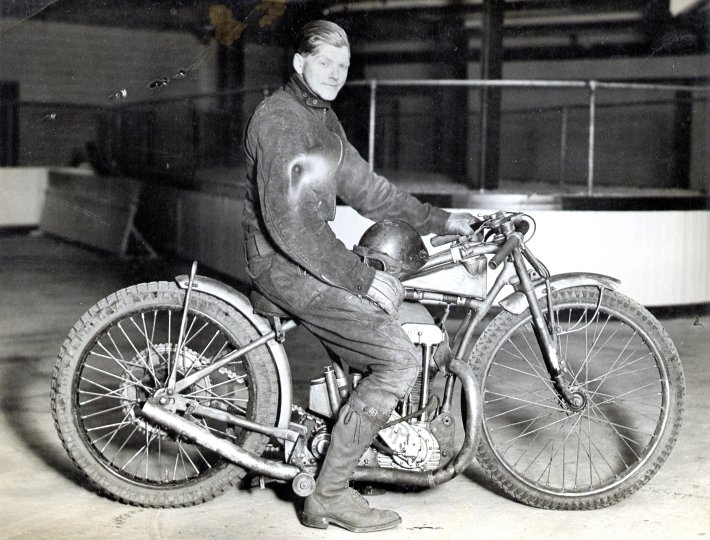 Courtesy of Jim Henry
A great photograph of the man and his machine. I do not know anything about Arthur, so help me with the track and the year
John
Colin Greenwell says: Here is another image of Arthur Warwick: - see below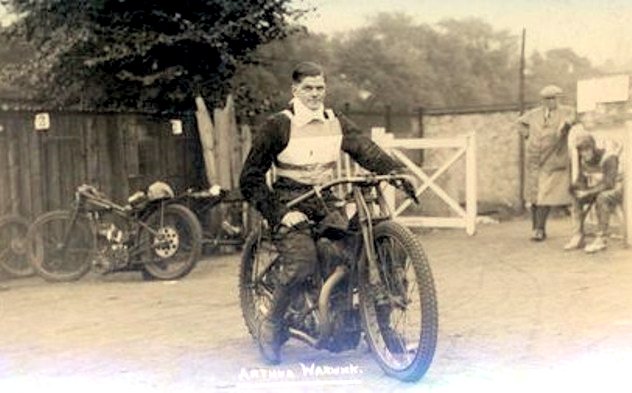 Courtesy of Col Greenwell
Col Greenwell says: I did mention to you he rode for Stamford Bridge ,early 1930's. I don't know what this race jacket is though....maybe Stamford Bridge....I don't know.. I don't even remember where I got the scan from..!!!
John says: Can anyone identify the race jacket
John
I have been sent a scan of the Stamford Bridge team see below: -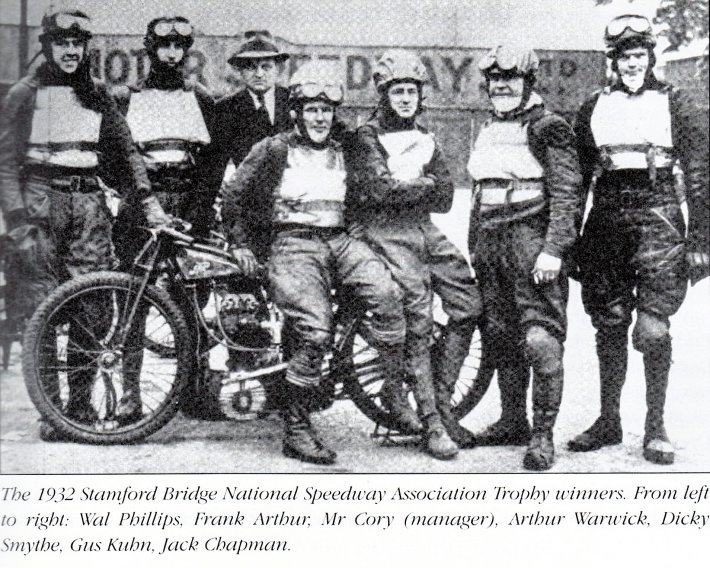 Picture courtesy of
Speedway In London by Norman Jacobs
The above image shows the same race jacket and Arthur Warwick is in the Stamford Bridge team so mystery solved.
---
Stamford Bridge Programme
1932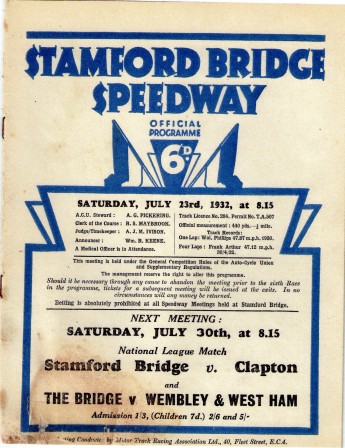 Courtesy of Graham Gleave
---
The Track From
The Sky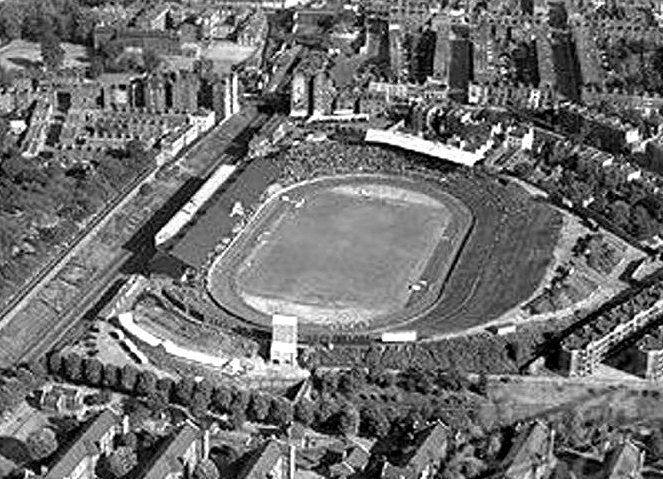 Courtesy of John Chaplin
---
Wal Phillips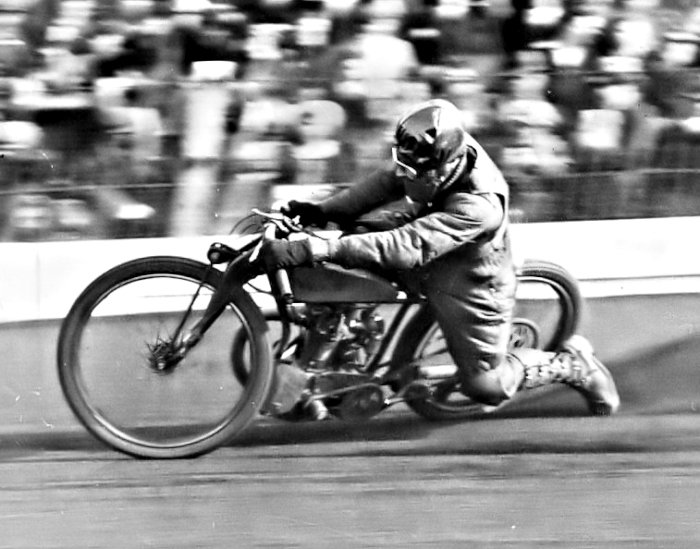 Courtesy of John Chaplin
A truly great photograph of Wal Phillips aboard a JAP going sideways at top speed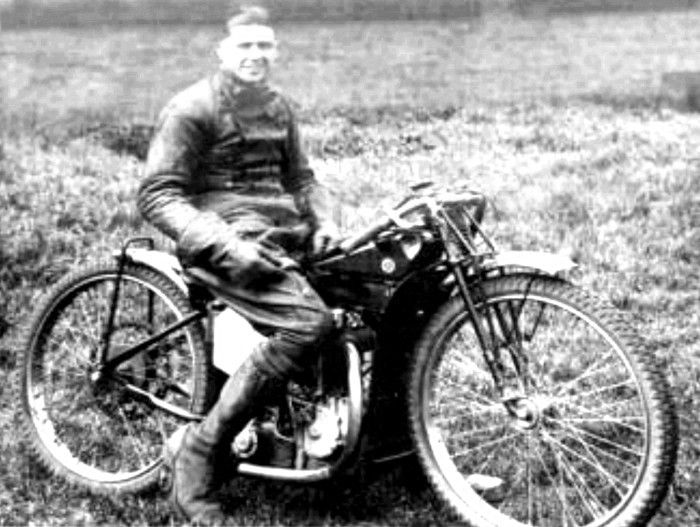 Wal Philips with his head in the clouds. No just a fault in the photo! Wal is mounted on a Rudge
---
Gus Kuhn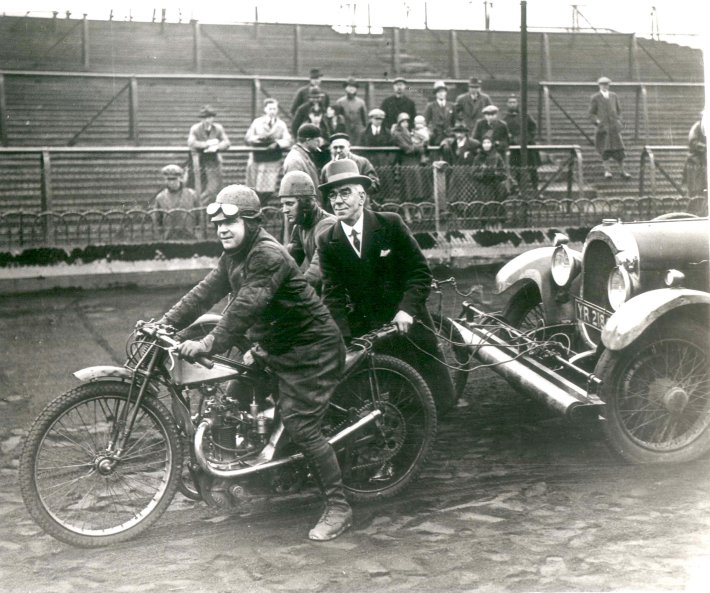 Courtesy of John Chaplin
John Chaplin says: So just what is going on here? It looks as though someone is being put under a bit of a handicap. Well, the place is Stamford Bridge. That's right, the same Stamford Bridge now lorded over by overpaid soccer divas. This quaint scenario is going back a few years, though, to about 1930, when speedway was a serious rival to football as the main attraction at The Bridge.
The little crowd of onlookers on what used to be called The Shed end can be forgiven, perhaps, for appearing to be rather bemused by the strange pageant unfolding before their very eyes. The rider in the foreground being shackled by the gent in splendid headgear and overcoat to that remarkable flivver is Gus 'Father' Kuhn, who was captain of Stamford Bridge at the time. Gus, born in the last but one century, in 1898, had not only skippered the side to the first Southern League championship in 1929 but had been a member of the England team in that historic first official Test against Australia in 1930.
Those of us who are of a more mature disposition will recall that in the Sixties there was handicapping. The Big Five, Peter Craven, Ronnie Moore, Barry Briggs, Bjorn Knutsson and Ove Fundin - because they were so outstanding - were made to start 20 yards back 'to make racing more interesting'. It died a death after a couple of seasons but, as you can see, there's nothing new in speedway.
Seriously, though . . . I have honestly no idea what exactly was the object of tethering old Gus in such a bizarre manner. The only thing I can suggest is that they'd do anything for publicity in those days - unless someone even older than me who was around at the time can come up with a plausible explanation. Heavyweight Gus went to Wimbledon when The Bridge closed to speedway after the 1932 season. He once caused a sensation by crashing a few yards from the chequered flag and rolling over the line for the win, but the steward ruled he should have had his bike with him.
---
Vic Huxley
Dicky Case &
Ray Tauser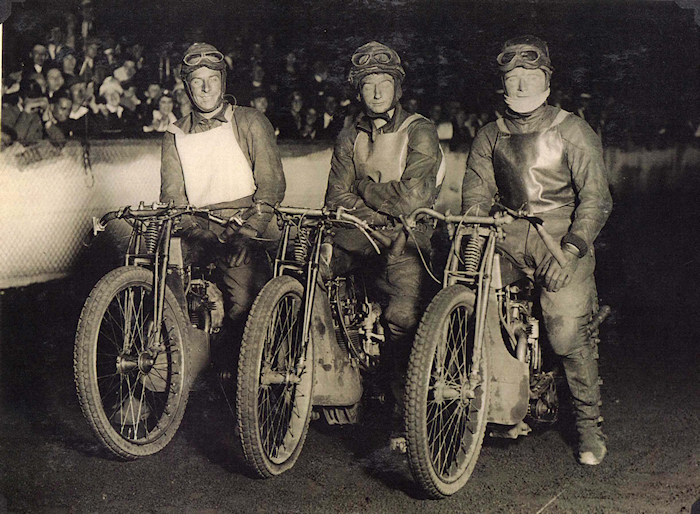 Courtesy of John Chaplin
---
Vic Huxley & Colin Watson

1931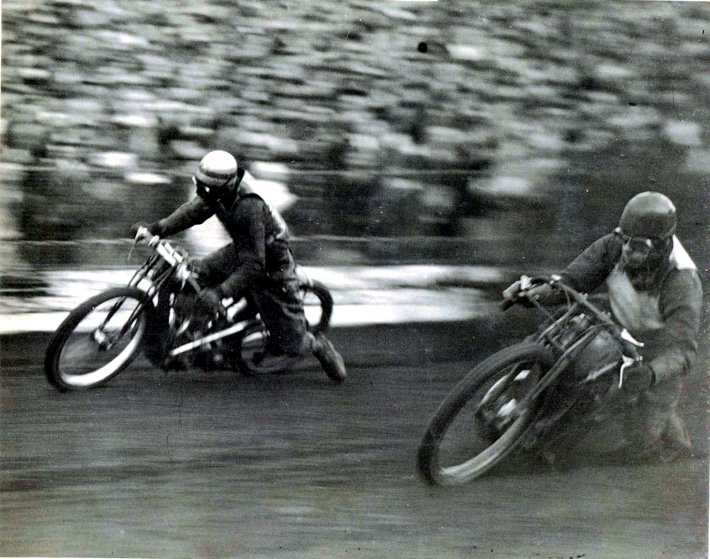 Courtesy of John Chaplin
Vic Huxley and Colin Watson competing for the British Championship at Stamford Bridge in 1931. This championship is regarded by many to be the world championship forerunner.
---
Billy Lamont
Ray Tauser &
Wal Phillips
Courtesy of John Chaplin
---
Jack Parker &
Ray Tauser At
Stamford Bridge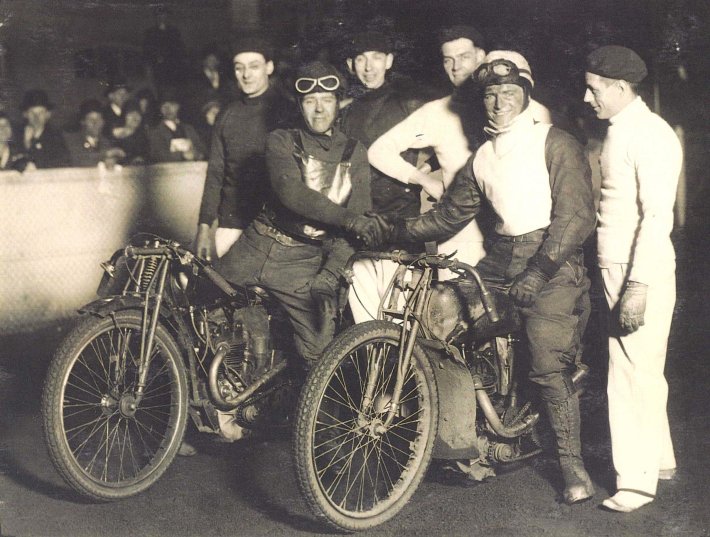 Courtesy of John Chaplin
---
Ray Tauser &
Wal Phillips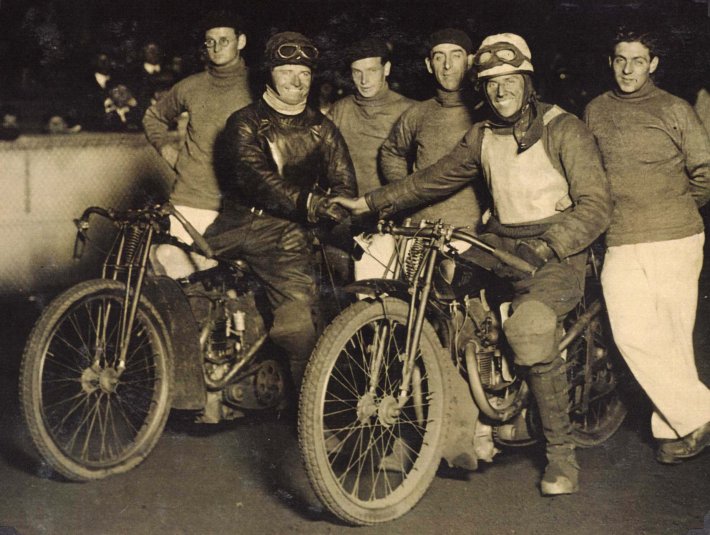 Courtesy of John Chaplin
Ray Tauser and Wal Phillips aboard Rudge machinery.
My thanks to John Chaplin who has supplied so many images shown on this website
---
Dank Ewen At Stamford Bridge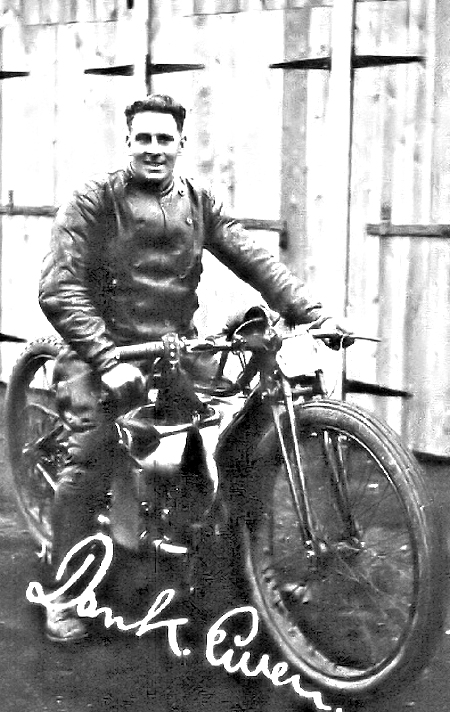 ---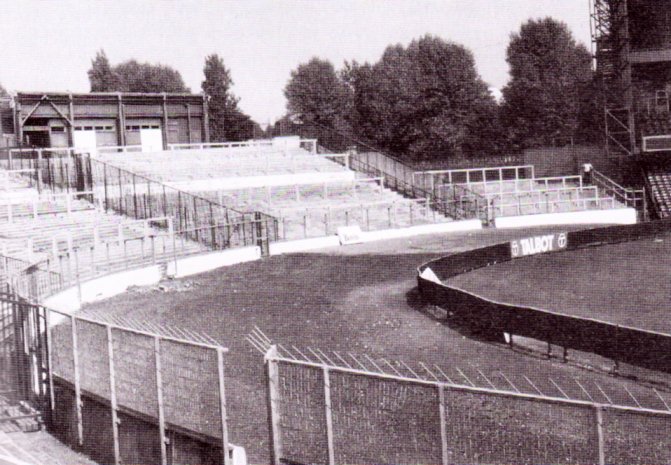 A more recent shot of the stadium
---
Can anyone supply more pictures, programmes or stories ? John
---
The contents of the site are © and should not be reproduced elsewhere for financial gain. The contributors to this site gave the pictures and information on that understanding. If anyone has any issue or objections to any items on the site please
e-mail
and I will amend or remove the item. Where possible credit has been given to the owner of each item.