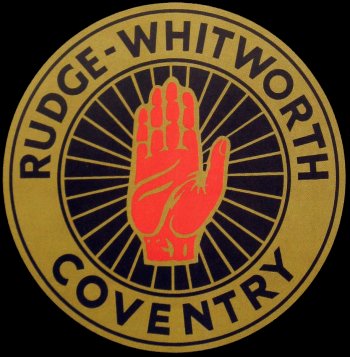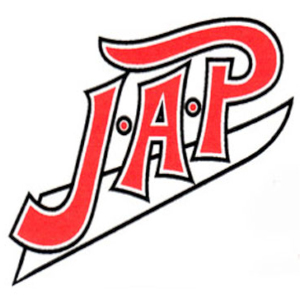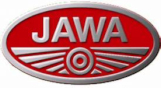 ---
Preston Speedway
Preston's speedway was staged at only one circuit. Farringdon Park, New Hall Lane, Preston, Lancs. Speedway racing began in 1929 and ceased in 1932 so you would have to be pretty long in the tooth to remember the Preston team, but this is what I have discovered with help from the sites devotees
---
Preston Opening Meeting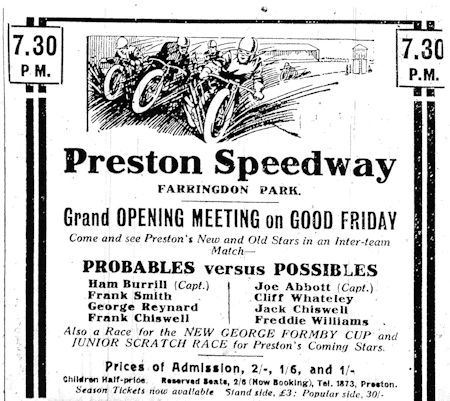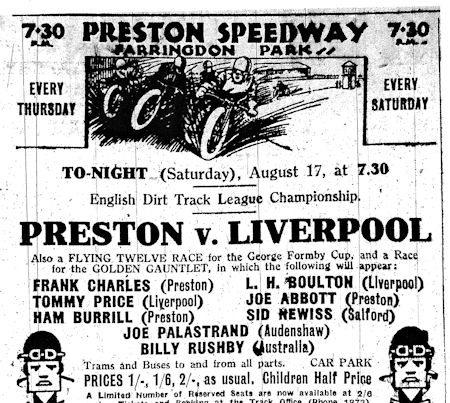 Courtesy of Graham Gleave
---
Frank Jackman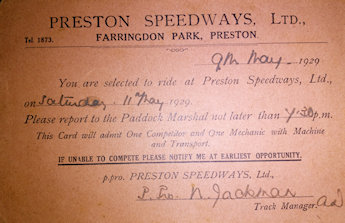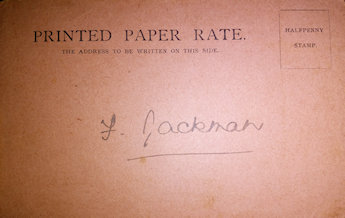 Card courtesy of Dave Jackman
Dave Jackman says: Hi John, I came across your website while Googling Preston Speedways in connection with the photos attached.
The card was in with some of my grandfather's photos. My grandfather was Frank Jackman and originally came from Euxton, near Preston. He emigrated to Africa in 1929 around the time the invitation was sent so I am not sure he competed in the meet. I am not sure who the Jackman is that signed on behalf of Preston Speedways, but there is a good chance he was related as all the Jackmans from around Euxton were related, it was a large family. Kind regards,

Dave Jackman continues: Hi John, regarding my earlier message on the Preston Speedway the N. Jackman was Norman Jackman, I presume, as shown in the photo titled "Preston 1931" on your site.

---
First & Last Ever Meetings
Newspaper Reports


Courtesy of Graham Gleave

Courtesy of Graham Gleave

Courtesy of Graham Gleave
---
Preston

1929

In Copenhagen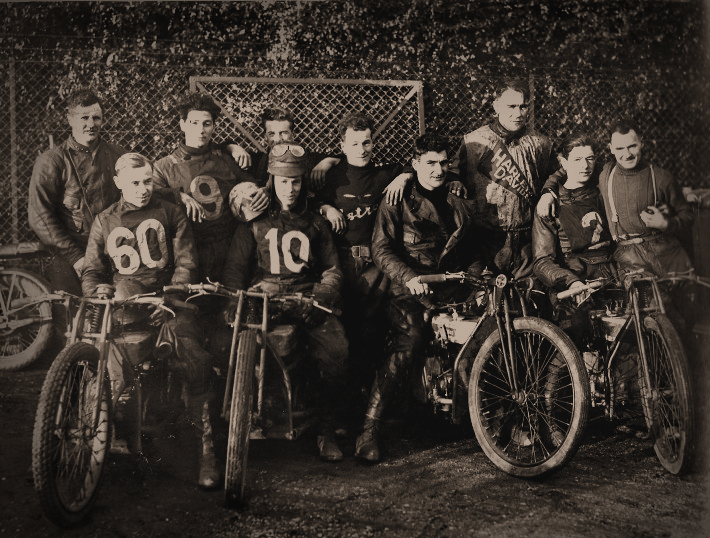 Steve Baker says: I have some info on the picture. It is actually Preston from 1930 and I can name the following, back row left to right, ?, Frank Chiswell (no 9), Joe Abbott, Frank Charles, ?. front, left to right, Len Myerscough (no 60), Jack Chiswell ( no 10), ?, Ham Burrill ( no 2) and Norman Evans.
Andy Stewart says:
Hi John,
you've asked about a team (see above) and ask if they are possibly Belle Vue circa 1930. We'll I've come across this picture before when researching into my two great uncles' speedway exploits (they are Frank Chiswell and John (as I knew him) / 'Jack' Chiswell) and evidently it is the Preston team in Copenhagen in 1929. Hope it is still of interest to you!
I am
always interested to hear about anything else to do with the two Chiswell brothers.
1929

Preston In Copenhagen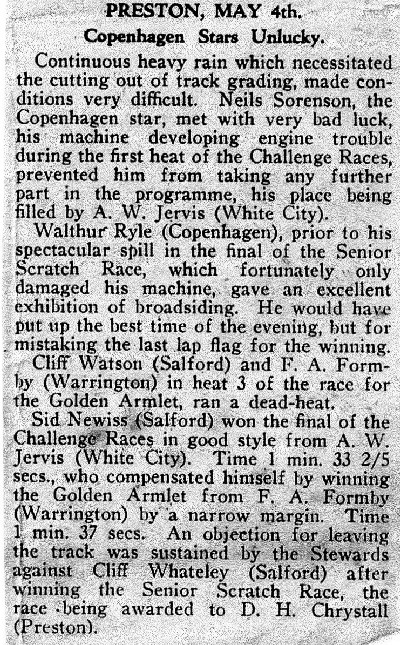 Courtesy of Graham Gleave
---
Preston

1930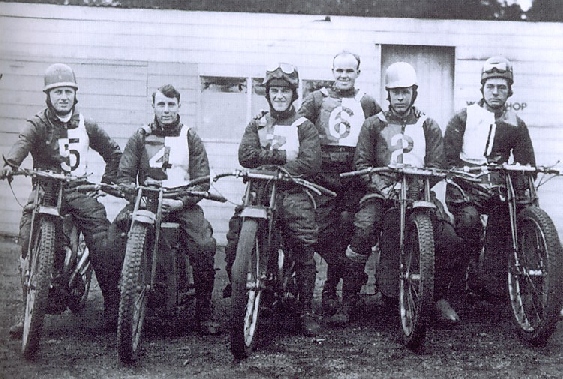 Here we have the 1930 team:
Tom Price, Jack Chiswell, Joe Abbot, George Reynard, Claude Rye, Ham Burrill, capt
Another
1930
Line Up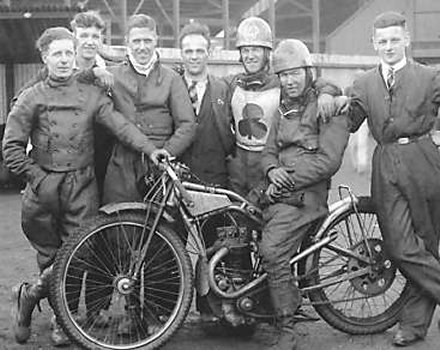 Another shot of the 1930 team, the bike is a dirt track Rudge
---
Preston Match Reports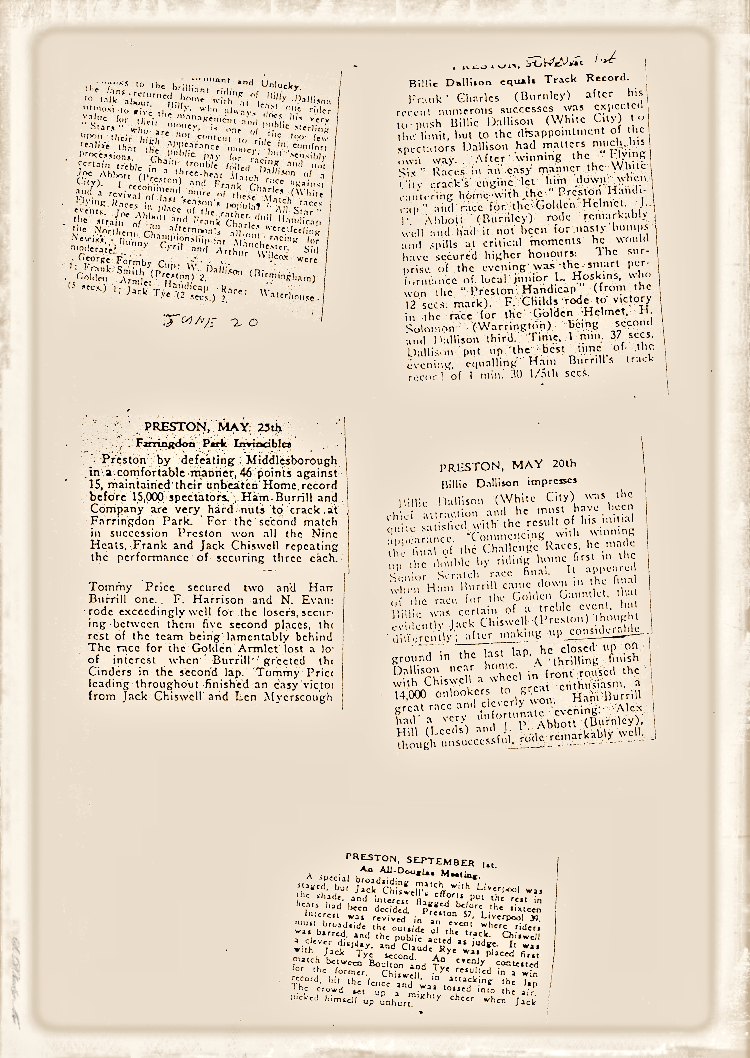 Courtesy of Graham Gleave
---
Preston 1931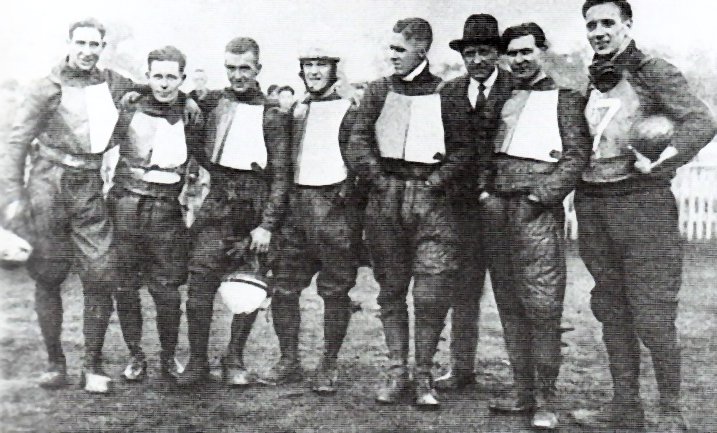 Left to Right: Jack Tye, Ginger Lees, Eric Airey, Joe Abbott, Larry Boulton, Team Manager Norman Jackman, Les "Smiler" Wooton, Gustav "Bill" Kellner
---
Preston v Manchester White City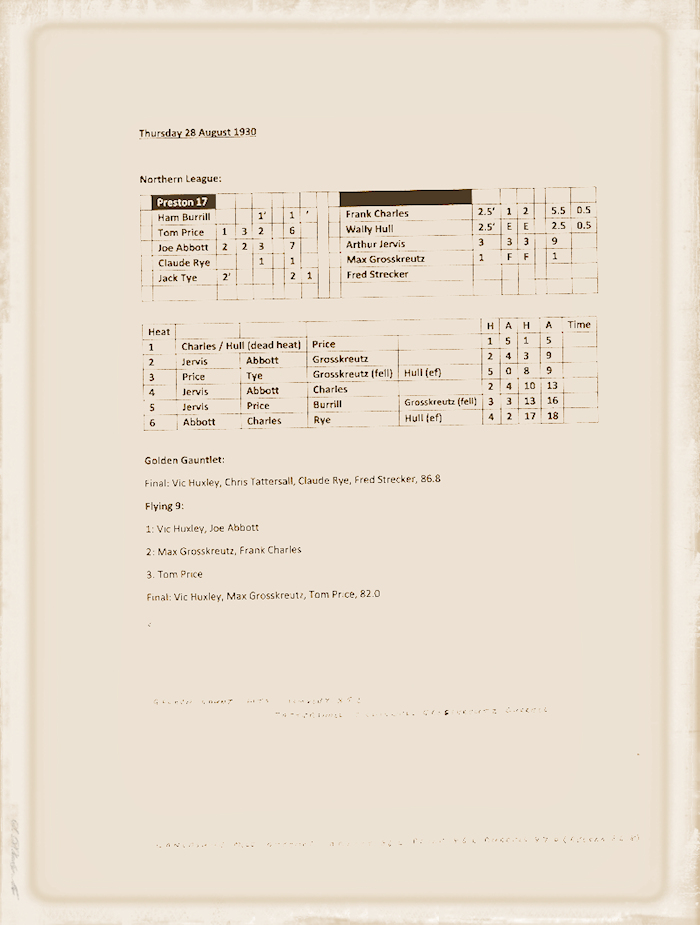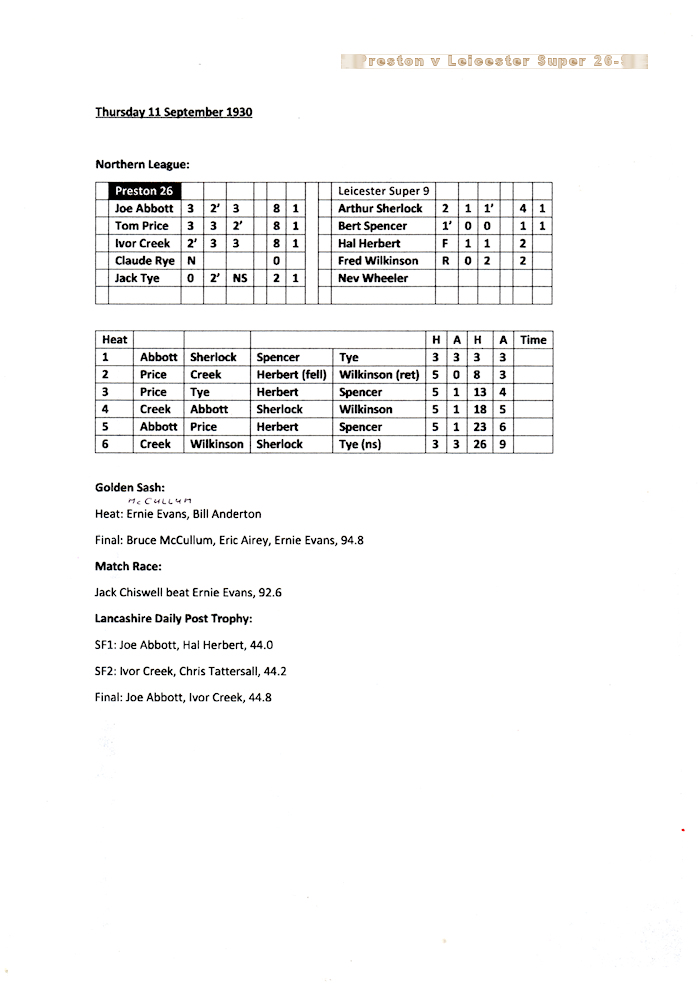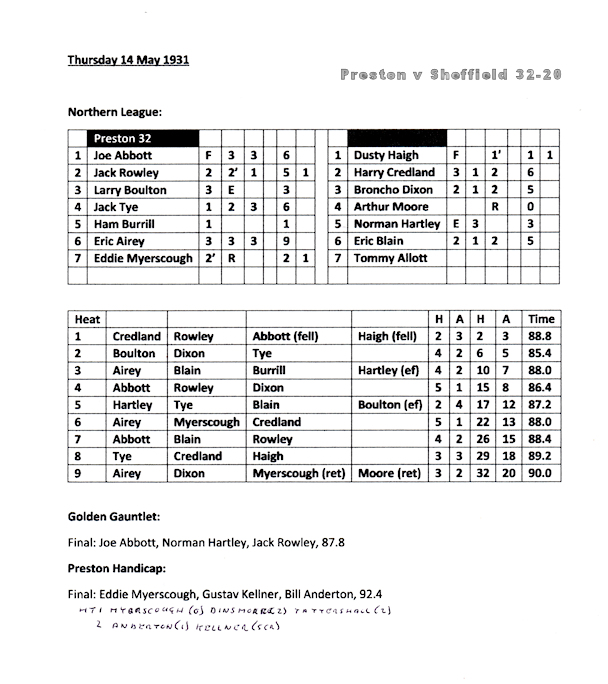 ---
The Preston Team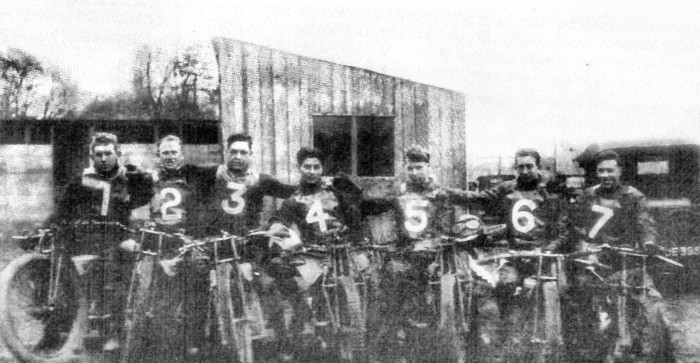 I am told this photograph is of a Preston team. I don't know the year, or the riders names, so help me please John
---
Ham Burrill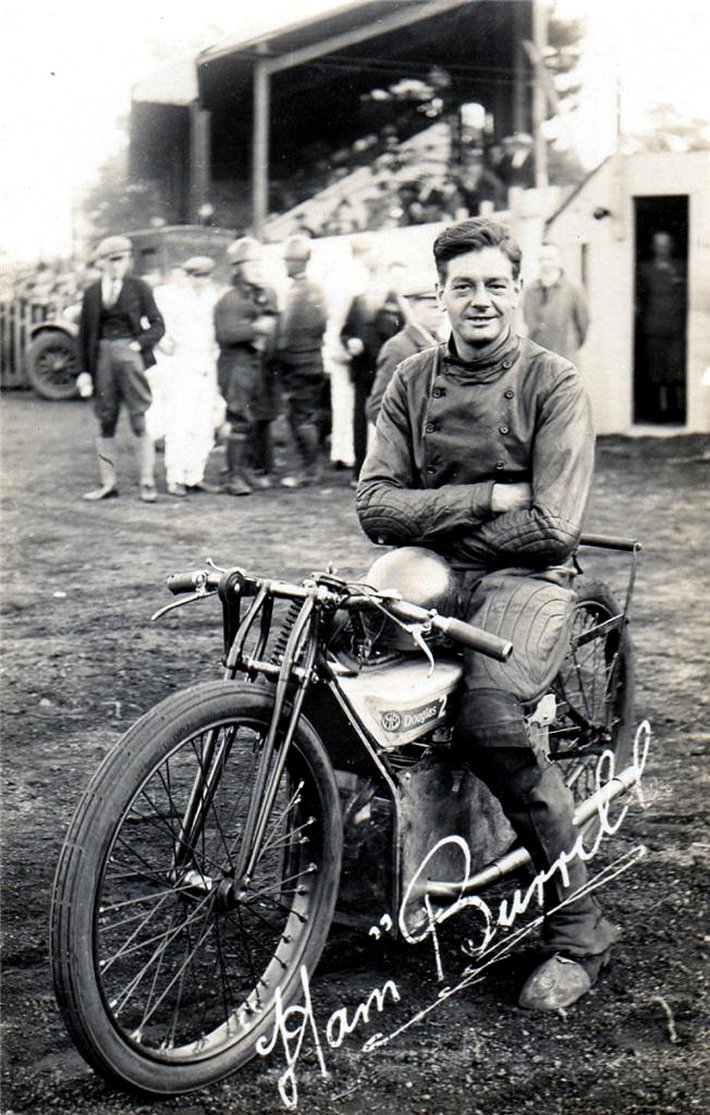 This is the Preston captain, Ham Burrill sitting astride a Douglas DT machine. These bikes had bigger wheels than what we are accustomed to now. Ham's left foot shows a metal half shoe, he may be wearing a wooden clog with a metal cover? Who knows? It's just a guess from me.
---
Ham Burrill
In Colour!
---
Frank Charles
In Colour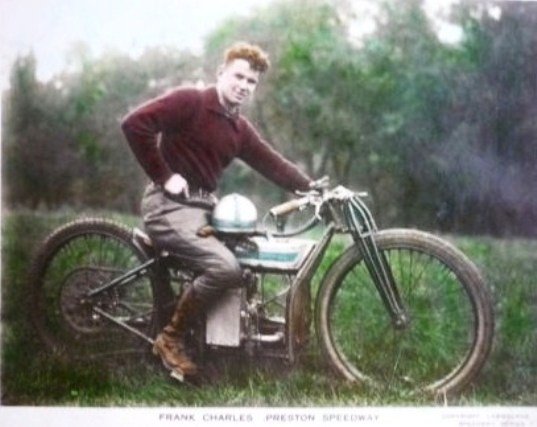 ---
Graham Gleave's
Preston Images
Ham Burrill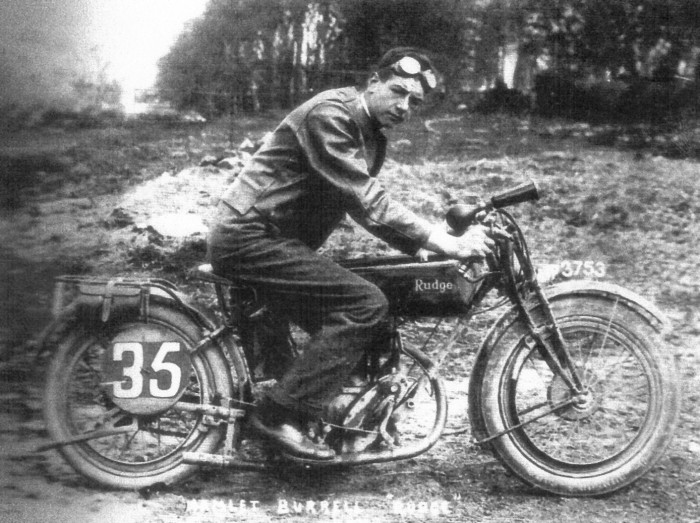 A picture from the sport's early days when riders used stripped down but still heavy looking road going machines. Ham is sitting on a Rudge with the headlight removed. It still has the bulb horn hardly needed for the track as are the big mudguards and luggage rack on the back. The writing along the bottom appears to say "Hamlet Burrell "Rudge". I have often wondered what "Ham" was short for well it appears his name was Hamlet! Alas poor Yorick!
Joe Abbott In The Preston Pits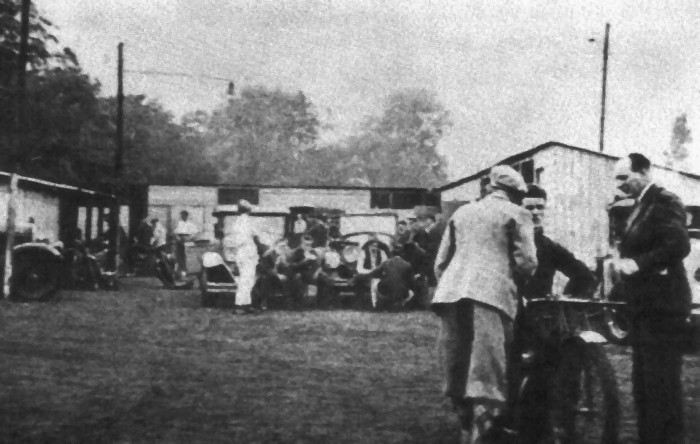 ---
A Push Start
At Preston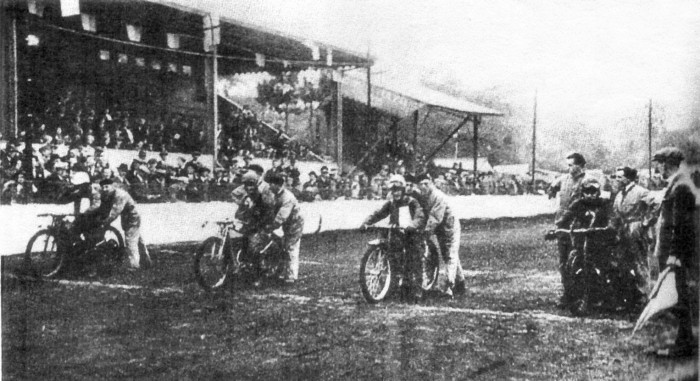 This picture pre-dates the invention of the electric starting gate. Each rider had pushers and to get a heat under way the Start Marshall dropped a flag signaling for the pushers to run like mad things to get the bikes started most bikes fired up immediately. By the late 1930s the electric starting gate was introduced
This was heat 1 of the Preston v Belle Vue match on 25 June 1931. Preston lost the match and Belle Vue were the only team in season 31 to beat the Preston team at home
John says: My thanks to Graham Gleave for the above pictures
---
Farringdon Park Preston

1929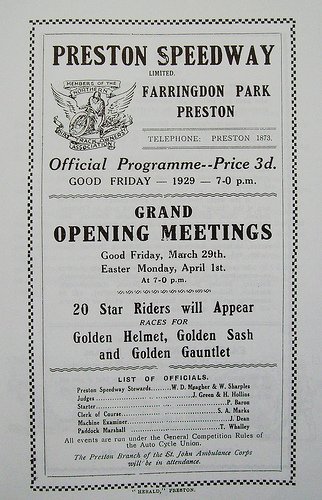 ---
Farringdon Park was once a popular place in Preston, visited by famous fan, George Formby, see below. The speedway is now long gone.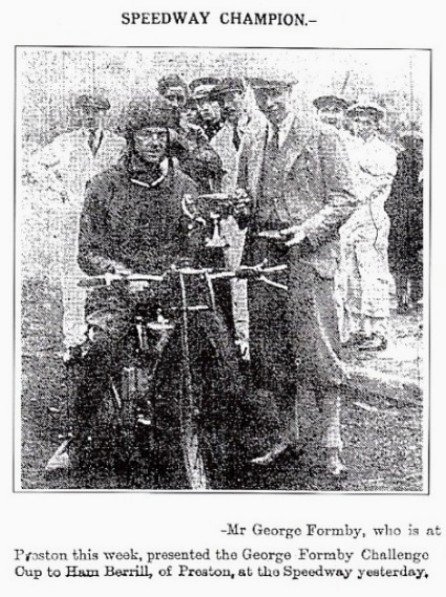 ---
Memories
Heather Crook says: Hi John, Here is a bit about the speedway from my dads memoirs, he grew up in Preston.
Arthur Eric Crook

(1917 - 1997)
There was a new interest for the people of Preston - came the Speedway - motor cycle track racing. The track was at the Grasshoppers Rugby ground, situated at the top of Broclholes Brow, opposite the Royal Cross School for the Deaf. The rugby ground was in the centre and the dirt track around the outer perimeter. The riders were stars like Joe Abbot styled The Cock of the North, Ham Burrell, Broadside Burton, Tommy Price, who I think got killed whilst racing there, Frank Varey and The Chiswell Brothers. They raced on Saturday nights but practiced on Thursday evenings and you could go and watch for nothing. Therefore every Thursday evening we all trotted up New Hall Lane to watch our idols belting round the track throwing up a cascade of cinders in their wake. When Whit Fair was on at Preston, you could see them having a go on the Wall of Death, occasionally they would pander to our whims and sign autographs. I got two off Ham Burrell and traded on for eight pence off Billie Shaw. I don't know where he got his money from because they were not well off. I could hear the roar of the bikes in bed, we had to leave before practice finished as we had to be in bed by eight o' clock. Sadly the Speedway did not create enough interest, money wise, and after a few seasons the speedway track was closed.
Arthur Eric Crook (1917 - 1997)
If I ever get the memoirs published please may I use one of your photographs in the book. Best regards Heather Crook
My late father used to tell me about Preston Speedway and his favourite rider, Ham Burrell. Our namesake, although no relation. He told me that Ham rode with a piece of tyre strapped to his left knee, and cornered on that. My late father in law lived on Oxley Road North, which backs on to the old track, I believe.
John Burrell
Space Shuttle Engineer
New Orleans
William Yates says: My father rode on the Preston track in 1930 odd. I can just remember my dad when I was baby and my Mother took me along to watch him. I am 83 now but remember handling his helmet after the race, it was made of cork. Dad had a bad spill and although he was not killed, I remember him showing me the X-Ray of his head. It showed an 1,I/2" crack in his scull. I have tried to find a photo of him in his riding gear but he was only junior of about 19 years old. He told me about the bad spill. He lost control of the bike after touching another rider, came off and rolled up beside his bike with his arms and hands over his head, but another rider hit his head with his front wheel. Dad was known on the track as "Peg-Leg" because he never put his left foot back on the rest down the straights. Some years ago, I met a chap in a pub in Preston who told me that he used to push my dad off the starting line on the track. I couldn't believe it, after all them years.
---
John (Jack) &
Frank Chiswell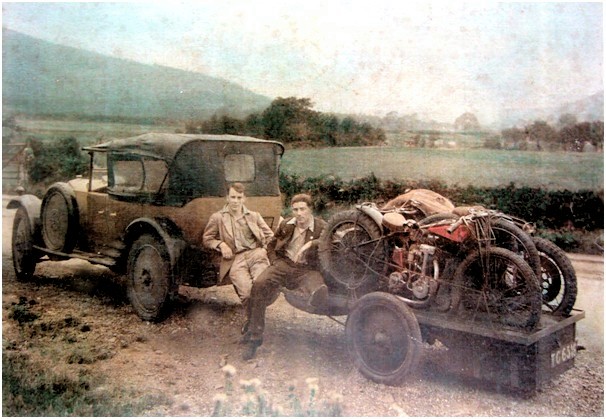 Andy Stewart has been in touch re his Great Uncles Jack and Frank Chiswell, of Preston Speedway taking a break in the Lake District whilst on their way to the Barrow speedway track in 1930. Andy says: Always interested to hear about anything else to do with the two Chiswell brothers.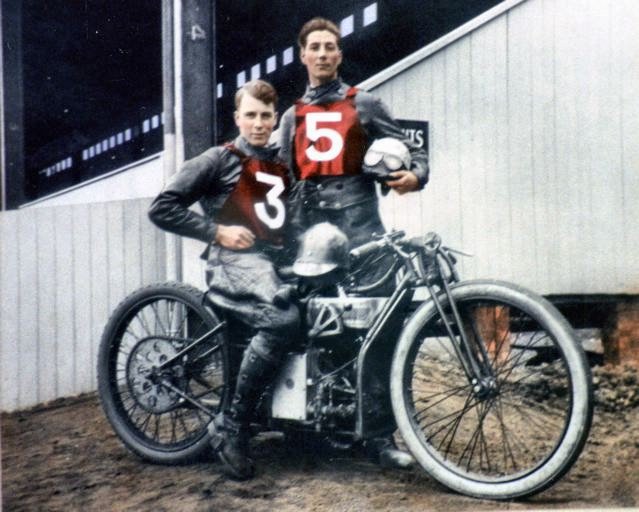 A truly great example of a 1929/1930 'ish photo which would have been black and white, hand tinted with colour. The photo was sent to me by Mike Darby who is the nephew of the two brothers shown above. They are John and Frank Chiswell from Loughton Essex. The bike is a Douglas which had its day around that time.
M

ike Darby says: Dear John, My late Uncle John Chiswell was an early dirt track rider and with his brother Frank rode at High Beech, as they came from Loughton Essex where the family ran a garage, and I believe Belle Vue, Manchester.




My uncle was born 1908 and married my fathers sister Constance Darby, who was pioneer ladies biker in her day.




Uncle John died in 2001 aged 93 and although he showed me these photographs he never really told the full story of their dirt track days.




The cartoon was I believe published in a magazine of the time, 1920/30's, but I know very little else.




Have you heard of the Chiswell Brothers?




Kind regards




Mike Darby
John says: Can anyone supply any more info on the Chiswell's ? email me
John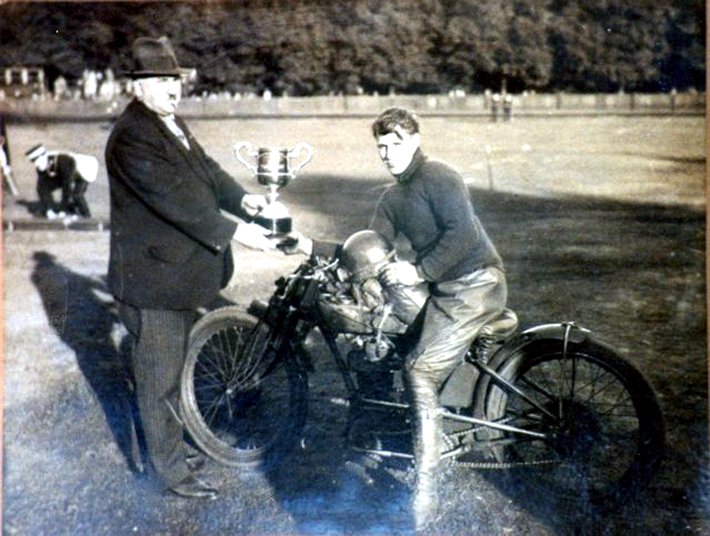 Not sure which of the brothers this one is. The bike is a bit strange to me so if you can identify it send me and email
John
The strengthening strut along the frame may be a clue.
Nigel Bird says: Sorry can't name which Chiswell brother it is but the machine is an AJS road bike converted for speedway, Track High Beech1928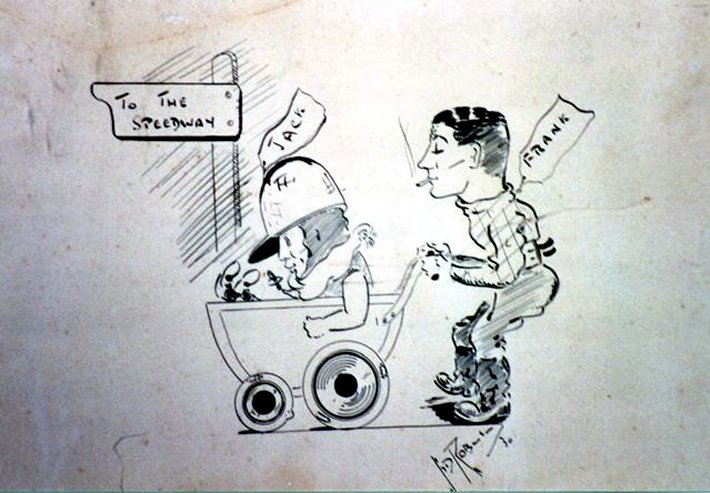 John may have used the name Jack as in this sketch. Mike and I would love to hear from anyone whom can supply any info on the Chiswell brothers.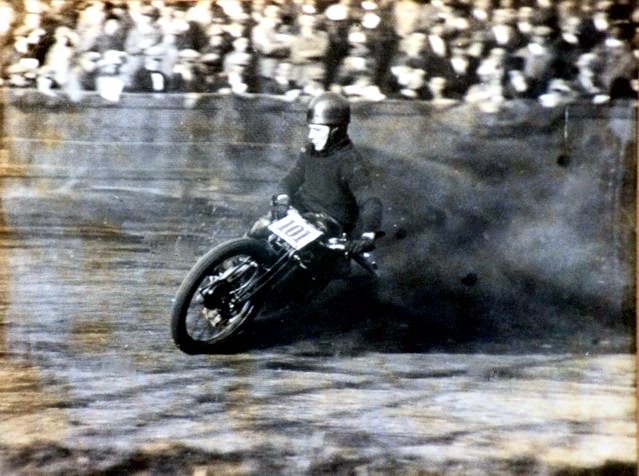 John or Frank Chiswell could be at High Beech? Great pictures Mike: if you find anymore send them in please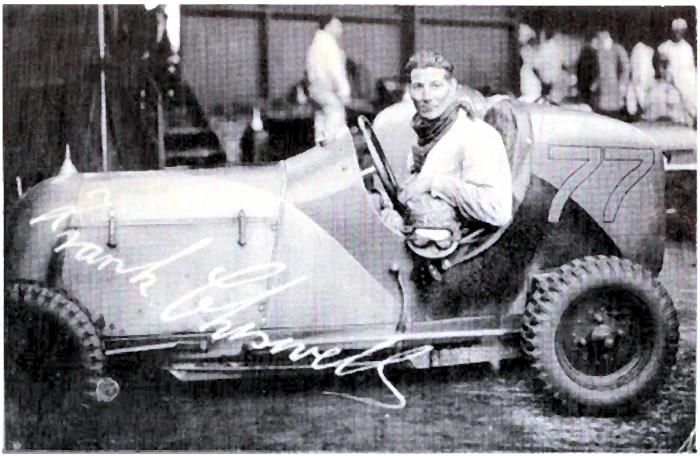 Andy Stewart says: Frank Chiswell In His Midget Car
---
AJ Chiswell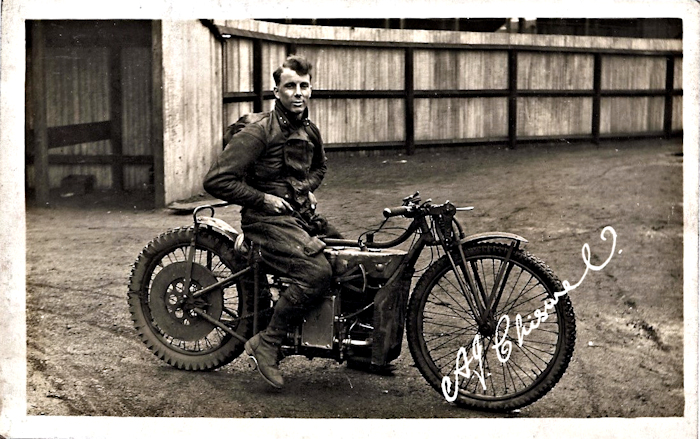 Courtesy of Tim Beddow
John says: Tim and I agree that this is Frank's brother John, known as Jack Chiswell although neither of us know what his first initial "A" stands for.

Bike chains on modern machines are usually trouble free but in the early days bikes ground to a halt sometimes in a shower of sparks because a thrown chain was running againt the bikes frame. It could be that Jack's bike shown above had tried to conquer the thrown chains by someone bolting a large disc to the final sprocket, presumably to stop the chain being shed. I don't know how effective this innovation was, not very I guess! Or maybe the extra metalwork was on there for another reason.
---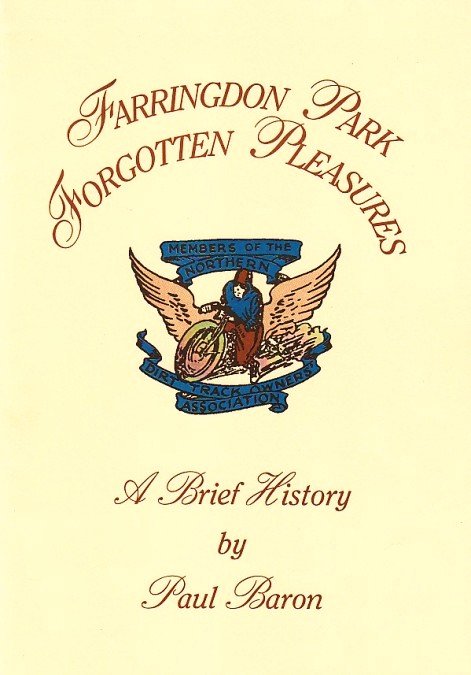 John says: Front cover of a book on Preston Speedway. I do not own it, nor have I read it. I just thought I would put it on the webpage as a piece of colourful art amongst all the black n white of a team page that covers the black n white era 1929 to 1932
If you can scan any pictures, programmes or badges send me an email John
---
The contents of the site are © and should not be reproduced elsewhere for financial gain. The contributors to this site gave the pictures and information on that understanding. If anyone has any issue or objections to any items on the site please
e-mail
and I will amend or remove the item. Where possible credit has been given to the owner of each item.