(Melvyn Taylor withdrew before meeting)
Allen, Buck, Chapman, Crane, Framingham, Harrison, Shirley, Taylor & Wordingham are readily recognisable names. Andrew Bales is a son of Billy and the Cox brothers were twins who second-halved at Kings Lynn for a while along with the others named.
Hevingham Programme Cover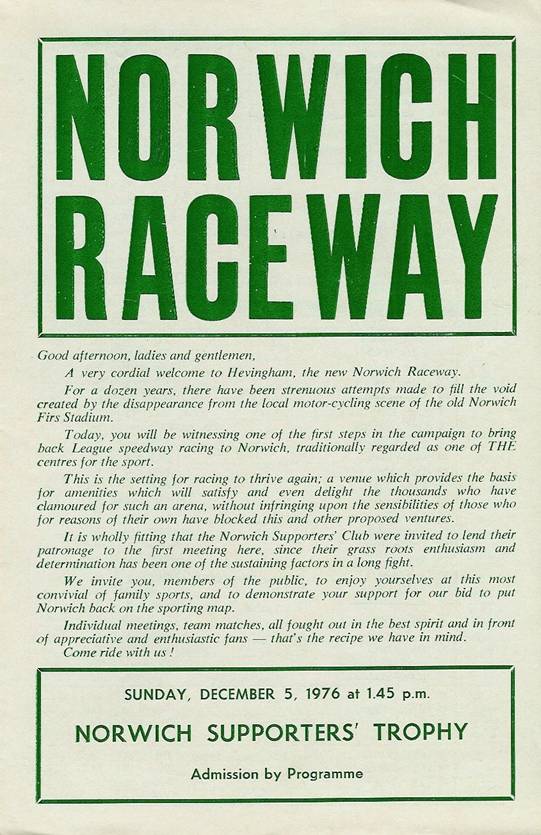 So an attempt was made to bring the sport back to Norwich but failed. Doubtful now that speedway will be back in the area but who knows!
---
David Lomas' Photos
Hi John, Please find enclosed some rather rare photos of the "one off" meeting that took place at Hevingham near Norwich. perhaps you can use them on your web site? As a committee member of the Norwich Speedway Supporters Club, I was present that day, and apart from being on the centre green, as a track raker, I also had my camera slung round my neck, and managed to get a few photos. I'm sorry about the quality, that was the days before digital cameras, and I didn't have the superb SLR that I use now!
The actual track was behind a pub called the Marsham Arms, and if you look on Google earth, you can still see the out line of the track after all these years. I'll see if I can copy an image of it, and send to you. If I find any more photos of the meeting, I'll email them to you. Naturally you have my permission to use them on your excellent web site, no copyright worries there!
I'm still a keen fan, and my very good friend, Keith Basey-Fisher, who is seen presenting the winners Trophy to Andy Buck, is still about and very well. He and I will be attending the World Speedway riders dinner together in Norwich at the end of October. Best Wishes.......David Lomas.
John says: David's unique photo's of action from Hevingham's one off meeting follow below. If you can name the rider(s) please email me here John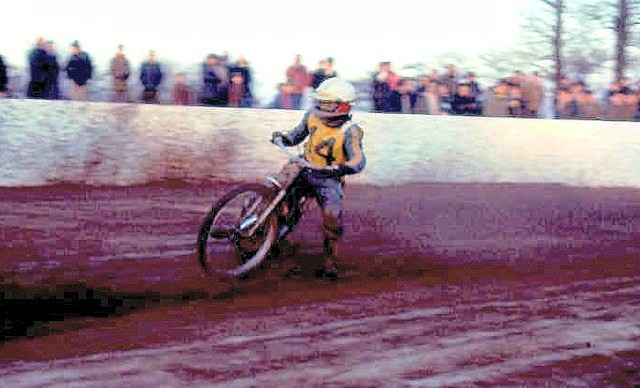 Hev 1976 1: Steve Baker says: I have just been browsing through the site and come across the Hevingham pictures which are great. Its such a pity this track was never allowed to continue as I think it could well have developed into a cracking little venue. Still, such is life eh! No 14 is Andrew Bales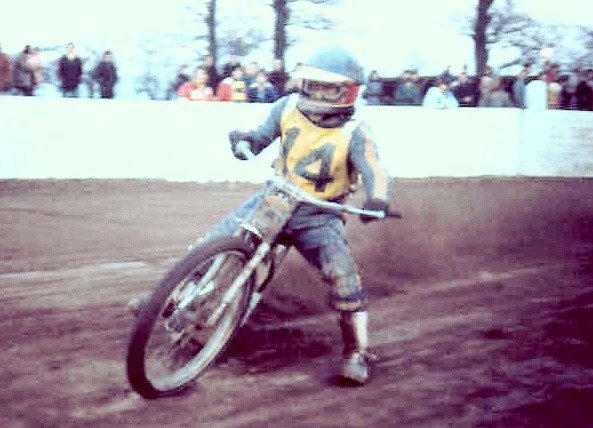 Hev 1976 2: Steve Baker says: No 14 is Andrew Bales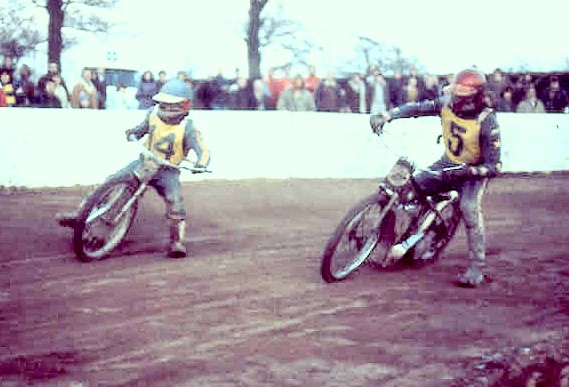 Hev 1976 3: Steve Baker says: Andrew Bales no 14 and No 5 is Steve Day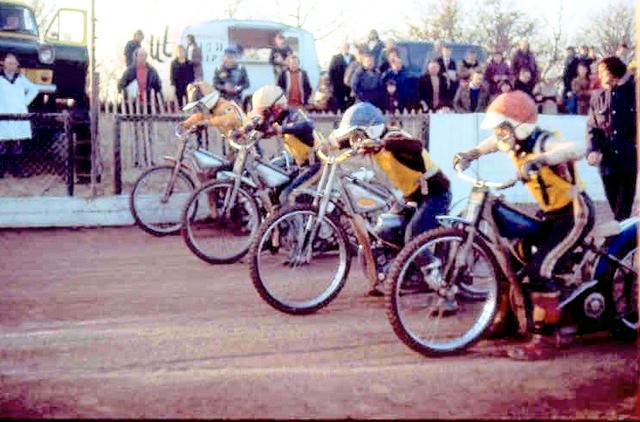 Hev 1976 4: Steve Baker says: No 7 is Colin Cox but In picture No 4 the riders are in red Peter Framingham ( he is actually No 17, not No 7, a reserve in the meeting), blue is Andy Buck, white is Steve Day and y/b is Kevin Cox.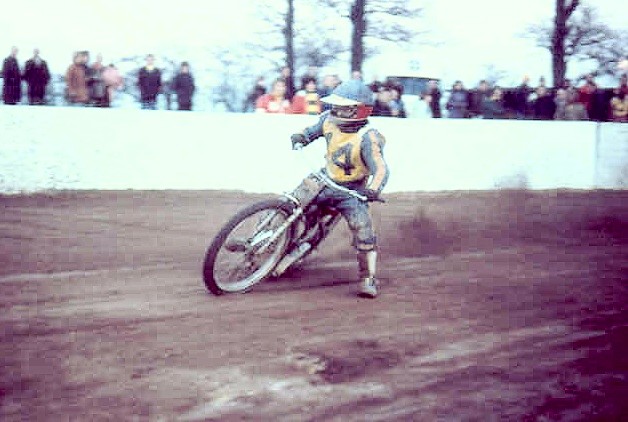 Hev 1976 5: Steve Baker says: No 14 is Andrew Bales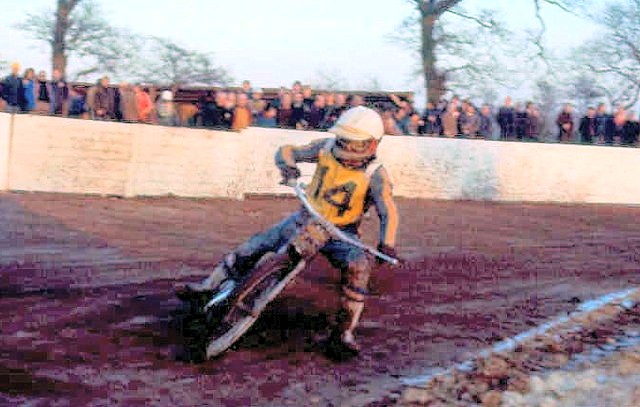 Hev 1976 6: Steve Baker says: No 14 is Andrew Bales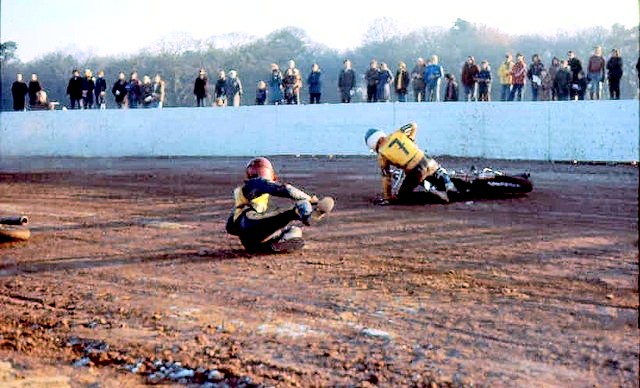 Hev 1976 7: Steve Baker says: No 7 is Colin Cox. The other fallen rider in red is Steve Day.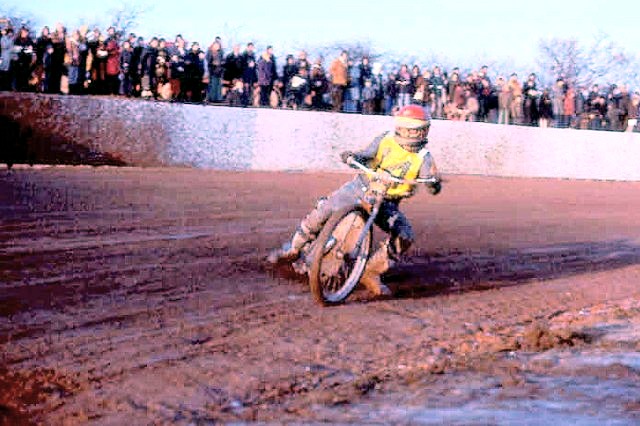 Hev 1976 8: Steve Baker says: No 14 is Andrew Bales
I have cleaned up the 8 images a little (sorry David I am not suggesting that your photos were dirty!) If fact they are very good pictures and enhance greatly my Norwich (Hevingham) webpage. Looks like we just need the names of the riders whose numbers are visible. Riders 14, 7 and 5 should be easy to name. The starting gate photo (Hev 1976 4:) may be a bit more difficult as only the rider in red's number(7) is visible.
---
Hevingham

1976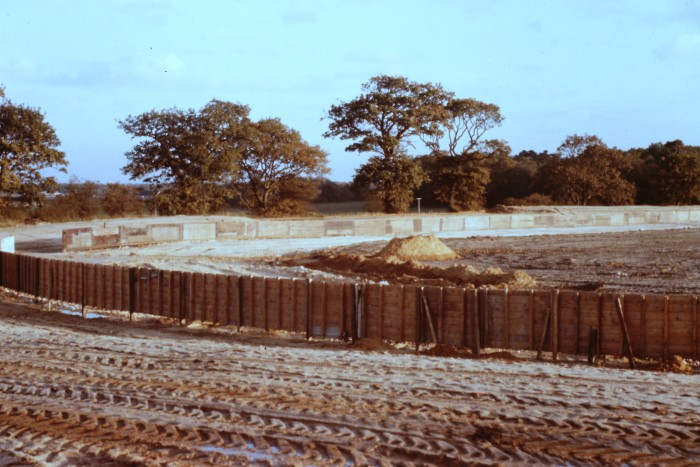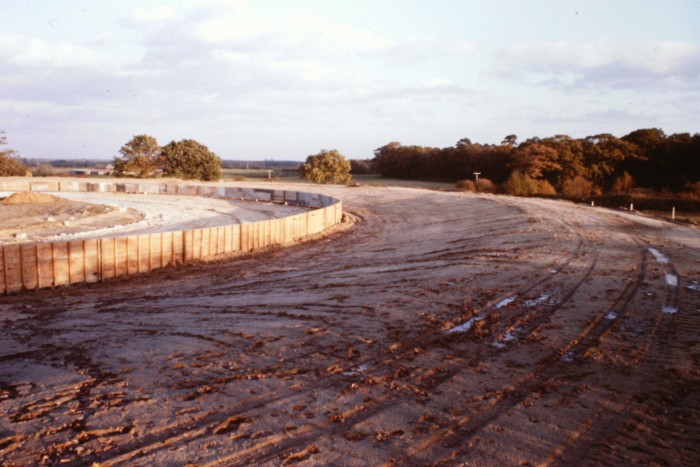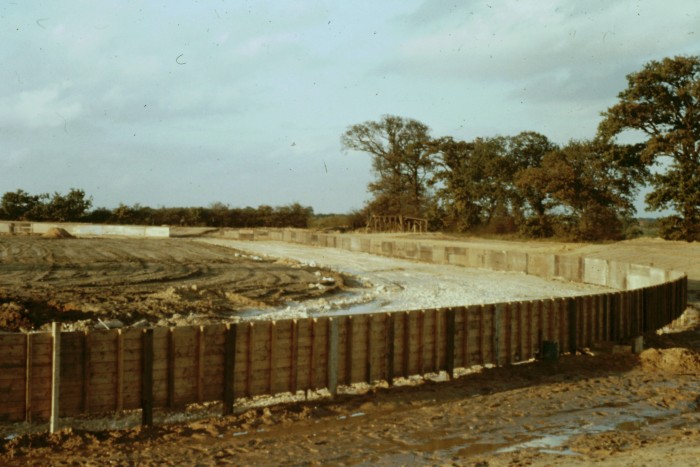 ---
More From
Dave Lomas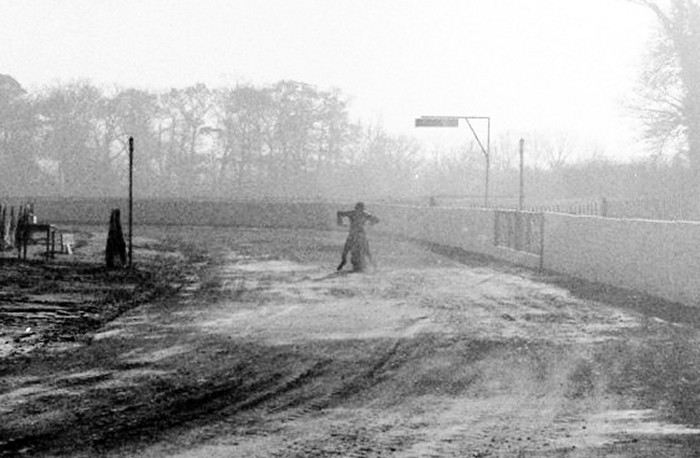 DL 1: An Atmospheric picture of an unknown rider practising a start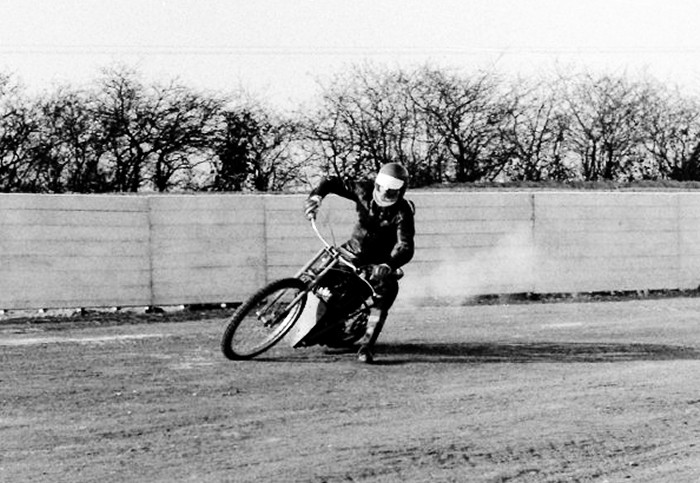 DL 2: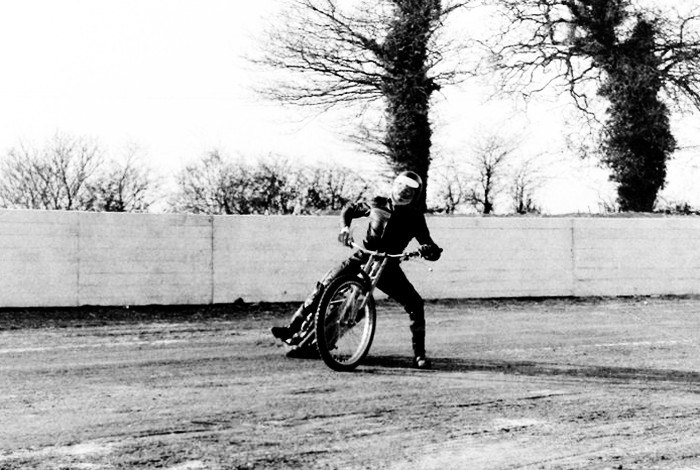 DL 3: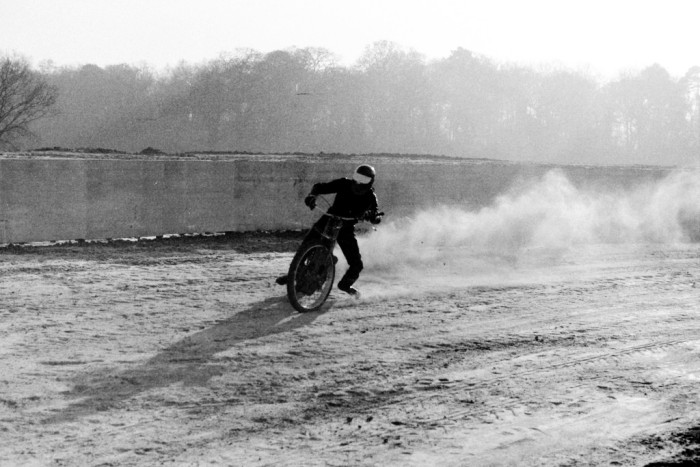 DL 4: The rider is out there on a wide line as the inside appears to be deeply rutted!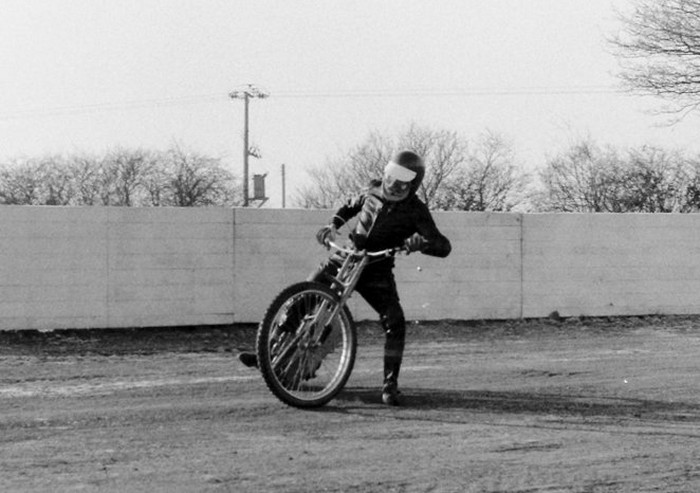 DL 5: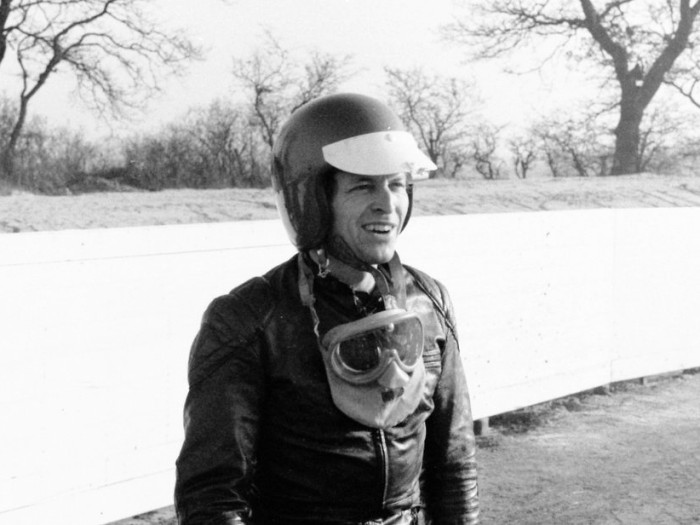 DL 6: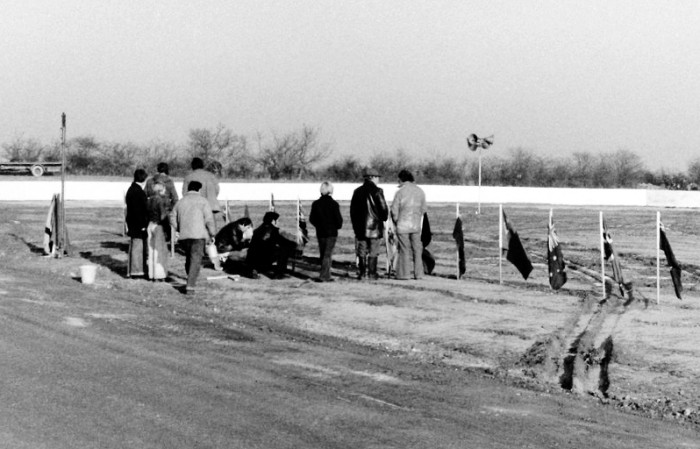 DL 7: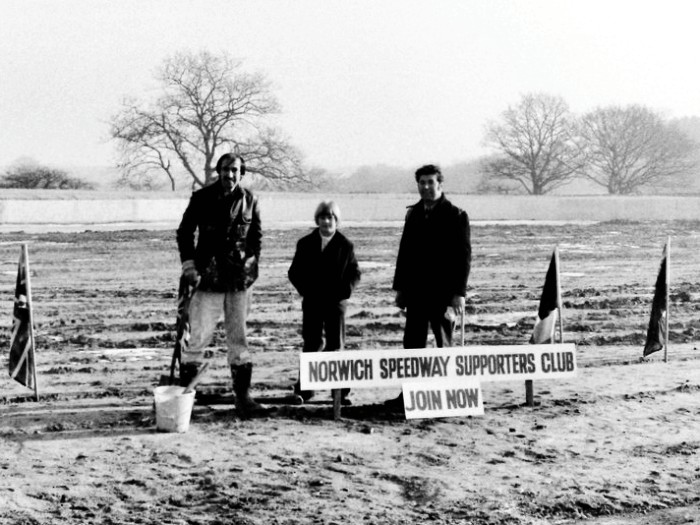 DL 8:

Dave Lomas says: Thanks for putting the latest black and white photos of Hevingham on your site. The rider in the B & W pictures, practicing, is David Crane. He is also the rider in the "atmospheric" picture doing the practice start. He later went on to score 8 points in the meeting. I think he is the nephew of Cyril Crane, which is probably why he got a free practice before the meeting !!!
John says: Yes David Crane is the nephew of Cyril Crane
---
If you took part in the "one off" meeting back in 1976 or if you have photos and or memories of this venture or were there in any other capacity, perhaps you can email me here John
---
The contents of the site are © and should not be reproduced elsewhere for financial gain. The contributors to this site gave the pictures and information on that understanding. If anyone has any issue or objections to any items on the site please
e-mail
and I will amend or remove the item. Where possible credit has been given to the owner of each item.