Neath Speedway
Neath Abbey Stadium, Neath, West Glamorgan, South Wales. The track was situated within sight of Neath Abbey. The circuit saw Provincial League speedway in 1962. However, the good people of South Wales did not support the sport in sufficient numbers and the track closed in September 1962, never to reopen. An industrial estate now occupies the site.
---
A "Flight of Dragons"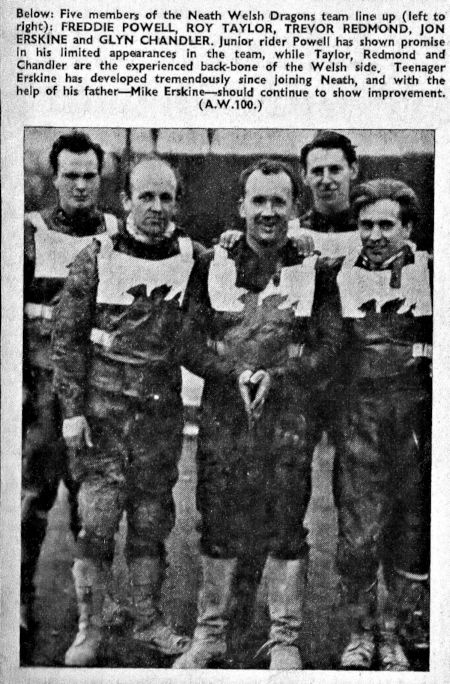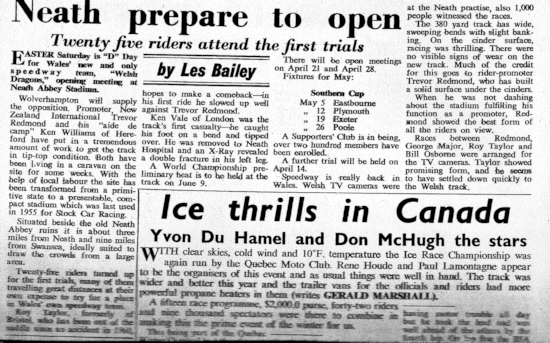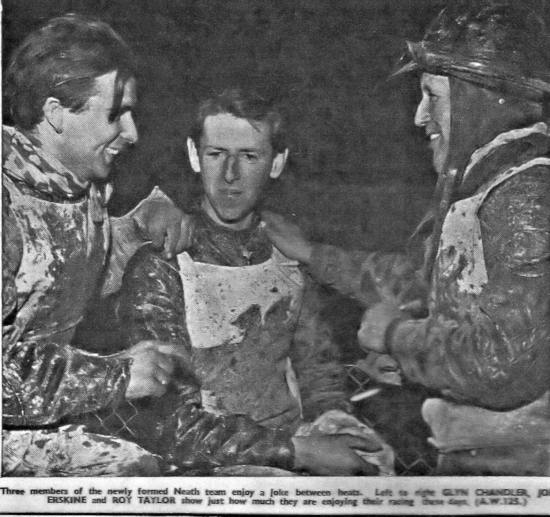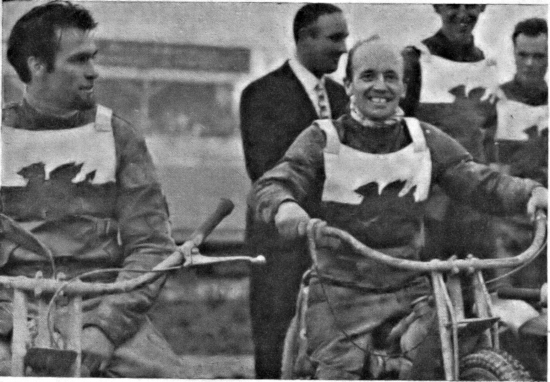 George Major & Roy Taylor
---
Opening Programme
28th April 1962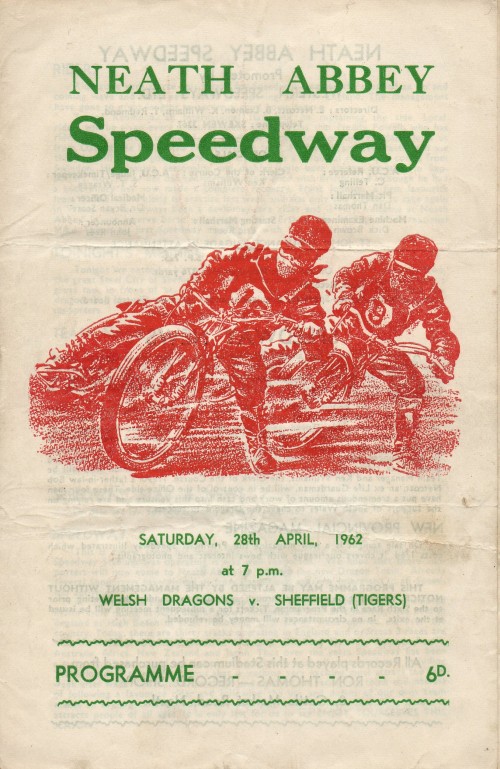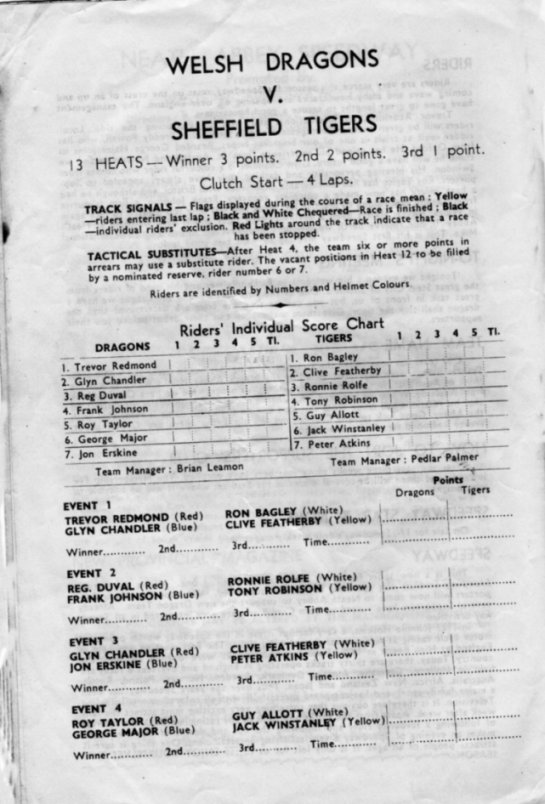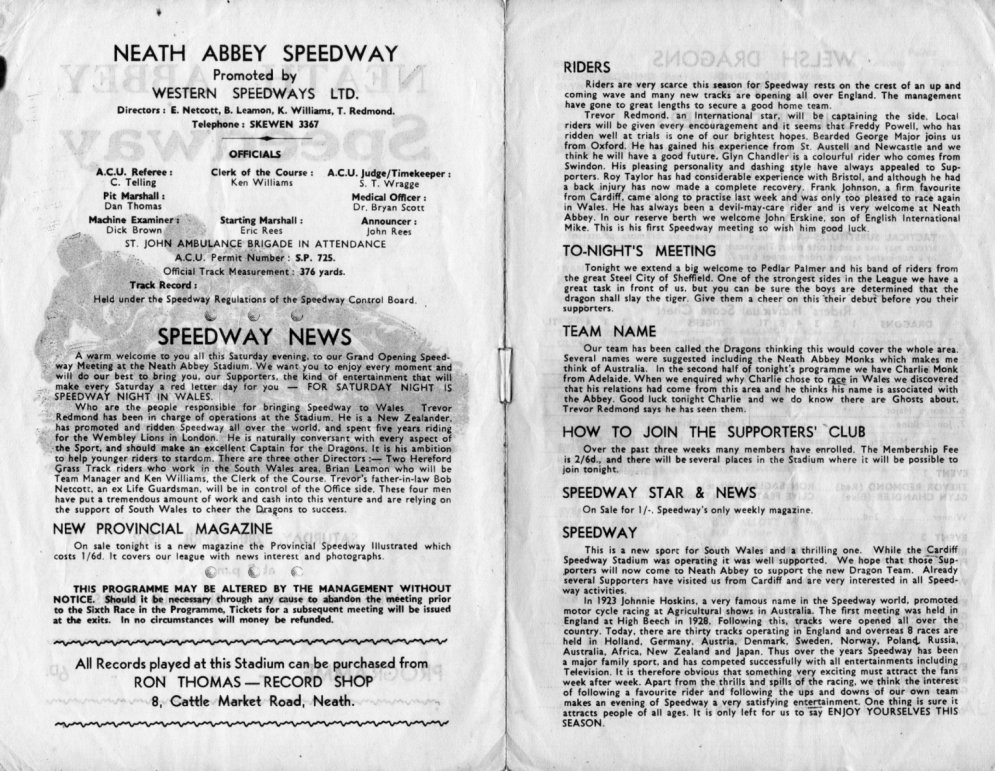 Opening Programme?
21st

April 1962?
Glyn Blackburn says: Hi John, I noticed you have a programme dated 28th April 1962 for Neath Abbey as the Opening meeting but I have one dated 21st v Wolves?
John says: My programme (28th April 1962) may be superceded by Glyns programme by a week, but my programme says it is the opener! Perhaps it was a typing error or was the first meeting postponed?
---
Neath 1962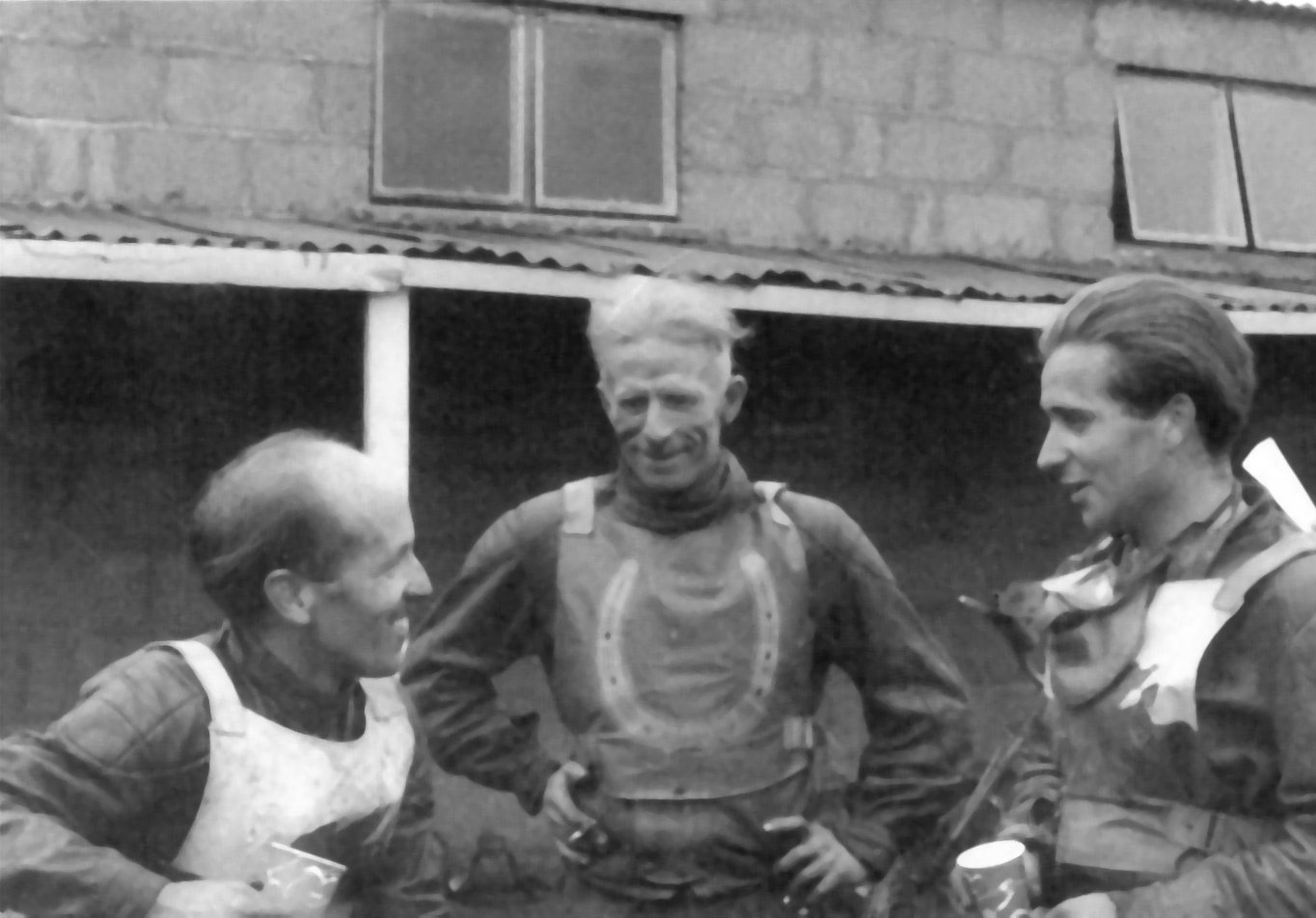 Courtesy of Glyn/Sally Chandler
Neath Pits 1962: Roy Taylor (Neath) Harry Edwards (Leicester Hunters) Glyn Chandler (Neath)
---
Neath Welsh Dragons 1962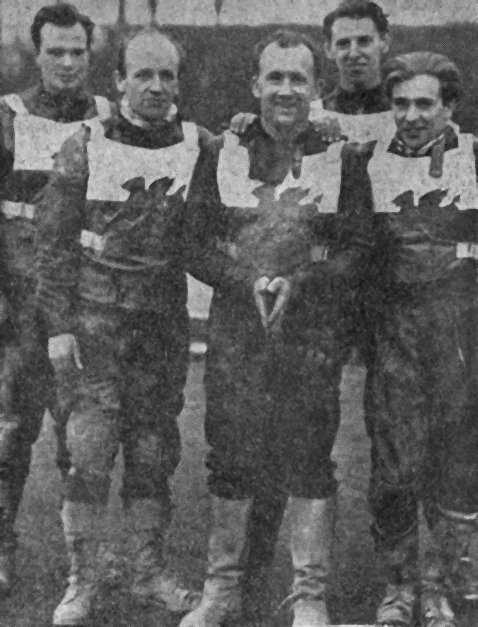 (L to R) Fred Powell, Roy Taylor, Trevor Redmond, Jon Erskine and Glyn Chandler.
---
Newcastle v Neath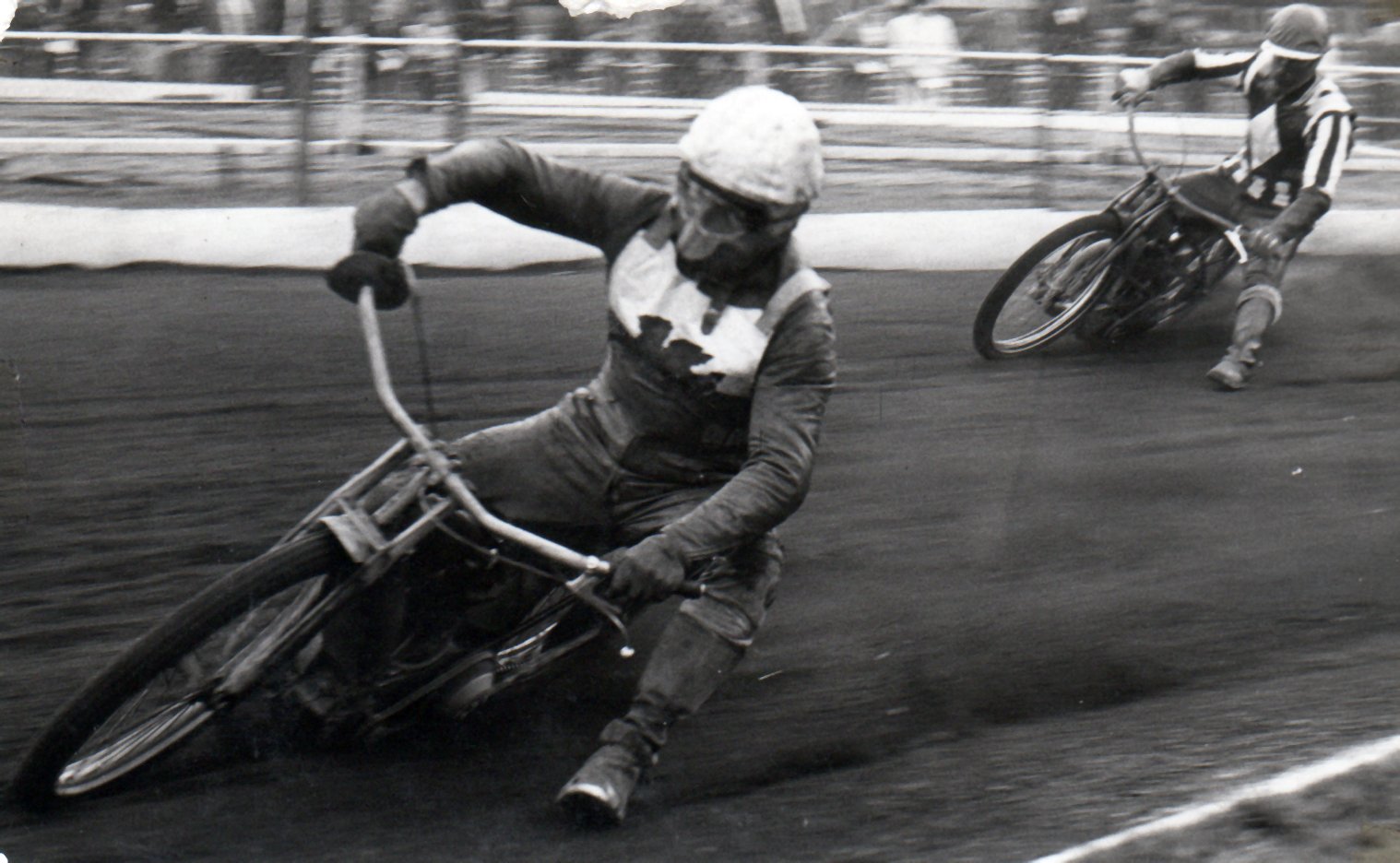 Neath Rider/ Promoter Trevor Redmond leads Newcastle Diamond Don Wilkinson at Newcastle's Brough Park
---
Howdy Cornell
1962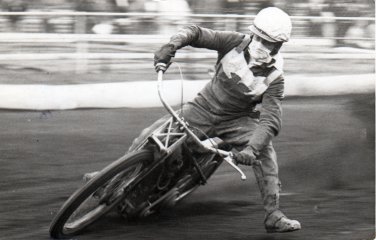 ---
Neath

1962

Programme Covers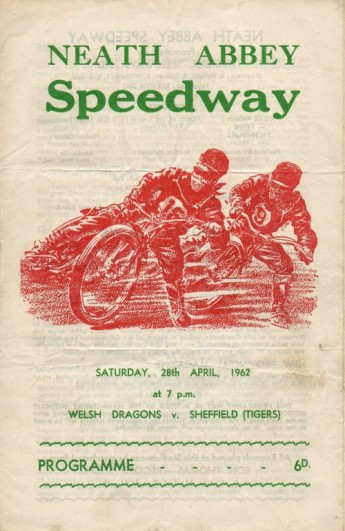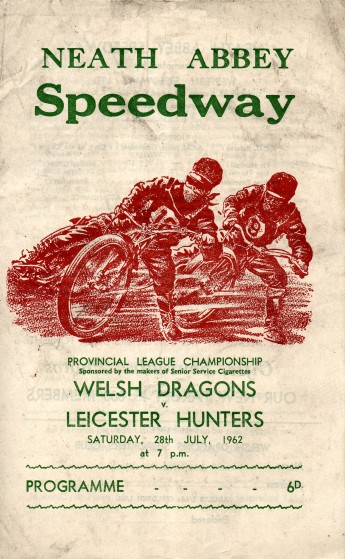 Courtesy of Ken Morgan
---
Charlie Monk & George Major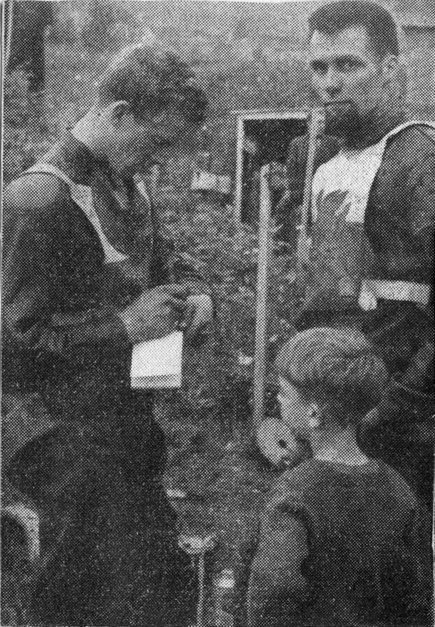 ---
Memories Of A Neath Rider
Glyn Chandler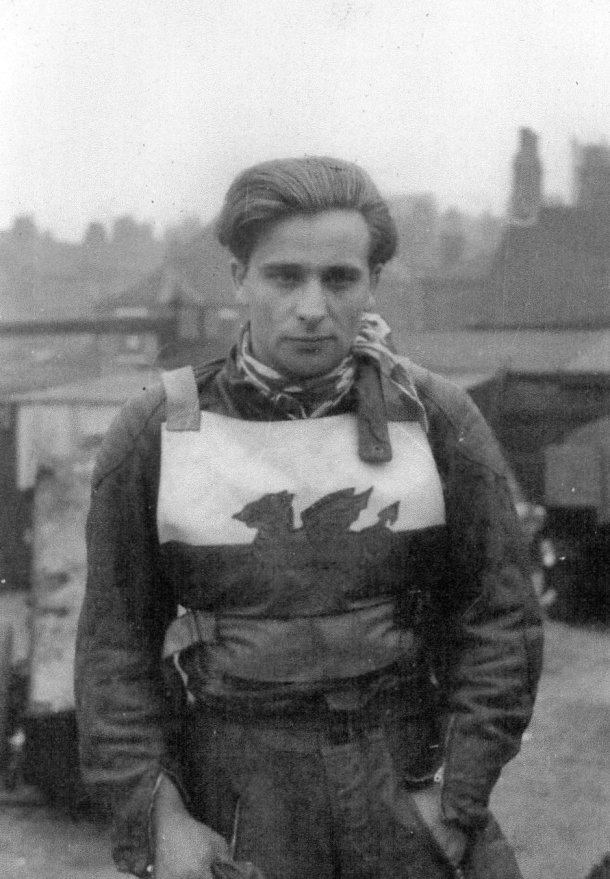 Photo Courtesy of Sally Chandler
Glyn Chandler says: The track was always well prepared, but at the first meeting I think they must have used coal dust on the track because at the end of the meeting we were black all over and as there was only one shower at Neath and not much hot water we all had to travel home in that condition.
[John says: the team would have been mistaken for a shift of Welsh Coal Miners on their way home from the nearby colliery]
There was no track lighting so boss Trevor Redmond, asked any supporters with cars to park on the banking in case we needed extra light. One race was stopped when the riders thought the red lights had come on, but it turned out to be a car's brake light as it was leaving the banking to leave the stadium!
We were always made to feel very welcome by both the supporters and Neath townspeople and given a little more turnstile support I think the sport would have lasted a lot longer in Neath.
The safety fence etc all came from defunct Cardiff track and I think the body colours too came from there as Cardiff also used the dragon emblem.
Trevor Redmond was a real livewire. He was a good rider, team captain and promoter. With the help of his father-in-law (Bob Netcott) Trev also prepared the track each week as well as his other duties. Credit must also be given to Trevor's long suffering wife Pat who supported him in every way. [John says: thank you Sally and Glyn, your contribution to the site with pictures and text is most appreciated]
Glyn's Team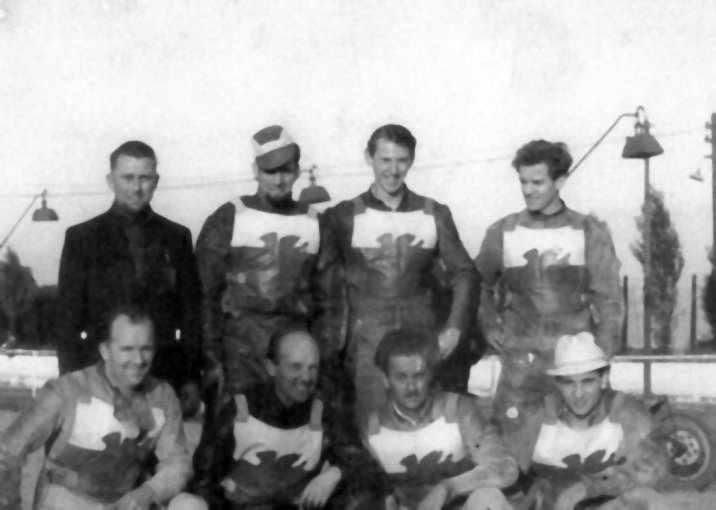 Photo Courtesy of Sally Chandler
Rear: Brian Leamon (Co Promoter), George Major, Jon Erskine, Charlie Monk, Front: Trevor Redmond, Roy Taylor, Howdy Cornell, and our man, Glyn Chandler looking cool in the white hat
Another
1962 Team Photograph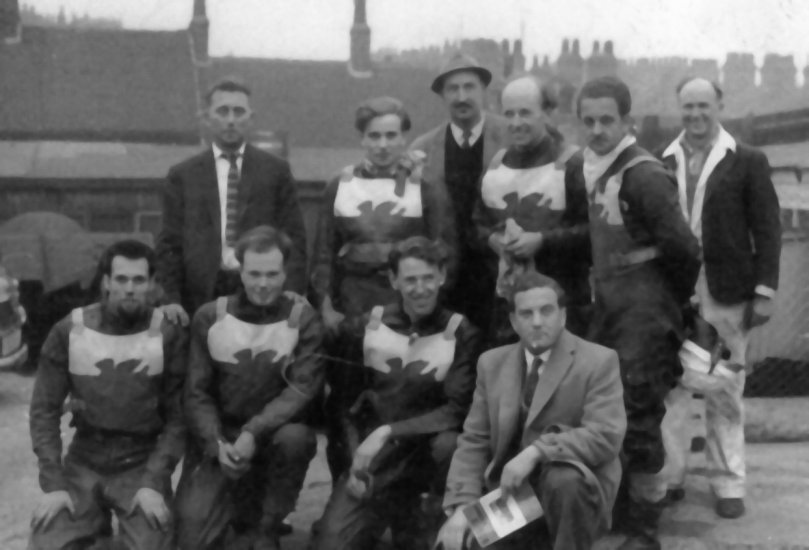 Photo Courtesy of Sally Chandler
Rear: Brian Leamon, Glyn Chandler, Mike Erskine, Roy Taylor, Howdy Cornell, ? Powell, Front: George Major, Freddie Powell, Jon Erskine and Ken Williams
My thanks to Sally and Glyn Chandler for supplying some pics and the info.
Neath closed at the end of the 1962 season due to poor attendances and the promoter Trevor Redmond moved most of his team to St Austell for 1963.
---
If you can scan any pictures, programmes or badges send me an email John
---
The contents of the site are © and should not be reproduced elsewhere for financial gain. The contributors to this site gave the pictures and information on that understanding. If anyone has any issue or objections to any items on the site please
e-mail
and I will amend or remove the item. Where possible credit has been given to the owner of each item.