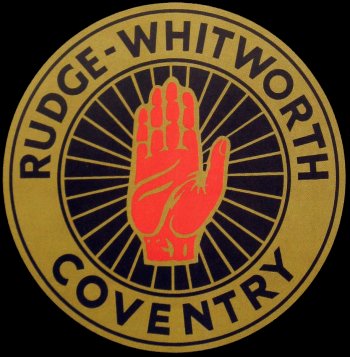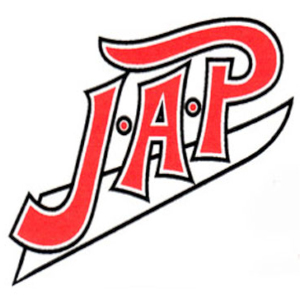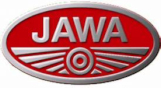 ---
Motherwell Speedway
(Milton Street)
Lanarkshire Eagles
Motherwell has had two homes of speedway, This page is concerned with speedway at The Stadium Milton Street Motherwell Lanarkshire where racing was staged between 1950 and 1972 off and on and more off than on! The team had alternate names Motherwell Eagles or Lanarkshire Eagles.
---
Motherwell Eagles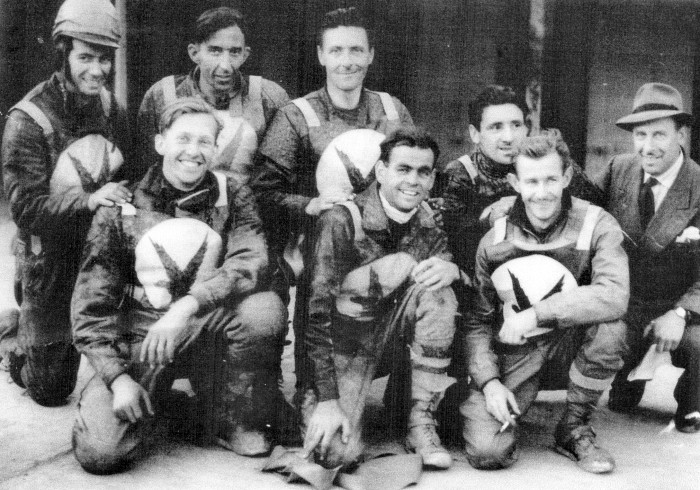 Courtesy of Graham Gleave
Can you name the personnel, the year and the track John
Col Greenwell says: You have the team as Exeter Falcons. I believe it to be Motherwell Eagles as that is Will Lowther in the back row. Next to him is Gordon MacGregor.
John says: Oh dear! Obviously I would be rubbish as a bird watcher, I can't tell an Eagle from a Falcon. So Col has started us off with naming these riders can you name the riders, the year and the track John
Steve Baker says: I think this photo is from 1951, that's the same year as the Johnnie Hoskins pic. Col rightly says, the riders are left to right, at the back, Bob Lindsay (I think!), Bill Dalton, Will Lowther, Gordon McGregor and team manager Tom Reid. At the front, left to right, Stan Bradbury, Noel Watson and Keith Gurtner.
Peter Colvin says: I spotted the Motherwell (Lanarkshire Eagles) team photo in the "name the rider part 3" section of your Defunct Speedway website. Using the marvelous Speedway Researcher website, can I suggest that this photo might have been taken at Walthamstow on 25th June 1951 (Because of the background).
Steve Baker thinks that the first rider in the back row might be Bob Lindsay, but it does not look like him at all. At first I thought he looked like Johnny Green but eventually I came to the decision that it is more likely to be Danny Lee.
There are only seven riders in the photo. I believe that Joe Crowther is missing from this photo-shoot. Joe failed to score in his first ride due to machine problems and did not race again that night. There is an action photo of heat 14 on the front cover of the following week's Speedway News, so a professional photographer was at the stadium. Regards, Peter Colvin
---
Motherwell
1953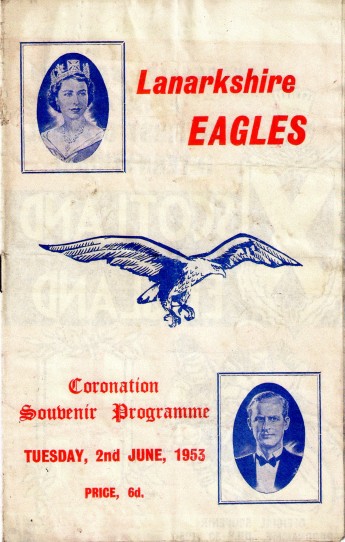 ---
1953

Team

Back Row: Scott Hall, Ron Phillips, Noel Watson, Bluey Scott and Derek Close. The 3 at the front are Jimmy Tannock, Gordon McGregor and Johnny Green
Jim Henry says: this is the 1953 team
Motherwell
1953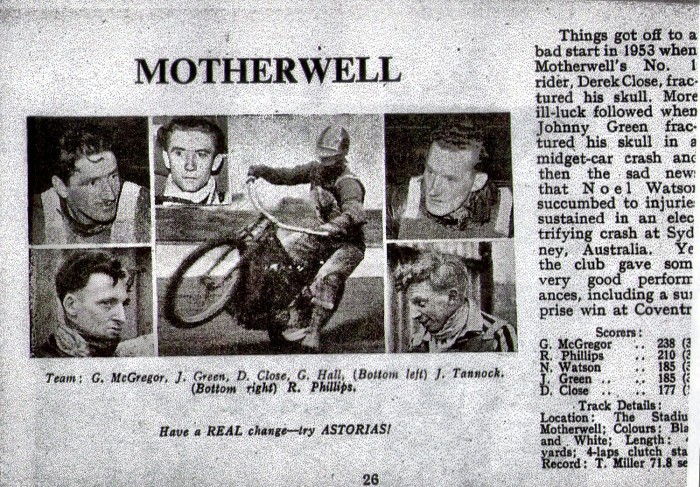 1953

Riders Speedway Star
Bluey Scott &
Derek Close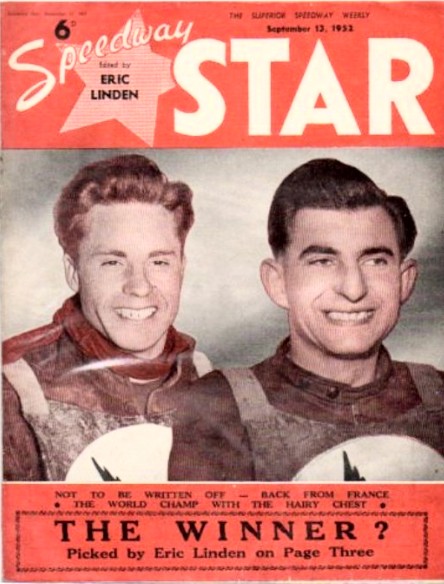 Derek Close as you know rode for both the Middlesbrough Bears and the Newcastle Diamonds before joining Motherwell. Bluey Scott rode for the Bears in 1964.
---
Three Eagles
Courtesy of Graham Gleave
Derek Close is flanked by Gordon McGregor, left and Joe Crowther
Another Team
Line Up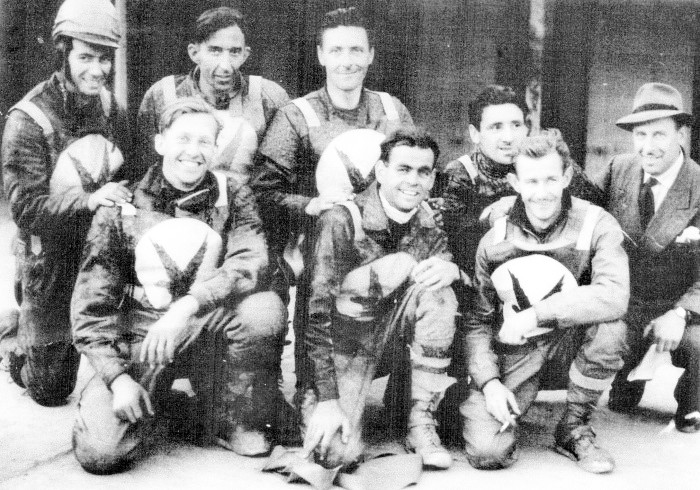 Courtesy of Graham Gleave
Motherwell

1952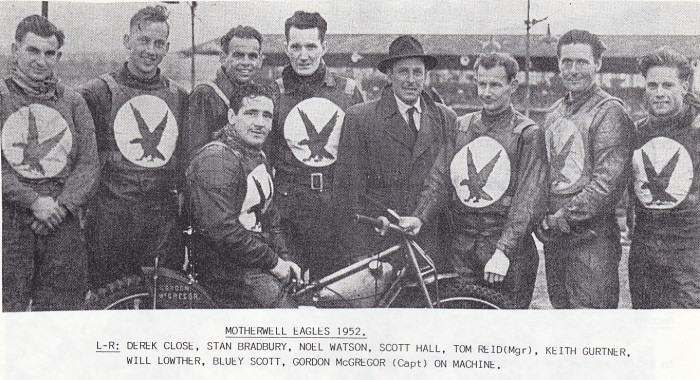 Motherwell
1954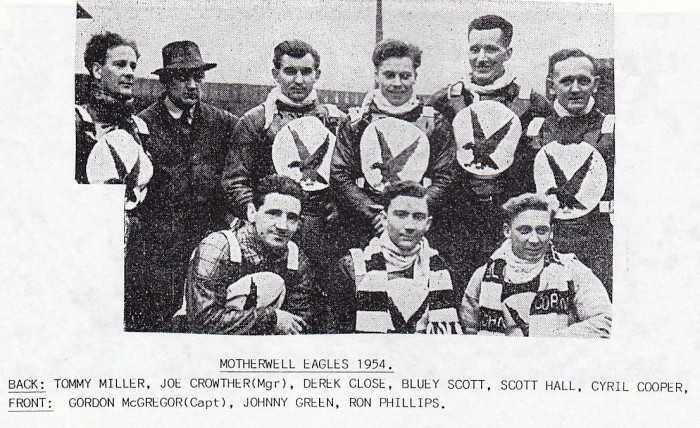 ---
Scotland v England

1954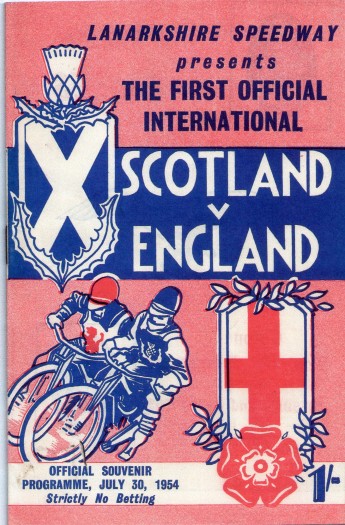 Courtesy of Graham Gleave
---
Jimmy Tannock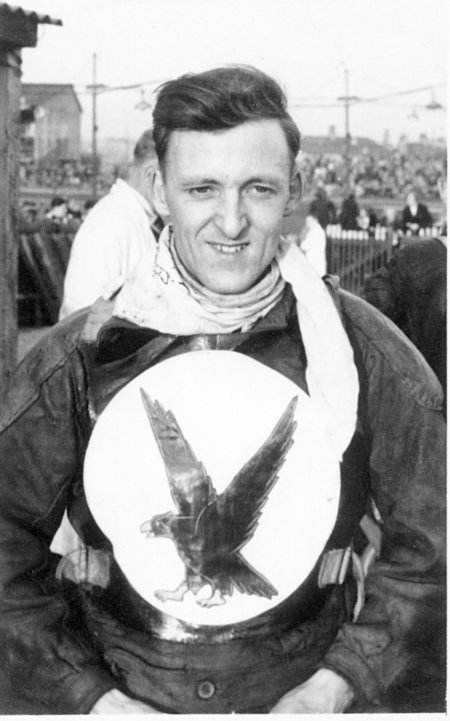 Courtesy of Jim Henry
Can anyone tell me who this rider is?
John
Ian Marshall says: The unknown rider is Jimmy Tannock.
---
Lanarkshire Eagles v Newcastle Diamonds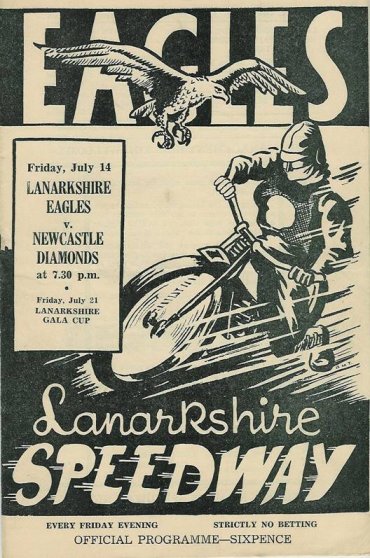 Courtesy of Speedway Swap Shop
The year unknown?
Jim Henry says:
B&W Programme - opening meeting 1950
---
Motherwell Eagles v Belle Vue Babes

16th May 1958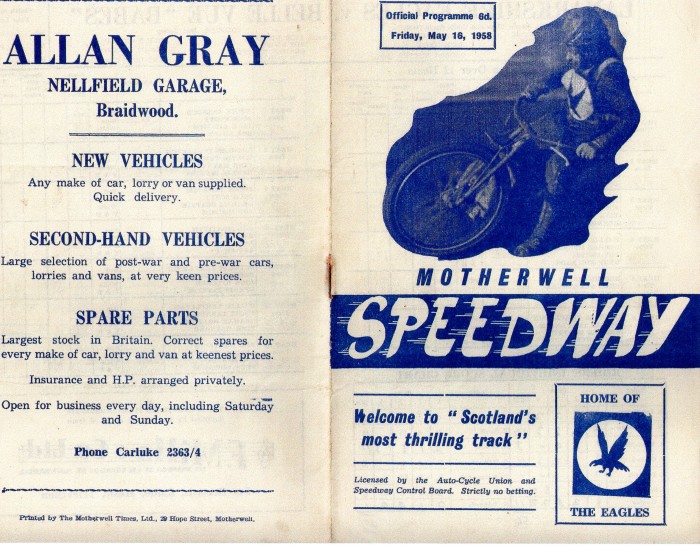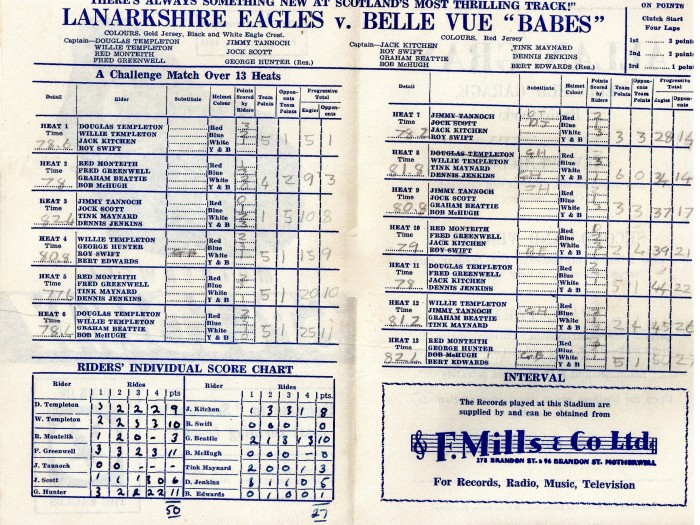 Courtesy of Graham Gleave
1958 and Scottish stalwarts Doug and Willie Tempton, Jimmy Tannoch and my favourite Scots rider George Hunter are all there in the Lanarkshire tracks programme.
---
Scrapbook Items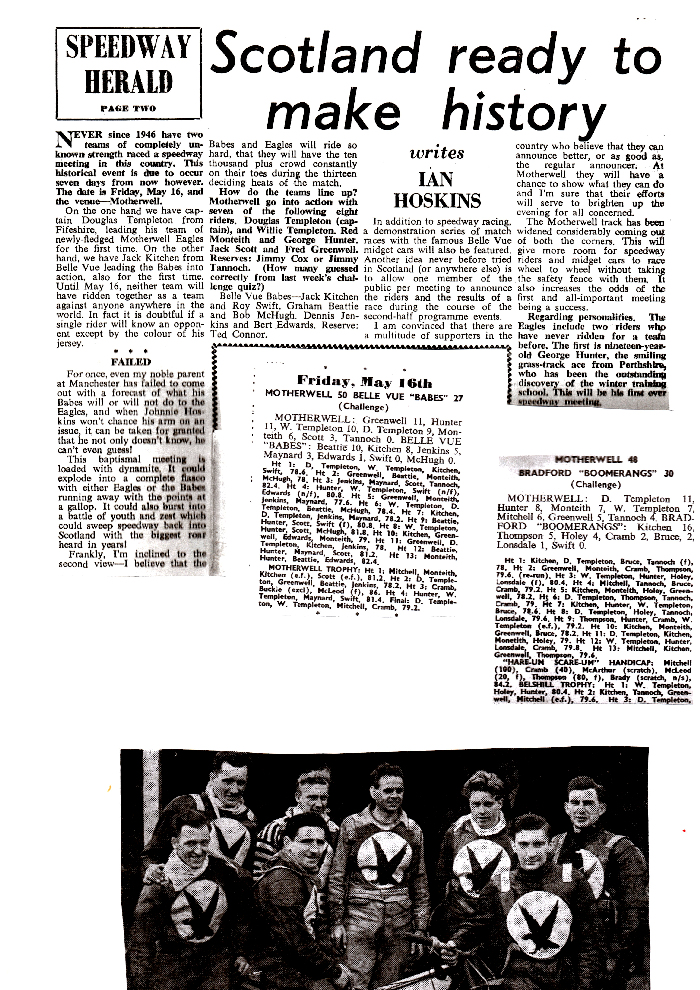 ---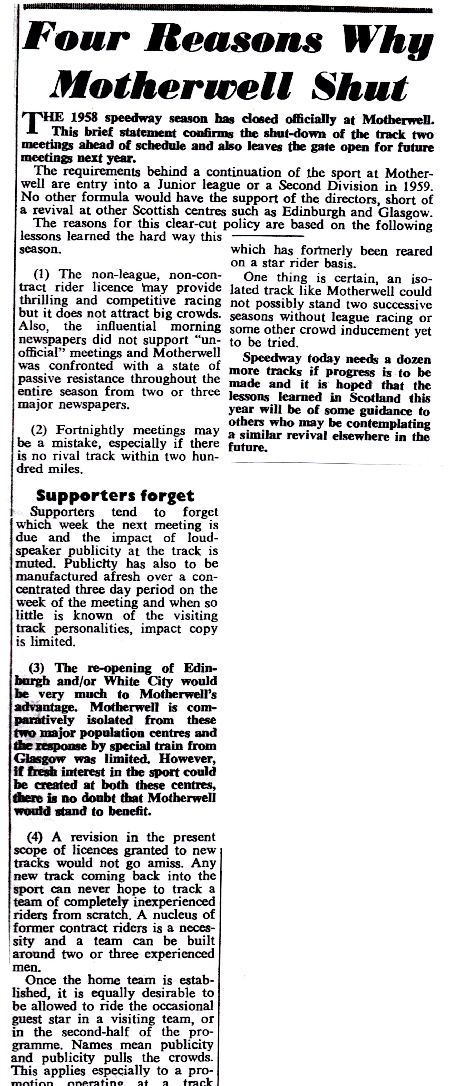 ---
Motherwell v Ipswich
11th July 1958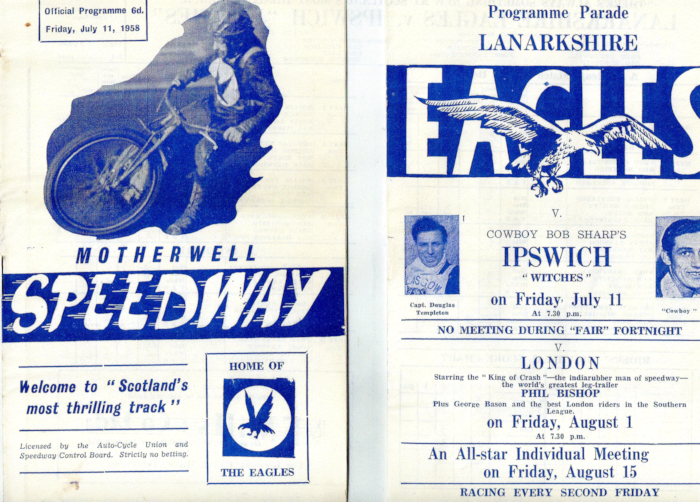 Courtesy of Graham Gleave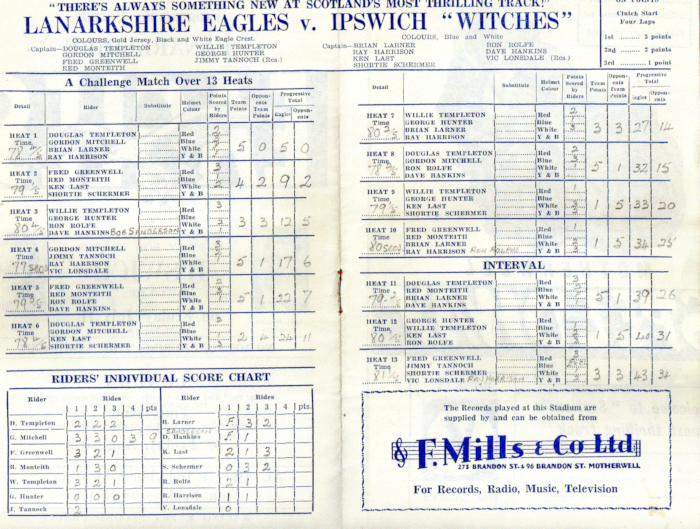 Courtesy of Graham Gleave
---
Motherwell v Barrow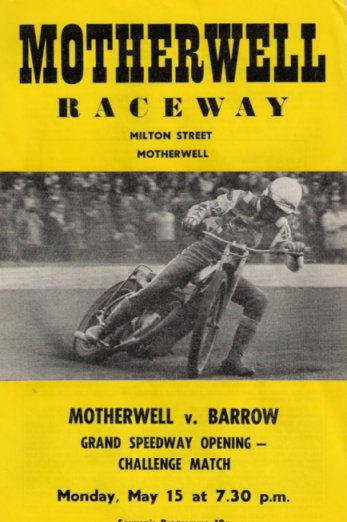 Courtesy of David Smith
Year unknown ?
William Hogg says: The Motherwell Eagles v Barrow programme whose date escaped you is from 1972.
---
Motherwell v Teesside
12th June 1972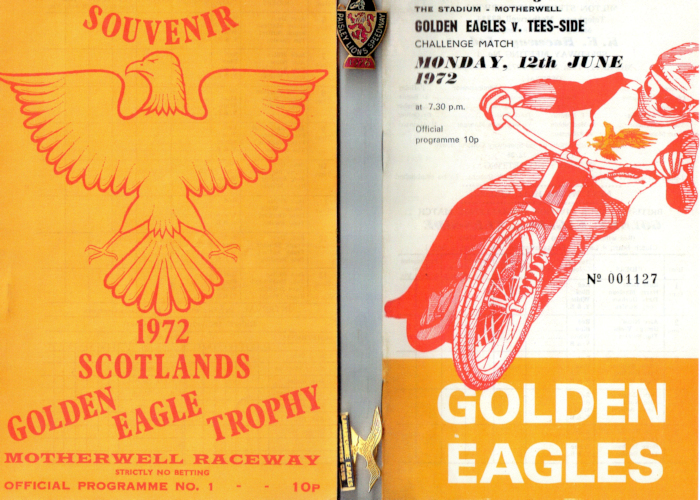 Courtesy of Graham Gleave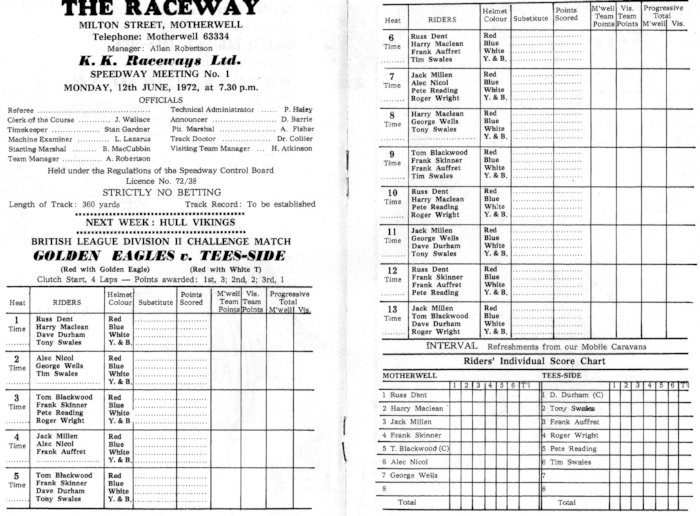 Courtesy of Graham Gleave
If you can scan any pictures, programmes or badges send me an email John
---
The contents of the site are © and should not be reproduced elsewhere for financial gain. The contributors to this site gave the pictures and information on that understanding. If anyone has any issue or objections to any items on the site please
e-mail
and I will amend or remove the item. Where possible credit has been given to the owner of each item