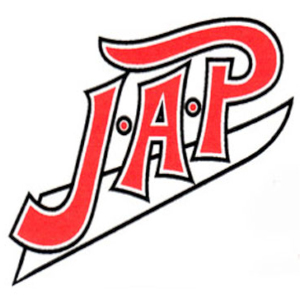 ---
Melton Mowbray Speedway
Melton Mowbray had two tracks. In 1936, local Melton rider Wilf Plant created a basic track just out of town, (exact location unknown), to practise on on Sundays, with a few friends. The local vicar put a stop to the venue by making noise complaints.
The town had to wait 13 years for another brief sojurn into speedway also thanks to Wilf Plant. This second track was located as follows: -
Melton Mowbray Greyhound Stadium, Saxby Road, Melton Mowbray, Leicestershire. The venture started in 1949 and was over in 1950.
Wilf Plant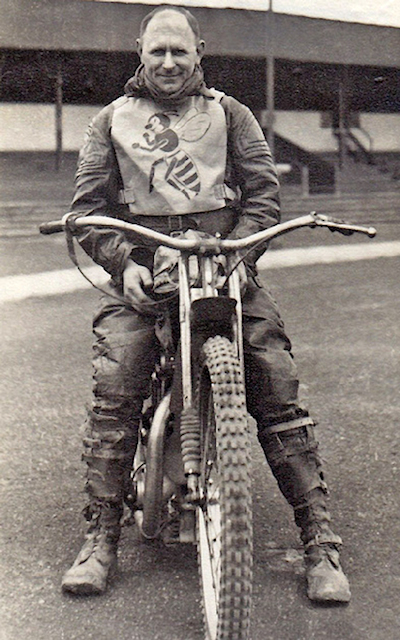 Courtesy of J Spoor
Was Wilf the pick of Melton Mowbray born speedway riders. Well yes, I expect he was the only one! The picture shows Plant in Coventry colours.
---
Melton Mowbray
Newspaper Items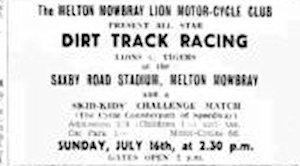 I have seen a number of newspaper pieces about Melton Mowbray speedway, sent to me by Keith Corns. The Newsprint Articles would be great to show on the website but alas they are too low resolution making them unreadable unfortunately. Perhaps Keith can sort the items out and get back to me with bigger images?
---
1949

Machinery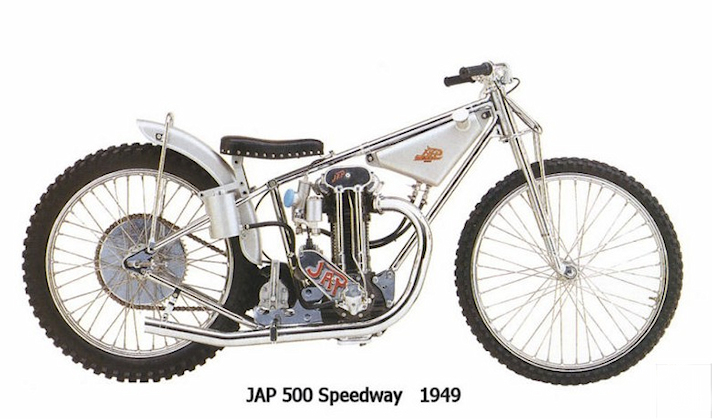 Courtesy of J Spoor
If the riders who turned up for the open meetings at Saxby Road could afford the best equipment they would have turned up with the magnificent machine shown above, brand spanking new in 1949 when Melton Mowbray ran their meetings. JAPs reigned supreme at that time and no-one rode anything else in the UK although in Czechoslavakia they had ESO and Jawa Speedway machines.
The 500cc single cylinder JAP engine had an exceptionally long stroke, you can see from the photograph how tall the engine is. The compression ratio was around 15:1 and the engine ran on wood alcohol and later methanol. Now for an engine 68 years old it is still very quick, with neck jerking acceleration, such is the mighty JAP
---
If you have photos etc of Melton Mowbray please send me an email John
---
The contents of the site are © and should not be reproduced elsewhere for financial gain. The contributors to this site gave the pictures and information on that understanding. If anyone has any issue or objections to any items on the site please
e-mail
and I will amend or remove the item. Where possible credit has been given to the owner of each item.