Leeds Speedway
Fullerton Park Sports Stadium, Elland Road, Leeds operated between 1928 and 1938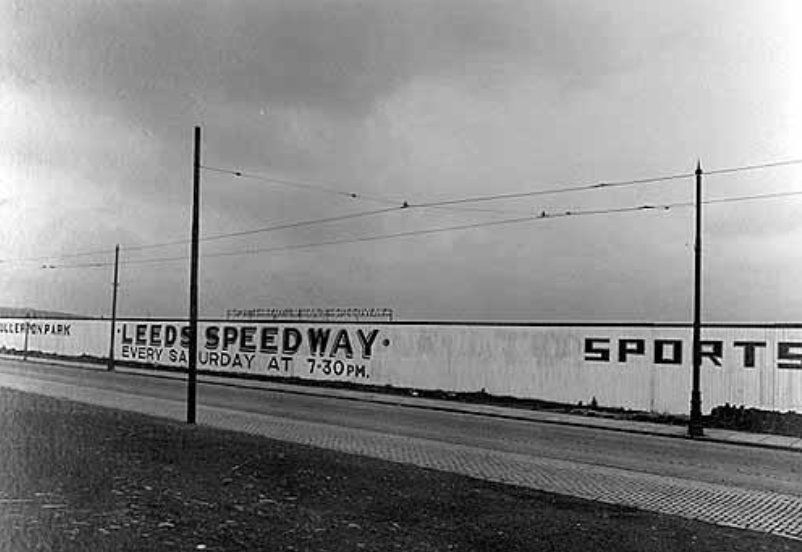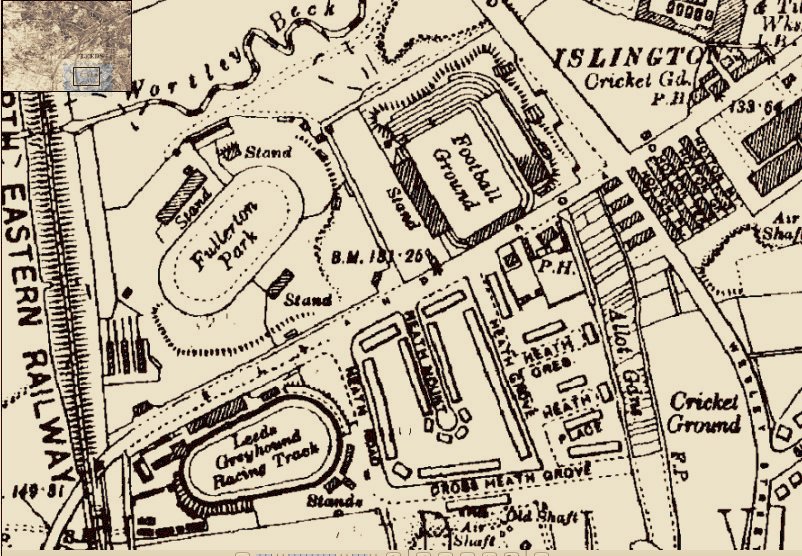 Courtesy of Trev Milburn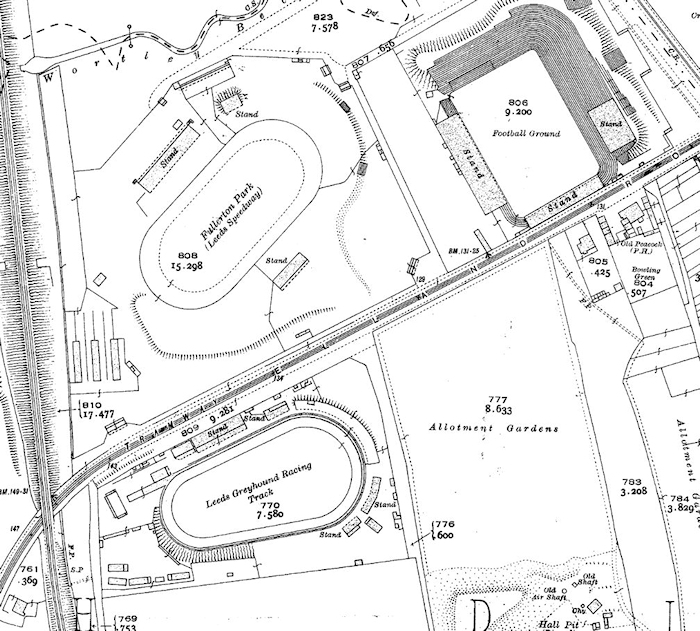 Trevor Milburn says: Hi John, I now have a much clearer map from 1932 of Fullerton Park Speedway track if you wish to use it. Regards Trevor
---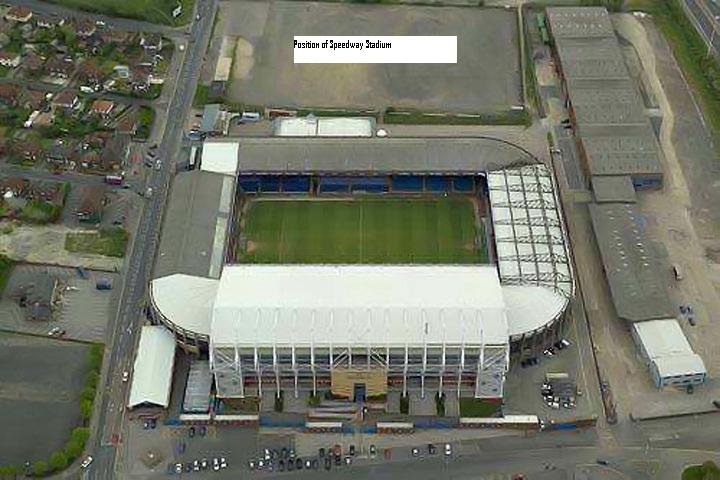 Tony Richardson has sent this shot of Elland Road. The speedway track used to be right next to the football ground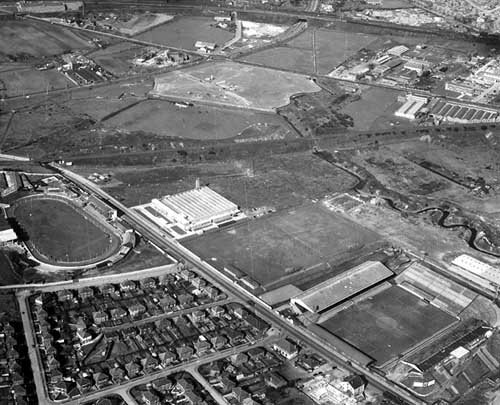 Another shot of Elland Road, the football ground is at bottom right and what may have been the speedway track is middle left not quite in the same position as the photo above. Does anyone know if this picture shows the speedway track?
John
David Williams says: John, in answer to your question regarding the photo of Elland Road, the other stadium is the greyhound track. Speedway (Fullerton Park) was on the site adjacent to the football ground (as mentioned above).
---
1929

Leeds v London (Wembley)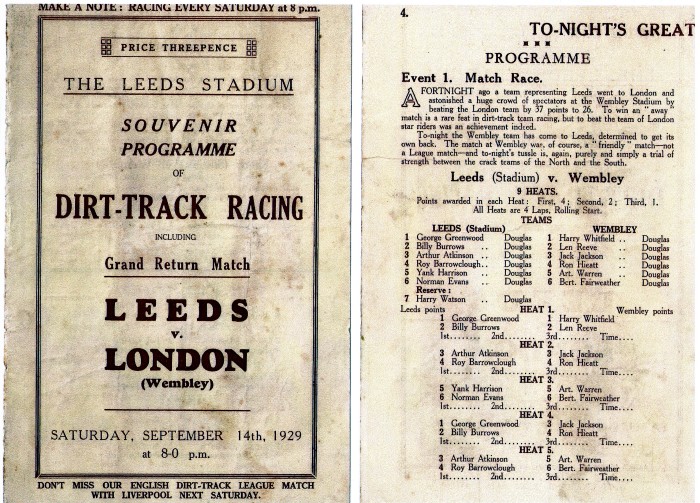 Courtesy of Graham Gleave
---
Line Up At Leeds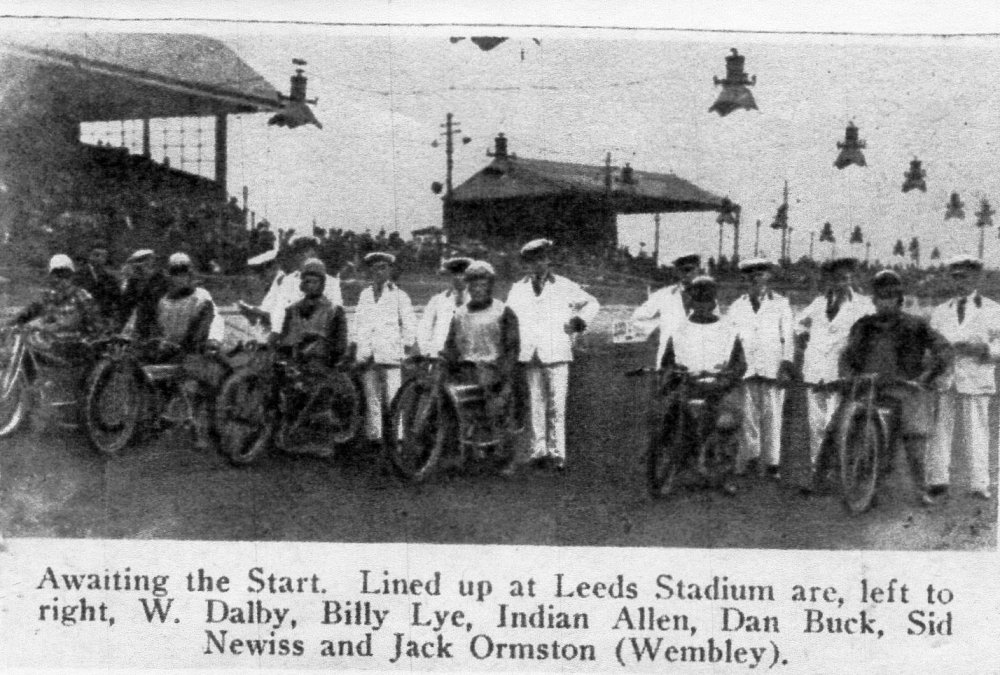 Courtesy of Stuart Whittaker
John says: The Trackstaff are well turned out or maybe they are all Milkmen!
Yorkshire Speedway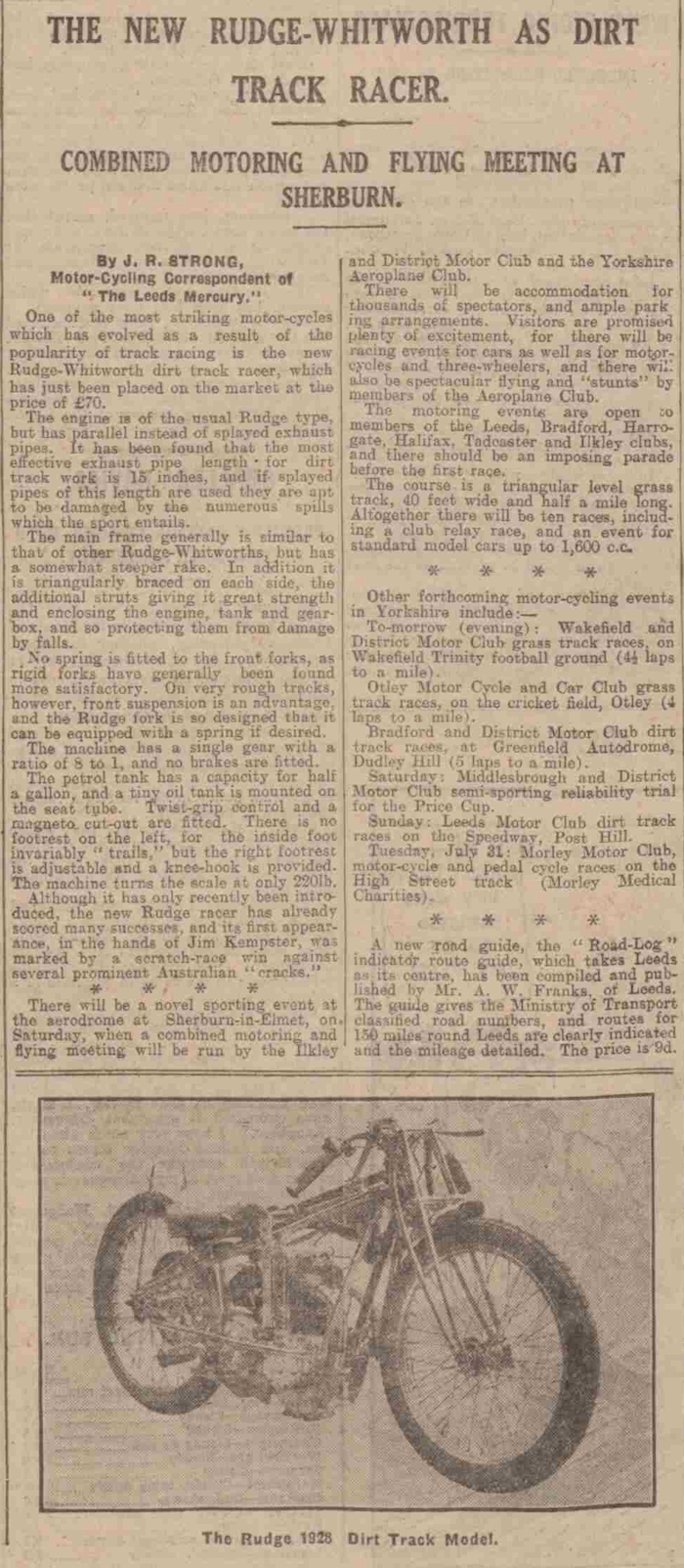 Courtesy of Jim Henry
---
Syd Newiss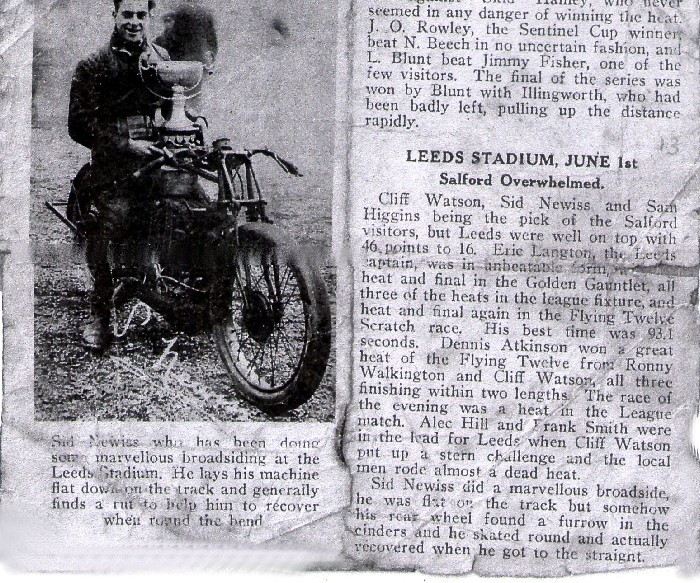 Courtesy of Graham Gleave
---
Leeds Programme
13th July 1929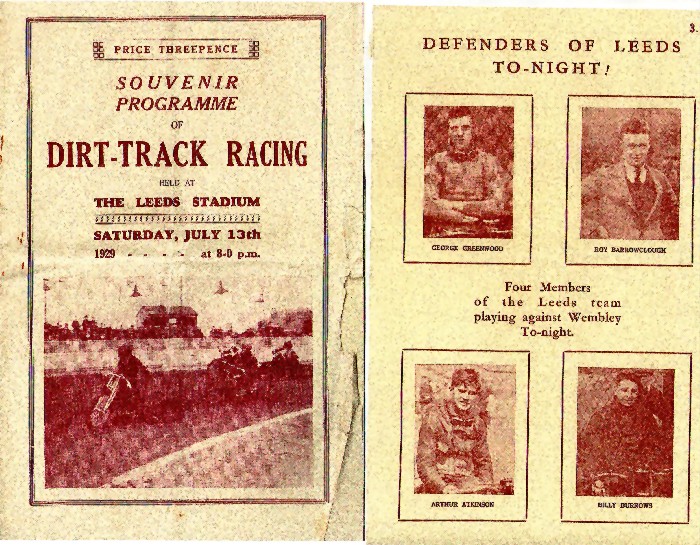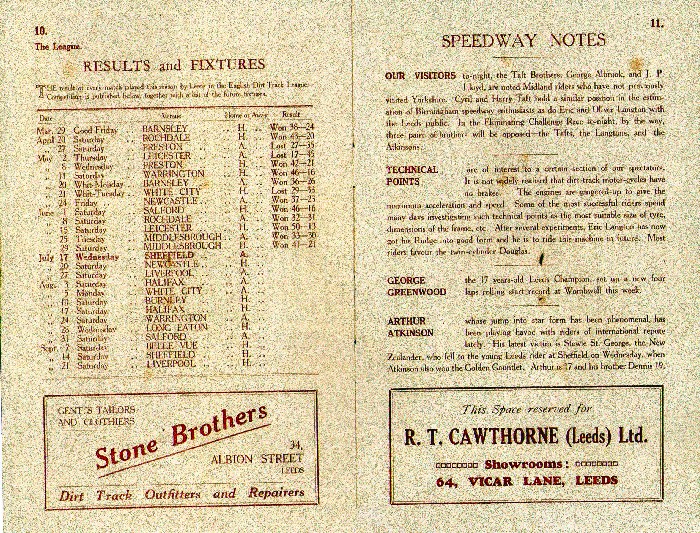 ---
Leeds

1930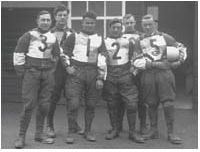 ---
Ham Burrill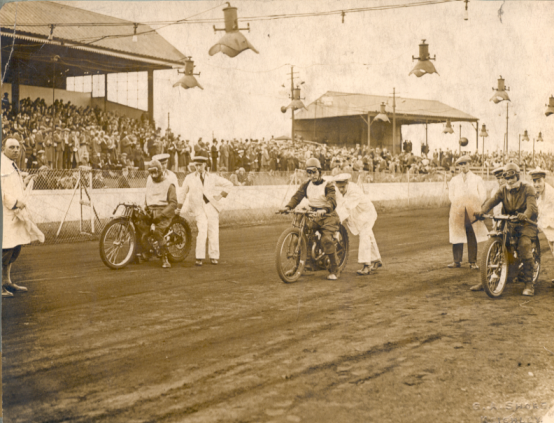 Courtesy of Adrian Pavey
Adrian Pavey says: The above photo was found in Ham Burrill's scrap book when I had the chance of taking copies from it. The photo was taken on July 5th 1930. The three riders are (l-r) Roy Barrowclough, Ham Burrill and American superstar Lloyd Sprouts Elder.
"Sprouts" Elder actually set a new one-lap, rolling start track record just after this photo was taken, lapping the 402 yard circuit in 19.8 seconds.
The speedway track at Leeds was known as Fullerton Park, situated on Elland Road, right next door to the football stadium and opposite the greyhound track. Just as the previous post describes on your site. The very first meeting was held on October 13th 1928 and a further four meetings were held that year with the last meeting of the year held on Boxing Day. A Leeds team was entered into the English Dirt Track league in 1929, but the company went into liquidation at the end of the year. More open meetings were staged under new ownership throughout 1930 before league racing was resurrected again in 1931. The track reverted to running open meetings again in 1932 the track was to close in August and remained closed until 1938 when one final season of league racing was staged. The final speedway meeting at Leeds was held on October 13th 1938, exactly ten years to the day from when it first opened. The stadium was eventually demolished and now lies underneath training pitches for Leeds United and the Fullerton Park Industrial Estate as you can see on the aerial photographs on your Leeds page.
---
Roy Barrowclough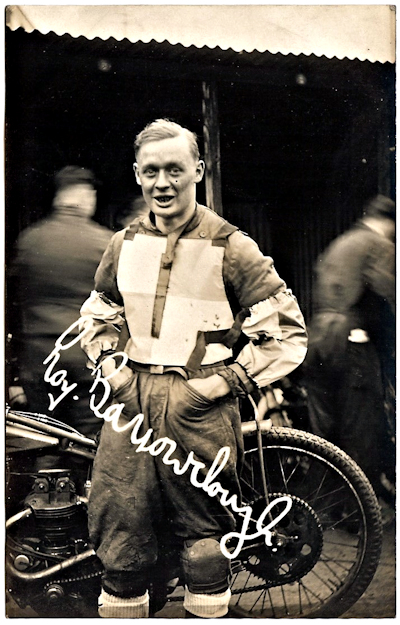 Courtesy of Tim Beddow
---
Sprouts Elder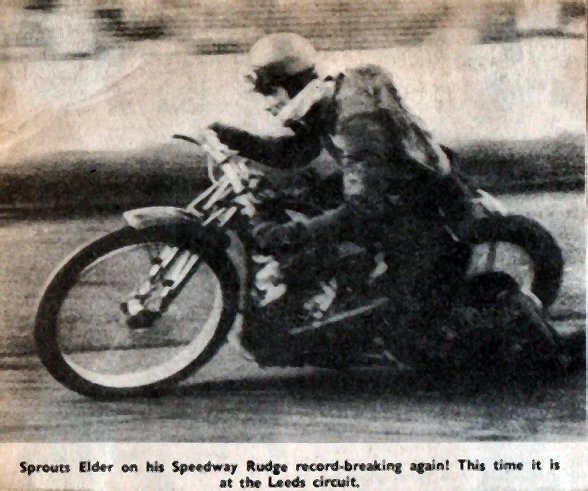 Courtesy Ted Hearn
---
Leeds Lions v Hackney Wick
6th June 1938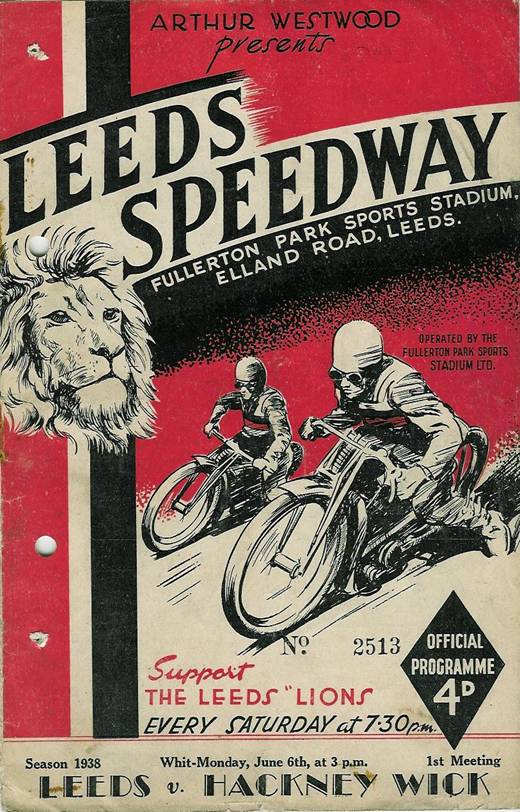 Courtesy of
Del Carruthers
---
Arthur Atkinson
Reg Fearman says: My old promoter at West Ham: Arthur Atkinson, was a Leeds man. He started his speedway career there - I think 1928 at Elland Road. He was an International in his time and a good promoter.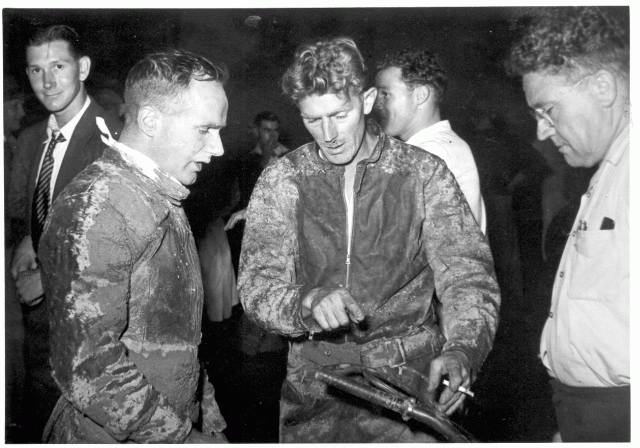 Photo Courtesy of Reg Fearman
Reg Fearman says: Above is an interesting photo - look closely - Dennis Parker (Jack Parker's nephew) in the background in civvies, Arthur Atkinson being shown by Eric Chitty and frame builder "Snowy" Rogers the latest "invention" it is a guard around the clutch lever to protect the fingers, when one fell off the clutch lever would often dig in the track and damage the fingers. Now you know, a lot of people don't know that !! Atko as he was known made a comeback in about 1949 Cheers, Reg
---
If you can scan any pictures, programmes or badges send me an email
John
---
The contents of the site are © and should not be reproduced elsewhere for financial gain. The contributors to this site gave the pictures and information on that understanding. If anyone has any issue or objections to any items on the site please
e-mail
and I will amend or remove the item. Where possible credit has been given to the owner of each item.