Newcastle Speedway
(Gosforth)
On Tyneside, speedway has a stronghold at Brough Park, Newcastle's long-lived greyhound/speedway stadium. But Back in 1929 Newcastle had another stadium staging Speedway and dogs. The other track, Gosforth Speedway ran 1929-30 at Gosforth Park, Great North Road, Gosforth, Newcastle upon Tyne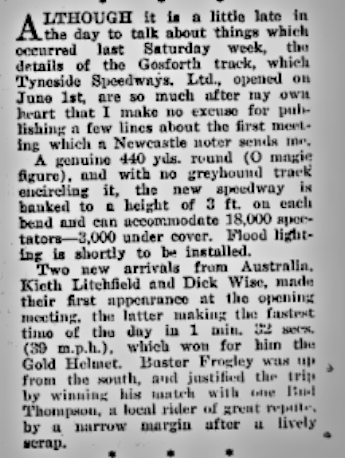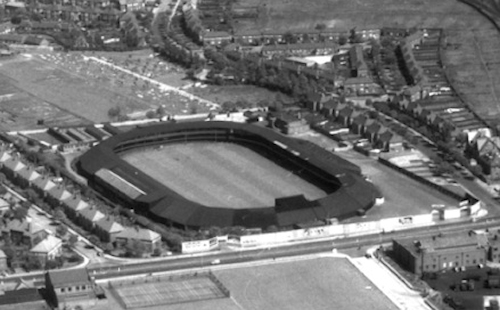 Courtesy of John Spoor
---
Push Start At Gosforth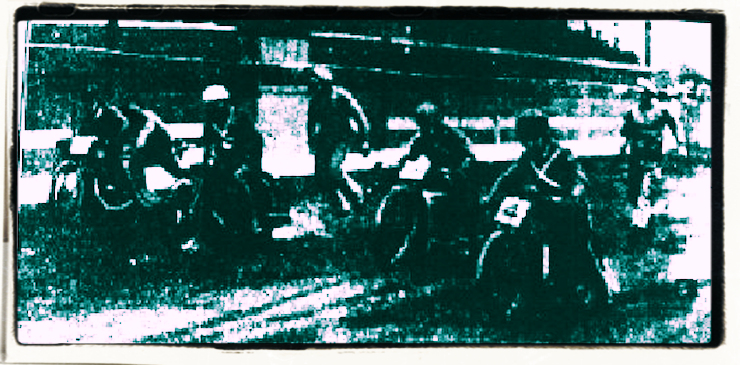 Gosforth Park was where Asda's store on Gosforth High Street is now! Not the Horse Race Track with the same name. Our Gosforth Park was home to Speedway and Greyhound Racing. This was a heat from The Evening Chronicle Junior Speedway Trophy. The winner of the trophy was R. Dirkin. It is a pity that the picture didn't show the bends as the Gosforth track had very high banking on the turns. This picture is the only one on the site that shows a push start. Such a pity that I could only find this poor quality image as it is not clear that it was a push start
---
Charles "Tiger" Sanderson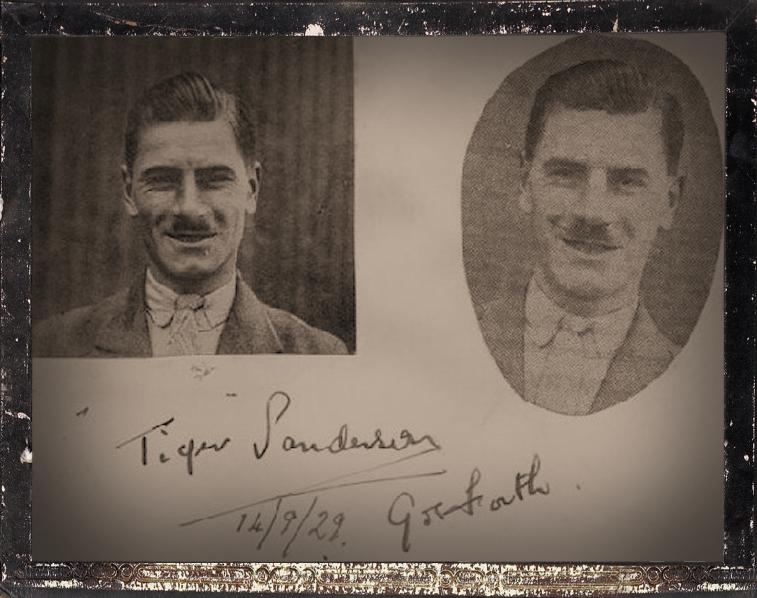 This is Gosforth's top rider Charles "Tiger
"
Sanderson. Tiger was local, he came from Fencehouses in Co Durham and was the star of the short-lived Whitley Bay venture before the promotion closed the seaside towns track to concentrate on the Newcastle Gosforth venue.
---
Newcastle Gosforth
Team Photo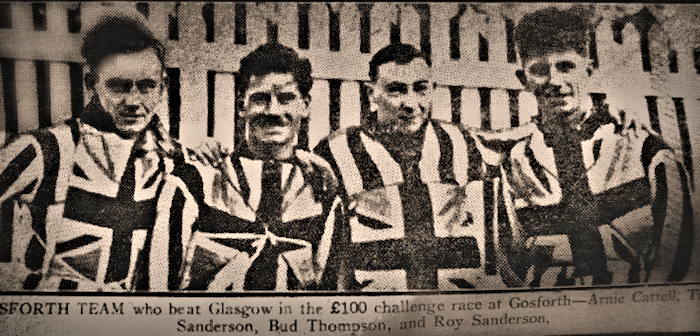 Nigel Bird says: John. In view of the pleasure I have obtained from your wonderful speedway website , may I offer you this addition in appreciation. Newcastle Gosforth team photo, L to R Arnie Cattell, Tiger Sanderson, Bud Thompson and Roy Sanderson. It appears that whenever they raced Glasgow they seemed to think it was an international, so home and away they wore a Union Jack, somewhat inappropriately as one would have expected the flag of St George. Regards, Nigel
John says: Thank you Nigel for describing my website as "wonderful"! I think it is Wonderful myself but I am biased!
---
Harry Huntly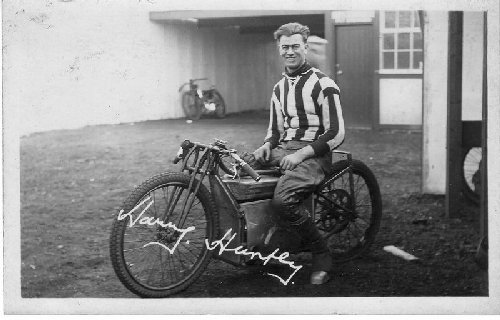 Courtesy The Vast Collection/Ian Huntly
Gosforth and Brough rider Harry Huntly aboard a Douglas DT with engine protection guards fitted. Also interesting to note the Newcastle United shirts from 1929. This picture was taken at Gosforth Super Speedway. All of the photo's and other items featuring Harry are from "The Vast Collection/Ian Huntly"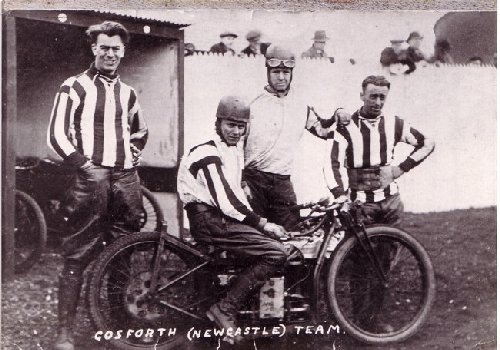 Courtesy The Vast Collection/Ian Huntly
Gosforth's 1929 team Harry Huntly, Jim Holden, Tom (Yank) Harrison and Arnie Cattell on the bike. The picture was taken at Manchester's White City when Gosforth were the visitors. The picture shows Harry's size 6 feet 6 inches but some reports say he was even taller.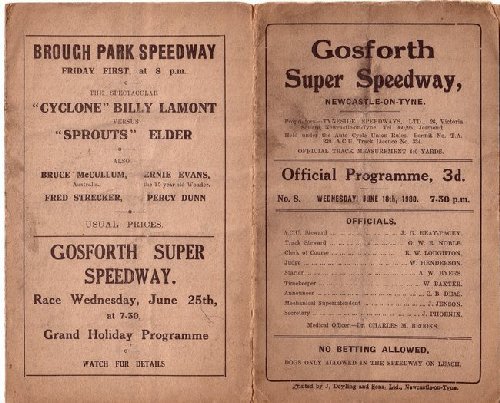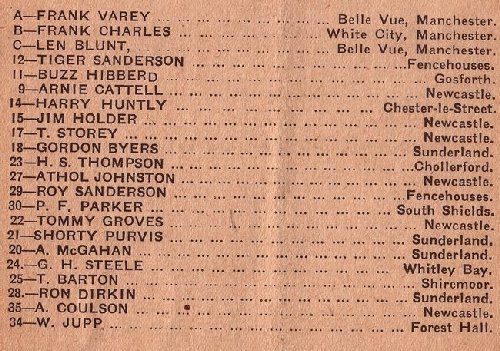 Items from a Gosforth programme from 1930 Showing Chester-le-Streets Harry Huntley and a number of other local riders. The programme notes inform us that Harry had just invested in a new machine, a Rudge so he would have had to adapt to riding foot forward unlike his Douglas which required a leg trailing technique on the corners. Harry was 6ft 6inches tall so his leg would have trailed more than most! Switching to Rudge was the way forward as the Douglas had had its day so Harry must have had his finger on the pulse of the sport.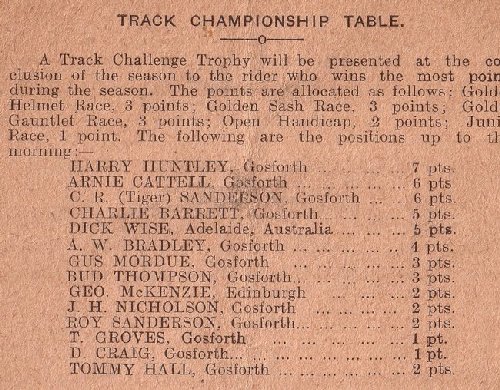 Harry heads the Track Championship Table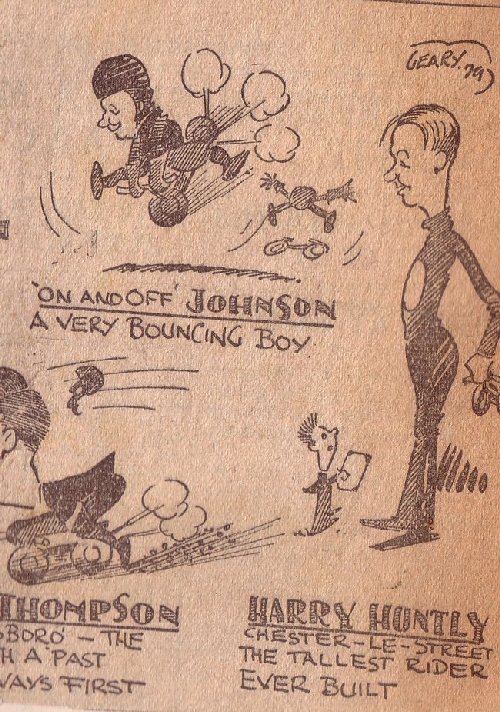 At around 6ft 6inches/6ft 8 inches Harry may well be the tallest rider ever built still? Here is an account of his meeting with Wal Lloyd who wasn't very tall!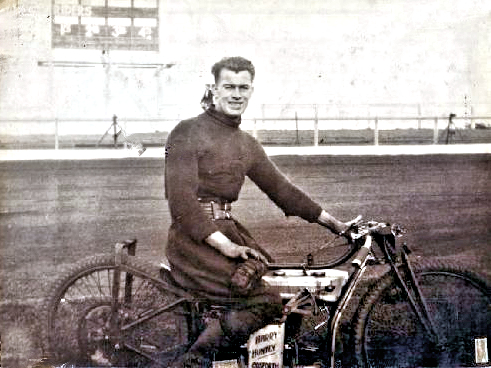 Courtesy The Vast Collection/Ian Huntly
This is Harry at Gosforth. Gosforth was famous for it's high banking on the bends and in this shot you can get an impression of the banking.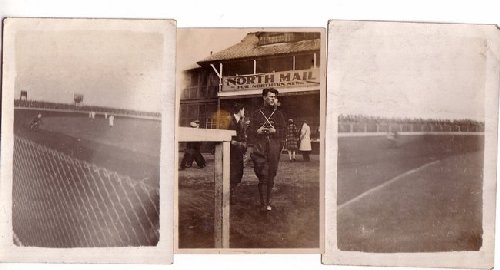 Also from Gosforth this is Harry in action. Magnifying glass required!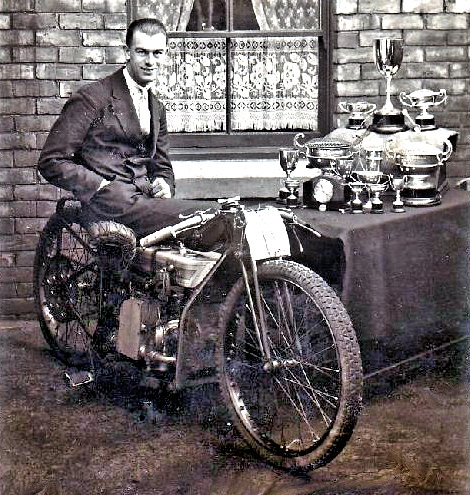 Courtesy The Vast Collection/Ian Huntly
1929 was a great year for Harry, here he is aboard his Douglas, with some of his trophies, at home in Chester-le-Street County Durham. Harry's knee hook is set higher on most shorter rider's bikes.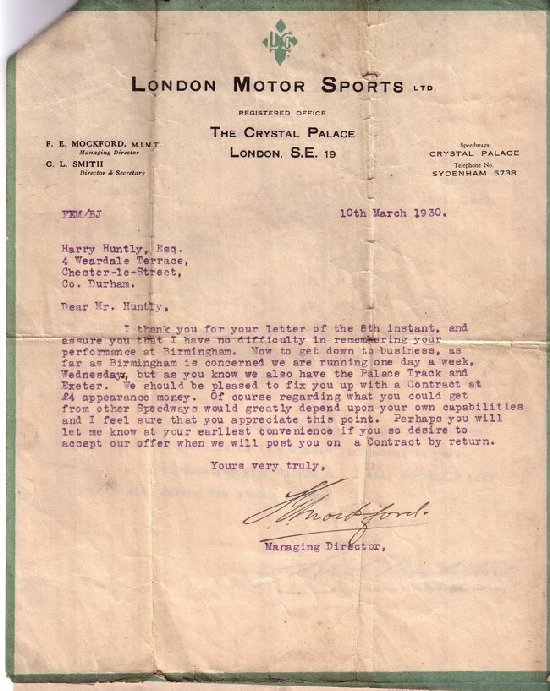 Courtesy The Vast Collection/Ian Huntly
Here's an offer of a 1930 contract for Harry's service at £4.00 appearance money. Anyone care to convert that to the modern equivalent? Harry decided to stay northern based as he was working for his uncle and could get the summer off to concentrate on speedway.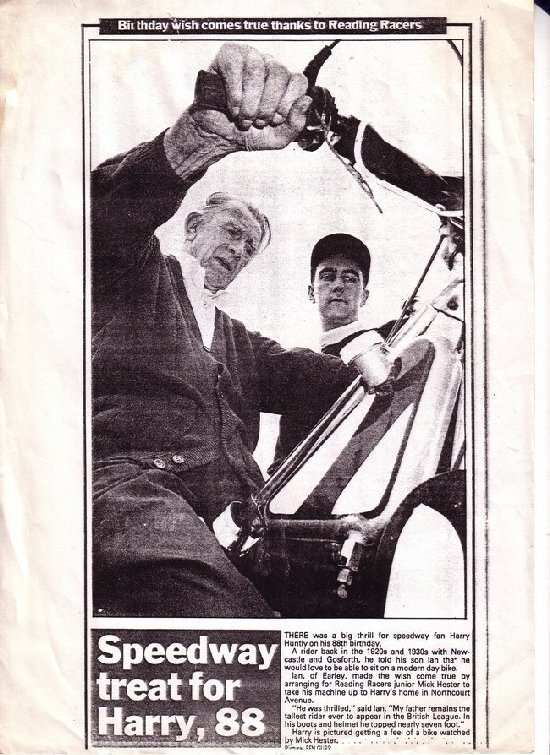 Here's Harry in 1995 celebrating his birthday by sitting once again on a speedway machine, courtesy of Reading Speedway. Sadly Harry passed away later in the year.
---
Gosforth closed it's doors to speedway way back in 1930 and never re-emerged as a speedway track again. It became a greyhound track continuing until closure in the 1980's. The site has been redeveloped and an ASDA store stands where the stadium used to be.
Phil Small's Photographs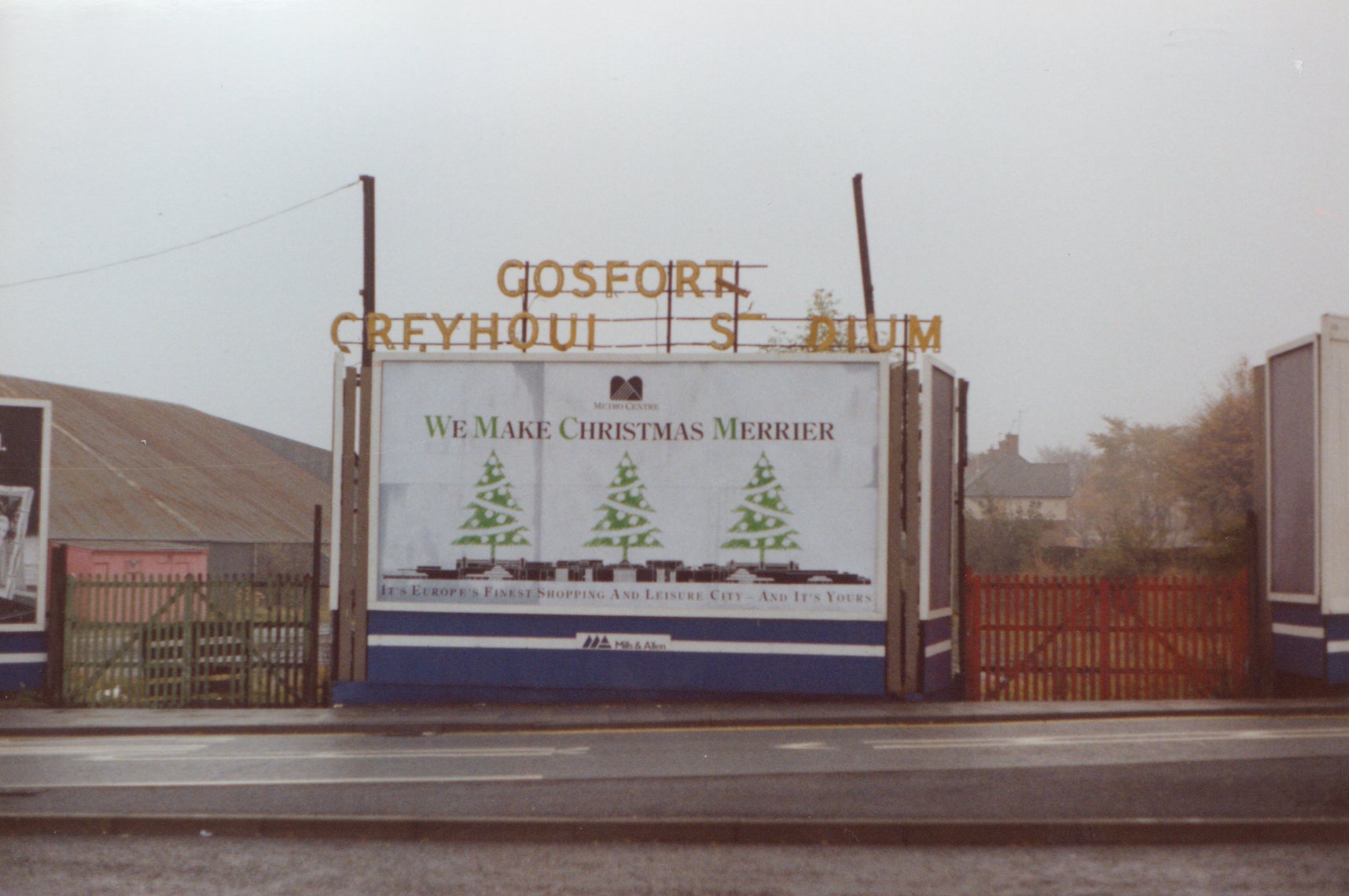 Gosforth stadium in 1988 just before redevelopment into an Asda store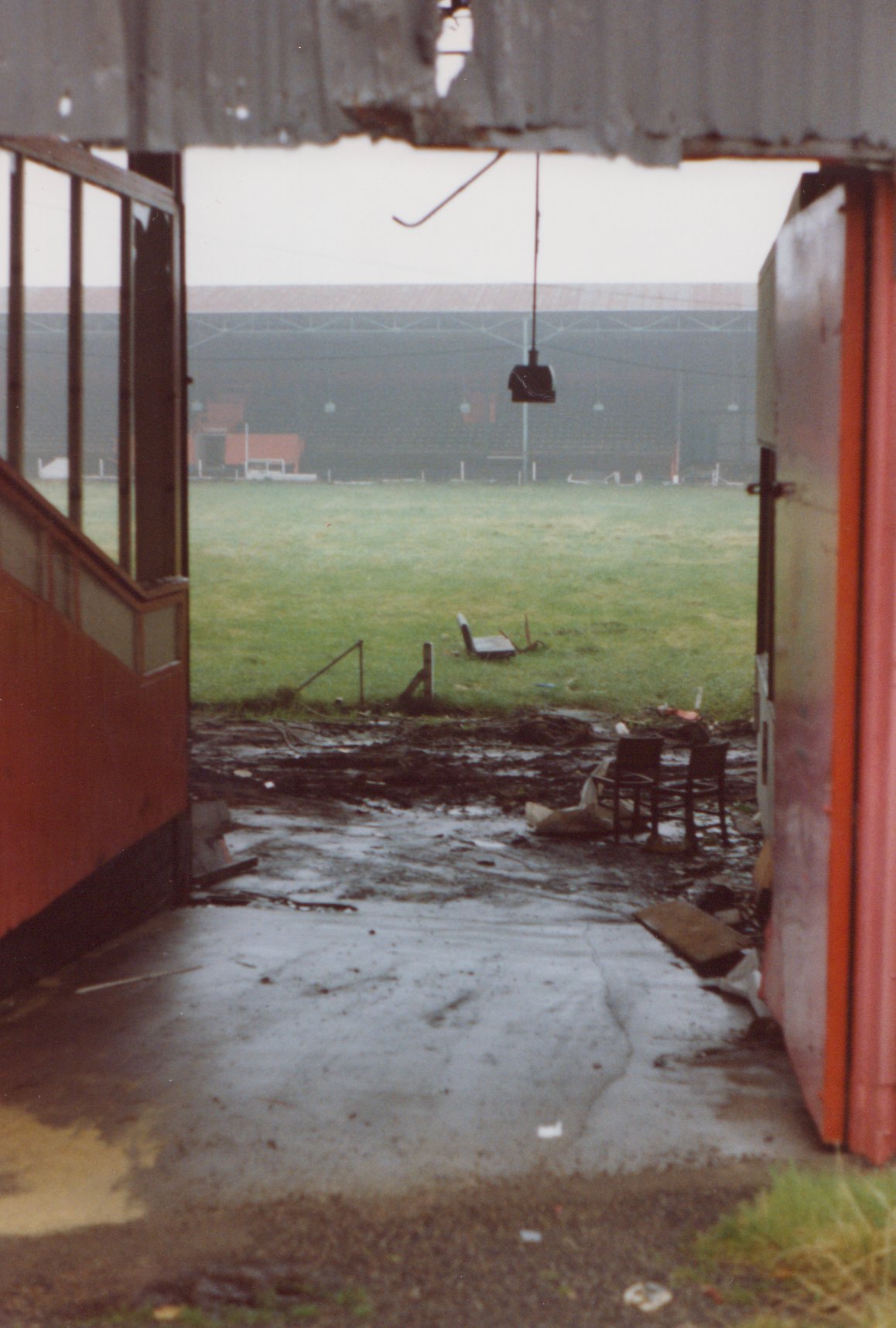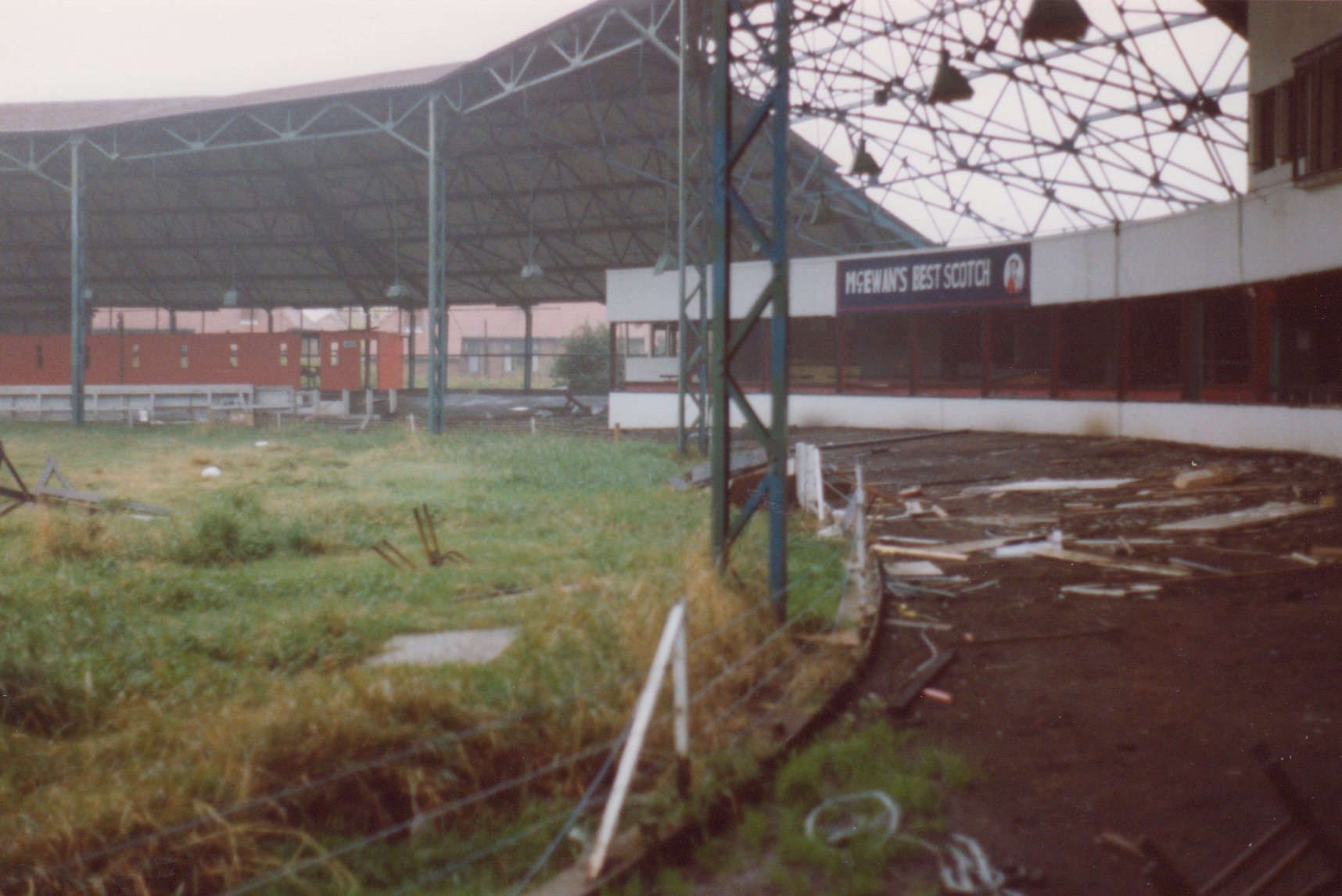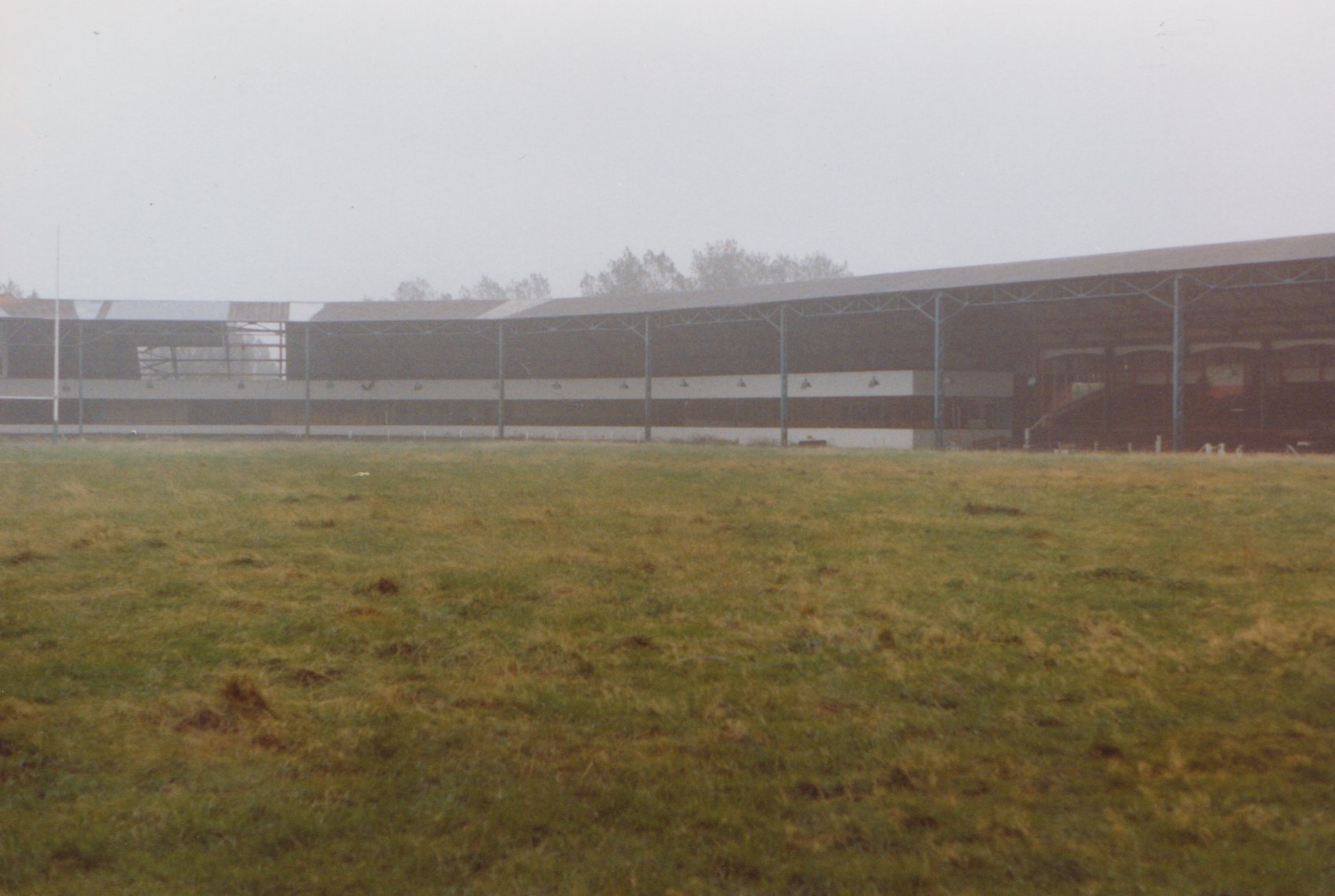 These pictures show the dog track laid over the old speedway circuit and were sent in by Phil Small of Cleveland.
---
The site would benefit from more pictures of Gosforth,1929 and 1930 so get in touch please if you have any
John
---
The contents of the site are © and should not be reproduced elsewhere for financial gain. The contributors to this site gave the pictures and information on that understanding. If anyone has any issue or objections to any items on the site please
e-mail
and I will amend or remove the item. Where possible credit has been given to the owner of each item.