---
Glasgow Speedway
Nelson
Athletic Grounds
Nelson Athletic Grounds, Porter Street, Camlachie, Glasgow Strathclyde. "The First Stadium in Scotland to Stage Dirt Track Racing!"

Speedway was tried at Nelson Camlachie in Glasgow, in 1928 and 1932.
The sport did not prove to be popular there, but Nelson became the first stadium in Scotland to stage dirt track racing on 9th April 1928. The sport didn't last long in Camlachie but nether-the-less, the Glasgow public had another speedway track. In fact Glasgow has ended up having more defunct speedways than any other city in the land.. (maybe London had more? Anyone care to do a count and let me know the outcome?)
John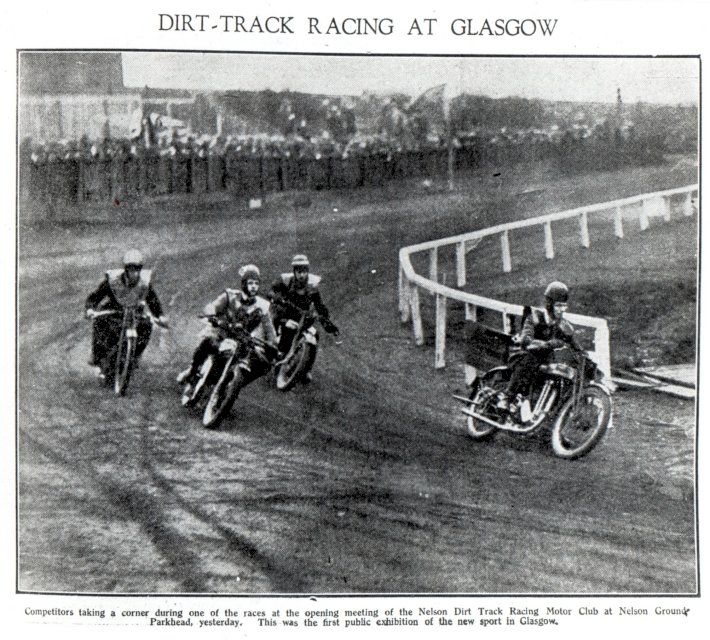 ---
1928 A

Douglas v A Harley Davidson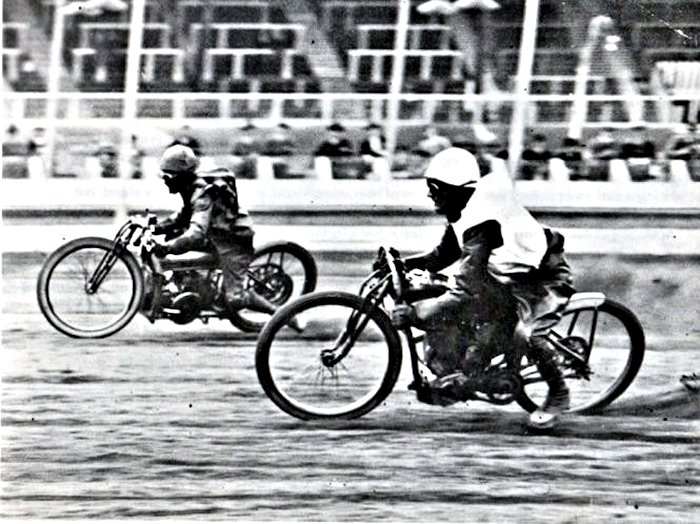 Although the above picture was not taken at the Nelson track. Bikes like these two would have been racing at the Athlectic Grounds in 1928. The Harley Peashooters were single cylinder 350cc and 500cc and the Douglas were 500cc Flat Twins. The Harley was the most dominant dirt track bike from the mid 1920s until 1928 when the Douglas DT machine stole the show. Other British Bikes of the era were AJS, Sunbeam, Velocette, Scot, BSA, and the very popular Rudge which challenged the Douglas for supremacy. Then came the JAP in 1931 and wiped the other bikes off the map. To be competitive from the 1930s until the 1960s you needed a JAP.
---
If you can scan any pictures, programmes or badges send me an email
John
---
The contents of the site are © and should not be reproduced elsewhere for financial gain. The contributors to this site gave the pictures and information on that understanding. If anyone has any issue or objections to any items on the site please
e-mail
and I will amend or remove the item. Where possible credit has been given to the owner of each item.