Glasgow Speedway
(Hampden Park)
Speedway was tried at Queens Park FC, Hampden Park, Mount Florida, Glasgow, between 1969 - 1972
Opening Night
Scotianapolis
1970 Glasgow Team
The Beaton Dynasty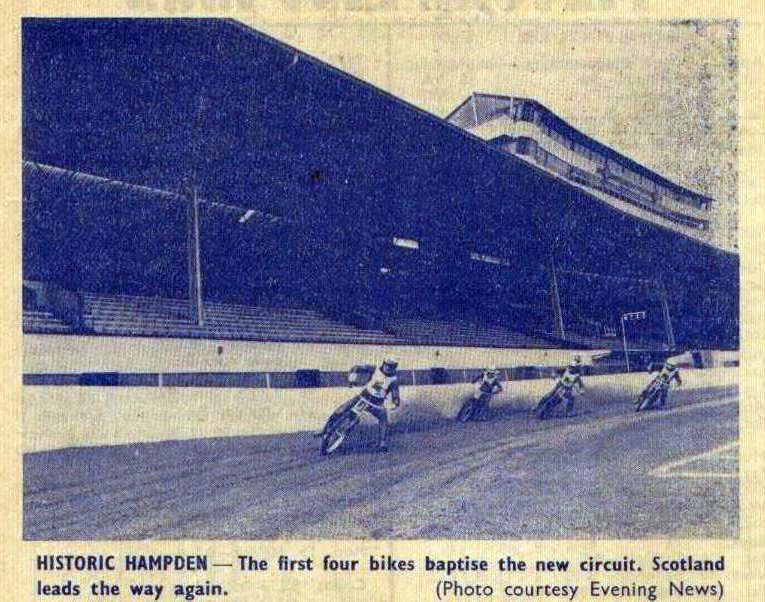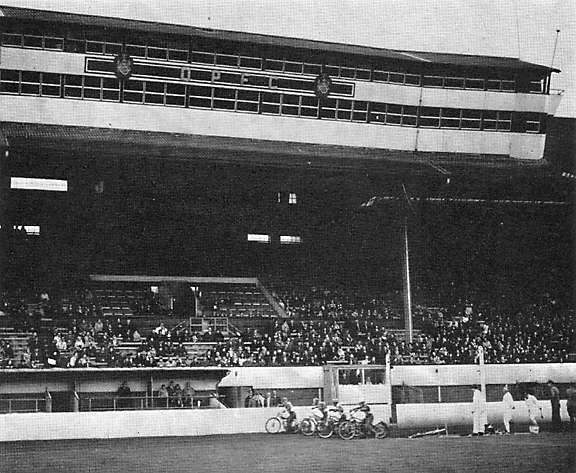 Some have said that the immense size of the stadium meant that there was no atmosphere when the Tigers took to the track. If you were there send me an email and tell me about it
John
I
ain McAlpine says: Hi John, I was one of a group of guys from Blantyre who followed tigers from 1965 through to the time at Blantyre track. We were at the opening night and almost every other meeting held at Hampden, and would agree that that the vastness of the stadium and that fact parts of the ground were not open to supporters did mean that the atmosphere was somewhat lacking. it would have been fantastic if they could have raced before a 50000 crowd but sadly that was never going to happen.
Nothing compared with the white city especially when Charlie Monk went head to head with Ivan Mauger, Barry Briggs and many other great riders.
I moved to Auchtertool, in Fife, 25years ago and one day last year we were visiting some neighbours and Glasgow speedway came up in the conversation. A neighbour said you would know Willie Templeton. Turned out Willie had lived in a street less than 50 yards from my house for 15 years and I hadn't known about it. The reason it was mentioned was Willie had died a week earlier and among the mourners was the great Ivan Mauger. There must have been some great international friendships built through speedway
John says:
Thanks for the memories Iain
David Norrie says: John great site. I worked as a raker on the first bend, I did not miss many Friday nights and was one of the team that after the meeting, uplifted the fence till way past midnight. The 1
st
and 2
nd
bends were too tight, little room to pass but the covered bends 3 and 4
offered great passing opportunities and Jimmy Mac and Oyvind Berg would use the whole bend to sweep round many an opponent. Jimmy could not gate for toffee which made for great racing. Oyvind partnered Bobby Beaton which could not have been an easy assignment, Bobby was great to watch but was all over the place in those Hampden days. Jimmy Gallagher took some of his early speedway steps at Hampden and arrived in a beat up Jaguar car, he did some damage to the fence and was a regular visitor to the centre green after tangling with other riders and losing control. The track staff had to keep their wits about them with Jimmy G around. Mostly happy memories, Ivan M was majestic around Hampden and Ole Olsen too boot . I recently met Bert Harkins after the Cardiff GP in 2010 and recalled how he tried to ride in a World Final qualifying leg at Hampden with a broken collar bone. Bert had really been flying a few weeks earlier and surely would have made it through had he been fit. Thanks for the memories John Best regards David Norrie Auckland NZ
Alan McKee says: I was the mascot at the 1970 world champs Hampden Park and was taken around on Bert Harkins bike at the age of 2 years believe it or not, but I can just remember bits of that night very well , bright lights nice smell of speedway and grabbing onto Bert's waist hanging on for dear life. My dad knew Bert as he came from the southside as Bert did Helped my dad build peddle speedway bikes and racing bikes for kids to go to mini Hamden across the road. Anyway I would love to know if there's any details of that day 1970 programme. thanks.
---
Opening Night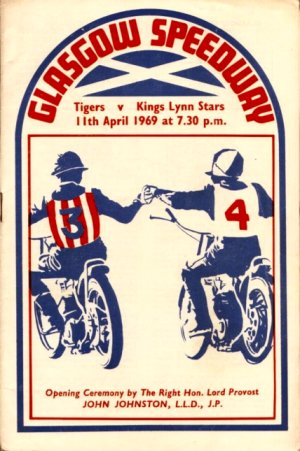 The first programme for the first meeting, the attendance for this meeting was 10,860
---
Les Whaley's Programme Column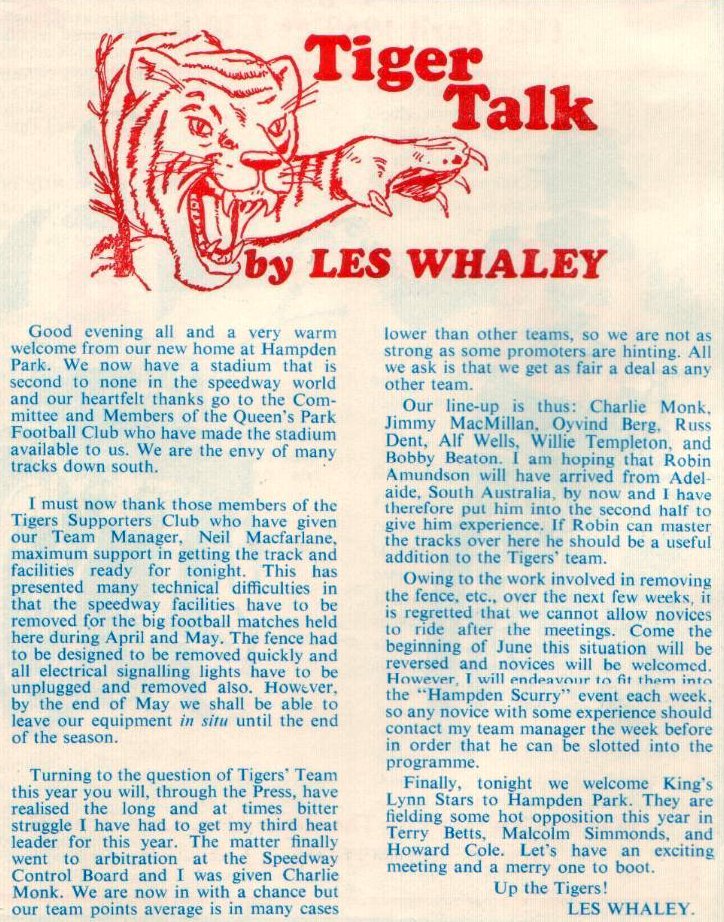 ---
Scotianapolis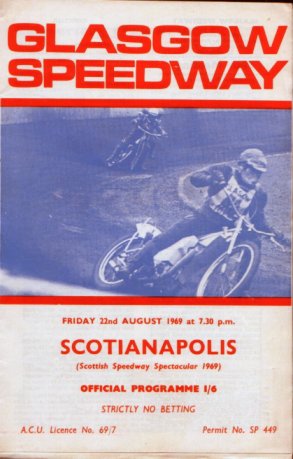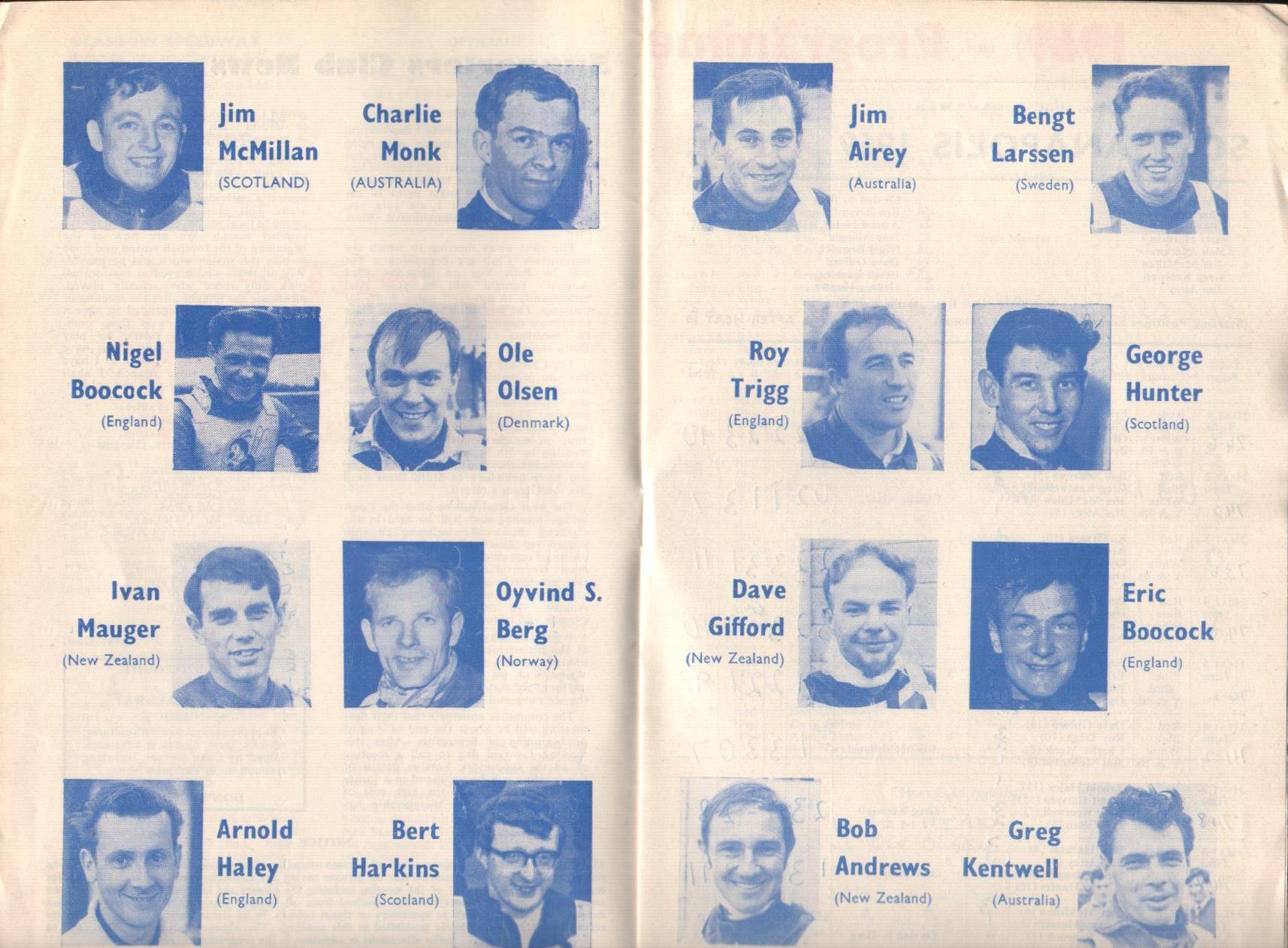 ---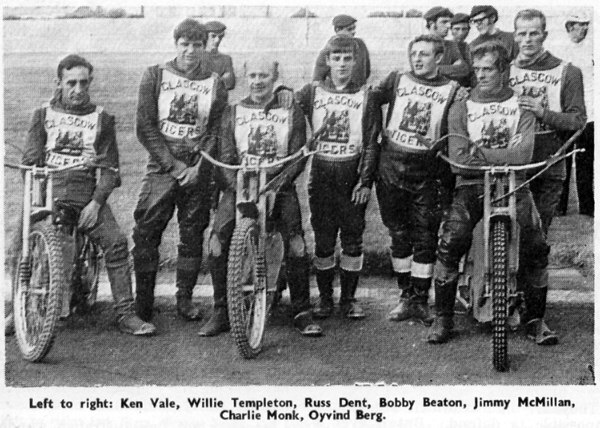 ---
Glasgow Tigers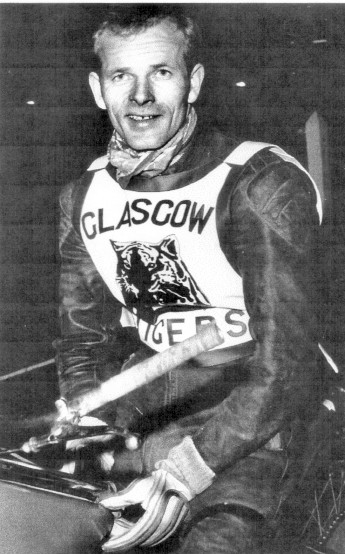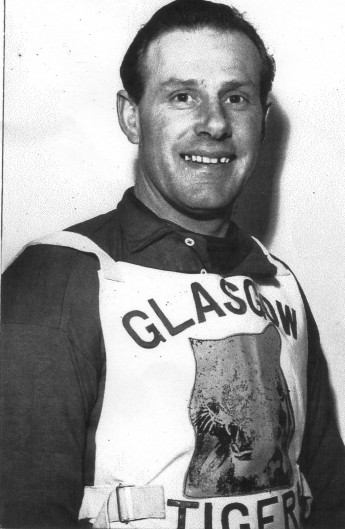 Oyvind Berg (left) and Maury Mattingley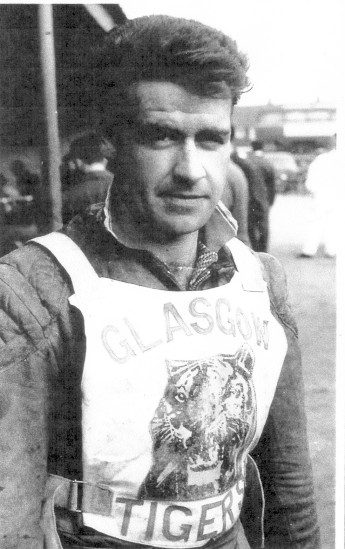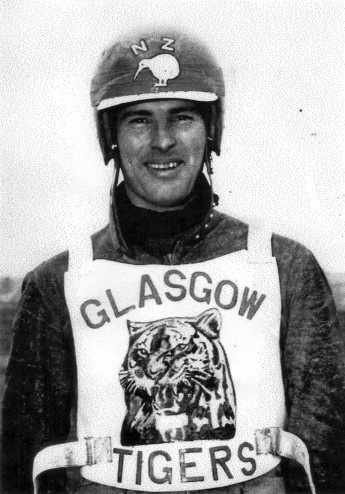 Graham Coombes (left) and Bruce Ovenden
---
World's Best Guest Rider!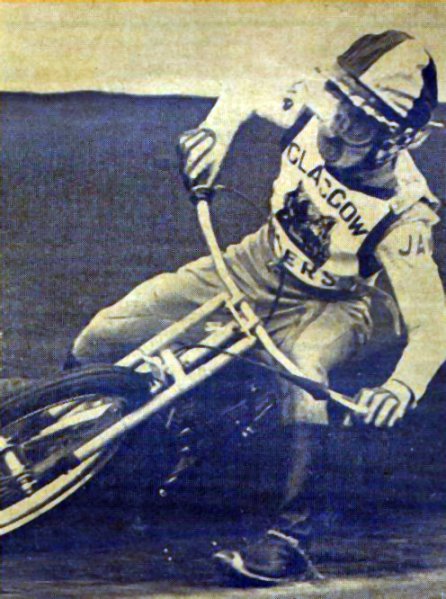 Belle Vue's Ivan Mauger guesting for the Tigers
---
Charlie Monk &
Ole Olsen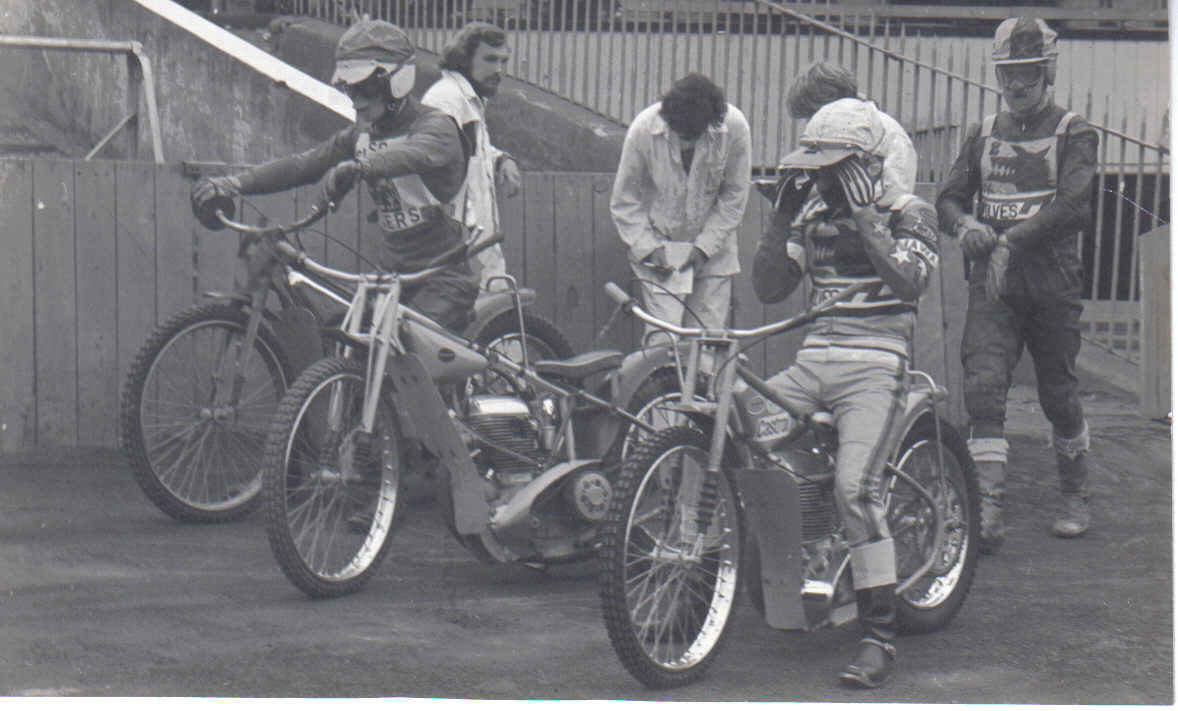 ---
Scotland v Norway

1969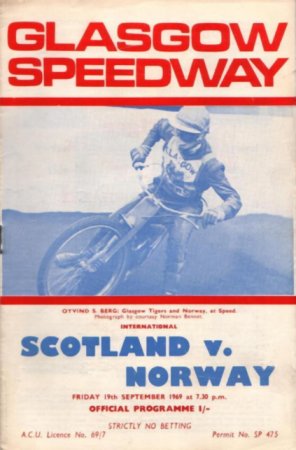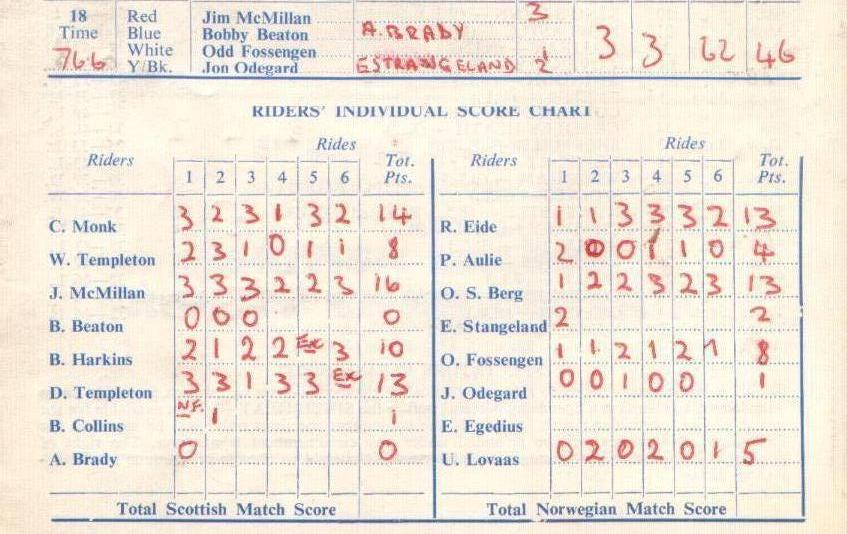 Charlie Monk (Well known Scotsman!)
---
Scotland v England

1969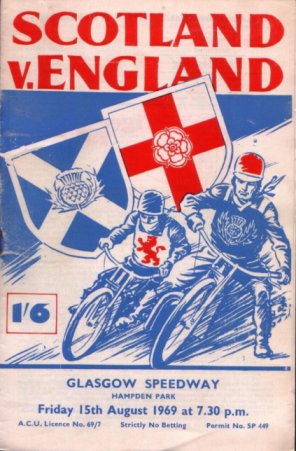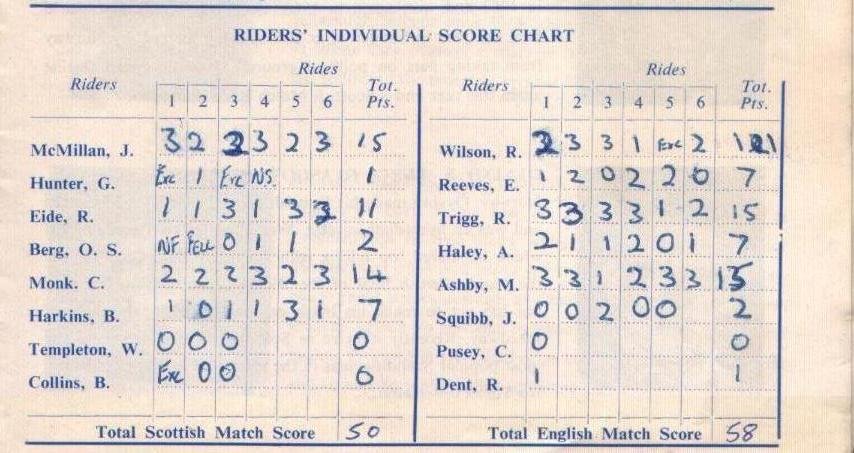 Reider Eide, Oyvind S Berg and Charlie again riding for adoptive country Scotland, Inclusion of the foreigners made this a close match and I am sure no one really objected
---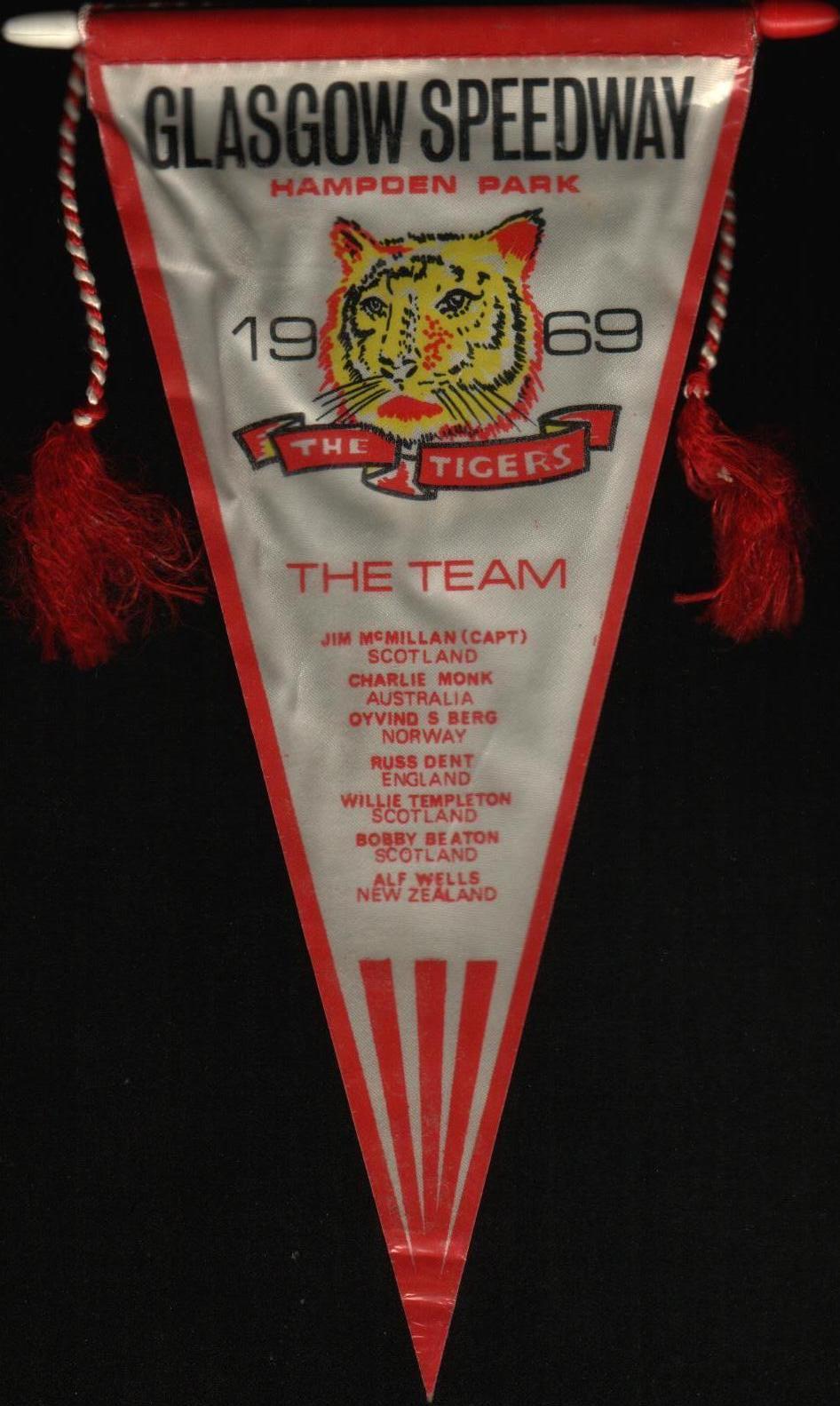 ---
1970

Glasgow Team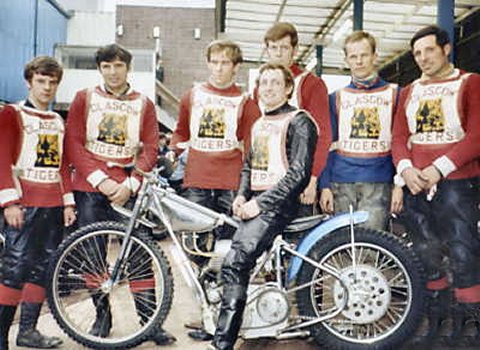 The 1970 team can you name them for me
John
Steve Remington says: I can name all but 1 of this team. From the left: Bobby Beaton, Willie Templeton, Charlie Monk, Jim McMillan, unknown, Oyvind Berg, Doug Templeton
Paul Redmond says: L to R: Bobby Beaton, Doug Templeton, Charlie Monk, Alf Wells (I think), Oyvind Berg, Willie Templeton, Jim McMillan (on bike)
Jack Hides says: I'll have a go at names - Bobby Beaton, Willie Templeton, Charlie Monk, Alistair Brady?, Oyvind Berg, Dougie Templeton, on bike Jimmy McMillan
Jack has reversed the Templetons (I agree) and is the first to mention Alistair Brady. (was he Ross Brady's dad?)
Update: Bobby Beaton, Willie Templeton, Charlie Monk, Brian Murray, Oyvind Berg, Dougie Templeton and on the bike is Jimmy McMillan - as confirmed in the
Glasgow Tigers...into the 80s
book produced to celebrate the 25th anniversary of the Tigers and I can also confirm that Alistair Brady is indeed daddy to Ross.
Harry Maclean says: The people in the team photograph are as follows :- Bobby Beaton, Willie Templeton, Charlie Monk, Brian Murray, Oyvind Berg, Doug Templeton and on bike Jim Mcmillan. Brian Murray from Edinburgh rode at least six matches for Glasgow and after retiring from speedway went into partnership with Brian Collins and they both ran Dalmeny Garage near the (Forth Road Bridge) until about 2005. I rode second halves after the meetings at Hampden Park, and was promised a contract in the winter of 1970/71 by the then team manager Neil Macfarlane although this never transpired. I subsequently rode for Glasgow later on in my speedway career.
John Houston says: 1970 rider is Brian Murray standing next to Charlie Monk.
---
Programme Covers

1970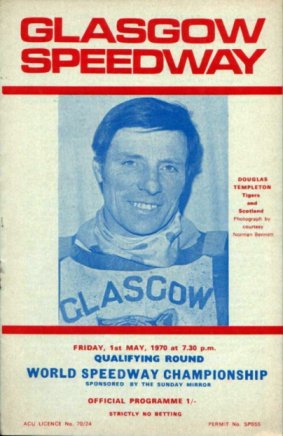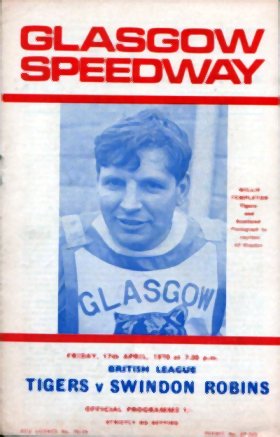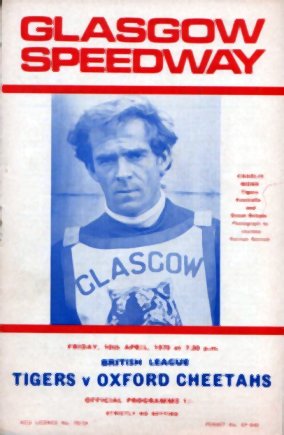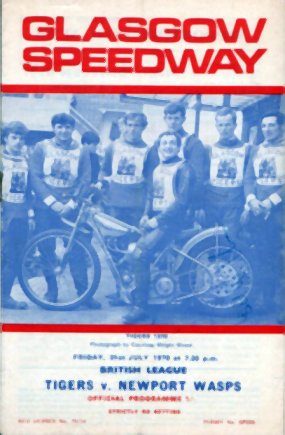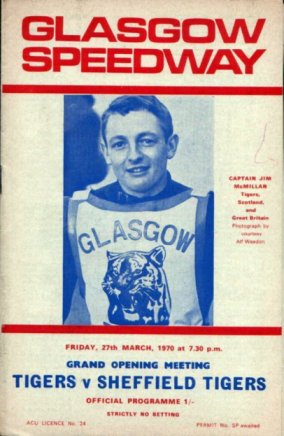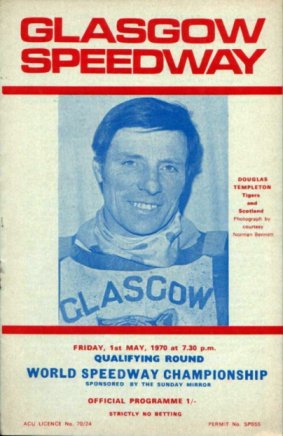 Scans courtesy of Wattie Dunlop
---
Oyvind S Berg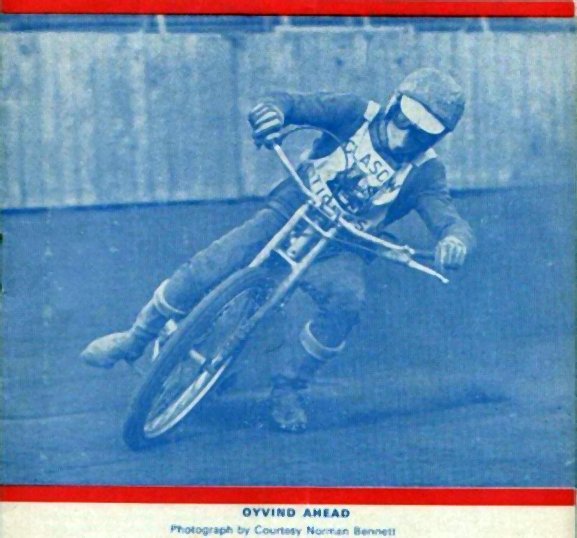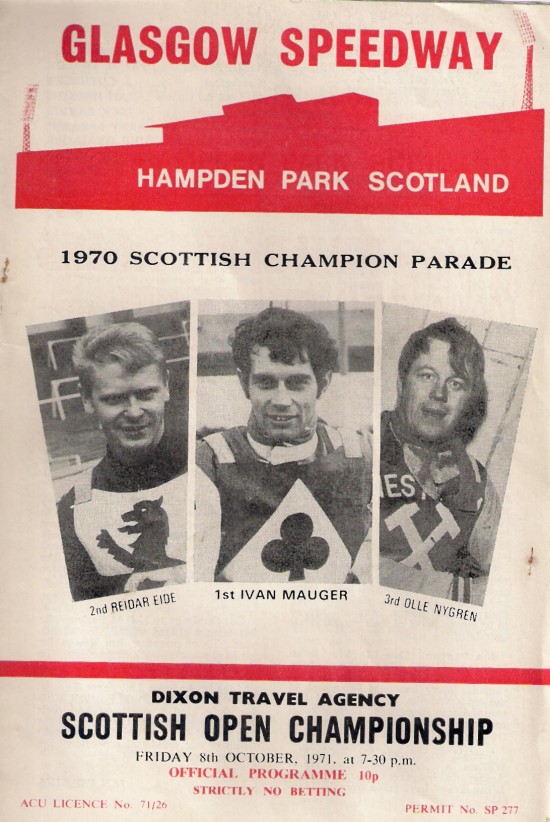 ---
1969

Russ Dent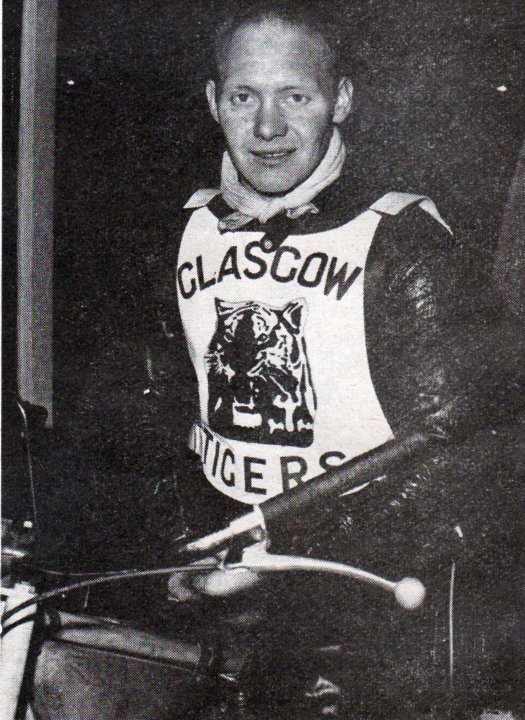 Russ is better known for riding for his two local tracks in the North East of England, Sunderland and Newcastle, He hails from the Consett area in Co Durham, fairly close to Newcastle
---
World Championship Qualifying Round
1971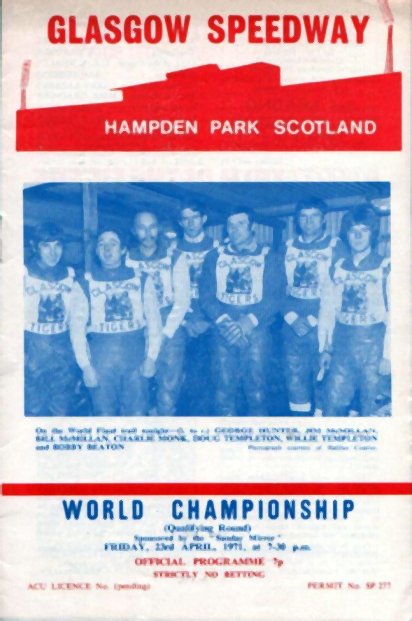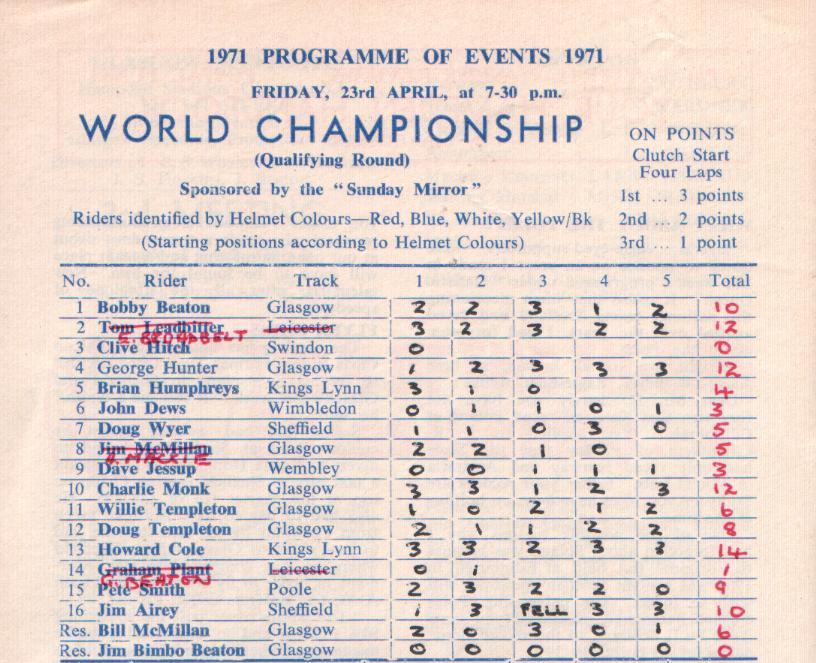 ---
The Beaton Dynasty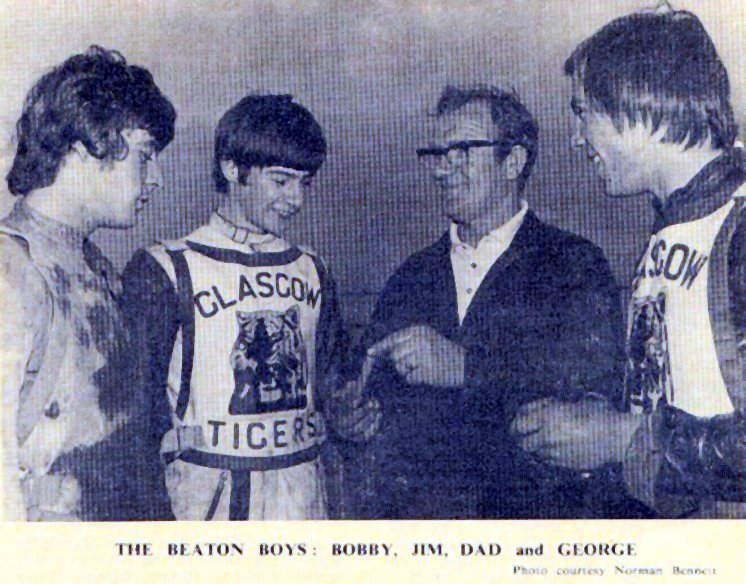 ---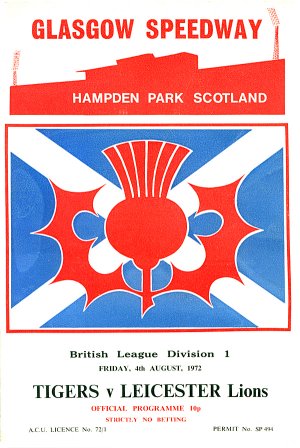 ---
Jim McMillan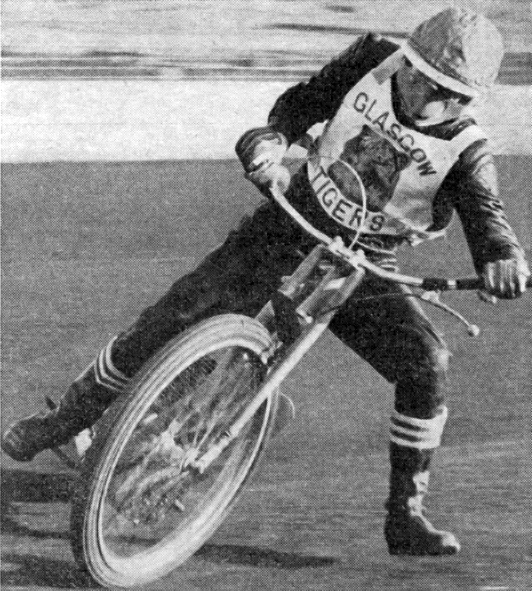 ---
Charlie Monk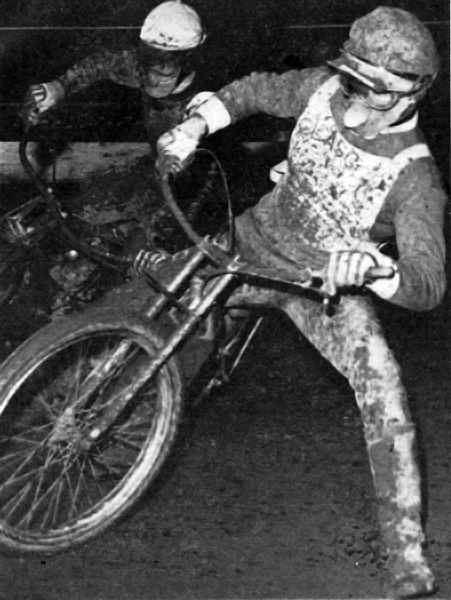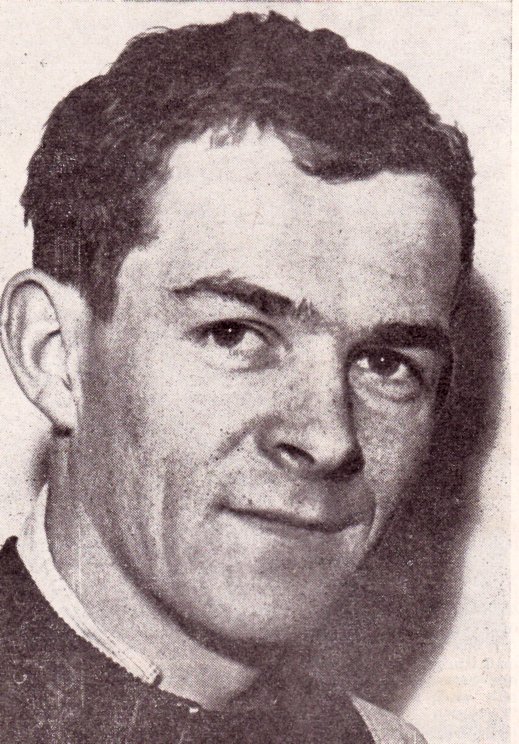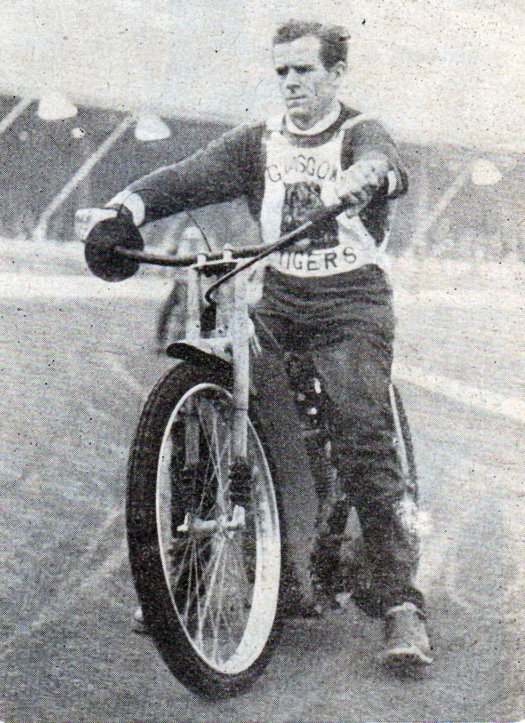 Was Charlie Monk Glasgow's best ever rider?
---
If you can scan any pictures or badges send me an email
John
---
The contents of the site are © and should not be reproduced elsewhere for financial gain. The contributors to this site gave the pictures and information on that understanding. If anyone has any issue or objections to any items on the site please
e-mail
and I will amend or remove the item. Where possible credit has been given to the owner of each item.