---
Felton, Nr Amble Northumberland operated as a training facility between 1978-1988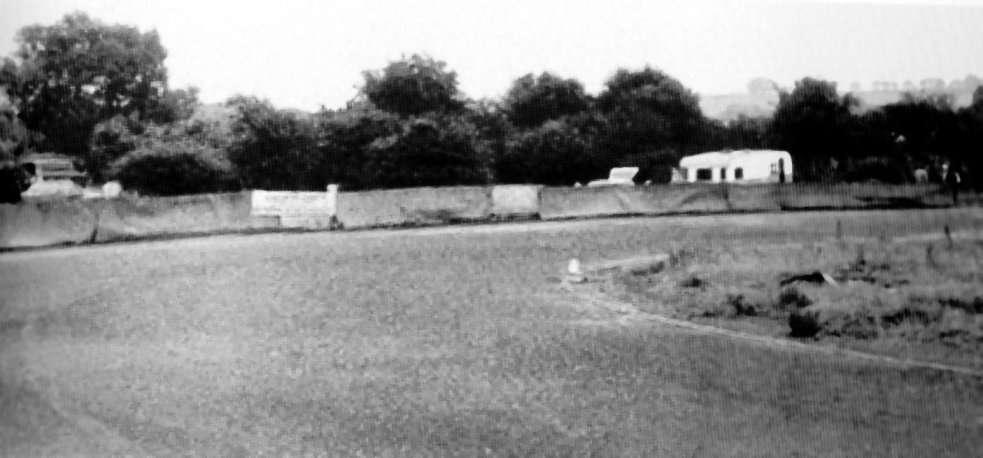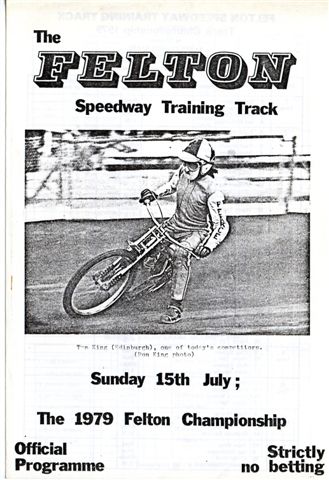 Felton supplied the northern teams youngsters with an extra venue for training. Have you any pictures etc for this webpage John
---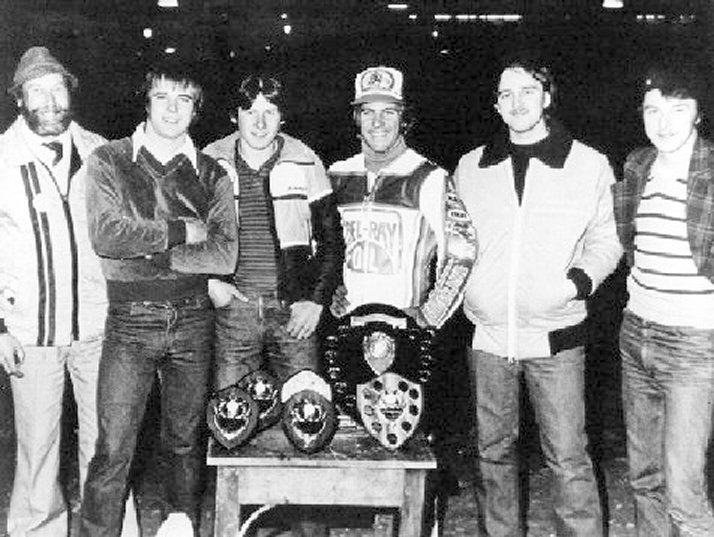 Photo from Nick Short:
Nick reminds me that these were the 1981 Felton Fliers who rode in the Scottish Junior League at Brough.
The picture shows Bruce Penhall presenting the 1981 SJL winners with their trophies at Belle Vue on October 17th.
Left to right: Eric Dixon Training Track Manager, Paul Mchale, Gary Riddell, Bruce Penhall, Barry Simpson and Dennis Gallagher.
The Felton track was opened in 1978 by Will Hunter (present day referee) and Ken Marshall at the
Bockenfield airfield about 15 miles up the A1 from Newcastle. In 1979 they entered a team in the
Scottish Junior League and finished fourth. Felton no longer operates as a speedway training venue
which is a pity as the North East needs these facilities desperately.
---
Drag Racing
Felton was close to the Bockenfield airfield which also hosted Drag Racing as shown below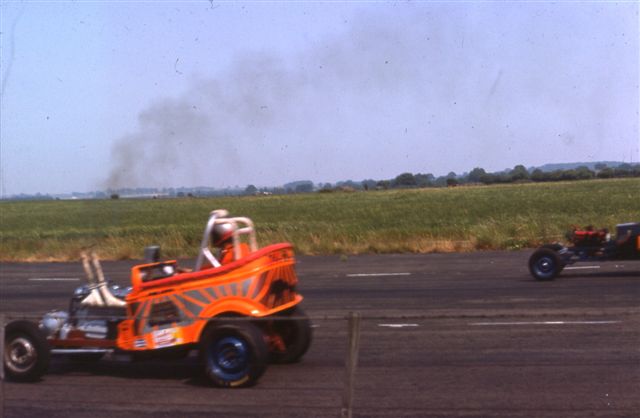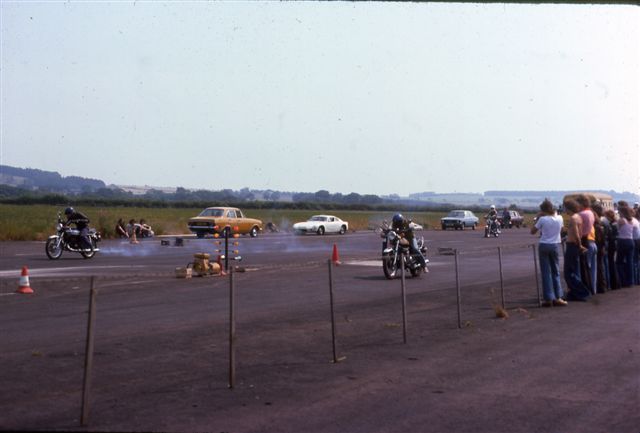 Alan Sutton's Dodgem Car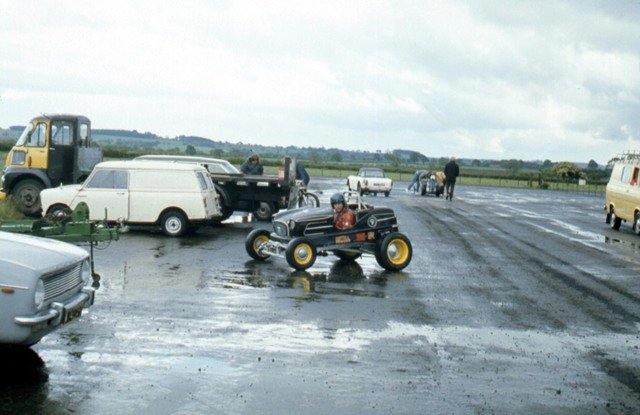 A mini engine shoehorned into a dodgem car
Alan Sutton says: This is my Dodgem funny car. I'm still daft as a brush and building weird things down in New Zealand, bit warmer than Whitley Bay. Have you got any info or film footage of Newcastle's Brough Park when Mike Parker Had the 'Helldrivers stockcars"? I was number 519, won 2 trophies which I still have, I raced a Jag then a mini. The engine from the mini went into the Dodgem when the Helldrivers wound up. I still have newspaper cuttings from when I won the Northumbria Cup. Mike Parker said ' it was the best race he had ever seen'. I won it on the last bend of the last lap and the Jag went across the start/ finish line sideways!!!. I have searched youtube and cant find any footage of the Helldrivers. Check out my latest escapades on Youtube. user name "MadGeordie', oh and subscribe I need the advertising revenue for further projects. Regards Alan Sutton. NZ
A couple of Alan's other machines after he moved to New Zealand: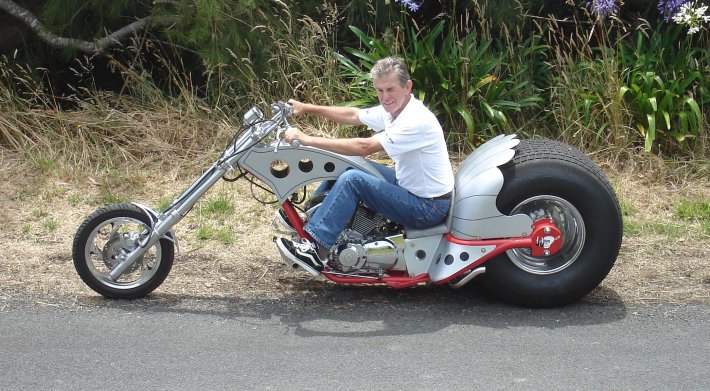 How did you decide on the wheel sizes mate? How did it corner?
If you think Alan's bike is wacky what about this: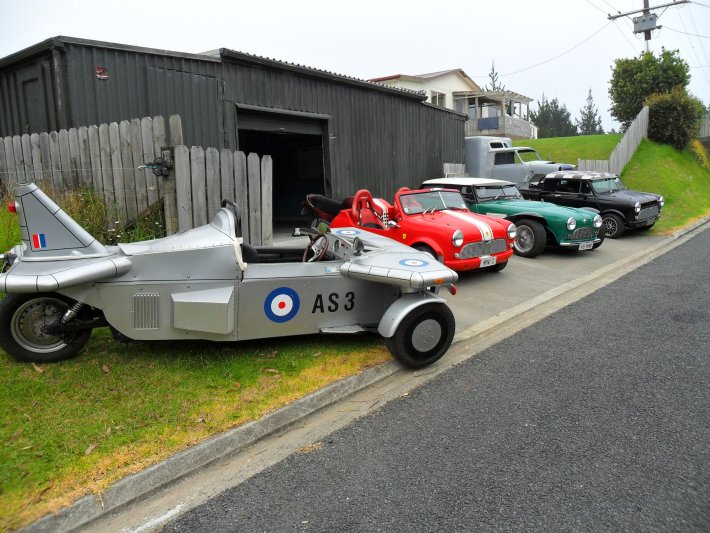 Alan's collection of interesting metal. Does it fly?
I know the website is about speedway but Alan's machines are so interesting I had to include them.
---
If you can scan any pictures, programmes or badges send me an email John