Doncaster Speedway
Greyhound Stadium, York Road, Doncaster, South Yorkshire. Speedway debuted here in 1929 there was no speedway after 1929 for 40 years, until division 2 racing wasn introduced in 1969 (Stallions) and 1970 (Dragons). The track was used for training purposes early in 1971. The stadium was demolished in the 1980s and housing now occupies the site.
---
1969

Doncaster Stallions Race Jacket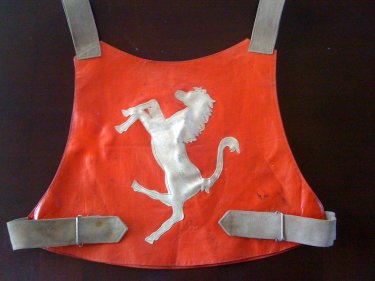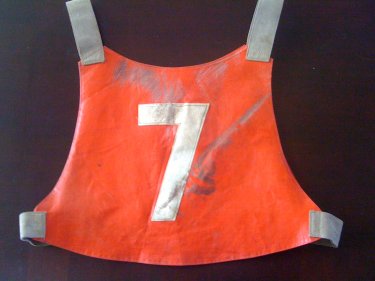 The 1969 race jacket (images courtesy of John Mather)
John Mather says: attached are a couple of pictures of a Doncaster Stallions race jacket from 1969. Maybe the dirt on the back is all that remains of the York road stadium?
---
1969

Doncaster Stallions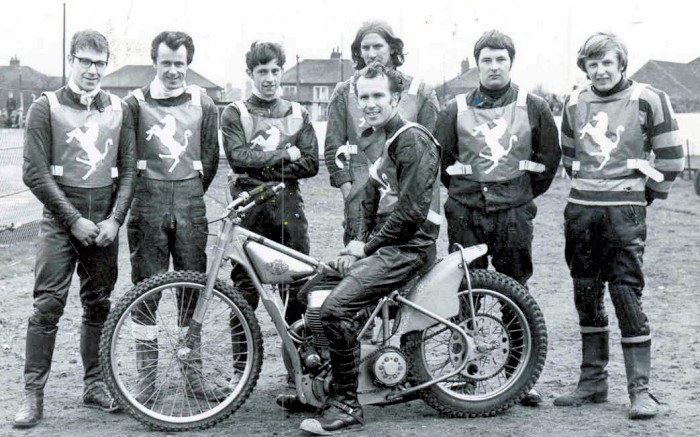 Courtesy of
Paul Froggatt
Paul Froggatt says Hi John, Thanks for producing a great website. I wonder if you have this shot of the Doncaster Stallions taken by W Wood. The riders I know are Dave Baugh Guy Hawkes on the bike. Alan Bridgett and Terry Shearer. I Can't add much more I'm afraid
Steve Baker says: Riders are, left to right, Dave Baugh, Stuart Ulph, Peter Maxted, Neil Glover, Alan Bridgett, Terry Shearer and Guy Hawkes on bike.
John says: I remember a Brian Maxted. He is probably related to Peter Maxted, named above
---
Doncaster v Canterbury
8th June 1969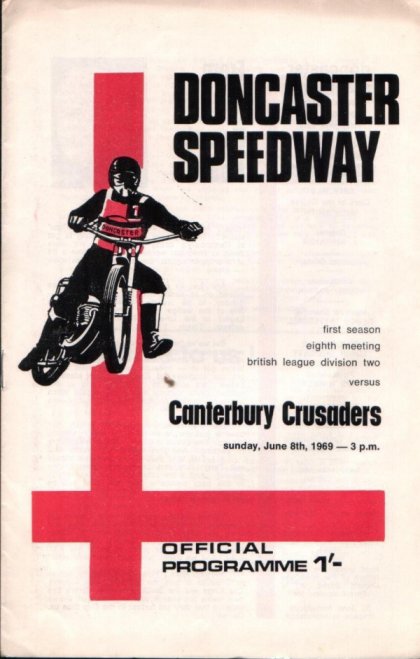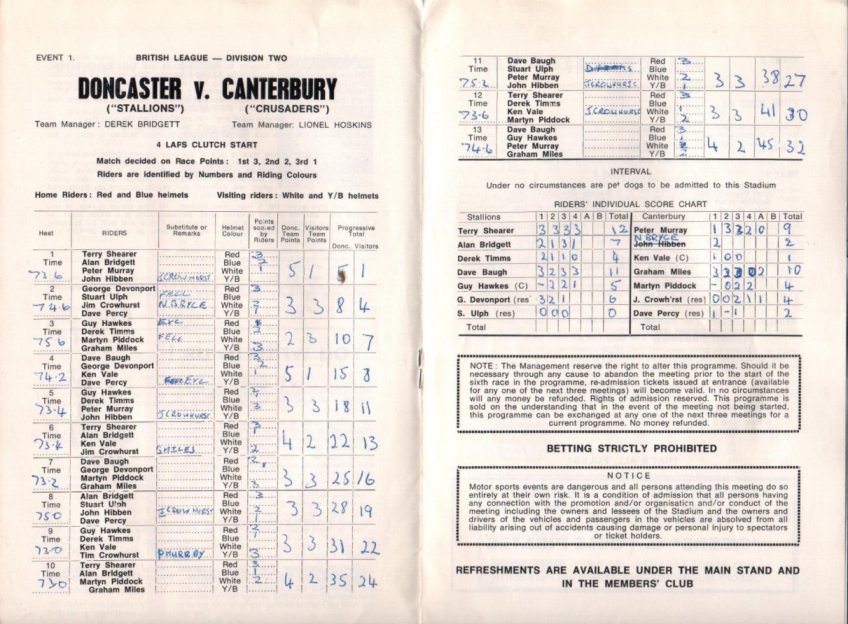 ---
Doncaster v Middlesbrough
6th July 1969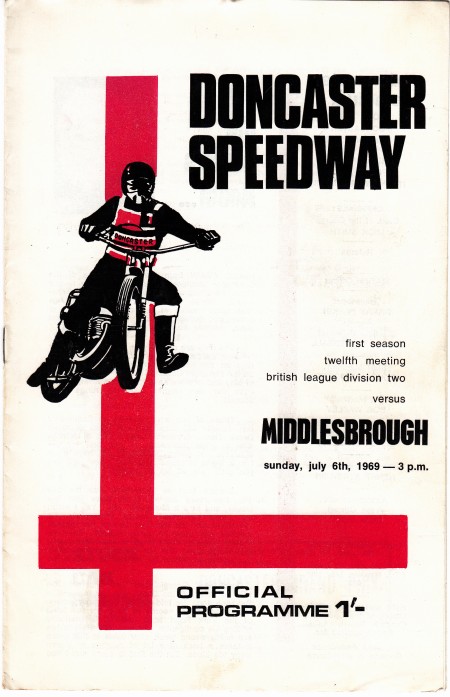 Courtesy of Wattie Dunlop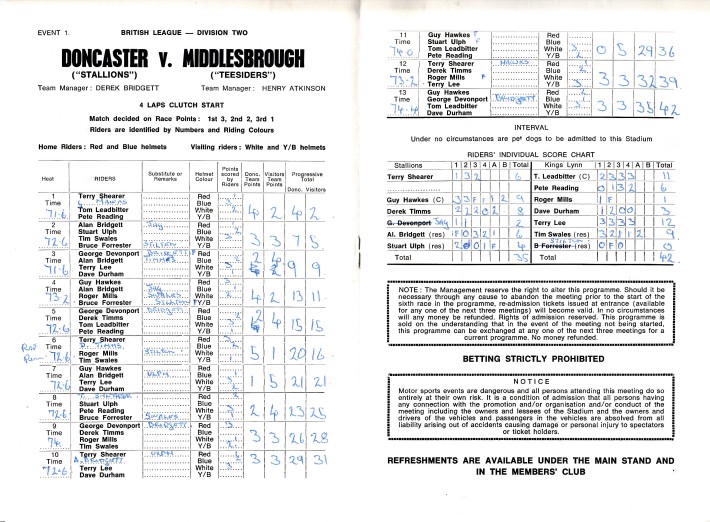 Courtesy of Wattie Dunlop
---
1969
Terry Shearer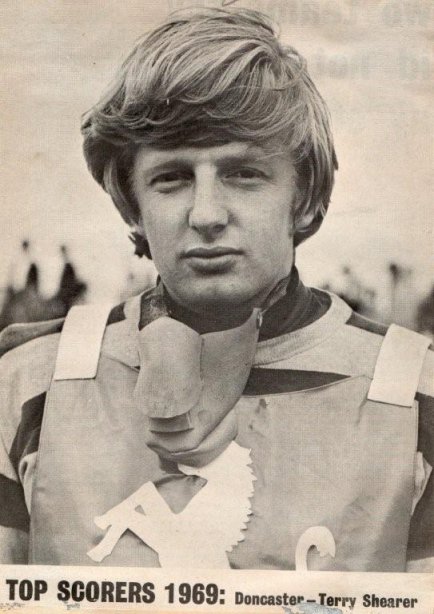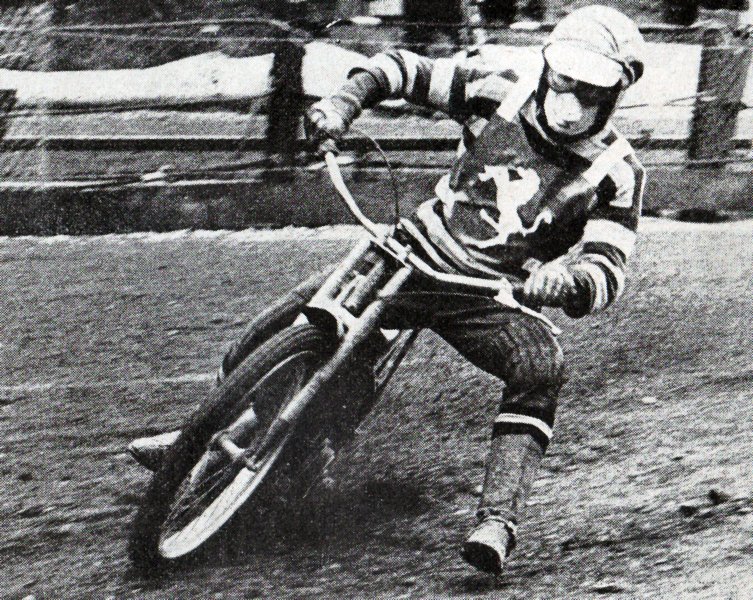 Terry Shearer in action
---
1969
Guy Hawkes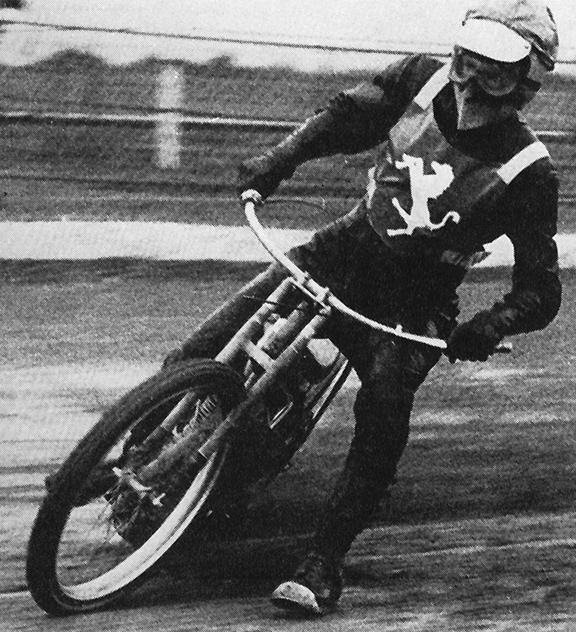 ---
Alan Bridgett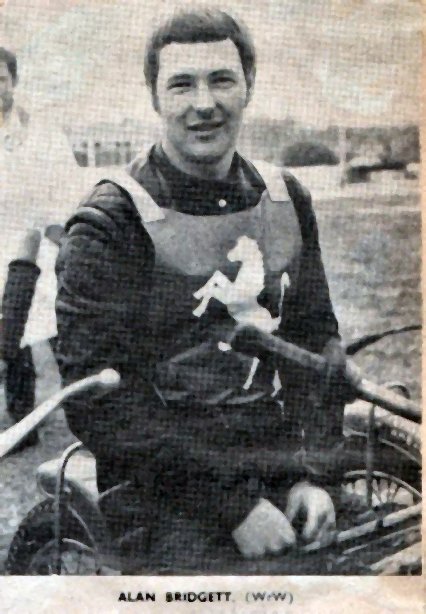 ---
John Mather's Photographs
Doncaster Dragons

1970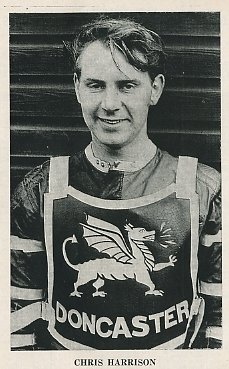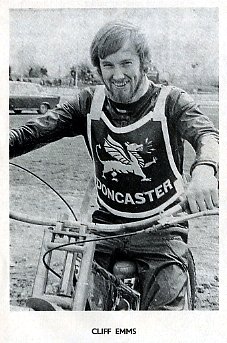 ---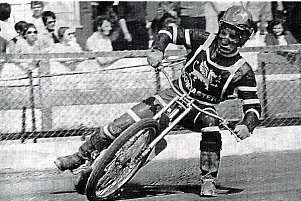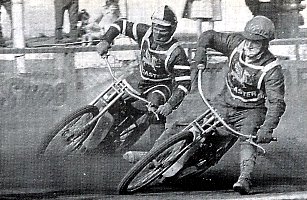 Chris Harrison (above left) and Chris Harrison and Gordon McGregor (above right)
---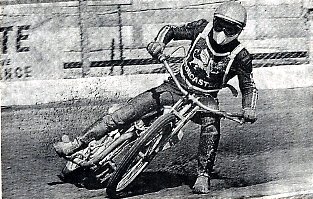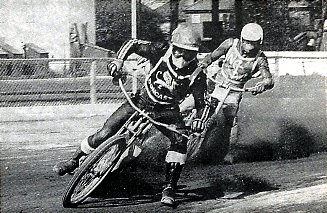 Chris Roynon (above left) and Chris Roynon leading Dave Schofield (above right)
Steve Harland says: The photo of Doncaster's Chris Roynon leading Dave Schofield of Nelson Admirals dates from 3rd May, 1970. It's great to see so many photographs supplied by John Mather as you don't see many at all from York Road. I know former co-promoter John Berry is on record as saying that some meetings they only got 300 people there but Rod Swann who ran the Supporters Club reckons they used to average 1/1,200 for home meetings which I guess wasn't good for those days - C'est La Vie.
---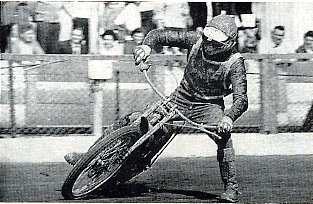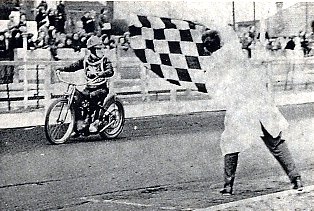 Cliff Emms (above left) and Gordon McGregor taking the chequered flag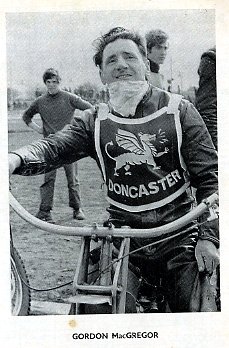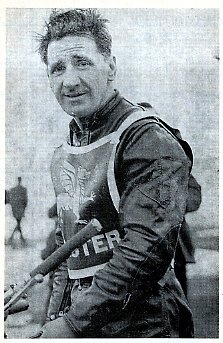 Two pictures of Gordon MacGregor
---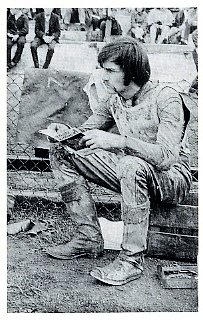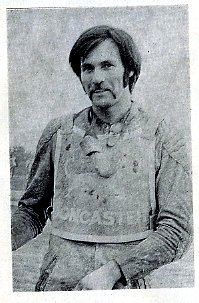 2 pictures of George Major
---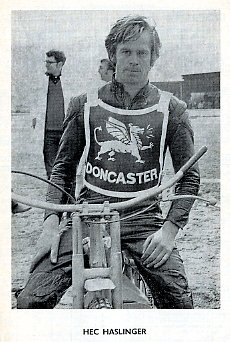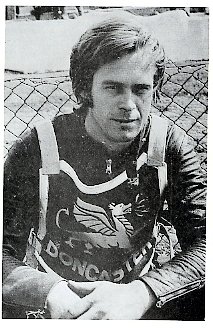 2 pictures of Hec Haslinger
---
Hec Haslinger and Chris Roynon
---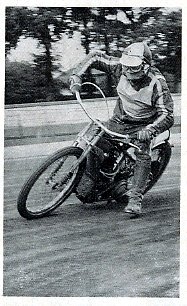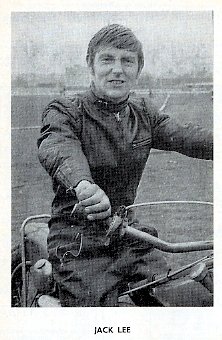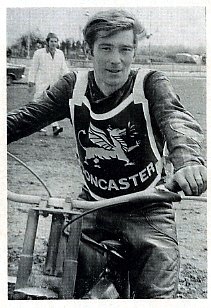 Malcolm Corradine, Jack Lee and Ian Wilson
---
Doncaster's First & Last Programmes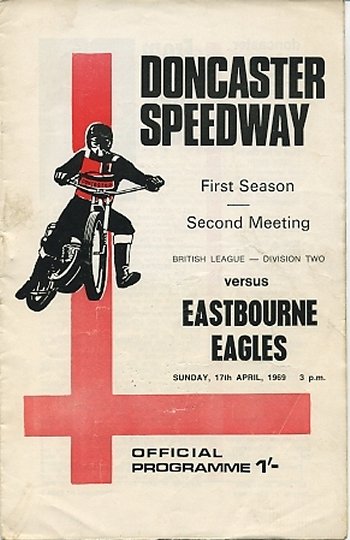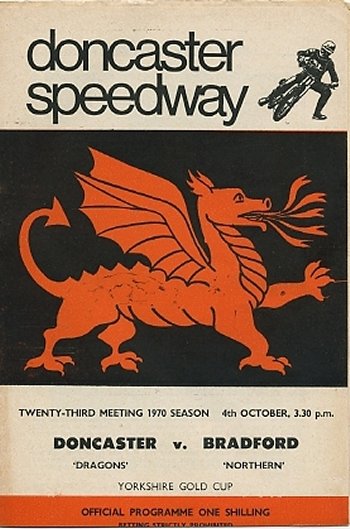 Courtesy of John Mather
John Mather says: The 1969 programme (shown above), is the first speedway meeting at the York Road stadium. It's actually printed as the 2nd meeting as they counted the previous weeks stock car event as number 1. The 1970 programme is from the last meeting at the stadium.
---
Doncaster Badge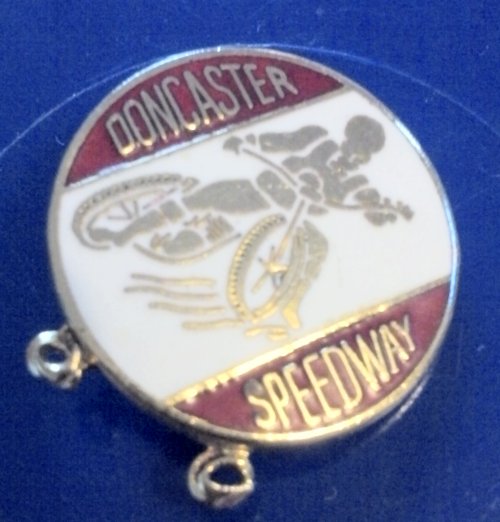 Russell Earle says: Here is a Doncaster Stallion badge from 1970
---
Doncaster's York Road Stadium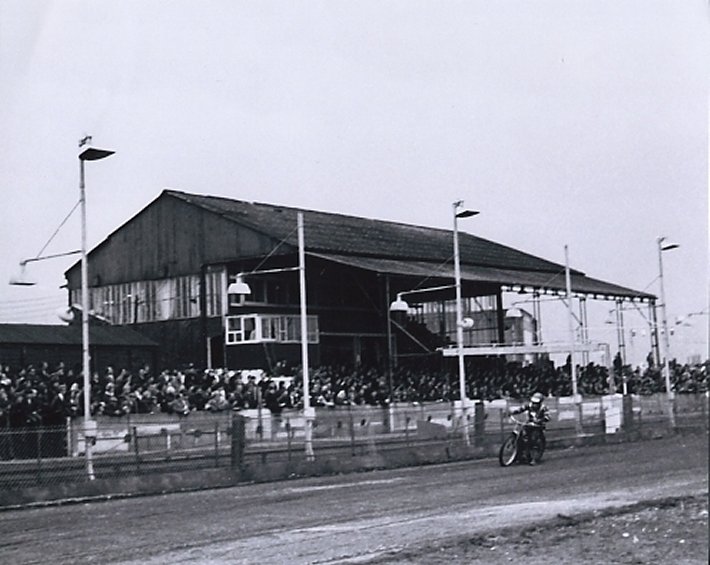 Courtesy of John Mather
John says: This is Doncaster Stallion, Terry Shearer, taken in 1969. By modern standards the crowd looks healthy but sadly it wasn't enough to keep Doncaster open after 1970
---
Doncaster Dragons

1970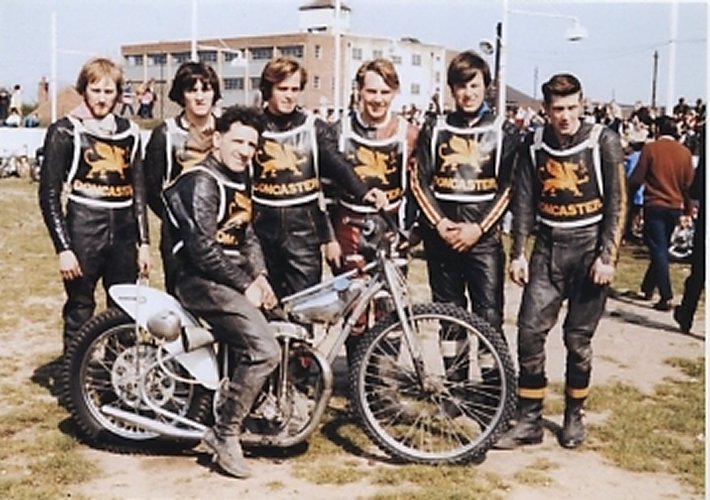 Courtesy of John Mather
Can you name these riders?
John
Col Greenwell says: Hi John, Doncaster pic. This is Doncaster Dragons 1970. They were the Stallions in 1969. I only know Gordon McGregor on the bike.
Steve Baker says: Doncaster 1970 riders are as follows, left to right, Cliff Emms, Dennis Wasden, Hec Haslinger, Chris Harrison, Chris Roynon, Ian Wilson. On bike, Gordon McGregor

.
Steve Harland says: I was looking at that fantastic colour photograph of the Doncaster team from 1970 and as no-one
else has had a crack at it
(Well Steve you were just beaten to it by Steve Baker)
I think the line-up is as follows: Left to Right: Cliff Emms, Dennis Wasden, Hec Haslinger, Chris Harrison, Chris Roynon, Ian Wilson, Gordon McGregor (on bike)
---
Doncaster Trivia From Steve Harland
Doncaster was the only track in the country that never had any pits.

Henry Atkinson (Teesside team manager) attended the very first stock car meeting there in 1969 and saw the damage they did to the speedway track. A week later Eastbourne Eagles were there for the opening meeting and there was a mid-meeting halt to the proceedings because of the state of the track - mind you it was only the Eagles riders who were doing the complaining, so nowt new there then!

After several home defeats in 1970 old stagers Gordon McGregor & George Major were signed to strengthen the team. There was an outcry among some existing old school promoters who said they were making a mockery of the league's policy of developing talent for Division 1 of the British League.
---
Doncaster Dragons Cheerleaders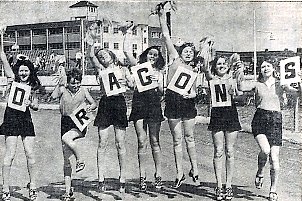 Courtesy of John Mather
John says: The Doncaster Dragon cheerleaders from 1970. It would be interesting to know if any of the girls recognizes herself?
Sue Turner says: Came across your website and saw a blast from the past The Doncaster Dragons cheerleaders and yes, I was one. D is Lorna, R is Pam, A is Julie, G Linda, O is me Sue, N is Shirley and think S is Gail. We are all fit and well and in 2009 had a re-union. We wore orange tops, black skirts and orange pop socks, in the picture. I Think we would all have been about 14 or 15 years old. Those were the days !!!! lol
---
Doncaster v
Long Eaton
24 May 1970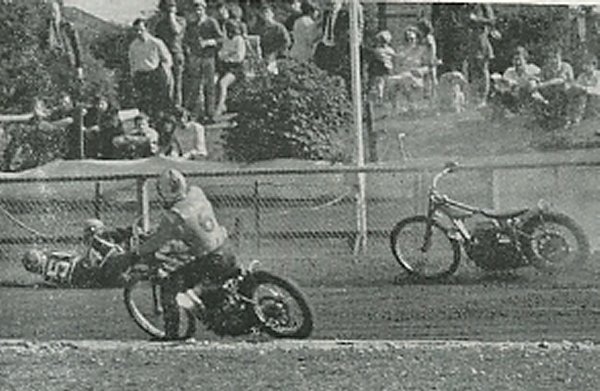 Courtesy of John Mather
John Skinner says: Doncaster 1970. Hopefully someone can identify the two Dragons (4 and 5) inspecting the track and the visiting number 6 slipping by on the inside unnoticed. Next to impossible I know but I am here waiting for an email
John
John Mather says: The meeting was Doncaster v Long Eaton on 24 May 1970. Pete Gay is the Long Eaton number 6 still upright. The two Doncaster riders are Chris Roynon (5) and Hec Haslinger (4). Thanks to Ian Gill for identifying Pete who went on to win the rerun.
---
Doncaster Poster

1970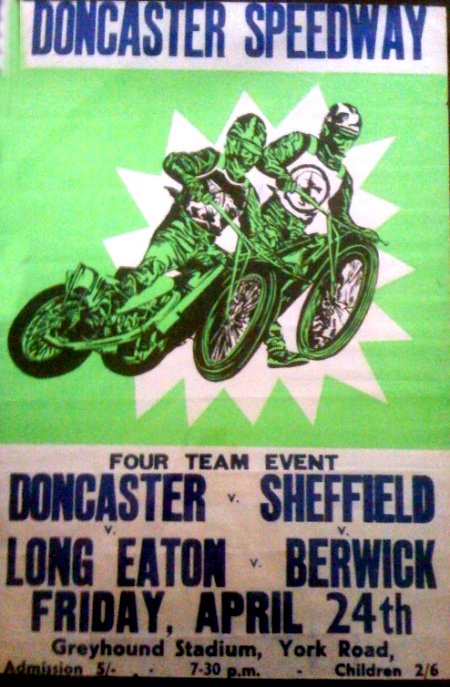 Courtesy of John Mather
---
Guitar Playing Rider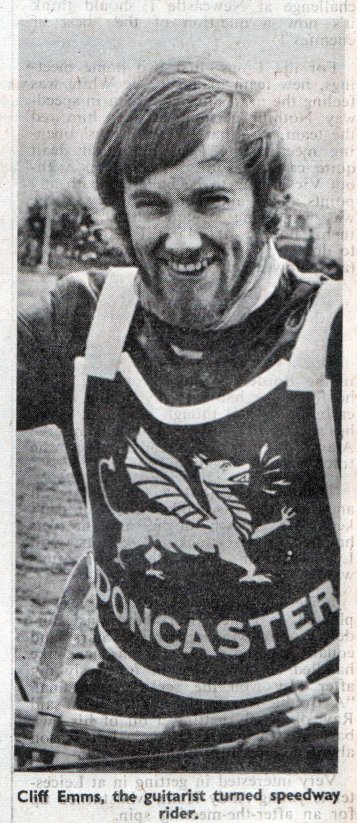 ---
Dave Beecroft's Memories
My first taste of working in speedway was at Doncaster in 1969. My pals and I travelled through on the train each Sunday afternoon from Bradford managing to persuade them to give us all jobs as pushers and graders. My memory of the track in 1969 was that it was extremely stony and rough but had improved to a redder shale for the next season. Mind, I wouldn't know I wasn't a rider!
I loved York Road, it was my first experience of a smaller track and the racing could be good. I preferred the Stallions name to the Dragons, perhaps just a race jacket preference. I only realised a short time ago that I appear on one of your pictures; to the back of Alan Bridgett and to his right. That's a 15 year old me, with hair and no beard!
Perhaps more importantly, I was recently looking through the Yorkshire Film Archive as I often do, and came across some incredible home movie. The story goes that speedway was staged at York Road in 1928 but there seems to be little or no detail. When running a film entitled "Bentley Floods, Air Show and Motorcycling", I came across, at 0 mins.53 secs. "Motorcycle racing at the stadium". It is definitely the same Doncaster stadium although the circuit looks more like a track marked out on the grass with little flags but the style of riding is leg trailing. The film runs for over two minutes and has probably been in someone's attic for years before being donated. The good news is that any of you can go online and watch it just go on to the YFA website and search on the name of the film! Anyone who knows cine will realise that the original images were shot on 9.5mm film, the central sprocket hole is a giveaway.
And that's not all! As soon as the Doncaster footage finishes we go over to Sheffield for some early speedway from there. Check it out.
The stills
shown
below are from Doncaster
: -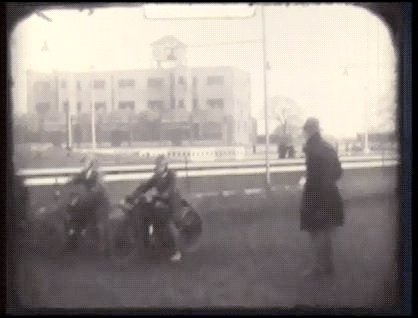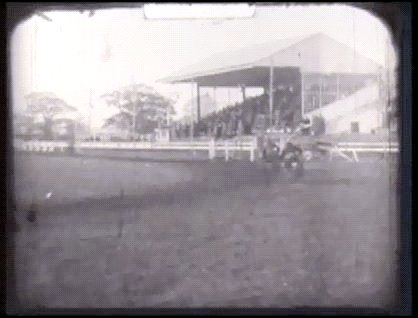 John Skinner says: I have enhanced these atmospheric photos a little, they cannot be enhanced further using my software and really they should not be cleaned further as they are period pieces. I hope you agree that they are worthy of a place on the website. Thank you Dave for sending them.
---
Doncaster Stadium

1987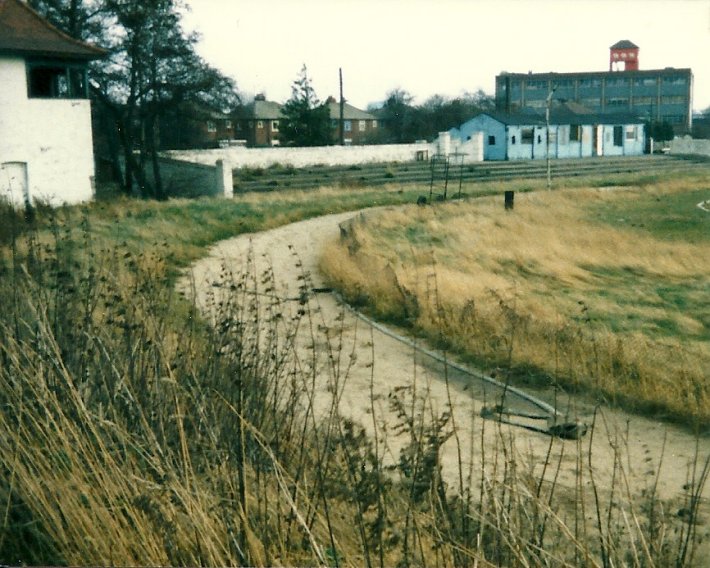 John says: The tall building with the tower is clearly visible on the first still sent by Dave Beecroft.
This photo redefines the phrase "Defunct Speedway". Doncaster went the same journey as dozens of other speedways! I hope my humble website is keeping the memories alive for any ex fan who strays onto it.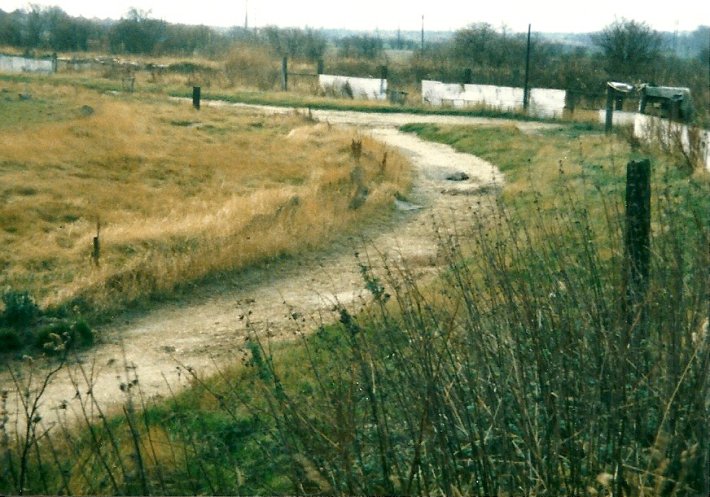 John says: A very sad sight. But ever sadder is the fact that a housing estate now covers this area. Doncaster needs a millionaire fan to bring back the sport. Stranger things have happened so do the Euro Millions next Friday
---
York Road Redevelopment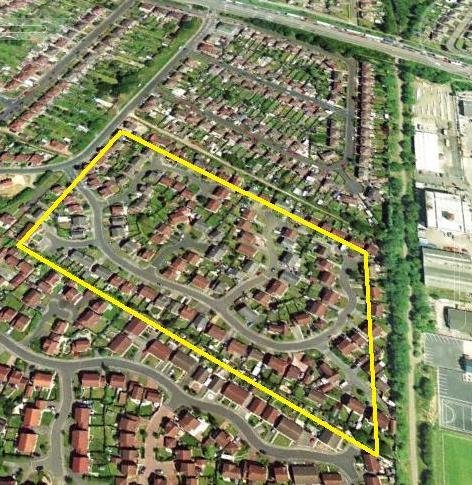 Courtesy of John Mather
John Mather says: Location of the stadium site. York road is the main road running at the top of the picture and the yellow line marks the approximate boundary of the stadium. Maybe someone could confirm I have that in the right place
---
If you can scan any Doncaster pictures, programmes or badges send me an email
John
---
The contents of the site are © and should not be reproduced elsewhere for financial gain. The contributors to this site gave the pictures and information on that understanding. If anyone has any issue or objections to any items on the site please
e-mail
and I will amend or remove the item. Where possible credit has been given to the owner of each item