Bristol Speedway

(
Eastville)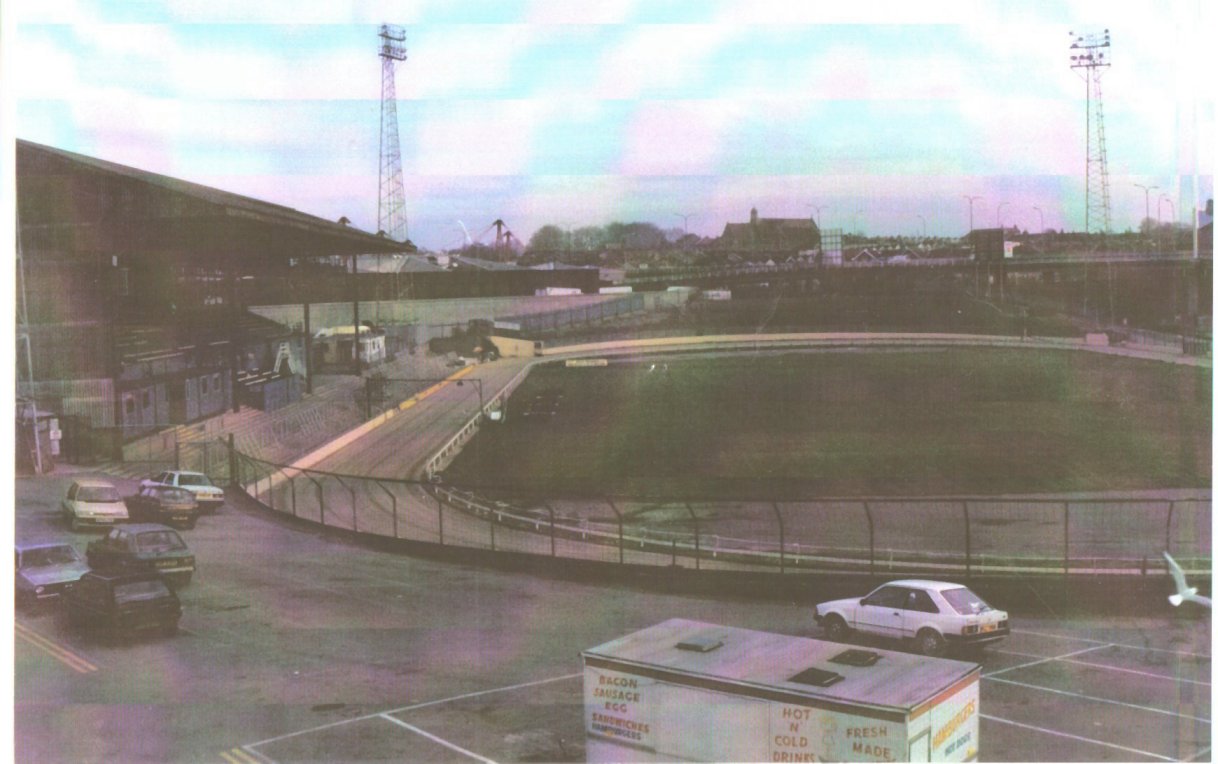 Eastville Stadium, Stapleton Rd, Eastville Bristol. Home to the Bulldogs 1977-1978.
The stadium has recently been bulldozed and replaced by an Ikea! Can someone living close to the store go in and ask for an allen key as I have lost mine :-)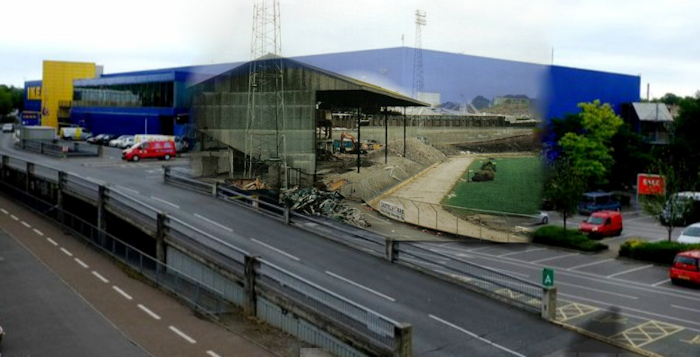 Courtesy of Dave Gresham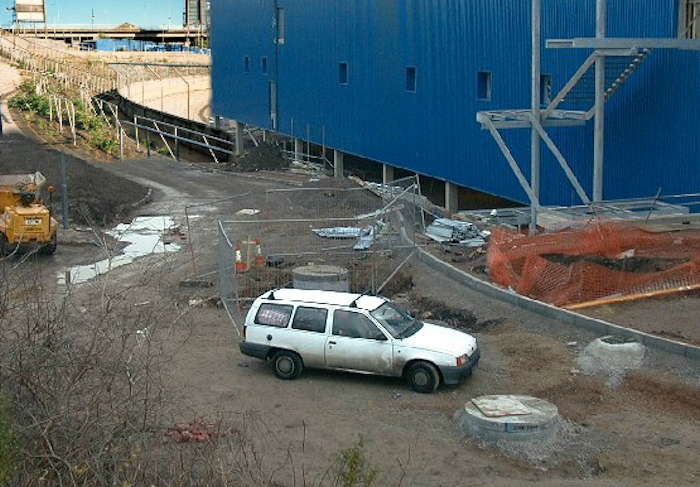 Courtesy of Dave Gresham
Dave Gresham says: Hi John, Please feel free to add these two pictures to the "Bristol Eastville Stadium" page on your website. They show the stadium `blended` in to a recent pictue of the Ikea store which now stands on the site. Many Thanks Dave
---
Bristol Bulldogs
1977
The Bulldogs 1977 from left to right Nigel Boocock, Phil Herne, Steve Gresham, Phil Crump (on bike), Tormod Langli, Tom Leadbitter, Edgar Stangeland
---
No Sadder Sight
A Defunct Track!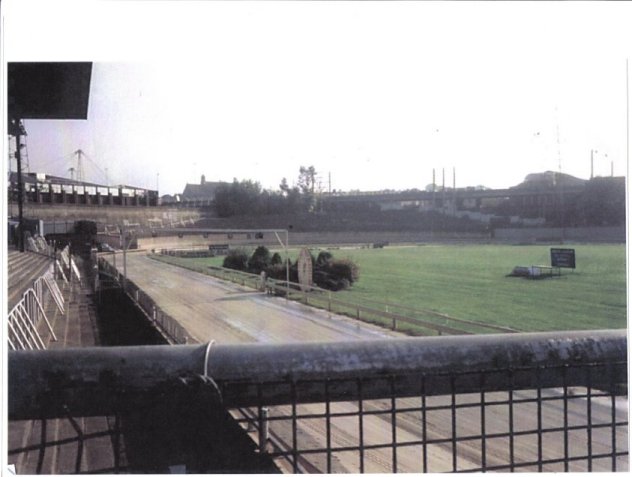 Nothing sadder a track but no action. Bristol may be back though, they have an active campaign at the time of writing this.
---
---
Bristol Badge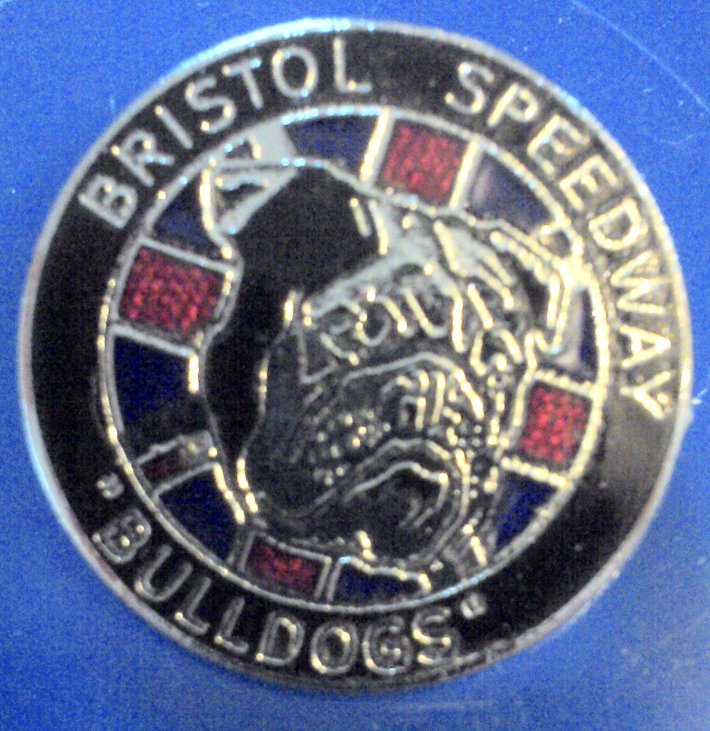 Scan from Russell Earl
---
Phil Crump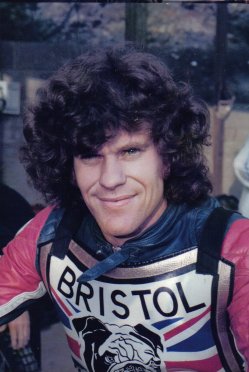 For the younger browsers this is Jason Crump's dad Phil. Now apart from sporting a dodgy hairstyle Phil was already a top rider. He pioneered his Father-in Law's 4 valve cylinder head adaption. Neil Street was Phil's in law and the Street engine conversion resulted in all modern machines having a 4-valve cylinder head. I don't expect Neil filed for a patent on his concept or maybe he did and has become a millionaire!
---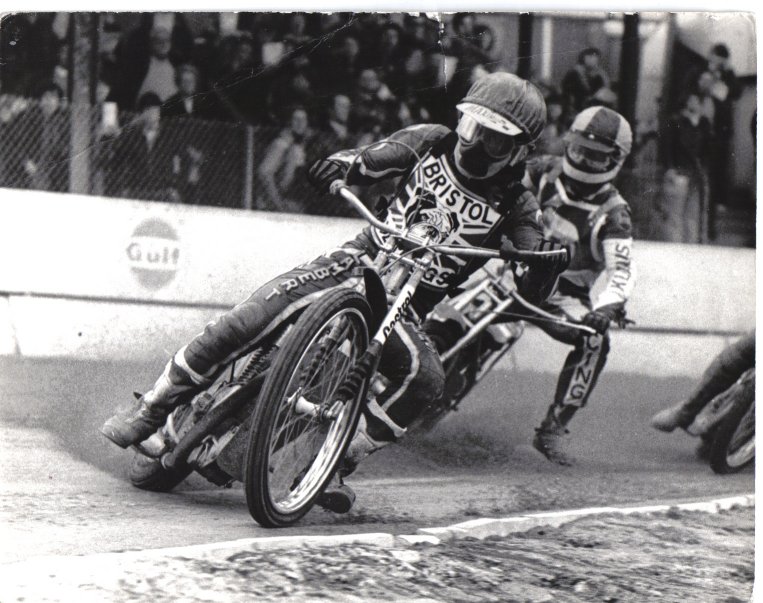 ---
Nigel Boocock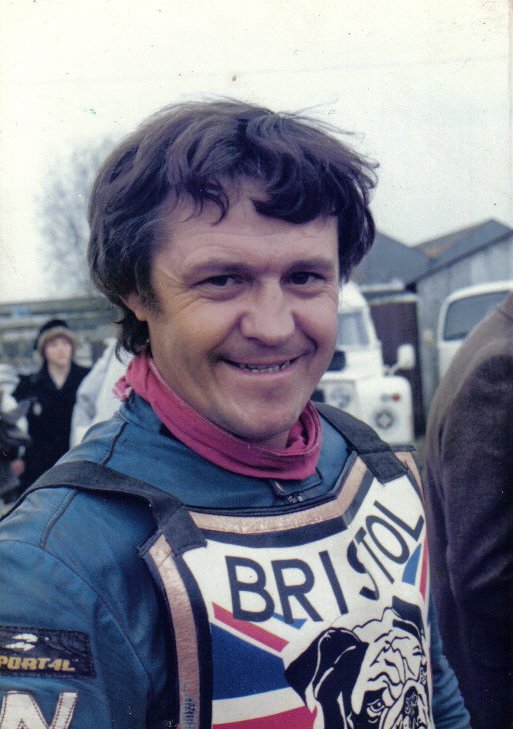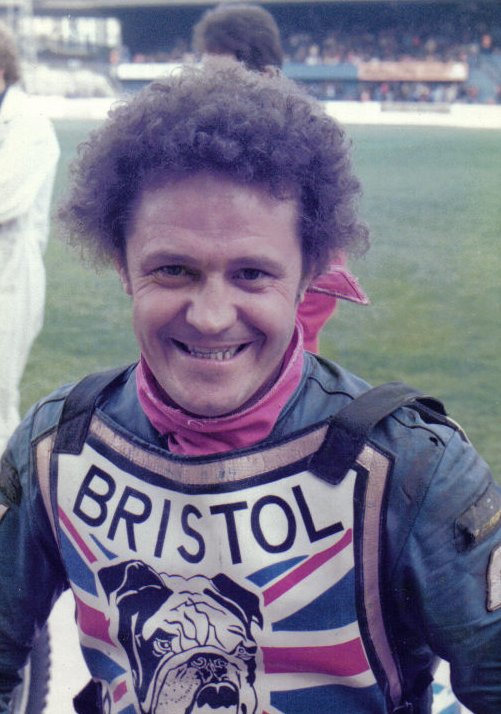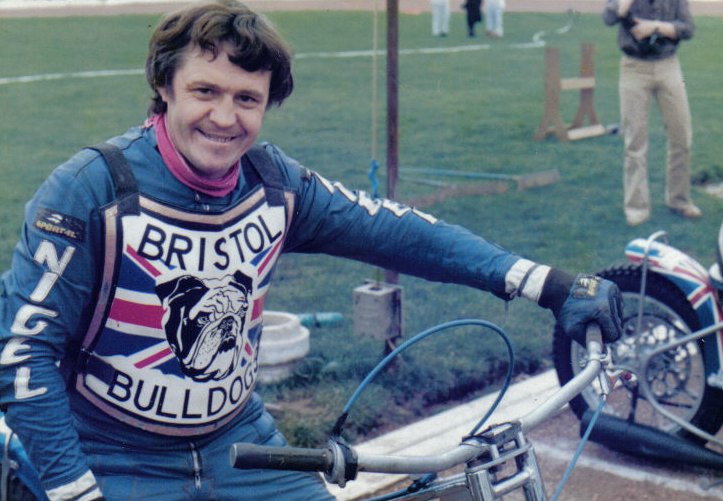 Little Boy Blue. Nigel Boocock came, with his trademark blue leathers to Bristol after a long association with Coventry
---
Tormod Langli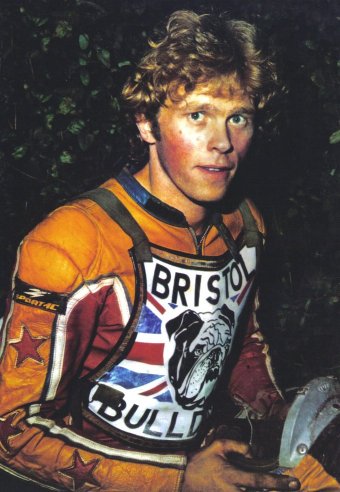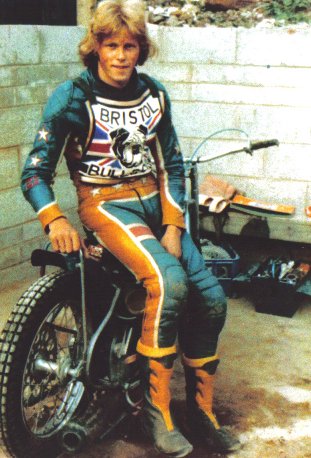 ---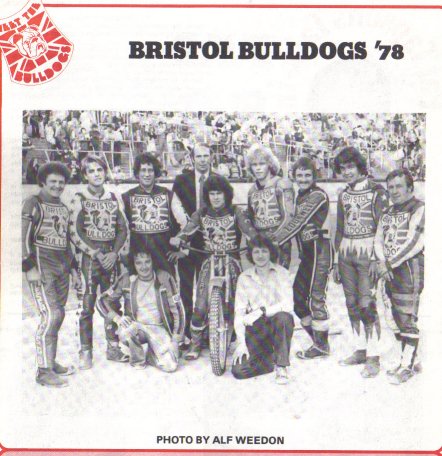 Here's the 1978 Bulldogs team, L to R Nigel Boocock, Steve Gresham, Derek Hole (kneeling),

Bruce Cribb, Pat Tapson (team manager), Phil Crump (on bike), Neil Farnish (kneeling), Tormod Langli, Henny Kroeze, Tony Garrard, Soren Sjosten.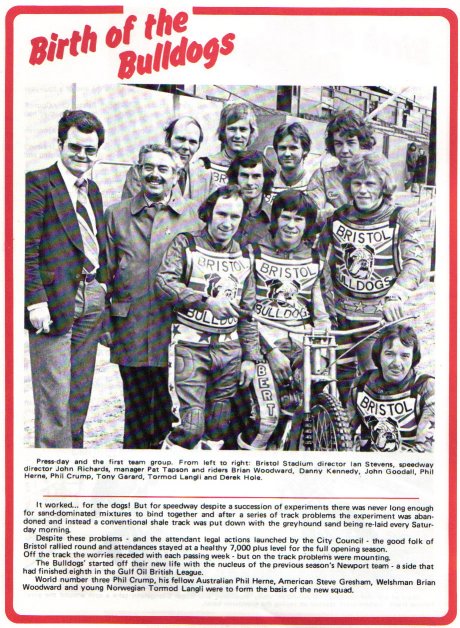 ---
Steve Gresham Left &
Tom Leadbitter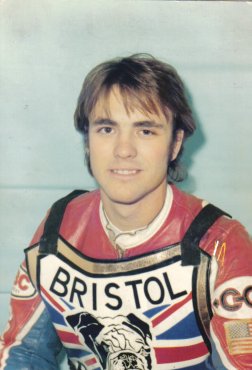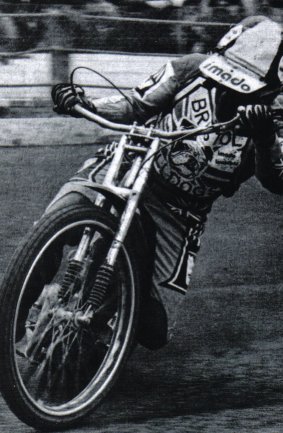 ---
Dog Fight
Bulldogs v Wolves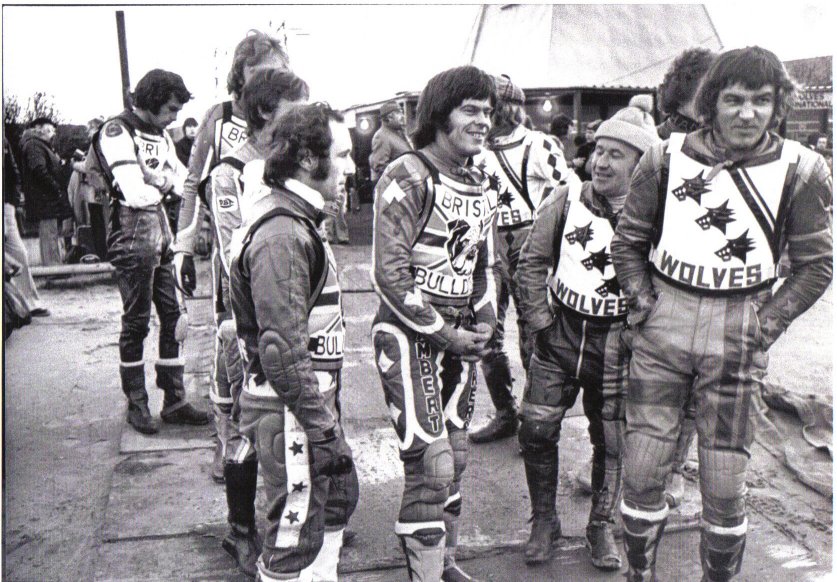 Bristol Picture named by Terry Stone: Brian Woodword . Phil Crump. Soren Sjosten George Hunter
---
Bruce Cribb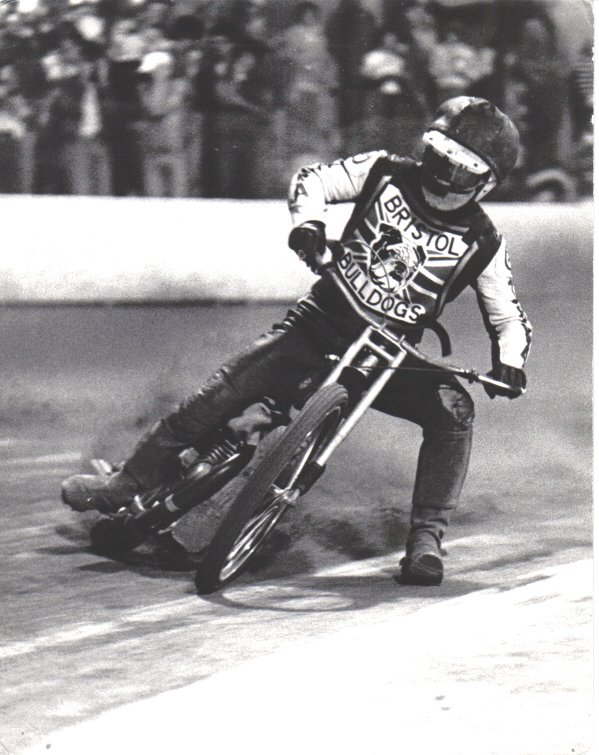 Bruce Cribb With
His Ice Bike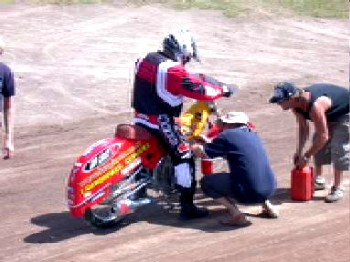 Bruce turned to Ice Speedway and also did super fast demo laps on his ice machine on the shale around a number of UK tracks. I watched him at Brough Park. It wasn't graceful just brute power with his wheels in line all the way. I cannot remember his 4 lap time but it must have been faster than a speedway bike
---
Bristol Eastville
The End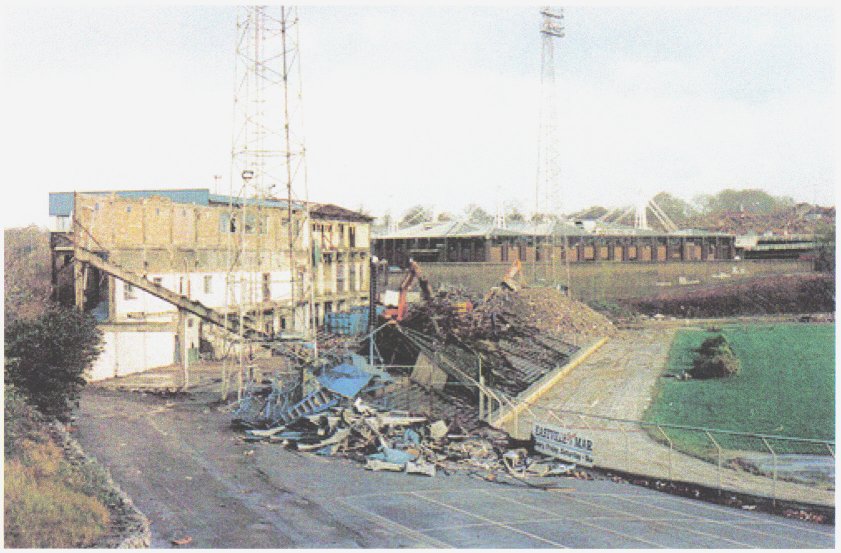 Photos by Chris Wallett:
Demolition of Bristol Speedway
---
Bristol Eastville Now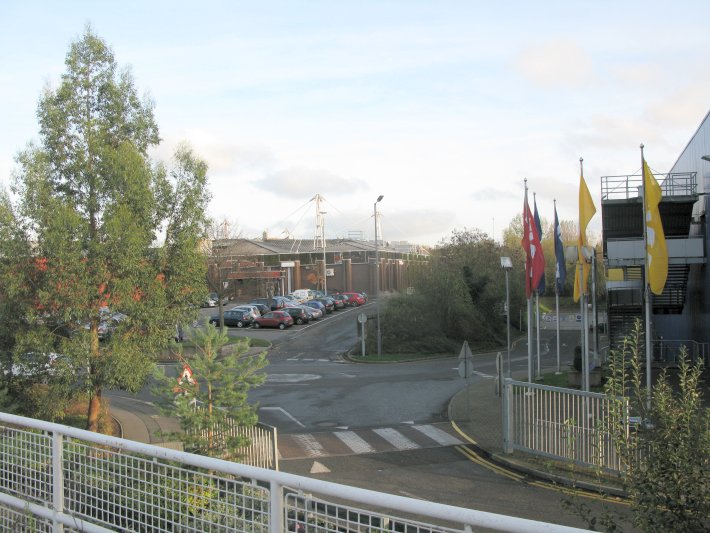 Photos by Chris Wallett:
Paid a visit to the more recent Bristol Speedway as well. I did go to Eastville once to see the Bulldogs ride Birmingham Brummies in a British League match. It was most memorable for the fact that before the meeting the Bulldogs most famous fan was introduced to the crowd. The fan in question was Louise Brown who was the worlds first test tube baby.
Her parents were Bristol speedway fans and brought her along as just a small baby. It shows you how long ago this was as I believe Louise is now in her 30's. The other memory I have is the huge crowd. It was so sad they could not make a go of the track and team as support was definitely not an issue.
On your site the last picture posted shows the stadium being demolished. I tried to get as close to that picture as I could as the background shows a Tesco supermarket which you can see is the building with the white steel frame over the roof. This is still there as you can see from my pics but where the track and stadium was is as you say now a large Ikea. You can still picture the track from the surrounding buildings but the area is very different know. Sadly no sign of the stadium and even Bristol Rovers FC whose stadium it was originally have moved to a new ground just down the road.
Still there seems to be some hope that speedway may still return to the Bristol area.
Chris Wallett
---
Visit Bristol's comeback petition Bring Back Bristol Speedway Petition
Comeback Site Bristol Website

---
The contents of the site are © and should not be reproduced elsewhere for financial gain. The contributors to this site gave the pictures and information on that understanding. If anyone has any issue or objections to any items on the site please
e-mail
and I will amend or remove the item. Where possible credit has been given to the owner of each item.