Brafield Speedway
Brafield Sports Stadium, Brafield on the Green, nr Northampton. Brafield was originally built in 1949 by Dave Hughes, who promoted midget car racing for about two seasons. 1951 and 1953 training, 1954-1955 then 1966-1971 off and on.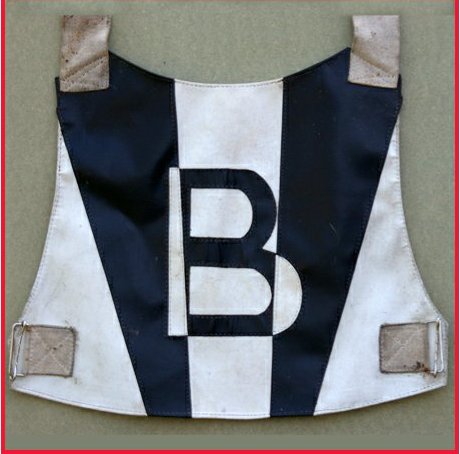 Alan Hodkinson's race jacket
---
Brafield Badgers

1966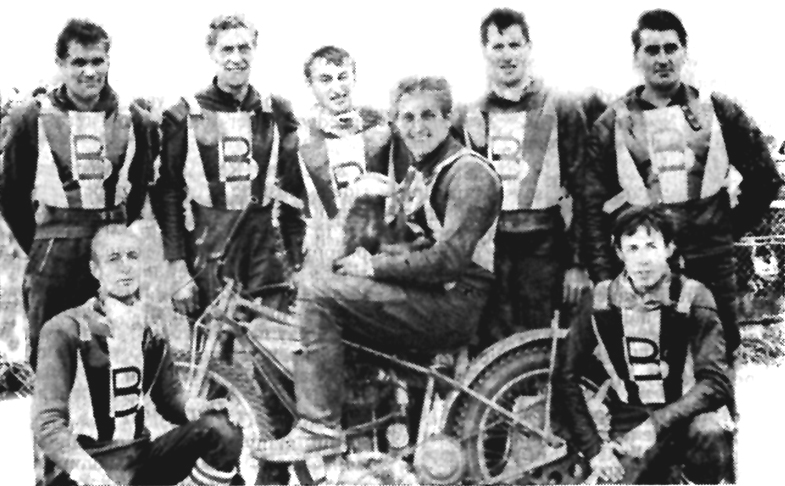 (L to R) Laslo Munkasci, Peter Thorn, Peter Wrathall, Pete Seaton (Captain on machine) Trevor Buswell, Ted Spittles, (kneeling at front) Wayne Barry and Ian Champion.
---
Pete Gay At Brafield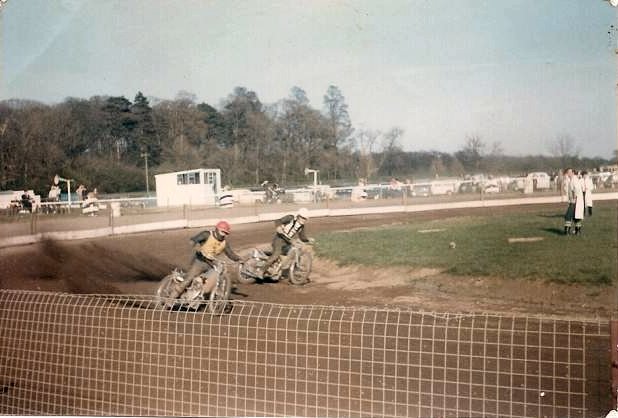 Pete Gay says: Action from Brafield
. The photos were taken at Brafield in 1966. I was riding for Coventry juniors, I am riding in red don't know who the other rider is. Can anyone name the other rider
John
Lee Dunton says: The photo at Brafield with Pete Gay in Red, the other rider is, I believe, in White, is Peter Seaton.

.
---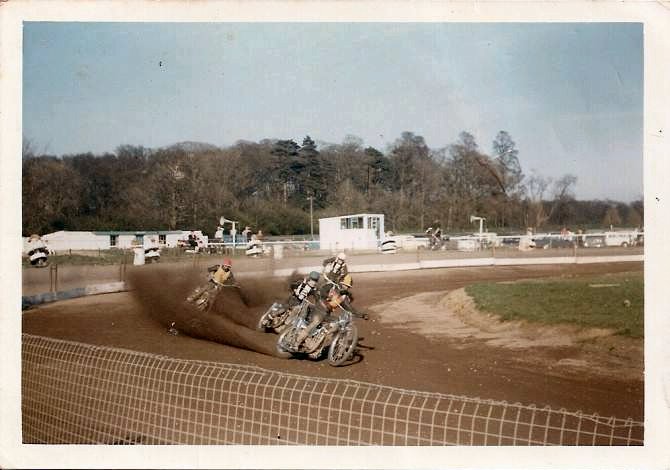 The 4 riders in the above photograph are a mystery but it is possible that the photo was taken of the same race as the photo headed "Pete Gay at Brafield" If it is the same race then Pete Gay is in red and Peter Seaton in white. email me John if you can name the other two riders
---
Pete Gay &
Harry Denton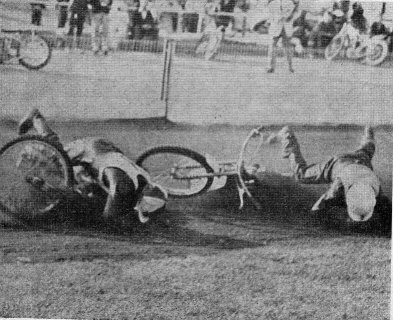 Jo Denton says: Hi John, the photo was taken on August 14th 1966 when Brafield reopened its doors . The race was the Midland Junior riders Championship. On the left is UK rider Pete Gay & on the right is Australian Harry Denton.. I reckon my father, Harry, must have been one of the oldest "juniors" ever, as he would have been 51 years old at the time. Photo taken by Lewis Stripp & I have Lew's permission to use it.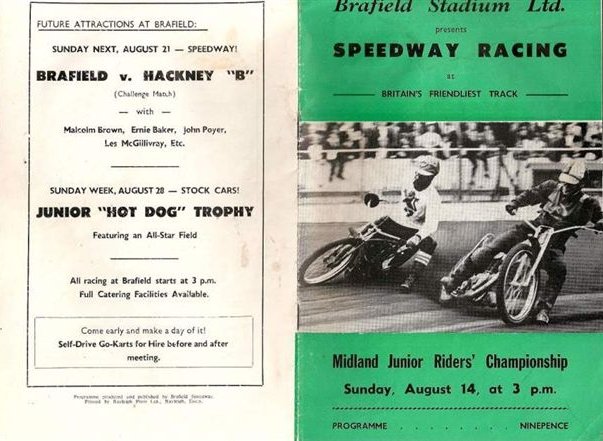 ---
Brafield v Coventry Colts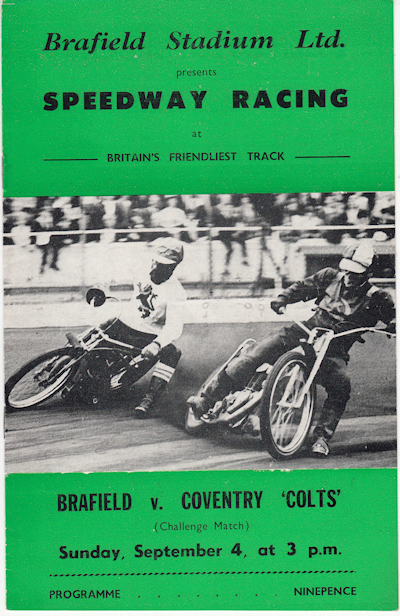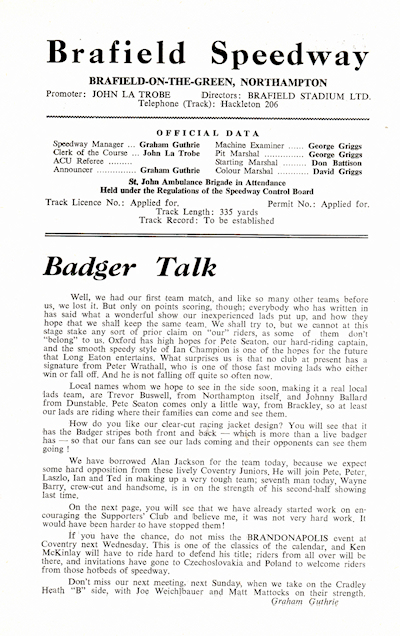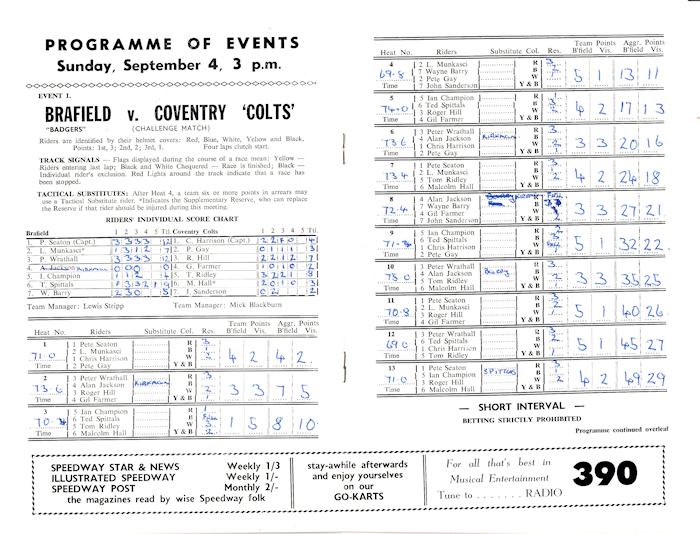 Courtesy of Wattie Dunlop
---
Brafield v Cradley Heath B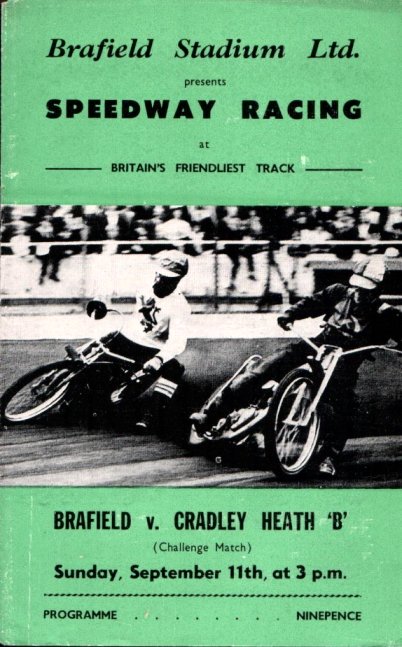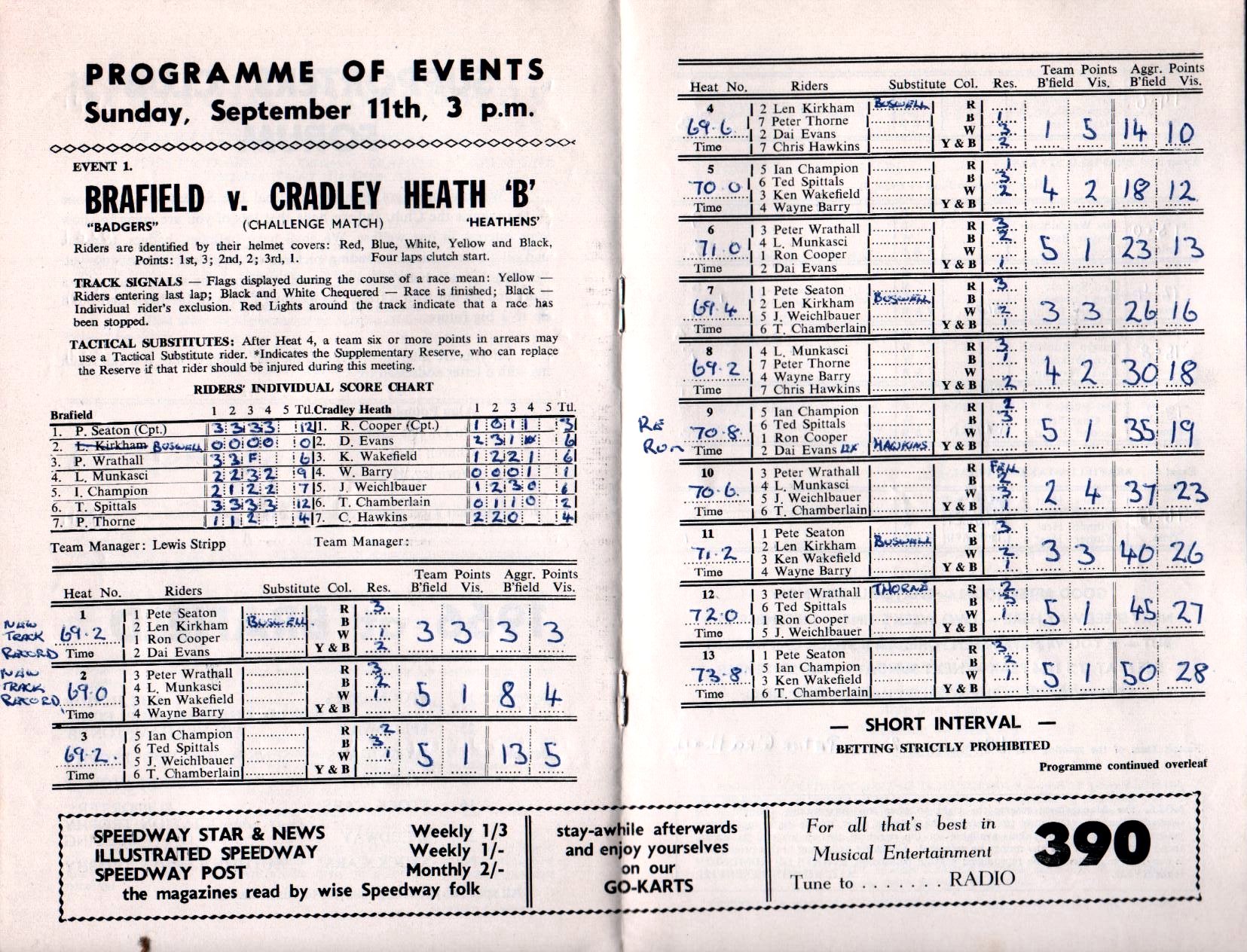 ---
Brafield Badgers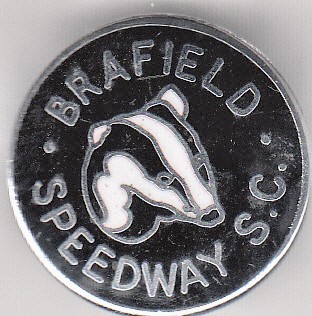 The Badgers along with Barrow Smiley Faces, Yarmouth Bloaters and California Poppies are all candidates for Speedway's strangest names.
---
Brafield
"Flying Foxes" Speedway Team
Bryan Tungate writes: My interest in this team stemmed from the fact that one of the men behind the operation was Paddy Mills who I had watched riding for Norwich Stars since I first went to Speedway, aged 6, in 1946.
The track was at Brafield on the Green, in Northamptonshire, measuring 335 yards to the lap.
During 1954 & 55 the team operated in the Southern Area League which was in the main "Amateur" racing on Sunday afternoons. This conflicted with the "Lords Day Observation Society" and numerous problems arose because of this. Various ways had to be tried, like collections or forming a Club, to circumvent these problems as there was an embargo on charging entry fees on the Sabbath. Nowadays sporting events of all types are allowed on Sundays, but it was not so
in the 1950s.
The S A L commenced operation in 1954 comprising 6 teams – Aldershot, Brafield, California, Eastbourne, Ringwood & Rye House. Aldershot fell by the wayside and this was unfortunate for Brafield as they had already beaten the Shots home and away. In June an injunction was issued to stop Speedway at the Brafield track and Paddy Mills resigned his position. The injunction was fought and beaten by Harry Beaumont, the track owner, so the team could continue. However Paddy had applied to open Long Eaton and had staged racing there, but no licence was forthcoming. Johnny Jones and Frank Greasley were banned for competing at Station Road. This break in racing at Brafield meant the team could no longer stage all their matches and some had to be raced for double points. This was a benefit if they won, as they did against Ringwood but losing to Eastbourne was the other side of the coin. At the end of the season the Flying Foxes had racked up 9 victories in the 16 matches that counted. This saw the team occupy 4th place in the final table.
Top rider was Vic Hall who topped 120 points, averaging over 9 a match. Greasley & Jones also did a good job before suspension came their way. The other top rider in the team was the relative veteran, Sid George. A number of Midland Juniors gained rides with the Foxes and these included Eric Eadon, Dave Hankins & Brian Meredith. Seasons League scorers were – Vic Hall 127.5, Sid George 88, Frank Greasley 88, Johnny Jones 54, Tony Wintour 42, Doug Jackson 36, Brian Meredith 30, Dave Hankins 20, Eric Eadon 19, Nick Nicholls 18, John Cherry 18, Neil Roberts 15, Eric Croft 8, John Day 4 & John Benson 2
1955 saw the S A L commence with the 5 remaining teams again in the Competition. This time Ringwood folded in mid-season and again Brafield were robbed of two victories as they had twice beaten Ringwood in Hampshire. The season ended with 6 of the 12 matches won and 3rd place in the League. Vic Hall was injured during the season and this meant his retirement which was a bad blow. Frank Greasley came back from suspension then retired due to the rising costs of racing. Brian Meredith proved to be the top man of the season ably backed by Dave Hankins, Brian Miller, Neil Roberts and newcomer Colin Gooddy. Crowds were not good and again the possibility of moving, this time to Earls Barton, were mentioned. However the team saw the season through. Seasons League scorers were – Brian Meredith 102, Vic Hall 98, Dave Hankins 58, Brian Miller 45, Colin Gooddy 40, Frank Greasley 38, Neil Roberts 34, Alan Pearce 16, Hank Bird 10, Eric Eadon 9, Mike Kerry 7, Nick Nicholls 6, Eric Croft 6, Tony Eadon 5 & Mike Lawrence 2
1956 came and there was no Brafield in the Competition. The records show that they were replaced by a "Nomadic" line-up called Southern Rovers. The team included a number of the Flying Foxes riders. The team finished 3rd of the 4 entrants but Vic Hall was injured in the first match, his comeback, and that was the end of his season. 4 victories and 2 draws were gained in the 12 matches raced in the League. Colin Goody and Eric Eadon came good and led the scorers. Seasons League scorers were – Colin Gooddy 81, Eric Eadon 71, Eric Hockaday 64, Neil Roberts 38, Tony Eadon 31, Tommy Sweetman 24, Brian Meredith 23, Mike Lawrence 15, Bert Little 10, Hank Bird 8, Graham White 6, Brian Miller 5, Leo Ramm 3, Jim Preddy 2, Dave Hankins 2, Vic Hall 0 & Loanees 8
The Rovers carried on their nomadic existence for the 1957 season before, in June, being invited to race at Rayleigh and they accepted this offer from Vic Gooden, thus becoming "Rayleigh Rovers." Oddly enough the team won the S A L title that season
Bryan Tungate
Acknowledgement to Peter Morrish for point-score detail
(British Speedway Leagues 1946-1964)
Paddy Mills' Flying Foxes v Belle Vue Juniors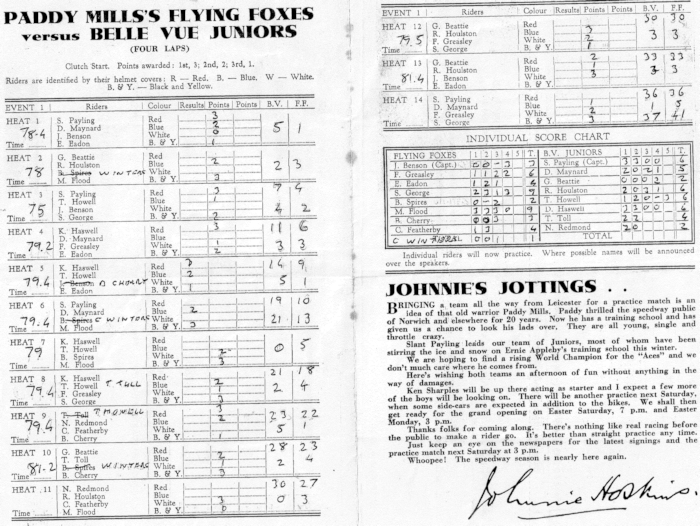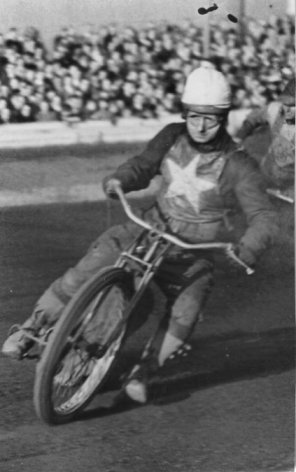 Paddy Mills
Brafield Team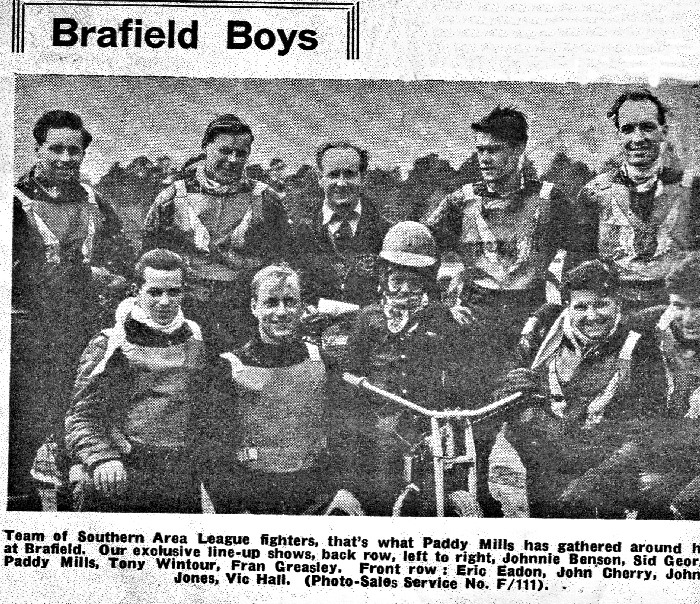 Brafield v Eastbourne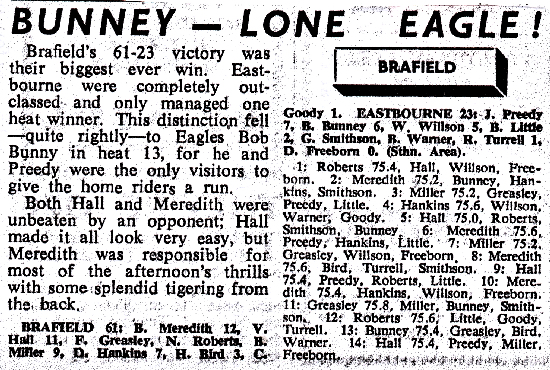 Courtesy of Graham Gleave
---
Brafield v California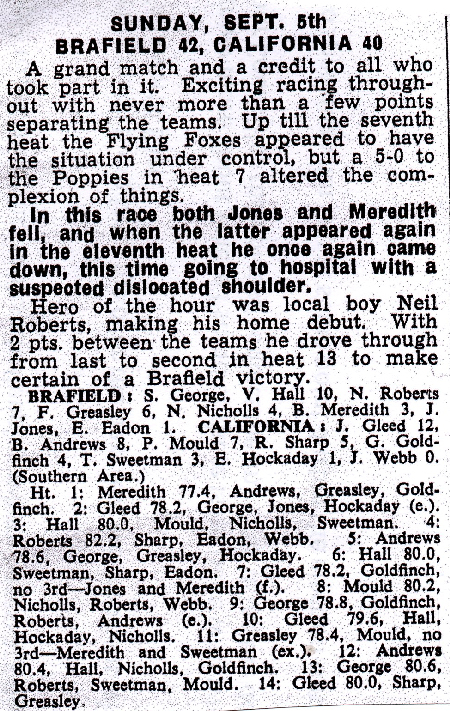 Courtesy of Graham Gleave
---
Tyburn Gallows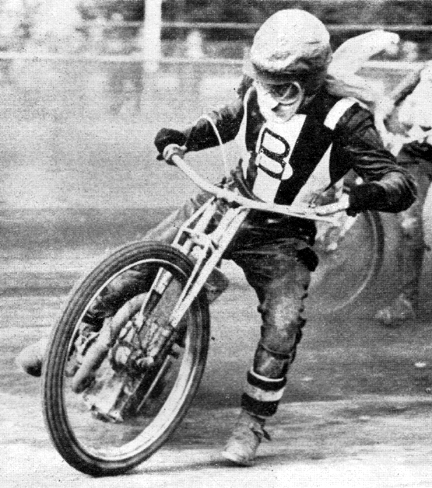 Tyburn Gallows
Tyburn Gallows..Some say that he took that name as he was a trainee hangman before taking to the shale. I have no idea if that is true.
Update: Real name Ray Humphreys. I believe he was an assistant hangman and was stopped by the control board from calling himself "Tyburn Gallows" so he officially changed his name by deed poll and was thereafter always programmed as such and there was nothing the authorities could do about it.
Here we have a copy of the programme notes when Tyburn signed for Mike Parker/ Reg Fearman at stoke in 1961. The programme states that Tyburn was an Undertaker by profession.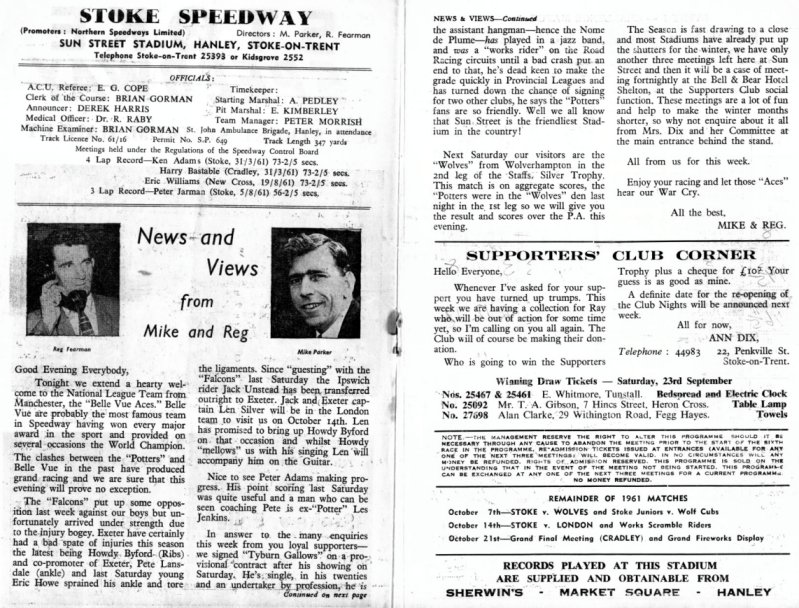 ---
A Blast From The Past

A SRVA's Event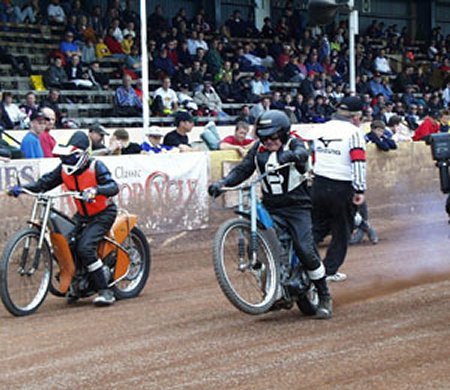 Veteran rider Alan Hodkinson modeling the Badger race jacket
---
If you can scan any of your pictures, programmes or badges send me an email John
---
The contents of the site are © and should not be reproduced elsewhere for financial gain. The contributors to this site gave the pictures and information on that understanding. If anyone has any issue or objections to any items on the site please
e-mail
and I will amend or remove the item. Where possible credit has been given to the owner of each item.