Bradford Speedway
(Greenfield)
Greenfield Autodrome, Dudley Hill, Bradford, West Yorkshire. Racing took place 1928, 1961-1962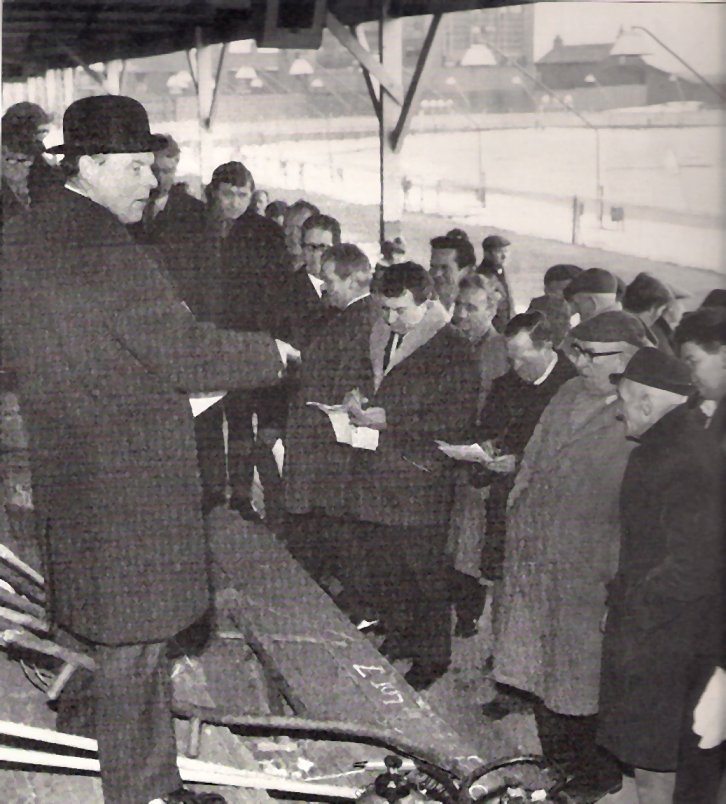 Courtesy of Dave Beecroft
Dave hasn't said anything about the above photo apart from that it was taken at Greenfield Speedway. The picture needs some comment so I have made this up: The guy in the hat is a copper pointing at the two old guys and saying, "You two are nicked for criminal damage" now where have you hidden the seats that were here a few moments ago"!
Can anyone supply a better caption for this photo?
John
No? well Dave now says: This picture sadly shows the fixtures and fittings being auctioned off before demolition to make way for road widening so the guy in the hat was an auctioneer. Yeah the chalk writing says Lot 7.
---
Greenfield Stadium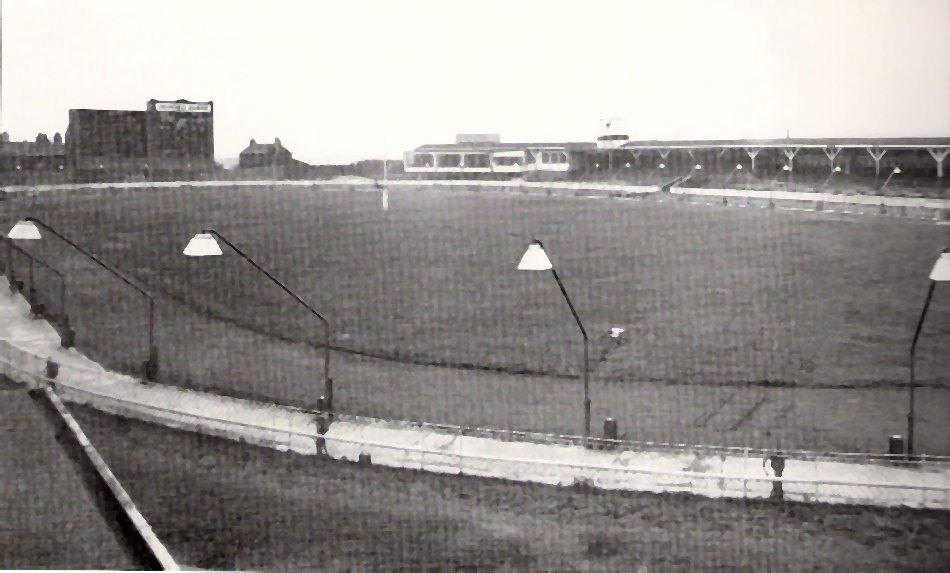 Courtesy of Dave Beecroft
A great looking speedway stadium. The writing at the top of the tall building at the middle of the bottom bend says Greenfield Stadium. What a shame this stadium had such a short speedway life.
---
1961 Opening Night Programme
Panthers v Sheffield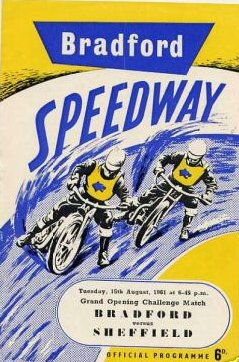 Courtesy of Dave Beecroft
---
Bradford v
Belle Vue "B"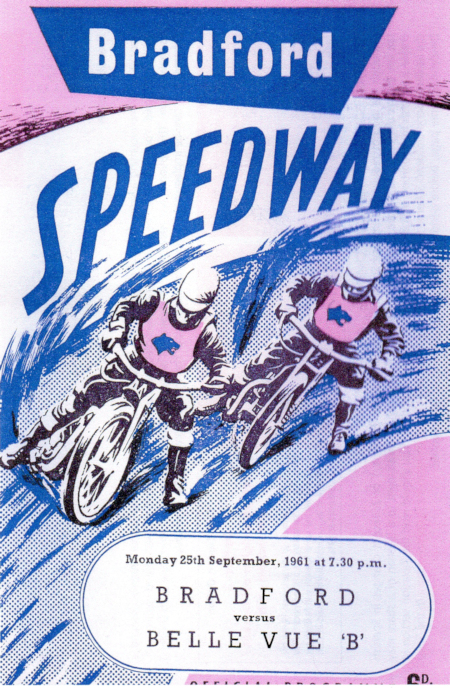 Courtesy of Graham Gleave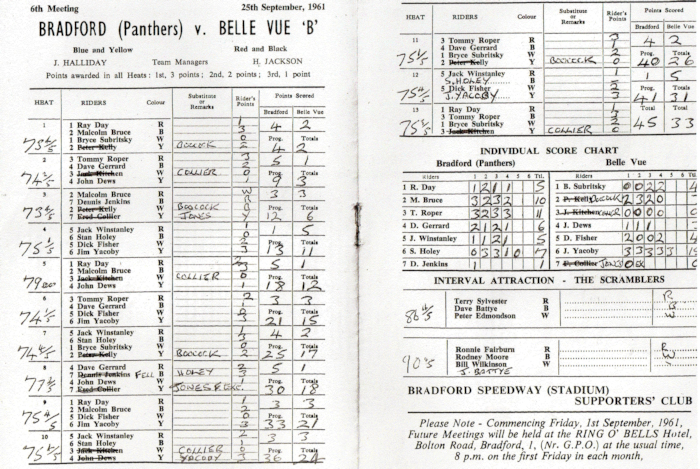 Courtesy of Graham Gleave
---
1962

Bradford Panthers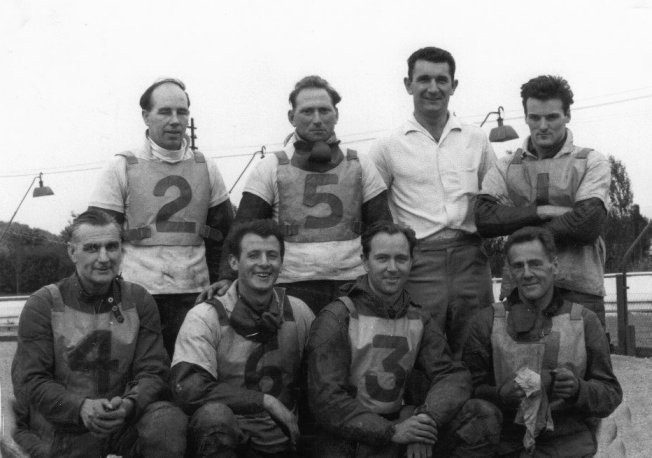 Courtesy of Reg Fearman
1962 Bradford Panthers (Back Row) Dennis Jenkins, Stuart Hickman, Reg Fearman (Team Manager) Tommy Roper. (Front Row) Wal Morton, Ray Day, Reg Duval, Geoff Pymar. Makes me wonder what was on the back of the racejackets!

John Hyam says: In team photo - reverse Geoff Pymar and Wal Morton in team caption.
Geoff Pymar & Wal Morton

1962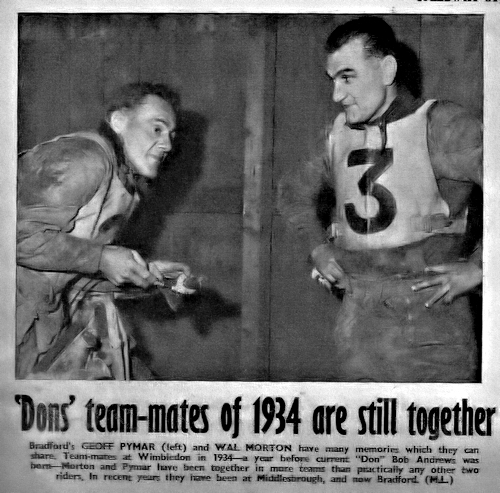 Courtesy of Graham Gleave
---
Stuart Hickman & Reg Duval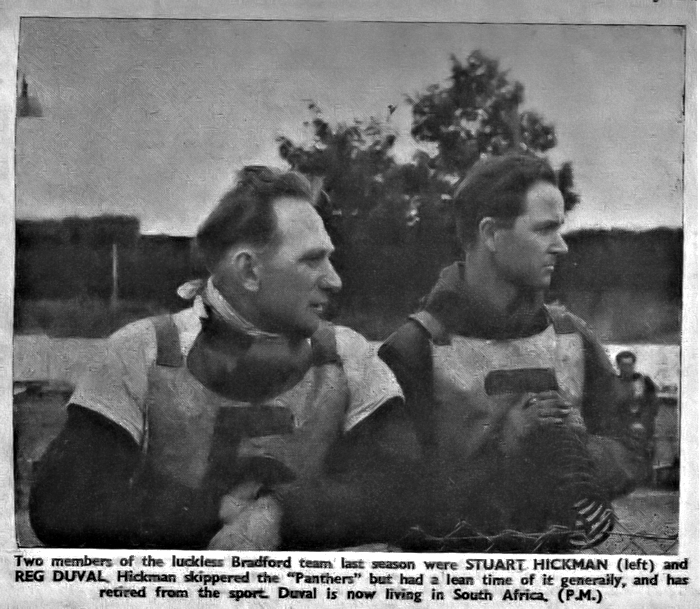 Courtesy of Graham Gleave
---
Tommy Roper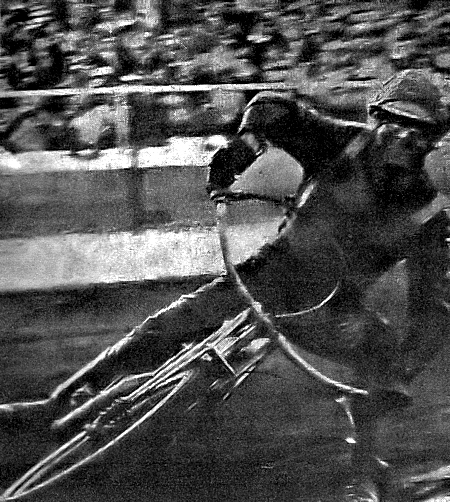 Courtesy of Graham Gleave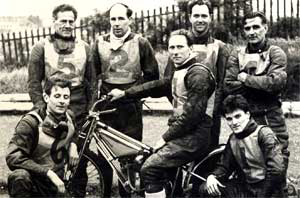 The Bradford team of 1962 used Greenfield Stadium not their usual home Odsal. It was the only season Greenfield was used for league racing. Bradford has had 6 nicknames over the years: Boomerangs, Tudors, Panthers, Northern, Barons and Dukes, it must be some kind of record? The team of 1962 has two old timers in it: Wal Morton born 1911 and Geoff Pymar born 1912.
---
Wal Morton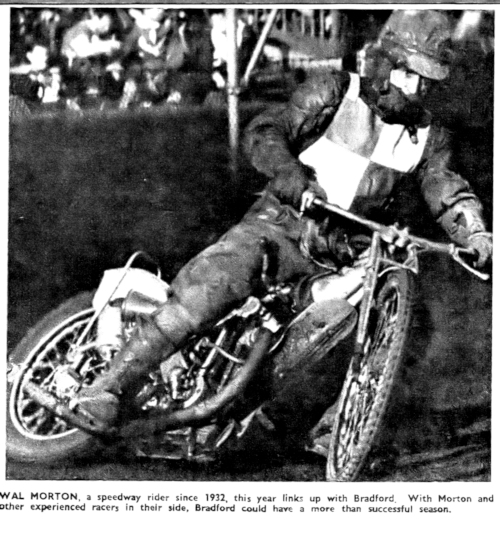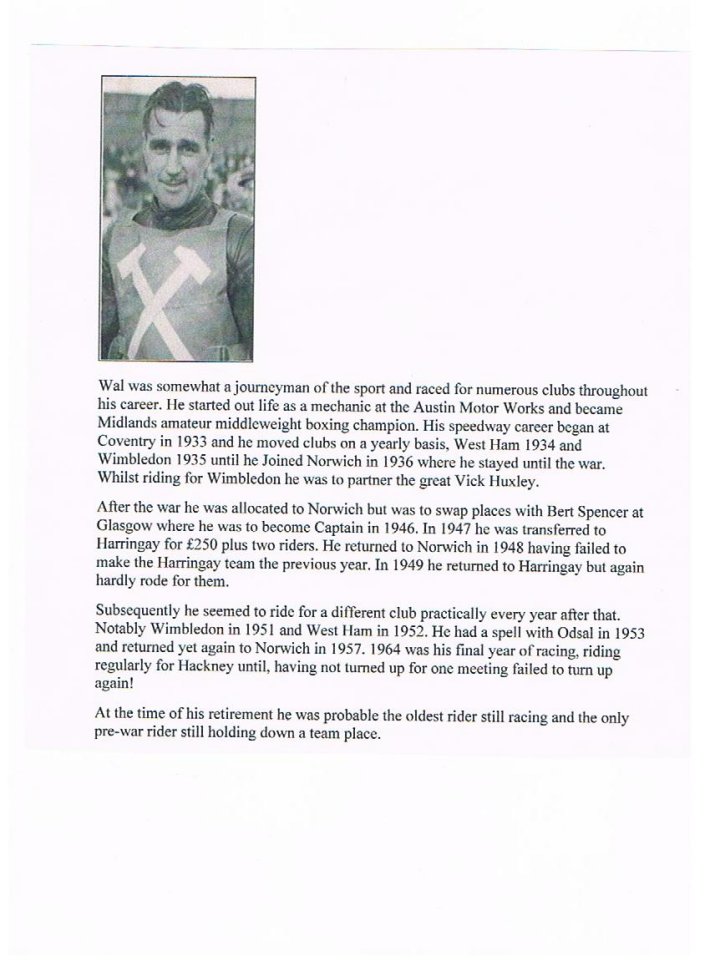 ---
Happy or Unhappy?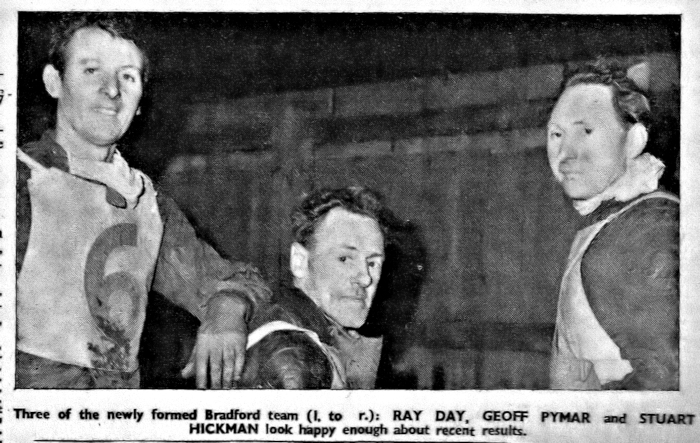 Courtesy of Graham Gleave
The caption suggests these 3 look happy, I leave you to make your mind up! Perhaps their promoter just told them he couldn't pay them until a week later! Sorry for this but whomever wrote the photo's caption should have been sacked, those riders didn't look happy!!
---
Jack Winstanley
1962 With A Trophy Won At Greenfield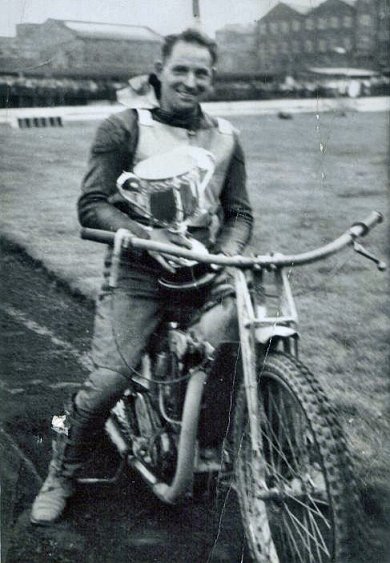 Courtesy George Winstanley
---
Memories
Allan Wood says: Hi John, I somehow tuned into your site while looking for something else. Greenfield , I was 11 at the time. We used to go with Tommy Roper and Ray Day then come home on the Hebble bus back to Buttershaw. Some time ago I tried to piece together movements after Odsal in 1960. I believe they went to City Dog track up Listerhills Lane next to BT's yard and then to Greenfield . They built the track wrong here. It sloped inwards so all the water formed a lake when it rained. Riders refused to race the track and it closed. Allan
John says: Tell us some more Allan
Allan Wood says:
Hi John, My late grandmother was best friends with Tommy's mum . Grandma lived at Heaton Hill, Buttershaw and Tommy's garage was at Beck Hill. Both Tommy's and Ray Day's bikes were kept here so as kids we were regular visitors and hence the free lift and free entry to Greenfield . There is a mystery that I am still trying to unwind. If you Google Legrams Lane (City Dog track) there are pictures and fascinating articles . I am sure I have read somewhere that the speedway moved here before Greenfield (but not league speedway) just friendly events. I wonder if its in a programme ? I will have a look. I don't have any pictures from those days. Allan
Dave Beecroft says: Good to see more stuff on the Bradford Greenfield site and I have got some attached here. First though, I was surprised at Allan Wood's tale of speedway at Legrams Lane before Greenfield. The City Stadium, as it was called was primarily a greyhound track which also staged such things as celebrity football matches but in the late 30's it was one of Bradford's two Baseball stadia, the other being Greenfield. Baseball was enjoying a boom at the time in the North of England in particular and crowds were good. Greenfield had the Giants and City had the Sox, my Dad, was a regular at both ( he was young and single then) and left loads of programmes. The war seems to have killed off the boom. In the 1950s, at the City Stadium there was track racing but it wasn't speedway, it was a velodrome style track for cycle racing. Apparently there were several such tracks in Yorkshire, another one was at Roundhay and there was a track league. I lived locally to the stadium and was in there once for a football match, must have been not long before the fire in 1963. It does not seem to me that there would have been room for a speedway track. From my own research, the Bradford Panthers left Odsal after a disastrous 1960 season and always intended to move to Greenfield. The track began to be built in 1961 but there were several problems and it was not open until 15th August when Sheffield were the visitors. Open meetings were run the rest of the year before Provincial League racing in 1962.
I have attached a photograph of the stadium which clearly shows the track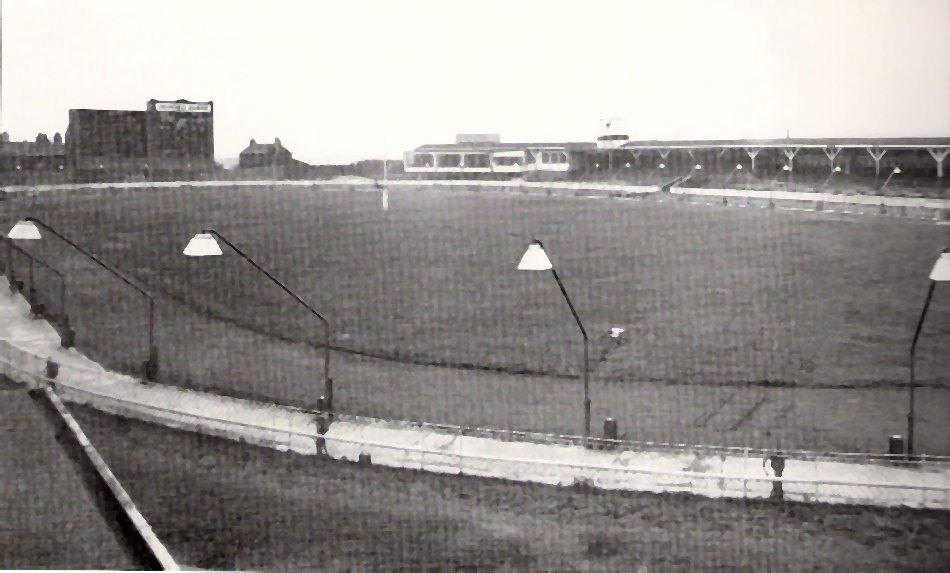 Courtesy of Dave Beecroft
---
Bradford v Newcastle

1962
John says: I thought this picture featuring the away side as my Newcastle Diamonds was taken at Cradley Heath but Nigel Bird has been in touch saying. I was a Cradley Supporter during the 1960s and can say definitely that this is not Cradley Heath. Nigel goes on to say: - I am sure this is Bradford Greenfield 1962. The rider on gate one is wearing a short sleeved shirt under his race bib as is the rider on gate 3. the race bib is plain with a number on the front. looks like No 1 (gate 1) this is probably Tommy Roper, the rider on gate 3 possibly Dennis Jenkins (Team photo, Speedway star "Digest" 1963 p.64) There is white box with windows on the right of the photo at the end of the home straight. There is I believe an identical one at the other end of the home straight, a feature of Bradford Greenfield.
David Fell says: Hi John, I came across your Greenfield page and noticed with interest the photo at the bottom. (see above: John). This is a rarity as it is the only racing pic I have seen from Greenfield . I reckon Nigel Bird is bang on with this. Greenfield 62 or 63 Bradford v Newcastle . 1 and 2 for Bradford probably Roper and Jenkins.
Greenfield was a nice little stadium for speedway and should have done better with a little more investment and better promotion. Track needed work as it was bumpy and very vulnerable to wet weather. 2500 spectators at Greenfield made a nice atmosphere. Odsal was just too big.
---
If you can scan any pictures, programmes or badges send me an email John
---
The contents of the site are © and should not be reproduced elsewhere for financial gain. The contributors to this site gave the pictures and information on that understanding. If anyone has any issue or objections to any items on the site please
e-mail
and I will amend or remove the item. Where possible credit has been given to the owner of each item.