Bolton

Speedway
Raikes Park, Manchester Road, Bolton, Lancs. Speedway took place in 1928 and 1929
---
I created this webpage as I had heard from a supporter (Bob) with a Bolton connection. Here is his email : -
Bob Warburton says: Hi, John,
I've been going to Speedway on and off for the last 65 years [Belle Vue supporter] and my Dad used to go before I was born so I've found your website to be of great interest.
I lived in Bolton, Lancashire for a few years in the 1970s and was told by an old local chap that Bolton had a Speedway track. Don't know the years but it was situated near Raikes Lane not far from Burnden Park where Bolton Wanderers used to play. That's all I know but I would imagine that the local newspaper [Bolton Evening News]would know more about it. Best wishes, Bob Warburton
Opening Meeting
20th August 1928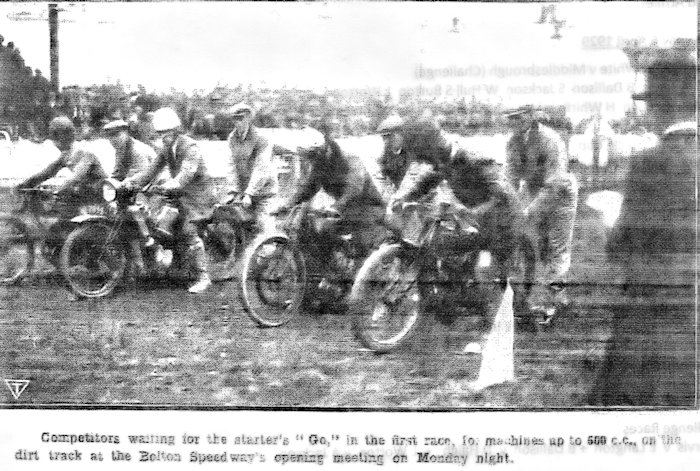 In 1928 starting gates hadn't been invented and early machines did not have clutches so races were started by "Pushers" as can be seen in the above photo.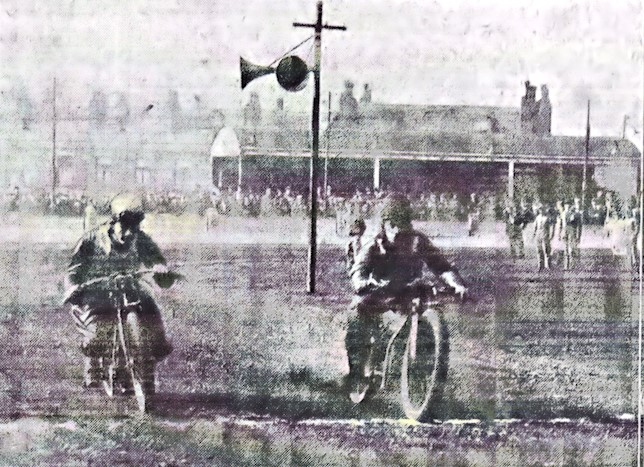 Arthur Franklyn (Right) rode the Raikes track often and well. He won £1000 in prize money and many trophies in 1928.
Gracie Fields at Raikes Park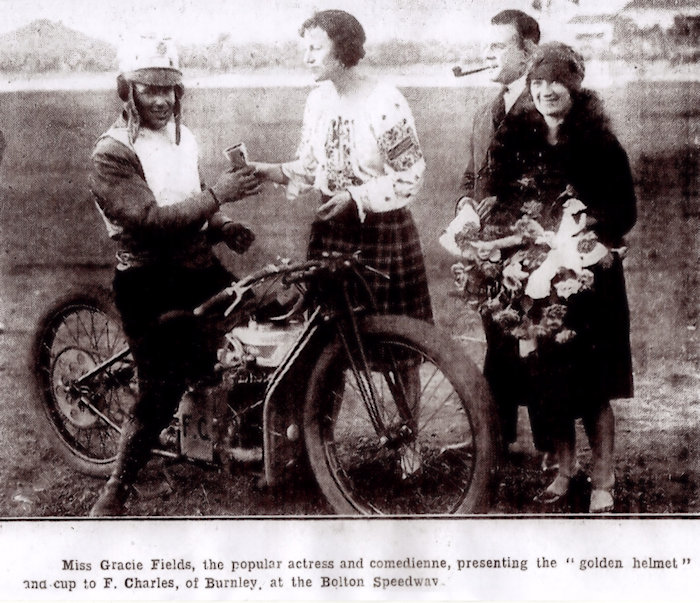 Courtesy of Graham Gleave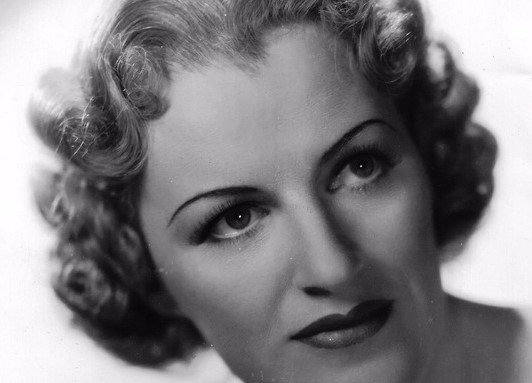 Courtesy of John Spoor
---
Bolton Badge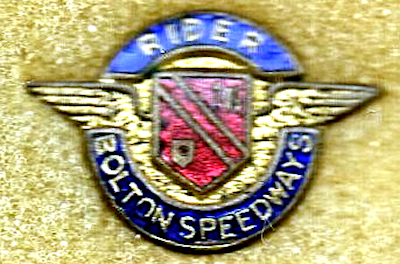 Trevor James says: The above scan is of an original badge that I have.
---
1929

Results
Courtesy of Graham Gleave
Track Photographs
Scan 2: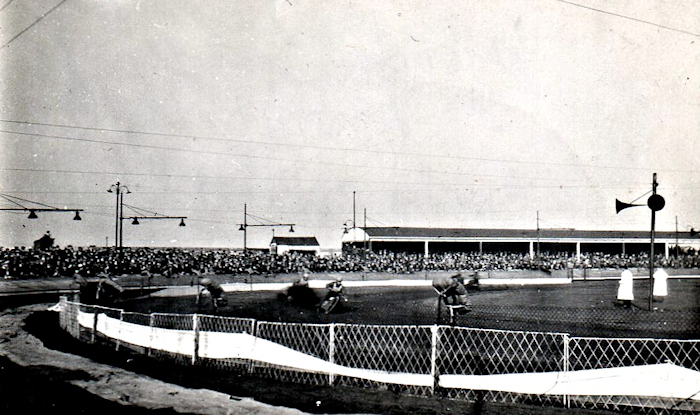 Scan 2 Photoshopped - cropped and enlarged slightly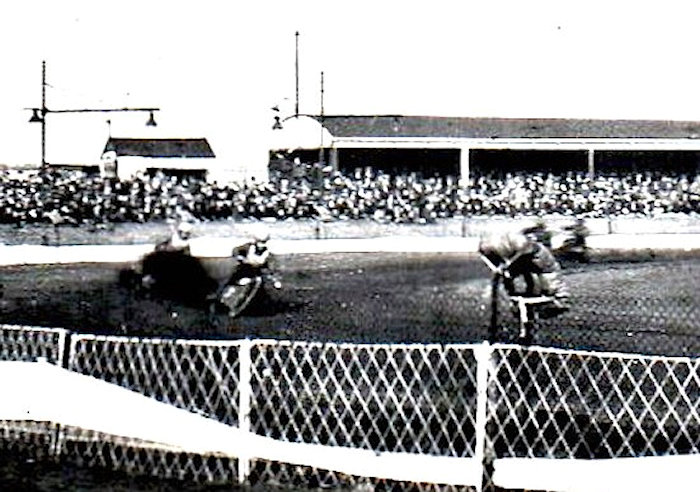 Trevor James says:

Scan Two is an original photo, probably taken on a kodak, or something like. On the reverse, the "snapper" has quoted; Bolton Speedway, Clem Beckett and Arthur Franklyn. Still looking for clues to whether its 1928 or 1929 though.
Scan 3: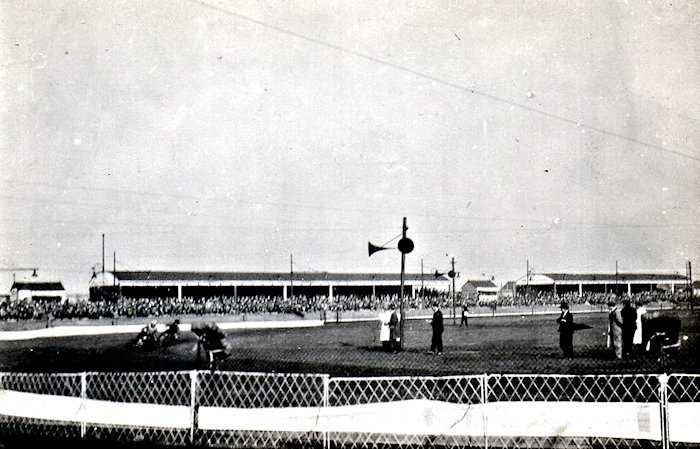 Scan 3 Photoshopped - cropped and enlarged slightly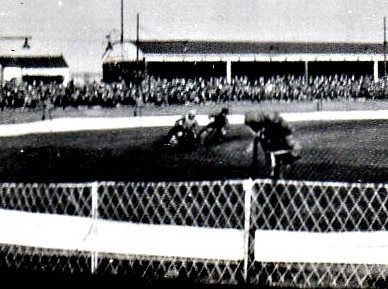 Trevor James says:
Scan Three
is just as seen, probably the same meeting, but no caption.
John says: The track photos show, what at first glance, appears to be a rider climbing over the safety fence! on closer scrutiny it is actually padding of some sort as a safety measure.
Scan 4: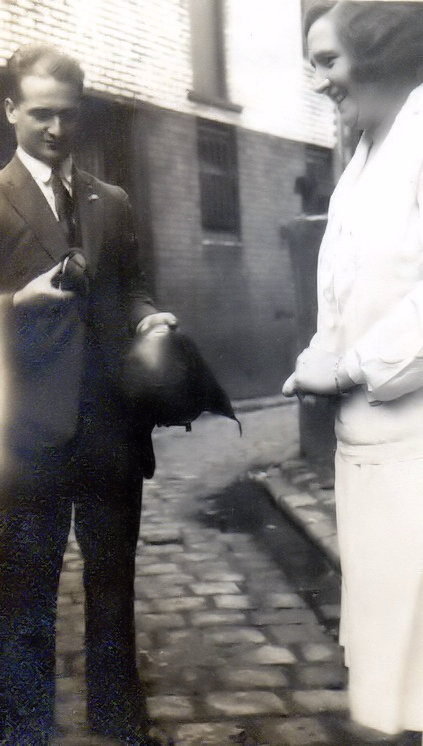 Trevor James says: Scan Four The reverse of the picture says Irvine and Mrs Roberts, Bolton. I think the rider is Irvine Jones, who also rode at the White City, Manchester track. Irvine is holding his racing helmet and some part of the bike. This photo was part of a collection which was Ivor Creek's. Together with this, I bought another dozen or so. They show scenes from Egypt, Uruguay and Argentina. Unfortunately, some items sold privately, but I am thankful just having these, taken at the time.
Feel free to add these scans to the Bolton section. I am always after Bolton items, but as you know, things like this are quite a rarity.
---
Raikes Lane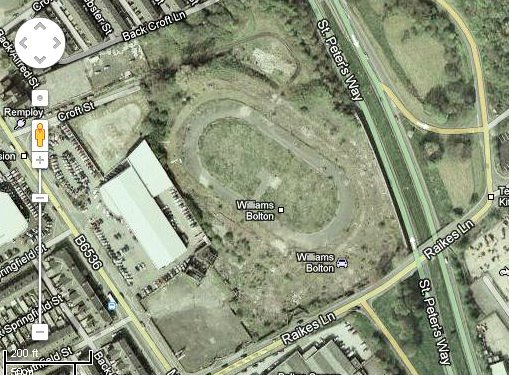 Dave Gresham says: Hi John, please find attached a view of the former speedway / greyhound stadium on Raikes Lane, Bolton. The site has been re-developed into a car dealership. You can clearly see the outline of the track and stadium buildings
.
John says: It certainly looks like a speedway track, well it is oval! but for that to survive from 1929 would take an enormous leap of faith. I believe the greyhounds were there until the mid 1990s so the oval is probably the dog track. I hope one day someone will send us pictures/programmes etc from 1928/29. Maybe if you live local you could have a look at the Bolton Evening News archives, maybe the towns library hold the archive
I have done this in my native Newcastle and really enjoyed whirring through the Central Library's microfilm.
---
Another Dave Gresham Map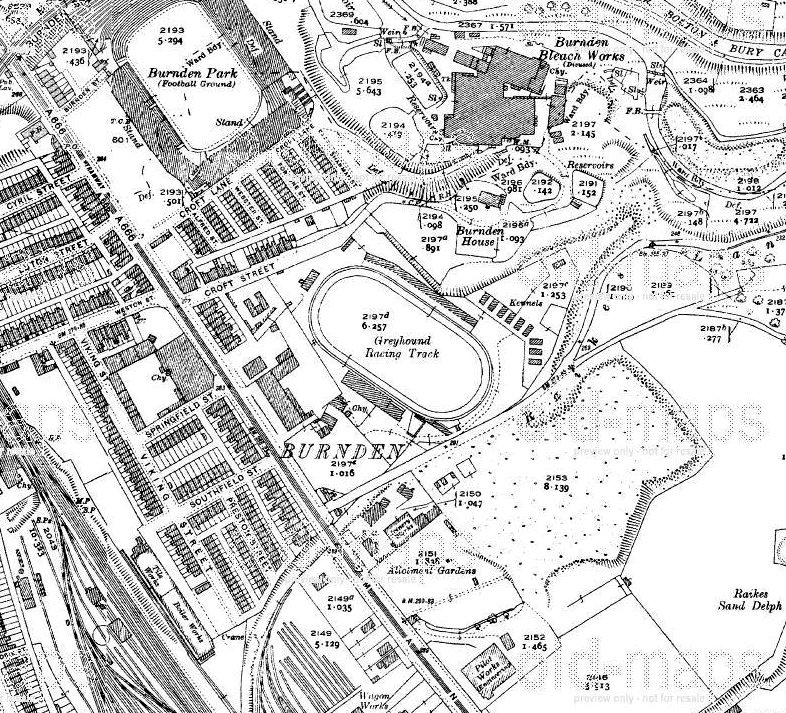 Dave Gresham says: Hi John here's a 1930 map of the Bolton track. As you can see Raikes Lane ended at the stadium back then. It is now much longer. The other `ground` you can see is the old `Bolton Wanderers` football ground. The greyhound stadium is the site of the speedway. I've had it confirmed by my neighbour who`s 93 years old. I hope this clears up the doubt to its location. p.s. the only surviving part of the stadium is the main entrance gateposts. Will send you some pics of these asap.
The Turnstiles!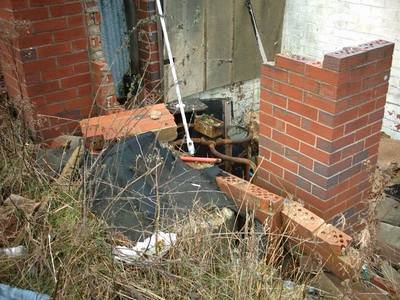 What was left of the turnstiles, at the main entrance on Manchester Rd . The stadium closed it's doors in 1995. It was used for banger racing in its final years. then the land was bought by a BMW dealership.
BMW and PORSCHE dealerships now occupy the site. I've found some great photos of the track being used by banger racers and some photos taken just prior to demolition, showing the track, bends etc.
Main Entrance!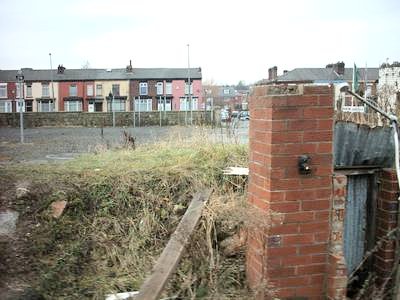 Here's the main entrance on Manchester Rd. (John please note the houses on Manchester Rd, there's a Stock Car pic with buildings in place and you can see the same houses in background)
Bolton Stock Cars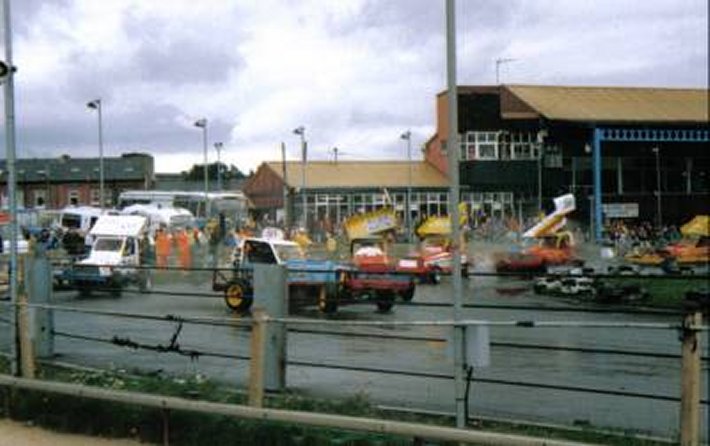 Here you can see the main stand and the same houses in the background.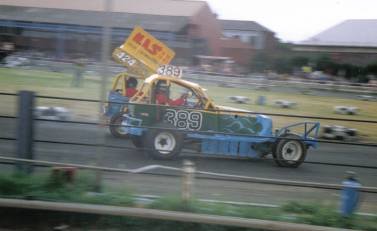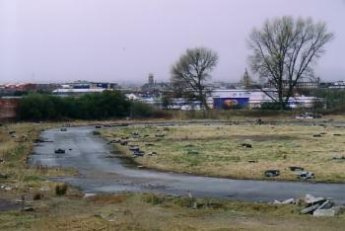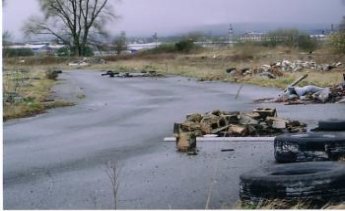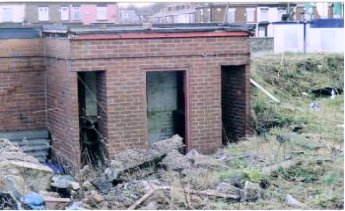 All photo's courtesy of Dave Gresham
Dave says: There's a clear view of the turnstiles and track john!
John says: the brickwork is too good for the 1928/29 speedway period. The turnstiles were probably built later than the late 1920's for the Greyhound occupation of the site. Greyhound tracks had the money to build good stadia whereas Speedway and Stock Cars were the poor relations, sometimes we were tenants of the Greyhounds and we did not usually undertake expensive building work, leaving that to the landlords to do.
John says: for a venue that never survived even into the 1930's Dave has supplied us with a great insight of Bolton Speedway 1928/29. Perhaps someone who reaches this webpage via a search engine will have some photos from the late 1920's to share with us!
Spoke to soon, Dave has just supplied the following: -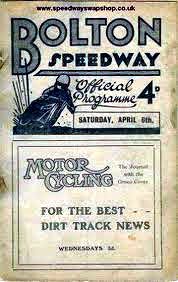 Courtesy of
www.speedwayswapshop.co.uk
Jack Woods At The Raikes Park Track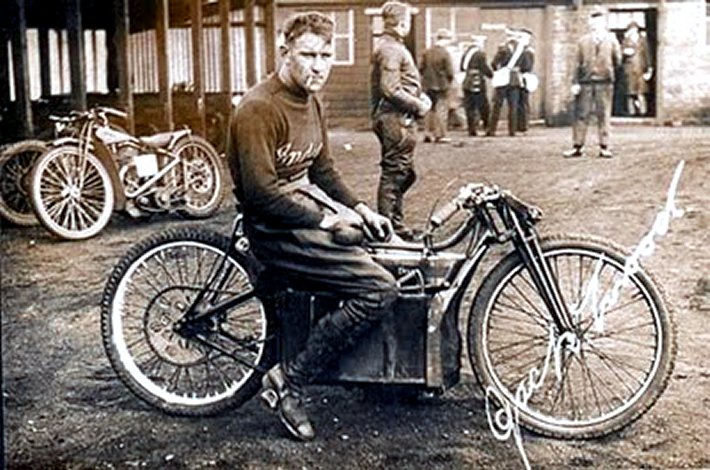 Courtesy of Dave Gresham
Dave Gresham says: Bolton race program and Jack "Tiger" Woods at the Bolton track
John says: This photo shows Jack mounted on a Douglas with a Rudge in the background. Even a long defunct track like Bolton can make it's way into my A-Z of defunct tracks. I am indebted to Dave Gresham for sending me so much information which has allowed me to create this page for Bolton. It is always possible that someone will see this page and dig out some photo's etc that they will want to share with the rest of us, if you can help, send me an email
John
---
Bolton's Raikes Park, Speedway, Stockcars & Baseball!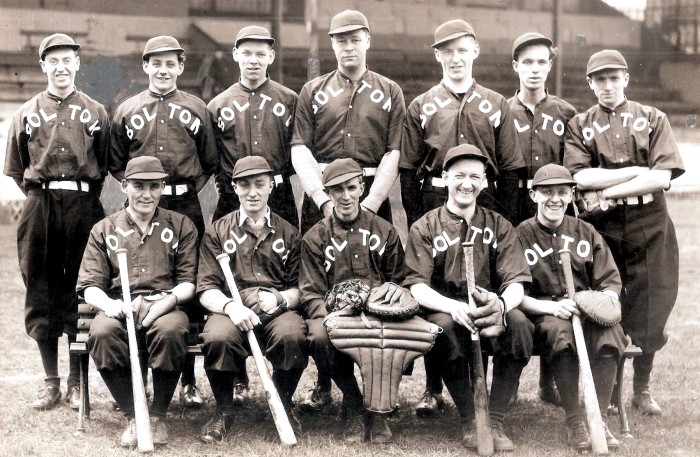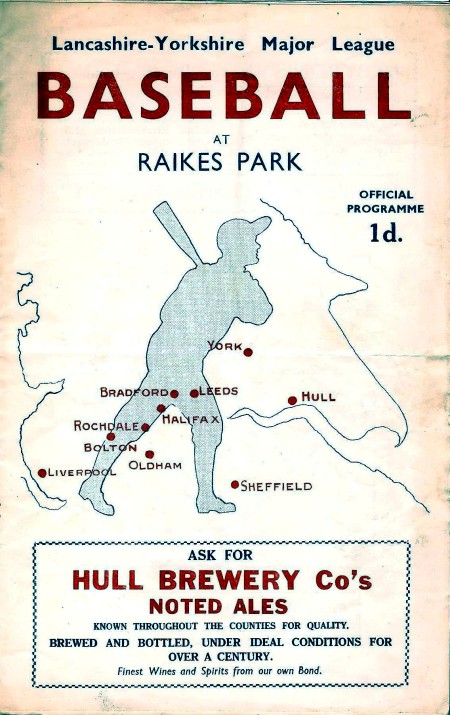 Tony Taylor sent me the Baseball scans, he says: A couple of items from the Bolton Scarlet's baseball team who also used Raikes Park before the War. The team photo is taken in front of the Grandstand on 29th April 1936, probably at the first game of the season. The programme is from Tuesday 2 August 1938 for the "Lancashire-Yorkshire Major League" game against Leeds. The Baseball League did not survive the War.
---
Syd Newiss
At Bolton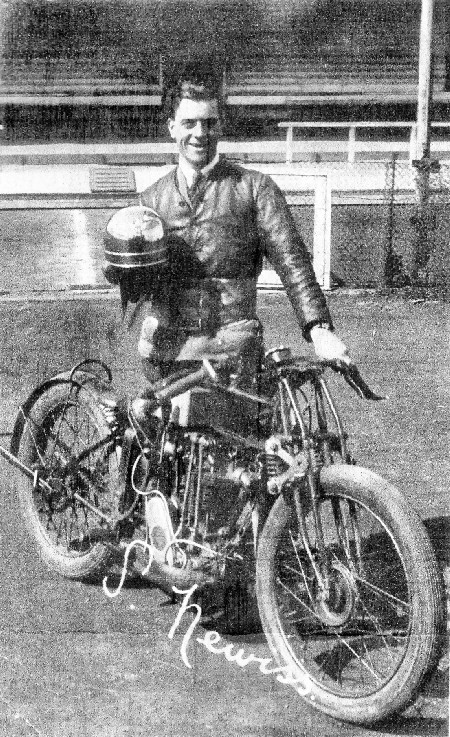 Courtesy of Graham Gleave
Syd Newiss showing off his Golden Helmet trophy at the Bolton track in 1929. The Golden Helmet was a prized trophy in that era.
---
Bolton Rider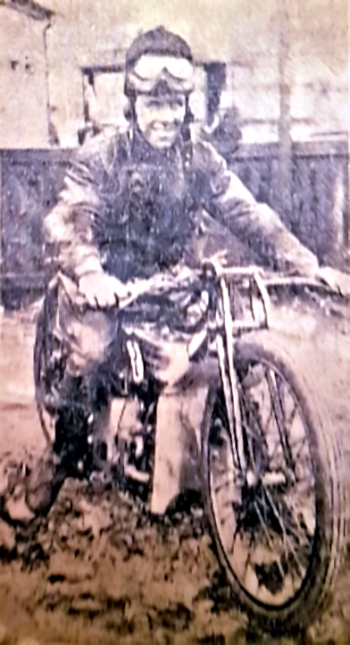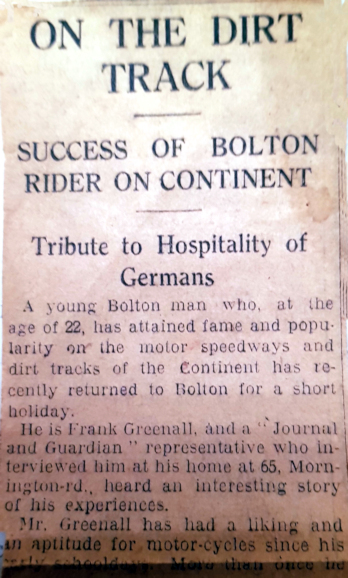 Courtesy of Keith Simpson
Keith Simpson says: Hi John, I've been tracking my family tree and came across a picture of my Great Grandfather on a HD sidecar in 1929. Today we found an old newspaper cutting about Frank Greenall who was a speedway rider from Bolton but was competing in Continental Europe mainly in Hamburg (see attachment). I also noticed reference on your site about an ER Greenall so now I'm wondering if there is a connect as it's all around the late 1920s. I'd be interested to know if you have any other information on these riders and connection. Thanks in advance, Regards Keith Simpson
John says: I am not sure if Keith's Great Grandfather was Frank Greenhall shown above. It is a shame that the rest of the newspaper article is missing. Can you supply any info about the 22yr old from Bolton who was making a living riding on the Continent in the 1920s.
Keith Simpson says: Thanks John, actually I have the whole of the article as shown below. My Great Grandfather was Moses Aspenall. I think Frank was his brother so Frank Greenhall was my Great Uncle

Courtesy of Keith Simpson
So that is part of the Frank Greenhall story. If you know more about Frank or have any documents I could put on the website please get in touch John
---
Graham Gleave's


Bolton Research
Graham is a Belle Vue supporter but has a great interest in delving into the history of the lesser known tracks that used to stage the sport. Here he turns his attention to Bolton's Raikes Lane.
20th August 1928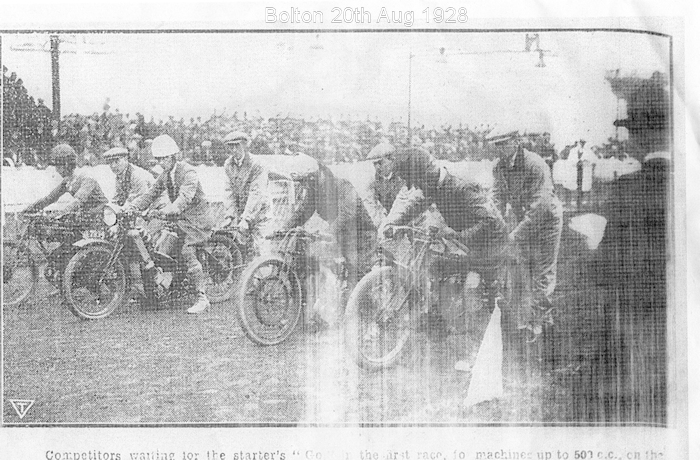 Courtesy of Graham Gleave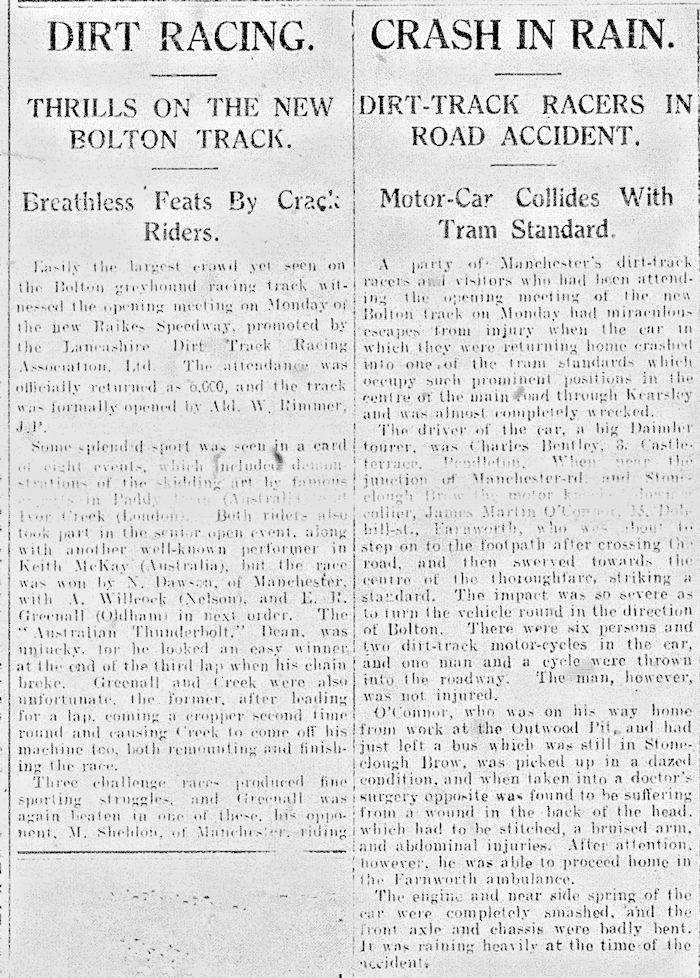 Courtesy of Graham Gleave
27th September 1928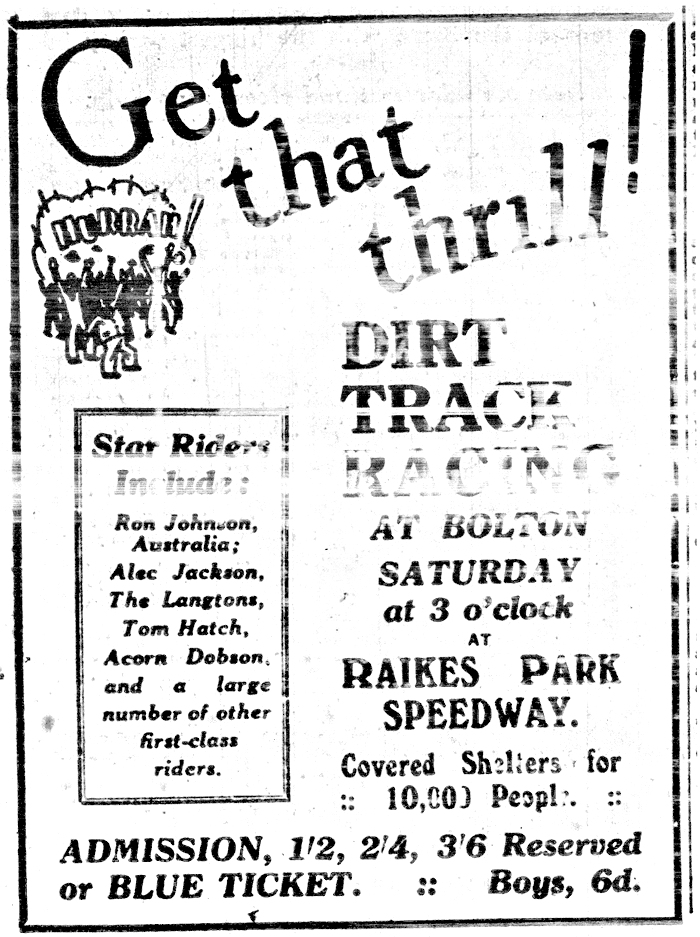 Courtesy of Graham Gleave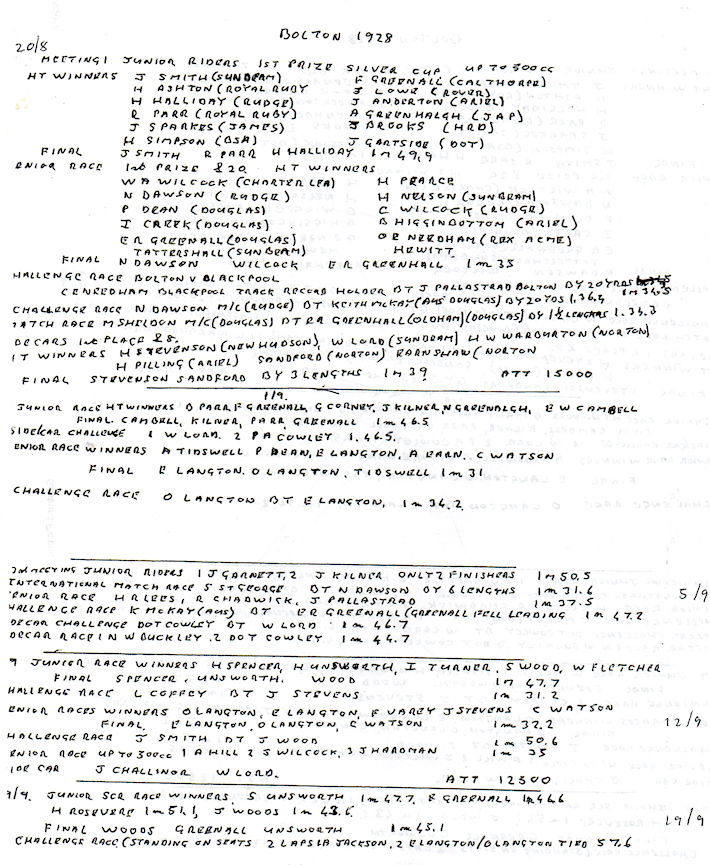 Courtesy of Graham Gleave
23rd March 1929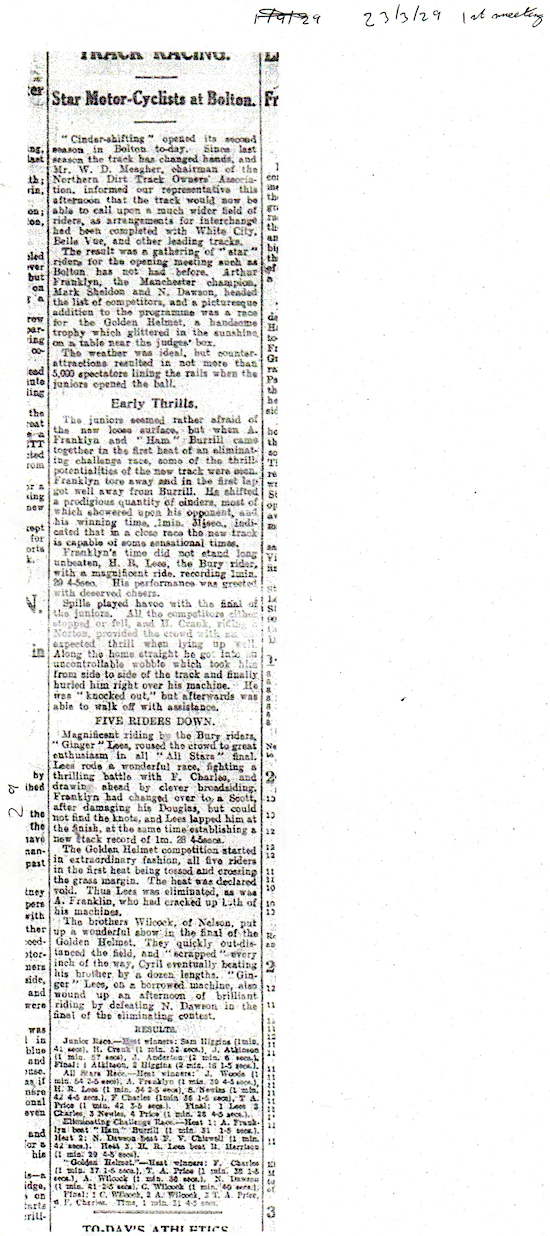 20th April 1929
Last Ever Meeting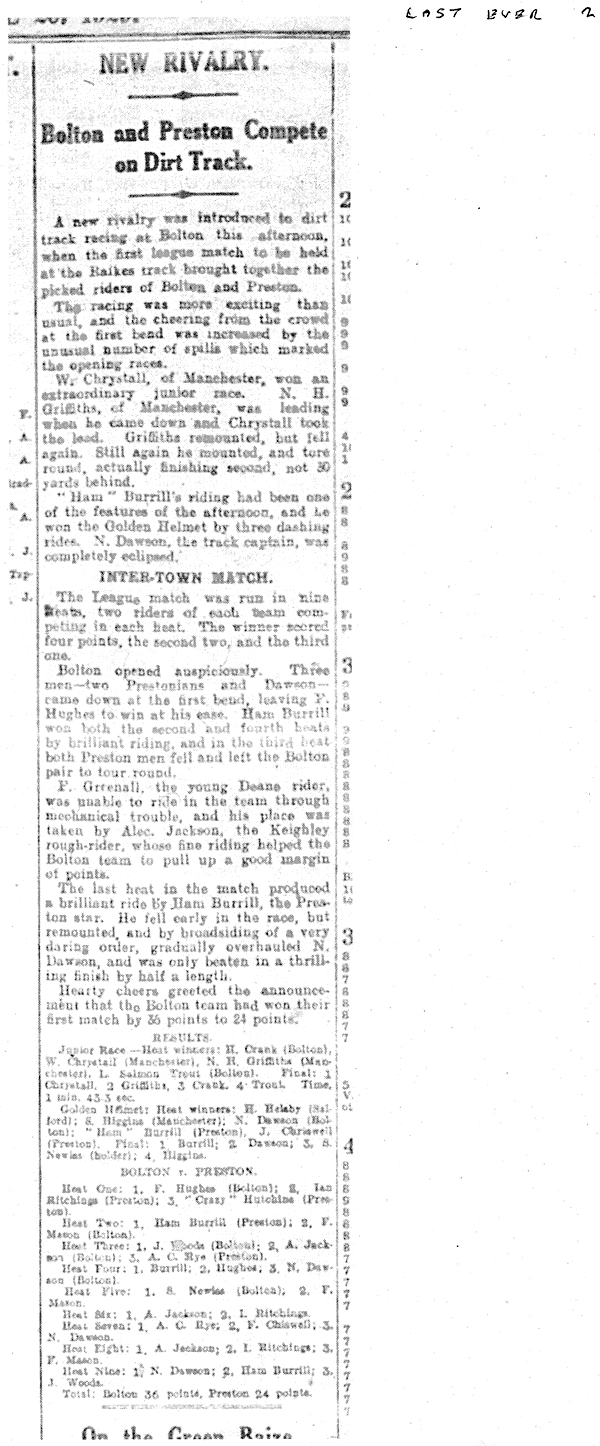 ---
Not much yet on Bolton so If you can scan any pictures, programmes or badges send me an email
John
---
The contents of the site are © and should not be reproduced elsewhere for financial gain. The contributors to this site gave the pictures and information on that understanding. If anyone has any issue or objections to any items on the site please
e-mail
and I will amend or remove the item. Where possible credit has been given to the owner of each item.