---
Blackpool Speedway
Blackpool & Fylde Motor and Aero Club, Highfield Road Sports Ground, South Shore, Blackpool operated 1928-1930.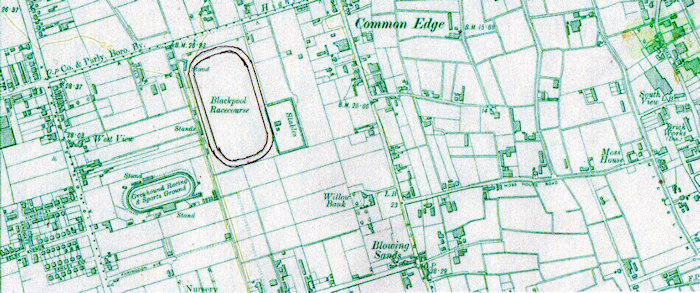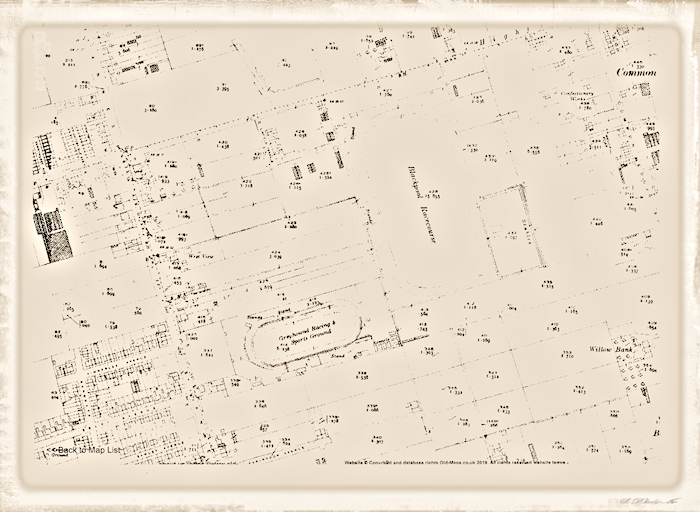 Ian Whittle says: Hi, thanks for the brilliant Defunct Speedway site.
Regarding Blackpool tracks, my understanding is the highlighted outlined track you show on Blackpool St Annes road map is actually the massive, former trotting track, Highfield road, and the St Annes road track is to the west, the much smaller "Greyhound stadium". Hope this helps. Thanks and Regards, Ian
---
Blackpool Highfield Road Advert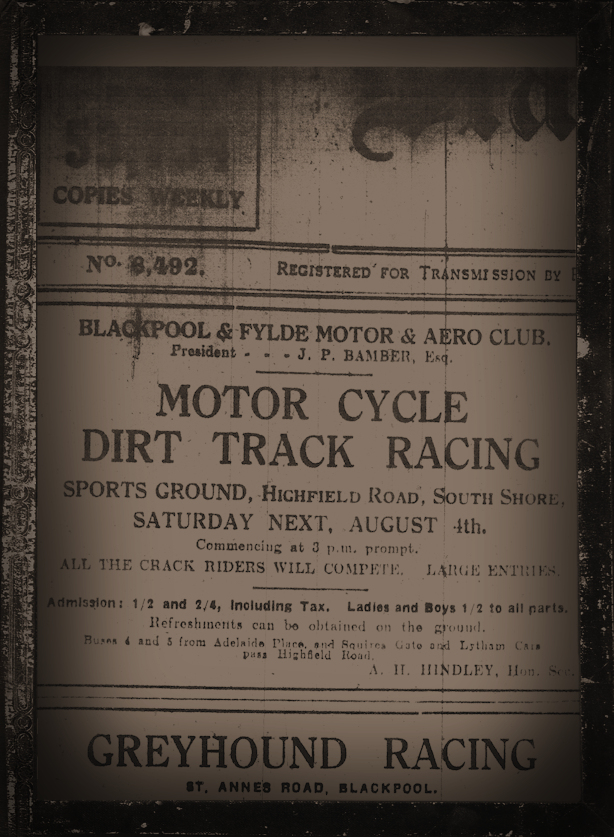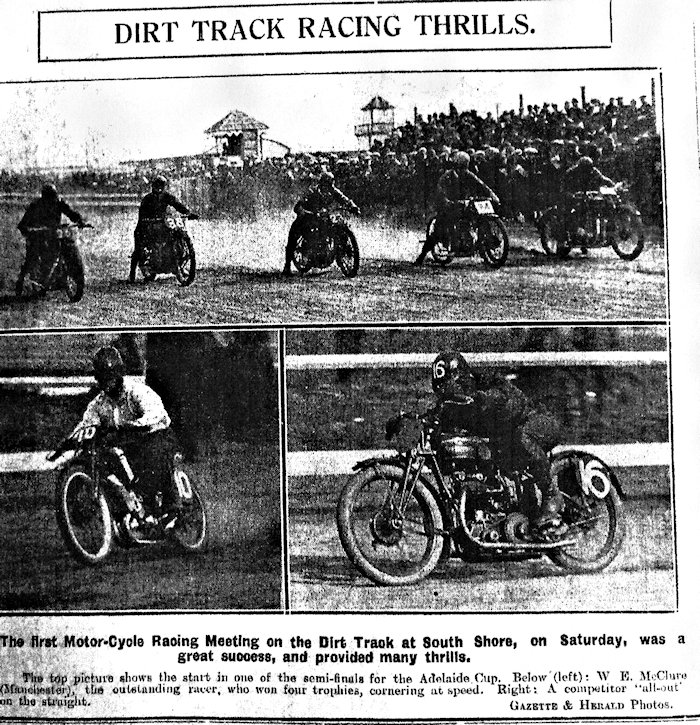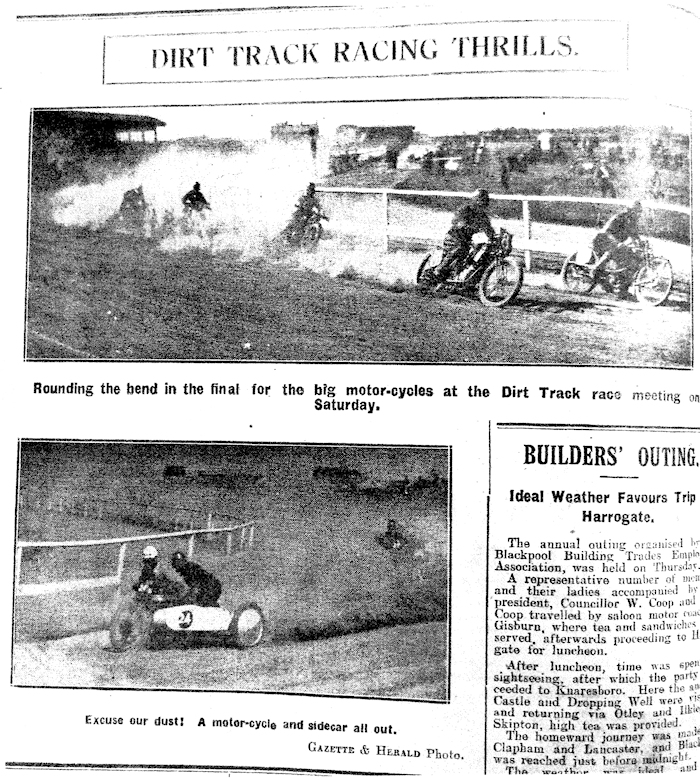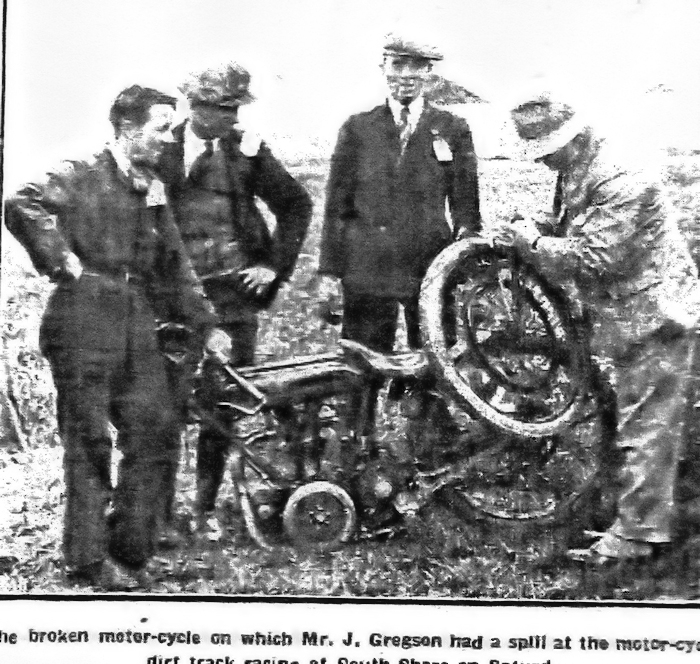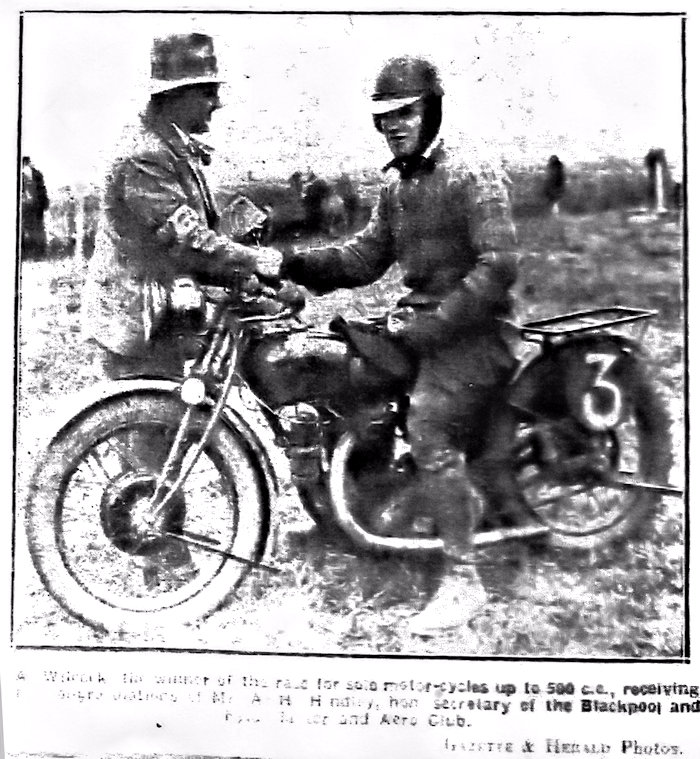 Blackpool
Dirt Track
Highfield Rd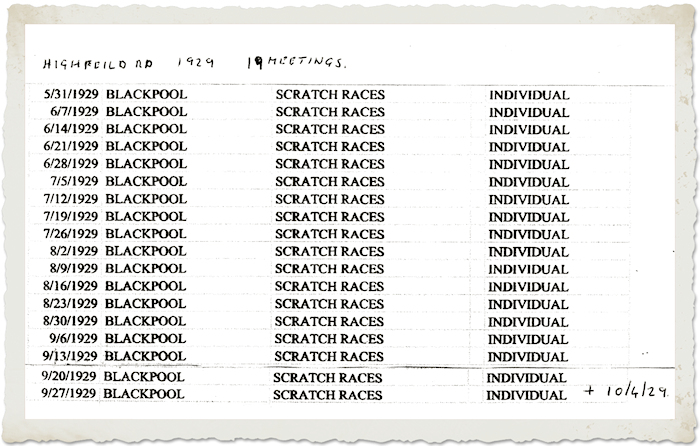 Graham Gleave has supplied the above item which shows 19 meetings at this track during 1929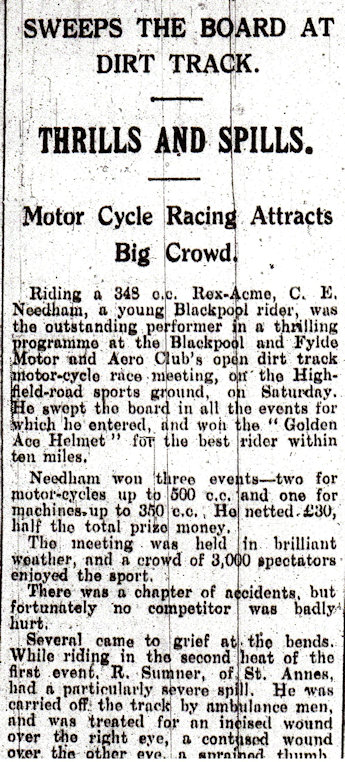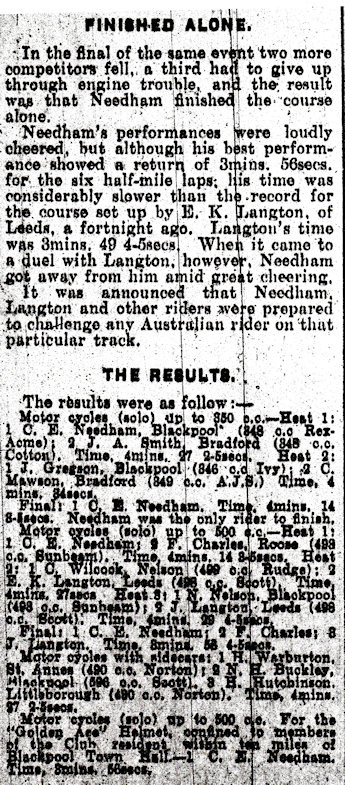 The above items are courtesy of Graham Gleave
My thanks to Graham Gleave who has supplied many newsprint copy as above and which I have shown throughout my Defunct Speedway website.
Blackpool has had two venues but neither survived after the early days. Such a pity for the town as the resort draws so many holiday makers, some of which may have frequented an established Blackpool Speedway.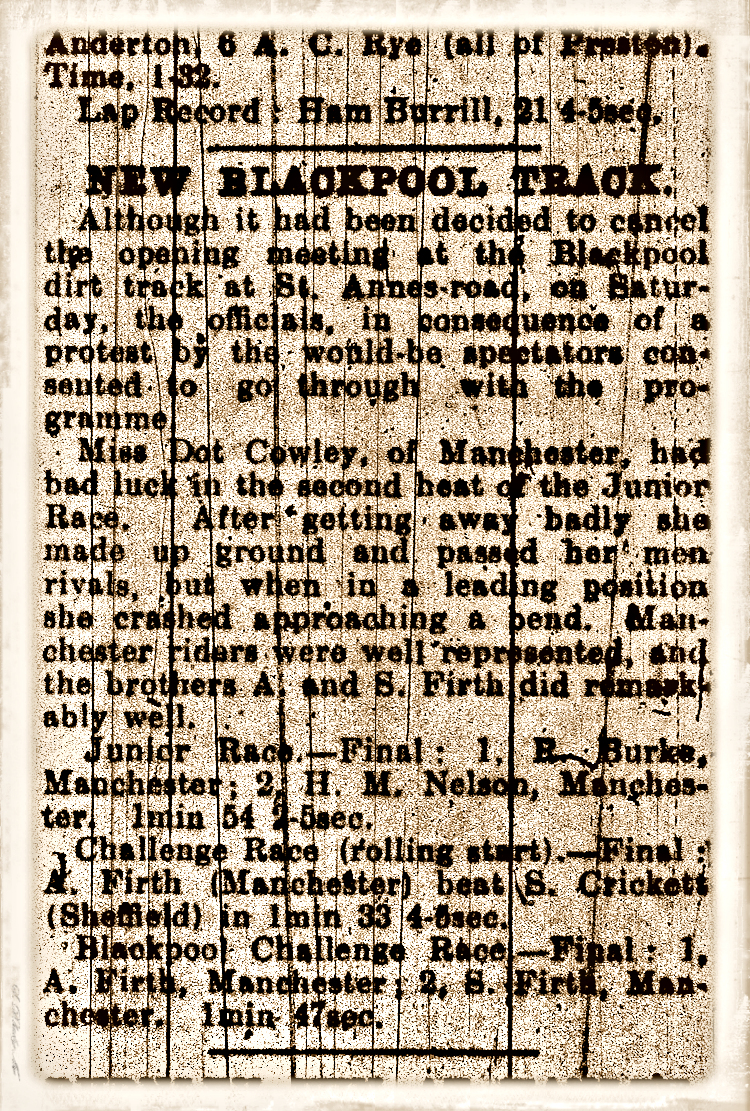 ---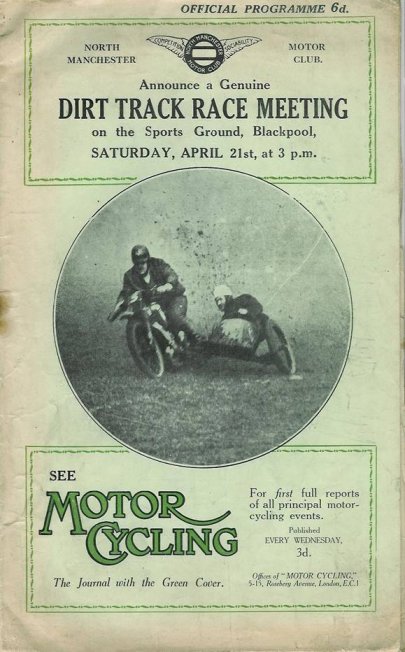 Courtesy of
Speedway Swap Shop
---
1928

Douglas Dirt Track Bike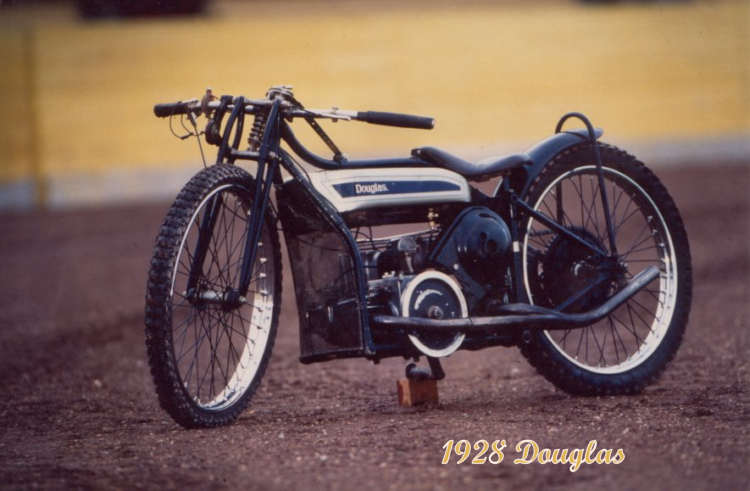 Bikes like this 1928 Douglas would have been winning races at the Blackpool track in 1929.
---
My friend from Manchester, Graham Gleave has supplied me with dozens of images of speedway in Argentina during 1929/30. The images came from a photograph album owned by Syd Newiss. They are on their own page now, named "Argentina 1929/30." Graham thinks a few of the images at the end of the album may have been taken at the Blackpool track. I have no way of ratifying Graham's view but have decided to put the pictures on the Blackpool page anyway. If you can confirm they were taken at Blackpool's Highfield Rd Sports Ground then please send me an email John or if you can say they do not show the Blackpool track/stadium then I will move them to another page on the website.
Blackpool Advertising Vehicle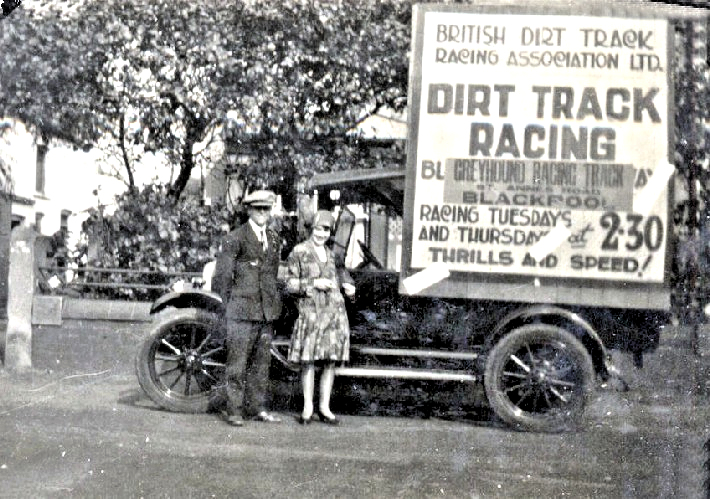 Most definitely in Blackpool so maybe the following images were taken in and around Highfield Road Sports Ground
Speedway in the UK needs venues in places like Blackpool. Blackpool's visitors/holiday makers number in their hundreds of thousands. The influx of visitors may be looking for somewhere to go or just something to treat the kids too. But alas no speedway in Blackpool! So potential speedway customers go elswhere to spend their money.
Possible Blackpool Photos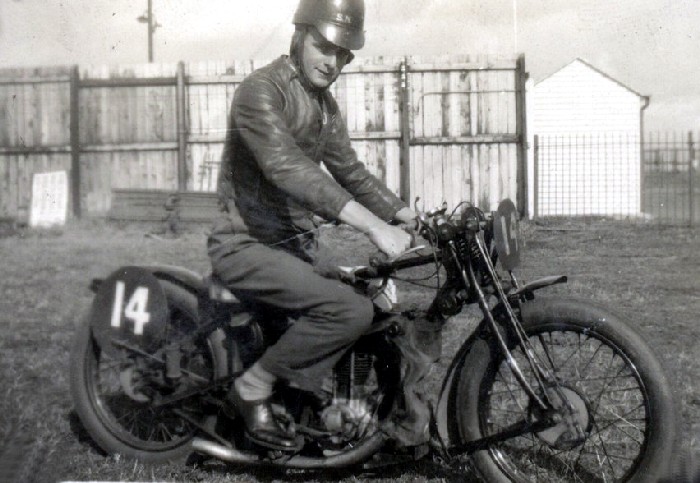 As these photo's were included in Syd Newiss's photograph album and this riders helmet shows "SN" I presume that this is Syd? If not please let me know John Does Syd know his bike hasn't got a fuel tank!
---
Blackpool 1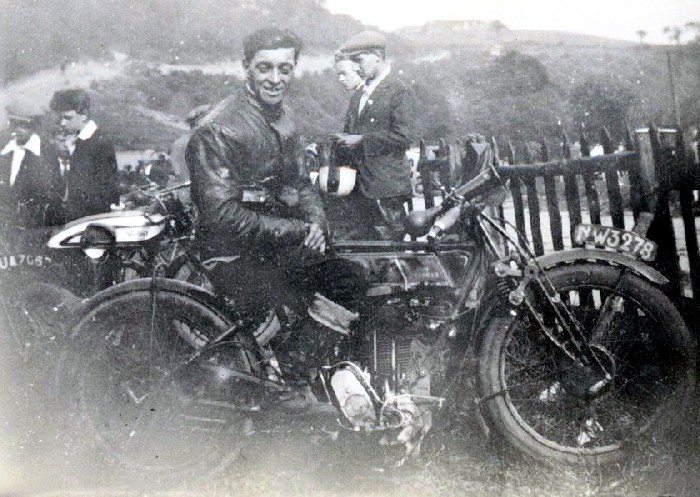 Help please, is this Blackpool and who is the rider

John
Dudley Newiss says: Blackpool 1 is possibly my uncle Syd Newiss
---
Blackpool 2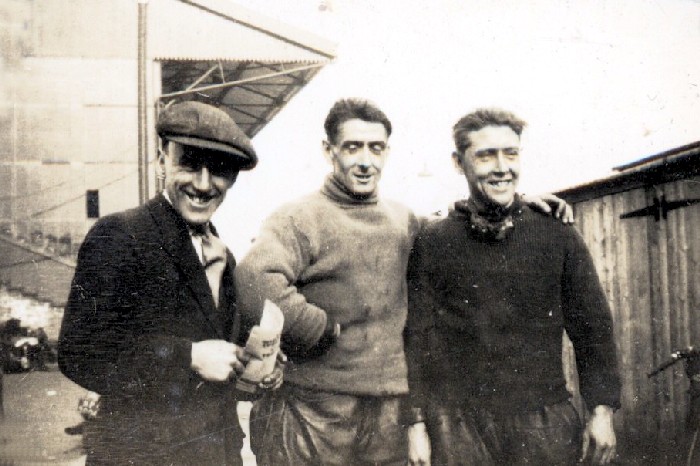 Help please, the big grandstand is the clue with this photo. Is this Blackpool and who are these guys?

John
---
Blackpool

3 & 4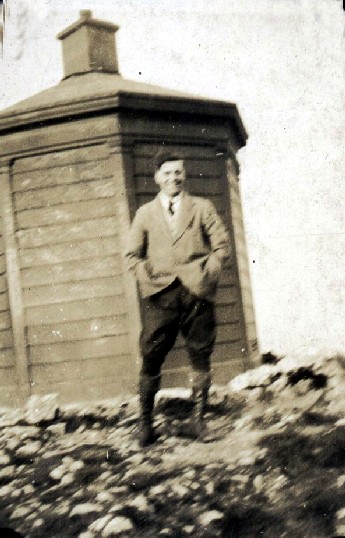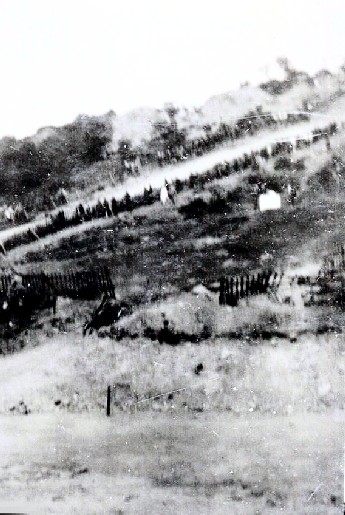 Blackpool 3 The odd structure is a clue to this location. Can you name this guy

John

and right Blackpool 4 seems to indicate this isn't speedway, unless the same location did hill climbs or scrambling?
---
Blackpool 5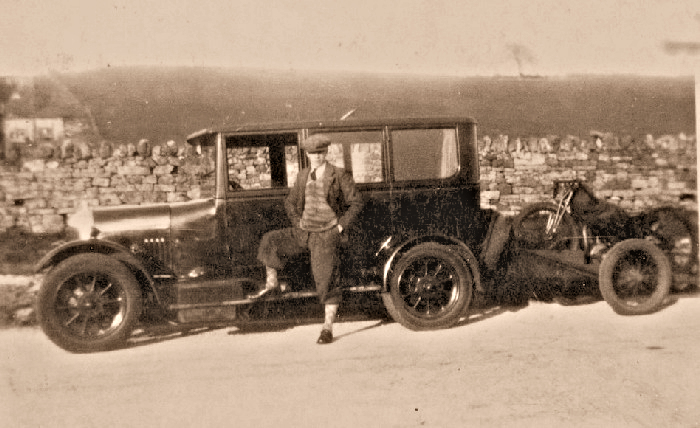 What it must have been like for riders to own an early car, motorcycle and trailer around 1929. Plus 4's and tartan socks for the trips to the early tracks! A great period photograph but was it taken on a trip to Blackpool speedway?

John
---
Blackpool 6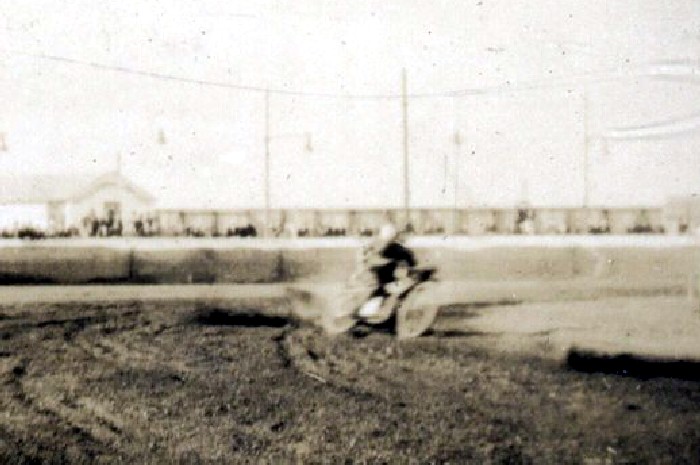 A blurry image of someone riding a dirt track but was this Blackpool?

John
---
Blackpool 7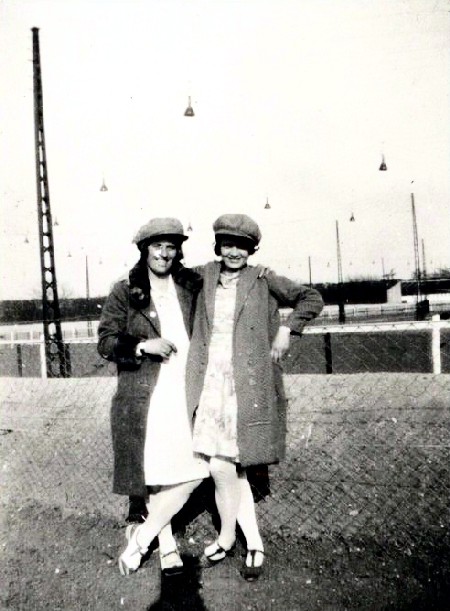 14th September 1928
Graham Gleave says: Hi John.
Just been on your amended website. Well the Argentina 1929/30 pictures have come out really good, blown up. You certainly included ones I didn't think you'd want i.e. the holiday ones. It will certainly fill your webpages. It should be interesting to see the one with the Blackpool advert on it. To me the pictures on the last 4 -5 pages of Syd Newiss's photograph album seem to feature the Blackpool track. The picture with the 2 ladies leaning on a fence look like the outer dog track fence with the speedway one on the inner also the action pics that you have blown up look like the old type of lights you would have had at Newcastle 1 pole with a light on the dog track & 1 on the speedway track. That picture was the only one with a date on it being 14/9/28,this would be a Friday as they raced on Tues. & Thurs. Sid Newiss raced in the meeting on Tues. 11/9/28 but I haven't seen his name for the Thurs. info on Jim Henry's site, so I would think they stayed in Blackpool for a few days. I have just contacted Blackpool library's website but they cannot find any thing to help.
---
Blackpool 8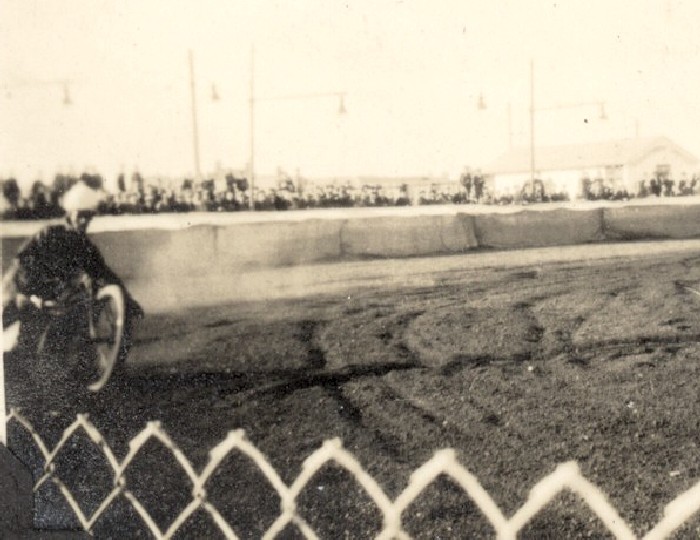 A great photo of the chain link fencing and yes a rider almost featured in this photo! The dirt track is deep and rutted modern day riders would refuse to ride on a deep track like this one but I have to keep asking was this Blackpool?
---
Blackpool 9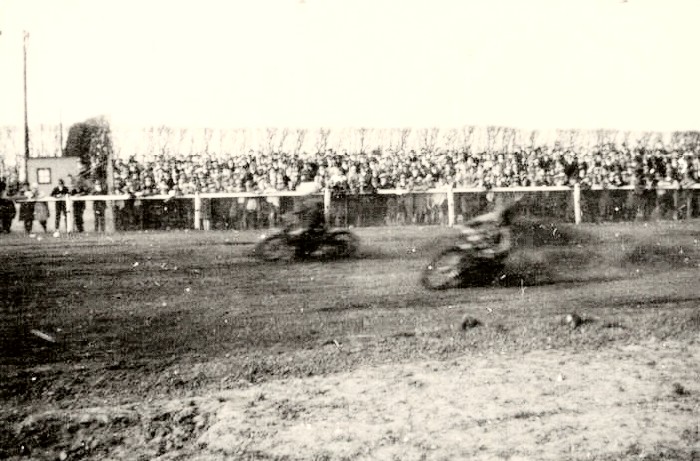 I like the speed blurring on this photograph. Another clue on whether this is Blackpool around 1929 is the row of trees in the background
---
Blackpool 10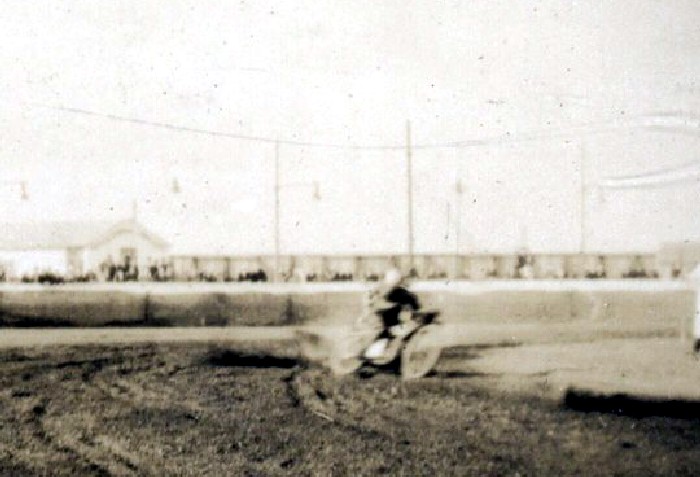 John says: Just a thought. "This track looks to big to have been Blackpool, maybe it is from Syd Newiss's trip to the Argentine but hey what do I know and I will not be surprised if Blackpool turns out to have been a large affair like in this photo"
---
Blackpool 11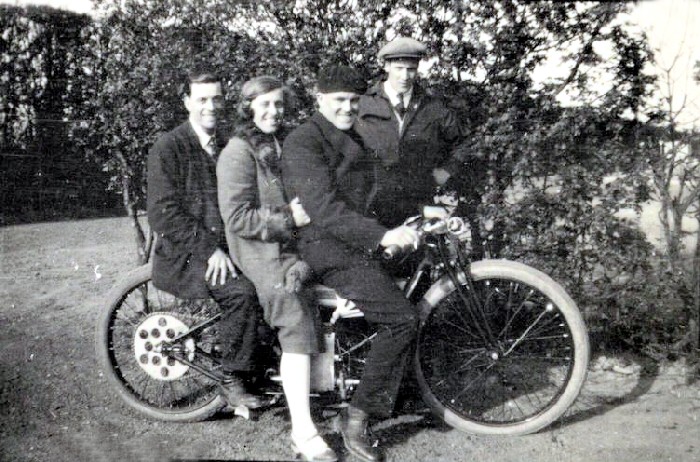 3 on a bike sitting comfortably! But the bike is a Douglas which had a longer wheelbase than any other speedway bike. They couldn't have sat like this on Douglass's main rival the Rudge as it was too short between its wheels. Who are these people and yes you guessed it..Is this Blackpool?

John
Dudley Newiss says: I would say that Blackpool 11 definitely is my uncle Syd. I should add that Sydney's racing career took place around 12 years before I was born, so he looks a young man in these photographs, but I always remember him as someone elderly – my father was the youngest of five and Sydney was no. 2 or 3 son. There was a daughter and then my father. He married a local (Manchester) girl – Connie and when she died, he moved down south for work and married someone in Folkestone and later, they divorced. He worked as a mechanic.
---
Blackpool 12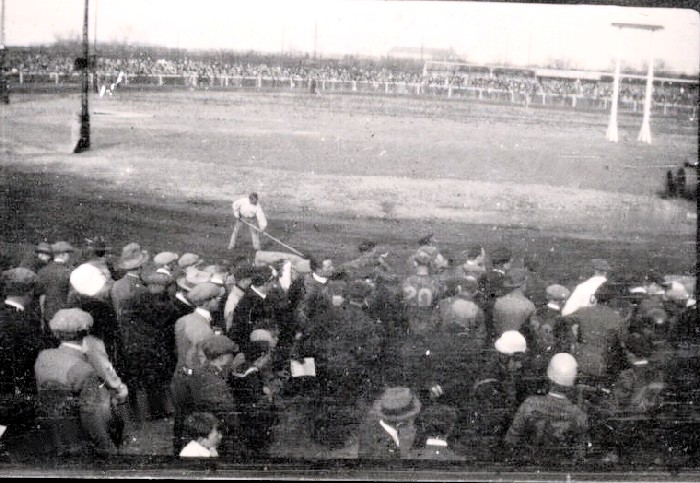 A great picture of a track staff member raking the cinders back in 1929. A decent cross section of the crowd but yes "was this Blackpool"
John
---
Ted Egerton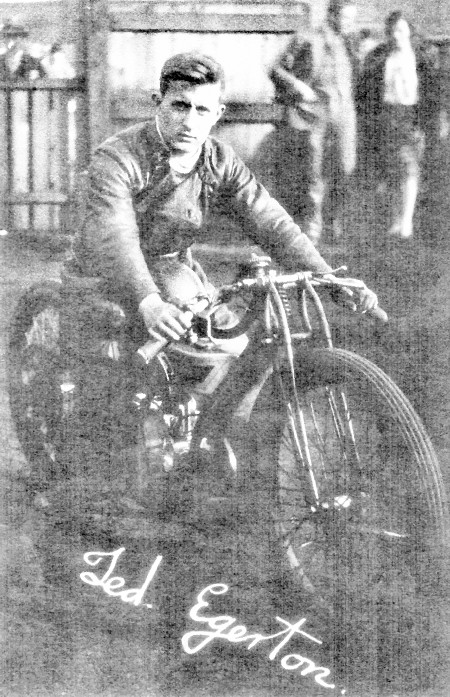 Courtesy of Graham Gleave
Ted rode at Blackpool on 13 September 1928
---
My thanks to Graham Gleave for choosing my website to show pictures from the Syd Newiss photo album. Graham spends many hours researching speedway which paid off big time as he is able to bring us many pictures like those above and the images on the Argentina 1929/30 page. Well done Graham.
Nothing else for Blackpool. so far! If you can help please
Contact Me
---
The contents of the site are © and should not be reproduced elsewhere for financial gain. The contributors to this site gave the pictures and information on that understanding. If anyone has any issue or objections to any items on the site please
e-mail
and I will amend or remove the item. Where possible credit has been given to the owner of each item.