Birmingham Speedway

Bordesley Green
[The Wheels Project]
Birmingham Wheels Project, Addereley Road South, Bordesley Green, Birmingham, West Midlands, B8 1AD ran between 1984-1986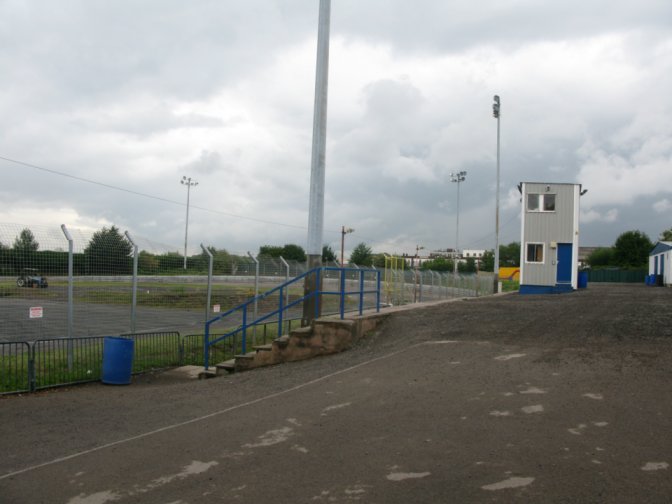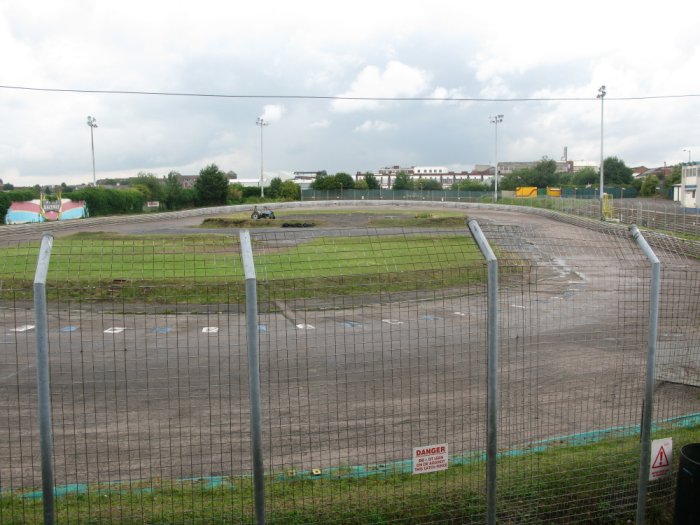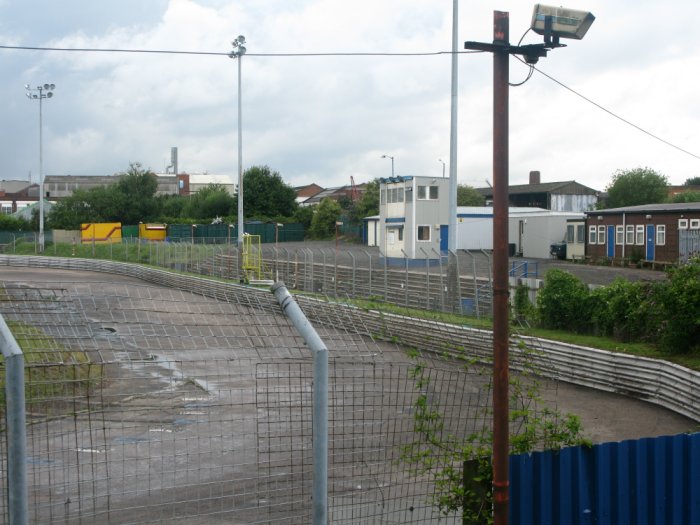 These 3 Photos are courtesy of Chris Wallett
The wheels project is still used by stock cars and could house speedway again, with very little work if the "Greyhound Stadium" ever runs into trouble running speedway
---
Numerous Birmingham Tracks
Chris Wallett says: The story goes that there were 2 stadiums either side of the Walsall Road, Perry Barr, Birmingham.
The Greyhound Stadium I believe ran speedway in 1928 but then speedway moved to Hall Green in Birmingham
until the War 1928-1938. After the war speedway returned to Birmingham but at the Birchfield Harriers Athletic
Stadium or Alexander Stadium which is across the road from the Greyhound Stadium. Speedway ran here in its boom years from 1946-1957 and also some open meetings in 1960 run by Doug Ellis later of Aston Villa FC fame.
Speedway then closed and the stadium was used solely by the well known and successful Birchfield Harriers Athletic team.
Speedway then returned to Birmingham in 1971 back at the Greyhound stadium now known as the Ladbrokes
stadium. It ran here very successfully until 1983 when the site was sold for redevelopment. In the mean time also
in the early 80's the Birchfield Harriers had a new Alexander Stadium built a mile or so up the road which was a
purpose built athletics stadium now often seen on the TV for top athletics meetings.
The old Alexander stadium now reverted to a dogs only stadium following the closure of the Ladbrokes Stadium.
The now homeless speedway team tried in vain to return to the old Alexander Stadium but found a new home at
the Wheels Project from 1984-1986. This proved a disaster due to poor crowds. So speedway was lost to Birmingham and as the pictures show the Ladbrokes Stadium is now gone. In 2007 following heavy lobbying of the council
the Brummies were given permission to return to the old Alexander Stadium along with greyhound racing. The main stand is the same although the track is very different from the 40's and 50's track. It remains today and hopefully for
sometime to come. Very complicated but hope this makes it as clear as mud.
Glad to help.
---
Birmingham v Long Eaton v Cradley Heath & Stoke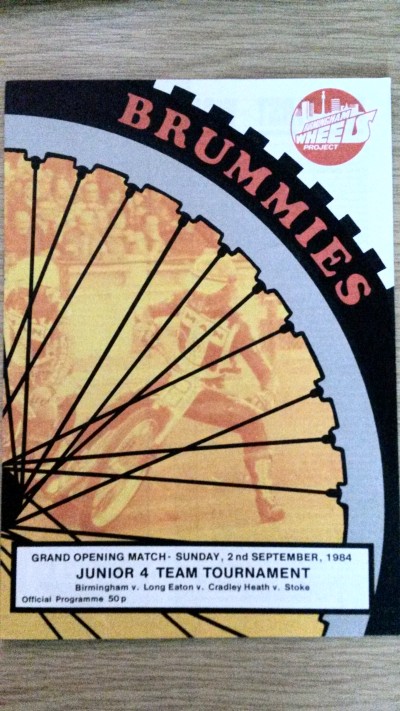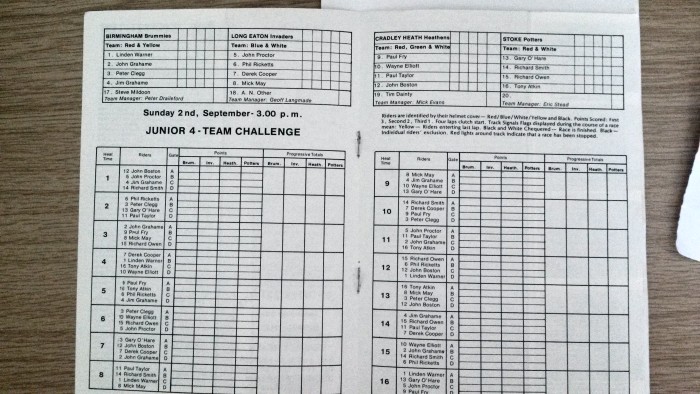 ---
Brian Bott's Photos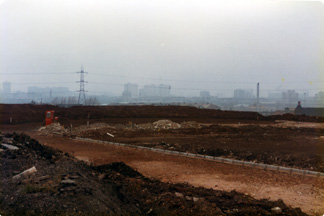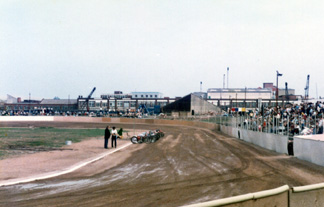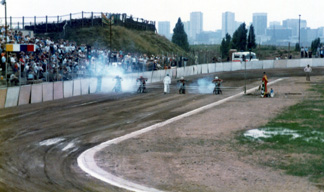 Brian Bott took these 3 pics in 1985 the first is of the track under construction and the others are of action at the track
---
Arkansas Calling
Dan Gibbs says: Hello John, What a wonderful website. I am a Brummies fan who moved to California in the 90's and got to see some great speedway there at Auburn (Flyin Mike Faria, Billy Janniro, B Schwartz, Cowboy Cook) but now I live temporarily in Arkansas with no speedway (oh no!! ) I have some team pics of the Brummies at Bordesley Green if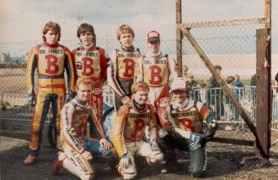 they are of use to you.
Dan says:
I have photos of 1985 and 1986 teams and also a very fuzzy photo of the 1984 team that rode 3 or 4? challenge matches at the wheels centre against (I think Oxford and Cradley and ??? in 1984). Perhaps somebody could identify for me the rider kneeling on the right hand side of the 1984 photo? They are I believe from left to right back row - Linden Warner, Neil (not Paul) Evitts, David Bargh?, Simon Cross, front row - John Grahame, Andy Grahame and who?????. I would be interested in any info on this 1984 team and the matches they rode. With kind regards, Daniel Gibbs
John says: I can confirm David Bargh is standing 3rd from left.
Steve Baker says: Hello John, I believe I can give you some more information about the team Dan Gibbs has asked about. Firstly the picture of that team is named correctly apart from John Grahame is actually Alan Grahame and the mystery rider on the end is Rob Pfetzing.
This team rode as the Brummies on 23.9. 84 against Oxford in what was billed as the Grand Opening meeting but was in fact the second speedway meeting held at Bordesley Green as a four team junior event was held on 2.9.84.
However this was the first meeting as a seven man Brummie side and they beat Oxford 41-37.
Scorers were, Brummies Neil Evitts 9, Andy Grahame 8, Simon Cross 8, Alan Grahame 7, David Bargh 5, Rob Pfetzing 4, Linden Warner 0. Cheetahs Hans Nielsen 12, Simon Wigg 10, Mel Taylor 5, Jens Rasmussen 4, Nigel Sparshott 4, Ian Clark 2, Nigel De`ath 0.
A second challenge match was held on 26.10.84, although it was a completely different Brummies team, against Cradley Heath which the Brummies won 40-38.
Scorers were, Brummies Hans Nielsen 15 max, Neil Evitts 7, John Jorgensen 6, Bobby Schwartz 6, Shawn McConnell 2, Ari Koponen 2, Kym Mauger 2. Heathens Lance King 11, Alan Grahame 11, Phil Collins 8, Simon Cross 5, Finn Jensen 3, Steve Collins 0, rider replacement was used for Erik Gundersen who was at an FIM dinner!
I attended both of these matches and I believe they were the only two held there that year( apart from the junior 4TT) ,although I could be wrong, it was a long time ago!
I hope this helps
Regards
---
1985

Brummies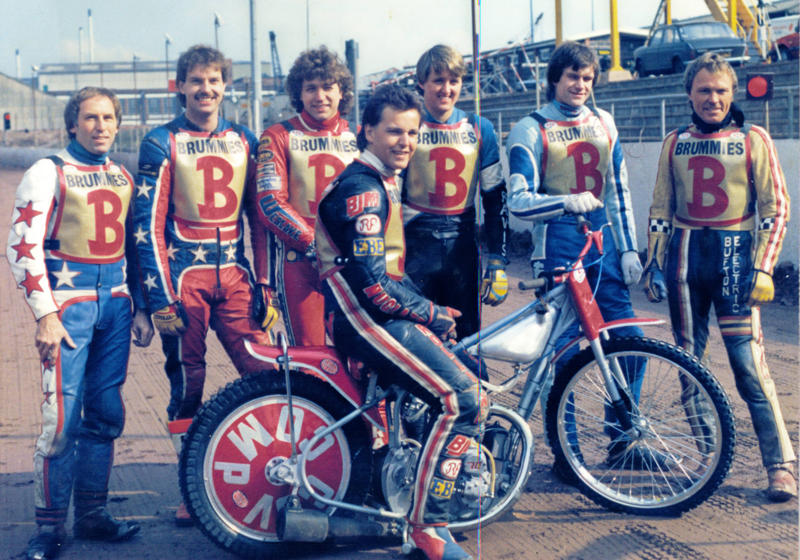 1985: Doug Wyer, John Hough, Linden Warner, Paul Evitts (on bike), Paul Stead, Phil White and Reg Wilson.
---
Another
1985
Line Up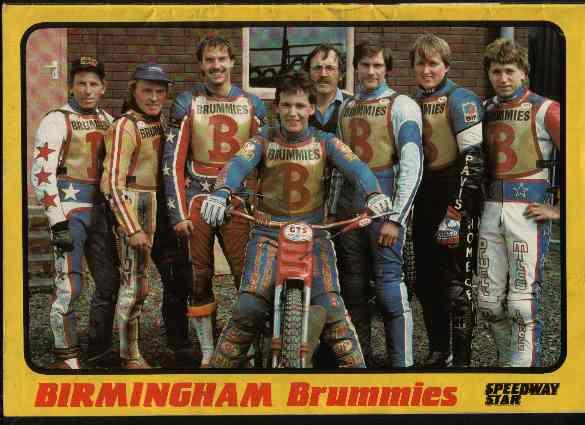 1985: Doug Wyer, Reg Wilson, John Hough, Paul Evitts (on bike), his father Tom Evitts (co-promoter), Phil White, Paul Stead and Linden Warner.
---
Another Team Shot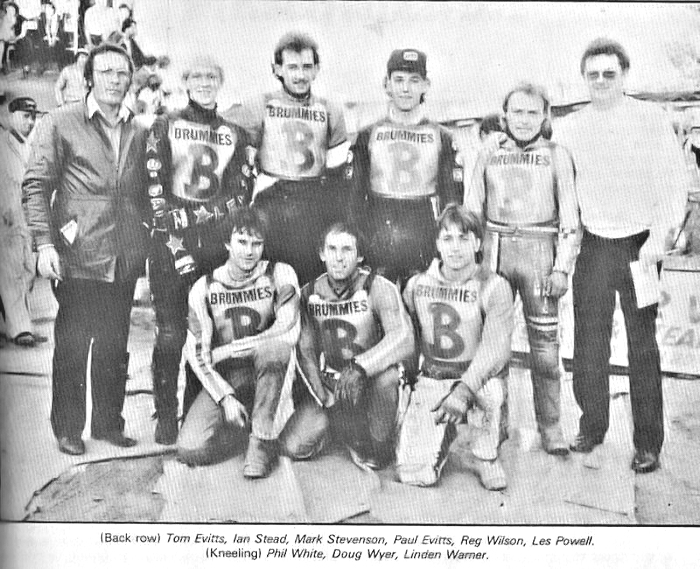 ---
1986

Team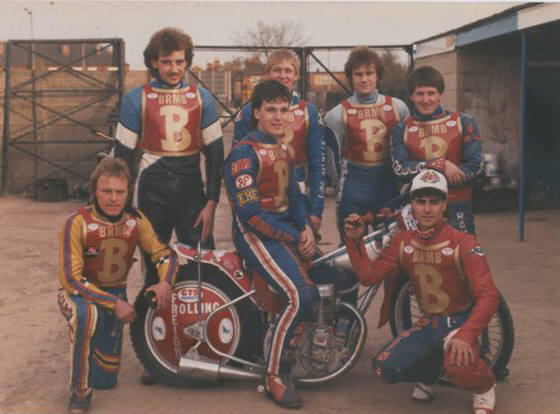 Early-Mid 1986: Reg Wilson, Mark Stevenson, Paul Evitts (on bike) Ian M. Stead (not to be confused with Ian Stead with no middle 'M' who rode in the same team at one point), Phil White, Steve Finch and David Cheshire (kneeling).
---
Pits

1986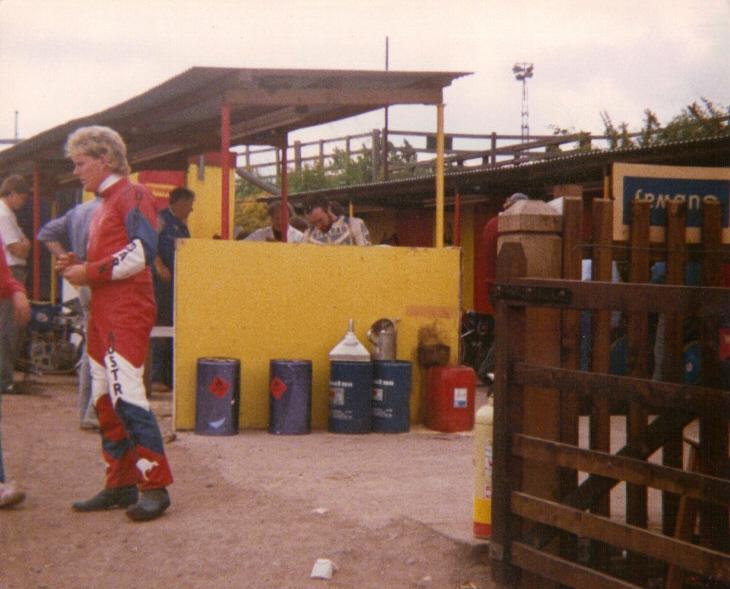 ---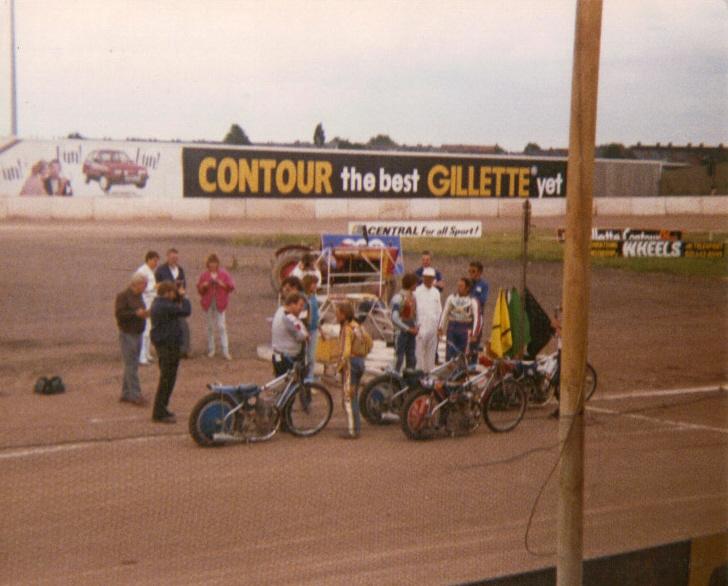 Chris Wallett says: Thanks for putting my pics on your site. Hope it brings the stories up to date. Looking through your page on Bordesley Green Birmingham I noticed that one pic titled 1986 showing the pre match introductions, the one with the large Gillette Contour advert in the background, has my Dad in it. The man on extreme left with the grey hair and brown shirt is my Dad: George Wallett, who was team manager for Birmingham through most of 1986. The riders by the way are Reg Wilson, Phil White and skippering Edinburgh Doug Wyer who rode with Phil and Reg for Birmingham the year before.
Keep up the good work
John says: Thanks for all of your help Chris. I hope the current Birmingham track in 2013 operates for many years to come. I don't want to start another Defunct Speedway webpage for it!
---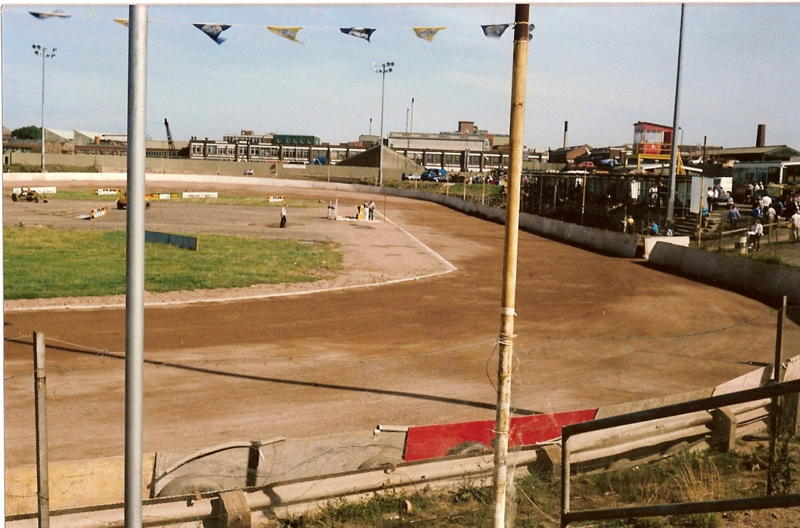 ---
Programme Scans Courtesy Of
Dan Gibbs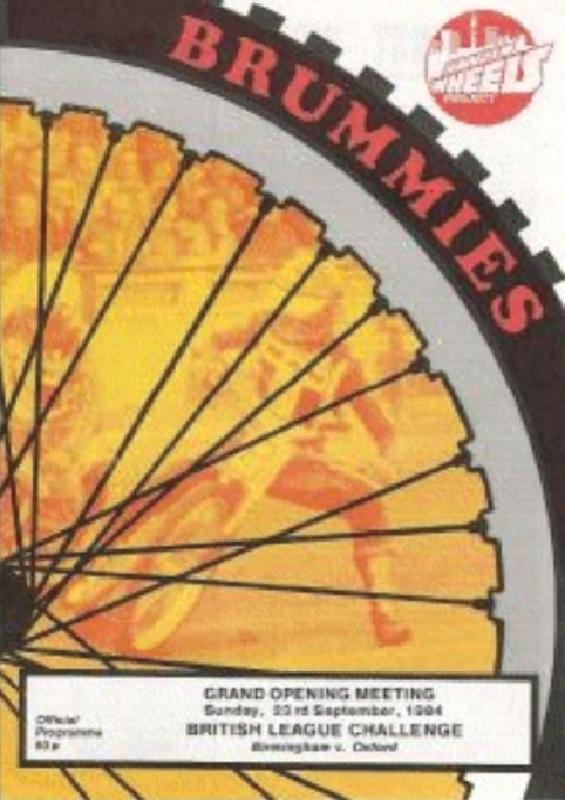 Only 3 meetings staged during 1984 and here we have one of the programmes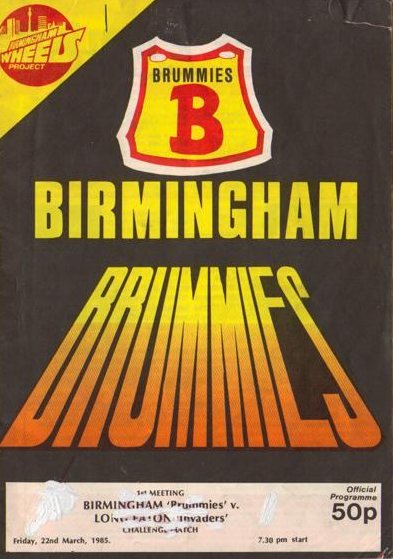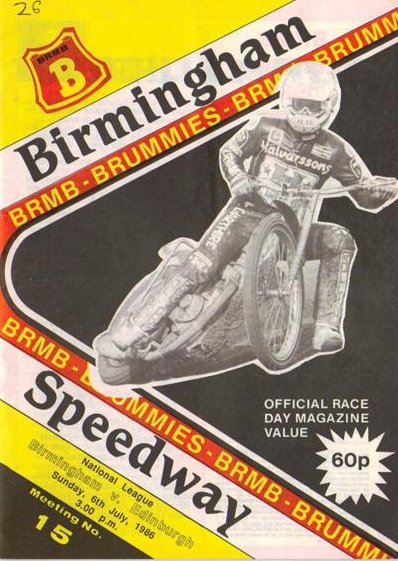 1985 and 1986 programme covers
---
The Problems At
Bordesley Green
Brian Buck says: Bordesley Green received a lot of stick for the poorness of the spectator facilities and the roughness of the track, but although much of this was justified, the place certainly wasn't all bad and I always thought that if it could have survived for another year or two, (until the City Council took over control of the Wheels Park and it began to be run a bit more professionally).
The track was a really good size and shape and received much praise from the riders after the early meetings, but it couldn't take the battering it got from the daily use of it for the stock cars, and it wasn't long before the base was wrecked and the riders wouldn't trust the surface, resulting in a sharp deterioration in the quality of the racing.
Attempts to reach an amicable understanding with the stock car people looked like being successful, but the operators of the site just wouldn't enforce any kind of rules and allowed all and sundry to take cars on the track even when it was pouring with rain.
The spectator facilities were abysmal and access to the site was only by an obscure entrance under a railway bridge at its least accessible point, and the cart track that led up to the track car park was littered with huge potholes as well as great mounds of dumped rubbish.
A very amateurish site management chose to erect various amenities without bothering about planning permission with the result that the spectator covering on the last two bends which was "Heath Robinsonish" anyway but did at least give some protection from the wind and the rain, had to be taken down - convincing supporters that there was no intention to improve things.
A promotion run by two enthusiastic but far from wealthy supporters - Tom Evitts and Les Powell really had no chance, but my memories of Bordesley Green are of some very good racing in primitive conditions and a feeling of regret that an opportunity to establish speedway at a new venue which definitely had some potential despite being in a very poor and rundown part of Birmingham, was lost.
I

n more recent years, both Tony Mole and Graham Wright tried hard to interest the Wheels management in bringing speedway back there on what would have been a separate track to the original one which is now tarmacked for the stock cars, but without success.
---
Have you anything to add to the Birmingham Bordesley Green page? send me an email John
---
The contents of the site are © and should not be reproduced elsewhere for financial gain. The contributors to this site gave the pictures and information on that understanding. If anyone has any issue or objections to any items on the site please
e-mail
and I will amend or remove the item. Where possible credit has been given to the owner of each item.