---
Ballymena
Speedway
The Showgrounds, Warden Street, Ballymena, Co Antrim, Northern Ireland. The track housed Stockcars and a speedway surface was laid for a one off speedway meeting in 1982.
The meeting at Ballymena was held on 13th July 1982 between a Cradley Heath side and an Ivan Mauger select team, Cradley beat Ivan's team 40-38.
If anyone has anything to add to this page send me an email
John
---
Writer
George P Kearns Advises
I

reland's George P Kearns says: In relation to your mention of the Ballymena track, I would remind you of a motor cycle race that took place on this track on August 9, 1902 with the winner being Tom Mellon of Belfast on a 2.75 horse power machine. This race was said by some to be the first ever in Ireland, but both Navan and Tramore beat them to it.
Also in 1902 Robert Stevens won the first ever motor cycle race on an oval cinder track in Astown on October 18. The track, 2 laps to the mile, was similar in size to the West Maitland track in 1923.
John says: It seems Ireland has a claim to fame for staging oval track motorcycle racing in the early part of the 20th century. Speedway/Dirt Track racing is defined by the riders broadsiding their bikes around a loosely surfaced oval track. The early machines circa 1902 would not have been powerful enough to break away the back wheel on the corners.
Having said this I am happy to accept that bikes racing around a cinder surfaced oval track despite not broadsiding the bends could be considered as the forerunner of speedway. What a pity there is no documentary or photographic evidence of the early 20th century events in Ireland. Without such evidence Irelands claim is like that of the USA. Only Australia's "kick off" in 1923 at West Maitland is totally acceptable as speedway as we know it. Long may the controversy over who started speedway rage as I enjoy hearing about circuits that may just have started it all.
---
Early

1900's

Triumph Motorcycles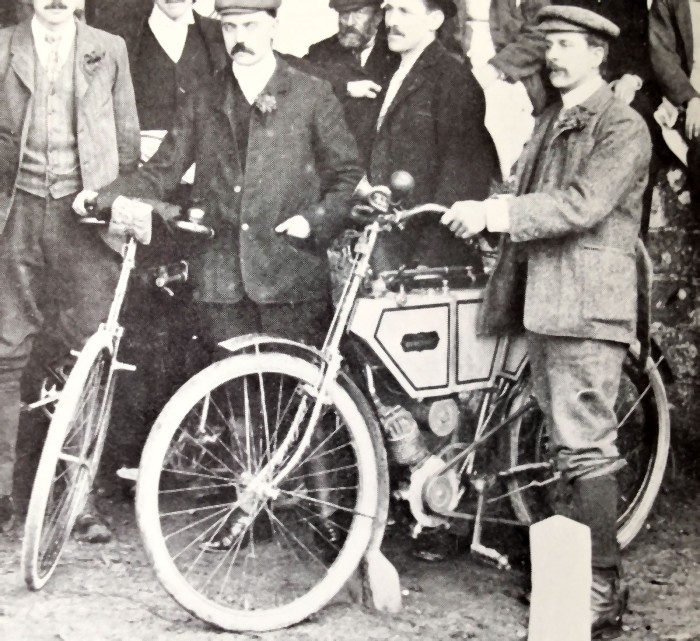 Motorcycles from around 1902 would have been similar to this one which I believe was one of Triumphs earliest attempts to build a motorcycle. Just how spectacular racing these primitive machines was we can only guess at. I wish I had a time machine to visit the racing in Ballymena
---